Venue: Goodison Park, Liverpool
Premier League
Saturday 20 October 2007; 12:45pm
Hyypia (o.g.: 38')
Hibbert sent off 53'
Neville sent off 90'
Half Time: 0-0
Kuyt (pen:53', pen: 90')
Attendance: 40,049
Referee: Mark Clattenburg (Tyne & Wear)
Just As Long As the "Big Four" Keep Winning
I had to do a few things in town prior to the game so after grabbing a quick beer in town I made my way to The Spellow to meet up with the usual Motley Crew. Sadly now the 3pm kick off is pretty much a thing of the past for any big game so we only really had time for a quick beer before making our way to Goodison Park.
Somebody in the pub had said that Lescott was playing left back with Stubbs included at the back. This was proved to be correct as the teams lined up. Lescott was indeed preferred at left back with Stubbs, Yobo and Hibbert making up the rest of the defence. I thought Carsley was going to start in midfield and so was surprised to see Jagielka play instead alongside Neville, with Osman and Arteta on the flanks. Arguably the biggest surprise from Moyes was up front with McFadden not making it into the starting XI, with Yakubu and Anichebe instead leading the line. Wessels, Carsley, McFadden, Pienaar and Baines made up the bench. As for Liverpool, despite all the pre-match talk of Torres making an appearance Liverpool started with Kuyt and Voronin up front with Gerrard, Carragher Reina, Risse and Sissoko all featuring in no particular order. I was made up to hear Mark Clattenburg was the referee as I thought (!) he was one of the better referees. My, oh my, how wrong I was.
Neville won the toss and so we attacked the Park End in the first half. As usual in derbies it was a cagey start to the game and it was probably Liverpool whom had more possession in the opening exchanges. They had a good chance to when Benayoun turned Hibbert and teed up I think Gerrard. His shot was well stopped however by Howard who then gobbled up the loose ball.
Once Everton got a few set pieces and opportunities to get balls into the box we seemed to become more assured and got ourselves together. Thankfully Arteta's deliveries were good all game and we nearly scored from one when Anichebe headed goalwards but unfortunately just over the bar and on to the roof of the net. This certainly gave Everton belief and once Jagielka and Neville had made some excellent tackles in the middle of the park they both really began to excel as Everton looked to force the game. Whilst perhaps we couldn't find a way to score ourselves, Sami Hyypia had other ideas…
An Everton corner was delivered by Arteta but missed everybody. Thankfully Stubbs was alert to this, chased the ball and hooked it back into the box. I think Lescott headed it back across the box and as Hypia tried to clear, he only succeeded in slicing horribly into his own net. Everyone in the crowd seemed to stop for a moment just to make sure we'd gotten the goal. Once the players started celebrating, as to did the crowd as everyone went ballistic. Naturally Everton were quite satisfied to go in 1-0 at half time but we did continue to probe and maybe on another day might just have grabbed another. At one stage Osman did particularly well to seize onto a loose ball and run into the box but unfortunately his cross was overhit. Nevertheless Everton saw out the half and were quite comfortably in front at the break.
At half time some fella won himself a holiday with the "crossbar challenge" competition but perhaps will have been more proud of giving the Liverpool fans the middle finger when he did so. Neither side made any changes at the break.
I was standing up for quite a while in the second half, such was the crowd, and as I did so I heard this big almighty crack behind me. I turned round to see what happened and it seemed that some muppet behind me had decided to start jumping up and down on my seat for some reason until it cracked. Undeterred he then skipped past me, clinging on to a metal guilder and kind of balanced on top of two seats shouting "murderers" at the top of his voice, and covering me with phlem for every time. He then started banging another seat up and down in a clear attempt to break it. I genuinely have no idea what he was doing and it seems that nor did he.
Nevertheless, such was the game, it wasn't difficult to remain focused. As Everton attacked Liverpool booted the ball away and Voronin gave chase. Hibbert appeared to have it covered but then seemed to hesitate. Voronin took advantage of the situation, played in Gerrard and suddenly Gerrard appeared through on goal. Hibbert bust a gut to get back and there was a coming together and then the referee pointed to the spot. Next thing, Hibbert walked. Now from where I was sitting I simply couldn't tell if it was a foul or not. I've since seen it on TV a few times and I still can't tell. Its sickening though that Gerrard a) seems to have this control over referees and can implement and invent free kicks, penalties and red cards when it suits him, and b) Gerrard actually wants to get players sent off. Obviously I'm referring to Clattenburg having a yellow card out, Gerrard having a word with him and then the referee changing his mind and presenting a red card to Tony Hibbert. Dirk Kuyt stepped up and scored the penalty, sending Howard the wrong way in doing so. 1-1.
I was quite impressed and proud of Everton thereafter. How many times in more recent years have you seen an Everton team just buckle in this sort of situation, either that or just cling on desperately for a draw? I was pleased in that we continued to press, continued to probe and continue to try and win this game, even with 10 men. The closest we came was probably when Yakubu unleashed a terrific left-footed half volley form fully 25-yards out. It just whistled past the post with Reina scrambling.
Another flashpoint occurred just prior to this when Kuyt lunged in on Neville to collect a booking. Again, at the time I couldn't really tell what had happened but have since seen it on the telly. My word. An absolutely horrendous challenge by Kuyt and quite how the referee can see that and only book him for it is simply ridiculous.
As we got to the last 10 minutes still level, Moyes made a couple of changes. First off he replaced Yakubu (who'd been excellent) with McFadden. It didn't really work and with a couple of minutes to go Moyes decided to take the draw (either that or was hopeful of McFadden repeating his feat for Scotland at Everton), and took Anichabe off to replace him with Leighton Baines. He then played left midfield, pushing Osman into the centre with Jagielka and Arteta out wide.
At some stage in the half we'd had a half-decent shout for a penalty when Lescott was held in the box by Steve Finnan. I'm not convinced by that one but can see the argument at least. What is clear is that there was no doubt about Liverpool's second one when Neville handballed on the line to prevent a certain goal for Liverpool. He collected the red card but at least it gave Howard a chance to keep it out, and he nearly did as well, guessing the right way this time but he just couldn't quite keep it out and Liverpool looked to have won this one.
From the restart Yobo played the ball forward but McFadden couldn't quite control it and the ball went out for a goal kick. I left at this point as I simply couldn't see a way back and didn't really fancy watching Liverpool over-celebrate after so blatantly getting away with murder. In doing this however I did miss possibly the biggest flashpoint of the lot.
As I was leaving I heard a big cashendo of boos. My immediate thought was that Liverpool had gone and scored another. When I met the other lads later on they filled me in on what had happened, and again, it wasn't until I saw it later on that I realised what had happened as Lescott was clearly hauled down in the box by Carragher. Quite how the referee didn't see that as a foul I just don't know, but I'm sure the FA won't mind as long as the big four keep winning.
Later on in O'Neils it showed just after the final whistle on the TV and Everton seemed quite dignified in how they treated the ref. With quite a few players namely McFadden and Jagielka surrounding the referee and quizzing him about his baffling performance Stubbs told all the Everton players to leave it and walk away, as they all did so Stubbs just couldn't resist, turned round at the referee and yelled "You're fuckin' shit".
Quite frankly, I couldn't have said it better myself.
Player Ratings:
Howard: He might think he could have saved that second penalty although I'm not blaming him or nothing. Did quite well. 7
Lescott: Did very well and showed yet again just how comfortable he is at left back as well as centre back. 8
Yobo: Was generally very good at the back. 8
Stubbs: He's always an important one to stick in to derbys as he seems to feel it more than most and is very calm when under pressure. 8
Hibbert: Although he hesitated for their first goal I do sympathise with Tony. As he waited for the ball to come down (again, having seen it on the telly since) it took the most ridiculous bounce in Voronin's favour. He was then in trouble as if he'd have committed himself to it and missed it Gerrard obviously had a free run on goal so I think in a lot of ways he made the right decision. He was then very unlucky to get sent off because even now we still don't really know if it was a penalty or not, but if it was a foul, yes I guess he had to go, but it shouldn't have been a penalty because the contact was outside the box. Absolute nonsense and even after all that it was Gerrard who sent Hibbert off. Not Clattenburg. 6
Osman: I thought he did very well in parts but gave the ball away just a bit too much. 7
Jagielka: Once he got into the game he was very good and made a lot of important tackles. 7
Neville: He had a great game I thought and I give him credit for handballing on the line there. He did the right thing and I don't think too many players would have done that in this day and age given the club fines you get for yellow and red cards, and not to mention the three-match suspension he'll now have to serve. The ironic thing is Kuyt did the worst thing all game, and that was against Neville but given the professional he is he just got up and got on with it. If that were on Gerrard he'd have had him by the throat for that. 8
Arteta: Did quite well. He deliveries from set-pieces were particularly brilliant all game. 7
Anichebe: As usual he put himself about well and bullied the Liverpool defence a wee bit. 7
Yakubu: My man of the match and it illustrates the importance of hard work. More of that please. 8
Subs:
McFadden (for Yakubu): He would have liked longer on the pitch I reckon but I could see Moyes's dilemma in not getting him on earlier. If he'd have put him on to replace a striker, and then Liverpool would've gone and scored we'd have been unable to put another striker on to go for it. 6
Baines (for Anichebe): Not on long, can't judge.
Match Preview
The first Merseyside derby of the season rolls around on the back of another international break as both clubs sweat on the fitness of key personnel ahead of Saturday's lunchtime kickoff.
While the Anfield press office has been banging on about androgenous marksman Fernando Torres winning his "battle" to make his derby debut at Goodison this weekend, Tim Cahill has been training hard in the hopes of playing some part in what would be his first senior appearance for the Blues since March.
David Moyes has been cagey about the possiblility of either Cahill or Thomas Gravesen being passed fit to play so it's proably safe to assume that the best either can hope for is a palce on the bench and that the boss will be choosing his starting XI from a familiar crop of players.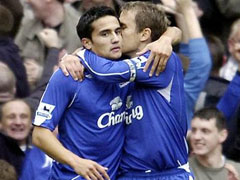 Tim Cahill:
will he bit enough to face down the Dark Side?
That means more agonising over the best central midfield combination and, possibly, whom to deploy at right back given the mixed form of Phil Neville and Tony Hibbert in those respective positions.
Given the fact that it's likely to be a hotly contested game, it wouldn't be a surprise to see Neville start alongside Lee Carsley, with Steven Pienaar and Mikel Arteta on either side.
By the same token, the old campaigner Alan Stubbs might get the nod in central defence, either at the expense of Joseph Yobo whose error at Newcastle allowed Michael Owen to head home what proved to be the winner or Joleon Lescott who returned from a lengthy trip to Russia with England on Thursday.
And then there's the issue of Yakubu, whose goalscoring form since shattering the club's transfer record when he arrived for £11.25m in late August has been the subject of much debate on Everton websites and forae in recent weeks. [Basically, is he lazy or are Everton just not playing to his strengths?]
With Victor Anichebe doing most of his damage from the substitutes' bench, Yakubu's scoring record prior to joining the club speaking for itself, and James McFadden in outstanding form for Scotland, Moyes has a conundrum on his hands and he seeks to unlock the Liverpool defence and become the first Everton manager to win consecutive home derbies since Howard Kendall (mk II) 14 years ago.
The Reds, already attracting criticism from some quarters for a comparatively slow start to a season where they were expected to seriously challenge for the title, may only lie three points above us (albeit with a game in hand) going into this one but they have yet to be beaten this season.
Extra incentive, therefore, for an Everton side that will need no extra motivation to go out and give it their all and retain local bragging rights.
Matchday Stats
Following the international break, Everton go into the 206th derby match looking to get their League form back on track.
Everton's record against Liverpool:
| | | | | | | |
| --- | --- | --- | --- | --- | --- | --- |
| | P | W | D | L | F | A |
| Premier League | 30 | 8 | 11 | 11 | 31 | 35 |
| Division One | 146 | 48 | 44 | 54 | 181 | 203 |
| FA Cup | 20 | 6 | 5 | 9 | 24 | 34 |
| League Cup | 4 | 1 | 1 | 2 | 1 | 2 |
| Charity Shield | 3 | 1 | 1 | 1 | 2 | 2 |
| Screen Sport Super Cup | 2 | 0 | 0 | 2 | 2 | 7 |
| TOTALS: | 205 | 64 | 62 | 79 | 241 | 283 |
Our record against Liverpool at Goodison Park:
| | | | | | | |
| --- | --- | --- | --- | --- | --- | --- |
| | P | W | D | L | F | A |
| Premier League | 15 | 6 | 4 | 5 | 19 | 17 |
| Division One | 73 | 27 | 23 | 23 | 93 | 87 |
| FA Cup | 10 | 5 | 1 | 4 | 13 | 16 |
| League Cup | 1 | 0 | 0 | 1 | 0 | 1 |
| Charity Shield | 1 | 0 | 0 | 1 | 0 | 1 |
| Screen Sport Super Cup | 1 | 0 | 0 | 1 | 1 | 4 |
| TOTALS: | 101 | 38 | 28 | 35 | 126 | 126 |
The last match between the sides was on 3 February 2007, when Liverpool's expensive strike force could not find a way through the Everton defence, as the teams fought out a 0:0 draw — which prompted Rafael Benitez's "small clubs" jibe.
This was despite the fact that earlier that season, on 9 September 2006, Everton beat Liverpool 3:0 in the last match between the sides at Goodison Park, with the Everton goals coming from Tim Cahill and Andy Johnson's brace.
The Goodison match last season saw Everton score 3 goals against Liverpool in a single game for the first time since the 4:4 FA Cup match in February 1991, as well as being Everton's biggest win over their local rivals since the 4:0 win at Anfield on 19 September 1964, and the biggest home win since Everton's 5:0 victory on 9 April 1909!
This will be Everton's 14th match on 20 October:
| | | | | | | |
| --- | --- | --- | --- | --- | --- | --- |
| | P | W | D | L | F | A |
| Premier League | 1 | 1 | 0 | 0 | 3 | 2 |
| Division One | 11 | 6 | 3 | 2 | 25 | 17 |
| Division Two | 1 | 0 | 0 | 1 | 1 | 5 |
| TOTALS: | 13 | 7 | 3 | 3 | 29 | 24 |
The last match on this date was a 3:2 win over Aston Villa at Goodison Park in 2001 with Everton's goals coming from Steve Watson, Tomasz Radzinski and Thomas Gravesen.
The teams have actually met on this date twice before, but both matches were at Anfield. The first, in 1979, saw Everton come away with a 2:2 draw thanks to goals from Brian Kidd and Andy King. The second was in 1984, when Graeme Sharp scored THAT goal – can someone repeat history at Goodison?
Milestones that can be reached this game:
If one of Liverpool's players puts through his own net, then Everton would have benefited from 100 own goals in League matches (and 127 overall).
* Unfortunately, we cannot control other sites' content policies and therefore cannot guarantee that links to external reports will remain active.
EVERTON (4-5-1)
Howard
Hibbert
Lescott
Yobo
Stubbs
Neville
Jagielka
Osman
Arteta
Anichebe (Baines 83')
Yakubu (McFadden 76'
)
Subs not used
Pienaar
Carsley
Wessels
Unavailable
Johnson (injured)
Cahill (injured)
Vaughan (injured)
Gravesen (injured)
Anderson (loan)
LIVERPOOL (4-4-2)
Reina
Finnan
Riise
Carragher
Hyypia
Mascherano
Gerrard (Lucas 70')
Sissoko (Pennant 87')
Benayoun (Babel 67')
Voronin
Kuyt
Subs not used
Itadnje
Crouch
Premier League Scores
Saturday
Arsenal
2-0
Bolton
Aston Villa
1-4
Man United
Blackburn
4-2
Reading
Everton
1-2
Liverpool
Fulham
0-0
Derby
Man City
1-0
Birmingham
Middlesbro'
0-2
Chelsea
Wigan
0-2
Portsmouth
Sunday
West Ham
3-1
Sunderland
Monday
Newcastle
3-1
Tottenham
Premier League Table
Pos
Team
Pts
1
Arsenal
25
2
Man Utd
23
3
Man City
22
4
Liverpool
19
5
Portsmouth
18
6
Blackburn
18
7
Chelsea
18
8
Newcastle
14
9
Aston Villa
14
10
West Ham
13
11
Everton
13
12
Reading
10
13
Fulham
8
14
Birmingham
8
15
Wigan
8
16
Sunderland
8
17
Middlesbro
8
18
Tottenham
7
19
Derby
6
20
Bolton
5
After 22 Oct 2007