Venue: St James' Park, Newcastle
Premier League
Sunday 7 October 2007; 3:00pm
Butt (42'), Emre (86'), Owen (89')
Half Time: 1-0
Johnson (52'), Given (og:90')
Attendance: 50,152
Referee: Martin Atkinson
Johnson, Yakubu and Jagielka on the bench; Hibbert at right-back, Baines back at left-back; Neville midfield.
Newcastle started strongly, pressurizing Everton with a free-kick and Martins running free and shooting wide. An early shot from Neville in reply, with Anichebe then playing well off McFadden.
Anichebe had a terrific header cleared off the line after 12 minutes as the Blues looked well up for the challenge. Newcastle came back with a fierce shot from N'Zogbia that was very well saved by Howard. Butt was booked for a bad foul on Stephen Pienaar.
McFadden lost the ball (yet again), leaving the Everton defence outnumbered as the Barcodes swarmed forward, with Howard parrying the first shot but the ball broke for Butt who lifted it over Howard to put Newcastle ahead just before half-time. It was a cruel scoreline for Everton but again, if you don't retain possession, you can't call it unjust when the opponents take advantage.
For McFadden's irritating inability to hold the ball, he was withdrawn at the start of the second half, to be replaced by Andy Johnson. And once again, key changes by David Moyes paid off in spades. A good ball from Anichebe to pick out the run of Leighton Baines who opened up, the Newcastle right flank, putting in a great cross behind the Newcastle defence that Andy Johnson bundled it in from almost on the line. AJ finally off the mark and Everton now with everything to play for.
The substitutions and the goal changed the game in Everton's favour and they threatened to score again from an ensuing attack and corner. Smith was booked for fouling Lescott. But Everton were unable to profit further from this period of superiority and were being pinned back again when Moyes swapped Pienaar for Osman.
Arteta created a great chance for Anichebe who was denied twice. At the other end, Emre tried top con a penalty off the ref but was thankfully denied. Owen also went very close but Howard just tipped his fence shot. Butt headed over from the corner. But it was Emre who won it on 4 mins, Osman's poor defensive header out to the edge of the box falling nicely for the Turk to whack it low into the corner.
Then, a free-kick form the right, poor defending by Everton allowing Owen to pop up to head it home for a killer third goal. A travesty, and another glorious opportunity to hammer home the advantage squandered. Bizarrely, Given then palmed a nice Arteta cross into his own net! Would ya believe it?!
Quality Edges it for Newcastle
Everton fell to their first defeat in four games as key substitutions by Sam Allardayce reaped rich dividends for Newcastle at St James' Park.
For all David Moyes's pre-game talk that he is happy with the depth of his squad, his opposite number this afternoon was able to throw Emre and Michael Owen on with 15 minutes gone and both scored the goals in the last five minutes that put the result beyond the Blues and condemned to a drop down to 10th in the table.
As expected, Moyes rewarded Victor Anichebe for his efforts in Kharkov on Thursday and the 19 year-old partnered James McFadden up front. Lee Carsley's bite was returned to central midfield alongside Phil Neville, Tony Hibbert lined up at right back and Leighton Baines was restored at left back.
The manager claimed that there was no European hangover from arriving back in the UK at 5am on Friday but the central defensive pairing of Joleon Lescott and Joseph Yobo did seem to need a few minutes to settle. The danger posed by the pace of Obafemi Martins was all too evident after only four minutes as the Nigerian raced clear onto Alan Smith's through-ball but screwed his shot wide of the post. It was a real letoff for Everton as he really should have scored but it was a warning that was heeded because Yobo and Lescott did improve as the game wore on... until a lapse by the former allowed Owen to score the winner.
In stark contrast to the shambles of the first half in Kharkov, Everton appeared determined to get the ball down on the deck and pass it for a change. Whether it was a response to criticism of their style of play in recent games, an acknowledgement that their approach play has been so one dimensional or a reflection of the calibre of the opposition, Moyes's side actually knocked it around pretty well in spells.
Not only that but Neville popped up in the opposition area in the 7th minute to receive a return ball from Arteta following a throw-in but his left-foot shot ricocheted off a defender a behind. Then, Anichebe went up for what Shay Given thought was a routine catch of Hibbert's spooned cross, beat the 'keeper to it but saw his back-header hacked off the line by Geremi. And McFadden finished off a nice passing move when he tried to curl one around the 'keeper but his effort dropped a yard wide.
At the other end, Newcastle's own enterprise created a chance for Charles N'Zogbia who powered forward and forced Tim Howard into a diving left-handed save after a quarter of an hour before Milner danced past Hibbert to the byline but his attempted cross was deflected behind.
United were growing in confidence as the half went on and after Carsley had almost put through his own net when he threw his head at Faye's whipped-in free-kick, Martins sold his marker a flawless dummy and Smith's attempted side-foot into the bottom corner was crucially deflected behind by Yobo.
If Everton thought they had escaped until half-time, however, they were to be disappointed three minutes before the break when, following desperate defending, Lescott dug out a chipped clearance which fell to Nicky Butt who controlled it on his chest before curling an unstoppable shot into the tor corner.
In a half in which the Blues had passed and moved perhaps better than in any of their last four or five games but in which Arteta was clearly being shackled for the most part by double marking, Pienaar was busy but unable to really create much in the final third and McFadden was being frustrated by the attentions of Geremi and Faye, Allardyce's side had the extra quality in their ranks to make the breakgthrough.
At half time, Moyes made the obvious choice of replacing McFadden with Andy Johnson and it made all the difference. His pace and running immediately added another dimension to the Blues' play and eight minutes after the restart, when Baines got behind the defence and surged to the byline for the first time, Johnson was on hand to bundle home his cross from close range.
Buouyed by the striker's first goal since March, Everton asserted a degree of control on proceedings. With the movement ahead of him, Arteta started finding more space in which to weave his magic and for the next 20-25 minutes it was the visitors who looked the more likely to win the game.
And a great chance arrived with 10 minutes left when the Blues broke quickly through Arteta down the left and his ball found Anichebe as the man over in plenty of space just outside the area. Unfortunately, a tremendous double-block by the Newcastle defence denied him and the chance was lost.
Six minutes earlier both sides had made substitutions; for Everton Leon Osman replaced Pienaar while Newcastle removed Martins for Owen and Milner for Emre. And the Turk didn't take long to make a nuisance of himself, driving into the box and tumbling under the attentions of Neville but referee Martin Atkinson waved away his appeals for a penalty.
Six minutes after that, after Owen had brought the best out of Howard and Butt had bulleted a header off the resulting corner wide, Emre restored the Barcodes' lead with an impressive 25 yard shot after latching onto Osman's defensive header.
And as Moyes prepared Yakubu to come on in the dying stages of normal time, Emre whipped in a free kick, Owen ghosted away from Yobo who appeared to have switched off and the England man headed in off the bar to make it 3-1.
Yakubu did make his belated entrance in injury time but it was Arteta who was behind the Blues' second goal of the afternoon. Jinking to the byline, he despatched a deflected cross that looped awkwardly over the face of Given's goal prompting the disorientated 'keeper to palm the ball into his own net.
A last-ditch, grandstand finish was on the cards but Newcastle effected an impressive game of keep-ball for the final couple of minutes of stoppage time and secured a 3-2 win.
Having weathered the initial storm by the home side, equalised early in the second half and then taken the initiative to such an extent that an away win looked to be on the cards, this was a pretty cruel result on Everton. Unfortunately, however, Allardyce had that bit more depth of quality at his disposal and it told in the closing stages when it did look as though the Blues' midweek exertions may have started to show a little.
But given that they had at their heart the much-maligned central midfield duo of Neville and Carsley, Everton should take heart — or at least be congratulated — for more cohesive passing in midfield and a greater willingness to keep things on the deck a bit more. They still weren't as dangerous overall as their hosts — in that respect, the Newcastle boss was an example to his opposite number in how to make sure you go out and secure the players you need — but they would have been full value for a draw had they been able to secure one.
Unlucky Blues Defeated at Newcastle
Having stayed over in a hotel for a night out on Saturday, Gaz and I (me in particular) were notably worse for wear on Sunday for this game. We went for a couple of jars before the game in O'Neils and then onto some sleezy sports bar. I could barely stomach a beer but even less so the site of several Geordies shamefully watching some woman degradingly pole dance on a Sunday afternoon. For a change we moved on to the game well in time for kick off and climbed the mountain of steps that took us to our seats.
Everton had made four changes for this one from Thursdays trip to Ukraine. Baines and Hibbert came into the defence with Stubbs rested and Neville pushing up into midfield. The other change in midfield was the return of Carsley whom replaced Jagielka with Osman joining Jags on the substitute bench. Up front Yakubu was quite rightly dropped for Anichabe who deserved his place after his excellent goal on Thursday. He partnered McFadden in attack.
Both sides started quite brightly in the first half with Newcastle perhaps carving out more chances than the blues. Obafemi Martins burst through early on but thankfully screwed his shot wide. As the half progressed as to did Everton and as we came back into the game a bit more, lead as usual by Mikel Arteta. The closest we came was probably when a dreadful cross in by Hibbert, whom sliced badly high up in the air towards Given, had Anichabe challenging the Irish goalie. Victor got a great head on it and flicked it towards goal where it was cleared off the line by Newcastle. Even then they still nearly scored an own goal with the defender smacking the ball against Given before it was eventually scrambled away. Otherwise McFadden curled just wide from the edge of the box when set up by Arteta as Everton got into their rhythm. Whilst all this occurred Newcastle still probed with N'Zogbia forcing Howard into a good save and Smith firing wide with a great opening. Just when the half appeared to be heading got 0-0 at the break, Newcastle scored to give themselves an advantage on 42 minutes I think. From a bit of pressure Lescott half cleared the ball. From this I felt Neville could have gotten another clearance on the ball but he was beaten to it by his ex-Man Utd colleague Nicky Butt, who controlled the ball before flicking it into the corner of the net to give Newcastle the lead. Shortly afterwards the half time whistle went and Everton went in at half time 0-1 down.
For the second half Moyes made an early change replacing McFadden with Andy Johnson. The effect was almost immediate as early in the second half Everton were level when Baines got free down the left hand side and galloped into the box. He then squared the ball across the six-yard box where Johnson was well placed and simply couldn't miss, much to his obvious delight. The Everton fans went wild and Johnson made a beeline straight for the dugout where he embraced his manager. This certainly gave Everton a shot in the arm, as they then seemed to play the ball around with a lot more confidence. We had a great chance to take the lead as well when Arteta played a neat ball into the path of Anichabe who had a great opening. Unfortunately his touch was poor and he couldn't quite get the ball out of his feet. He still drove at goal but a Newcastle defender got in the way, it came back to Anichabe but he snatched at the rebound and it was going well wide before it was blocked. At the other end Newcastle hadn't really threatened much in this half and you felt Everton, backed by an excellent and noisy away following were the more likely team to go on and win this.
As it was the Newcastle substitutes both had a big impact on the game. Just as Osman replaced Pienaar, Newcastle changed things with Emre and Owen both taking to the field (to a chorus of boos from the Everton end) to replace Martins and Milner. Both had an immediate impact with Owen certainly very lively. The goal that gave Newcastle the edge was certainly a sucker punch with Emre picking the ball up about 25 yards out and smacking an unstoppable shot into the corner of the net. Everton still seemed to have plenty of belief as they tried to mount an unlikely late come back with Arteta and Baines in particularly driving hard down the left side. As it happened it was Newcastle whom made it 1-3 when Owen scored from a quick free kick into the box. I didn't see it at the time as my eyes were elsewhere but I presume it was poor defending if Owen can get a free header in like that. We were finished and headed for an early exit. It seems Everton weren't quite though as we made it 2-3 as a taxi driver informed us. When we asked who had scored he was none the wiser but in hearing the match report on the radio, it was actually an own goal by Given from an Arteta cross. That was it though. We then picked the car up and had the long tedious drive back to Merseyside. Kudos to Gaz for the driving.
At the end of the day we didn't deserve to lose this one but that was also the case against Man Utd and to some extent Aston Villa. That's three defeats in four league games now, and with the next game against Liverpool, lets not make that four in five hey.
Player Ratings:
Howard: Faultless with the goals and made some smart saves at times. 7
Baines: Got forward very well as shown by his assist and was comfortable in defence. 8
Lescott: Very steady at the back as usual. 8
Yobo: Was very commanding in defence and won a lot of headers. 8
Hibbert: Solid at the back and distributed better than usual. Was very unfortunate to collect his booking. 7
Arteta: Was central to most things for Everton's attacking and was by far the most creative player out there I thought. My man of the match. 8
Pienaar: Blew hot and cold really but did try very hard both in attack and in covering defensively. 7
Carsley: Had a good solid game in the middle, made a lot of tackles and interceptions. 7
Neville: Gave the ball away well too many times and was hardly great in the tackle either. 5
Anichebe: Worked hard, won a few headers but appeared to be a little nervous in front of goal. 6
McFadden: I thought he did alright if not spectacularly in the first half but was subbed at the break. 6
Subs:
Johnson (for McFadden): Got his rewards and justified the substitution with his goal and was also full of running. 7
Osman (for Pienaar): Didn't really get into the game. 5
Yakubu (for Neville): I'd left before he came on so don't know.
Match Preview
The excitement of Thursday evening's victory in Kharkov not yet out of the system, thoughts must turn back to the bread and butter of the Premier League as Everton prepare take what will no doubt be fairly weary minds and bodies to St James' Park to face unpredictable Newcastle United on Sunday.
There has been plenty of concern voiced over the paucity of ideas and creativity that were a feature of the Blues' performance over the two legs against Metalist Kharkiv but the victory and the manner in which it came will surely provide a shot in the arm for team morale. Three consecutive victories have seen David Moyes's side progress in both cup competitions in which they're currently embroiled and elevate themselves back into the top five in the League... that despite real problems in central midfield and a worrying tendency to concede goals that has prevented them from keeping a clean sheet in all but two fixtures so far this season.
With Tim Cahill not likely to be fit until the Merseyside derby on the 20th and precious little news on the condition of Thomas Gravesen suggesting the Dane won't be ready this weekend either, Moyes's midfield conundrum will persist as he mulls his options for what has the potential to be a difficult game against a Barcodes side that has plenty of firepower.
With neither Phil Neville nor Phil Jagielka instilling much confidence in their ability to fill the void in central midfield, the time may be right to give Lee Carsley another crack at proving he has one more season of good form left in him.
Certainly, his ability to sit in front of the back four and disrupt the opposition's flow was sorely missed against Metalist and while his central midfield partnership with Neville looked a desperately poor one against Reading back in August, there may be some merit in partnering him with someone like the ever-improving Steven Pienaar in order to offset the light-weight combination of his presence in the same starting XI as Leon Osman.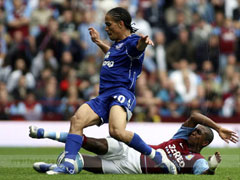 Steven Pienaar:
getting better with every game
That Neville's best position is at right back is now almost beyond debate but an impressive defensive display by the beleaguered Tony Hibbert against Middlesbrough last weekend will give Moyes a small selection headache. Does he go for the greater attacking threat that his captain provides down the flank or hope that Neville can recreate the form he showed in central midfield against Tottenham?
Central defence might not be any easier for the manager. Alan Stubbs may well need a rest after his ageing legs' exertions on Thursday but Joseph Yobo looked a yard off the pace himself against Kharkiv amid concerns that he was reintroduced too soon after the illness that sidelined him for the trip to Sheffield Wednesday the week before.
And as if that wasn't enough to worry about, there's the whole issue of Yakubu, a player boasting a goalscoring record over the last four seasons second only to Thierry Henry but who is already being branded an £11.5m flop in some quarters. It's clear that the Nigerian has thus far looked incompatible with Everton's style of play and that Victor Anichebe made a mockery of his massive price tag with a stellar cameo from the bench on Thursday but his record speaks for itself and if he can get fully fit and receive better service from midfield, he is bound to come good. He may, however start on the bench this weekend with Andy Johnson likely to return and James McFadden in good goalscoring form.
Newcastle, meanwhile, insist that Michael Owen could well be passed fit despite undergoing hernia surgery just a few days ago. The England striker appeared to be back to his potent best before succumbing to yet another injury, but even if he doesn't make it in time for the Blues' visit this weekend, Sam Allardyce still has top scorer Obafemi Martins — as good a reason as any to play the pacy Yobo in the Everton defence — and the evergreen Mark Viduka to call upon up front.
The Geordies may have struggled in recent away games at Manchester City, Arsenal (who knocked them out of the League Cup) and Derby County but they are unbeaten at home so far this season and saw off West Ham by a convincing 3-1 margin a fortnight ago.
Victory for the Blues would avenge somewhat a glaring error by the linesman in this fixture last season when Shola Ameobi was allowed to score despite being at least a yard offside and would be a fantastic boost in Everton's hopes of keeping tabs on the top four. Certainly the Spurs win showed that Moyes's boys are capable of tearing apart a top side, but, as with most away games against decent opposition and in the context of their midfield weaknesses, a creditable draw would be a good result as well.
Matchday Stats
Sunday's match will see Everton play Newcastle United for the 155th time, as the club look to extend their current 3 match winning streak and consolidate their place in the European spots in the League.
Everton's record against Newcastle United:
| | | | | | | |
| --- | --- | --- | --- | --- | --- | --- |
| | P | W | D | L | F | A |
| Premier League | 28 | 9 | 6 | 13 | 31 | 41 |
| Division One | 118 | 47 | 25 | 46 | 181 | 179 |
| FA Cup | 5 | 3 | 0 | 2 | 6 | 5 |
| League Cup | 1 | 0 | 1 | 0 | 3 | 3 |
| Charity Shield | 1 | 1 | 0 | 0 | 5 | 3 |
| Full Members Cup | 1 | 1 | 0 | 0 | 5 | 2 |
| TOTALS: | 154 | 61 | 32 | 61 | 231 | 233 |
Our away record against Newcastle United:
| | | | | | | |
| --- | --- | --- | --- | --- | --- | --- |
| | P | W | D | L | F | A |
| Premier League | 14 | 2 | 3 | 9 | 13 | 27 |
| Division One | 59 | 14 | 14 | 31 | 59 | 107 |
| FA Cup | 1 | 0 | 0 | 1 | 1 | 4 |
| League Cup | 1 | 0 | 1 | 0 | 3 | 3 |
| Charity Shield | 1 | 1 | 0 | 0 | 5 | 3 |
| TOTALS: | 76 | 17 | 18 | 41 | 81 | 144 |
It would appear, based on Everton's away record against Newcastle United that the team could suffer from a post-UEFA Cup hangover.
The last match between the sides was on 30 December 2006, when a Victor Anichebe brace and a very rare Phil Neville goal, saw Everton claim all 3 points in a 3:0 win at Goodison Park. The last match at Newcastle was on 24 September 2006, when a Tim Cahill goal secured a 1:1 draw.
This will be Everton's 21st match on 7 October:
| | | | | | | |
| --- | --- | --- | --- | --- | --- | --- |
| | P | W | D | L | F | A |
| Premier League | 1 | 0 | 0 | 1 | 0 | 3 |
| Division One | 14 | 5 | 2 | 7 | 26 | 23 |
| League Cup | 3 | 3 | 0 | 0 | 10 | 1 |
| TOTALS: | 18 | 8 | 2 | 8 | 36 | 27 |
The last match on this date was a 0:3 defeat at Manchester United in 2002.
* Unfortunately, we cannot control other sites' content policies and therefore cannot guarantee that links to external reports will remain active.
NEWCASTLE (4-4-2)
Given
Beye
Cacapa
Enrique
Faye
Milner (75' Emre)
Geremi (c) (88' Rozehnal)
Butt :23'
N'Zogbia
Martins (75' Owen)
Smith :61'
Subs not used
Harper
Taylor
EVERTON (4-4-2)
Howard
Hibbert :71'
Yobo
Lescott
Baines
Neville (c) (90' Yakubu)
Pienaar (75' Osman)
Carsley
Arteta
McFadden (46' Johnson)
Anichebe
Subs not used
Wessels
Jagielka
Unavailable
Cahill (injured)
Vaughan (injured)
Gravesen (injured)
Anderson (loan)
Premier League Scores
Saturday 6 October 2007
Aston Villa
1-0
West Ham
Man United
4-0
Wigan
Sunday 7 October 2007
Arsenal
3-2
Sunderland
Blackburn
2-1
Birmingham
Bolton
0-1
Chelsea
Fulham
0-2
Portsmouth
Liverpool
1-2
Tottenham
Man City
3-0
Middlesbro'
Newcastle
3-1
Everton
Reading
1-0
Derby
Premier League Table
Pos
Team
Pts
1
Arsenal
22
2
Man Utd
20
3
Man City
19
4
Liverpool
16
5
Portsmouth
15
6
Blackburn
15
7
Chelsea
15
8
Aston Villa
14
9
Newcastle
14
10
Everton
13
11
West Ham
10
12
Reading
10
13
Birmingham
8
14
Wigan
8
15
Middlesbro
8
16
Sunderland
8
17
Tottenham
7
18
Fulham
7
19
Bolton
5
20
Derby
5
After 10 Oct 2007