Everton took top spot in Uefa Cup Group A following the first round of matches with a 3-1 victory over AE Larissa at Goodison Park. What was at times an ordinary performance and later in the game a nervy one was punctuated by three top-class goals as David Moyes's side banished their derby day blues.
With Zenit St Petersburg and AZ Alkmaar sharing the spoils in the group's opening match earlier in the evening, the Blues knew that victory would see them go top of the group but they set about the task in familiar fashion, squandering possession with loose passes and attempts to find James McFadden, the lone striker in a 4-5-1 formation which was lent more bite by the return to action of Tim Cahill, with long balls from the back.
With less than a quarter of an hour gone, however, Everton found their inspiration and Cahill found the net, converting from close range to open the scoring. A quick short exchange between Mikel Arteta and Leon Osman ended with the latter neatly side-stepping his marker towards the byline and despatching an inch-perfect cross across the face of goal where Cahill made no mistake by heading home from five yards out.
Emboldened by the goal, Moyes's side started to knock the ball about more confidently on the deck and might have doubled their lead seven minutes later when Cahill ended a nice move by cutting the ball back to McFadden instead of going for goal himself. Unfortunately, the Scot wasn't expecting the pass and his snapshot was tame and easily saved by Stephanos Kotsolis in the Larissa goal.
As the first half wore on it became clear that Everton were fairly comfortable and that such was the lack of threat from the Greeks that they should have no problems easing their way to victory. Proceedings turned a bit niggly mid-way through the half when both Joleon Lescott and Nikos Dabizas picked up bookings and it wasn't until four minutes before the break that the home side created another real scoring opportunity, Cahill unleashing a terrific 25-yard effort that Kotsolis did well to push away for a corner.
If the visitor's keeper earned his teammates' thanks for that one, he outdid himself at the start of the second half when Lescott's superbly-weighted throughball put McFadden in the clear but Kotsolis won the one-on-duel by saving with his legs as the Scot tried to fire it past him with the outside of his left boot.
Four minutes later, however, it was 2-0 and a quite wonderful goal it was too. Cahill led a quick counter-attack with a purposeful drive and some neat footwork before sending Baines away down the left. His cross was smartly back-heeled by Steven Pienaar into the path of Osman who had time to line up his sights and lash it home from 25 yards. Kotsolis barely moved as the ball swerved inside the post and bulged the back of his net, Goodison got to its feet and applauded a special moment for a team that has struggled to produce such magic so far this season.
That should really have been job done. Indeed, the Blues allowed Larissa to take some of the initiative after that as the Greeks tried to find a way back into the game. Moyes was preparing a double substitution with 25 minutes left when potential disaster struck.
Tim Howard bowled a short ball out to Lescott on the edge of the box but the defender failed to look up and turned straight into the on-rushing Cleyton who robbed him and fired past the stranded 'keeper to make it 2-1.
Initially, the Blues appeared unperturbed and had the Gwladys Street baying for a penalty for handball a couple of minutes later but the Swedish referee correctly waved play on as the ball had struck the defender's head. Then, Victor Anichebe, on for McFadden, was picked out brilliantly by a throughball by Thomas Gravesen, on for Cahill, but after trying to barrel his way past two defenders he was eventually closed down.
But the cession of the goal started to weigh on Everton and they became increasingly ragged and nervous. They seemingly forgot how to do the basics for a while and appeared to be giving the ball away willingly, such was their inability to keep it for more than a few seconds.
Thankfully, while the Greek side were enjoying plenty of possession in and around the Blues area, a Klatsis shot that deflected narrowly wide from Ibrahima Bakayoko's cross was as close as they came before Anichebe wrapped up the points with five minutes left of the 90.
Again it was a Gravesen through-ball that sent him on his way whereupon he took full advantage of dithering by the last defender to tuck it past the 'keeper and into the far corner and make it 3-1. An expertly taken goal and just the tonic Everton needed to calm their jitters. Indeed, the 19 year-old went close to notching a brace in injury time but his shot on the turn after latching onto Arteta's intelligent, defense-splitting free kick was parried by the 'keeper.
So, ultimately a comfortable opening to life in Group A, secured despite Moyes making five changes from the team that started the derby, and the confidence that comes with being the early pace-setters in the group. Given the number of personnel changes and the employment of a 4-5-1 formations for the first time this season it was perhaps not surprising that this was not the complete performance one might have hoped for.
While Gravesen exhibited many of the characteristics that made him so valuable — comfort on the ball and an eye for a scintillating through-ball — yet infuriating — loose, over-casual passing and headless-chicken imitations — during the latter months of his first spell at Goodison, it was the return of Cahill that really caught the eye, though. His goal was the obvious sign of the edge he brings to the team going forward but he also provides that little bit extra in midfield as well. He's not a tough-tackling midfield general type but he always looks to push the ball forward whenever possible and he possesses some tidy ball skills that are often under-appreciated.
Ultimately, it was his presence that masked the otherwise lacking threat up front when it was just McFadden ploughing a lone furrow for the first hour or so before Anichebe took over with another display of precocious confidence, powerful running and clinical finishing.
Having arrived in good time for the game, we went for a few beers. Usually we go to The Spellow but this time thought we'd go for a few in The Westminster as we remembered the insane queues for the bar prior to the Metalist Kharkiv game.

At about 7:30pm we headed for the ground (stopping on route for the worst food imaginable — watery gravy, under-cooked chips and cold sausage). We had great seats for this one, just away towards the Lower Gwladys in the Main Stand. We'd already heard the team news in the pub from Ste so weren't surprised with what we saw when the teams came out.

Moyes made five changes from the team that got robbed by Liverpool on Saturday, with Baines replacing Stubbs, moving Lescott to his more familiar position of centre-back. Carsley replaced Neville with Osman partnering him in the middle; Pienaar replaced Jagielka with Arteta on the opposite flank, and the front two were replaced by Cahill making his return, and McFadden up front on his own. Yobo captained the side for I think the first time and Cahill got a great reception on his first game back. Stubbs, Jagielka, Gravesen, Wessels, Yakubu, Anichebe and Valente made up the substitutes. As for Larissa, they featured expensive Walter Smith flop Ibrahima Bakayoko, and dreadful ex-Newcastle Utd and Leicester City centre back Nikos Dabizas who captained the side.

We won the toss and so attacked the Park End in the first half. Up until our early goal, I felt Larissa probably had the better of the game. The goal came from a corner: Arteta played it short to Osman who played it back to Arteta. Whilst everyone expected a cross he instead played it back to Osman who turned into the box and crossed fairly low for Cahill to stoop and head into the net. Cahill made straight for the corner flag to continue his boxing-themed celebration..

This early goal from Cahill settled Everton somewhat and we began to play a lot more productively. Shortly afterwards, Cahill again came close when he collected a McFadden knockdown and drove a low bouncing effort towards the corner of the goal, only for Kipouros to tip round the post with a good low save.

Whilst I went to get a coffee I heard a bit of a cheer. When I quizzed Adam and Gaz about what had happened, they both said they didn't know, but that Bakayoko had missed a good chance… some things never change, eh! After that, a big Larissa defender cleared a ball high into the air. I looked away to reach for my coffee and heard a big cheer. When I looked back up I saw a ball boy holding the ball and throwing it to an Everton player. I quizzed "What happened? Did the ball boy catch the ball?" "No he cleared the stadium!" explained a baffled Gaz.

Everton coasted through the rest of the half against a Larissa side, which was notably average.

With no changes at half time, Everton pretty much carried on where they left off and doubled their money early in the second half with a great move. McFadden had already spawned a great opportunity when he was played through by a superb ball from Lescott but he shot pretty much straight at Kipouros. That would have been a good goal, but Osman's was simply brilliant. Arteta got away down the right-hand side and played a neat ball inside for Pienaar. He flicked smartly to Osman who was steaming in about 20 yards out. Osman smacked it first time and it curled delightfully into the corner, making it 2-0 to Everton.

With the blues still coasting, Moyes decided to change things a bit. As we saw Gravesen warming up and then getting stripped, I felt he would be replacing Cahill in his first game back. I then saw Anichebe getting stripped too, so McFadden seemed the obvious change here, although I, for one, wasn't sure about the prospects of Anichebe playing up front on his own. Nevertheless, it probably wouldn't have mattered until…

A Larissa player was heading goalwards with a possible goalscoring opportunity and Yobo brought him down. I think Lescott was just about covering so Yobo was booked but nobody really could have complained had the referee have sent Yobo off. The free kick deflected off the wall, looped high in the air and was gathered by Howard. He bowled it out quickly to Lescott who tried to take a player on for some reason, was robbed by the Brazilian, Cleyton Alexandre Silva, who took it forward and finished smartly past Howard.

I thought Moyes might have held back (at least with the Anichebe substitution) here, but he relented and made the changes. Everton got a bit jittery for the next 10 minutes or so but the game certainly opened up. Both sides had half-chances and the next goal was always going to be the most important. Thankfully it came to us. Anichebe had already been denied once previously by a combination of Kipouros and Dabizas, but made no mistake this time around when put through by Gravesen. He held off the defenders with a lot of power, showed good speed and skill by getting himself a good angle, and finished smartly to settle this one for Everton.

In the closing stages, Stubbs replaced Pienaar, moving Lescott to left back and pushing Baines up into midfield.

Overall, Everton's best performance at Goodison Park this season, and probably the second best overall after the Spurs game. With Cahill and Gravesen now available, Vaughan practically back and Johnson nearly there as well, things are starting to look a lot better now.

Kudos to the Larissa fans for making so much noise and to the Swedish referee for not being an over-fussy Kopite!
Player Ratings:
Howard: As usual, very composed and confident. 7
Baines: Got forward very well and was very calm in defence. 7
Lescott: That blooper aside he played very well. I guess we can let him off just this once. 6
Yobo: Did well in his first game as captain although some may argue he could have been sent off. 6
Hibbert: I thought he was pretty good. As usual he was fine in defence and pretty poor with distribution. 7
Arteta: Had a good game and caused a lot of problems down the flanks. 7
Carsley: My man of the match: Made numerous interceptions and passed the ball around simply and effectively. He may well keep his place against his old club on Sunday. 8
Osman: Scored a fantastic goal and was quite productive in the middle also. May also play against his old club on Sunday, particularly with the absence of Neville. 7
Pienaar: I don't know if he's always been hard working; if its something Moyes has drilled into him or if he's just trying hard to impress but he does get up and down that flank a lot. He's a bit over-elaborate at times but generally pretty good. Lovely flick for Ossie's strike. I reckon we should sign him up if he's only Ł2M. 7
Cahill: Made an immediate impact and although he often goes ages without touching the ball, he does have a good presence and is a very, very positive player. We've certainly missed him. 8
McFadden: Toiled and did OK but did have a good chance to score which he missed before he was subbed. At least looks comfortable up there on his own. 6

Gravesen (for Cahill): Showboated unnecessarily for a while but played a great ball through for Anichebe to seal the game. 6
Anichebe (for McFadden): He struggled badly up there on his own but to his credit kept going and got his rewards with a lovely goal towards the end to win us the game. 6
Stubbs (for Pienaar): Not on long enough, can't judge.
Match Preview
Still no doubt fuming over the controversial nature of Saturday's derby defeat to Liverpool and the refusal of the FA to do anything concrete in response to referee Mark Clattenburg's suspiciously incompetent performance, Everton have the chance to put the bad memories behind them with a flying start to their first ever Uefa Cup group phase fixture.
Their opponents are the least fancied outfit in Group A, Greek side AE Larissa, but the Blues will be mindful of the fact that they dumped Blackburn Rovers out of the competition in the previous round, albeit thanks mostly to a 2-0 victory on their own soil — Rovers won the second leg 2-1 at Ewood Park and Everton will have home-field advantage on Thursday evening.
There have been noises in the tabloids to the effect that James Vaughan could make an early return to action following a discolated shoulder and, if true, that would give David Moyes more options in attack but the position that will probably be at the forefront of the manager's thoughts will be central midfield. Tim Cahill and Thomas Gravesen could be passed fit to play some part after recovering from long-term injuries.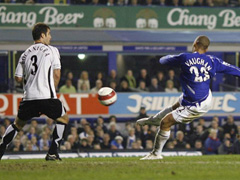 James Vaughan:
could he be in contention for his first start?
Phil Neville and Tony Hibbert's suspensions for red cards picked up against Liverpool do not affect European competition so both will be in contention for places in the starting line-up but with both attracting criticism for their form in ther respective positions this season, it would not be surprising to see the latter dropped to the bench and the former deployed at right back if either Cahill or Gravesen start, possibly alongside Lee Carsley.
Steven Pienaar, benched for the derby, possibly due to the fact that he had been involved in international duty for South Africa in the midweek prior, could be in line for a recall after showing good form against Metalist Kharkiv in round one.
Up front, Yakubu's much-improved display at the weekend where he appeared to be at his fittest since signing in late August, will surely earn him a second successive start, possibly alongside Victor Anichebe again. Andy Johnson is still out injured following surgery to his ankle but James McFadden is yet another option if Vaughan either doesn't make it or is handed a place on the bench in order to ease him back in.
The visit of Larissa brings a well-known face back to Goodison. Ibrahima Bakayoko was signed by Walter Smith for £4.5m as the answer to his striking woes but the Ivorian's career faltered on Merseyside and he is enjoying a new lease of life with the Greek side.
Their captain, Nikos Dabizas, will also be familiar to Blues fans, having played in the Premier League for seven years for Newcastle United and then Leicester City.
The Kharkiv tie showed that there are no easy games in Europe — particularly when you don't play to your strengths — but this is a match that the Blues should win if they have hopes of qualifying from the group and advancing to the next stage.
Matchday Stats
After Saturday's derby match, Everton go into their 52nd European match against Larissa, from Greece, in the first UEFA Cup Group stage match.
Everton's European record:
| | | | | | | |
| --- | --- | --- | --- | --- | --- | --- |
| | P | W | D | L | F | A |
| European Cup | 10 | 2 | 5 | 3 | 14 | 10 |
| Cup Winners Cup | 17 | 11 | 4 | 2 | 25 | 9 |
| Fairs Cup | 12 | 7 | 2 | 3 | 22 | 15 |
| UEFA Cup | 12 | 5 | 2 | 5 | 18 | 13 |
| TOTALS: | 51 | 25 | 13 | 13 | 79 | 47 |
Our European record at Goodison Park:
| | | | | | | |
| --- | --- | --- | --- | --- | --- | --- |
| | P | W | D | L | F | A |
| European Cup | 5 | 1 | 3 | 1 | 9 | 6 |
| Cup Winners Cup | 8 | 7 | 1 | 0 | 16 | 3 |
| Fairs Cup | 6 | 5 | 0 | 1 | 13 | 6 |
| UEFA Cup | 6 | 3 | 2 | 1 | 9 | 3 |
| TOTALS: | 25 | 16 | 6 | 3 | 47 | 18 |
This will be the second Greek side Everton have faced in European competition. The only other Greek opponents were Panathinaikos in the 1970 European Cup, when a 0:0 draw in Greece saw Everton go out on the away goals rule following a 1:1 draw at Goodison Park.
This will be Everton's 18th match on 24 October:
| | | | | | | |
| --- | --- | --- | --- | --- | --- | --- |
| | P | W | D | L | F | A |
| Premier League | 2 | 0 | 2 | 0 | 0 | 0 |
| Division One | 12 | 6 | 4 | 2 | 19 | 13 |
| Division Two | 2 | 2 | 0 | 0 | 6 | 2 |
| League Cup | 1 | 0 | 1 | 0 | 2 | 2 |
| TOTALS: | 17 | 8 | 7 | 2 | 27 | 17 |
The last match on this date was a 4:0 win over Luton Town in last season's League Cup, with Everton's goals coming from Tim Cahill, James McFadden, Victor Anichebe with the other coming from an own goal.
Milestones that can be reached this game:
If he plays, Mikel Arteta will be making his 100th appearance for Everton in all competitions (the 185th Everton player to do so).
* Unfortunately, we cannot control other sites' content policies and therefore cannot guarantee that links to external reports will remain active.