With Baines, Stubbs, Johnson and Vaughan out injured, David Moyes went for experience at the back, Neville and Valente flanking Yobo and Lescott; Hibbert and Jagielka on the bench. No surprises in midfield, with Yakubu leading the line up-front. No word of crowd trouble despite Uefa's concerns over Nuremberg selling home tickets to Blues fans... and then cancelling them.
A great attack in the first few seconds saw Everton hit the post from a scuffed Cahill follow-up on a superb Arteta strike that the keeper parried. Should have scored! Both sides settled and it was Lescott of all people who so nearly gave things away with an awful cross-ball in front of Yobo that was a gift to Saenko. Fortunately, Howard had seen the danger and was out smartly.
Everton were getting somewhat crowded out in a congested midfield but a good interception by Yakubu led to their first corner that was cleared but when the ball came back, Arteta sent Osman down the channel on a flowing move and his superb low cross should have been converted by Cahill but was a yard in front of the the lunging Aussie.
But Nürnberg were not to be outdone, some crisp passing setting up Kluge whose fierce shot fizzed just wide of Howard and the far post! Nürnberg were making good use of the flanks and it led to another almost horrific mistake, this time by Pienaar, who gave a gift to Rheinhardt that Howard palmed away superbly to save Everton's blushes.
Everton's play deteriorated progressively as the Germans became more confident and realized they could play their own game against the Blues with some impunity. After a bright start, it became an increasingly rare sight to see Everton passing the ball out of defence and into the Nürnberg half but most of Everton's better moves seemed to breakdown with a poor pass from Captain Phil Neville. Cahill and Arteta did combine nicely at one point but Arteta's shot from Cahill's chest-down was snatched at and wide.
One corner led to something of a panicky mêlée in the home side's goalmouth but it seemed the Everton strikers were getting in each other's way and could not dig the ball out; Yakubu's final shot was weak. Everton finished the first half a little stronger, with Osman putting in a good ball for Yakubu but Arteta's fifth corner was again gobbled up by Blazek.
It was a fairly even game, but the mistakes and missed chances should sound the warning bells for Moyes if Everton were to come away with an achievable result in the second half.
It was Nürnberg who were out of the traps after the break, with Mintal's strong shot close enough for Howard to parry and catch after the worked an opening too easily in Everton's defence. Everton weathered the storm and started to exert some pressure of their own on the hour that ramped up the atmosphere with a series of set-pieces. And they came close... but not close enough.
Valente got himself booked for a late challenge on Kluge, while Moyes pondered whether to make any changes with 25 mins to go. 10 mins later and secret weapon Victor Anichebe came on in a straight swap for Yakubu, who had done okay. The hosts responded by bringing on Aussie Joshua Kennedy, 6-ft 5-in striker, for their left-back, Schmidt.
The changes briefly added a little spice but you wondered if Everton were really going for this one, or holding on to what they had: a point and top of the Group A table. But it was a glorious chance when Anichebe blustered through and Glauber glommed onto his shirt, dragging him down. Penalty and yellow card. Mikel Arteta smashed it home in grand style with 7 minutes left.
Then, with just three minutes left, it was Victor Anichebe, off to the races, scampering down the right channel and cutting in, hounded by Manari, who he pushed off intelligently before stroking the ball in from a tight angle through the keeper's legs... BRILLIANT!
Minutes later and it could/should have been three, when Pienaar broke through with two on one but he was somehow blown for offside. David Moyes brought on Jagielka for Cahill and Hibbert for Pienaar to run the clock down in front of a jubilant contingent of traveling Blues fans, who celebrated a momentous win that puts Everton through to the next stages of the Uefa Cup, with two games left in Group A.
Victor the Euro Star as Blues Win in Nuremberg
Everton all but ensured passage to the last 32 of the Uefa Cup with a 2-0 victory in Nuremberg but they had yet more heroics as a substitute by Victor Anichebe to thank for securing the result that on balance they deserved.
For 82 minutes of an at times untidy and mundane encounter, it looked as though the two teams would play out a goalless draw but when David Moyes swapped Aiyegbeni Yakubu with his youthful Euro-star with a quarter of an hour left, the game tilted emphatically in Everton's favour. The19 year-old earned a penalty, successfully driven home by Mikel Arteta, and then used all his strength and precocious poise to finish off the German side with a brilliantly-taken second.
Featuring just one change from the side that started against Birmingham at the weekend — Nuno Valente replaced Alan Stubbs, with Joleon Lescott moving to central defence — the Blues burst off the starting blocks and could have been ahead inside the first 25 seconds. Arteta's fierce drive forced a parried save by Jaromir Blazek and as Tim Cahill slid in with a Nürnberg defender and the ball looked destined for the back of the net, the Czech keeper managed to divert it onto the post before it was hacked clear.
16 minutes later, great work and a terrific cross by Leon Osman almost got its just reward but Cahill arrived just too late to make contact as the ball skidded across the face of goal.
Nürnberg, after starting in unsurprisingly nervy fashion given their poor league form, gradually started to find their feet, though, and after Lescott was saved by a combination of Tim Howard's quick thinking and a poor first touch by Saenko after latching onto the defender's poor pass across the front of his area, Peer Kluge raked a shot wide from the angle.
A similar chance was gifted to Reinhardt by Steven Pienaar's indecision near the touchline a few minutes later but Howard pulled off a diving save to push it wide for a corner.
Everton finished the half the stronger, though, and must have gone into the break wondering how they hadn't made the breakthrough when the ball dropped between Yakubu and Lescott in the Nürnberg goalmouth but following indecision between the two the former's scuffed shot was deflected towards Blazek's grateful arms and the chance was lost.
If the first 45 minutes had shown anything it was that when Everton got the ball down and played their way through their hosts' midfield, things happened, Nürnberg's frailties were exposed and they looked like the superior side of their pre-match billing. It was frustrating, therefore, to see the ball belted over everyone's heads and straight through to the goalkeeper with increasing frequency in the second half.
Indeed, it was the regular squandering of possession — Howard, Yobo and, to a lesser extent, Neville, were the chief culprits — instead of adopting a more patient, Continental style of play that threatened to be Everton's undoing.
Howard had to again be alert three minutes into the second half when Marek Mintal unleashed a powerful left-footed drive that the American blocked before Arteta drifted almost nonchalently inside and fired a low shot that Blazek could only parry down by his feet before eventually recovering the loose ball.
As the match wore on it looked increasingly likely that Everton's best chance of earning a fifth successive game in all competitions would come from a set piece, if only Arteta could find his range. Unfortunately, while the Spaniard was his usual effervescent self with the ball at his feet on the flanks, his distribution from dead-ball situations was poor on the whole.
A flurry of free kicks in the final third of the field around the hour mark — including two direct efforts, one that deflected off the wall and one that sailed over — came to nothing and the frustration at not being able to find a way past the home defence started to tell with more free kicks being given away and bookings for Valente and Yobo for late tackles.
Sensing that an opportunity to steal the game was still on the cards, Nürnberg stepped up the pressure as the match entered the last 15 minutes but hesitant finishing and poor control at the crucial moment meant that they didn't really threaten, even when 6' 5" Australian striker Joshua Kennedy was introduced.
Instead, it was Moyes's own super-sub who grabbed all the headlines and the three points for Everton.
First, he smartly turned on Arteta's pass and muscled his way into the area whereupon he was dragged down by Glauber and the referee had no hesitation in pointing to the spot. Arteta steped up and confidently steered the penalty past Blazek with eight minutes left.
Then, with the clock ticking down, the same pass combination sent the Nigerian striker racing away down the right, seemingly with only one thing on his mind. As he drove purposefully in on goal, he paused to meet Mnari's challenge with an irresistable shoulder charge before tucking the ball between the 'keeper's legs. It was the consummate striker's goal finished with a maturity beyond his years and it put the seal on a handsome win that took the Blues back to the top of Group A with maximum points.
It's clear that Everton have learned from the experience of 2005 when they were cruelly edged out of the Champions League by Villarreal and dumped out of the Uefa Cup by Dinamo Bucaresti in such humiliating fashion. On the evidence of this evening in Nuremberg, however, there is still more adjusting to be done to European competition.
The good news, though, is that the team that Moyes has built, with its pleasing depth of personnel and touches of flair, are more than capable of making the changes required. They already possess the ability to move the ball efficiently on the ground — indeed, they were most effective against Nürnberg when they did — and have the strike power up front to make the most of that kind of approach.
What they do need — and the confidence gleaned from tonight will only help — is to employ a bit more patience and realise when they need to slow the game down and mirror the Continental penchant for slow build-ups and taking the pace out of a game when needed.
All too often, Howard and Yobo were belting balls way over the top and straight through to Blazek when both full backs were available to receive short-range passes. Or it was lumped up in the general direction of Yakubu or Cahill to try and get a head on it.
But to dwell on the negatives would be to ignore everything that the Blues did right to secure a famous win on German soil this evening, including having the confidence to take the game to their hosts and not play for the draw. And if they needed a touch of youthful exuberance and single-mindedness from young Victor to get the result they deserved, well who's worrying? Everton FC are top of a European group with maximum points, have won five straight and are finally showing exciting signs of the kind of consistency long hoped for by their dedicated supporters.
Player Ratings:
Howard [7] — Dealt with everything thrown at him in customarily confident style but was guilty of squandering possession with long, aimless balls downfield
Neville [7] — As usual, nothing really spectacular, just a solid display from an experienced European campaigner
Valente [7] — Still not looking his best and was rightfully booked for a very late challenge but was also on hand to make some valuable interceptions
Lescott [7] —Not quite as assured as we've come to expect.
Yobo [8] — Probably the pick of the back four
Carsley [7] —A typical no-frills display
Arteta [8] —As always, the midfield inspiration and cool head when it mattered
Osman [7] — Plenty of industry
Pienaar [7] — Not everything he tried came off and he has certainly played better games for us so far this season but was a valuable outlet at times and important going forward
Cahill [7] — Probably one of those games where he did much more than you think he did, particuarly in the second half when he was more of a peripheral figure
Yakubu [8] — He has certainly upped his workrate as his fitness has improved.
Anichebe [9] — What can you say? Two decisive moments and was causing the home defence trouble right up to the final whistle.
Jagielka, Hibbert — Late subs
What Is This?
Click here
to read Paul's full account of his trip to Nuremberg.
Match Preview
The preparations for Everton's visit to Nuremberg may have been soured by the ticketing controversy that we all hope will not prove problematic on the night, but there is still an exciting European night in store at the Frankenstadion as Everton look to consolidate their position at the top of Group A against their 1. FC Nürnberg from the Bundesliga.
Four wins on the bounce have put a spring in Everton's step, not least the dramatic way in which they beat Birmingham City on Saturday. Not only did that game bear witness to what many regard as Yakubu's best performance yet in a Blue jersey, it also marked the return to the scoresheet of James Vaughan just minutes into his Premier League comeback following a dislocated shoulder sustained in pre-season.
And with Lee Carsley finding his shooting boots, Steven Pienaar showing yet more evidence of a pedigree developed at the Ajax academy, Tim Cahill getting another game under his belt, and the team generally playing a better brand of football now that they have settled into a successful 4-1-4-1 formation, confidence remains high in the Everton camp.
David Moyes has chopped and changed his starting line-up to good effect over the last few games, making use of the depth of squad at his disposal. Whereas he had leeway against Luton to employ a few players who had hitherto not figured as much, he won't have that luxury in Nuremberg against last season's German Cup winners.
He will be missing Leighton Baines and Andy Johnson, both whom are expected to resume training this week, as well as Alan Stubbs who was forced off during the win over Birmingham because of a hamstring strain. Otherwise, however, he shouldn't have any other injury or discplinary concerns.
Even without the recent success of the five-man midfield, an away game on the Continent would have been an almost dead certainty for the manager to deploy the lone striker. The only question is, who will get the nod to start — Yakubu, Victor Anichebe or James McFadden? James Vaughan aggravated a thigh strain in training and won't be risked.
With McFadden struggling to find consistency for Everton, and Anichebe doing his best work in the Uefa Cup when coming off the bench, the smart money might be on the on-form Yakubu.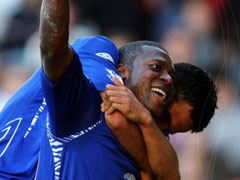 Yakubu:
will he lead the line in Nuremberg?
In midfield, it's probable that Moyes will field the same fivesome of Mikel Arteta, Cahill, Pienaar and Carsley as he did against Birmingham but could also have one eye on Sunday's daunting trip to Chelsea. In that case, he could risk moving Phil Neville to midfield and selecting Tony Hibbert at right back. (With Stubbs injured, Phil Jagielka could end up partnering Joseph Yobo while Joleon Lescott deputises at left back for Baines.
On paper this is the Blues' toughest European away fixture since the Champions League qualifier against Villarreal more than two years ago — the Dinamo Bucaresti game turned out far worse than it should have done! — but Nürnberg have been struggling at home of late.
After drawing 0-0 with Rapid Bucaresti they qualfied for the group phase on the away goals rule thanks to a 2-2 win in Romania and haven't won a European tie at home since the 1962/63 season, losing once and drawing twice in the three they've played since.
This will be Nürnberg's first game against English opposition in a Uefa tournament but, as Steve Flanagan notes below, Everton have faced Borussia Münchegladbach and Bayern Munich and are unbeaten on German soil, having also drawn 1-1 against Nürnberg themselves in 1965/66 in the Fairs Cup.
So, the stage is set for a terrific game between teams from two of Europe's best domestic leagues. As we're all aware, Everton have hit their best form of the campaign at the right time and victory really would not only virtually ensure passage to the next round, it would be a fantastic result, full stop. Let's get it on!
Matchday Stats
Everton look to carry on their 4 match winning streak when they visit Nuremberg in the UEFA Cup Group A, with a win almost guaranteeing a spot in the last 32 of the competition.
Everton's record in Europe:
| | | | | | | |
| --- | --- | --- | --- | --- | --- | --- |
| | P | W | D | L | F | A |
| European Cup | 10 | 2 | 5 | 3 | 14 | 10 |
| European CWC | 17 | 11 | 4 | 2 | 25 | 9 |
| UEFA Cup | 13 | 6 | 2 | 5 | 21 | 14 |
| Fairs Cup | 12 | 7 | 2 | 3 | 22 | 15 |
| TOTALS: | 52 | 26 | 13 | 13 | 82 | 48 |
Our record away in Europe:
| | | | | | | |
| --- | --- | --- | --- | --- | --- | --- |
| | P | W | D | L | F | A |
| European Cup | 5 | 1 | 2 | 2 | 5 | 4 |
| European CWC | 8 | 3 | 3 | 2 | 6 | 5 |
| UEFA Cup | 6 | 2 | 0 | 4 | 9 | 10 |
| Fairs Cup | 6 | 2 | 2 | 2 | 9 | 9 |
| TOTALS: | 25 | 8 | 7 | 10 | 29 | 28 |
Nuremberg will be the third German team Everton have faced in Europe and the first German team they have faced more than once.
The first European meeting between the sides was in the 1965-66 Fairs Cup, when they drew 1:1 in Nuremberg with Brian Harris getting Everton's goal, before Jimmy Gabriel's goal in the return leg at Goodison Park saw Everton through to the next round against Ujpest Dozsa from Hungary.
The second tie against German opponents saw Everton draw 1:1 away to Borussia Moenchengladbach in the 1970-71 European Cup, with Everton's goal coming from Howard Kendall. The return leg saw another 1:1 draw, thanks to a goal from Jimmy Morrissey, before Everton went through in what was the first ever penalty shoot-out in a UEFA competition in what was Andy Rankin's finest hour as goalkeeper.
The other meeting with German opponents was in 1985, on the way to the European Cup Winners' Cup triumph. Everton drew 0:0 away to Bayern Munich, before the infamous 3:1 victory back at Goodison Park, with Everton's goals coming from Graeme Sharp, Andy Gray and Trevor Steven – although rumour has it that the Gwaldys Street had a hand in sucking a goal or two into the net!
So, in the 6 previous matches against German opposition, Everton have won 2 and drawn the other 4, and have yet to be beaten on German soil, although, with 3 draws they have yet to win as well!

Everton have played Bayern Munich in another match, when in 1987 they took part in the Mercantile Credit Centenary Challenge, which was part of the Football League Centenary Celebrations. This one off match saw the previous season's Champions, Everton, take on the previous season's German Champions, Bayern Munich, at Goodison Park on 25 November 1987. Everton repeated their Cup Winners' Cup triumph with another 3:1 victory, with the goals coming from Graeme Sharp (2) and Adrian Heath.
This will be Everton's 18th match on 8 November:
| | | | | | | |
| --- | --- | --- | --- | --- | --- | --- |
| | P | W | D | L | F | A |
| Premier League | 2 | 0 | 0 | 2 | 2 | 4 |
| Division One | 11 | 2 | 3 | 6 | 19 | 26 |
| Division Two | 2 | 1 | 0 | 1 | 4 | 1 |
| League Cup | 2 | 0 | 1 | 1 | 1 | 2 |
| TOTALS: | 17 | 3 | 4 | 10 | 26 | 33 |
The last match on this date was last year, when Everton lost 0:1 to Arsenal in the League Cup. In fact, Everton's last win on this date was 49 years ago in 1958! On that day, Everton won 4:2 at Aston Villa with Everton's goals coming from TE Jones (2), Eddie Thomas and Eddie O'Hara. Since that day, Everton have played 8 times on this day and have yielded just 2 draws!
* Unfortunately, we cannot control other sites' content policies and therefore cannot guarantee that links to external reports will remain active.