Venue: Stamford Bridge, London
Premier League
Sunday 11 November 2007; 2:00pm
Drogba (70')
Half Time: 0-0
Cahill (89')
Attendance: 41,683
Referee: Alan Wiley
Mikel Arteta was a major loss in this vital clash at the Bridge, and injuries were once again starting to limit Moyes's options with Baines, Stubbs, Johnson and Vaughan all unavailable.. Hibbert came back in at right-back, with Neville moving into midfield.
Chelsea started by taking possession and keeping it, probing forward to create openings. Everton looked less assured in possession, patiently waiting for an opening of their own.
A superb chance was created by a great ball in from Yakubu that Cahill headed back brilliantly for Steven Pienaar, who completely missed a difficult high bouncing ball, but perhaps was just put off by an illegal(?) challenge from an incoming defender. A glorious set-up...he really should have done far better.
Some strong challenges but Chelsea players seemed intent on injuring themselves, Carvahlio falling for a great height when trying to climb over Yakubu and injuring his back. He came back on but was obviously in distress, finally giving way to Ben Haim.
Yobo and Valente were forced to make last-ditch blocks and each attack seemed increasingly threatening. At the other end, Cahill started lashing at the ball when he could, and came close. A superb counter-move by Chelsea had the Everton goal at their mercy but Howard saved brilliantly from Lampard.
Hard work and discipline at the back were vital as the Everton goal came under severe attack, and it was a relief when they could get forward but the shape was lacking and opportunities to create meaningful attacks were being wasted, possibly by the need to stay tight for the inevitable counter-attack.
Drogba wasted a good free-kick opportunity given him by Neville's foul, and it was a tight tussle and Wiley finally booked the Everton captain, who was committed but becoming clumsy and rash. But on balance, Everton did very well in a cagey first half to play their typical holding game, doing what was required, and not surrendering to Chelsea In the last minute of the half, though, Drogba really should have done the business but missed his own glorious chance after a great run from Shaun Wright-Phillips....
Everton made a really attacking double change at half-time, McFadden on for Neville, and Anichebe on for Yakubu... Incredible!!! It led to a much more open and lively game at the start of the second half, and a silly challenge by McFadden led to a Chelsea onslaught of free-kicks and corners that were defended with some desperation and a near own-goal from Cahill.
Carsley had another chance to score after great work form Anichebe but his side-foot was poor. Everton continued to defend manfully past the hour-mark, and lobbing a few balls forward for Anichebe and McFadden to chase, keeping the game an absorbing encounter, stretched the length of the pitch.
Chelsea bought on Kalou for Shawn Wright-Phillips, whose cross balls had been atrocious. Lampard chipped Howard, who clawed it away. Lescott and Hibbert combined to miraculously kept the ball out on the line!!! Could this really be Everton's day?
Essien was booked for a crunching challenge on Osman that he survived. But a corner was superbly headed home by Drogba, dodging in front of Carsley. Unstoppable. On came Gravesen, the final throw of the dice for David Moyes, whose game plan had looked for so long like producing the goods for Everton.
And in an unbelievable sequence of play, James McFadden dodged two markers and drove a fierce ball in to Tim Cahill who was in an impossible position with his route to goal blocked, he parried the difficult ball up above him and then executed the most perfect overhead bicycle kick you will ever see, timing it perfectly to blast the ball past a despairing Cudicini and into the roof of the Chelsea net. ABSOLUTELY BRILLIANT!!! The timing, the technique, the vision, the ability to hold off the defender, the placement... all spot on. Goal of the season... the decade for Everton! When did we last see the like?!?!
Could Everton snatch it at the death? They tried, but really lacked the quality going forward that had seemed to be all expended in that one superb moment of execution form Cahill. Pienaar was carded in the last minute for getting fouled! (Or complaining.) It was enough to earn the draw.
So perhaps the realistic outcome, although it looked all along like Everton could and indeed should have stolen a win in this one. A stout defensive performance that faltered just the once in that new Achilles heel... defence! While up front... not really enough by way of direct attack on the Chelsea goal. And the only real chances falling to midfielders.
What was that rubbish about us now having the best strike force in the Premier League? Doesn't do us much good if they don't get the supply or the chances to score. But an excellent point nevertheless. Frustrating to know that, with a little more in the final third, we really could have won this one.
Moment of Cahill magic stuns Chelsea
A moment of magic by Tim Cahill in the dying stages stunned Chelsea and denied them a fifth-successive victory while preserving Everton's own unbeaten run since the Clattenburg-induced agony of the Merseyside derby. With less than two minutes left of regulation time remaining, the Australian despatched a perfectly-executed overhead kick into the roof of Carlo Cudicini's net to cancel out Didier Drogba's 71st-minute header.
Quality was the watchword in this entertaining encounter at Stamford Bridge, where Chelsea haven't lost for 3½ years — that proud record never looked in danger today either. Avram Grant's galaxy of stars oozed the stuff while Everton, stripped of their own magician in Mikel Arteta through injury and forced to move Phil Neville back into central midfield, struggled at times to match that quality but eventually rescued a point with a world-class strike from Cahill.
What David Moyes's side did have in abundance, however, was grit, stubbornness and dogged determination, commodities that were exemplified by yet another heroic late show that earned the Blues a point that most neutral observers would say they probably didn't deserve.
Indeed, Everton rode their luck at times and had more terrific work by Tim Howard and an absolutely immense display by Joleon Lescott to thank for providing the platform on which to earn a priceless point.
Forced into making changes to the side that started in Nuremberg on Thursday night after Arteta was ruled out with a groin strain, Moyes deployed Tony HIbbert at right back and restored Neville to the central midfield berth in which he has struggled so much this season. Leon Osman, and Steven Pienaar were handed the task of both providing the flair and rotating with Cahill in the role of playing behind Yakubu as the lone striker.
The game started in predictable enough fashion, with Chelsea doing most of the attacking and probing but when the first real chance arrived after 15 minutes, it was Everton who could have scored. An unusually patient build up which involved them going backwards from a free kick midway inside the home half ended with Yakubu crossing and Osman heading invitingly back for Pienaar but as the ball sat up 10 yards from goal, the South African completely missed his kick and the ball squirmed away to safety from Chelsea's point of view.
The hosts responded by upping their own tempo and, assisted by referee Alan Wiley's infuriating tendency to give all the 50-50 decisions their way and Neville's even more maddening propensity for lunging in for tackles he couldn't hope to win, began carving out opportunities of their own.
Nuno Valente, deputising again for Leighton Baines at left back, did well to head Lampard's shot away from goal in the 27th minute before Shaun Wright-Phillips was denied at close range by a sliding challenge that deflected the ball away from Howard's goal.
A minute after that, the American 'keeper made an outstanding save to deny Lampard after Belletti had rampaged down the right and centered perfectly for the England midfielder.
Having weathered that particular storm, Everton got back on an even keel and were heading into the half-time interval in relative safety until stoppage time at the end of the first half when they received a huge let off by Drogba.
Wayne Bridge led a lightning-fast counter-attack by blazing past Joseph Yobo down the Chelsea left and feeding Wright-Phillips who adjusted for a less than satisfactory pass before squaring an inch-perfect ball across goal for Drogba to smash from home a few yards out. Thankfully for Everton, the Ivorian striker fluffed the chance and the ball squirted between his legs and away towards the touchline on the other side.
0-0 at the break but Everton had looked several shades short of their pre-match billing as a new force to be reckoned with. Chief among their problems were a failure to keep the ball and captain Neville who, not for the first time this season, had proven to be more of a hindrance than a help in central midfield. On top of giving away risky free kicks around the Blues' penalty area, he picked up an unnecessary booking midway through the first period that would have left him treading on eggshells for the duration of the second.
No surprise, therefore, that he would find himself substituted but the timing of his withdrawal and that of Yakubu was somewhat surprising. Moyes chose to make a double substitution at the start of the second half, throwing on James McFadden and Victor Anichebe and reshuffling to something more akin to a 4-4-2 formation.
The positive effect of the changes was almost immediately apparent. Everton began moving and keeping the ball more effectively and seemed better able to cope with their dynamic hosts. Anichebe proved more of a handful for the Chelsea defence than had Yakubu and had prompted Baletti to check his powerful run and earn a booking within a few minutes of being introduced.
Chelsea remained the more likely to score, though, and almost did within five minutes of the restart when Cahill glanced a header inches wide of his own post when defending a corner from the Chelsea right. Then, after Lee Carsley had side-footed high and wide from just outside the box, Lampard tried an audacious chip from the right side of the Everton box that Howard clawed behind brilliantly. From the resulting corner, Howard punched only as far as Alex and his low shot ricocheted off Lescott, took a touch off Hibbert and was destined to roll over the line before the latter hacked it away for a throw-in.
Grant's team were getting closer and with 19 minutes left the pressure told when Everton succumbed to their Achilles heel, namely corner balls fired in with pace to the near-post. Having lost to Manchester United at Goodison Park earlier in the season to an identical goal by Vidic, the Blues allowed Drogba to dart unchecked to meet Lampard's corner and bury a glancing header past the stranded Howard.
All of Everton's hard work and dogged resistance appeared to have been undone and even when Thomas Gravesen replaced Carsley with a quarter of an hour to go, it looked as though they wouldn't be able to find a way back into the game.
Moyes's side have developed a handy knack of scoring late goals in recent weeks, though, and the stage was set for another memorable late show. Neat footwork by McFadden enabled him to lose his marker and cut inside with the ball whereupon the space opened up for him to attempt a trademark Exocet from outside the box.
While his left-footer effort fell short of goal, the ball bounced off a leg as Belletti and Cahill dangled a leg each to stop it whereupon the Australian effected a stunning overhead kick that flew past Cudicini and into the Chelsea net. It was quite brilliant technique, sent the travelling Evertonians into rapture and had home fans burying their heads in their hands.
Quite simply, Everton refuse to admit that a cause might be lost these days and it harks back to the 2004-05 campaign when they secured 4th place in the Premier League with the team spirit and determination that has become a hallmark of Moyes's tenure at Goodison.
There is still work to be done in terms of team-building, however. The Blues still look a markedly different side without Arteta's flair and ability to keep the ball as an outlet. Pienaar showed in flashes today that he is an enormously talented player in his own right but will need to show more consistency if he is to approach the level of importance to the team that the Spaniard currently embodies.
Gravesen's apparent inability to play more than a bit part in the Blues' season, presumably through a lack of fitness or some deeper issue with his overall condition means that central midfield remains the one area that needs the most urgent attention come January. Today provided yet more evidence — if any were needed — that Phil Neville is not the answer in that position and, unfortunately Phil Jagielka has already shown that he isn't suited to the role either.
What Moyes did, however, was to mitigate that problem a little today with the half time changes he made. In combination with Osman, Cahill was able to work more effectively with Carsley in the middle than was Neville and that allowed Pienaar to patrol the flank a bit more and link up with the front two. Arteta's expected return to fitness after a 13-day break will partially resolve the issue and if he can get through to January without any more major issues, Moyes will hopefully be able to bolster his squad with a key addition or two when the transfer window opens.
For now, though, Evertonians can bask in a seven-game unbeaten run and reflect on a team that currently doesn't know when it's beaten. That kind of resolve and confidence is going to be invaluable as they continue their assault on three fronts.
Player Ratings:
Howard [8] Made two wonderful saves but probably got of jail for a poor punch that Alex almost returned with interest
Hibbert [8] Put in a really good defensive performance and needed to.
Valente [6] His distribution was below par today but was fairly solid where it counted, at the back
Yobo [8] Showed some terrific reading of the game at times and was instrumental in keeping Chelsea at bay from open play
Lescott [9] - An almost flawless display marred only by a failure between himself and Carsley to prevent Drogba from stealing in to head home Chelsea's goal
Carsley [7] A typical, no-nonsense performance until he made way for Gravesen late on
Neville [4] Ran around a bit like a headless chicken, committed silly fouls, gave the ball away all too often and compounded all that by picking up a booking that necessitated his withdrawal from the game at half time for his own protection
Osman [6] Not at his most effective today, particularly in the final third where he seemed a little lethargic and possibly feeling the effects of too many games in recent weeks. The enforced break will probably do him good.
Pienaar [7] In Arteta's absence, Everton's most creative player but will be kicking himself for missing that early chance. Needs to learn not to dive into the tackle so quickly and was rightly booked for a very late challenge in the second half. Another one suffering fatigue?
Cahill [8] Getting back to his best now that his fitness is improving. And what more can you say about the goal? Superbly taken.
Yakubu [6] Not really at the races today. Didn't seem to find his rhythm or be able to hold the ball up as effectively as we needed. Not surprising to see him make way for Anichebe again but he might have wanted another 15 minutes or so to make amends.
Anichebe [7] More powerful running and an ability to upset defenders that Yakubu didn't display.
McFadden [6] Like Anichebe, he suffered from the fact that Chelsea did most of the attacking but his role in the Blues' goal was crucial.
Gravesen [5] Largely anonymous for the 15 minutes he played.
Match Preview
David Moyes's quest for a sixth-successive win rolls into West London this Sunday where the irresistible force of Everton's impressive recent form meets the immovable object of Chelsea's league record at Stamford Bridge.
The Pensioners haven't lost a home game in the Premier League for 3½ years and after faltering slightly earlier in the season under the now-departed Jose Mourinho, they seem to have got back into their stride again with a 10-match unbeaten run in all competitions.
They have scored 10 goals in their last two home games and Everton will no doubt be wary of the 6-0 mauling third-placed Manchester City endured here a fortnight ago but encouraged by how close Leicester City came to an upset in the Carling Cup, narrowly losing 4-3.
Clearly buoyed by progress in two cups and ground gained on the top 6 in the Premier League, Everton will come to "The Bridge" full of confidence but with optimism tempered by the news that Mikel Arteta is doubtful with a groin strain that he apparently picked up in Nuremberg on Thursday. He did play the 90 minutes of the Blues' 2-0 triumph, though, offering hope that Moyes could be sending up a smokescreen for his opposite number, Avram Grant, as the two managers prepare for what promises to be an exciting tussle.
Alan Stubbs, Andy Johnson, James Vaughan and Leighton Baines all missed the game in Germany through injury and perhaps only Baines stands a chance of playing any part in this weekend's game.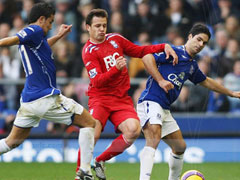 Mikel Arteta
(right): a doubt for Sunday with a groin strain
And if Arteta is missing, it's possible that Thomas Gravesen will be asked to make his first start of the campaign after a handful of substitute appearances following a knee injury of his own. Either that, or Steven Pienaar will be given Arteta's role on the right flank, Leon Osman could move to the left and Phil Neville to midfield, with Tony Hibbert or Phil Jagielka taking the right-back berth.
Up front, Victor Anichebe's fractured hand will surely restrict him to the bench, giving Yakubu another chance to shine in the lone-striker role in front of Tim Cahill.
Chelsea will be without their captain and defensive talisman, John Terry, as well as influential goalkeeper, Peter Cech. Paolo Ferreira is also still sidelined but England defender Ashley Cole returns to the squad after regaining full fitness.
Everton have endured a torrid time of it at Stamford Bridge in recent years — they haven't won there for 13 years — and have been on the end of some heavy defeats during Moyes's tenure. Last season's 1-1 draw, though, in which referee Mark Halsey robbed them of all three points, signalled a possible change in their fortunes in this part of the Capital and they'll be hoping to be the team to shatter Chelsea's proud home stand and register a seventh-successive win (if you're going by the stattos!) for the first time in 20 years.
Matchday Stats
Everton go to Chelsea on Sunday looking to extend their current winning streak to 6 consecutive first class matches.
There has been quite a bit of discussion on ToffeeWeb recently regarding what constitutes a win (i.e. whether we include a win in a penalty shoot out). From a purely football statistics point of view (i.e. matches decided by a penalty shoot out are classed as a draw), Everton will be looking to win their 6th consecutive first class match for the first time since 1987, when that team had a run of 7 consecutive first class wins – a run that extended from a 3:0 win at Southampton on 14 March 1987 and finished with a 3:0 win at home to Newcastle United on 20 April 1987, and was halted by a 1:3 defeat at Liverpool 5 days later. However, 2 matches later, a 1:0 win away to Norwich City secured Everton's last League title.
Everton's record against Chelsea:
| | | | | | | |
| --- | --- | --- | --- | --- | --- | --- |
| | P | W | D | L | F | A |
| Premier League | 30 | 4 | 11 | 15 | 30 | 49 |
| Division One | 106 | 41 | 31 | 34 | 180 | 165 |
| FA Cup | 8 | 2 | 1 | 5 | 4 | 12 |
| League Cup | 5 | 0 | 2 | 3 | 6 | 11 |
| Charity Shield | 1 | 1 | 0 | 0 | 2 | 1 |
| TOTALS: | 150 | 48 | 45 | 57 | 222 | 238 |
Our record away to Chelsea:
| | | | | | | |
| --- | --- | --- | --- | --- | --- | --- |
| | P | W | D | L | F | A |
| Premier League | 15 | 1 | 5 | 9 | 11 | 28 |
| Division One | 53 | 11 | 16 | 26 | 53 | 98 |
| FA Cup | 5 | 1 | 0 | 4 | 2 | 9 |
| League Cup | 3 | 0 | 1 | 2 | 3 | 7 |
| Charity Shield | 1 | 1 | 0 | 0 | 2 | 1 |
| TOTALS: | 77 | 14 | 22 | 41 | 71 | 143 |
Everton's task seems even harder when you consider the fact that Everton have gone 13 Premier League matches without a win against Chelsea, a record that goes as far back as 25 November 2000 when Everton won 2:1 at Goodison Park, thanks to goals from Kevin Campbell and Danny Cadamarteri. In fact, Everton's only Premier League win at Chelsea was on 26 November 1994, when Joe Royle's side registered a 1:0 victory thanks to a Paul Rideout strike.
This will be Everton's 19th match on 11 November:
| | | | | | | |
| --- | --- | --- | --- | --- | --- | --- |
| | P | W | D | L | F | A |
| Premier League | 2 | 1 | 0 | 1 | 1 | 1 |
| Division One | 12 | 4 | 3 | 5 | 18 | 20 |
| League Cup | 3 | 1 | 2 | 0 | 4 | 3 |
| Fairs Cup | 1 | 1 | 0 | 0 | 2 | 0 |
| TOTALS: | 18 | 7 | 5 | 6 | 25 | 24 |
The last match on this date was last year, when Everton lost 0:1 to Aston Villa at Goodison Park. But, Everton's only other Premier League match on this day was away to Bradford City in 2000, when a Gary Naysmith goal secured a 1:0 victory.
Another plus point is that Everton have played Chelsea once on this day previously, in 1978, and won 3:2 at Goodison Park, with the Everton goals coming from Martin Dobson, with 2, and Andy King.
Milestones that can be reached this game:
If he plays, Tony Hibbert will be making his 150th League appearance for Everton.
If he starts, Lee Carsley will be making his 150th start for Everton in all competitions.
If the match ends in a draw, then this will be Everton's 1,000th draw in the English top flight.
If Everton win, then this will be David Moyes' 100th win as Everton manager in all competitions.
* Unfortunately, we cannot control other sites' content policies and therefore cannot guarantee that links to external reports will remain active.
CHELSEA (4-4-2)
Cudicini
Alex
Belletti :51'
Carvalho (29' Ben-Haim)
Bridge
Essien :66'
Mikel
Wright-Phillips (64' Kalou)
Lampard
Cole
Drogba
Subs not used
Hilario
Shevchenko
Pizarro
EVERTON (4-5-1)
Howard
Hibbert
Yobo
Lescott
Valente
Carsley (77' Gravesen)
Osman
Neville :38' (46' McFadden)
Pienaar :90'
Cahill
Yakubu (46' Anichebe)
Subs not used
Wessels
Jagielka
Unavailable
Baines (injured)
Vaughan (injured)
Johnson (injured)
Stubbs (injured)
Arteta (injured)
Premier League Scores
Saturday 10 November 2007
Derby
0-5
West Ham
Liverpool
2-0
Fulham
Sunderland
1-1
Newcastle
Sunday 11 November 2007
Birmingham
1-2
Aston Villa
Bolton
0-0
Middlesbro'
Chelsea
1-1
Everton
Man United
2-0
Blackburn
Portsmouth
0-0
Man City
Tottenham
4-0
Wigan
Monday 12 November 2007
Reading
1-3
Arsenal
Premier League Table
Pos
Team
Pts
1
Arsenal
30
2
Man Utd
30
3
Man City
26
4
Chelsea
25
5
Liverpool
24
6
Portsmouth
23
7
Blackburn
22
8
Aston Villa
21
9
Everton
20
10
West Ham
18
11
Newcastle
18
12
Reading
13
13
Fulham
12
14
Tottenham
11
15
Birmingham
11
16
Sunderland
10
17
Middlesbro
10
18
Bolton
8
19
Wigan
8
20
Derby
6
After 14 Nov 2007