New First Shirt

Comments (13)
Saw this leaked as our new first shirt. [It's not, see Comments — Ed] If it's real I think its a big improvement on last year's.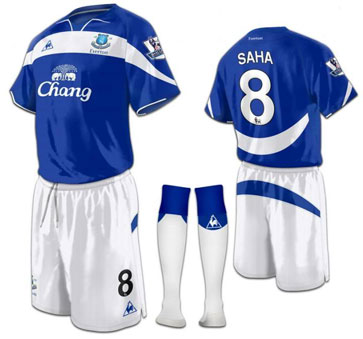 Looks like the new change shirt will be pink and black too. Check out the link.


Miles Wilson, Bournemouth Posted 28/05/2010 at 20:23:30

Return to the Mail Bag
Comments
Note: the following content is not moderated or vetted by the site owners at the time of submission. Comments are the responsibility of the poster. Disclaimer
Chris Wilson
1
Posted 28/05/2010 at 21:42:34
This has been out for awhile now. I'm pretty sure it's some guy's website where he creates team kits for just about everybody. I can't remember the site, but the guy who runs it was in the process of doing his ideas of uniforms for all the World Cup participants. He had our blue kit like this one you've displayed, and a yellow and black alternate if I remember correctly.
Lyndon Lloyd
2
Posted 28/05/2010 at 21:55:03
Chris Wilson
3
Posted 28/05/2010 at 21:50:42
And I was hoping that leaked photo of our away jersey was a fake, but I have a bad feeling it's genuine. Love the oh so subtle pink font on the OC. They're gonna keep throwing buzzwords out like "revolution" and the "most high tech shirt" on the market as a means to distract us from the color. Makes you wonder if anyone at the club has a yea or nay with these designs. At least this year it was all black - if this is the polar opposite it'll be like "Hello Kitty FC" I suppose all will be well if we win something in them.
Julian Wait
4
Posted 28/05/2010 at 22:20:50
I hated the 1984-1985 kit.
I loved 1984-1985.
Andy Kay
5
Posted 29/05/2010 at 00:44:37
I know it's an old chestnut but who does decide on the brand of Everton's kit?
Many fans on this site have for years suggested that we need to get a Nike or an Adidas strip or that a traditional amber away strip again would be the way to go... but who makes the decision? How many fans get an input into what is made and if so, who gets asked?
I personally think we are missing the boat by not using a big-name supplier. How many airports around the world have sports shops with Milan, Utd, Chelsea, Barca, Bayern Munich, Real Madrid, Liverpool, Inter shirts etc — and then the odd Villa and even Newcastle shirt because of Nike or Adidas? These companies have their own outlet shops also and always have football shirts available for fans.
Since moving to Australia 4 years ago, this was the first season I finally managed to see an Everton shirt for sale but I could've bought any Nike/Adidas shirt of any team in Europe or the US during this time. If we want Everton to be as big as the the above teams again, isn't about time we used a kit supplier that is a global brand?
Miles Wilson
6
Posted 29/05/2010 at 01:06:54
Didn't realise it was some geek's site. Still think it's better than last year's one though!

I agree with Andy, I don't think LCS are the best brand for Everton to be using... and also why the hell not ask the fans to at least choose the basic colours?
Graham Smallwood
7
Posted 29/05/2010 at 02:05:41
If our new shirt looks like this, iI will buy it — looks really good and modern.

Chris Wilson
8
Posted 29/05/2010 at 03:39:11
HA! Zoran is getting picked up on the "geek-dar" isn't he, Miles? I will say this — and maybe it's because not many teams use LCS, but at least we had a uniform that was unique for us this season. Nobody else had the bib, and whether that's good or bad, you be the judge.
But often times with Adidas and Nike stuff, you get the cookie cutter treatment — one uniform template for everybody with appropriate color adjustments, unless you're Barca or somebody. But I have to agree, Nike and Adidas are more recognizable and might sell a few more shirts for the coffers.
Sean McCarthy
9
Posted 29/05/2010 at 10:54:23
Since when did we start wearing 'uniforms'???
Steve Morgan
10
Posted 29/05/2010 at 13:00:48
Not sure about the swoosh on the back, but otherwise it looks good.
Art Jones
11
Posted 29/05/2010 at 17:19:07
The new home shirt is a plain all-blue shirt with no stripes, chevrons, flashing lights or ringing bells; the away shirt is pink with a black stripe across the chest.
Charles King
12
Posted 31/05/2010 at 09:16:35
Dreadful.
Jeff Armstrong
13
Posted 05/06/2010 at 22:31:50
A new home kit every season, what happened to the two-year rule heralded ten years ago, that we have NEVER adhered to?
It was meant to give those who cannot afford a new home jersey every season a bit of respite, especially parents of the "want it now" generation (own fault). EFC obviously did not sign up!

Anyway, as long as it's royal blue.
Add Your Comments
In order to post a comment to the MailBag, you need to be logged in as a registered user of the site.

Log in now
Or Sign up as a ToffeeWeb Member — it's free, takes just a few minutes and will allow you to post your comments on articles and MailBag submissions across the site.
© ToffeeWeb