Dixie's Sunset, Bally's Sunrise
By Rob Sawyer
03/06/2014

Comments (20)
jump

Ashton's Everton Connection
Ashton-Under-Lyne, six miles to the east of Manchester, is dominated by a huge Ikea store and known by football trivia fanatics as the birthplace of Sir Geoff Hurst.   Yet it is another Hurst that connects this Tameside town with Everton Football Club.
Hurst FC was founded in 1878 (a familiar ring to it for Evertonians), playing its first reported fixture the following year.  Within two years the club had relocated to the Hurst Cross ground and remains there to this day – one of the longest residences in football.
The team has muddled along in regional leagues for its 136 year existence. Yet it can claim to have been the birthplace and final resting place of the careers of, perhaps, the two greatest players to grace the Everton colours. 
By the late 1930s William Ralph Dean's Toffees career was coming unstuck.  Everton's Secretary, Theo Kelly, and the record goal-scorer had developed, what would now be termed, irreconcilable differences. In truth' Dixie' was virtually spent as a top-grade player. Everton trainer Harry Cooke's collection of jars containing fragments of Dean's bone and cartilage bore testament to the damage wrought by fifteen years of exposure to crude challenges.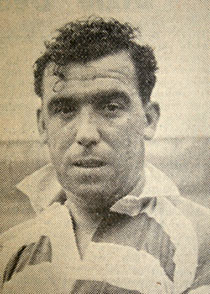 The creaking limbs, and Dixie's aversion to authority, gave Kelly reason to cut the Goodison talisman loose and focus on the future with Tommy Lawton. Such was the acrimony that Dixie was not granted a, farewell,  400th Everton appearance before he slipped away to Notts County in March 1938.
The East Midlands sojourn was short. An ankle bone once more gave way after only nine appearances and Dixie was released whereupon he traversed the Irish Sea. At Sligo Rovers he enjoyed an Indian summer on the Emerald Isle, scoring ten goals in seven appearances and helping them to the FAI Cup Final. Dean scored five goals in a 7-1 win over Waterford, which  remains a Sligo record for most goals scored in one match.
Returning to the Wirral in the summer of 1939 it seemed that the Dixie's boots would go into permanent storage. Yet there would be one last hurrah as Hurst's ambitious chairman, Mr. J. Townsley,  enticed the veteran forward  to sign up with the Cheshire County League side for the 1939/40 season. The news made headlines back on Merseyside:
"DIXIE" SIGNS FOR HURST  (Liverpool Echo, July 24 1939)
William R. Dixie Dean will be figuring this season in Cheshire County League circles, which will give the gate as decided fillip when he appears. The negotiation, which have been going on for some time were completed over the week-end and Dean's first appearance in his new colours will be on the Hurst ground against their near-by rivals, Stalybridge Celtic, in the opening of the season. He is the biggest signing the Cheshire County, has had since Ashton National started the Football world by capturing Alec Jackson, the famous Huddersfield winger, and paid him almost double what he would get with a Football League side.
Dixie's debut would come on 26 August 1939 with a 4-0 home defeat to Stalybridge. The blow to the club was softened by record gate receipts of £140 from the 5,600 spectators coming through the turnstiles.
The Ashton Reporter's 'Ivanoe' was there:
It was a sight to behold when the teams took the field in the presence of nearly six thousand spectators. Both teams had a warm reception with a special cheer for "Dixie" Dean, who looked very fit. The opening stages gave promise of a keen contest, the first thrill coming when Dean gave Taylor a perfect pass from which the winger missed scoring by inches.

The Hurst forwards will have to learn, first, to steady themselves and, secondly, to support "Dixie" Dean. They failed to do either of these things on Saturday. Instead they blazed away at chances and generally the former Everton and International centre-forward, of whom so much was expected, was left to play a lone hand in the middle. On what few occasions he did get the ball, Dean was more often than not successfully challenged by Walton. If Swindles and Wilde had supported him better, the result might have been a lot different, but the home inside forwards were incapable of seeing the obvious, while the wingmen, Taylor and Percival, have done much better on many occasions than they did in this match.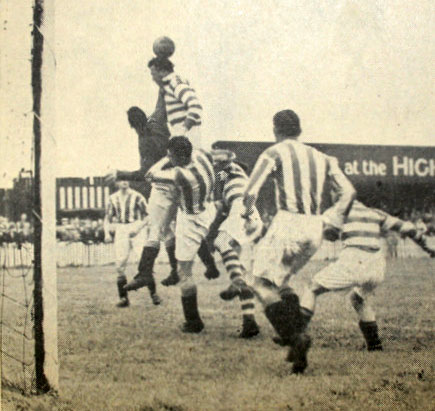 In goal for Hurst that day was Alf Porter, a local lad who would later settle on the Isle of Man. His son Geoff recalls:
"My father was always good for a yarn. He told so many stories around our local area that people used to scoff. He always told a story that he had played with Dixie Dean. When he passed away I contacted the club and Jez Sayle sent me a copy of the match report from the local paper of when Hurst were beaten by Stalybridge. Listed at centre-forward was Dixie Dean with my father in goal!"
The next game, in the Cheshire County Cup against Hyde, on 29th August, was more auspicious with Dixie's goal contributing to a 4-1 victory.  'Ranger' in the Liverpool Echo followed Dixie's exploits with interest:
Pulls The Crowd
Our old friend "Dixie" Dean started off on the goal trek last night for his new club, and not only did he score a goal for Hurst against Hyde which was reminiscent of his palmist days, but according to a friend, who saw the game he was the brains and guiding force of the Hurst attack. The gate took 6,000 - paying £150, compared with their average last season of £40.
Another chipped ankle bone, sustained in the match, put Dixie on the side-lines and he missed the subsequent fixture. Within days domestic football was suspended with the outbreak of the Second World War. Thus the curtain came down on a legendary playing career.
Twenty-one years later Hurst Cross saw the birth of another magnificent professional career. In 1959, Alan Ball Senior had become part-time manager of Ashton United (as Hurst had been re-christened).  On 25 August 1960 he gave a debut to his schoolboy son – Alan Ball Junior –  at Glossop in a Lancashire Combination Cup tie. At 15 years and three months old Ball was the youngest ever debutant for Ashton.   He would recount to James Mossop that it was the making off him:
"I learned plenty about the intensity of professional football – even if my teammates were bricklayers, electricians or van drivers in their day jobs. It was the hardest league to play in…I remember a big left back playing for Hyde United trying to kick me over the stand in a Cheshire Cup match. It was a shock to the system when he growled: 'If tha comes near me, lad, I'll snap thee in half.'"
Ball's sole goal for Ashton came in a 6-2 hammering of Northern Nomads in the Lancashire Combination Cup.  His farewell appearance, in April 1961, was in a defeat to Mossley in the Manchester Intermediate Cup Final.  Ball Senior was upbraided in the Ashton Reporter for playing 'a lightweight teenager' on the boggy Mossley pitch.
In all Ball made just seven league and cup appearances under his father, as he juggled school commitments with playing. Soon the authorities got wind of something awry as Ball later recalled: 
"My dad fell foul of the authorities when rumours grew that a schoolboy footballer was being paid. Dad had been paying me seven schillings for playing and Tuesday and Thursday training at night  - and keeping five bob for himself. The club was fined a nominal amount."
Abortive periods at Wolves and Bolton followed before, in the Autumn of 1961, Ron Suart at Blackpool saw beyond Ball's diminutive stature. Five years later he held a World Cup winners medal and had signed for FA Cup Holders Everton in a record £110,000 deal.
As a footnote, Ball and Geoff Hurst are not the only World Cup winners with links to Ashton. Simone Perrotta, who was a member of the victorious Italy team in 2006, spent his first four years in the town before his parents returned to their homeland.
On behalf of EFC Heritage Society
Acknowledgements:
Jez Sayle  (Ashton United historian)
John Keith – Dixie Dean (The Inside Story of a Football legend)
Alan Ball (with James Mossop) – Playing Extra Time
Geoff Porter
Ashton Reporter
Blue Correspondent Website
---
Reader Comments (20)
Note: the following content is not moderated or vetted by the site owners at the time of submission. Comments are the responsibility of the poster. Disclaimer
Paul Hughes
1
Posted 04/06/2014 at 10:13:16
Rob, thanks for this, a fascinating read.
I live in Saddleworth, just up the road from Ashton. I never knew there was such great Everton history on my doorstep.
Chris Williamson
2
Posted 04/06/2014 at 10:16:22
Another great read.
Malcolm Joyner
4
Posted 04/06/2014 at 10:30:12
Rob's brilliant research work in respect of all things Everton seemingly knows no bounds.
He adds greatly to the tapestry of Everton's recorded history.
Thank you, Rob.
Sue Brown
6
Posted 04/06/2014 at 10:52:25
Another brilliant read Rob, I thoroughly enjoy your articles, thanks.
Eugene Ruane
7
Posted 04/06/2014 at 11:14:46
Another fantastic read.
Dennis Stevens
8
Posted 04/06/2014 at 11:54:50
Marvellous stuff, Rob - keep 'em coming!
Mike Childs
9
Posted 04/06/2014 at 16:07:27
Great read I certainly love learning about the club and players. Loved the part about Ball Sr. Paying his son 7 schillings and keeping 5. How much is a schilling worth compare to our dollars? Thanks in advance - mike
Paul Wharton
10
Posted 04/06/2014 at 17:32:40
Well done Rob another great read, I knew about Dixie playing for Hurst but not the Rabbit as the Argentinians called Bally.
Dick Fearon
11
Posted 04/06/2014 at 21:35:25
I love reading this kind of stuff, keep em' coming.
It used to be the go for pubs to raise funds for charity with a column of pennies. The column would be set up on the bar with a dozen coins forming a circle to which customers would add more pennies until the column reached the ceiling. A celebrity, usually a footballer, would be invited demolish the column with the cash going to a nominated charity.
My dear old Evertonian dad described how Dixie, to a round of applause and from a standing start, leapt onto the bar of our local and sent the column crashing with a gentle side footer.
Derek Thomas
12
Posted 04/06/2014 at 23:33:06
Mike Childs #10. 7 shillings (with an sh- not the Austrian sch-). 20 shillings to the pound which makes it just over 1 third (12 pence to the shilling).
If memory serves there were $2.80 to the pound in those days. So he was paid about $1.20 and allowed to keep 20c of it... near enough par for the course for a 15-year-old's pocket money.
Luxury!
Tony Draper
13
Posted 05/06/2014 at 04:45:09
Cracking article and entirely new information, to me at least.
Thanks.
Bob McEvoy
14
Posted 05/06/2014 at 09:19:23
Rob... I really enjoy your articles. Great stuff.
Sam Morrison
15
Posted 05/06/2014 at 08:58:27
Thanks Rob, another great article!
Peter Mills
16
Posted 05/06/2014 at 19:24:11
Thank you Rob. It's very difficult to explain just what it was like to be a 10-year-old boy who knew he supported the best team in the world because he'd just been taken to Wembley to see them win the FA Cup in 1966. And then we signed Alan Ball!
And as for William Ralph Dean, I have been fortunate enough to spend an evening in the company of his daughter, grand-daughter and a family friend who watched him score his 60th goal. And what came across was that he was not just an great player, but a great man.
We are privileged to support Everton.

Peter Warren
17
Posted 07/06/2014 at 06:24:59
Great read and really interesting. I didn't even know about Dixie's injuries and the fact that he didn't get a 400th game send-off. Terrific stuff!
Malcolm Joyner
18
Posted 07/06/2014 at 20:04:51
My granddad told me that Dixie had said on several occasions that he never understood why the Board didn't intervene to force Kelly to allow him that 400th appearance.
Their bust-up must have been a monster – but, by then, the name of Tommy Lawton was on everybody's lips and there was no rule to allow a 10-minute cameo for the great man.
Keith Glazzard
19
Posted 08/06/2014 at 17:08:05
I've played at Hurst Cross, in an end-of-season knock-out competition, when I lived in Ashton for a while. I knew about Dixie but not about Bally, so thanks for that.
If I can find my boots, I'll give them a special polish.
Add Your Comments
In order to post a comment, you need to be logged in as a registered user of the site.
Or Sign up as a ToffeeWeb Member — it's free, takes just a few minutes and will allow you to post your comments on articles and Talking Points submissions across the site.
© ToffeeWeb