Everton spurn chance to extend their unbeaten run
Tottenham Hotspur 2 - 1 Everton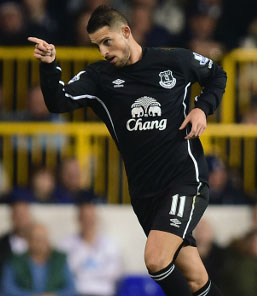 Kevin Mirallas had given the Blues the perfect platform with a sublime opener after 15 minutes
Everton's eight-match unbeaten run came to a shuddering halt at White Hart Lane as they allowed Tottenham to wipe out Kevin Mirallas' stunning opener and run out 2-1 winners.
Starting in confident fashion after their 2-0 win in Wolfsburg, and buoyed by the return to the side of Leighton Baines and Gareth Barry after injury, the Blues dominated the first 20 minutes and went ahead after a quarter-of-an-hour. Initially tripped by Vlad Chiriches on the edge of the box, Mirallas collected a clearance from the resulting free kick and curled an inch-perfect shot under Hugo Lloris's crossbar from 20 yards.
The lead lasted just six minutes, though. Sylvain Distin's mis-placed ball forward went straight to Jan Vertonghen in the centre circle and two passes later, Harry Kane had advanced and fired a low shot that Tim Howard only managed to push into the path of Christian Eriksen. The Dane had continued his run and was on hand to knock the ball into the far corner to level the scores.
And Everton's cession of the lead was compounded in first-half injury time when Barry was caught in possession by Kane and Aaron Lennon fed Roberto Soldado who ended an eight-month wait for a goal by firing past Howard to make it 2-1.
Everton's response in the second half was a ponderous one, with Spurs able to pull men behind the ball to protect the lead and Roberto Martinez's side lacking width.
Tottenham almost doubled their lead in the 59th minute when Federico Fazio failed to get what would have been a crucial touch in front of goal to Eriksen's cross before Martinez made a double change to introduce Leon Osman and Aiden McGeady for Kevin Mirallas and Samuel Eto'o.
Good work from Ross Barkley carved out what would be Everton's best chance of the game with 18 minutes left but Hugo Lloris denied Seamus Coleman and it wasn't until the last 10 minutes that the Blues finally started to put Spurs' makeshift defence under pressure.
They nearly made the breakthrough a minute before the end of regulation time when Romelu Lukaku was fouled near the corner flag and Baines whipped in a free kick but the Belgian's towering header was stopped by Fazio's arm, out of sight from the officials.
The defeat keeps Everton in 10th place and five points off fourth place as they prepare for the visit of Hull City to Goodison Park in midweek.
Full coverage: ToffeeWeb Match Reports
Reader Comments (151)
Note: the following content is not moderated or vetted by the site owners at the time of submission. Comments are the responsibility of the poster. Disclaimer
Geoff Evans
1
Posted 30/11/2014 at 19:38:53
Tenth place is about right. The manager's tactics have been sussed. Possession football's great when you've got Iniesta and Messi in your team; without them, it's like watching a bunch of crabs going sideways and getting nowhere.
Having the most possession is one thing, scoring the most goals is what counts.
Lee Gorre
2
Posted 30/11/2014 at 19:48:16
Just reading Martinez comments. Not for the first time this season, I've been watching a different game. The man needs to learn when positive spin is the right thing and when it isn't. They're goals weren't fortunate, they were down to poor play on our part – Distin giving the ball away and then failing to defend the attack, and Barry ridiculously caught in possession.
The play was too slow and yet again we have gone 1-0 up and then for some reason gone on the back foot – just like every game when we go in front. Martinez is obviously aware of it, so should know something needs to be done about it.
Poor subs – Pienaar should have come on to create some threat down the left. Desperately disappointing.
Craig Mills
3
Posted 30/11/2014 at 19:54:18
Really disappointed with the performance today. Apart from a wonder strike, I thought we offered very little going forward whilst looking decidedly uneasy at the back throughout the game.
Too many players below par, too many individual errors, Howard's attempt to save their first goal was nothing short of embarrassing, Distin for the second is just poor.....
Andy Meighan
4
Posted 30/11/2014 at 19:59:07
I understand that Roberto can't come out and slate his players but why can't he just say they were poor for a change instead of all this shite about how unfortunate we were? We weren't — we were piss-poor and it's obvious he sees things we don't... otherwise, he wouldn't change a winning side, unless enforced.
The man is deluded and his predictable style of play has fucked our season up already. And please don't let tell me anyone we will finish 4th, win the FA Cup or win the Europa League because, believe me, it won't happen. Quite simply, we don't open teams up and we don't create enough... End of.
Geoff Evans
5
Posted 30/11/2014 at 20:05:47
Five points off top four, six off bottom four.
Mike Keating
6
Posted 30/11/2014 at 20:17:49
I agree with Craig: disappointing... and we got muscled out of the game by a team which do not have a reputation for being physical.
After the goal, we were second to every ball and caught in possession.
Terrible performance
Peter Fearon
8
Posted 30/11/2014 at 20:17:45
A few things are evident. One is that Besic is not a Premier League standard player. He is too slow, careless and clumsy and has no creative ideas. Another is that Gareth Barry is not fully fit and was returned to the side too soon. Also Barkley is not a winger and should bot have been forced to play wide for the first hour.
The general negativity about this loss – the idea that Roberto is tactically inept or that we are too slow for the passing game or any combination of that, is so OTT it's ridiculous. We made some defensive errors and paid dearly for them. If Naismith had been fit, we would have had more penetration. Move on.
Lee Whitehead
9
Posted 30/11/2014 at 20:29:56
Peter (#8),
What a load of bollocks!!!
Besic was our best player.
Paul Ferry
11
Posted 30/11/2014 at 19:59:47
I have to agree with Lee – sadly – about the gaffer's post-match remarks that were quite frankly embarrassing. His earnest expressions in these situations are starting to get on my tits... Praising our energy and he could not be happier with the performance! That's bollocks in anyone's language!
His positivity is one of the things I like about Martinez but there is a point when discretion might be expected to step in. There is nobody else that I would like to have in his snazzy shoes but he needs to be a touch more flexible and thoughtful, both on and off the pitch, in my opinion, for what it's worth.
There were very few dissenting voices on the starting eleven that I came across. The first quarter-of-an-hour seemed to prove the gaffer to be right on ever part of the pitch.
It's very hard indeed to legislate for clownish amateurish mistakes from so-called 'seasoned' pros like Howard and Barry, but I for one was deeply disappointed by the way that we were set up and the lack of ability to adapt to suit the nature of the game –and that, quite frankly, is down to the gaffer. Like other teams this season, Spurs just stood off and had a good look while we passed it around.
Osman should have started; Sam should not have started. Barkley has to play in the middle. Seamus needs support ahead of him.
Barry had his worst game to date for us and should have been taken off at half-time. He was clearly not match fit and there is a worrying tendency under Bobby to bring players back too early. Thank God he subbed Mirallas although McGeady continued as if the final whistle has not been blown at Wolfsburg...
So disappointing after a first quarter-of-an-hour that would have had any potential opponent quaking in their boots.
Bobby, we absolutely must buy a new keeper as soon as possible – you have not given us adequate cover and so we have to play a liability week-in & week-out – and you must be more flexible off and on the pitch.
Change and adapt your set ups and formations and post-match conversations so that they more-accurately reflect how the game is going and how it went, please.
Dean Adams
12
Posted 30/11/2014 at 20:34:56
Peter. Your view of Besic is rather wide of the mark. He has great passing ability and good vision. Problem is the rest of the team were not good enough to utilise his passing prowess.
As for his covering, he did all the running for an unfit Barry. That is not his fault. He played well and was close to being our best player. Funny old game that makes so many see things so differently.
Colin Glassar
13
Posted 30/11/2014 at 20:34:22
Yes, let's move on, Peter, but not before I restate my position that this bloody Europa League is killing us. Plus, Roberto's insistence on playing Barkley, Eto'o and Lukaku in the same team!!
Either Barkley or Eto'o, Roberto, otherwise they just get in each others way. Please don't ruin Barkley by playing him on the wings. The lad is a central midfield player, full stop. Don't waste his talent, please.
John Keating
14
Posted 30/11/2014 at 20:33:19
Peter,
You say that Besic is not Premier standard; if so, then playing him is tactically inept.
You then say Barry was not fit enough to play; if so, then playing him is tactically inept.
Again, Barkley is not a winger, so playing him there is tactically inept.
Finally, you say we made some defensive errors and paid dearly for them. Well, we made those errors because the players are "encouraged" (forced) to play the ball out from the back at every occasion, regardless. That is tactically inept.
Based on what you said, I think that proves that Martinez can be tactically inept and it is definitely not OTT to accuse him of being so.
Stephen Brown
15
Posted 30/11/2014 at 20:45:36
I couldn't agree more with Colin (13): Barkley and Eto'o got in each others way all game but I knew they would!
Also, having no natural right winger had a negative effect on Seamus Coleman's attacking threat. Must beat Hull City now and the upcoming home games v QPR and Stoke City.
Andy Crooks
16
Posted 30/11/2014 at 20:40:44
People who should know a bit believe Ross Barkley is special. At the moment, I think he is trying too hard to prove it. I would like him to be told that, barring injury he will start the next dozen games in his best position, that it is okay to be average and do simple stuff.
Today was very disappointing as we just looked really average against a team lacking in confidence. I am concerned that Roberto, like our previous coach, will shoehorn certain players into the side out of position.
Alan McGuffog
17
Posted 30/11/2014 at 20:41:14
Random, beer-induced thoughts.
I thought Besic had a decent game.
We were not out muscled... we were beaten by a team who were quick, direct and clinical.
I love possession football. I hate our wide players having possession midway into the opponent's half only for the ball to be back with Howard within seconds.
I don't like us playing silly buggers with the ball on the edge of our box and getting caught in possession.
I don't like us giving away soft free kicks on the edge of our box.
I DO like us having one individual in a blue shirt who can make an incisive forward pass. Hands up if you know of one...
We are an average, reasonably entertaining team. Top four? Dear God!
Paul Andrews
18
Posted 30/11/2014 at 20:59:44
Andy,
He is special.
Very special
Joe Duffin
19
Posted 30/11/2014 at 20:58:21
Personally I thought that on the whole Barkley slowed play down too much by holding on to it too long and not paying quick enough. It wasn't the whole reason but if you watch the game again see how many times he had a chance to pass the ball but choose to hold on to it. Coleman was ineffective and overall play was too slow.
Tony Marsh
20
Posted 30/11/2014 at 20:49:41
Eto'o should never start in the Premier League. As Classy as Samuel is he is an impact player who should be brought on with 30 mins to go.
Howard needs replacing with immediate effect. He has too many of these pathetic howlers in his armoury. Costs us too many games and has done for years now.
Distin is over the hill should've been given the boot after the pathetic semi-final against the Redshite.
Barkley is never going to mature into the player England fans think he will be. Headless chicken with no football brain. Grab the big money off City now while we still can. The new Jack Rodwell?
McGeady, not Premier League, class cant even take a corner. Cuts back inside all the time, never goes outside his man. Poor and very much the new Kevin Kilbane.
The Europa League is killing us in the domestic games. We need to get knocked out or give up on the 4th place finish and concentrate on Europe. We can't do both properly.
The season so far has been awful but the Sunday away games after Europe doesn't help. Realistic chance of top 4 now gone.
Paul Tran
21
Posted 30/11/2014 at 20:56:47
John, I agree with all your points, except the often stated view that Martinez 'forces' defenders to play from the back.
There's nothing wrong with keeping the ball. You could argue that when Distin tried the fabled alternative of lashing it 'out of harms way', it led to their first goal. Incompetence is incompetence.
The problem isn't keeping the ball, it's the slow passing, the predictability, the ease with which the opposition can get into position to defend/attack against us. It's the unfit players whose decision-making shows their lack of fitness.
I was expecting the team to keep the ball as well as last season and move it around more quickly. So far this season, I've been disappointed.
Henrik Lyngsie
22
Posted 30/11/2014 at 20:47:05
I guess Martinez had some selection dilemmas today. He opted to play his 11 strongest who were fit. We started really well and looked very strong for the first 15 minutes. But for the rest of the game we paid the price for playing three players who just came back from injuries (Barry, Baines and Coleman) and two who came back just recently Mirallas and Barkley). It certainly did not pay off today. Barry was clearly not match-fit. He did not have the legs today and even his experience was letting him down, gifting them the second goal.
Baines was nowhere near his best. But he is experienced and classy enough to still fulfil his role (apart from his corners).
Coleman when not fully fit is simply not good enough. When he is in top form his speed, passion, commitment and self-belief takes him much longer than his talent merits. When he is not fully fit, like today, he is not very good, neither defensively or in the attack.
Mirallas lasted 60 minutes and did well. Barkley played all 90 and showed glimpses of his talent but was handicapped from being played out of position.
In the end, Martinez's team selection did not pay off today. The good news is that these 5 who have all been sidelined gained more match fitness coming into a busy December.
I was pleased when I saw the starting line-up, just a bit nervous for Besic being ready to play this level. Apart from his backpass, he did fine considering he played next to an unfit Barry and in a very offensive line-up where the three attacking midfielders do not provide much cover.

Mick Wrende
23
Posted 30/11/2014 at 21:06:02
Guardiola has said many times it is no good having a passing game unless the ball is passed forwards. That is what Martinez does not seem to grasp as it is so easy to go sideways or backwards but it achieves absolutely nothing. So many times Spurs could regroup as we fiddled with the ball in our own half.
We are definitely in the right position now and miles away from 4th. Okay we may beat Hull on Wednesday but will get beat by Man City and will still be 9th or 10th. And Martinez does not have an alternative – just play exactly the same for 90 minutes. Watching Everton away from home now is becoming a nightmare.
One day Howard will not be here and hopefully we will have a decent keeper and anyone who thinks Besic is anywhere near Premier League standard needs psychiatric assessment.
Henrik Lyngsie
24
Posted 30/11/2014 at 21:10:47
Paul @21. I agree on the slow passing. If we want to play possession football, we need to move the ball much faster; otherwise, it is too easy to defend.
Aman Kanji
25
Posted 30/11/2014 at 21:11:57
Mirallas is class.
Eto'o had another poor day.
Barkley slows the game down and believes the hype about himself.
Coleman had no-one to pass to (Barkley should have offered).
Lukaku had no service.
We missed McCarthy.
Osman should have started,
Martinez should stop with the positives.
We should have won.
Howard should have done better with first goal.
We were never going to get a pen on the refs performance...
Bugger. Off to bed.
Jim Bennings
26
Posted 30/11/2014 at 20:46:04
I have to find myself in total agreement that our whole style of play, tactics – call it what you will – have been well and truly sussed this season. The whole possession play fascination has completely taken over reality with the manager now.
We pass the ball so slowly and so aimlessly that it's hardly worth having the ball anyway. Basically the opposition just lets us have it in defence then, as soon as they pressure us with tempo or vigour, we have no clue where we're going or what we're doing.
I look at other teams: Arsenal have Oxlade-Chamberlain and Spurs have a Eriksen or Harry Kane, Southampton have Tadic, The Redshite even have it in Coutinho... Where is our tricky little pacy players who can get behind a team or play a killer pass?
I see only Mirallas capable of doing this now and again.
What's Barkley's role in the team? A roving midfielder, driving force that frankly drives down more blind allies than a shit bin lorry.
Martinez must surely be cursing himself for signing then hyping up Aiden McGeady, the fella makes McFadden look like Lionel Messi.
Why did he sign Atsu on loan just to treat him the same as Chelsea did? He clearly offers nothing at this level.
Barry looks like he is jaded and the length of that contract needs questioning too.
Our entire set-up and style looks jaded, our ball retention worthless when the passing is so pedestrian – it looks like we're stuck in mud.
It's all well and good passing the ball and having some kind of orgasm when you see the stats at the end and see our great possession numbers but, when it's just passing sideways and backwards, what's the fucking point????
Colin Glassar
27
Posted 30/11/2014 at 21:15:28
Spot on, Henrik @22, too many players rushed back into the team when not 100%. Say what you want about them but the likes of Ossie and Hibbo (despite being tired from Thursday) would've sweated blood out there today and been far more composed, and effective, than Barry and Coleman were.
Tony Abrahams
28
Posted 30/11/2014 at 21:08:41
When Martinez said Spurs were lucky with their goals, did he mean because we had Howard in goal?
When you watch the goalie in Europe, you can see the concentration in his face, and it's probably no coincidence that most of his bad mistakes have come in the very next game.
I know you can't legislate for injuries but Martinez has got to start getting the team selection right. It was great on paper, but very un-balanced out on the pitch and, although we have been on an unbeaten run, we haven't really had much fluency in our play this season.

Andrew Hawes
29
Posted 30/11/2014 at 21:18:43
The only time we look threatening is at the beginning of our games. When we go 1-0 up the mentality is there for all to see.
We pass the ball from side to side, defense to midfield and vice versa, as if we are protecting a 3-0 lead??
There's a reason we haven't truly walloped a side 5-0 since Martinez has taken over and it's due to this cagey continental style that he's playing in the wrong league/country.
Jim Bennings
30
Posted 30/11/2014 at 21:32:00
Hibbert should have played today.
Old head, solid experienced defender, played brilliantly at Wolfsburg and hasn't played too many games this season.
This was always going to be a game when defending would need to be done.
James Marshall
31
Posted 30/11/2014 at 21:28:59
To everyone talking about playing Barkley wide – he may have set the team up that way, but he didn't really play wide did he? He drifted in-field all the time, and made runs from the right. It's not quite the same thing as playing him as a winger or really a right sided midfield player.
The team today was setup OK, I just think we had players struggling a bit. Barry was clearly not up to speed, Distin looks worn out (give the guy a break, he's been brilliant for us but he's getting old – it's not his fault he gets picked every week) but is doing his best.
Besic looks pretty good but is certainly no James McCarthy and, as a result, our midfield was wide open. With Macca in the team, our shape is better; we close down better, the defence is therefore less exposed (and the keeper) and we control games better.
Seriously, there's always a bigger picture than simply Ross being on the right, or Distin making a mistake. The flow of play is what matters and this is affected by the personnel on show.
Spurs are a decent side too, don't forget; they played very well today. There are two teams out there, and it seems Evertonians are, all too often, too quick to lay 'blame' on whoever they can in a blue shirt. It's rarely that simple.
Paul Tran
32
Posted 30/11/2014 at 21:36:13
Well said, Jim. Like the Anfield debacle last season, I was pleased when I saw the team, then horrified by the number of clearly unfit players. How are Hibbert, Osman, Garbutt feeling now?
Sometimes the really clever managers are the ones who leave things alone.......
Tim Locke
33
Posted 30/11/2014 at 21:38:54
I am not too worried about this, we are 8 points off where were last year which is not great, but also not a nightmare. Teams in the prem are getting better, we think spending 㿈m puts us with the big boys but in reality it puts us just above mid table.
We are not going down this year, let's give Bob time to sort things out, bed the youth and all being well win something in Europe. We don't have the money to follow Man Utd, Chelsea and the like, we have to trust youth, sensible buys and building a team up.
I think there are a lot more twists and turns to come in this season and Newcastle have shown a run of 5 games would put you in the top 4. Annoyed? Yes... errors leading to losing goals, Yes; would I swap Bob for Moyes? No way, I think we are progressing and will continue to. Here's to Wednesday.

Paul Tran
34
Posted 30/11/2014 at 21:45:21
James, the set-up is going to struggle when players aren't fit and Eto'o and Barkley are too similar. Osman and Hibbert are playing well and were dropped for unfit replacements.
Can you tell me that Garbutt was mentally and physically shot after Thursday? I bet he'd have loved to play today. All three should have played today; if they had faded towards the end of the game, they could have been replaced then.
I think Martinez is a good manager, but he's got a blind spot with players' fitness and has the modern management curse of trying to look clever rather than demonstrating cleverness.
Trevor Lynes
35
Posted 30/11/2014 at 21:53:32
If Hibbert and Osman had played and we lost then the manager would have been castigated for not playing Coleman and Barry.
Give Spurs credit. Chelsea struggled against Sunderland or did you all miss that match? We do not have a divine right to win and we did not play badly.
Our passing was too slow today but perhaps the game last Thursday caused an energy dip. We actually finished stronger than Spurs and they had to turn in their best performance of the season to earn that result. Kane looks a future England star.
Jeff Armstrong
36
Posted 30/11/2014 at 22:06:09
Martinez is not a good manager, he is out of his depth, void of ideas and needs to re-assess his footballing philosophy. Possession gets nowhere without speed and penetration.
Mike Powell
37
Posted 30/11/2014 at 22:09:21
Piss-poor performance... worst of the season. Only one player came out off this with any credit and that was Jags – the rest were poor. Besic should've been taken off after 20 mins, he was a liability. I just hope we do well in the Europa League because we will be lucky to get top seven on this performance.
Bill Gall
38
Posted 30/11/2014 at 22:50:48
Glad some people are not to worried about how we are playing and come up with we are only 5pts from 4th place and some good results will get us there. At the same time we are only 6pts from the bottom 3 and, if we keep playing inconsistently, that just may get us there.
Consistency brings good results but the way we keep chopping and changing will always make us inconsistent. How I wish we had bought a quality midfielder instead of relying on Osman to produce the odd good performance.
Jim Bennings
39
Posted 30/11/2014 at 23:41:25
Just watching the game again on Match of the Day, I have never seen a team concede so much freakish self-destruct goals as this current group of players we have. All the more amazing when a lot of them are seasoned pros.
What the hell were Howard and Barry doing?
Phil Walling
40
Posted 30/11/2014 at 23:33:33
The only stat that counts is that we have managed to win only FOUR of our THIRTEEN league matches so far. That's more than a third of the season accounted for and the manager seems to have no clue as to what is our best side.
Either that or he is choosing to play 'the big boys' game of rotation – but to poor effect. The indication is that we should finish top half but are unlikely to trouble the Sky cartel.
The good news is that the team have taken to the Europa League like a duck to water and whatever eleven Martinez puts out it does well. Perhaps he is, after all, a lucky 'cup manager' and that the New Year will also see success in the domestic trophy.
I don't see 2014-15 as likely to be a disaster but let's stop EXPECTING the team to suddenly start winning every game. Therein lies heartache.
Mike Childs
41
Posted 30/11/2014 at 23:51:46
Well said, Phil.
Patrick Murphy
42
Posted 30/11/2014 at 23:51:00
Phil, I think you are right about the idea that this team – or indeed any Premier League team outside of Chelsea, City and perhaps Arsenal – are capable of winning every game. I also think that four wins from thirteen league fixtures is more than disappointing but that was our first defeat in 9 games since we lost at Old Trafford, so it can't be all as bad as you might think.
I believe we are at a real crossroads and that a few positive performances and results will see the confidence grow and we can get back to what we are capable of; on the other hand, a few more bad results and the grey clouds will engulf us and we might talk ourselves into a worse situation. I think this is one of the reasons that Roberto tries to remain positive at least in public at any rate.
As somebody mentioned earlier today, all of our Europa League games have been followed by an away fixture in the Premier League whilst Spurs have always had a home game following their Europa sojourns, which hasn't helped us.
It's imperative that we get a good result on Wednesday and try and pinch something at Man City on Saturday, just to ensure that we don't slip down the league as the negativity from some quarters could see us spiral out of control and nobody wants to see that do they?
It seems to me at any rate that some people seem to think that Roberto has somehow been a failure in his time at Everton; however, he has taken 89 points from a possible 153 and Everton have lost just a dozen of their 51 games during his reign scoring 84 times and conceding 60.
There are certain aspects that could be improved but I'm not sure we should expect too much more from the management at this stage, although having to score twice to win games is something that could and probably should be addressed in the January window... but we know that won't happen, so the youngsters will have to provide the cover.
James Marshall
43
Posted 01/12/2014 at 00:10:27
Paul @34 – agreed on all fronts mate.
Phi l@40 – absolutely right as well. Sometimes you lose a game, sometimes the players on the other side are better then yours and make less mistakes. That's the way it goes.
We were unbeaten in what, 8 games until today? So not a bad run and Martinez has improved us as a team and given us all something to shout about.
I do agree he's a bit blinded by his own faith in certain players, regardless of fitness vs form, and that should change. Garbutt should have played today, but then we're all backseat managers and he's the bloke who lives & dies by his decisions – most of which he gets right!
Andy Crooks
44
Posted 01/12/2014 at 00:16:52
Phil Walling, what is it? When we lose I think stuff like your post #40 is interesting, balanced and very pertinent.
When we win, your posts seem like shit. You seem to have some sort of malign influence. I do think you have a point about the rotation.
Colin Gee
45
Posted 01/12/2014 at 00:22:43
So frustrating, Spurs were there for the taking today, we went 1-0 up then stopped playing. We let them back into the game; we should have held out for 1-1 at half time but went in 2-1 down then didn't start playing again until 10 minutes before the end.
I think Barry was rushed back too early but, with McCarthy not fit, I don't think we had must options left.
Eto'o had a poor game, he kept giving it away, Besic for me did well, he gets better every time I see him play. Barkley seems to be trying too hard instead of playing his natural game. Lukaku played well kept making runs but no one would put the ball through to him to run on to. Coleman wouldn't run into the box when attacking for some reason he kept trying to cross it from outside the box.
As for McGeady, he's so frustrating; the lad has talent, but he's turned into Peter Beagrie!
Hopefully we will give Hull a stuffing on Wednesday night!

Harold Matthews
46
Posted 01/12/2014 at 00:26:48
Yes, Joe (#19). Barkley, Besic Coleman and others were taking far too many touches all afternoon. Roberto encourages them to take men on but, all too often, it brings us to a standstill. An early cross is an absolute no-no.
For the likes of Alan Ball and Paul Scholes, one touch was usually enough but they had team-mates who constantly made intelligent runs while our lads tend to be pretty static.
Eventually they may get it right but, till they do, we will continue to be caught in possession and our wide open defence will suffer.
Jay Harris
47
Posted 01/12/2014 at 01:14:46
I know it's disappointing but this was a result waiting to happen. Spurs were fired up after the first 20 minutes and we've got a shedload of injuries and an unbalanced team to face them.
The only positives for me were Besic was outstanding, spraying passes short and long all over the pitch, and he was everywhere; Barkley is starting to rediscover his form; and Kev scored a cracker.
Downsides: Jags and Distin looked as if they had left their legs in Germany. Tim was poor on both goals.
And my biggest complaint... Roberto, will you please stop playing Barkley, Eto'o and/or Ossie in the same team and instead beef up the midfield — especially away from home.
If we don't do that, the 6 Chelsea scored against us will look like chickenfeed when we play Man City next week.
If the injuries are so bad, play Bainesy in midfield and put Garbutt at leftback.
And WTF has happened to Bryan Oviedo?
Damian Nolan
48
Posted 01/12/2014 at 01:32:55
Martinez's over-used and misplaced positivity is the most annoying aspect of the current "away-day malaise". As fans, we are not entitled to have all our demands appeased but there is no need to present an interpretation of a game as fact when all but the blind can see otherwise.
I doubt that RM truly believes that McGeady is of sufficient standard. As for Distin, he makes "Ironside" look mobile. I have never seen a player be more consistent in topping the ball so it virtually creeps across the grass or passing it behind the advancing teammate so as to ensure a complete loss of momentum.
Finally, perhaps the pitiful attempt by Tim Howard vis à  vis the first goal will teach him not to go shouting his mouth off about finishing 4th. As they say, "don't tell me how good you are — show me." That could apply to all of the team today.
Liam Carlen
49
Posted 01/12/2014 at 01:44:38
If you caught Tottenham against Hull City, it was awful. Had Hull not had a player sent off, it was hard to envisage Spurs getting a point, let alone 3. That lacklustre performance has been a trademark of their season thus far. I was therefore optimistic after seeing that, with the odd exception, Everton could put out what many would consider their best team.
Everton have flattered to deceive this season, on the odd occasion being exceptional, but generally disappointing. Today was worse.
Although Everton had travelled mid-week, Tottenham also played a European game; therefore, there can't be much by the way of excuse for being tired, yet Spurs played as though they had had the summer off and Everton, that they had spent the week running up sand dunes.
Spurs were first to every ball, fought manfully (unusually), got forward in numbers and got back to defend as a team. Whilst in contrast, Everton were ponderous to the point of frustration, so by the time the ball had been passed back 5 times, the entire Spurs team were back and in position. The lack of enterprise and invention ensured that we would then struggle to fashion real chances.
The real issues are that firstly, Everton were not as up for the game as Tottenham were and, secondly and perhaps more worryingly, that Martinez does not appear to have a Plan B. Getting the ball wide and crossing to a lack of bodies in the box is a plan; not a very good plan, but it's a plan. However, when it does not work, replacing like for like is not a very good plan either.
Everton have a talented squad, but sometimes it seems as though too many players believe that all they have to do is turn up and they will win. Defensively we haven't looked properly solid or in control for years, and so it is proving. Also, the likes of Ross Barkley, as talented as he is, needs to start showing it and producing on a regular basis.
Barkley is a player who, when producing, would be worth the admission fee on his own, but the "young, inexperienced" tag no longer washes. He is not a 16-year-old just breaking through; if he and Everton, want him to be the sensational talent that he is capable of being (as we do), Martinez needs to play him regularly in his best position and we will see if the hype can be turned into reality.
Getting towards the half-term report, it should read:– Must do better; must try harder; keeping the ball in your own half does not actually win games; must have a Plan C, let alone a Plan B... and – above all – must sort out the defence.
Roberto Martinez has improved Everton beyond measure as a team to watch but, in order for us to push on, allied with the skill, there also has to be solidity, strength and athleticism. If nothing else tells you that, being out battled by Spurs should.
Peter Fearon
50
Posted 01/12/2014 at 03:22:04
The idea that Besic was our best player is ludicrous. He lingers on the ball too long and allows himself to be put under pressure over and over. He almost gave away a soft goal early on, he could easily have given away a penalty late on and surrenders possession too easily.
I think Martinez did get it wrong today but his options were a little limited by injuries and by the fact we had played Thursday. That does not make him in a general sense "tactically inept". Roll on Wednesday.
Mark Tanton
51
Posted 01/12/2014 at 05:49:46
Yes, he makes the odd mistake but that's because he is looking to go forward and make something happen. Or should we laud HMS Barry instead, lumbering around in circles like the last hours of Bismarck?
Paul Andrews
52
Posted 01/12/2014 at 06:16:10
Besic wasn't bad yesterday as suggested, he did okay. He lingers on the ball, with too many touches, in dangerous areas for me. He got caught in possession several times yesterday.
Overall, I would leave him in the team, the more games he plays, the better he will become. McCarthy and Besic in front of the back four?
Kunal Desai
53
Posted 01/12/2014 at 07:14:43
Important to remember that many of these players are still OFM's. It might take a season or two to judge RM once he has 'his' own players.
Jim Bennings
54
Posted 01/12/2014 at 07:44:00
Without doubt the biggest regret from yesterday was the fact we didn't pressure a Tottenham team that has a seriously suspect defence, I mean something isn't right when Stoke managed to win there two weeks ago by scoring twice, they are hardly prolific scorers.
Everton don't attack as a team often enough, we attack in slow motion, in dribs and drabs. A prime example was when Barry got caught dawdling on the ball for the winning goal, look how fast Spurs ran at us, if that had been us we would have stopped, stood still then went sideways or back.
Incidentally, regarding Gareth Barry, I agree with posts suggesting he looks extremely lumbering at times this season. It's not the first time he's been caught out in possession; it happened numerous times at Anfield and Old Trafford if I remember.
Our midfield, apart Mirallas and Barkley (when he stands up) has little mobility to it these days. At least three new faces need bringing in next month and I'd be delighted if one was Deulofeu, I think we've actually missed him this season. Options we have had from the bench this term just have not been game-changing.
We need some pace in this side, someone bloody direct and not sideways.
Ray Roche
55
Posted 01/12/2014 at 08:06:11
There appears to be some criticism on here that Besic "Lingers on the ball", "too many touches". Maybe if the collection of statues masquerading as players could find it in themselves to move occasionally and provide him with someone to pass to it would help.....
Geoff Evans
56
Posted 01/12/2014 at 08:09:28
It's like watching 10 Ray Wilkins. Opposition managers watching that display must be rubbing their hands together, play a high line, pressure the ball and just wait for the mistakes to come.
Keep going sideways, keep getting nowhere.
Ajay Gopal
57
Posted 01/12/2014 at 08:38:17
If there were two changes I would have made from yesterday's starting line-up, it would have been: Baines playing instead of Barry in the mid-field with Hibbert as Left Back (remember both goals came from that side) and Osman starting in place of Eto'o.
If Martinez had done his homework, he would have found that Ossie always has a good game against Spurs. Hind-sight is a wonderful thing, but I honestly believe we would have at least taken a point if we had this team.
Brian Hennessy
58
Posted 01/12/2014 at 09:26:35
I have thought up to now that criticism here on ToffeeWeb of Tim Howard was a bit harsh, but yesterday he was just terrible for the first goal. To parry a shot like that, at a good height for a goalkeeper, straight into the path of a Spurs player was just plain not good enough. Add to that he was incredibly slow to get back on his feet for the follow-up.
Also I just don't get the hype regarding Besic. I admit didn't see the Wolfsburg game but any other match I have seen with Besic playing he has looked very very average and a million miles away from a player like McCarthy or even Osman to be honest.
Having said all that, we were very unlucky to meet a Spurs team who produced their best performance of the season...
Mads Kamp
59
Posted 01/12/2014 at 09:39:56
Glad to see that Eriksson was corrected to Eriksen. He is Danish. Not Swedish. Mirallas is world class, hope we can keep him satisfied.
Jim Bennings
60
Posted 01/12/2014 at 09:37:47
Brian,
We have always said and always known Tim Howard for what he is. A decent shot stopper but makes way too many elementary mistakes.
Yes, Spurs produced a good performance but that's the trouble with Everton in league games: we only beat teams when they play shit.
West Ham was an exception last week. Usually when a side plays well against us we generally don't win.
Brian Waring
61
Posted 01/12/2014 at 09:43:43
"If Hibbert and Osman had played and we lost then the manager would have been castigated for not playing Coleman and Barry." Spot on, Trevor.
Some ridiculous comments on Besic, the lad is quality, always coming deep to pick the ball up to get us moving forward, the problem was there was zilch movement up front for him. I see Besic in a few years time being captain material.
Brian Waring
62
Posted 01/12/2014 at 10:18:25
Another thing: I think Spurs deserve some credit for yesterday – you only have to listen to their fans saying that was the best they have played all season.
Brian Waring
63
Posted 01/12/2014 at 10:25:51
Jeff (#36) "Martinez is not a good manager, he is out of his depth"
Yeah right Jeff, that's why we finished with our highest record prem points last season.
Brian Waring
64
Posted 01/12/2014 at 10:44:25
Peter Fearon (#8) on Besic "He is too slow"
https://www.youtube.com/watch?v=9usQFDzhRv0
Joe Bibb
65
Posted 01/12/2014 at 10:44:49
I never thought I would say that we missed Naismith but we did. He chases the ball, is terrier like and unsettles defences. Barkley should be doing all that and more if Naismith isn't in the team, so should McGeady.
'Frankie' Howard has been poor on many occasions, he has been lucky because usually, when he pushes the ball out instead of holding on to it, he gets away with it. Peta Cech should be our number 1 target and Barkley should be played down the middle with someone next to him to pass to.
I don't understand why fans don't like the Europa Cup, it's a short cut to the Champions League. To try and finish 4th we have to play teams like Chelsea, Man Utd, Man City, Arsenal etc home and away plus a total of 38 games. Seems logical to me to prioritise the Europa Cup.
Colin Glassar
66
Posted 01/12/2014 at 10:36:28
Love all the historical references e.g. Bismarck, Ironside etc..
I've never really trusted Howard ever since he dropped the ball, under no pressure, against Blackburn a few seasons ago (first game, remember?) and Santa Cruz(?) tapped it in.
As many have stated, Tim is a brilliant reflex stopper but he's never really mastered the basics has he? My only concern is that Robles will be given the role next season.
Tim Locke
67
Posted 01/12/2014 at 10:21:53
Not for the first time, we found that we can't break down 4-4-2 with 4-2-2-2. The way we play is build from the back with our main outlet being Jags. Today, Jags was always being pressed and had no options going forward. Hence the first goal came from a long ball out the back from Distin, I am not blaming him, just, pointing out we are limited when playing this way. I would play 4-1-4-1, which would provide width and hopefully allow us space in the middle of the park.
Besic sadly fell victim of the formation. You cant play 4-2-2-2 with Eto'o and Barkely in the side, they stand in the same place. This left Besic with Barry and Coleman as his two main options. That combination of Besic, Coleman and Eot'o was one of the most common; however, they often only covered a few yards and ended up going sideways not forward. What you needed was a winger to create space on the right and allow Coleman to either push on or cut inside.
Mirallas was our best outlet, and clearly had the beating of Chiriches, who was on a yellow. I thought he should have stayed on and McGeady put onto the left and Mirallas onto the right. If teams play with the two banks of 4, that is fine when you are 1-0 up, you can sit and pass the ball, but you need to be aware you are inviting them onto you, they will slowly push up as a group and create pressure. If they win the ball back then the quick counter is on, the second goal was from that and another defensive mistake, 7th of the season, which has led to a goal... being top of this league is a stat we should aim to lose.
All-in-all, I don't think this is a nightmare, I certainly wouldn't be waving the "Bob does not have a clue" flag. He has shown he does more often than not. What this does show is we need to know how to set up against high-pressing 4-4-2.
Geoff Evans
68
Posted 01/12/2014 at 12:00:37
Good thread, Tim. I think it shows that Martinez's tactics have been sussed. Teams realise that if they press the ball high enough up the field the mistakes will come.
Or is the stat you point out just a coincidence?
Anthony Lewis
69
Posted 01/12/2014 at 11:46:53
I can't seem to understand this slow ponderous build up? I mean it doesn't seem like Martinez wants them to play that way when watching his reaction to the tika-taka play. He's clearly telling the players to pick up the pace and pass it quicker, yet we don't?
Spurs, yesterday, were exactly how I envisage us playing. Sharp crisp rapid passing with fast movement when going forward.
Geoff Evans
70
Posted 01/12/2014 at 12:33:37
Tactics are flawed; there's a hiding on the way if its not sorted and sorted quick!
Jim Bennings
71
Posted 01/12/2014 at 12:33:37
Anthony, I agree. I said yesterday that too many people for my liking have been totally hypnotized and engrossed in this so-called passing possession football.
But, as I say, it's all predominantly just sideways and back down the blind alleys that we just went down, too often it's just passing the ball for passing sake, it's too slow, it's not like the rapid fast tempo that the likes of Barcelona or Arsenal play.
Even Bayern Munich fans started complaining last season that the way they were playing was too ponderous or pedestrian, so it doesn't matter what the quality of players are, the fact is the ball can moved too slowly then that's when this style doesn't work.
I admire Martinez's principles but surely can't he see that you need variety and if you're persistent with this passing game, then please please speed it up!!!
Tim Locke
72
Posted 01/12/2014 at 12:26:21
Anthony, you can only move the ball quickly when you have options on. If you are playing against 4-4-2, then you need width to create space. We had very little especially on the right, so no outlet.
So the ball gets moved round the back, no point moving it too quickly as it will create mistakes. So pace drops. Pressure comes from their front men and we look like we have been found with our pants down.
The other issue is their back line pushed up which meant no space in between and also that ball over the top was harder because of offside. The RS played well against 4-4-2 pressing past season because they had pace, so move it round the back, ball into Steve and then ping, out to one of three quick forwards. We don't have that, which means we look poor and just pass it round like restating 5-aside.
Robert Workman
73
Posted 01/12/2014 at 12:50:39
I believe that the turning point in the game came when we were leading 1-0. Lukaku cleverly anticipated a back pass and was only foiled by some alert goalkeeping from Lloris, who made an effective block. 2-0 after 20 minutes, with the home crowd already grumbling – game over?
We were not helped by some bad offside calls in the first half, in particular, when we had attacking possibilities. I have to say that former Spurs player, Clive Allen as summariser, was unbiased in his comments and took issue with the four bad decisions (all against Everton).
Harry Sosnowy
74
Posted 01/12/2014 at 13:33:56
From the stands, the main issue with Sunday's game was the lack of movement from the midfield and strikers.
If we are going to play this build-from-the-back possession football with the current squad we have, we need to offer our defense more and quicker options.
Distin and Jagielka are not natural ball players, they are not Pique or Ramos, so why are we forcing them to maintain possession? Both goals were caused because we got caught pissing about with the ball in our defensive half.
Lukaku had one of his more frustrating days where he did not look interested to make runs or even get into the box, causing us to play sideways in the final 3rd of pitch.
Very disappointing to see us throw it away after the first 20 minutes we had.

Paul Andrews
75
Posted 01/12/2014 at 14:36:33
Ray Roche @55:
That's a fair point, the movement yesterday was very poor.
Chris Gould
76
Posted 01/12/2014 at 14:31:54
Tippy tappy, tippy tappy... oh shit, we lost it. Again and again. Bloody tiresome.
We have speed in our team with Mirallas, Lukaku, Barkley, Coleman. There's no excuse for this pedestrian rubbish. However, it seems to work very well in Europe.
Martinez has to learn to adjust during Premier League games.
Bill Gall
77
Posted 01/12/2014 at 14:55:36
Watching the game yesterday, the difference was Everton's passing was at walking pace with very little movement up front. The slow play allowed the Spurs players plenty of time to drop back but, when they passed the ball, it was at pace with lots of movement, putting our defence under pressure.
Mike Gwyer
78
Posted 01/12/2014 at 14:55:50
Fuck all this 4-4-2, 4-1-4-1 or 4-2-2-2 shite. I'd play 0-1-9, actually any formation that doesn't involve Distin & Howard exchanging passes. The opposition can just sit back and wait and then wait some more because, without fail, one of those two will fuck up and give them a scoring opportunity.
Barkley is getting marked – yesterday he was heavily marked. He had three markers on him yet we still gave him the ball; of course he lost the ball and then, hey presto, Barkley gets a slagging from all & sundry when the easiest option must've been to release one of the wing backs or just lump the ball to Lukaku or his sidekick Eto'o.
Howard is a headcase and for me he seems to need about two ounces of weed before each game. Every time the opposition are attacking our box, you just sit back, close your eyes and pray because, without fail, Howard will have some crazy plan once the ball is in his area. He is just not logical in his decision-making.
Ian Tunstead
79
Posted 01/12/2014 at 15:26:17
Same old story, one step forward, two steps back. We have just beaten a strong German team comfortably. So what does Martinez do? Yet again, he changes a winning team in order to fit in his favorites. Where is the incentive for those who are trying to break into the first team? Where is the reward for good performance? When players or a team is in good form and full of confidence and feeling fresh, let them show it!
It's getting boring and predictable watching Everton. Pass back, pass sideways, pass forward, make to passes back, repeat. The style of play is ineffective, we are relying mostly on individual pieces of skill and brilliance from certain players rather than the system. I am not seeing any progress or any positive input from the management.
Ray Roche
80
Posted 01/12/2014 at 15:38:20
Mike, with this "passing across the back line" crap, we are always giving the hot potato, sorry, ball, to marked men. Barkley is like the rest of the team, receiving the ball when marked. Coupled with the complete lack of movement, it's just a matter of time till we concede possession, invariably due to the special needs cases at the back giving the ball to Hit And Hope Howard.
Rant over until the next one.
Paul Holmes
81
Posted 01/12/2014 at 16:01:50
The problem we have, after watching a re-run of the match on TV, is that Howard, Distin and Jags always give the ball back to the opposition when they hoof the ball up-field. They are okay at short passing but, once they hoof it up-field, the opposition get control and attack us with pace.
Distin did this for the first goal (gave possession away cheaply) and Spurs attacked and scored. It happens a lot, watch against Hull and Man City and count the waste of possession by these players.
I also thought that Besic tried to close Spurs players down at every opportunity and ran himself into the ground. How many other players did this? Mainly the ones in white... So, for this reason, I think his criticism on here is unfair.
Michael Polley
82
Posted 01/12/2014 at 16:25:10
I think we were also guilty of complacency and 'resting on our laurels' . We were still congratulating each other on a job well done against Wolfsburg on Thursday night.
Spurs were motivated and up for it – we simply were not, Individual errors from Howard and unfit Barry cost us on Sunday.
Distin is getting some criticism, but unfortunately with Stone & Alcaraz both injured he really is the only option to partner Jags. Howard & Barry were the culprits, but despite that we never looked dangerous or cause them problems in the final third.
Ok that's it. Let's get back to winning ways against Hull on Wednesday evening. Games coming thick & fast now...
Geoff Evans
83
Posted 01/12/2014 at 16:35:35
What a difference a mile makes. On one side of the park the managers doing a fine job because his team are only four points off the top four. While on the other side the fans are chartering planes and banners to get theirs sacked.
What's the difference, goal difference.
Martinez has got it too easy. He should be reminded that there are out-of-work managers based in the northwest who took a virtually relegated club last Christmas to an almost top six finish and ended his top four ambitions on the way.
There's more to being a manager than going on World Cup jollies with for the boys, overlooking pre-season and spurting crap everytime his team loses.
Sean Kelly
84
Posted 01/12/2014 at 16:51:53
I think people on here are deluded if they think that we have a top four squad. We have several ageing players along with others who are prone to making disastrous mistakes in games.
Last season was a fluke. The sooner we realise what level we are at, the better. I definitely include Roberto in that last sentence. Roberto needs to cut the spin and say it as it is. He also needs to use his squad better.What's wrong with Garbutt? He had a blinder on Thursday.
I can see this team falling apart. Seamus and Macca will be gone in the summer and Mirallas is playing for a transfer. With them three gone, we have to depend on Hibbo, Pienaar and McGeady. Fuck that thought!
Paul Andrews
85
Posted 01/12/2014 at 17:05:33
Geoff,
The over the park manager spent 𧶏 million since he took charge a couple of years ago....
Or doesn't that count
Geoff Evans
86
Posted 01/12/2014 at 17:08:09
Paul,
Would you give Martinez 𧶏m to spend?
Tony J Williams
87
Posted 01/12/2014 at 17:10:39
Dear God Geoff!.....you are not advocating Pulis are you?
Tell me you are not serious?
Paul Andrews
88
Posted 01/12/2014 at 17:13:55
Yes
Colin Glassar
89
Posted 01/12/2014 at 17:13:43
Geoff, the men in white coats are coming for you. Seriously? You want Tony Pulis? We may as well get Gordon Lee back.
Geoff Evans
90
Posted 01/12/2014 at 17:18:20
Geoff Evans
91
Posted 01/12/2014 at 17:21:56
Geoff Evans
92
Posted 01/12/2014 at 17:25:36
Paul,
Hope we'd see more of his future signings than we have of some of his current ones!
Colin Glassar
93
Posted 01/12/2014 at 17:25:02
You want to go back to the dogs of war? Hoofball? You want a scrap rather than watch football? Well that's your choice I think most of us would prefer the SOS then go back to the dark days of Lee, Walker and Smith. Just my opinion. Roberto is the man to take us back to glory, trust me.
Paul Andrews
94
Posted 01/12/2014 at 17:29:03
McCarthy, Lukaku.
Not a manager born who gets them all right ,Geoff. Look at the record of the chap you compared Roberto to. How many of his signings would you say were good buys?
Andy Crooks
95
Posted 01/12/2014 at 17:29:18
I like Tony Pulis and consider him to be under rated. However, I would rather not have him as Everton manager.
I don't like Everton's laborious and ineffective passing game; I think it puts pressure under players who are simply not cut out for it and exposes the lack of movement of our forwards. I do , though respect the job Martinez did last season and have no doubt we are moving forward.
I cannot accept that Roberto thinks the way we are playing is fine and that he is blind to the obvious flaws. In my view we are in the early stages of the job he is trying to do and , frankly, I was expecting it to be much more painful than it has been. However, there is, what seems to me, to be plenty of fair criticism on this thread and the performance against Spurs was just poor.
Colin Glassar
96
Posted 01/12/2014 at 17:36:54
And Besic could be a monster buy Paul. Give the man time, let him form his squad and learn from mistakes. Martinez will be a great Everton manager.
Paul Andrews
97
Posted 01/12/2014 at 17:39:08
Colin,
Forgot to mention Besic.
You're right,if he progresses the way he looks like doing,and with more games,he is an absolute steal
Geoff Evans
98
Posted 01/12/2014 at 17:36:02
Paul,
Is Rogers getting flack because of the money he's spent or because of their league position?
Paul Andrews
101
Posted 01/12/2014 at 17:49:55
Geoff Evans
102
Posted 01/12/2014 at 17:51:00
Paul,
Is 𧶏m the net spend or gross?
Paul Andrews
103
Posted 01/12/2014 at 17:54:12
Doesn't make the slightest difference Geoff.
I have never bought into that one.
He has spent 𧶏mil to create his squad.
Regardless of what came back in
Geoff Evans
104
Posted 01/12/2014 at 17:59:07
Paul,
Not a manager born, gets them all right mate!
Paul Andrews
105
Posted 01/12/2014 at 18:05:51
Some get more right than others though Geoff.
Such as Martinez's signings for Everton.
How many of Brendan's multitude of signings would you say he got right?
Graham Mockford
106
Posted 01/12/2014 at 17:49:33
#79 it's the return of Ian "Leon Osman has been stealing a living for years" Tunstead with his normal positive outlook.
You criticise Martinez for changing his line up following a win. Are you seriously suggesting that when fit you would not start with Baines and Coleman as your full backs away at Spurs?
He has also had to pick around a bad run of injuries especially in central midfield. As for teams having sussed out our predictable tactics, it does not seem to have prevented us scoring two goals a game on average this season.
Yes we were beaten yesterday by a better team on the day, it happens. The time to start worrying is when it happens on a regular basis. But telling a doom monger like yourself is undoubtedly a waste of time. Get your David Moyes DVDs out and make yourself feel better.
Colin Glassar
107
Posted 01/12/2014 at 18:10:37
Brill post, Graham, I need to start remembering the names of the doom moongers and naysayers on here so I don't accuse the wrong ones of over negativity (Mr Hind). Unfortunately, every club has their serial moaners and whingers, it's just a fact of life.
Watch the game again, if you can, and we were beaten by a Spurs team who had more desire, energy and industry on the day, full stop. It happens: some you win, some you lose – it's part of the game.
As for those who doubt the innate skill of Barkley or the potential of Besic, that is beyond belief IMO.
Rob Halligan
108
Posted 01/12/2014 at 18:24:10
Come Wednesday night, after we beat Hull we will be looking at posts saying "Top Four is definitely on now" Come Saturday night, when I suppose there is a good chance we could get beat by Man City (I fancy a draw by the way), then everyone will be moaning again.
I'm with Colin here regarding Besic. Give him an extended run in the team, hopefully along side McCarthy.
Colin Glassar
109
Posted 01/12/2014 at 18:31:12
Besic, McCarthy and Barkley in MF will be an amazing trio Rob. As for the rest of your post, the word fickle comes to mind.
Geoff Evans
110
Posted 01/12/2014 at 18:24:27
Paul,
Not too well up on who he's signed or who he hasn't mate, know we haven't beat them or finished higher than them since RM took over. Does that prove anything?
Paul Andrews
111
Posted 01/12/2014 at 18:34:37
It proves you think Rogers is a better manager than Martinez
Rob Halligan
112
Posted 01/12/2014 at 18:36:06
That's the word I was looking for Colin. Fickle!!!
Colin Glassar
113
Posted 01/12/2014 at 18:37:09
It proves sweet FA Geoff and you know it. Compare Martinez all you like the day he has the resources to compete with Rodgers, LVG, Wenger, Mourinho etc....
Geoff Evans
114
Posted 01/12/2014 at 18:40:36
Paul,
If you say so. About the same.
Paul Andrews
115
Posted 01/12/2014 at 18:58:57
But one spent 4 times more than the other to achieve parity
Geoff Evans
116
Posted 01/12/2014 at 18:56:53
Colin,
Rodgers, LVG, Wenger, Mourinho, Van Gaal, you've got us down to sixth at best already.
Geoff Evans
117
Posted 01/12/2014 at 19:02:58
Paul,
Did we finish in the top four and qualify for the Champions League then?
You're still missing the point old friend, I don't rate either of them.
Phil Walling
119
Posted 01/12/2014 at 19:13:36
OK, Geoff. Take the five the managers you name and add Martinez, then put their names in a hat to manage Chelsea, Man City, Man Utd, Everton, Arsenal and RS – all with their present squads and in what order would they finish.
PS. I've put Brenda in last position whichever team he draws!
Geoff Evans
120
Posted 01/12/2014 at 19:23:50
Phil,
Wile I'm making my mind up answer me this.
Given respective records so far, If Chelsea, City, Arsenal, Utd or RS, could pick a new manager would RM or BR be their first choice?
Phil Walling
121
Posted 01/12/2014 at 19:43:18
Neither good enough to be trusted with the money their benefactors could provide. Both average managers - with big gobs - at best !
Geoff Evans
122
Posted 01/12/2014 at 19:44:08
Colin,
He'd best move on then mate, he'll never get them here.
Patrick Murphy
123
Posted 01/12/2014 at 19:48:06
Only the Chosen One at Chelsea would stand a better than even chance of getting Everton back to the highest levels given our budget. The managerial circus is in my opinion vastly over-stated anyway it is the best players who win trophies and give a team consistency although there is always an exception to prove the rule and we all hope that Roberto may be that man, but the odds are stacked against him just as they were with all of our former bosses since the PL era began.

Paul Andrews
124
Posted 01/12/2014 at 19:50:19
Geoff,
You rate Pulis better than both of them.
What is his record like re top 4 and champions league?
Geoff Evans
125
Posted 01/12/2014 at 19:53:07
Paul,
Welcome back. What's RMs.
Paul Andrews
126
Posted 01/12/2014 at 19:55:30
Better than Pulis
Paul Dark
127
Posted 01/12/2014 at 19:28:07
This is not going to be an easy season - it hasn't been so far.
I like Martinez - certainly prefer him to Moyes. Sometimes the most meticulous and principled people are let down by small failings. Wenger, a great manager in almost every way, has a stubborn streak (doesn't sign good goal-keepers at high prices, to give but one example). RM's lack of flexibility (aka stubbornness) is proving a problem for us at present.
Playing Barkley and Eto's yesterday in the roles he did was a mistake clearly and didn't work - but he persisted. Playing his favourites (most notably and most appallingly, the unspeakably unacceptable Aiden McGeady). This second weakness can have wider implications. I see that from today's press that Chelsea are (rightly) furious that Atsu has hardly played (and want to send him to Sunderland after Christmas). When you think it's that liability McGeady who has kept him out, it's very irksome indeed, to put it mildly. McG has been given chance after chance and failed time and again. I also think that RM needs to be a little lighter on his feet during games and not be scared to make early substitutions if tactics warrant them.
Europe aside, we've failed almost all the major tests that have been put in front of us this season. We won't win the Europa League despite our good showing so far.
I think:
Ross should be played in his right position
McGeady should never kick a ball for us again ... ever.
Osman should be used very sparingly indeed.
Full backs need to defend wider ... opposition wingers cross at will (except when Hibbo is playing)
Pienaar and Baines should be reunited, Atsu let loose on the right, Mirallas if we can find nowhere else for him
The two defensive midfielders, whoever they are (McCarthy and Besic for me) need to protect the back four better.
McCarthy aside, the Wigan buys have been shite - get rid of Robles, Alcaraz and Kone
We need a settled XI.
We so need a midfield general (a vocal one) - we haven't had one for years, perhaps since Sir Howard's golden sides.
Players should only play when fully fit and not brought back too early.
Besic should play much much more; he will play himself into our hall of fame if we're lucky. He's a class act.
I've noticed in recent games that teams are pressing our full backs and centre halves right on our penalty area when we have the ball and are coming out of defence. That seems a perfect opportunity to move the ball up quickly to Lukaku who thrives on that kind of service, but we don't do it. Ross carries the ball forward very well but few can pass long, quickly and accurately in our side - maybe Besic?
Some of the above seems basic but RM doesn't do it - I suppose I'm just giving my opinion/tuppo'orth.
I dare say all will disagree vehemently.
We need an emphatic win against Hull - though I, for one, will be welcoming back Jelly. 4-1 to us.
COYB!

Geoff Evans
128
Posted 01/12/2014 at 20:01:25
Paul,
Your brevity is commendable old mate, please explain, didn't think either had achieved either, if you see what I mean.
Paul Andrews
129
Posted 01/12/2014 at 20:11:09
Either had achieved either?
Not with you there
Phil Walling
130
Posted 01/12/2014 at 20:00:09
The logic of anyone who sees Atsu as the saviour of our season has to be questioned although you have obviously seen something in his cameos that I have missed, Paul. I suspect the reason he's hardly played is that he just ain't good enough to merit selection.
Much of the rest in your piece, I agree with and I think a more pragmatic manager would make more of the current squad than the present incumbent. Certainly a Pulis would get more consistency / results from this lot - as would Moyes - but it would be at the price of pragmatic football. Is it a price worth paying ?
Geoff Evans
131
Posted 01/12/2014 at 20:14:27
Paul,
What's "Better than Pulis" young man.
Paul Andrews
132
Posted 01/12/2014 at 20:22:53
Martinez
Graham Mockford
134
Posted 01/12/2014 at 20:33:47
Paul Dark
I see your opinion on Ossie has changed. You've gone from he should never play again to being used very sparingly.
I think he's winning you over!!
As you say it's all opinion.
Geoff Evans
135
Posted 01/12/2014 at 20:25:21
Paul,
That's who, old friend not what.
Anyway that's what I love about discussion we all have varied opinions. I respect everyone's opinion, no matter how ill-informed I may think they are.
For the sake of all the open minded Evertonians I hope your right. Shall be watching intently over coming months for your brief threads to see if your undoubtedly high opinion of the manager stays the same.
Graham Mockford
136
Posted 01/12/2014 at 20:37:40
Phil
You do talk a lot of shite sometimes.
"Certainly a Pulis would get more consistency / results from this lot - as would Moyes"
May I just point out the facts:
Martinez in one season got more "consistency / results" than Moyes achieved in 11 attempts and enough to have had Pulis spunking in his pants. Even after a relatively low key start we are still on course for 55+ which was about par for your famous seventh.
The fact you refer to Roberto as 'the present incumbent' for me says it all.
And if the answer is Pulis let me just answer your question.
Hell no!

Geoff Evans
138
Posted 01/12/2014 at 20:56:51
Paul,
Let you get to bed now, old mate, don't be late for school tomorrow, nighty, night.
Paul Andrews
139
Posted 01/12/2014 at 21:53:11
Thanks,
I will ask the teacher if has he got a book explaining punctuation to give you.
Save you making the same bloomer again :-)
Ray Roche
140
Posted 01/12/2014 at 21:42:32
If Pulis is the answer, WTF was the question?
Paul Andrews
141
Posted 01/12/2014 at 21:56:48
I'll ask the English teacher for extra homework for me as well
Colin Glassar
142
Posted 01/12/2014 at 21:59:51
Can anyone really envisage a middle aged, gum chewing, baseball cap wearing, track suited Welshman jumping up and down in the home dugout at GP like some berserk? I can't, don't want to, refuse to even contemplate such a grotesque idea. Next!!
Wayne Smyth
143
Posted 01/12/2014 at 21:57:51
Got to laugh at some of the posters. One loss and all of a sudden people want to replace Martinez.....and with Tony Pulis?
How about we give Martinez 3 or 4 more seasons - yes seasons, not fucking individual games, or minutes - to see what his team, with his players, coached in his style of football can do.
He's already done better in his first season than the last guy who had 11 years of stability, and Martinez did it playing proper football, that some geniuses said would have us relegated.
We've topped our group in the Europa League, unbeaten against a very, very tough set of teams and we're still within touching distance of top 4....and all done with a patched up squad of half-fit players and academy youngsters.
I think one of the commentators mentioned on Sunday that WHL was one of our bogey grounds; not won there in 7 years or something. Not that it should make any difference, but if we're looking for a reason to beat him with a stick, at least pick something worthy.
Mark Andersson
144
Posted 01/12/2014 at 22:20:39
Really enjoyed reading all the posts, loved the Pulis - Rodgers debate. Looking forward to more banter and rants after the Hull game.
At least most agree that Besic had a good game and could be one for the future. We thought that about Barkley not so long ago, now some want to cash in on him. Fickle is a understatement.
Andy Walker
145
Posted 01/12/2014 at 22:43:15
Of concern:
- Slow, ponderous, predictable style of play every game
- default: 4 defenders, 2 very defensive mids, 4 attackers
- Tim Howard with no real competition
- Eto in midfield
- Barkley on the wing
- Atsu, Kone, Alcaraz, Barry, McGeady, Robles
- 㿈M blown on one far from complete striker
- Press conferences that say nothing
On the credit side:
McCarthy and maybe Besic.
Result will inevitably be mid table.
Paul Dark
146
Posted 01/12/2014 at 23:11:03
Not sure who is advocating Pulis – but it's quite the worst idea. The man represents everything that our fine, dignified and great football club isn't.
Paul Dark
147
Posted 01/12/2014 at 23:16:32
For the record:
I do not see Atsu as a saviour to our season – but compared to McGeady, he is the better player (not hard).
I would be quite happy never to see Osman in a blue shirt again. His performance against WHU was very good. There is no contradiction between those two sentences.
Graham Mockford
148
Posted 01/12/2014 at 23:26:30
Paul Dark
At least you are consistent so fair play.
Unfortunately Ossie has another 50 games in him and on current form is first choice, certainly ahead of Ross.
Mike Green
149
Posted 01/12/2014 at 23:31:34
I can't stand half-measures. Why not show a bit of ambition and go for a Pulis / Warnock combo..........? The Dream Team.
Colin Glassar
150
Posted 01/12/2014 at 23:38:46
Pulis/Warnock/Big Sam would have the purists on here purring with delight Mike. Like Wayne said, give the man a couple of seasons to mould his team. The short-termism on here is, quite frankly, shocking.
Dave Pritchard
151
Posted 01/12/2014 at 23:33:48
My view on Besic is that he shows promise. It is a massive step up to the Premier League from the Hungarian one. He certainly covers a lot of ground and has some ability on the ball. Against Spurs he did look like an accident waiting to happen at times with some rash challenges and dodgy choice of passes.
I think it is too early to make definite judgements about him as I doubt that any of us has seen him play often enough to decide.
Geoff Evans
152
Posted 01/12/2014 at 23:40:33
Great idea Mike both have done it over Martinez in the last two seasons. In fact Pulis has won here with two clubs. That's twice mate the same number of league games as RM has won at Goodison this season. Oh and by the way, Warnock has fucked over the RS as well. That would be a dream come true, wouldn't it?
Colin Glassar
153
Posted 01/12/2014 at 23:57:08
So Geoff, you really want Pulis at Everton? I admire your admiration.
Gavin Johnson
154
Posted 02/12/2014 at 00:21:02
Statistics emerged on Friday that Martinez has the best win record in his first 50 games since Harry Catterick and some people on here think Tony Pulis would do a better job... What can you even say to that?!?
Peter Z Jones
155
Posted 02/12/2014 at 02:51:18
I love Roberto but if I see Barkley out wide one more game, I'm gonna fucking lose it.
I'm now convinced all managers are just dumb as rocks. Wenger throws Ozil wide like he did Cazorla. Both are clearly number 10s if ever there were two. Eriksen was wide right for 2 games and subbed off for being ineffective (like it was a big fucking surprise). Pochettino finally moves him back to his natural position and lo and behold he scores the last two. Genius masterstroke there!
Now Roberto is taking another brilliantly talented central attacker and tossing him out wide like every other idiot in this silly league. Any fucking twelve year old playing FIFA can read CAM and then properly field a team of 11 players that aren't out of position. But nope, not guys making millions a year to pick a team.
This isn't rocket science. Change the formation to accommodate your personnel. Don't jam them all into positions they don't belong because they have the most talent. It's all so infuriating.
Tony J Williams
158
Posted 02/12/2014 at 12:20:39
I'm with you on that one Peter.
It's the same issue that many had with Moyes and that ended up with the many, many, many square peg, round hole threads and the eventual "tactically inept" comments.
Ossie saw years of his career wasted on the wing, I hope the same doesn't happen with Ross.
Then again, he will be off at the first sign of an offer if he is consistently played out of position.
Gavin Johnson
162
Posted 02/12/2014 at 16:39:52
Let's hope we bring in a quality winger in January so we don't have to see any more of the 'square pegs in round holes'.
Tony, I agree with your view that the much maligned Osman didn't reach his full potential because he spent most of his career out on the wings. I'm sure he'd have doubled his number of England caps had he been played in his natural position.
Jay Harris
164
Posted 02/12/2014 at 21:15:31
Gavin,
Let's hope his second 50 games are as good as or better than Catterick hey!!
---
Add Your Comments
In order to post a comment, you need to be logged in as a registered user of the site.
Or Sign up as a ToffeeWeb Member — it's free, takes just a few minutes and will allow you to post your comments on articles and Talking Points submissions across the site.
© ToffeeWeb