Stoke City vs Everton
Match Preview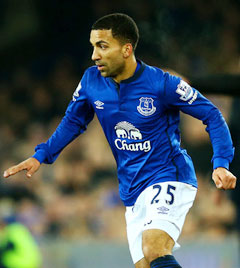 Aaron Lennon could play after starting as a substitute on Sunday
Everton are on the road again this evening as they travel to Stoke with the pressure on Roberto Martinez's shoulders growing in the wake of a fourth successive game without a win in the Premier League.
The Blues have won just once in 13 matches on the domestic front, a run that has seen them eliminated from the FA Cup at the Third Round stage and become bogged down in the bottom half of the League table. With any realistic hope of finishing in the European places gone, the target now is to at least finish in the top half but, for now it's the threat from below rather than the extra revenue to be gained from the places above that are of most concern.
An equaliser by Jack Rodwell for Sunderland against Hull prevented Everton from starting the game at the Britannia Stadium in 15th place, but a win for Aston Villa over West Bromwich Albion and the fact that 18th-placed QPR have a game in hand means no one of a Blue persuasion will be resting easy until the team starts picking up points.
Facing Mark Hughes's side on their own patch is no one's idea of a treat when you'rte desperately in need of a victory and while Manchester City recently demolished them 4-1, you have to go back to 22nd December for the last time the Potters were beaten at the Britannia, 2-0 by Chelsea.
Since then, they've either beaten or drawn with all of the teams around Everton in the table home or away and have lost just two of their last 10 League games. They can be vulnerable against teams that really go after them, though, as City, Arsenal and Championship side Blackburn have shown over the past month.
That bodes well for an Everton team that boasts plenty of talent but which has struggled to harness it all season long. Sunday's defeat to Arsenal was the latest disappointment from a team that was so dynamic going forward last season and has been so lethal for much of their Europa League campaign.
As ever, another sold-out away end will be hoping that this is the game where everything clicks in a League game and that the Toffees can start putting more daylight between themselves and the bottom three.
With Christian Atsu ruled out as he recovers from a virus — the Ghanaian is expected back to Finch Farm on Friday — and Leighton Baines doubtful, the manager has the same pool of players from which to draw as he did at the weekend. Baines will undergo a late fitness but would be a surprise inclusion, particularly in view of how well Luke Garbutt has been performing as his deputy this season.
The 21 year-old has started the last two matches, weighing in with an assist in the Europa League second leg against Young Boys and providing some dangerous set-piece deliveries in the defeat to Arsenal at the weekend. With Bryan Oviedo facing two to three weeks out with a hamstring injury, he will likely get another chance to impress against Stoke.
Elsewhere in the side, Kevin Mirallas's disappointing outing at the Emirates will probably see Aaron Lennon given another start, while Steven Naismith could come in for Ross Barkley. While there are growing calls from supporters for Martinez to mix up his rigid 4-3-2-1, formation by trying Arouna Kone alongside Romelu Lukaku, it's more likely that James McCarthy and Gareth Barry will continue as a pair in defensive midfield and Darron Gibson, who only saw 10 minutes of action against the Gunners, will replace Muhamed Besic.
Similar to the trip to Selhurst Park at the end of January, this is one of those games where grinding out a hard-earned victory in any way possible would do wonders for the players' confidence ahead of the first Europa League game against Dynamo Kyiv.
Put simply, just win. It would lift us into 12th place and feeling a lot more secure about things.
Kick off: 7.45pm
Referee: Mark Clattenburg
Last Season: Stoke City 1 - 1 Everton
Full coverage: ToffeeWeb Match Reports
Reader Comments (160)
Note: the following content is not moderated or vetted by the site owners at the time of submission. Comments are the responsibility of the poster. Disclaimer
Mark Nunnen
1
Posted 04/03/2015 at 00:57:07
Start Gibson. McCarthy and Besic have been among our better performers but are both spoilers who lack Gibson's invention and provide zero threat of scoring themselves.

Mark Andersson
2
Posted 04/03/2015 at 01:07:28
Great write up, although the stark reality is frightening. I will hoodoo my own prediction 2-0 unlucky loss to the blues.
Surely for once Roberto and his merry men can muster a win. Good luck to all the travelling fans, proper supporters best in the land.
Victor Jones
3
Posted 04/03/2015 at 01:10:11
Another pointless exercise here, but this would be my team for later today:
Robles-Coleman-Garbutt-Stones-Jagielka-McCarthy-Besic-Gibson-Osman(if fit)- Naismith-Lukaku.
Should Osman not be fully fit, then I would play Naismith deeper and play Kone up front. Naismith starts because of his energy, and the fact that he poaches the odd goal. Barkley drops to the bench. But he could be dangerous when Stoke are tiring. Oviedo would be in contention also, when fit. Mirallas is not looking to interested. So he is dropped. We don't need passengers.
Just a bit of fun here, because it is all academic anyway. I could almost name the exact team that Martinez will field. And also his tactics. We all could.
Here's hoping that we catch Stoke City of guard, and that they have a bad night. And that just for once the Everton team that has been doing the business in the EL turns up. We just might get something. But its all ifs and buts with this Everton team. What team will turn up tonight. It's over to you, Mr Martinez, its over to you. COYBs.
Gavin Johnson
4
Posted 04/03/2015 at 01:25:38
I'd love to see Kone in the same line-up as Rom. It will surprise Stoke who lets face it have a good idea of what we're going to do. What Rom lacks in hold up play Kone excels at. Of course it's too obvious for Roberto to try this.
Steve Carse
6
Posted 04/03/2015 at 01:29:31
I'm probably in the minority who think that in our perilous position it makes sense to have 3 defensive-minded midfielders. We did at Arsenal and I think it's been overlooked that this was the main reason Arsenal saw so little of the ball and had so few attacks. No, the problem for me is not with a defensive layer of midfielders; rather it's with the pathetic contributions of those midfielders forward of these three. I'm talking here of, at Arsenal, Barkley and Mirallas. They never showed for the ball, and they were content to allow the opposition to get behind them and so have a go at the defensive three. That can be forgiven if they are causing havoc at the other end. But their forward contribution was also nil.
So at Stoke I'd keep the three. I'd probably also play Gibson forward of them, since you can just never trust getting anything from Barkley on any one particular day. And I'd go with Lennon wide right. Mirallas? An egotist who flatters to deceive. Not one you'd want alongside you in the trenches -- and that's exactly where figuratively we are at the moment.
Patrick Murphy
7
Posted 04/03/2015 at 01:54:15
It's certainly not a venue for Barkley or Mirallas to show off their talents or should I say lack of battling qualities so I would bench both of them. Kone could play up front with perhaps Lukaku playing on the left. I think that Roberto may stick with the three defensive mid-fielders and Naismith will probably make the team.
Howard, Coleman, Jagielka, Stones, Garbutt
Besic, Barry, McCarthy
Naismith, Kone and Lukaku
Admittedly not ideal but we need those players who are going to win the ball and their should be enough from the front three to cause Stoke some problems. I don't care how we play we need those points.

Chris Jones
8
Posted 04/03/2015 at 02:36:20
Robles (as if)
Coleman Stones Jagielka Garbutt
McCarthy Gibson Barry
Kone Lukaku Naismith
Mirallas, Lennon, Besic to come on when legs start tiring and the game opens up.
Oh yeah, and a 'fire and brimstone,' "don't bother coming back through that door if you lose" teamtalk and THAT Dave Hickson quote tattooed onto their foreheads.
Jimmy-Ã…ge Sørheim
9
Posted 04/03/2015 at 02:38:43
Dumping Robles is the reason we have not gotten any points in the past matches.
Harold Matthews
10
Posted 04/03/2015 at 02:04:33
If they play Crouch up front with Charlie Adam putting the ball on his head we'll do well to keep a clean sheet. With luck they'll both be on the bench.
We can win this if we don't dilly-dally at the back and make a big effort to play the ball forward. Strikers and midfielders must get into the box and the fullbacks must waste no time in getting the ball across. Every time Seamus stops to try to dribble the fullback I scream in frustration. When Garbutt crossed for Lukaku to slam one in I screamed with delight. Tempo-Tempo. Pace-movement-Wham.
Of course, with Martinez at the helm I'm living in a dream. We'll keep possession in our own half and lose possession in the Stoke half. Even so, we'll get a chance or two. Let's hope we put them away.
Timothy Blanshard
11
Posted 04/03/2015 at 02:37:52
I have supported Everton through thick and thin for over 45 years and will continue to, however I keep having a reoccurring nightmare. All of us, the team, supporters everything I know connected to Everton on a train going very fast, and when we do get to look at its destination marked on the front it says in big horrible red letters, the championship!
If we get something at Stoke I will be over the moon, I sometimes hope our players read what us the supporters write from time to time and catch the odd post, and if so please win at Stoke lads and help put an end to the nightmares.

David Barks
12
Posted 04/03/2015 at 04:28:31
If we lose this match, I honestly don't know how this manager would turn this team around. Looking at the league table is terrifying. Other sides we thought would just stay at the bottom have passed us (West Brom, Crystal Palce). And others are closing in, with Villa winning today. This is no joke, it's dead serious. But now our glorious manager is talking about treating every match like a Cup Final.
Looking back at what he said after he relegated Wigan, this seems like it could be copy and pasted to the Echo after the season:
"The group of players we've got here are an incredible bunch. They don't deserve this. We don't deserve to be in the bottom three. You will never see a better group of players than these in the way they play and represent the club."
That was after Wigan were relegated. How similar is that to the shite this man lets fly from his mouth after every match.
Some call him positive. I think he's just a terrible judge of reality. His teams apparently never deserve the poor results they continuously get, yet the poor results just continue to flow. At what point, Roberto, do you not notice the fucking trend!
Peter Barry
13
Posted 04/03/2015 at 04:58:19
From now on in they are all 'MUST' win games and draws are no good.
Brian Wilkinson
14
Posted 04/03/2015 at 05:26:48
With our neighbours out of Europe, maybe we can tap Clattenberg up with the promise of a Euro final trip and hotel if he sees his way to giving us a dodgy penalty tonight.
Think we have more chance of Kone and Lukaku starting in a 4-4-2 formation, Gibson as the holding midfielder, than we have of Clattenberg giving us anything.
Tough game tonight, but winnable.
John Keating
15
Posted 04/03/2015 at 06:03:17
We need points. Please not every defensive midfielder and his dog:
Robles
Coleman Stones Jagielka Garbutt
Mirallas McCarthy Gibson Lennon
Kone Lukaku.
Darryl Ritchie
16
Posted 04/03/2015 at 05:50:39
If you listen to RM's post game interviews, and you didn't know the final score, you'd have to believe that we won every one. Being positive is well and good, but a crap performance is a crap perfomance, and no amount positivety is going to change that.
Granted, we have been playing a bit better, but there are still too many mistakes, dodgy tactics and players afraid to show their skill in the boring tippy-tappy possession football we're being subjected to. I don't know how, with way we've been playing, anybody could logically see us coming out on top, but as P. Barry says above, we need a win. Hell, we need a lot of wins.
Stoke score the most of their goals from set pieces and corners. Stones has got to be Crouch's shadow. He's the only one with enough height to be effective. We have to play the game in their half, for a change. Tippy-tappy is not the problem. Tippy-tappy in front of our own goal, is the problem. Giving Lukaku a little bit of support/service wouldn't hurt either.
This match is there for the taking, but I really don't have clue what will happen. We can win. We should win. Will we win? Who knows.
Andy Cobham
17
Posted 04/03/2015 at 06:43:33
He needs to play a balanced team. Two widemen, thus allowing the wingbacks to get forward and two strikers/attackers. That gives 4/6 getting forward-rather than the 1 (Rom) that we've had all season.
I'd sit Naisy out of this one cos winning headers against the Stoke cavemen ain't gonna happen, it's gotta be pacey attacks down the width of the pitch.
Unfortunately there's no chance of any of the above, he'll play another lopsided, players out of position, 10 defenders, hold the ball approach-and we'll get beat... and I will throw a thrombo.
Jay Doyle
18
Posted 04/03/2015 at 07:07:22
Hope Martinez has had them defending corners in training. And put someone on the post ffs. The clown is taking us down
Stephen Brown
19
Posted 04/03/2015 at 07:31:00
Don't know where this is in the 2015 coaching manual but how about 4 4 2 with players in their best positions ?
Howard ( although I'd prefer Robles)
SC JS PJ LG
AL DG JM KM
AK RL
Stoke wouldn't have prepared for that and it can't be any worse than our non formation we currently use.
Jim Bennings
20
Posted 04/03/2015 at 07:34:07
Will be amazed if it's not just the same old story.
We will hold the ball slowly and pass it aimlessly for the first half hour probably resulting in at best one or two corner kicks (which may aswell just be given as a goal kick to Stoke)
Then we will concede a set-piece from their first attack and the rest of the game will merely be more punchless attacking play from us and passing on the halfway line just for passing sake.
Regardless of who starts tonight, it's impossible to see anything better than a 0-0 or 1-1 draw as our goalscoring since late October has been nothing short of abysmal.
Charles Brewer
21
Posted 04/03/2015 at 07:55:07
The question has to be, how do we find at least two goals. Howard guarantees at l sat one to the opposition, and the mutants will be neutralising any attempt to put the ball through to Lukaku.
Given Garbutt's effectiveness against Arsenal, and Lukaku's inability to head the ball or react quickly to anything, I'd be the inclined to start with Kone and Naismith, since the latter is more than willing to take a chance on a quick low ball and seems to have some understanding of the offside law.
John Malone
23
Posted 04/03/2015 at 08:13:35
It's an away game against a half decent Stoke keep it tight don't get beat and try and nick it in the last 20. If we win our home games and don't get beat away we'll be fine Martinez need's to sort out his game management even Mourinho goes solid away from and he's got a team full of top class players!
Tony Hill
24
Posted 04/03/2015 at 08:14:53
The continuing absence of Kone is a mystery. His touch is top class and he looks a threat. He brings us an extra dimension which neither Lukaku nor Naismith can provide. God knows we waited long enough for him to get fit and we paid a fairly large fee for him. Another one of Bobby's strange calls. I'd like to see him play tonight.
Jim Bennings
25
Posted 04/03/2015 at 08:22:32
John
I like your thinking but I think you should put a very big IF when talking about us winning our home games.
We have been appalling at home all season and I really get the feeling now the players don't enjoy playing Goodison nowadays due to the seriously tense edgy atmosphere. It's not the away trip that visiting teams once feared anymore, sides now know that they can quickly turn the atmosphere against Everton.
We need wins as soon as possible be it home or away but it's going to be a long difficult process I think.
Roger Helm
26
Posted 04/03/2015 at 08:27:20
Mystic Meg - we dominate possession, lose to a set piece defensive error, Martinez praises the phenonemal performance and bemoans our bad luck and one of his player stooges pops up to say they are confident they will be able to pull away from danger.
And I'm rooting for a RS win tonight which is another thing I'll not be forgiving Martinez for in a hurry.
John Keating
27
Posted 04/03/2015 at 08:39:24
John 23
it's all well and good trying to keep it tight and try and snatch 1 in the last minute but we ship goals to easy.
Once we're behind it's game over.
We have to compete and earn our points - Villa last night.
Nobody is going to give us an inch.
I set my team out in post 15 and I reckon that team could give us a chance.
Dick Fearon
29
Posted 04/03/2015 at 08:50:57
Roger H, 26,
Damn, damn Martinez for dragging us down to this level.
Dave Abrahams
30
Posted 04/03/2015 at 08:54:10
We all know Stoke's big threat will come from corners and free kicks, something Howard is next to useless at so Robles should start in goal, we all know he will not, because Bobby is his own Man, which is admirable but is taking us down to the championship unless he is replaced now,or first thing tomorrow morning or last thing tonight, because he will not change his stance on tactics.
John Malone
31
Posted 04/03/2015 at 08:55:42
John 27, We ship goals when we sacrifice our defensive duties for attacking options i.e. Ross Barkley, Kevin Mirallas those two players are not interested in tracking runners or doing the graft required without the ball. It's a fine balance that between having enough to win a game and enough to not get beat, at the minute the aim away from home has to be not let home team get ahead and frustrate the crowd like teams do to us. Also for me Barkley would have been better plaing against Stoke than Arsenal I can guarantee there will be more space to run into tonight than on Sunday only Barkley's performance was so bad he cannot start him!
Ross Edwards
32
Posted 04/03/2015 at 09:07:11
Lose this and we're in deep trouble. And then if QPR get a result against Arsenal it would make it even more difficult.
If results don't go our way today we could be 3 points off relegation with 10 games left.
Chris Gould
33
Posted 04/03/2015 at 09:22:39
Yes, Ross, and if QPR win their game in hand on us - then we really will be in deep shit. This is going to be a very nervy finish to the season.
Rick Tarleton
34
Posted 04/03/2015 at 09:25:42
A look at the table will tell Martinez that we are no longer a good team having an unfortunate run. We're a bad team in the middle of the relegation fight. When I first saw Everton we were in the old Second Division and never since have I been so afraid of seeing them back in the second tier.
In the nineties, we were at least aware that we had to scrap for every point; the present team and management are sleep-walking towards disaster and keep telling us they are playing well and are unlucky. We aren't unlucky – we're poor... and another display of sideways and backwards passing will see us even deeper in the mire.
Len Hawkins
35
Posted 04/03/2015 at 09:16:29
The ONLY way I can see Everton getting a win tonight is by me taking a hammer to the piggy bank and making my way to the betting shop and lumping it all on Stoke.
Ross Edwards
36
Posted 04/03/2015 at 09:35:15
Although of course if we win and QPR lose we'll be 12th, with a 9 point cushion.
Motivation indeed. Over to you Roberto.
Jim Bennings
37
Posted 04/03/2015 at 10:10:21
Rick
I agree with you but try telling that to Martinez.
If we do get dragged further into the relegation mire over the the next few weeks then I would be hugely worried that our stubborn reluctance to change could mean that nightmare scenario happens and we do go down.
If you look at Martinez's Wigan team or going back over the year's, team that try to play their way out of trouble rarely survive.
I recall Sheffield Wednesday in 2000 played some beautiful football, far better than what we are seeing from us, but the fact is they didn't have the spine defensively or the strength of character once they took the lead in games.
The myth with Everton is that they play entertaining football; we don't... in fact we don't play any kind of football, it's just like watching an open training session, sideways passing, slow movement, non-committal running or no high intensity pressing or pressure on the opposition.
Our football is mundane.
It's almost as though Martinez gets a thrill out of seeing the ball passed about aimlessly and slowly – he doesn't seem bothered that we rarely look like being a team that can hurt our opponent.
Chris Gould
38
Posted 04/03/2015 at 10:14:42
I believe Bob Heywood posted a prediction some weeks back which was vilified by some on here. He said that after 28 games we would be on 28 points if Martinez stayed in charge. I think there's every chance that after tonight's match he'll be proved correct. How anyone can defend Martinez is beyond me.
John Keating
39
Posted 04/03/2015 at 10:16:17
John (#31) you are 100% correct. The problem is, once we go behind, it is game over. We tried this against Chelsea and Arsenal and, once we go behind, we are incapable of getting back.
What I am saying is that we seem to be dependent on slow build up to Lukaku who is on his own being marked by 3 defenders. If we have the option of 1 midfielder who has an offensive brain having the options of 2 strikers we may have an opportunity to at least put the fucking ball in the net!
The system we play week-in & week-out that everyone wants to "tweak" has failed miserably. My point in 4-4-2 is: What have we got to lose???
Milos Milenkovic
40
Posted 04/03/2015 at 10:18:02
If we start again with 3 defensive midfielders, I sincerely hope that we will lose the game. It would be absolutely deserved. So far we did it twice and result was 0 goals scored, 3 conceded and of course 0 points. So nothing suggests that we should do it again.
On the other side I hope that we use just one defensive midfielder, go with 4-4-2 formation, introduce ourselves as a big team, with no fear but absolute determination to win. We played once with only Besic as a defensive midfielder and Barkley in the center and result was 3-1 for Everton. It's the last time we scored 3 goals in the Premier League and it was the last game where Barkley looked like football player.
Phil Walling
41
Posted 04/03/2015 at 08:58:01
I don't play' Football Manager' so you won't see a team selected by me in these columns. And what would that count for, anyway? But whomsoever Roberto puts his faith in, they will need to get their arses into gear pretty quick if Everton is not to become the shock relegation victims.
Arguing over the future of the manager has become pointless and I read yesterday that 'Kenwright sets an example to all the knee-jerk owners by keeping faith in a manager with whom he has formed a close understanding.'
'Phenomenal' was all I could say about that view... but to those of us who know his 'form sheet', BK as an exemplar for anything football related is a bit rich, don't you think?
I remain firm in the view we will not be relegated but it will not be on account of the two clowns in charge but much more to do with the players facing up to the monetary & career ramifications of the Big Drop. Three points tonight would be a good start.

John Barnes
42
Posted 04/03/2015 at 10:20:56
Wierd isn't it? Many, if not all on here know how Stoke will play and predict they will win.... and know how we will play and predict we will lose.
Yet, man for man, which team's players would you prefer?

Patrick Murphy
43
Posted 04/03/2015 at 10:44:04
Phil - Apparently Roberto has said in the Guardian that he doesn't take Bill Kenwright's support for granted, but he doesn't feel under pressure. Perhaps, you should send in your CV and play football manager for real? :)
Surely the team must put in a performance worthy of the name tonight and give those long suffering folks who travel away from home something to celebrate.

Carl Sanderson
44
Posted 04/03/2015 at 10:40:35
David (#12):
"The group of players we've got here are an incredible bunch ... in the way they play and represent the club."
I recall reading that Martinez had been genuinely surprised when Wigan were finally relegated. It is as though the idea had never occurred to him before it actually happened. That is the terrifying part of all this: a manager in denial in the late stages of a train-wreck season.
Timothy Blanshard
48
Posted 04/03/2015 at 10:33:37
I have not been this worried about us dropping out of the Premier League for many years, I hate this feeling, honeslty not even sleeping properly, and yes I do have a life away from football, really not sure why it's getting to me this much.
Roberto could have a few words with Big Joe on how to get us safe at any cost, this domestic season is a write off now anyway apart from the Europa League, so lets win as many as we can in whatever way it takes. Let's face it, we've been worked out: teams know how to play against us. Then have a (better) pre-season for the 2015-16 term.
Given the choice of winning the Europa League or dropping down a division does not bear thinking about.
Nick Page
49
Posted 04/03/2015 at 11:02:21
Load of stats in the Echo, like Stoke haven't done a double over Everton since and Martinez never lost at the Britannia, etc, etc...
Well, that's that then.
Charlie Burnett
50
Posted 04/03/2015 at 11:05:03
There's an old saying: "If it isn't broken don't fix it" – well, in our case, it was broken ages ago......
Change it up, I say; play the two up front. I remember him saying we miss dearly Osman and Pienaar – two massive players in our squad; well, chuck them in! Astu I remember reading he was going to change us in the second half of the season; well... not on the bench he isn't – chuck him in!!!
Roberto – he proper talks too much... You're running a football team – not a game show! He leaves you hanging, waiting to tune in next week.
Jim Bennings
51
Posted 04/03/2015 at 10:59:20
To be honest, I just want to see an Everton team set foot months pitch and actually look hungry, look angry and look passionate.
Did anyone see the gusto and tempo that the Redshite started that match on Sunday against Man City? They didn't get home until early Friday morning yet, whereas the sloppy tired football that we are forever meant to believe exists after a Thursday's night match??
When did we last see Everton harry, press, and almost corner a team into submission? When did we last see a performance like the 2008 Fiorentina match at Goodison, tempo, raw want and desire to WIN.
We just see the same controlled slow chess like performance week-in & week-out... then, when the opposition score, it's like the players all look at eachother and go "Duh, how did that happen? We have passed the ball aimlessly for half an hour, how dare they score with the first attack they have."
I just want to see a performance that does its own talking for a change rather than the usual nonsensical interview about luck.
Sam Hoare
52
Posted 04/03/2015 at 11:04:16
We need goals.
Playing just one striker puts a huge burden on the midfield to score and very few of them have been doing that. Mirallas has 9 for the season and Naismith and the next contributor is Osman with 2 and then McGeady and Barkley with 1 each. That is particularly poor from Barkley when you think how many matches he has played in the AMC role.
For that reason, I think our best team is something like:
Robles
Coleman Stones Jagielka Garbutt
Gibson McCarthy
Lennon Naismith Mirallas
Lukaku
Of course he will play Howard and probably Barry and possibly 3 def midfielders again which seems his new fave. Hope if that's true that Gibson will be one of the three.
Barry Pearce
53
Posted 04/03/2015 at 11:10:24
I believe Howard should never have been allowed to regain his place. I think most of us on here would agree to that, he gives no confidence to the back four, and we have started to concede now he's back in the starting eleven.
Clive Mitchell
54
Posted 04/03/2015 at 11:30:40
I hated the great escapes of '94 and '98. If we lose tonight we'll have fewer points after 28 games than we did in each of those seasons. Phenomenal. Inexcusable more like.
Dave Abrahams
55
Posted 04/03/2015 at 11:32:03
Lyndon, I understand when you say if we win tonight it will give the players confidence for the Europa League match next week, well Lyndon I couldn't care less about the Europa League and the players don't seem to lack confidence in that competition, from now it is only the Premier League that holds any interest for me, and I'm sure an increasingly number of Evertonians.
Jim Bennings
56
Posted 04/03/2015 at 11:38:20
Dave
Get safe in the Premier League but after that it's the Europa League all the way for me.
Once we are safe I couldn't give a shit if it's 10th or 15th where we finish.
We can't get anywhere near the top 9 this season because we don't win enough money so let's get safe as fast as possible but once we are, I'm desperate for a trophy and Champions League football.
We shouldn't be championing finishing 10th anyway and going out of both domestic cups at the first hurdle.

James Stewart
57
Posted 04/03/2015 at 11:38:53
No desire whatsoever to see Kone. Awful player and a complete waste of money.
Hard to predict a win against anyone these days but I would go with:
Robles
Coleman Stones Jagielka Garbutt
McCarthy Gibson
Lennon Naismith Mirallas
Lukaku
Not a chance he will play that team though.
Timothy Blanshard
58
Posted 04/03/2015 at 11:42:31
Couldn't agree more with Clive Mitchell and Dave Abrahams.

Mike Hughes
59
Posted 04/03/2015 at 11:38:04
Clive (#54) – That's a frightening statistic. I feel physically sick when I think of those times. We need wins but I won't be too unhappy with a draw tonight. I'm afraid I'm expecting neither.
If RM claims he won't change then there is the root of the problem. He should have been given the boot after the WBA home draw. The best we can hope for now is survival.
Right now, I couldn't care less about EL. After all that slog we're effectively in the equivalent of the 5th round of the FA Cup. The PL is the priority. A scruffy, spawny win tonight would be great. (I might even listen to RM's post-match interview if that happens.)
Dave Abrahams
60
Posted 04/03/2015 at 11:43:59
Jim, I couldn't care less if we finish 17th. that will do me, as long as we are safe.
We can then have a good look at the way the club is going: manager, players etc.and start afresh, but we will never be a top club again under Bill Kenwright, and I think most of us know that.
Sam Hoare
61
Posted 04/03/2015 at 11:52:42
James Stewart 57, you copied my team! Teacher!!
Derek Thomas
62
Posted 04/03/2015 at 11:44:48
Actually Dave #55, I've pretty much written off the League season, yes we still 'could' go down, so it's just a matter of reveling in our misery while Roberto keeps on digging the hole he got us into.
I'm just marking time in the hope that he shows rapid improvement next season as Bill won't sack him... well not unless we carry on where we left off.
We won't be the first, or the last to have a shite season and win a cup at the end of it.

Alan Bodell
63
Posted 04/03/2015 at 11:50:10
James #57, so Kone is shite and a total waste of money eh? And Lukaku isn't?
Each time I see Kone, I think the ٣M against the Belgian lump looks much the better deal; at least he can hold a ball, win a header and not get offside 5 times a match.
Joe Foster
64
Posted 04/03/2015 at 11:57:20
I see Coral has slashed our odds in half for being relegated. From 66-1 now 33-1.
Andrew Ellams
65
Posted 04/03/2015 at 12:03:36
I'd like to see him go for a pragmatic 4-1-4-1 formation to try and scrap our way out of the hole that we are in:
Howard (because he will)
Coleman
Garbutt
Stones
Jagielka
McCarthy
Lennon
Besic
Barkley
Miralles
Lukaku
Besic and McCarthy could work either way around
Denis Richardson
66
Posted 04/03/2015 at 11:14:03
With the bottom 3 likely to lose tonight, the pressure won't change on Roberto if we lose this evening. We'll still likely be 6 points from the drop zone come 10pm. (Trousers will start turning brown if somehow one of the bottom three stages an upset.)
I'm hoping we get something from tonight's game but looking at current form we'll either lose or draw. Since the start of the year our league record reads P8 W1 D4 L3, that is even more appalling when you add in that the 3 league games before were all defeats! So since the gimme against QPR it reads P11 W1 D4 L6. (The one win being the flukey 1-0 away to Palace!).
Since the start of the year, we've also failed to score a goal in four of the 8 league games played.
Wasn't the second half of the season supposed to be 'phenomenal' and when we'll kick on? I notice this mantra has now been changed to say the last third of the season is when it'll happen – I wonder what the line will be come April!
I'll take a point tonight if offered now.
James Marshall
67
Posted 04/03/2015 at 12:07:05
Even if we lose tonight, we have the small crumb of hope that Leicester lose to City, Arsenal beat QPR, and the RS beat Burnley.....
It's a sorry state of affairs, in that for the first time in several years I actually want the RS to win a game.
I think that says everything about our season.
Victor Jones
68
Posted 04/03/2015 at 11:42:12
Re. Phil. Playing manager, as you put it, is only a bit of fun. Nobody really takes it that serious, cause we all know that there is only one selection that really matters. It is just supporters getting annoyed that Robles, Gibson (when fit), Kone, and also players like Oviedo and Garbutt and Browning never get a look in. Watch what happens when Baines is fit.
I ask you this. Why does Martinez persist with the same old misfiring players and tactics? Why is he reluctant to make changes? Why is he afraid to take players out of the firing line? And give misfiring players a rest? Supporters like myself want to see change. That's why I suggest a line-up. But its just a bit of fun. That's all.
As for tonight. Let's be positive. Martinez will go 4-4-2. He will finally come to his senses. He will play Robles, who will command his box, and play a blinder, banishing TH to the wilderness. He will play Gibson, who will surge forward, and split Stoke open with precision passing. Adams will ask to be taken off, as he just can't get in the game. He will also play Kone. Who's hold-up play will be a masterclass. Stones will dominate big Crouch, who breaks down and pleads to sign for Everton.
After five minutes, Garbutt crosses to Lukaku. Lukaku slams home the first. On 25 minutes, Gibson surges forward and lets fly with a 30 yard screamer into the top corner of the nets. On 55 minutes, Kone turns, then he turns again and slots the ball low into the net. And finally on 75 minutes, Lukaku hammers home the fourth. 4-0 to Everton. What's all this talk about relegation? Now that is real fantasy football.
Hold on folks, there is a white van pulling up outside. I need to go. Bye.
Colin Malone
69
Posted 04/03/2015 at 11:52:36
No muscle up front. We will have a lot of possession up to the Stoke box then their defenders will get off their arm chairs and do their job.
Stoke imo are shite, like many teams in the Premier League, not as good as us but we need someone who can, as I said before ruffle feathers in the penalty area and can win a couple of headers.
We only have Naismith who can jump, but he's only 5-ft 8-in. Oh for a big Duncan Ferguson. How many headed goals have we scored under RM? It' part of a Plan B.
James Stewart
70
Posted 04/03/2015 at 12:21:41
Sorry, Sam, I didn't see you had it first!
@63, Well that's another debate but Lukaku is the better player and he is a decade younger. Admittedly a hugely frustrating player but Kone was best summed up by my Man City supporting mate when he watched the Young Boys game with me. The jist of what he said was "I can see why he never takes Lukaku off now, Kone doesn't even strike a ball correctly, his technique is all off."
Jelavic, on the other hand, has scored more EPL goals than either so go figure.
Phil Walling
71
Posted 04/03/2015 at 12:37:43
Victor @ 68. The answer to each of your very pertinent questions is 'Because he is a crap manager whose record did not entitle him ever to come into contention for the job!'
Victor Jones
72
Posted 04/03/2015 at 12:30:23
Kone has been out for about 18 months. Give the man a chance. If he was give a few games, who knows what he might do. But will he get a run of games? Will he ever partner Lukaku? I think we all know the answer. Makes me wonder why Martinez brought him to Everton in the first place. Bit like why did he bother with Samuel Eto'o. His touch was hardly all over the place. Some very strange choices and decisions from our manager.
As Martinez has no intentions of playing Kone. Or bringing any of the young strikers through, then surely a couple of forwards are needed for next season. Amongst others. It's a never-ending cycle.
Brin Williams
73
Posted 04/03/2015 at 12:43:35
End of season in sight and Bill Kenright must be rubbing his hands in glee – as an impresario, he couldn't have staged it better, great drama, pure theatre, pure comedy right to the bitter end. BUT let's hope it's not a tragedy!!
Good on ya', Bill – keep the turnstiles turning!?!
Tony J Williams
74
Posted 04/03/2015 at 12:50:47
"We will hold the ball slowly and pass it aimlessly for the first half hour probably resulting in at best one or two corner kicks (which may as well just be given as a goal kick to Stoke).
Then we will concede a set-piece from their first attack and the rest of the game will merely be more punchless attacking play from us and passing on the halfway line just for passing sake."
This! Victor, give the man a chance????? He hasn't fucking played for years ans apparently left out of the away leg for Young Boys to avoid their pitch.....what the fuck for? So he can sit on his arse on the bench every game since... give him a chance?....Christ!
Chris Gould
75
Posted 04/03/2015 at 12:46:39
Phil 41: let's hope that BK doesn't love his reputation of not being a knee-jerk chairman so much, that he earns the reputation of being the chairman that oversaw our drop into the Championship.
The knee-jerk reactions of Crystal Palace and West Brom have seen them rise above us in the league. It's also claimed Aston Villa their first win in a long time.
We have been shite since March last year. It shouldn't even be viewed as a knee-jerk reaction.
Victor Jones
76
Posted 04/03/2015 at 12:47:00
I know Phil. I know. Not having a pop at you. Think that we are both on the same page as to our opinions of our manager. I think that, in spite of Martinez, we will still be a Premier League club next season. But what then? I cannot see Martinez doing anything special at Everton. I don't think he has anything else in his locker. In fact, I fear that Everton could struggle next season as well.
This season is so bloody surreal.
Colin Grierson
77
Posted 04/03/2015 at 12:21:00
Having been a long time supporter of Martinez, the only way I can express how I feel at the moment is to imagine how your missus would be feeling if the signs were there that you had been 'playing away'...
I trusted him! He was so believable! It was all going great and then he went on holiday to Brasil. Maybe he met someone when he was there? The atmosphere at home is terrible. The silence is deafening! Every time he talks, he acts like there is nothing wrong! Can't he see how unhappy he is making me? I should never have trusted him after what he did to that Wigan tart! Look at her now!
Just like in a marriage of that sort, he'll be off to another bird (new club) and we're left with the misbehaving kids (EFC).
Still, while were on the subject of playing away, Id like to see the following formation:
Robles
Coleman Stones Jagielka Garbutt
Lennon McCarthy Gibson Naismith
Kone Lukaku
I think Nessie could cut in on his right foot like Pienaar used to do and allow space for Garbutt to run into. This would give Hughes some food for thought.
The reality will be:
Howard
Coleman Stones Jagielka Garbutt
Besic McCarthy Barry
Lennon Naismith
Lukaku
Same old system with the same old negative result!
Dave Pritchard
78
Posted 04/03/2015 at 13:00:14
Tony (74). The Kone situation is a mystery. He can play a whole game against Newcastle in December and then is 'fit' enough for the bench for virtually every league game since but then never even gets 5 minutes play. Totally ridiculous. Surely the manager's decision not to bring him on.
By the way, congrats on your new arrival which I saw on another thread. Sorry that your patience has run out with the team but you obviously still care and will hopefully be back at Goodison in the not too distant future.
Peter Barry
79
Posted 04/03/2015 at 13:06:20
Roberto says he feels absolutely 'No Pressure' about the way Everton are performing.
And, after all, why should he? — Getting clubs relegated is NORMAL for him.
Stephen Fawkes
80
Posted 04/03/2015 at 12:59:44
Regardless of what we all want, Martinez will almost certainly go with:
Howard
Coleman Stones Jagielka Garbutt
McCarthy Barry Gibson
Lennon Lukaku Naismith
We will then go one-nil down, but he will likely wait too long before making a substitution and it will be a like-for-like change as usual (probably Mirallas for Lennon).
James Newcombe
81
Posted 04/03/2015 at 13:12:36
Not a Wednesday night in Stoke! We're fucked!
Tony J Williams
82
Posted 04/03/2015 at 13:16:09
Thanks Dave, I am hoping she will be a little toffeegirl but the wife has already banned me from taking her the match..... to be fair it will probably be fairer on her to avoid us.
Bill Gall
83
Posted 04/03/2015 at 12:55:38
After watching the manager this season being out-thought by other managers, playing players out of position, playing his favorites when out of form, and too stubborn to change formations that do not work... I am starting to believe that Wigan did not have a bad team – just a poor manager!
Ralph Basnett
84
Posted 04/03/2015 at 12:01:17
This season's performances have divided the supporters more than Kenwright's reign and yet, RM to stay or get the sack aside, most teams that supporters have put on ToffeeWeb.com seem to have one thing in common – drop Howard!!!!!!
And yet RM persists, knowing we are sliding into the relegation area and never look like drawing never mind winning. This is definitely a club too big for RM and if he cannot see where most of our problems seem to be generated then he should go now!!!
However, we will scrape a 0-0 so that he can defend Howard and have a list of stats that suggest a draw away to Stoke is a 'phenomenal' result and we will be back to GP to be embarrassed by the Barcodes....
Mark Andersson
85
Posted 04/03/2015 at 12:31:09
The few people left supporting Martinez have finally got through to me. How could I be so blind as not to see his genius? It's the players' fault for not doing as they're told. After all, they are highly paid professionals who should just do their job.
You just can't simply keep blaming the manager, the players just need to believe what the manager believes and everything will be okay.
I predict a resounding 6 nil-win...
Stoke City 6. The deluded 0.
Victor Jones
86
Posted 04/03/2015 at 13:18:11
Re Tony (#74). As long as Kone is an Everton player, then I will expect him to get some game time. He is not as bad as you seem to be making out. The fact that he is not playing does not suggest to me that he is finished. He might be, he might not be. Who knows?
He is not the only player to not get game time under Martinez. Are they all finished? And as for not going to Switzerland. He is not the first player, after a bad injury, to be spared from a synthetic pitch.
James Morgan
87
Posted 04/03/2015 at 13:40:03
Not sure I even want to watch tonight. Feels like we are in a free-fall and can't come back. We will be bullied in to a 2-0 defeat, I fear.
Nev Renshaw
88
Posted 04/03/2015 at 13:39:29
I know it ain't going to happen (especially under this manager) but we need to go back into 'Dogs of War' mode for the rest of this season.
Tony J Williams
89
Posted 04/03/2015 at 13:47:35
Victor, I'm not saying that he is a bad player, I am saying that he is an empty shirt at the moment so why even have him in the squad?
It's not his fault he is languishing on the bench, he doesn't pick himself but why is he still not fit? He was apparently fit for action in December, yet three months on he has probably played less than 90 minutes.
Kevin Rowlands
90
Posted 04/03/2015 at 13:49:54
At this point, I honestly can't get excited whatsoever about the Europa League given our precarious position in the Premier League. If we loose tonight, we will have the lowest ever points total accumulated at this stage in our Premier League history – how can we look forward to next week when we look at the league table? It's depressing as hell.
For me, tonight is a must-win. Can you imagine his pressers next week about looking forward to a great European night at Goodison under the lights, a great atmosphere, and everything is phenomenal, bla bla bla, when we're staring relegation right in the fucking face after losing tonight? I don't think I'll be able to handle it.
Matthew Williams
92
Posted 04/03/2015 at 14:10:16
Start with:
Robles,
Coleman, Stones, Jagielka, Garbutt;
Lennon, Gibson, Osman, Atsu,
Kone, Lukaku
Sorted! Give our superb away support something to shout about for once, eh, Bobby???!!!
Kiern Moran
93
Posted 04/03/2015 at 14:19:29
Which Everton turns up tonight? The desperate, piss poor one or the one good enough to grind down a serious of opponents to an exciting nil-nil draw? Or indeed the one we see in Europe and remember from last season?
Incidentally whosever dream it is, please can they wake up as it has turned into a nightmare and I have got things to do.
Brian Hennessy
94
Posted 04/03/2015 at 14:18:18
The thought of Peter Crouch lurking in the box while Howard does star jumps scares the shit out of me for tonight...
Victor Jones
95
Posted 04/03/2015 at 14:05:29
Who knows, Tony? Who knows about anything that is happening at Everton this season? Is Kone not fit, or is our stubborn manager just not playing him? Who knows? Cause I haven't got a clue.
A little off beam here, but I also think that Martinez let Jelavic go far too soon. And yes, he was not everyone's cup of tea, but he does pop up and score the odd goal.
I can only think that because Martinez paid big money for Lukaku, that he seems obliged to keep playing him. Who will he play up front if Lukaku (god forbid), ever got injured? We will then see just how fit Kone is.
And for the record, I like Lukaku. With proper coaching and more experience, I reckon he will be a very good player. But at his age, he cannot do everything himself. Martinez is heaping a lot of pressure on this player.
David Hallwood
96
Posted 04/03/2015 at 14:16:22
Having a colonoscopy is beginning to sound a more attractive proposition that the next Everton game. As ever, I just can't see us keeping a clean sheet.
Agree with the general consensus of Basic, McCarthy, Gibson, with Naismith, Kone, Lukaku, because Naismith and Kone can put it about, with Coleman & Garbutt to provide width.
Brett Jonathan
97
Posted 04/03/2015 at 14:29:46
I'm starting to think Roberto doesn't mind if we are relegated as long as he wins the Europa League. Similar to his Wigan effort when they got relegated, but won the FA Cup.
It hadn't occurred to me much before, but everything he is says/does suggests it is a win for him either way. Certainly for his resume. We didn't care he got his former side relegated, so why will the next team in hiring him? Especially with a good Europa campaign under his belt.
Something to think about anyway. COYB! 3 points vital today.
David Hallwood
98
Posted 04/03/2015 at 14:31:02
I suppose (clutching at straws here) with Stoke on 39 pts they may have the foot off the pedal, and/or maybe Mark Hughes may want to have a look at his squad players.
In the paper yesterday, they had an article 'race for the bottom' with the candidates, and yes we were there – I thought those days were long gone. Totally pissed off...
Colin Williams
100
Posted 04/03/2015 at 14:17:07
Hughes will play on Howard tonite! There will be lots of balls from wide areas pumped into the box, especially the 6-yard box – plus the corridor of uncertainty.
Unless Howard grows a pair tonight, we are fecked! (We really need a massive performance from this guy...) Only problem is, these type of teams scare the shite out of him, and show up his lack of ability to command his area. Also this creates massive pressure on our two centre-half players who are under so much pressure to be everywhere during these situations.
My only hope we can "maybe" stop the crosses from being delivered.... so our wide players could play a massive role tonight in stopping this obvious problem from occurring.
Victor Jones
101
Posted 04/03/2015 at 14:22:33
Okay, it's back to work for me. I'm finished defending Kone and all things Everton. I've been defending Everton for about 45 years, Championing all things Everton. Always making us out to be world beaters. Apart for a few years in the 1980s, when I was pissed, and didn't need to defend Everton. We had a team then.
Here's hoping that somehow we get a win tonight. But, like everyone else, it's hoping, rather than knowing what will happen. We have been through this all before with Everton. But as someone earlier made a very good point: the team in the 1990s knew they were in trouble, and they battled their way out. Just.
I don't know about this current team. Are they up for the battle? 'Cause if they keep going the way they are... God help us.
Denis Richardson
102
Posted 04/03/2015 at 14:37:53
Sorry, David, but I cannot see Hughes taking his foot off the pedal just 'cos they've reached 39 points. He'll be looking to get Stoke has high up the table as possible with each place worth over ٟM and also depending on who wins the FA Cup, 7th may be get an EL place next year.
Stoke won't be doing us any favours tonight...
Jay Wood
103
Posted 04/03/2015 at 13:56:56
As other posters have alluded to, Evertonians are a forgiving bunch if they can see fight, energy and desire in their team.
Anyone with a truly discerning eye, rather than a blue-tinted one, doesn't need telling our performances in the PL have been mostly underwhelming, tepid and low octane. That, I believe, is the cause for many still anxiously looking over their shoulders, concerned with the games and results of the teams below us. Because pretty much everyone of those teams is showing more fight, energy and desire – and dare I say, awareness – of the plight they are in.
Some are claiming things are improving since the debacle of Xmas and the New Year. They are not. After tonight, we will have played 28 games. Let me split and contrast the current 27 games played.
In the first 13 games (I'm doing this deliberately to be generous to the second group of 14 games), our record reads:
P13 W4 D5 L4 F23 A21 Pts17 GD+2
We failed to score in just 1 game and kept 3 clean sheets in those 13 games. At that point of the season, we were still above both Spurs and Liverpool.
In the last 14 games (one game extra... and interestingly, that starts with the home draw against Hull when we took a 'winter break' from the EL, so our participation in that is no excuse) it reads:
P14 W2 D5 L7 F10 A18 Pts11 GD-8
We failed to score in 8 and kept a clean sheet in 3 of those 14 games. 7 of our 10 goals came in just 3 games.
Before the weekend, when CP and WBA leapfrogged above us, we were in 12th. In the 15 games played against the 11 teams above us, we had won one single game – a fortunate 2-1 home win to the Hammers. Our away record against those same 11 teams reads:
P8 W0 D1 L7 F5 A15 Pts1 out of a possible 24
Ironically, with CP and WBA going above us, we can add 2 more away wins to the (NOW!) 13 teams above us. 7 of our remaining 11 games are against teams above us.
We have 4 games remaining against the 6 teams below us, against who we have achieved our other 3 wins this season.
Coming back as we did against YBs after losing the 1st goal in both games was 'phenomenal'. Because it is more than a year (1 February 2014, home to Villa) since we conceded the first goal in a PL match and recovered to win. Ergo, lose the first goal and the best we can hope for is a draw.
I am sure I am not alone amongst Blues worldwide who now approach every PL game with a very queasy feeling. And the data, together with the performances, is very just cause for such queasiness.
Phil Walling
104
Posted 04/03/2015 at 14:48:56
Dennis, it may be time to look at some of OUR squad players. These buggers aren't pulling up trees are they?
Ross Edwards
105
Posted 04/03/2015 at 14:51:12
If Martinez relegates us but wins the Europa League, he'll probably walk like he did with Wigan and walk straight into a decent European job.
Phil Walling
106
Posted 04/03/2015 at 14:56:20
Well, at least he'll be gone!
Denis Richardson
107
Posted 04/03/2015 at 14:54:43
Ross, if Martinez relegates us, I don't think BK will set foot anywhere near Merseyside again and Roberto will have packed up his family and legged it before you could say 'phenomenal'!
Kevin Tully
108
Posted 04/03/2015 at 14:48:55
If the manager & team can't motivate themselves for this game, then there really is no hope. Surely everyone at the club realises the gravity of the situation we find ourselves in?
It's quite simple, win our next two against Stoke and Newcastle (who have little to play for) and we can put all this relegation talk to bed. Lose both games, or come away with a point or two, then I don't think there is any value in keeping Martinez here any longer.
At this juncture in the season, it's not about tactical acumen, or the players the manager chooses to start with. No, this is all about motivation, and the fact this team have served up uninspiring dross for the best part of the season. Surely just their professional pride, and the fact they play for Everton FC should be motivation enough?
If they don't give their all tonight, we are in serious, serious trouble. It would take some turning around, even with a new manager.
Robert Johnson
109
Posted 04/03/2015 at 14:53:19
My team for this game:
Howard (Undroppable)
Coleman Stones Jagielka Baines
McCarthy Barry (Undroppable) Besic
Gibson Naismith
Lukaku
I am dropping Garbutt because Stoke will be a completely different ball game. They are too physical for any inexperienced players. No wide players for the first half, width comes from marauding runs from two fullbacks. Plenty of possession thus making Stoke players chase the ball for an hour or so and and getting them totally exhausted.
Then for the final 30-35 minutes take off Besic (no way Mr Phenomenal will sub Barry off) and Niasmith/Gibson and bring on Mirallas and Lennon and let them cause havoc down the wings against those poor tired legs.
Kevin Rowlands
110
Posted 04/03/2015 at 15:03:54
Just looked at the remaining league fixtures on Sporting Life. We really do have the easiest run in of all the teams down there: the only 'top' teams we have to play are Man Utd, who are bog average, and Spurs both at home. Looking at that made me feel better anyway, awful that it has come to this though. Martinez and most of these players should hang their head in shame.
Colin Metcalfe
111
Posted 04/03/2015 at 15:00:06
What really scares me is that, when watching the teams below us, they really are fighting tooth and nail; they may not have the talent but they do have the desire and I don't see that from our boys.
Do they think they are too talented to go down? Do they think in the dressing room "No worries, we have Ross or Lulu, they will pull something out of the bag"?
I think we may scrape a draw tonight because we will bore the opposition by our sideways/backwards style but we desperately need points on the board, starting tonight, because – if we do drop into the relegation zone – I honestly don't see this Everton team up for the fight!
Jim Bennings
112
Posted 04/03/2015 at 15:12:31
Kevin
Easy on paper maybe but in reality?
We thought Hull home and away would be easy on paper or Leicester twice this season?
Did we beat West Brom at home? No
I get what your saying here but this is Everton, and NO games are easy.
Tony J Williams
113
Posted 04/03/2015 at 15:15:58
Unfortunately Kevin, our prima donnas may think the same and not give it their all.
it's depressing thinking that we are hoping that there are 3 worse teams than us this season and the stats above about having the lowest premier points at this stage and the same as when Walter "disappointing" Smith was turfed out.... Seriously worrying times!!!
Kevin Rowlands
114
Posted 04/03/2015 at 15:22:14
I agree, Jim, no game is 'easy' for us this season but still I'd rather have our run in than most of the others, for example, Hull still have to play nearly all of the 'top' teams in their last ten games, I think they may go down and 3/1 is good value.
Isn't it just really horrible that this season has come down to us hoping teams below us lose... just absolutely pathetic.
Patrick Murphy
115
Posted 04/03/2015 at 15:27:29
Tony J,
The Echo says that, if we fail to win tonight, it will be our worst points total at this stage since 1926-27 (using 3 points for a win system). Mind you, they played 42 games then and Dixie was on board and they did finish as Champions the following season.

Tony Hill
116
Posted 04/03/2015 at 15:21:08
Kone's touch and hold up play are manifestly superior to Lukaku's and to Naismiths. Indeed, the comparison with Lukaku in that department, at a fifth of the cost and regardless of age, is embarrassing. As far as I'm aware, he is fit. I'm not sure why he is so readily dismissed as an option.
Phil Walling
117
Posted 04/03/2015 at 15:20:38
Kevin, I suspect that because BK kept faith in DM in 2003-04 and we were third the following season, he feels he owes the same courtesy to Martinez. One Daily writer yesterday even congratulated him on his refusal to 'knee-jerk' and lauded him as an example to other chairmen!
Lose 0-4 tonight – which we won't – and we might hear the 'vote of confidence' speech but it will take three of those on the trot before Bill admits he picked a wrong 'un.
Robert Johnson
118
Posted 04/03/2015 at 15:11:43
I don't want to sound too negative but I think some of us are counting their chickens before they are hatched. There are plenty of good teams still in the Europa League namely the current holders Sevilla, Roma, Zenit St Petersberg and Wolfsburg. I know some would raise eyebrows seeing Wolfsburg there but they are a totally different team now. They struggled earlier in the season but as the season progressed, they have become stronger and stronger. They recently beat Bayern Munich 4-1! And they have added Schurrle too.
As for Dynamo Kyiv, they are no pushover. They will be a much more stronger opposition than Young Boys whose defending was worse than some of the relegation battling teams in the PL. They have Aleksandar Dragovic, who is one of the most sought after defenders in Europe. I just checked they also have Dutch forward Jeremain Lens, Andriy Yarmolenko and Younes Belhanda, who was one of best players in French League (admittedly, it's a weak league) and was linked with many PL clubs including Arsenal. So it's not going to be an easy game by any means.
Daniel A Johnson
119
Posted 04/03/2015 at 15:29:41
Sorry to bring negativity to the thread. But playing the Stoke Mutants away is tough fixture.
I feel at times this season we have missed Fellaini, sure he was awkward and at times frustrating but he was also a snide niggly bastard who no one enjoyed playing against.
We have no fight in the team, no desire and we start matches at 5 mph and barely hit 20 mph. We don't stretch teams with our speed or range of passing.
I'm sure Martinez is selling our philosophy to Kenwright as something that will take time to evolve and grow after 11 yrs of the Sgt Major Moyes. Basically, Kenwright has bought into the long term vision and has to back his man through these "transitional" times.
I for one have zero time for Martinez, he may well in 2 years time turn out to be Guardiola in disguise, but right here right now with this quad of players the results this season have been nothing short of a fucking disgrace. A giant stain on our reputation and perception by our opponents. He's set us back 9 years this season. It's the Walter Smith era all over again but with a better set of players which is unforgivable.
MARTINEZ OUT!!!!!!!!!!!
Timothy Blanshard
120
Posted 04/03/2015 at 15:39:29
From the
Echo
Everton have 11 league games left and the Catalan says his side must "grab hold" of this period.
"I understand completely where we are and I'm very much conscious that this is a moment that we need to grab with both hands and face it as a football club," Martinez said.
He makes me think of the Black Knight from the Monty Python film, The Holy Grail. He's getting his arms and legs cut off while saying it's just a scratch:
This is Roberto:
https://www.youtube.com/watch?v=ikssfUhAlgg
Oliver Molloy
121
Posted 04/03/2015 at 15:28:48
Only one winner tonight, all we can hope for is the form book goes out the window.
I hope that, whatever luck is going we get it, because do we need something from somewhere!
Stoke will love nothing better than winding us up all over the park, and if they score early, this could turn into a nightmare.
Patrick Murphy
122
Posted 04/03/2015 at 15:51:00
Interesting watching the interview with Unsy about the young players etc, but when asked about Roberto he said that Roberto is a terrific coach and fantastic to work with. Now of course he is an employee and you wouldn't expect him to say any different but it got me thinking is that where Roberto's true talent lies i.e. coaching players rather than managing and picking teams? I Might be splitting hairs of course.
Roberto would also do well to listen and hear what Big Joe said to the 95 team in relation to the FA Cup run and the League, the league always took priority and results in it were crucial whereas the FA Cup run was a bonus.

Mike Childs
123
Posted 04/03/2015 at 15:01:58
This is only my fifth year as a fan and in the previous 4 years I always thought of Stoke as an automatic 3 points not this year. Not having records in my hand and failing memory but didn't we drill them 4-0 at their place last year?
RM & BK have sunk any chance of seeing Kone get meaningful minutes because if he comes on gets the job done they look like idiots for signing Rom for all that coin. To play him in a 4-4-2 that this site has been banging on (I agree) about would be to admit his 4-2-3-1 system isn't working. Fat change of RM admitting he's wrong.
Victor (#66) – any chance you can have the driver of the van make an emergency stop at the Britannia tonight and take laughing boy and RM for treatment?
Jim Hardin
124
Posted 04/03/2015 at 15:42:00
I hope whatever team gets put out there is able to attack. I would love to see Gibbo and Osman both in. Besic needs to sit out as he is not Gibbo and his better twin, McCarthy, will play.
As an aside, my son received a Besic jersey from a well meaning but misguided family member and put it on at a practice. He immediately started running around the pitch aimlessly sliding into people and passing the ball sideways and backwards so I made him take it off.
Patrick Murphy
125
Posted 04/03/2015 at 16:00:02
No, Mike, we haven't beaten Stoke at their place since about 2008 – in the first PL meeting between the two sides at the Britannia, when Fellaini made his debut and the Toffees won 3-2.
Tony McNulty
126
Posted 04/03/2015 at 15:59:55
The one certainty this evening is that, irrespective of the result, our manager will exude positivity after the game.
I just hope that, as opposed to recently in the PL, he isn't left standing trunkless on Crosby beach with the tide having gone out.
Kevin Rowlands
127
Posted 04/03/2015 at 15:55:53
Before the Christmas period Martinez was around 80/1 in the sack race, a big outsider, he's now 16/1 fourth fav, looks like we're not the only ones who think he's done a shit job this season.
As for tonight, with all the gronks they have, and their threat from set pieces, Robles should start, but of course he won't as the starfished bearded liability is our No 1, thank fuck Delap is no longer there or we'd be really in the shit then.
Kevin Tully
128
Posted 04/03/2015 at 16:06:17
What odds Howard dropping a cross right on the noggin of Crouch in the 93rd minute? If Frankie does make another cock-up tonight, I will be very angry.
John Keating
129
Posted 04/03/2015 at 16:28:04
What a sad phenomenal state of affairs when we're looking at other teams results to escape relegation issues. This clown needs booting out asap.
Totally embarrassing...
Xavier Spencer
130
Posted 04/03/2015 at 16:27:56
This is going to go down like a ton of shite but I want us to lose tonight. And lose heavily. Because it's the only way that we might get rid of Martinez before it's too late. I actually think he's on the verge of ruining the club. Compare the market values of Barkley, Coleman and Baines to what you'd get now. £80 million for the three last year but maybe £30 million now? He's completely ruined three of our best players. The way he has managed Barkley is not so much a laughing stock but an utter disgrace.
I have it from a very good source that Garbutt will join Liverpool on a free at the end of the season. But only two days ago Martinez was saying he's confident that Garbutt will stay before waffling on about how great the competition is for the left back berth. Not for much fucking longer Roberto because Oviedo and Garbutt are going because you've let them run their fucking contracts down.
The bloke is a complete loser who opens his mouth before he engages his brain. I want him out.

Andrew Ellams
131
Posted 04/03/2015 at 16:42:17
Xavier, we could lose 10-0 tonight and he won't get sacked.
Tony J Williams
132
Posted 04/03/2015 at 16:41:31
This is going to go down like a ton of shite but Fuck Off Xavier, can't abide anyone wanting us to lose and fuck off with your "good source" shite too.
(God! I haven't swore this much in a post for a long, long time)
Dave Pritchard
133
Posted 04/03/2015 at 16:37:42
Kevin 128, you're showing your age with the Frankie comment. Made me laugh thinking of Lurkio in his toga between the sticks.
'Ooh err, titter ye not, the prologue'. There were some stunning women in that Up Pompeii series though which made it worth watching.
Let's hope it isn't 'It came to pass' and 'Goal Goal and thrice Goal'.
Daniel A Johnson
134
Posted 04/03/2015 at 16:47:39
In defence of Xavier I sort of know what he means by wanting us to lose.
But how bad does it have to get before Martinez gets his P45?
Championship football?
Andy Meighan
135
Posted 04/03/2015 at 16:44:19
For my post, read Jims (#20).
Oh and anyone advocating that Kone should start alongside Lukaku – there's more chance of Bob Latchford leading the line. This stubborn twat refuses to see anything wrong in the way we're playing and I'm expecting the usual shite from him tonight.
Patrick Murphy
138
Posted 04/03/2015 at 16:54:59
I don't give much for our chances. I've just seen a vid of the team talk from an earlier game this season. The only word I understood was 'Phenomenal'.
Sondre Haga
139
Posted 04/03/2015 at 17:09:11
My prediction:
Possession: 36-64, shots on goal: 5-1, result: 1-0.
Alex Crane
140
Posted 04/03/2015 at 16:48:33
I can't see why we don't go with something radical and try a 4-1-2-1-2 the old diamond formation that Spurs used so well in the 90's.
Especially with the players we have we could use Garbutt and Baines on the left and Coleman and Lennon on the right, Barkley as a AM and Lukaku and Kone up front and either Besic or McCarthy as DM.
Just hope we get the win tonight otherwise we may need another Wimbledon game come May.
Brent Stephens
141
Posted 04/03/2015 at 17:15:08
Xavier, I have it from a very good source that Garbutt will NOT join Liverpool on a free at the end of the season. Easy isn't it.
Max Fine
142
Posted 04/03/2015 at 16:50:22
Xavier, absolutely disgusting attitude for a supposed 'fan'.
Your 'source' is also bollocks as players under 24 can only leave for a fee set by a tribunal, usually £1 million for each season they've been at the club.
Dave Lynch
144
Posted 04/03/2015 at 17:13:30
I heard him on the radio this morning. All he talked about was how "the players" knew they where not performing and how "the players" need to up their game and how "the players" feel about our league position.
Not once did he infer that "he" should take any responsibility for our dismal performances, the man's an ego-maniac.

Ian Riley
145
Posted 04/03/2015 at 16:53:40
How about a 4-4-2? I know I am old fashioned but Mark Hughes will not have planned for that. Gibson must start with two up top. Stoke away is a tough test, no expectations, so why not have a go. If we start with besic and barry we are stuffed. Lets have two wingers and attack. I think tonight's game is crucial for the manager, away supporters seem to make there feelings known if not happy.
All my friends tell me we are safe and I feel the players and manager have fallen into that trap. The press have been kind to our manager and players with the run we have been on. The players need to work when they don't have the ball, they need to show what the club means to them tonight. Ten games left after tonight and I can't wait till its over! This season has been like constipation, big expectation but little substance!
Anthony Flack
146
Posted 04/03/2015 at 17:24:15
Xavier forgive me if I am incorrect, but are you quite new to the forum?
I have not had the pleasure of experiencing your insightful posts before....I also have doubts about your integrity (but last time I accused someone of being a RS I was suspended from the site).
However I cannot think of any circumstance where I would ever want Everton to lose, other than if it meant Liverpool missing out on something or getting relegated, humiliated or ruined.
As for Garbutt to the RS ha ha very funny
David Hallwood
149
Posted 04/03/2015 at 17:21:51
Unlike your namesake, you're not vet Abel, are you Xavier? No matter how tough it gets, I would NEVER want Everton to lose. I fell out with quite a few posters last season when they were rooting for Man City to beat us in case the RS won the title.
Bollocks! Support your team through thick and thin or go and be a glory hunter. Chelsea's looking for supporters, you wouldn't be a racist by any chance?
Steven Telford
150
Posted 04/03/2015 at 17:40:12
I don't want to raise expectations or over excite people, however there is a rumor going around that we are actually going to take a shot!
I did not get this in the TW Rumour Mill...
Kevin Rowlands
151
Posted 04/03/2015 at 17:43:13
Two hours away from kick off, getting nervous, who would have ever thought at the start of the season that the mutants away was going to be our biggest game of the season? We have to win tonight or next week will become unimportant in the grand scheme of things as we'll be looking at the league table worried shitless at what might be, please Everton, put a fucking smile on our face tonight!
Patrick Murphy
152
Posted 04/03/2015 at 17:48:29
Steven (#150), just like Robert De Niro's character in the Deer Hunter:
Nick is the quiet, introspective man who loves hunting because, he likes "... the trees ... the way the trees are ..." The recurring theme of "one shot", which is how Mike prefers to take down a deer.
Ross Edwards
153
Posted 04/03/2015 at 18:05:33
Just one shot Steven?
Ross Edwards
154
Posted 04/03/2015 at 18:06:37
We now have Evertonians wanting us to lose heavily?
AAAAAARRRRRRGGHHHHH!!!!! JUST END THIS SHAMBLES OF A SEASON NOW FOR GOD'S SAKE!!!!
Steven Telford
155
Posted 04/03/2015 at 18:13:17
Ross #153
I don't want to tempt fate Ross, as I already fear that the shot I boldly predicted may not materialise, and then fellow toffee-webbers may try to hold me to account.
Colin Glassar
156
Posted 04/03/2015 at 18:23:59
I read 3 lines of #130 before feeling queezy, what a disgrace!! But this is a forum where all opinions are respected so I'll keep my trap shut.
Why are the Redshite kicking off at 8:00pm while the rest of us start at 7:45pm? They are not even on the telly, ffs.
Andrew Clare
157
Posted 04/03/2015 at 18:24:16
We have just got to go for it tonight. All out attack with no holds barred. Fight for our lives.
COYB.
Xavier Spencer
158
Posted 04/03/2015 at 18:29:43
I knew it would go down like a ton of shite but if I can't air my views on here then where can I air them?
The thought of finishing twelfth (if we're lucky) and having RM in charge at the start of next season sickens me. I'd rather we finished a couple of places lower and he was gone. That's all I'm saying.
Just because you don't agree with me don't label me a kopite. I have been going to the match since 1978.
Ross Edwards
159
Posted 04/03/2015 at 18:36:26
I wouldn't mind having one shot Steven if we actually scored from it.
Jim Hillier
160
Posted 04/03/2015 at 18:41:20
You never, ever, under any circumstances want your club to lose a game if you are a fan.
No further comment needed.
Ian Brandes
161
Posted 04/03/2015 at 18:39:42
Xavier,
I want him out but I do not want us to lose. A bit of a change from last season when I thought we always had a good chance of beating any PL opposition.
Stoke are a physically intimidating side, but we can still do it.
The players must turn up tonight for the sake of the fans.
COYB!
Brent Stephens
162
Posted 04/03/2015 at 18:47:18
David #149 "Unlike your namesake you're not Abel, are you Xavier?"
Ouch!
Colin# 156 – I didn't realise the Redshite weren't being televised tonight. Disgrace.
Colin Glassar
163
Posted 04/03/2015 at 18:54:38
They aren't Brent, are they? I thought united Newcastle was the televised game? Why are they being given an advantage over everyone else?
Steve Woods
164
Posted 04/03/2015 at 18:54:48
Jim @ 160 the only time (in recent memory) that I didn't mind my team losing was at the tail end of last season at Goodison to Man City.
Darren Hind
165
Posted 04/03/2015 at 18:49:42
In 50 years of following this club I have never actually met an Evertonian who wants us to lose. Still it will give substance to the claims of the outraged.
Pinch of salt . . .
Tim Michael
166
Posted 04/03/2015 at 18:51:08
Just seen the team for the Stoke game tonight. Who is playing on the left in front of Garbutt? I assume that it will be Naismith. Square peg in round hole. This is one of the ongoing problems we have had all season, down our left hand side. Not been solved at all by RM.
Gibbo and Lennon should inject perhaps a little more skill and pace so let's just hope that we can get a win. We are a better side than this Stoke side but need to prove it on the night. I really don't want to be turning up for the Newcastle game still chasing a win
COYB
Dave Abrahams
167
Posted 04/03/2015 at 18:59:56
Come on, Darren (#165), did you really want Everton to beat Man City last season? I know I didn't. I went white when Delboy went through in the last few minutes and nearly scored.
Brent Stephens
168
Posted 04/03/2015 at 19:08:58
Colin "weren't".
Darren Hind
169
Posted 04/03/2015 at 19:06:00
Dave ~167
Just Google Barkley's goal that day. Goodison erupted, properly erupted.
There is a difference to not being distraught if a defeat meant the mortal enemy wouldn't win the league and actively wanting us to lose.
Evertonians do not want Everton to lose. Not ever.
Colin Glassar
170
Posted 04/03/2015 at 19:11:00
Know what you mean Dave but.........
Anthony Flack
171
Posted 04/03/2015 at 19:24:32
Xavier fair enough, 1978 was my first season as well. Sorry if I was incorrect.
Dave Abrahams
172
Posted 04/03/2015 at 19:25:45
I'm being totally honest and I wanted Everton to lose that day. We couldn't have gone any higher in the league even if we had won... and, if we had won, it didn't bear thinking about.
Robert Miller
173
Posted 04/03/2015 at 20:59:32
I have decided to try divine intervention. I am going to spend the rest of the second half praying that we turn this round and get 3 points, whilst listening to final score on the tinternet.
---
Add Your Comments
In order to post a comment, you need to be logged in as a registered user of the site.
Or Sign up as a ToffeeWeb Member — it's free, takes just a few minutes and will allow you to post your comments on articles and Talking Points submissions across the site.
© ToffeeWeb