Baby blue launches new home kit
Four-month-old Ethan Holman was selected by Umbro to preview the design for Everton's 2015-16 home strip ahead of the full unveiling tomorrow.
As part of the "Born" marketing hook and associated #bornEFC hashtag, the kit manufacturer began a search for an infant Evertonian to help launch the club's new outfit and Mark Holman was the lucky dad to have his baby Blue chosen.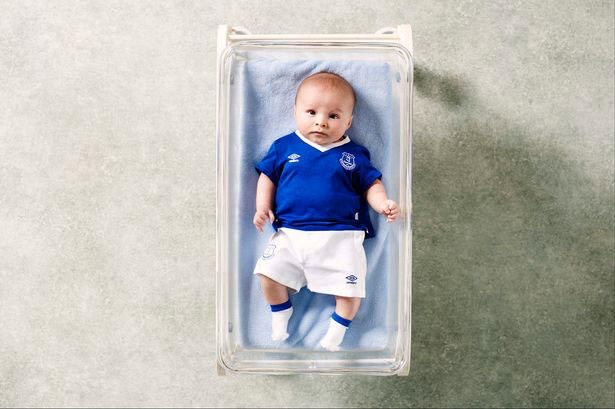 The kit appears matches one of the leaked photos of an adult jersey featuring thick white trim around a v-neck collar as the only embellishments to an otherwise blue shirt, very reminiscent of the strip worn by the 1957-1962 sides.
It also appears to mark a return to white socks after this season's navy blue effort that harked back to the 1920s.
Reader Comments (28)
Note: the following content is not moderated or vetted by the site owners at the time of submission. Comments are the responsibility of the poster. Disclaimer
Dennis Stevens
1
Posted 20/05/2015 at 18:00:07
But what about the stripes down the sides of the shorts?!
Mark Griffiths
2
Posted 20/05/2015 at 18:13:23
Looks kinda basic!?
Ray Roche
3
Posted 20/05/2015 at 18:13:12
Yes, Dennis, but it's a million miles better than the crap kit we've just endured! Let's hope we can recreate some of the magic of the Young, Vernon, Gabriel, Parker,Labone and..er... Dennis Stevens of those years...
Joe Foster
4
Posted 20/05/2015 at 18:15:25
Get him signed up
Eddie Dunn
5
Posted 20/05/2015 at 18:18:45
Is he a midget gem?
Paul Ferry
6
Posted 20/05/2015 at 18:34:14
Wouldn't have minded a couple more blue hoops on those socks, otherwise I really like it - love the v-neck.
Fingers crossed that we don't see a pic in twelve years time say of Ethan sporting the latest rs kit as he nips into Mwood to sign junior forms.
Ian Jones
7
Posted 20/05/2015 at 18:52:18
Can someone at least complain that this is Martinez's fault.
Iakovos Iasonidis
8
Posted 20/05/2015 at 19:08:43
Baby cute - kit totally uninspired. Hoped for a collar and some small catchy details but it wasn't meant to be. 2011-2012 kit best of last 20 years for me.
Tony J Williams
9
Posted 20/05/2015 at 19:22:05
He'll never make it. You win nothing with kids etc etc
Garry Corgan
10
Posted 20/05/2015 at 19:52:39
Hooray for white socks!
Richard Harris
11
Posted 20/05/2015 at 19:51:50
Oh the poor little one – he has a lifetime of disappointment to look forward to, with a few golden years to ease the pain :0) or at least that has been my experience so far......
James Marshall
12
Posted 20/05/2015 at 20:18:07
Give it a few games, and you won't notice what they're wearing anyway. Nobody ever does. There'll be another you can waste your money on next season too. And the season after that.
Still, at least you can get a new iPhone as well.
Joe Foster
13
Posted 20/05/2015 at 20:25:08
When RM said he was looking to the future, I didn't realise it would be that far in the future.
Paul Jeronovich
14
Posted 20/05/2015 at 21:04:14
Umbro – the kind of brand you find with 70% Off tags in Sports Direct. I bought the training gear and it is utter shite compared to Nike. Uninspired at the moment.
Paul Jeronovich
15
Posted 20/05/2015 at 21:13:58
Uninspiring (bit like my post!!!)
Colin Glassar
16
Posted 20/05/2015 at 22:07:10
I liked this season's kit.
Barry Morrison
18
Posted 20/05/2015 at 22:28:19
Given the difficulty I had buying a baby kit when my son was born, this is a positive step.
David Hamilton
19
Posted 20/05/2015 at 23:32:10
Lovely traditional kit, and not before time. I had that shirt when I was nine, back in 1963. But, of course, there was no need for a badge because everyone knew it was Everton.
James Marshall
20
Posted 20/05/2015 at 23:55:09
I agree, it does look like a nice traditional kit, though it'll look less traditional once you see the real thing with 'Chang' emblazoned across the front of it.
Also, being very traditional - is this yet another sign of Everton's 'small club' mentality? I've seen some leaked pictures of Arsenal and Man Utd's kits, and if they're for real, they look almost futuristic, ala Bayern Munich et al. Their kits always make their players look fitter, faster, more modern - Everton always seem to go for the softly-softly look.
My other half has often commented on it (she pays more attention to such things than me!) and said things like, "Everton players never look as good as other teams". They way we look matters, clearly.
Karl Masters
21
Posted 21/05/2015 at 00:34:19
I agree with your other half to a degree James.
Like people wearing clothes in any walk of life, you will always get scruffy and you will always get sharp dressers. Some of this is down to colour coordination and some is down to fit. Therefore the colours used are important and the cut of the kits.
Generally, fitted rather than baggy looks better on an athlete. So, as Everton examples, the old Puma kit of 2000-2002 did nobody any favours whilst the first Nike one of 2012-13 helped improve the form of the players. However, size choice is also important and Baines and Stones wear their shorts too tight perhaps. Take a look at photos or next time you see us on the telly.
Personally I think black boots make players legs look shorter and white or bright boots give an impression of lengthened legs and therefore a sleeker form. I also prefer white socks for this reason, although the very dark ones of this season were not a bad alternative as they avoided white tops or hoops that immediately create an illusion of a shorter leg (think 1986-89 Umbro kit).
Although I prefer white socks, just sticking them with this season's shirt would be wrong as there's no white trim on the shirt and it would look imbalanced. The new kit looks well balanced, but cut will be all important to the end look and white boots ( eg Osman's choice latterly ) will look way better than black ( eg Hibbert's usual choice ).
You're right, it's a complex subject! Haha.
Stephen Karnes
22
Posted 21/05/2015 at 04:18:00
I heard that kid is secretly a red.
Eric Myles
23
Posted 21/05/2015 at 05:30:50
I don't like the blue band on top of the socks.
Steve Brown
24
Posted 21/05/2015 at 06:17:40
Must have spent 10 minutes creating this. Really dull.
Jason Lam
25
Posted 21/05/2015 at 07:41:18
Looks very similar to the 2009 (FA Cup Final) Umbro kit
Ian Jones
26
Posted 21/05/2015 at 08:17:28
I heard Ethan is a brilliant dribbler.
Vishal Poorundersingh
27
Posted 21/05/2015 at 08:35:57
Cute Baby, Born to be an Evertonian. The kit looks better without "Chang".
Mike Owen
28
Posted 21/05/2015 at 10:54:48
I wish they'd used me to market the new 1956 kit.
Thomas Surgenor
29
Posted 21/05/2015 at 11:27:18
I loved this years kit. I thought the Navy was a classy touch.
However, I'm almost certain I have the kit (just revealed) laying at home with Fellaini on the back? Looks very familiar.
---
Add Your Comments
In order to post a comment, you need to be logged in as a registered user of the site.
Or Sign up as a ToffeeWeb Member — it's free, takes just a few minutes and will allow you to post your comments on articles and Talking Points submissions across the site.
© ToffeeWeb