ToffeeWeb Player of the Season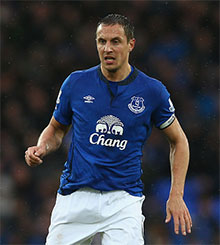 (Clive Brunskill/Getty Images)
It was close — very close — but the voting in our Player of the Season poll produced another win for Phil Jagielka.
With 29% of the 5,685 votes, the Everton captain eventually edged ahead of John Stones (who garnered 28%) and James McCarthy (27%).
Jagielka was named as the club's official Players' Player of the Year and Player of the Year at the awards gala earlier this week, capping a season in which he started somewhat uncertainly but eventually saw him take a leadership role in pulling the Blues away from relegation danger and to mid-table safety.
The final results:
Phil Jagielka — 29%
John Stones — 28%
James McCarthy — 27%
Steven Naismith — 5%
Romelu Lukaku — 4%
Reader Comments (22)
Note: the following content is not moderated or vetted by the site owners at the time of submission. Comments are the responsibility of the poster. Disclaimer
Christopher Wallace
1
Posted 22/05/2015 at 19:44:17
Tough to pick a stand out, but John Stones is, in my opinion, easily out best player.
Paul Olsen
2
Posted 22/05/2015 at 19:52:40
He had a dodgy start to the season, but overall Jags deserves it!
Stones is impressive, but he still makes too many mistakes. Next season might be his. I don't think McCarthy really should have been so close. He is all effort, but he contributes too little for me in too many phases of play.
Paul Olsen
3
Posted 22/05/2015 at 19:55:12
And to you Christopher.
Tough to pick a stand out, but easy? Yeah, ok :-)
Colin Glassar
4
Posted 22/05/2015 at 20:15:14
Jags just edged it for me. He's been captain fantastic since December. Macca was 3rd choice.
Gareth Fieldstead
6
Posted 22/05/2015 at 21:29:20
Did you have a vote for those who go week-in & week-out and the armchairs who think they know better?
Christy Ring
7
Posted 22/05/2015 at 21:33:48
Paul Olsen, you haven't a clue, look at how many points we won with McCarthy in the team and when he was injured???
Martin Mason
9
Posted 22/05/2015 at 23:06:01
Gareth, if you watch on TV from an armchair you see far more of the game than you do from a seat at the ground and you get the benefit of replays so maybe the armchairs may "no" better than those who go week in week out. It's definitely true in the majority of sports. I can't think of one sport that benefits from live observation compared with modern TV coverage.
Fran Mitchell
10
Posted 22/05/2015 at 23:24:18
Says it all, as it was probably Jags' worst season in a blue shirt.
Mike Childs
11
Posted 23/05/2015 at 02:00:28
Can't argue with Jags as he was consistent after he got over the WC hangover. Stones does make mistakes but is our most talented player. Jimmy Mac is my favorite player but needs to have more games like he did against Manure. For me Barry, Coleman, Baines and Mirallas were better than Naismith and Lukaku
I'm still amazed that they gave Naismith a 3 year contract.
Then again he probably signed on the cheap right up BK's alley.
Conor McCourt
12
Posted 23/05/2015 at 02:02:30
Jags was awful for the first 2 months which largely shaped the season it turned out to be. In addition he showed poor leadership not just in captaining the team especially during the xmas period but also over other isolated incidents such as the 1st penalty debacle .For this reason he doesn't deserve it despite his excellent overall form aside from the 1st 2 months.
McCarthy is my favourite player but by his high standards he had an average season despite being crucial to the team. He too had a difficult beginning to the season.
For me the clear winner was Stones as he wasnt involved in the mediocrity for most of the 1st half of the season and our season turned around with his introduction. To me it seemed like he was the leader at the back as Jags became twice the player with Stones beside him. In essence most had poor games this season but Stones was the only one who you could count on one hand.
Kelvin Thomas
13
Posted 23/05/2015 at 07:08:32
Jags was our worst performer for the first 1/3 of the season. Woeful, costing us points left, right and centre. Yes he's been his usual self from Feb onwards but to win several awards just shows how very poor this team has been this year.
Harold Matthews
14
Posted 23/05/2015 at 09:05:42

For me, Leighton Baines deserves a medal for the way he soldiered on without any left side support whatsoever for the whole season. Not surprised he ended up in the sick bay.
Max Wilson
15
Posted 23/05/2015 at 09:32:21
Jags doesn't need any more accolades, he's right up there anyway.
It was our emergent youth that has been the bright side of a dissapointing season and there are three you could mention but for me Stones edged it.
Geoff Evans
16
Posted 23/05/2015 at 09:41:30
I'm with Harrold, Bainsey for me.
Alex Jones
17
Posted 23/05/2015 at 13:43:40
I think Jags was our best player which indeed doesn't say much for our season when he was so poor in the first months. I can't understand McCarthy's high position either. Aside form Wolfsburg at home and Man Utd at home, I can't remember him having a good game. Barry has had a far better season.
Read back over the match reports and there's barely a mention of him such is his general anonymity in games. 2 goals and 1 assist is a shocking stat for a 㾹M central midfielder. He does run about a lot, though, so, yeah... one of our best!
Harold Matthews
18
Posted 23/05/2015 at 14:15:06
Alex. Your summing up of McCarthy is well understood. I've always called him "the invisible man." Ever since he arrived I had trouble finding him on the pitch and strained my eyes looking for his No 16. Without a Fellaini mop or a Naismith silver top, he was almost impossible to pick up. This also caused the commentators to miss many of his finest moments.
His recently acquired orange boots wouldn't go down well with the Republic but they help me spot him and I can assure you that, apart from the odd game, he has played well for most of the season.
James Stewart
19
Posted 23/05/2015 at 14:57:38
Short memories. Kelvin (13) is spot on. Jagielka was a liability for a big part of the season.
Voted for Stones who has been the only positive this season for me.
Graham Mockford
20
Posted 23/05/2015 at 15:05:42
I'm worried about the 1% who voted Ross Barkley, maybe it was just a mistype.
I think the poll about sums it up. Jags, Stones and McCarthy were our best performers although let's be honest no-one was outstanding.
Mark Fitzgerald
21
Posted 23/05/2015 at 15:12:03
Harold, on behalf of the Republic, I can reassure you that Macca's new boots are fine with us. :-) After all,our national colours are Green, White & Orange. Also agree that his performances are often low key as he is not a flash player but he's a workhorse around the pitch.
My mate who's a Man City fan constantly moans about their costly DMs and says he would swap them all for McCarthy. Sometimes it takes unbiased opinions to really tell how good/bad our players are.
Colin Glassar
22
Posted 23/05/2015 at 15:45:42
I think they all deserve our vote as they've had to play on sticky pitches and in the sun this season. Give them all a medal.
William Cartwright
23
Posted 23/05/2015 at 16:42:52
Robles by a mile, if you consider the ratio of minutes spent on the pitch / good things done / bad thing...?
Tim Greeley
24
Posted 24/05/2015 at 13:27:23
I voted for Jags but everyone who pointed out how bad he was the first two months are quite right. Disaster season, really. Osman shouldve had more votes!
---
Add Your Comments
In order to post a comment, you need to be logged in as a registered user of the site.
Or Sign up as a ToffeeWeb Member — it's free, takes just a few minutes and will allow you to post your comments on articles and Talking Points submissions across the site.
© ToffeeWeb