Atsu signs off as his Goodison loan ends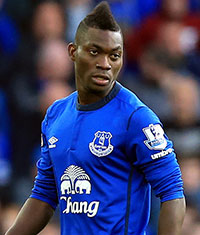 Christian Atsu bade Evertonians farewell over Twitter today as he returns to parent club Chelsea, most likely for another loan spell elsewhere after a disappointing season with the Blues.
The 23-year-old Ghanaian arrived on loan last August having starred in the World Cup for his country, ostensibly to fill the role occupied the previous year by Gerard Deulofeu.
He was unable to emulate the mercurial Spaniard's impact at Everton, however, as he initially struggled to make the step up from his spell in the Dutch Eredivisie with Vitesse Arnhem to the faster, more physical environs of the Premier League.
A hamstring injury, his headline-grabbing involvement in the Africa Cup of Nations (where he was named player of the tournament and awarded goal of the tournament), and a bout of illness this year all contributed to his reduced opportunities to break into Roberto Martinez's first team.
The winger, who made just eight appearances in all competitions for the Blues, is already being linked with a season-long loan at newly-promoted Bournemouth with whom he has reportedly held talks today.
I would like to take this opportunity to thank everyone at Everton for making me feel welcome during my time there this season. The fans, the staff, my teammates have all been very supportive.

I'm sorry that things didn't work out for me but I must look forward and am keen to take the next step in my football career. God bless everyone.

@ChristianAtsu20
Reader Comments (22)
Note: the following content is not moderated or vetted by the site owners at the time of submission. Comments are the responsibility of the poster. Disclaimer
Sam Hoare
1
Posted 27/05/2015 at 17:26:54
A shame he couldn't make more impact. Definitely a failed loan but I have a feeling in years to come we will wonder why he wasn't given more of a shot. He will do alright at a club where he is given a run of games.
Colin Glassar
2
Posted 27/05/2015 at 17:29:33
Nice lad, rubbish player (from what I saw of him).
Gareth Clark
3
Posted 27/05/2015 at 17:35:13
We should have given him a chance!
He won all the awards after the AfCon cup: Player of the Tournament; Goal of the Competition, etc
Deserves to be treated better, best of luck my fellow African!
Andy Mack
4
Posted 27/05/2015 at 17:34:29
He was pretty fab in all the games I watched at the AFCON, was so looking forward to seeing him play, yet minimal impact for us. Least he had the sense not moan to the reporters, maybe just another league or a bit more time needed for him. Good luck Mr Atsu.
Harold Matthews
9
Posted 27/05/2015 at 17:51:56
I thought Atsu was a decent player who tried to play with intelligence but playing 1-2s with Coleman, Naismith and Lukaku would make anyone look bad,........and that includes Messi.
Dave Abrahams
10
Posted 27/05/2015 at 18:20:38
Still don't know if the lad was good or bad, he certainly never got a proper run of games to let us make our minds up. It seemed a very strange loan deal when the lad was never going to play for a few weeks during the African Nations cup, I wonder how much this loan deal cost.
Geoffrey Risebrow
11
Posted 27/05/2015 at 18:17:52
Good luck, Christian. I am not going to judge a player who I have barely seen play. When Roberto was playing Ross on the left hand side, it makes you wonder why Atsu wasn't given more chances? Another total waste of a loan by our manager. Roberto just isn't good enough for the level of Everton!
Eugene Ruane
12
Posted 27/05/2015 at 18:37:15
Good luck Mr Atsu.
You didn't look great for us but hardly got what could be considered a run in the side and you did look great in the cup of nations (player and goal of the tournament).
Gavin Johnson
13
Posted 27/05/2015 at 19:02:40
Best of luck to him. I hope he goes to Bournemouth and does well
Aidy Dews
14
Posted 27/05/2015 at 19:59:33
He hasn't hung about, been down south today to discuss a loan move to Bournemouth! Be a good move for him that.
All the best lad.
Jim Bennings
15
Posted 27/05/2015 at 20:26:56
Why on earth would Martinez give Atsu the place on the bench on Sunday?
John Crawley
17
Posted 27/05/2015 at 20:41:13
Jim, 19 I thought the same thing, why not give it to one of the young lads like Long.
Jim Hardin
20
Posted 27/05/2015 at 20:54:27
Thanks Atsu for being here. Could be a good player somewhere but think he is too small for the position he is asked to play in the EPL. Would have like to see more but between his hamstring and the African Cup, not much of a chance for him.. Good luck to him and maybe Chelsea could loan him to the Columbus Crew over here
Mark Andersson
21
Posted 28/05/2015 at 01:37:04
Good luck lad. Harold summed it up for me and made me laugh.
Victor Yu
22
Posted 28/05/2015 at 09:35:58
Look for him to make a big impact next season (perhaps in Germany?).
Michael Polley
23
Posted 28/05/2015 at 12:21:28
who ????
Nicholas Ryan
24
Posted 28/05/2015 at 23:19:28
Don't worry, Mr Atsu .... all our rejects disappear without trace, never to play for a decent team again .... just ask Erich Dier and Shkodran Mustafi!!
Ernie Baywood
26
Posted 29/05/2015 at 12:23:35
He could argue he wasn't given enough opportunities, though of course Roberto would be right in saying he didn't really show enough to earn an opportunity.
Fair play, he hasn't complained or had a crack at us. It didn't work out but good luck to him for the future.
Ian Hollingworth
27
Posted 29/05/2015 at 14:28:53
Sums up everything wrong with Everton under Martinez. Why loan him if he was not to be given many games?
The lad went to the African Cup and won Player of the Tournament. Martinez lays on all the flannel about what an impact he was going to have in the 2nd half of the season and then zilch, nowt, nada, sweet FA.
Christ we are in the shit with Martinez at the helm next season. He sadly is not upto the job but, hey ho, not bad for plucky little Everton.
Mark Pierpoint
28
Posted 29/05/2015 at 17:51:24
Signed for Bournemouth. Odd I think. Not the sort of player for a relegation battle. Wonder if Eddie Howe is going to be another 'philosophy' lead manager who will take them down without a fight but some nice football
Patrick Murphy
29
Posted 29/05/2015 at 18:01:08
Mark - I don't believe that Bournemouth will be involved in a relegation battle if they keep their core players and add new ones. If Distin joins Atsu down South and they have a better start to the season than Everton the knives will be out for our philosophising manager.

James Hughes
30
Posted 30/05/2015 at 10:44:21
Atsu has signed a loan deal for Bournemouth, maybe he will get game time there and we will get a better opinion of him.
Did we pay his wages whilst he was here?Just asking as he seems to be another player Jose doesn't rate. Roberto should offer Chelski 㿀M for him.
After the Traore farce and Alcaraz (stop now), I am eagerly awaiting our next foray into the transfer market.
---
Add Your Comments
In order to post a comment, you need to be logged in as a registered user of the site.
Or Sign up as a ToffeeWeb Member — it's free, takes just a few minutes and will allow you to post your comments on articles and Talking Points submissions across the site.
© ToffeeWeb