Cleverley: Everton ticked all the boxes
by

22 Comments [Jump to last]
| 01/07/2015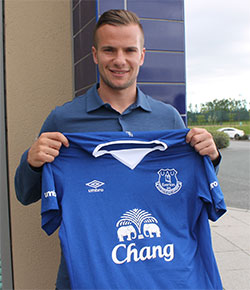 Cleverley was officially unveiled at Finch Farm today after signing a five-year contract
Tom Cleverley was unveiled as an Everton player today and the midfielder admits it was the Blues "all-round package" that persuaded him to sign over other options elsewhere.
The 25-year-old, a free agent after his contract at Manchester United expired, was announced as Roberto Martinez's first signing of the close season last month but he officially signed a five-year deal at Finch Farm today.
Cleverley spent last season on loan at Aston Villa after a deadline-day move to Goodison Park collapsed at the last minute last September but Martinez bided his time and persuaded him to join Everton this summer.
Villa boss Tim Sherwood was keen for Cleverley to stay but the player explained that resuming his relationship with Martinez, under whom he played a Wigan Athletic during loan spell five years ago, was just one of the big draws to the Blues.
"I'm delighted to be joining because it's a fantastic Club," he exclusively told evertontv. "There is an all-round package with the history of the Club, the great players that are currently here, the manager and the fans. It's definitely the Club I wanted to play for.
"I think Roberto is a great manager and I'm massively looking forward to working with him again. We obviously had a year at Wigan together that I really enjoyed. He knows me and he knows how I like to play, so hopefully we can hit it off again come the start of the season.
"[The move] happened quite quickly, but he told me about how passionate the fans are here and about the young players who play high-energy football like myself, so hopefully I can fit right in with the squad."
Cleverley has Champions League experience from his time with United and he is hoping he can get back on the Continental stage with Everton, while he also looking forward to experiencing Goodison as a home player.
He could get the chance as early as the opening day of the season when the Toffees entertain Watford to kick off the 2015-16 season.
"Getting back into Europe is definitely something I'm thinking about. European football is something clubs this size deserve to be in and I've had good experiences in Europe in the past, so hopefully there is more to come at Everton.
"It's difficult to think about targets so soon, but it's a Club that can definitely be fighting towards that top six hopefully go on a good cup run, which was something I was lucky enough to experience this year."
"Playing at Goodison Park is something that excites me," he added. "I've always said it's one of the hardest places to come as an away player because it creates one of the best atmospheres, especially when the team is on top.
"I've always enjoyed playing there — it's one of those really exciting grounds and I'm genuinely excited to be here."
---
Reader Comments (22)
Note: the following content is not moderated or vetted by the site owners at the time of submission. Comments are the responsibility of the poster. Disclaimer
Thomas Surgenor
2
Posted 01/07/2015 at 16:40:11
High energy football? He mustnĂ''t have watched us Aug-Dec last season.
We were definitely more pedestrian like than high energy last season. Hopefully we see a return of this Ă''high energyĂ'' football that Tom thinks we play.
Mark Andersson
3
Posted 01/07/2015 at 16:39:50
Welcome to the madhouse, Tom. Hope you play well and win any doubters over.
Richard Reeves
4
Posted 01/07/2015 at 16:43:26
ItĂ''s good to see players signing with high regards for the manager. Hopefully there wonĂ''t be any more eye-rollers in the dressing room like Distin and EtoĂ''o.
Brian Cleveland
7
Posted 01/07/2015 at 17:10:52
Thomas, you took the words right out of my mouth....
Rahul Sreekumar
8
Posted 01/07/2015 at 18:15:26
Now that he is here, he has my full support. I shall wait to see him perform before judging. All the best to him!
Jim Bennings
9
Posted 01/07/2015 at 19:00:09
Good luck, Cleverley and I will be honest, I give him credit for having the balls for another new challenge, he could have easy stayed at Villa where Sherwood loved him but heĂ''s made a bold choice.
IĂ''m not entirely convinced who or what the midfield is going to be or if Martinez even knows himself but the more the merrier.
We do still badly need a creative source though plus a more mobile striker.
Mark Robson
10
Posted 01/07/2015 at 20:59:48
Good luck, clean slate and all that. Anyone who pulls on the royal blue gets my support and if he is committed and gives 100%, a la Dave Hickson comments ,then heĂ''ll be a success.
For those old enough, who can honestly hold their hands up and say they would have approved of the Peter Reid transfer at the time? Hardly remarkable and injury-ridden...... Well, the rest is history.
Sometimes certain players and certain clubs are the perfect fit. Welcome to something that will Ă''touch youĂ'' and Ă''nothing will ever be the sameĂ''.
Geoffrey Risebrow
11
Posted 01/07/2015 at 21:11:44
Welcome Tom! I hope you prove to be a top player for Everton.
Ged Simpson
12
Posted 01/07/2015 at 21:34:26
Great signing. Will fit so well for us.
Fran Mitchell
15
Posted 01/07/2015 at 22:38:50
Coming into the most important years of his career and with a point to prove.
I have a good feeling about him, reckon heĂ''ll be a fan favourite come end of season.
Midfield 3 out of Barkley, McCarthy, Besic, Barry, Osman and Cleverly. Good mixture of youth and experience, and decent balance too. With two players fighting for each starting position. Excellent.
Ian Lloyd
16
Posted 01/07/2015 at 23:20:06
I had my doubts about Cleverley but I'm starting to warm to the kid especially after the interview he gave... hopefully he can settle down and prove us all wrong... I do sense a good feeling for the coming campaign ... just got this feeling we will WIN the:
1. Premier League
2. League Cup
3. FA Cup
Then the season after weĂ''re going to WIN;
1. Premier League
2. FA Cup
3. League Cup
4. Champions League
5. UEFA Super Cup
6. Club World Cup
7. Charity Shield
All you doubters out there WATCH and SEE......WATCH and SEE...
Hahahahaha — defo had too much tonight.
Ant Dwyer
17
Posted 02/07/2015 at 00:29:43
I think Blues fans will be pleasantly surprised by Cleverley over the coming years. Great addition.
Victor Yu
18
Posted 02/07/2015 at 03:20:03
A fairly good window so far. I think we need another CB and hopefully a RB as backup. One more experienced striker would help too.
Phil Sammon
19
Posted 02/07/2015 at 08:43:15
Without wishing to get too hot under the collar regarding grammar, it does annoy me the way the official site uses a capital Ă''CĂ'' every time it references the Club.
Ă''There is an all-round package with the history of the ClubĂ'' – fine, when specifically talking of Everton.
But...
Ă''ItĂ''s difficult to think about targets so soon, but itĂ''s a Club that can definitely be fighting towards that top sixĂ'' – it doesnĂ''t really fit in this context.
I canĂ''t say for sure who is to blame for these crimes, but IĂ''d like to put forward that Mr Martinez steps forward, accepts responsibility as manager and resigns.
Dave Pritchard
20
Posted 02/07/2015 at 09:45:44
Phil, if you are going to take issue with grammar why stop at the official site? I challenge you to correct every grammatical error that appears on these threads. Good luck! Wonder how many errors IĂ''ve made here?
Derek Turner
22
Posted 02/07/2015 at 11:33:33
Ian, the only problem I have with your list is that you have to win the Champions League to play in the World Club Championship, so that will have to wait for season three.
Phil may have a problem with your use of capital letters though. Fortunately he will blame Martinez and call for his head.
Tony J Williams
23
Posted 02/07/2015 at 12:25:45
Welcome aboard, Tom.
Fasten your seatbelt, as itĂ''s going to be a bumpy ride for all involved.
I was underwhelmed with the signing of McCarthy, but he turned out alright, letĂ''s hope this goes the same way.
Jim Hardin
24
Posted 02/07/2015 at 12:53:46
What boxes to check I wonder? The only ones I can think of for him are these:
1. A club that is not in relegation battles every year for the last few years. Check.
2. A club that is willing to pay me a lot of money over a long period and is currently at a level so that a player with my limited skill set may actually be able to play? Check.
3. A club where the fans will love me if I donĂ''t talk about CL aspirations and I do run around like a headless chicken. Check.
4. A club that actually made me an offer, umm, the only one to do so. Check.
5. I am not Belgian so the fans will like me no matter what. Check.
Actually hope he does well but his history seems to indicate mediocrity with a few excellent games sprinkled here and there.

David Ellis
25
Posted 03/07/2015 at 14:23:23
Jim Hardin - your last paragraph is check list no.6 for Everton - mediocrity with a few excellent games sprinkled here and there...check. HeĂ''s definitely in the right place.
Martin Mason
26
Posted 03/07/2015 at 22:11:59
We still havenĂ''t added anything creative to replace Osman and Pienaar and until we do weĂ''ll struggle next year. We have a great bunch of defensive midfielders who without some creativity will produce dreadful football next season. Our forwards will also find it impossible to perform under these conditions.
Barry Jones
28
Posted 05/07/2015 at 21:15:53
I am not sure why people are assuming we play 4-3-3. RM normally sends out a 4-2-3-1 formation, with two holding mids, normally Barry and McCarthy and three attacking mids, sometimes with wide players in the three and sometimes not. I feel that he will play Cleverley in the middle of the attacking three, which is the #10 spot.
Keith Glazzard
29
Posted 06/07/2015 at 19:44:25
Jags knows a thing or two about football (future manager?) and he rates Tom Cleverley. Well, heĂ''s played in the same team as him a few times. ThatĂ''ll do me.
Welcome Tom. You know a bit about Goodison already – thatĂ''s a very good start!
Add Your Comments
In order to post a comment, you need to be logged in as a registered user of the site.
Or Sign up as a ToffeeWeb Member — it's free, takes just a few minutes and will allow you to post your comments on articles and Talking Points submissions across the site.
© ToffeeWeb