Proud to Be Blue
13/07/2015

0 Comments [Jump to last]
The official charity of Everton Football Club has recently launched Proud to be Blue, a six week online focus into the work of Everton in the Community and the people it helps.
Proud to be Blue will provide an emotive and personal insight into the lives of individual participants who have been supported by the charity and through a series of videos, talk about how the support of the club's charitable arm has enabled them to turn their lives around.
The first edition of Proud to be Blue launches with a focus on Everton in the Community's innovative 'Pass on the Memories' programme and in the video we meet Tommy Dunne, a participant on the scheme. Tommy was diagnosed with early onset dementia at the age of 57 and he talks about his journey and how he has been given his life back thanks to Everton in the Community and key delivery partner Mersey Care NHS Trust.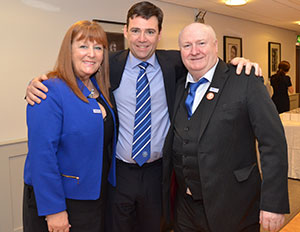 Everton in the Community delivers 60 programmes across Merseyside which cover a range of social issues which exist on our doorsteps including health, employability, crime, education, poverty, youth engagement, dementia and disability. The charity continues to grow from strength-to-strength and continues to be seen as a model of best practice for other sporting charities, not just across the UK but worldwide.
Everton's official charity is often regarded as the heartbeat of the Club and its local community; the life-changing opportunities it has been delivering throughout Merseyside since 1988 gives Evertonians another reason to feel 'Proud to be Blue'.
To find out more about Proud to be Blue visit evertonfc.com/proudtobeblue
---
---
© ToffeeWeb