Divided loyalties for a Blues legend at Tynecastle
by

19 Comments [Jump to last]
| 25/07/2015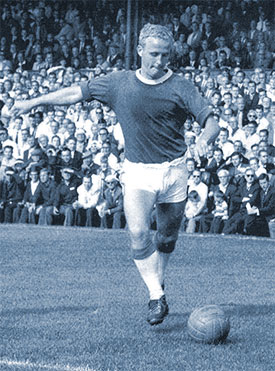 Tomorrow's friendly between Hearts and Everton will have special significance for one Goodison legend who played for both clubs.
Alex Young was signed from the Jam Tarts in November 1960 having helped fire them to the Scottish title and would go on to become one of the Toffees' best and most revered players.
The two teams face off in the first of Everton's two pre-season friendlies north of the Border this week and Young admits that while he is really looking forward to the game, his allegiances are genuinely split and he hopes it ends in a draw!
"This is an ideal game for me, I'll really enjoy it. I'll be remembering how good the two teams were when I played for them.
"I had a great time playing for both teams. Everton are a very big club and I really loved it down there. I loved Hearts as well. They were two brilliant clubs to play for.
"When I was at Tynecastle, we had a really strong team and we did really well. I was there a long time. I like Everton and I still do but I'm not going to choose one over another. I hope it's a draw. In fact, I'd like to wear two ties to the game."
Young would win the 1963 League title and the 1966 FA Cup following that thrilling final at Wembley but it took him a while to find his feet at Goodison Park.
Once he hit his stride up front with Roy Vernon, however, there was no looking back for a player whose breathtaking ability on the ball earned him the nickname The Golden Vision.
"Everton was a big move for me," Alex admits. "It was hard when I was injured for a while at first but when I started to play, it was great. It was great to be playing down in England and the Club were great to me, as were Hearts when I was there."
evertontv Pre-Season Pass holders can stream the action from Tynecastle while Evertonians can also purchase each friendly on an individual basis at just £3.99 per fixture at http://preseason.evertonfc.com/.
---
Reader Comments (19)
Note: the following content is not moderated or vetted by the site owners at the time of submission. Comments are the responsibility of the poster. Disclaimer
William Cartwright
1
Posted 25/07/2015 at 19:17:15
The 'Golden Vision'. I remember him ghosting past defenders, sending them moving and looking for him in the wrong place. Maestro.

Also he always looked to be moving slowly but was deceptively quick. However speed was not his thing. He used to tempt defenders to commit to a tackle then just side step and move away with the ball all in one movement.

It would be interesting to see him today on smooth pitches, lightweight boots and ball. Great to hear he still has the interest and don't believe the divided loyalty. He's Blue through and through.
Colin Glassar
2
Posted 25/07/2015 at 20:02:16
Legend in the truest sense of the word.
Anto Byrne
3
Posted 25/07/2015 at 19:50:12
I saw him when I was a 10 year old. My father said he was special and the crowd loved him. He missed a sitter that day and all you got from me was "even I could have scored that". Lol. He must be pushing 70 something. Perhaps this game should be billed as the Alex Young Cup.
Brian Porter
4
Posted 25/07/2015 at 20:00:05
I'm lucky to be old enough to remember seeing Alex Young playing for us. He was one of the finest ball players I've ever seen. We could do with someone like Alex in our team today. He was superb in the 1966 FA Cup Final, and one of a kind when it came to picking out the right pass at the right time. I'm so pleased he's going to be there next week. One of my teenage heroes, for sure.
Alan Bodell
5
Posted 25/07/2015 at 20:24:31
I am old enough to remember his touch and that was on the old style bad pitches; how good would he have been on the turf of today?
A one-off in his time and oh, for those days again... just dreaming.
Doug Harris
6
Posted 25/07/2015 at 21:26:37
The Golden Vision summed him up to a tee.

I count myself lucky in the respect that a lot of posters on here have never seen the man play in real time.

What a player – silky finishes, an eye for the defence-splitting pass and man could he score headed goals from out of nothing.
Roberto Birquet
7
Posted 25/07/2015 at 21:45:52
And for those of us too young to remember him, they made a docu film so History would always know him.
https://www.youtube.com/watch?v=WcAmE5GxGd0

Derek Williams
8
Posted 25/07/2015 at 21:54:12
He's the reason I'm an Evertonian, my first hero! What a footballer that man was, only Alan Ball surpasses him for me in my time as an Evertonian!
Dick Fearon
9
Posted 25/07/2015 at 22:07:03
Premier league supporters are fortunate to have seen a lot of really great modern players. Some, including some of our own, have drawn gasps of admiration from football lovers the world over.
Yet there was one of a totally different class who holds a very special place in my memory. This particular player had the god-given ability to lift football to a level that was far above being a mere game. He was so perfectly balanced and with incredible ball skills that left the best defenders in tears of frustration and Evertonians in raptures.
That was so long ago... yet, even now, my spirits are lifted by still strong memories of the truly great Alex Young.
Clive Mitchell
10
Posted 25/07/2015 at 23:37:30
Simply the greatest Evertonian of my lifetime, and a constant reminder of the degradation of the game in the modern age.
Jason Davenport
11
Posted 26/07/2015 at 03:06:10
He has given me some wonderful memories. I was always amazed to see him outjump players much taller, and his ability to seemingly hang in the air for a header.
Stan Ashbourne
12
Posted 26/07/2015 at 09:03:55
I remember seeing him score a headed goal against Spurs in the early sixties. He must have leapt about 8 feet high to get the header in. I think we won 1-0... anybody else remember it?
He was the most skilful player I have ever seen for us.
Brent Stephens
13
Posted 26/07/2015 at 10:13:18
The first name and silky style that comes to mind when I think of that era. And then I think of his blisters.
John Keating
14
Posted 26/07/2015 at 10:26:42
My hero.
I'll be there mainly today hoping to see him.
Stan Ashbourne
15
Posted 26/07/2015 at 10:25:20
The most skilful player I have seen in watching Everton for over 50 years. He was a great header of the ball. I remember the headed goal he scored against spurs in the early sixties, he must have leapt about 8 feet in the air to head the ball. I feel lucky to have seen the Golden Vision play live.
Joe Bibb
16
Posted 26/07/2015 at 11:02:21
The greatest post war player to have worn the Royal Blue.
Today he would be sponsored by 'Fly Mo' because no one hovered over the grass like Alex Young.
He is not only a true legend but a lovely man, a true gentleman. I hope he meets many Evertonians at the game and gets told just how much he still means to us at Goodison Park.

Derek Thomas
17
Posted 26/07/2015 at 11:15:06
Young and Ball joint top players... just behind Dixie.
Rick Tarleton
18
Posted 27/07/2015 at 06:16:14
Not the greatest Everton player I ever saw, but the most charismatic and still the first name I think of when I think of Everton. His signed picture, scoring his first Everton goal is on the wall above me as I type this.
Peter Murray
19
Posted 28/07/2015 at 09:52:11
Sheer genius. He has never been, nor ever will be equaled.
Add Your Comments
In order to post a comment, you need to be logged in as a registered user of the site.
Or Sign up as a ToffeeWeb Member — it's free, takes just a few minutes and will allow you to post your comments on articles and Talking Points submissions across the site.
© ToffeeWeb