Martinez assuages fears over Lukaku
by

64 Comments [Jump to last]
| 28/07/2015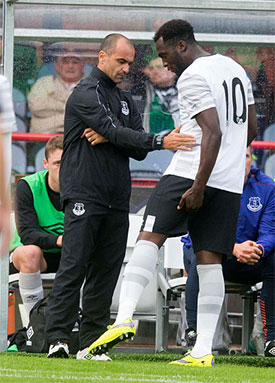 Lukaku appeared to be feeling his hamstring after being taken off after 30 minutes of the 2-0 friendly win at Dundee
(Jeff Holmes/Getty Images)
Roberto Martinez has moved to clarify the situation regarding Romelu Lukaku's early withdrawal from this evening's friendly with Dundee, explaining that the striker was feeling "heavy-legged".
Lukaku, who played 77 minutes against Hearts on Sunday and scored all three of the Blues' matches, raised concern after half an hour of the 2-0 win at Dens Park when he appeared to be massaging his hamstring before being taken off to be replaced by Kieran Dowell.
It appears as though he was substituted as a precautionary measure by Martinez who was reluctant to risk his main goalscorer's fitness with the season opener against Watford just 11 days away.
"Rom has obviously been playing a lot of minutes and it was important for him to get some sort of action," the manager told evertontv. "After the first 25 minutes, he was feeling his legs were a little bit too heavy and we didn't want to take any risks.
"It's not a problem at all. I think he got a lot of good work between the two games we've had up here, plus the games we had in Singapore.
"Now we have got a little period before the weekend to make sure he is ready and refreshed."
The Blues have two games scheduled this weekend, against Leeds United on Saturday and Villarreal on Sunday for Duncan Ferguson's testimonial and fans will be watching with interest to see how much Lukaku is involved in either friendly.
With Muhamed Besic, Gerard Deulofeu, Steven Pienaar and Aiden McGeady all suffering hamstring strains this summer, there was understandable worry that the Belgian had been affected by the curse of soft-tissue injuries that has affected the squad during pre-season.
---
Reader Comments (64)
Note: the following content is not moderated or vetted by the site owners at the time of submission. Comments are the responsibility of the poster. Disclaimer
Andy Peers
1
Posted 28/07/2015 at 23:07:18
When you are rubbing your hamstring "heavy-legged" would not be my first diagnosis. Sounds like someone is in denial.
Jim Hardin
2
Posted 28/07/2015 at 23:10:45
Hope our trainer/coach is right but the picture sure worries me. Isn't that the same thing DelBoy was pictured doing? Hasn't he been out as a result?
Trying to be optimistic but this is getting ridiculous with hamstring issues. Surely there are rugby, track, swimming, baseball, football (American and Australian Rules), basketball and tennis trainers who could help with the hamstring issues.
Steve Cotton
3
Posted 28/07/2015 at 23:11:23
RM you will look a twat in the morning if he has tweaked something..
Don't worry though because we have got Koné.
Jamie Sweet
4
Posted 28/07/2015 at 23:23:49
Hamstring strains most likely to occur when you are fatigued. Could it be that in an attempt to get everyone super fit for the start of the season, they have been pushed too hard too soon?
I can see how it is difficult to get the right balance in terms of volume and intensity during the build up to a new season, but do we actually have anyone who has particular expertise in training & injury prevention?
Surely we do. Don't we?
Craig Fletcher
5
Posted 28/07/2015 at 23:27:17
Steve (3) how on earth will Martinez look like a "twat" to use your word if Rom has actually done his hamstring in?
He was simply relaying what presumably Lukaku said to him -- that he was feeling his legs were heavy and he didn't think it was a problem; but in the interests of not taking any risks they took him off, which is of course the sensible thing to do.

Eddie Dunn
6
Posted 28/07/2015 at 23:28:43
You just can't believe anything the boss says.
David Barks
7
Posted 28/07/2015 at 23:28:51
Jesus Christ man, the picture shows him rubbing his hamstring, with video showing him limping off favoring his hamstring. Why is it so hard to just speak the truth? His legs weren't heavy, the back of his left leg was hurting.
Craig Fletcher
8
Posted 28/07/2015 at 23:34:23
You've revolutionized the medical profession there, David (7). An immediate diagnosis based off grainy video footage and a couple of pictures. Well done.
James Byrne
9
Posted 28/07/2015 at 23:37:25
What is it with these fucking so-called football athletes -- if some of them spent as much time stretching and training as they do on twitter and other social media shite they wouldn't end up as injured.
Antony Matthews
10
Posted 28/07/2015 at 23:39:47
Maybe it's a case of not alerting clubs that we are going to be desperate for another striker so that they ask for top dollar
James Byrne
11
Posted 28/07/2015 at 23:45:06
Craig 5 and 8: Roberto does have a habit of talking complete tosh at times so I think David and Steve might have a point, to be fair?
Peter McHugh
12
Posted 28/07/2015 at 23:50:37
RM: "It was a very good exercise.. It has been a really good week in terms of work and it was important against Dundee to get through without injuries. That was the case."
Doesn't sound like a hamstring injury to me.
Craig Fletcher
13
Posted 28/07/2015 at 23:57:38
James (11) the point is some people are quick to rubbish almost anything RM says based off what exactly? We simply don't know if Lukaku has a hamstring strain or not. They wouldn't have had time to scan his leg as yet, so RM is not going to say a "suspect hamstring injury" until he knows for sure. RM can only go by Lukaku's words and his judgment based off his own physio expertise.
RM could equally look like a twat in Steve's words if he says he has a suspected hamstring injury, and then next weekend he plays the full 90 minutes in Ferguson's testimonial.
Tony Stanley
14
Posted 29/07/2015 at 00:09:54
It would appear that there is an awful lot of hamstring injuries, does anybody take responsibility for that?
Trevor Peers
15
Posted 29/07/2015 at 00:16:37
How do you explain all the hamstring injuries Craig? even if Lukaku has got away with it this time, it seems to be a fault line running through each season Yes?
Phil Sammon
16
Posted 29/07/2015 at 00:16:49
Craig,
The problem is that the manager simply cannot be believed. I am starting this season right behind the man... but the fact that he talks total nonsense cannot be ignored.
Bobby Thomas
17
Posted 29/07/2015 at 00:31:55
Guess who said this:
"You get accidents in football, collisions that cause injuries that can't be avoided. But even then if your body is right it will react quicker to the treatment and recover faster. I don't believe in soft-tissue injuries. If you get a soft-tissue injury in football, a mistake has been made. It could be the training programme, a lifestyle problem. Whatever it is, it will be a mistake."
Nicholas Ryan
18
Posted 29/07/2015 at 00:39:45
Having spent many years as a criminal lawyer; I can't help thinking, that if the charge was: 'Ignoring a hamstring injury' and the prosecution produced the photo above, I think I'd be advising my client Mr Martinez to plead Guilty!
David Barks
19
Posted 29/07/2015 at 00:47:59
Craig,
I can only assume you've never pulled a strained a hamstring. Because if you had, you would know that that is the exact spot you grab when you've done your hamstring.
You don't hold the back of one leg when your legs are tired, doesn't work that way. It's honestly one of the easiest things to diagnose off of video evidence. Not the severity, but the muscle. Player is running, player pulls up grabbing at the back of one of his thighs, hamstring.
Craig Fletcher
22
Posted 29/07/2015 at 01:52:21
David, I'm just saying if it's a hamstring injury, let's wait for it to be confirmed by the club before jumping to a conclusion. No I haven't ever pulled a hamstring, but this one time I did clutch the back of my leg when I got a mosquito bite (not sure how many mosquito's there are in Dundee though).
Lukaku played almost a full game only 48 hours prior to this one, so in pre-season before he's fully game-fit, it's entirely possible he could have just been feeling his legs a bit.
Jack Cross
23
Posted 29/07/2015 at 02:31:41
David Banks. That's not entirely right mate. I've had a hamsting injury and mine was coming from my hip, that was out of line. The problem was it wasn't picked up on.

So it took me 7 months to recover. And it was a back specialist that picked up on it. He said it can come from a sciatic nerve, hip and even foot. Through just not wearing correct footwear. He said most who suffer don't even know untill the hamstring goes. That was at the Walton Centre. So it could be something underlining for all these players.
Jack Cross
24
Posted 29/07/2015 at 02:56:58
I can't see how RM can be at fault. I know he is a Physio. But I would think they would look at past injuries and if there are any connections, similarities. Then make a medical team judgement.
We all think of the training methods because it's an easy target. But It's probably more complicated than that.
Bill Gall
25
Posted 29/07/2015 at 03:10:49
Watch out for a fresh bid for Stones from Chelsea; Gary Cahill looks like he has broken his nose playing against Barcelona.
Jim Knightley
26
Posted 29/07/2015 at 03:19:51
Lukaku might have had tightness in his hamstring, and not necessarily an injury. It's also quite possible that he may have had a minor grade 1 injury, because of overuse, which will be common across teams throughout the country at the moment in view of the intense nature of pre-season ahead of an early start.
Grade 1's can get better in a few days, and it does not mean that he won't make the Watford game (I've had several during my playing days, and they generally got better within 1-2 weeks, even though they can stretch on for longer). It won't be worse than a grade 1, because a more severe hamstring would have likely been immediately apparent, and would not be confused with heavy legs.
We will see what happens here, and to what extent Martinez is embellishing, but I expect that Lukaku will start against Watford. I've also got no reason to believe that Martinez is lying about what Lukaku is saying. What would be the point in that?
Jack Cross
27
Posted 29/07/2015 at 03:22:57
What I mean is you can have the symptoms that point to a hamstring injury, grabbing the back of your leg for starters. But it can be one of the underlying issues that haven't been picked up on. Like above. In my case, hip.
Ernie Baywood
28
Posted 29/07/2015 at 03:34:34
So tell me, quite regularly I might feel a twinge or a bit of tightness.
Have I done a hamstring and is it serious? I'm thinking not because I just play on.
Obviously if I was a pro and in pre season I would have a rest as a precaution and point out the problem to my manager.
Which is all that's happened here so far isn't it?
Harold Matthews
29
Posted 29/07/2015 at 03:41:18
Bobby. #17. Mourinho and Sean Dyche, the Burnley boss, would agree with your belief that a mistake has been made. Their medical teams are light years ahead of us with regard to keeping people fit to play. They accept knocks but not soft tissue damage. Dyche stated this on more than one occasion last season.
Chris Gould
31
Posted 29/07/2015 at 06:24:03
"This one time I did clutch the back of my leg when I had a mosquito bite."
Don't think that's going to prove relevant Craig, but it did make me laugh.
It's a blatant hamstring injury, but it's the severity of the injury that's the concern. The grading is the issue. Can be anything up to a few days to a few weeks. That is what we can't judge from the pictures.
Sam Hoare
32
Posted 29/07/2015 at 07:08:25
It does seem a bit of a coincidence that since Martinez dismissed (or did they quit?) some of our medical/ fitness experts we have suffered a slew of these injuries. As someone else said, such repetition would appear to suggest it's more than bad luck....
Steve Cotton
33
Posted 29/07/2015 at 07:33:22
Craig my argument is with the fact that if he played 2 games in a short space of time it was because we don't have sufficient back up.
Long has been sold, Kone wouldn't get into the Waterloo Dock team, and we are galloping towards the start of the season with just 2 centre halves…
I think if Lukaku has pulled his hammy and is out for say 4 weeks along with the other 4 players then his training methods will come to haunt him.
fair enough? anyway lets hope its a 'heavy leg', maybe the grass is very 'sticky' up in scotland

Kase Chow
34
Posted 29/07/2015 at 07:39:21
Craig, most people on here have lost faith in what Martinez says. Quite simply he has lost credibility with Everton fans as he talks rubbish
Supposedly Baines is our no.1 penalty taker yet everyone has had a go except him since that statement (there's been no update to say Rom is our penalty taker or that Barkely). RM didn't even need to say anything if he wasn't sure. But he makes a statement that turns out to be nonsense so ppl like me think 'hmmm, you talk crap' and start to disbelieve other things he says. He's proven himself to be untrustworthy
So I agree with the others: I don't have any confidence in RM's declaration it's not a hammy
Do YOU have faith in RM's words and if so, what's that based on?
Eddie Dunn
36
Posted 29/07/2015 at 08:23:52
Craig, mosquitoes are a growing pest here in the UK, I get lots of them growing in my water-butts (in their lavae stage).
I hear that at Finch Farm Roberto has introduced mosquito nets to all of the bedrooms.
Joe Foster
38
Posted 29/07/2015 at 08:53:34
Craig, why is it so important for you to defend RM on this? Why would RM not say its a possible hamstring injury but further tests are needed? You seem to be going a bit over the top on this subject.
Joe Foster
39
Posted 29/07/2015 at 08:58:43
He either has a hammy or doesn't . We don't need to lose it trying to defend RM's physio "expertise".
Christopher Wallace
40
Posted 29/07/2015 at 09:01:43
Anthony, 10, Probably hit the nail on the head. Do the rest of you not realise that it is detrimental to the team to release every bit of information from behind the scenes?
I'm not saying this is definitely the case here, but there is a reason why Roberto is ambiguous and aloof in a lot of these interviews. We all want to know every last detail about our club, but so does our competition -- whether it be to gain an advantage in an upcoming match, or the upper hand in transfer negotiations.
Joe Foster
41
Posted 29/07/2015 at 09:03:41
Craig you do seem to be over reacting to this subject. He either has a hammy or not and I am sure RM's physio "expertise" is not in the least suspect.
Matt Woods
44
Posted 29/07/2015 at 09:25:20
David Barks, sorry fella but I can't agree with you over your post. I have had many hamstring injuries, including this year at 43. Your hammy can go anywhere in the muscle belly or it can go right at the top in the glute or low down behind the knee.
When it comes to treatment, if you have had recurring injuries in the same area you will need severe deep muscle massage to break down all the built up scar tissue, and then possibly acupuncture using an electrical pulse through the muscle. It fucking hurts like mad but I had about five years injury free after this treatment in my mid thirties.
This season I broke down twice with a new physio. The new guy was young and stuck those tapes on my hammies and then had me doing resistance exercises with rubber bands. All I can say is that it was a piss take that I was paying him money! Apparently this is the latest most scientific method of treatment for mild hamstring injuries. So with two breakdowns a 3 week injury cost me 9 weeks, a fucking eternity at my age!!!
This experience does make me wonder what kind of treatment is being administered at Finch Farm.
Dave Pritchard
45
Posted 29/07/2015 at 09:28:29
Whether he has done his hamstring or not, what is clear is that there is a general lack of trust in the information the club gives out on injuries. Not surprising in that last season this information was so often way off the mark.
Dave Abrahams
46
Posted 29/07/2015 at 09:43:26
Nicholas (18) surely as a criminal lawyer your first advice should have been "when in doubt say nothing", but then again Roberto can never say nothing.
Bill Farmer
47
Posted 29/07/2015 at 09:54:27
Probably code for 'He'll miss the first four games'! I just can't imagine that the lad left the field so quickly because his legs felt tired. After all, he will have wanted to continue to impress Man Utd and not upset his agent's plans!
If that sounds less than positive, at least we may get to see more of young Dowell (more likely Kone!)
Shane Corcoran
48
Posted 29/07/2015 at 09:55:48
Bobby #17, was it Darren Anderton?
Clive Rogers
49
Posted 29/07/2015 at 10:03:04
He always looks "heavy legged" to me.
Derek Thomas
50
Posted 29/07/2015 at 10:26:51
Ouch! just felt a tweak in my hammy while reading about all those in denial. I wouldn't take him back for a big clock, (I want the Goldilocks option, not too much Moyes, not too much Martinez) but we never had this level of Hammies under OFM.
Gavin Johnson
51
Posted 29/07/2015 at 10:54:38
David - Lets wait and see. I wouldn't say it was a foregone conclusion the hamstrings gone because he was rubbing the back of his leg. Going off my own experience. I remember when I was on the vinegar stroke with the missus and I grabbed the back of my leg in agony. Thought I'd pulled the hamstring.. but it was just a bit of cramp and I was right as rain once I changed position.
Jim Bennings
53
Posted 29/07/2015 at 11:25:51
Roberto mate, you are going to need to sign a striker...FACT!!.
Just imagine somewhere down the line if Lukaku does get some kind of injury that's lays him off for a month or two, but even if he if fit you can't just have one reliable striker, look at all the top clubs, why does it have to be us that doesn't sufficiently strengthen.
Naismith isn't really a striker, Kone is nowhere near it anymore judging by last season and McAleney is a squad member nothing more at Premier League standard.
I can't believe Martinez is willing to take such a risk and I also can't believe we have done so little to improve the squad that struggled so badly last season.
Its like getting back into a car that broke down a few months ago yet expecting it to all of a sudden be capable of doing things it couldn't when it was on its way out.
Harold Matthews
56
Posted 29/07/2015 at 13:15:10
According to Sean Dyche, the Burnley medical staff are experts at preventing soft tissue damage. I've heard the same applies to Chelsea. Someone, somewhere with Everton is making mistakes and it needs to be sorted.
Re the Lukaku injury. It looked bad but I'm hoping he just didn't fancy exerting himself in front of a small audience with no TV coverage. As striker John Guidetti once said, "What's the use of scoring goals when they don't count".
Indeed, since young Lukaku attached himself to the notoriously manipulative money-mad, image controlling super-agent, he'll probably need permission to blow his nose in public and has almost certainly been measured for hidden electronic wiring which light him up like a jackpot winning pin-ball machine whenever he bangs one in.
Fraser Auld
57
Posted 29/07/2015 at 13:51:30
Just before Lukaku was subbed at Tynecastle I was watching him and it looked like he was feeling his hamstring, shortly afterwards he was subbed.
I thought after the Hearts game there would be an announcement to say he had done something to his hamstring. So was relieved when nothing was forthcoming.
Its a tricky situation - really don't want him to play at the weekend if there is any risk at all of exaccerbating an existing injury/weakness. Then again, we really need him at peak condition for the start of the season because Kone is miles off it. Tough one. I think my inclination would be to take no risk with him though.
Ernie Baywood
60
Posted 29/07/2015 at 15:11:27
I keep reading the title of this piece as "Martinez sausages fears over Lukaku".
Which might have some basis in fact.
Steve Brown
61
Posted 29/07/2015 at 15:31:14
I feel my hamstrings every time I exercise hard. Doesn't mean I've pulled them and I can run within a day or two.
Ken Buckley
62
Posted 29/07/2015 at 15:58:26
He was subbed after being penalised for executing a high boot that won the ball above a six footers head. With gymnastics like that the injury could be anything. If it's no more than cocked-legitis then he should soon shake it off.
I thought Cleverley was our stand out and the more I see of Galloway the more I like him. He has got that edge about him that you need in the top flight. Something it would be nice to see in the likes of Stones, Barkley and Browning.
Still, soon be first league game, My season ticket has arrived so it's just a matter of taking my seat on the rollercoaster -- league and cup double would be nice!
UP THE BLUES
Brent Stephens
63
Posted 29/07/2015 at 16:07:49
Still got your same SEAT, Ken? Or driving something new?
Premature, but I'm getting a bit excited about the young prospects.
Dave Abrahams
64
Posted 29/07/2015 at 16:08:32
Looking forward to your first report of the new season Ken, hope Lukaku gets a mention.
Chester Barnes
65
Posted 29/07/2015 at 16:18:58
Must be something to do with the training. If it is another hamstring injury. I'd have thought the club would have a protocol, including things such as Nordic Hamstring Curls.

Perhaps Lukaku was something from "heavy legs" or DOMS (Delayed onset muscle soreness). Hope it is DOMS as opposed to another hammy!!! But again professional athletes would usually have sports massages, ice baths etc. Guess we will find out come August 8th!
Eddie Dunn
66
Posted 29/07/2015 at 16:38:36
Jim 45, indeed, Rom has his short-comings but the other options are not going to fill the team with confidence. Naismith can't play up top on his own, and although Kone has looked fitter in pre-season, he still doesn't look like scoring.
Mirallas, played as a centre forward would be my option, but knowing Martinez, he would rather play Kone, hoping to get mid-fielders up to help. We really do need another striker. Apart from midfield, an injury or two really exposes the thinness of the squad.
Imagine if Jags, Coleman, or Lukaku get crocked. Our cover is Galloway/Browning, Hibbo and Kone. Hibbo looked awful in Singapore, Kone couldn't score in a crack-house and the two youngsters have had little experience at centre-half. In this league such deficiencies equals defeats.
Jack Cross
67
Posted 29/07/2015 at 16:40:45
Chester Barnes. We don't know what injury Lukaku, as. Everyone is jumping to their own conclusions.
The point I was making was I thought I had an hamstring problem, but it was my hip out of alignment. But the only symptoms I had, was a tight feel of pain down back of leg.
I'm not saying he as that, but who knows.
Jack Cross
68
Posted 29/07/2015 at 17:00:41
Eddie Dunn. You haven't mentioned Mc Aleny. Put him in the side then judge him. Give the lad a chance.
Oliver Molloy
69
Posted 29/07/2015 at 17:03:51
Could somebody who knows please explain why a player would be "heavy-legged" anyway?
I'm just curious as to what would bring this on.
Thank you in advance.
Raymond Fox
70
Posted 29/07/2015 at 17:18:04
Jim Knightley wrote an excellent post which mentions injuries at Wigan while Martinez was in charge Its post 49 in the thread- Pienaar is the latest hamstring casualty.
He had decent record for the time he was there, now I haven't a clue who are our fitness coaches are now, but if they are the same as he had at Wigan its puzzling.
What about the players though, I know if I was a pro footballer and I knew hamstrings were a common injury I'd personally be doing all I could to avoid them. Stretching or whatever else is recommended.
Maybe that's too much to ask for players who are earning a small fortune each week, they still get paid injured or not though.
Jack Cross
71
Posted 29/07/2015 at 17:19:39
Oliver Molloy. Can be too much exercise or a circulatory problem or something similar to what I had. We will find out soon enough.
Christopher Wallace
73
Posted 29/07/2015 at 18:23:11
Harold 46
Chelsea medical team aren't doing too well with Mr Costa's hamstrings!
These big, powerful forwards seem to be prone to all sorts of injuries. Drogba is one of the only ones in Prem history that seemed to avoid them, though he still had more than the average footballer.
Regardless, I think we can all agree that we need another quality proven striker, and most likely another versatile forward on top.
Eddie Dunn
74
Posted 29/07/2015 at 18:52:13
Oh Jack, yes your right. The boy looked really good in his recent cameos... I'd like to see more of him too.
Dave Abrahams
75
Posted 29/07/2015 at 18:59:52
Steve (30) are you trying to say Waterloo Dock are crap, I'll be reporting you to Jimmy Davis and La Dowling, the cheek of it!!!!!
Jay Harris
76
Posted 29/07/2015 at 23:06:19
I think it looks fairly obvious he tweaked his hamstring when he went in feet high for a ball against the Dundee defender then immediately put his hand to his hammy.
It may just be mild at this point but I don't see him playing at the weekend.

Steve Cotton
78
Posted 30/07/2015 at 18:54:25
Dave I would like to clarify, I have played against the 'Dock' on a few occasions and they were always tough opponents, you should therefore realise that me saying Kone isn't good enough to play for them is actually a compliment to them..
Kone was lucky to score 0 the other night.
Add Your Comments
In order to post a comment, you need to be logged in as a registered user of the site.
Or Sign up as a ToffeeWeb Member — it's free, takes just a few minutes and will allow you to post your comments on articles and Talking Points submissions across the site.
© ToffeeWeb