Martinez expects Lukaku to face Watford
by

53 Comments [Jump to last]
| 01/08/2015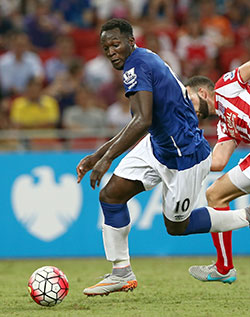 (Stanley Chou/Getty Images)
Romelu Lukaku is expected to be in the starting XI when the new season kicks off next weekend but is unlikely to be risked in the curtain-raiser against Villarreal tomorrow.
The Belgian's fitness has been a cause for concern since he was withdrawn just half an hour into the friendly with Dundee last Tuesday but Roberto Martinez is confident that his main striker will play against Watford.
Lukaku came off at Dens Park feeling what his manager described as "heavy-legged" and Martinez has dismissed fears that he damaged a hamstring.
The chances of him appearing in Duncan Ferguson's testimonial appear slim, however.
"We'll assess him" he told evertontv. "I don't think we're going to take any risks with him on Sunday [against Villarreal].
"I would say from a medical point of view, he is fully fit. It is just a case of making sure we give him a good introduction to work with the group because he's not had a chance to do that yet.
"I wouldn't risk him in a pre-season game - but Rom will be fully fit for the start of the season against Watford at home."
---
Reader Comments (53)
Note: the following content is not moderated or vetted by the site owners at the time of submission. Comments are the responsibility of the poster. Disclaimer
Matt McAllister
1
Posted 01/08/2015 at 18:23:37
So we will most likely have Kone up front. However, we all know super Kev can play striker, but Bobby won't risk his "tikka takka". None the less, I hope we win! COYB
Sam Hoare
3
Posted 01/08/2015 at 18:37:01
Today's labours against a mediocre Championship side cemented my concerns that Naismith and Kone cannot be relied on for much as our backup strikers.
I would much rather see Mirallas who has a 1 in 3 scoring rate.
Or we could buy a new striker? Unlikely I know...
Steve Cotton
4
Posted 01/08/2015 at 18:55:40
Sam did you use the 'buy' word????
Mark Tanton
5
Posted 01/08/2015 at 19:13:21
The Lukaku summer apart, we don't generally feel positive in August do we? It would help if we didn't feel Palace, Stoke, Newcastle, West Ham coming up on the rails.
Jim Bennings
6
Posted 01/08/2015 at 19:17:21
It doesn't really matter who plays or what the formation is, until Martinez is willing to compromise his mind-numbing passing at pedestrian pace just for passing sake, then we will continue to suffer the same dismal sleep inducing performances we got last season.
Martinez is too stubborn, he keeps referring to the way Barcelona play, but taking away the clearly superior talent they have, the one thing that has set Barcelona aside over the last 7 year's is how damn hard they work when they have NOT got the ball.
They press, they harry, they close down and hurry the opposition into a mistake until they have the ball back themselves.
When does this Everton team ever do that??
We are not even a good passing team anymore let alone a team that presses opponents relentlessly.
Also this team is nowhere near as fit physically as the sides Moyes had. The guy had his failings no doubt, but he had the physical side of things bang in tune more often than not.
Mike Childs
7
Posted 01/08/2015 at 19:25:56
Same ole Roberto really takes us for idiots don't he? Last year it was his toe now it's heavy legs. Sure would help if the kid lost a stone or two....
David Barks
8
Posted 01/08/2015 at 19:36:06
Heavy legs, right... Fully fit, but won't risk him in preseason, when in the previous game he attributed Lukaku holding his hamstring and having to come off after 30 minutes to having heavy legs. This guy is just so incredibly frustrating.
If you have to be substituted after 30 minutes while grabbing at your hamstring, with the excuse being "heavy legs", doesn't thy mean you're not fully fit? Honestly, it can't be both. Why lie? Why not just tell the damn truth for once!!
I could see us doing a Newcastle from a few years back. Completely lacklustre performances with a weak manager and not be able to pull off an escape.
I honestly think we dodged a bullet last season. This summer was the time for the supporters to force the board into bringing in a qualified manager for a club the stature of Everton. But last season's escape led to supporters saying "Give him one more season, give him at least 10 games", etc.
The guy came to us having relegated his previous club. And he's using all the same tired sound bites about us that he did Wigan. So we ask why the board doesn't show ambition? The fan base needs to look in the mirror for that answer. We're an apathetic group, settling and settling over and over. Do any of you think for one second that the side across the park would have accepted a new manager that had just been relegated the prior season? Hell no. But we do, and we're giving him a third season.
Stephen Brown
9
Posted 01/08/2015 at 19:37:31
Mark #4 this is a very valid point! I include Swansea in that list. I dropped my father in law to their friendly match today it was packed full of kids and adults with the new replica kits! There's a plan up of the ground expansion and the new club shop is gleaming in the sun! On show today were their 4 new summer signings!
10 years ago Swansea were in Division 4 or whatever it's called these days! Then in came a chairman with a long term strategy and plan and now I look at their team with a degree of envy! How did this happen?! As a child growing up in Swansea I never thought this could ever happen.
A chairman with vision is a must! It really hits home how one of the Giants of the English game are standing still! A bad start to the season will have us in big trouble! As teams are definitely coming up behind us!
Also, I mentioned to a number of my mates the apparent interest in Ashley Williams and the collective response was "Why would he go there?"
Stephen Brown
12
Posted 01/08/2015 at 19:50:35
It's essential we make a good start to the season. Lukaku, Mirallas and others need to be fully fit and flying!
Trevor Lynes
13
Posted 01/08/2015 at 19:57:18
Every club in the league are trying to bring in strength for the coming season and all have spent far more than we have. Perhaps BK thinks it is clever to wait until the last few days of August but none of the other clubs do ! Are we the only club who are right?
Many clubs have already bedded in their new signings and some have already scored. Lambert just scored two for instance. Other clubs just have to stop Rom and Kevin and then we will not score.Our whole midfield who regularly start games do not score and that includes the much vaunted Barkley. It would be better to have Jags up front as he scored five last season (I am being sarcastic).Who will start for us against Watford and who will be on the bench ? We have a choice between Howard, Coleman, Jagielka, Stones and Baines with Barry and McCarthy in midfield Cleverley, Mirallas, Barkley and Lukaku if fit.The bench is dependant upon who is walking fit. Perhaps Robles, Naismith, Kone, Oviedo with Osman and a kid or two. There will be no Gibson, Hibbert, McGeady, Besic, Pienaar and Deulofeu. Who on earth is going to come off the bench as a game changer? Certainly not Kone or Naismith. Osman when fit is still our best bet and that is pretty dismal.
Bill Gall
15
Posted 01/08/2015 at 20:26:28
What is with this quote by Martinez: "It is just a case of making sure we give him a good introduction of working with the group because he has not had a chance to do that yet."
I take it, 'with the group', he is talking about the team. So, correct me if I am wrong, did he not play with them all last season and should this have not given him a good introduction, or am I reading this comment wrong?
Brian Hill
16
Posted 01/08/2015 at 20:36:50
Bill Gall, it bears repeating. "I would say from a medical point of view, he is fully fit. It is just a case of making sure we give him a good introduction to work with the group because he's not had a chance to do that yet."
What on Earth does that mean?
Eddie Dunn
17
Posted 01/08/2015 at 20:39:05
Bill, this "introduction to the group" stuff is typical of the nonsense spouted by our dear leader. Rom went on the trip to Singapore, and was part of "the group", then he has been with "the group" in Scotland.

He must have been around Finch Farm being assessed while half the squad went all the way to Leeds. So what on Earth does Martinez mean?

"Not had a chance to do that yet"!!! Wait, Roberto, he has been with them all pre-season, for Christ's sake.
Jim Bennings
18
Posted 01/08/2015 at 20:43:18
What's he on about Martinez?
How's Lukaku not been with the group??
He's been here two years and played in how many pre-season matches this summer??
Talk sense man for Christ sake.
Maybe Barkley was shit today because he encountered more "sticky grass"?
Dear God another season of this.
Iain Love
19
Posted 01/08/2015 at 20:44:56
David (#9), I think the lot from across the park would / will accept Klopp who nearly got relegation last season.

I think Martinez means well and wants to do the right thing but don't treat us like idiots. I find I never read his post match comments anymore, preferring to wait for Ken Buckley's take to get a proper feel for the game. Ken's always quite positive but does it in the right way.

Anyway, I hope Rom's fit for Watford because we're fucked if he isn't.

Andy Mack
20
Posted 01/08/2015 at 20:48:45
Maybe Rooney will get all tearful and demand a free transfer back to us in time for the big kick off.
Roberto dearest, can't we prepare a proper squad for the start of a season for heavens sake? We knew we needed some kind of potency upfront all of last season, you know your assembled midfield isn't exactly goalscoring.
Do something, how about inspiring actions for a change instead of inspiring words? Deflating stuff.
Craig Mills
21
Posted 01/08/2015 at 20:52:25
So Rom's heavy legs will now take nearly 2 weeks to recover, RM do you take us for a set of fucking idiots? Heavy legs from playing a couple of games in Singapore followed by one in Scotland before been hauled off clutching the back of the thigh 30 mins into the next run out.
Who's betting now he's not fit for Watford, there'll be another bullshit statement Saturday morning saying he's not quite ready blah blah blah.
It could also be a factor why Kone was pulled at half-time today, knowing his injury record he couldn't possibly play 90 mins today and expect to be fit for next Saturday as well.
Let's wait and see, but I'm feeling decidedly uneasy and we haven't kicked a ball yet!!

Craig Mills
22
Posted 01/08/2015 at 20:57:16
Just on SSN, Dzeko leaving City for £14M, Leicester buying someone for over £10M, what are we doing??
It's so disheartening........
Andy Crooks
24
Posted 01/08/2015 at 21:20:04
When were "heavy legs", discovered? Did Alan Ball ever have them? George Best got kicked a lot but it never seemed to make his legs heavy.

Shane Corcoran
25
Posted 01/08/2015 at 21:24:30
This is good even for Roberto. "Introduced to the group"? Is the man on the shrooms?
Dave Abrahams
26
Posted 01/08/2015 at 21:27:22
Andy (19) I always thought Bob Latchford had heavy legs, never seemed to run on them very much.
Trevor Peers
27
Posted 01/08/2015 at 21:35:33
Craig, it could be Roberto has been withdrawn all monies until he proves he can get into a reasonable position by Xmas, or maybe we're just skint.
We'll soon find out... the new season is upon us.
Bill Gall
28
Posted 01/08/2015 at 21:44:49
Eddie (#14),
Going on that statement, it will take over a month for any new signings to play, as he will have to have a good introduction of working with the group, as he won't have had the chance yet. (That's scary!)
Eddie Dunn
29
Posted 01/08/2015 at 22:05:32
I know we are all supposed to try to be more positive on ToffeeWeb, but Craig (#18), Dzeko going for £14M, a proper centre-forward, and we are stuck with no real alternative to Rom. It's already so depressing...
All my hopes that last season could have been a blip... well, they are already gone, and Roberto's bullshit talk has got my goat already.
I'm hitting the gin.
Barry Morrison
30
Posted 01/08/2015 at 23:45:39
We absolutely CANNOT be skint. Not with the TV money. No way. I'm hoping there'll be some action toward the end of the window, but if not it's because the club is choosing not to spend money. But we are not skint.
And these 'heavy legs' of Lukaku's could become a convenient excuse for a poor start to the season.
Trevor Lynes
31
Posted 02/08/2015 at 00:51:41
Of course there is money but this group we have as a board do not want to spend. Martinez is the fall guy and the castigating comments should be directed at the board. He is saying what he is told to say in the same way that Moyes was.The board hide behind the manager! He cannot buy targeted players if the board do not release the money. At the moment our squad is much weaker than it was last season. We are bottom of the league for spending and this club of ours is stagnating.
Harold Matthews
32
Posted 02/08/2015 at 01:41:49
Yes Stephen #7. Our board have had a cushy ride while all our rivals were pretty skint but the TV money has altered everything.
Ant Dwyer
33
Posted 02/08/2015 at 02:15:55
Great news if it's true but for some reason no-one ever believes Roberto, me included.This is massively worrying. Worse still, no-one trusts his tactics, his ability to pick his strongest 11 and also very few have faith in our board.

Also equally worrying.
Matt Traynor
34
Posted 02/08/2015 at 03:16:13
I doubt the board are cutting off funds for RM. That would be suicide to do that in the close season, before a season starts. If they had their doubts, they should've addressed them after the last game of the season.
More likely, it's the typical mysterious disappearing money, taking out loans we don't need, so Bill's "Friends of Everton" can get richer off the back of high interest payments.
If RM gets the push, forget aspiring towards someone like Klopp (who also has a relegation on his CV by the way). The new manager will have to work on the same budget as his predecessors.
I was interested to see Stephen Brown's take on Swansea's renaissance. A couple of years back, we played them at Goodison in an evening kick off, and I met a lad from the family that built the stadium. Not a billionaire amongst them. Just a man with a plan.
Interesting to see their fans now see themselves as ahead of us.
Lowest transfer spend of the Prem, and half the Championship, so far. Not like we're not in need of the players is it?
Stephen Brown
35
Posted 02/08/2015 at 08:04:28
Matt (#28) that is essentially it! A man with a clear strategic plan can achieve great results. I hate to use the corporate word 'stakeholders' but I will: surely all the stakeholders in the club, including the fans, need to know what the short-term and, more importantly, the long-term vision of the club is!
Jim Lloyd
36
Posted 02/08/2015 at 08:13:41
A Chairman with vision??? Bloody Nora what a revolutionary idea. Near spat me tea out there.
You're spot on Stephen. I doubt we will see any action on the transfer front (unless they sell John Stones) from the club until the last few days of the window.
Lukaku, if fit, will lead the line next week but I don't think we play to his main strength of running on to a ball and terrorising the opposition defenders. Once we hold up play, I think he becomes a lot less effective as a goalscorer.
I hope, but don't really expect, that we will all be pleasantly surprised to see the Club buy a sensational midfield maestro in the nest week or two. (Honestly, only been drinking tea!)
I think this season, we will see if the manager has got it, or not. I'm hoping we will be faster and more effective this season than we were last; but I don't think we will be as good as the first season under Martinez.
We have a lot of old players that we try to keep going; but they should have been replaced by quality players years ago. I'm not so sure, if Martinez were replaced, as some want, that we would attract a manager who would do much, if any, better.
I looked at the match yesterday and, although I like him, Naismith was ineffective. His passing was poor and so was his vision. Kone? Well, he looks fitter, I'll give him that but whether he'll do a job as a main striker, I'm not so sure.
If Lukaku is fit, I'd agree that Mirallas is probably our best option to play just behind him. I don't think Naismith should be in the team but that's where we hit the brick wall.
Not just Naismith, but Pienaar and Ossie, should not be first team regulars, nor Kone. Squad players, fair enough, but not the first team.
However, the money will not be there to replace them, so it's almost certain that they will be first-team regulars, unless not fit.
We're stuck with the same players with maybe and addition or two; Cleverley and Delefeu are good signings but that's a total outlay of ٢ million. Dearie me... frightening!
Eric Myles
38
Posted 02/08/2015 at 09:01:22
Matt (#28), I suspect it's the usual waiting until the first tranche of the Sky money comes in at season kick off to be able to use the money to secure a loan with our BVI friends and then buy some players.
All this talk from RM about securing 2 players early on (with minimal spends) and 2 later on (when Sky money / player sales happen) is just coprolite to cover up our normal transfer MO.

Andrew Clare
39
Posted 02/08/2015 at 09:52:37
Relegation is very likely unless something startling happens. We have half of a decent team but a poor squad, poor manager and an absolute dead loss of a board.
Stones will be sold and we will sign more mediocre players with the funds if there is enough time left in the window.
Goodison is an embarrassment. Talk about let it all go to pot!
We have become a crap club with only one redeeming feature -- wonderful passionate support, which unfortunately won't last forever.
Yes, I am a very cheesed-off Evertonian of over 50 years.
Christopher Timmins
40
Posted 02/08/2015 at 09:56:40
Central defender, a creative attacker to play in the hole and some real back up to Rom. Seven days to find 3 players!
Jim Bennings
41
Posted 02/08/2015 at 10:03:52
Andrew
Passionate support or not, the patience of that support will be in very short supply this season unlike last where the majority were prepared to give Martinez the benefit thanks to a solid first season.
This season, a bad start could turn into a fatal one for Martinez and the one thing we can't have is Goodison like the anxiety-ridden mortuary it was all last season.
We can't allow malaise to fester on deep into the season like last time but, whatever happens with Martinez, let's not forget the real problem remains the board at Everton.
Ian McDowell
42
Posted 02/08/2015 at 10:10:27
So, after announcing in March that the priority for the summer was targeted acquisitions instead of sweeping changes with a CB and No 10 the main aim, we are now 6 days before the opening game with neither position having been addressed.
Whether it's the board or management, it's completely inept. The pre-season once again appears to be a complete shambles with players picking up muscle injuries and appearing "heavy legged".
Steve Cotton
43
Posted 02/08/2015 at 10:18:23
Chris Timmins (#33),
We have all been saying this since June. The season starts next week, we have 2 central defenders, 7 first teamers down with hamstring injuries, 3 strikers at the club 1 injured the other 2 not worth a toss in a bucket. The papers linking Lukaku, Stones, Mirallas and McCarthy with last-minute moves away and a manager spouting complete bollocks every time he opens his mouth.
So yes, mate, 7 days to sort it out, to get players in, to get them to gel and then win more games than last season.
Good luck..
Matt Lavery
44
Posted 02/08/2015 at 10:28:49
Andrew Clare... Passionate, yes. Wonderful "support", no. Do you understand the word support? Following Lyndon's recent post about trying to improve the overall outlook of ToffeeWeb, it appears the moaners can never be assuaged. And when you claim that this "support" of Everton FC won't last forever... Again, do you understand the word support?
The season hasn't even begun yet and I genuinely get the sense that some ToffeeWebers would like to see us as a club fail, just so they could say "I told you so!" That type of attitude is pathetic to say the least. I love my club and will SUPPORT them. I may not always like some of the things that happen, but i'll always wish them the very best.
And one final thing. How does a thread relating to Lukaku being fit, resort to the posts being entirely negative and anti-Martinez, anti-Kenwright? It makes little or no sense and is one of the reasons why so many people get frustrated with what could be an excellent site. I look forward to seeing Lukaku fit for the first game and hope we get a couple more players in as has been suggested by Roberto. Judging by the past transfer windows he's come through with those players as promised. Some players better than others but that is to be expected. I think we should all be more supportive as then and only then will we be helping our team to return to where it should be.
COYBB!
Guy Hastings
45
Posted 02/08/2015 at 10:39:27
With Wickham going to Palace we could do a lot worse than snap up Dwight Gayle for around £6. He knows where the net is and has a happy knack of putting them past the RS.
Christopher Timmins
47
Posted 02/08/2015 at 11:24:25
Steve, what really worries me is how other clubs like Stoke and WBA can do their business in an orderly manner over the summer while Everton are 31st of August merchants!
Patrick Murphy
48
Posted 02/08/2015 at 11:31:30
Christopher, that is what happens when you consistently rob Peter to pay Paul; we seem to have to constantly wait until the funds are actually in the bank before we make any moves.
The club is tied to the bank in far too many ways and obviously it is difficult to appeal to their good nature when asking for money they want to make a profit, and if that happens to harm our re-building plans, so be it. A borrower is rarely the master of their own destiny.
Steve Hogan
50
Posted 02/08/2015 at 11:40:05
Looking round at some of the most recent transfer deals, looks like WBA have nicked Marshall the Cardiff goalkeeper for around £5m?, if so, what an astute buy.
The storm clouds are clearly gathering at Goodison, meanwhile the silence is deafening from the CEO, Chairman and anyone else associated with the club.
Hearing the Swansea success story in a relatively small town/city, shows how it's not just about money, but a valid business plan or just plain old ambition.
Sadly, were defunct in both departments.
Kenny Jones
51
Posted 02/08/2015 at 12:37:47
The owners treat the club like a game of Jenga, seeing what they can pull for profit before it all comes tumbling down. When it does go, I fear it will take more than a billionaire or such like to fix it.
I really worry that a board who are now relatively awash with money after the tv deal still don't invest in the team unless we sell players. The money is haemorraging out into bank accounts other than EFC.
It's so blatant and transparent and still they are trusted to run the club, I truly despair at the morons who continue to make excuses for these shysters.
Denis Richardson
52
Posted 02/08/2015 at 13:54:53
I just hope the guy IS actually fit enough to play and not another example of us rushing a player back too soon. Much as I'd like him to be available I'd rather the club make sure he's 100% first. Martinez has previous of bringing players back too soon (Barry, McCarthy, Lukaku etc).
If he breaks down against Watford we will be in the relegation zone come November.
Eric Myles
53
Posted 02/08/2015 at 14:29:54
Steve #39, that's been the backbone of the BU protests, that we need a man with a plan.
But this board has no spine.
Steve Cotton
54
Posted 02/08/2015 at 14:45:43
Dennis 41. If he brings him back too soon it wont be because he likes doing that it will be because we have no one else... it could well be Kone (1 goal in 2 seasons) leading the line for a while... Kenwright out!!!!!
Denis Richardson
55
Posted 02/08/2015 at 15:00:53
Steve; have to disagree. No player should play injured and especially not at the start of the season.
If the likes of Kone and Naismith are not up to watfford then look at the manager and board for not having signed better over the last 2 years. Besides, Mirallas can play up top and Barkley reckons he's a striker
Murdo Laing
56
Posted 02/08/2015 at 15:57:19
Dave # 20. Nobody disses the Latch, mate! He may have had legs like tree trunks but he knew where the net was. I wish we had him now....and Davie Thomas on the wing.
Yes, we used to have a winger who knew how to get to the bye line and cross a ball on The Latch's head. That sort of thing is alien to Roberto.
Oh yeah, and Big Bob walked on water of course!
Kim Vivian
57
Posted 02/08/2015 at 16:00:34
Swansea indeed...
10 years ago one Roberto Martinez was playing for Swansea and from 2007-2009 he managed them, taking them up to the Championship.
Which tells us what...?
We have a good manager in who just needs proactive executive drive and support?
or...
He has reached the limit of his abilities at Championship level? As in the "Peter Principle" which tells us that anyone will only rise to a position in their work were they become incompetent, because they will advance no further having been promoted from a prior position at which they excelled.
Get it?
Michael Kenrick
Editorial Team
58
Posted 02/08/2015 at 18:06:59
Well done, Eric, Triple Word Score for "coprolite" – first time on ToffeeWeb!
Eric Myles
59
Posted 02/08/2015 at 18:18:32
Thanks MK, trying to get he daughter not to say 'bullshit' and discovered coprolite at the Liverpool World Museum a few weeks ago!
Tony Abrahams
60
Posted 02/08/2015 at 20:34:42
Almost forgot this thread was about the obviously injured Lukaku.
Some great posts, but anyone who says Kenwright isn't a visionary, couldn't have been at the game today. Give Duncan a testimonial, get him to thank me, at the end of his speech, and let the cheers rain down!
I had a thought on the way to the game today. Just like our team, I am not really ready for the football to begin just yet.
Barry Jones
61
Posted 04/08/2015 at 15:31:21
Lyndon, I know that we are all supposed to be more positive, but it's difficult isn't it when there is largely nothing to be positive about. All we need are a few scraps of optimism, after all, we are Evertonians. We need to go into the market for some lighter-legged players. I wonder if Tim Howard has heavy arms.
Add Your Comments
In order to post a comment, you need to be logged in as a registered user of the site.
Or Sign up as a ToffeeWeb Member — it's free, takes just a few minutes and will allow you to post your comments on articles and Talking Points submissions across the site.
© ToffeeWeb