Martinez hopeful over Stones and Mirallas
by

38 Comments [Jump to last]
| 02/08/2015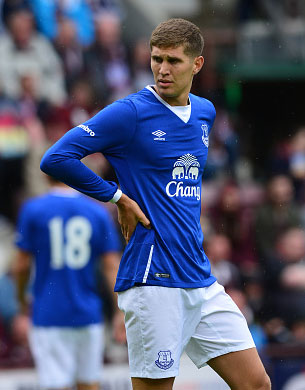 (Mark Runnacles/Getty Images)
Roberto Martinez is not expecting anything too serious to come from assessments of the respective ankle knocks Kevin Mirallas and John Stones sustained in today's friendly against Villarreal.
Both players were withdrawn from the action as precautions and the manager was asked about the pair's condition following the final whistle.
Mirallas came off in the first half after sustaining an injury defending his own box while Stones had to receive treatment in the second period before being substituted a few minutes later.
ďJohn had a knock in his ankle. The ankle he had surgery in last season. I donít think it is serious but we will have to check it out. We'll assess them [both] in the next 48 hours, but I don't expect it to be anything too serious."
[T]here is nothing to comment [regarding John Stones] because teams putting bids in that doesnít mean anything
Roberto Martinez
Martinez also used the opportunity to restate his position regarding Chelsea's interest in Stones who continues to be linked with a move to Stamford Bridge despite two bids being rejected by Everton.
"[W]e are a club with nine league titles, the history and you have seen today we celebrated a special memory," he says in the Liverpool Echo.
ďWe are a big club. What we want is to build and what we want to do is concentrate on the future and we are not a selling club by all means.
ďThe current situation with John is as you would expect. He is one of the most talented centre backs in European football not just in England and we are really, really feel we have a special footballer with us.
ďClearly he is a player that we admire, clearly that is going to be the same in other clubs. They are going to be admiring his ability and what he is as a footballer but he is an Everton player and as you can imagine he is a big part of what we are trying to achieve in the future.Ē
ďThere is nothing to discuss, he is not a player that is out of contract in ten months, he is not a player we donít want, he is a player that has a fantastic future with us and there is nothing to comment because teams putting bids in that doesnít mean anything.Ē
---
Reader Comments (38)
Note: the following content is not moderated or vetted by the site owners at the time of submission. Comments are the responsibility of the poster. Disclaimer
Chris Williamson
1
Posted 02/08/2015 at 21:51:14
Now that's the response we wanted! Well done Roberto ... more of that sort of thing please.
Spragg Johnson
2
Posted 02/08/2015 at 21:58:59
A cynic would suggest that they were withdrawn as to not upset their (soon to be) new employers! Let's hope not; our squad is dodgy enough... with Mirallas and Stones out, we'd be in serious trouble.
I want to believe RM... but, like most on this site, I'm suspicious any time he opens his mouth. Three new players this week and I'll have a better outlook.
Harold Matthews
3
Posted 02/08/2015 at 22:49:10
Nice speech but the guys with the money are saying nothing.
Brent Stephens
4
Posted 02/08/2015 at 23:00:45
Roberto always has a problem expressing himself meaningfully in English, so I read nothing of sense or reliability into this statement.
Mike Manchester
6
Posted 03/08/2015 at 01:31:32
I don't expect any players in till the deadline. But I do think he'll pick some good ones if he's gonna take this long.
I hope Mirallas is okay or we are short on wingers as well.
Jim Jennings
7
Posted 03/08/2015 at 01:58:43
What would you want or expect them to say Harold? How many chairmen / owners of clubs do you hear come out and say "Yeah we know other clubs want our players but they're going nowhere".
Neil Thomas
8
Posted 03/08/2015 at 02:06:49
I just hope that the heavy-legged-ness ain't spreading, or we might have to reinforce the team coach. Just wondering... does anyone know how much extra they weigh?
Ant Dwyer
9
Posted 03/08/2015 at 03:34:31
I'm far from a Roberto fan but credit were it's due. Great speech, nice to hear him mention our great history and brilliant to hear him say we are not a selling club. Now for the buying: Shaqiri, Pato or another proven striker within our measly budget and a central defender who can also cover right back.

I am happy with the fact the two young lads Galloway and Browning are coming through but I can't help but feel a season away would serve everyone concerned better.

Loans to the Premier League's bottom clubs or the Championship's top clubs would be best solution, so long as they can get 25/30 games under their belts.
Steve Cotton
10
Posted 03/08/2015 at 08:38:20
Andy #7 √Ę'ā¨'ÄĚ they are already at one of the Premier League's bottom clubs...
Steven Jones
11
Posted 03/08/2015 at 09:15:19
Spot on RM!
We keep, we build to get back into the top table.
It is a money game and a best players take the most money game.
Against our net value Browning will together bring another £30M to go with the £40M value of John Stones.
We really do have a conveyor belt of defensive talent, particularly at CB. With Garbutt as well - it looks really promising.
CM with Ross, Besic, Tom and Ledson looks good as well.
We also have an asset in Rom who should go for £30M plus, if we cannot match his progress/ambitions with CL football - then we can buy a replacement.
Any big TV money needs to go to attacking flair and cutting edge upfront.
Harold Matthews
12
Posted 03/08/2015 at 11:06:32
Jim J. Why are you trying to be clever when it seems you have great trouble reading your own language?
I said,"the guys with the money are saying nothing". A straight true fact. If you read it differently, can see the word "expect" fluttering somewhere or want to flower it with other wild pieces of your imagination then please don't attach them elsewhere. Believe me, on a sharp site like TW, you do yourself no favours.
Mike Childs
13
Posted 03/08/2015 at 11:12:14
Imo, the guys with the money are too busy hiding it.
Steve Cotton
14
Posted 03/08/2015 at 11:57:23
Does anyone think that the targets he decided on at the end of last season are still the ones we will end up getting???
Who does the negotiation for our club? Is it B(Boys Pen)K?
Mark Tanton
15
Posted 03/08/2015 at 12:06:14
I don't think he has specific targets and that it will more about who's going cheaply and readily available. We're not in control, more just trying to keep up with the rest and struggling. That's how I see it.
Jim Jennings
16
Posted 03/08/2015 at 12:14:22
Harold,
When you have untwisted your knickers you can re-read what I asked relative to your "Nice speech but the guys with the money are saying nothing".
Nobody trying to be clever. You were implying that Martinez can say all he wants but that it's not his view that matters, but the view of "the guys with the money".
So in response, I am asking what you expect "the guys with the money" to say on the subject? If you don't expect them to say anything then what on earth is the relevance of them saying nothing?
Nick Page
17
Posted 03/08/2015 at 12:41:04
"John had a knock in his ankle", which actually reads: "His ankle's in a good moment and we're not a selling club just yet but he might have broken his ankle in six places but as yet we just don't know and we're not a selling club. We've sent him to Southport for a scan cos Bill sold the previous medical team in a swap deal with kitbag. He'll be alright for Saturday but don't expect to see him as I haven't made my mind up yet what is the truth and what is fiction. And we're not a selling club today."
Pete Edwards
18
Posted 03/08/2015 at 13:06:01
Spragg, are you in the cynic camp or hovering around the entrance / exit?
Paul Ellam
19
Posted 03/08/2015 at 17:31:23
I don't think either will be sold and I am still hopeful of 2-3 signings. We are desperate for decent back-up in the forward positions as well as the much talked of centre-back and attacking midfield positions.
If we do have any money, I suggest we spend it soon because we looked pretty poor in both the games at the weekend. Splash the cash board and bring in Van Dijk, Yarmolenko/Nolito and Austin!
Tony McNulty
20
Posted 03/08/2015 at 17:44:25
Whilst I was never OFM's greatest fan, he did pick up some real bargains amongst the one or to Bily Kroldrups.
I have been waiting awhile for Roberto to unearth something unknown and cheap, which subsequently proves to be "phenomenal", from the Spanish-speaking football world. I would have thought he would have been well-placed to do so.
(I am setting aside the obvious recent acquisition from Barca - in any case, their players at any level are hardly beneath the radar.)
Ray Said
21
Posted 03/08/2015 at 17:55:31
If he is worth over £30M then give him a new, improved contract that demonstrates his worth to the club.
Steve Cotton
23
Posted 04/08/2015 at 08:54:44
Morning papers think Stones won't be ready for Saturdays game.
That's the chance you take when you only have two recognised central defenders at the club.
Don't even want to know about the Mirallas or Lukaku injuries, looks like Roberto will have to play himself and Fat Bill will be on the bench...
Mark Tanton
24
Posted 04/08/2015 at 09:36:55
Would it be too much to ask that this club goes into a season with everybody in place and the right targets acquired? We're swimming against the tide, defying gravity, and it's all going to catch us out soon if we're not careful.
Sam Hoare
25
Posted 04/08/2015 at 09:40:31
As good as Browning has been in pre-season I'm not sure he has played a single minute of Premiership football at CB. Yet he could well start our season there in our starting XI if Stones doesn't recover.
It's pretty absurd, laughable, disgraceful for a club of our size, history and resources to start the season with only two senior centre-backs!! I'm sure we will bring in another in the next few weeks but it really should have been done already to allow the player to settle in.
Points lost in a tricky start to the season will come back to haunt us!
Phil Sammon
26
Posted 04/08/2015 at 10:03:52
Two senior centre backs and two senior centre forwards (one of which is useless), is it really any surprise that we're going to see a makeshift side going into the first game of the season?
Left midfield still not addressed, nor the elusive Number 10 that the manager has admitted he needs.
The one striker we have at the club who looks as though he could at least provide some commitment and excitement is McAleny -- dropped after a stunning 45 minutes. 45 minutes where he did more than Kone has in all the time he's been allowed to pull on that Blue shirt.
Another goal follows for McAleny when he next took to the pitch. Good one lad... sadly that counts for nothing. Kone is the striking deputy and it's his position to lose. Get back in the reserves.
Martinez must have known as long as anyone that Distin and Alcaraz were leaving. How does it get to four days before the curtain-raiser with the matter still un-addressed?
There is so much wrong with our football club right now, I don't even know where to start.
Ste Traverse
27
Posted 04/08/2015 at 12:49:25
I see that gobshite Rio Ferdinand has been in todays paper and on tv publicly telling Stones to fuck Chelsea off and sign for the Mancs instead.
And what's worse, our club have not come out and told camel gob to 'fuck off', they've actually repeated his comments on social media! Unbelievable.
With this and the fact the club are sitting around with their fingers up their backsides while other clubs are bringing in players and we ourselves are desperate to boost our squad, it just about sums what a bunch of spineless weasels we have 'running' this club.
Pete Edwards
28
Posted 04/08/2015 at 12:59:59
Ste, I've seen some fan based sites post his quotes but not the official Everton account, have a I missed that one?
Ste Traverse
29
Posted 04/08/2015 at 13:02:00
Pete.
It's on Everton's official Facebook page. The club post links to that prick Ferdinand's comments.
Bill Farmer
30
Posted 04/08/2015 at 13:13:43
Always a conspiracy theorist, I wouldn't be surprised if Ferdinand hadn't been put up to this by his former employers, perhaps as part of the 'special relationship' which exists between the clubs witness Rooney's appearance here on Sunday.
I would hate to lose the lad at this stage but must confess to be being far more comfortable to take 㿔M off the Mancs than Chelsea. (No Evans, though, please!)
Steve Cotton
31
Posted 04/08/2015 at 13:39:20
I have just realised why RM has let us get to 4 days before the season kicks off without serious investment... so he can look back later in the season when we are doing really badly and point his finger and blame the lack of strengthening at the start.
This way, it won't be his fault if it all goes tits; he can point and blame. Just like last season with the World Cup and the Europa League.
It's obvious if you think about it.
John Daley
32
Posted 04/08/2015 at 14:04:01
"Who does the negotiation for our club?"
Whoever it is Steve, I thank fuck it's not you if you regard Everton as "one of the Premier League's bottom clubs."
Derek Thomas
33
Posted 04/08/2015 at 14:25:16
Phil (#24); sad to say, I think you've nailed it and it will get worse before it gets better.
Steve (#29); nothing will happen until the Sky money clears at the end of August... if then.
My own pick is that we will have a groundhog season, we will pass and pass, averaging about 1.2 points per game over any given 10. The fine detail vis-a-vis last season might change, but not the overall impression come the end.

Eric Myles
34
Posted 04/08/2015 at 14:55:55
Sam #23 "As good as Browning has been in pre-season I'm not sure he has played a single minute of Premier League football at CB."
Didn't he give a good showing against our neighbours last season? Or was it the one before?
Phil Sammon
35
Posted 04/08/2015 at 15:02:59
He played right back, Eric.
Eric Myles
36
Posted 04/08/2015 at 15:07:39
Jim (#6), I remember the good old days when a Chairman said the manager "has the full backing of the board" meant he was sacked within a week.
Eric Myles
37
Posted 04/08/2015 at 15:12:18
Sorry, Phil, I come from the generation of only having a left back and right back as defenders, all the others went forward bar Labby.
Duncan McDine
38
Posted 04/08/2015 at 15:18:24
Ste - your "camel gob" comment cracked me up!... very true what you're saying.
Ant Dwyer
40
Posted 05/08/2015 at 14:56:16
Stonesy has to stay. I√ɬĘ√ā'ā¨√ā'ĄĘd like to know what people think about not spending any of our small budget on a centre half and taking a chance on using Browning and Besic (used in that role at his previous club). This would be a risk but it may also be a calculated risk considering the fact we fail to keep clean sheets at the vest of times and don√ɬĘ√ā'ā¨√ā'ĄĘt score goals.
To win Premier League games we need to spend our budget on attacking flair and players who would move us up a level do not come cheap.
I would guess we won√ɬĘ√ā'ā¨√ā'ĄĘt have much more than 㿀m at our disposal. This will grant us two players at most and my personal choice would be a striker or a attacking midfielder plus a goalkeeper.
I think a goalkeeper is probably not on Martinez radar so I√ɬĘ√ā'ā¨√ā'ĄĘd like us to purchase Shaqiri (㾸m is a snip, he√ɬĘ√ā'ā¨√ā'ĄĘs creative and can finish) plus Hernandez (٦m or a loan deal).
In an ideal world we would have 㿔m and spend the other 㿀m on a goalkeeper and a defender, but just can√ɬĘ√ā'ā¨√ā'ĄĘt see it.
Michael Polley
41
Posted 05/08/2015 at 19:37:54
Usual sound bite. Just tell Chelsea to Fuck off !! Plain & simple really.
In truth, we will probably lose him sometime in the future, but in the meantime we can still hold onto him for a couple of seasons. He is guaranteed first-team football with us, and not a bench warmer waiting for Terry to hang up his boots.
Add Your Comments
In order to post a comment, you need to be logged in as a registered user of the site.
Or Sign up as a ToffeeWeb Member — it's free, takes just a few minutes and will allow you to post your comments on articles and Talking Points submissions across the site.
© ToffeeWeb