Deulofeu unlikely to be fit to face Watford
by

69 Comments [Jump to last]
| 03/08/2015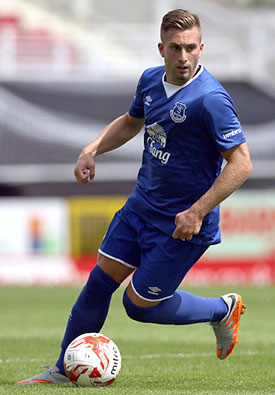 Roberto Martinez has admitted that the season opener against Watford will probably come too soon for Gerard Deulofeu to make his much-anticipated second debut as he recovers from a hamstring injury.
The Spanish winger picked up the injury playing in the Asia Trophy in Singapore last month but was initially expected to be fit by the start of the season but his manager has revised estimates for his return.
"Geri [has] been very lively and was in the dressing room and very happy today.
"He's already working at 60% so I don't expect him to be too far away. Maybe the weekend will be too early for him but he won't be too far away from coming back."
Deulofeu, signed from Barcelona on a permanent deal earlier this summer, is one of a number of Everton players to have been sidelined by hamstring injuries this summer.
All of Muhamed Besic, Aiden McGeady and Steven Pienaar have similar soft-tissue complaints, while Romelu Lukaku also appeared to have been withdrawn from the action at Dundee over concerns he was feeling discomfort in his hamstring.
Lukaku is expected to be in the line-up to face Watford but Besic will likely have to wait until the end of the month. McGeady is predicted to follow soon afterwards but the length of Pienaar's latest rehabilitation is unknown.
---
Reader Comments (69)
Note: the following content is not moderated or vetted by the site owners at the time of submission. Comments are the responsibility of the poster. Disclaimer
Sharabi Singh
1
Posted 03/08/2015 at 16:35:14
Shame because, from the last few games, I have seen we have really lacked pace and creativity. I fear without Deulofeu it will just be the same sideways passing snorefest it was last season.
Please prove me wrong!
Zac Farbrother
2
Posted 03/08/2015 at 16:47:15
I really hope Lukaku is fit enough. If not, I'm praying McAleny gets a start... although we all know it'll be Kone!
James Marshall
3
Posted 03/08/2015 at 16:50:03
60%, what does that even mean? Just tell us he'll be fit in a week, and won't pop his hamstring again.
Oh wait, you can't say that because you have no real idea of when it'll pop again. And it will.
Clarence Yurcan
4
Posted 03/08/2015 at 16:50:08
Why is this happening??
Tommy Webber
5
Posted 03/08/2015 at 16:55:43
One could be forgiven for thinking the season is over before it's even begun with fears of losing our better players but the fact of the matter is, we are in no hurry to lose anyone and Everton do their best transfer deals on the last hour of the transfer window.

Keep the faith peeps, help is round the corner I'm sure of it!
Chris James
6
Posted 03/08/2015 at 16:56:03
I think it has something to do with the fact Martinez got rid of an amazing physio team that had previously ensured we were one of the fittest teams in the league and concentrated far more on 'ball work'. There was a really interesting article about it somewhere on here.
Paul Kossoff
8
Posted 03/08/2015 at 17:28:52
I'm convinced that whoever we buy, with the training and physios Roberto has, we are going to keep getting so-called soft-tissue injuries.
Eddie Hayes
9
Posted 03/08/2015 at 17:55:37
We are top of the injury league, while Swansea are bottom with no injuries. Swansea stress test their players for potential hamstring problems. Does anybody else think there could be a connection?
Jon Ferguson
11
Posted 03/08/2015 at 19:13:11
People are complaining about Martinez's physio team saying he'd removed a great physiology set-up left from Moyes, but as I remember it, we nearly always had a few injured back then too.
I can't really comment on other teams as I don't follow them enough, but I guess that in the modern day all these players are finely tuned athletes and so more susceptible to injuries than the pub-ready players of yesteryear.
Jim Bennings
13
Posted 03/08/2015 at 19:20:36
In other words, we probably won't see Deulofeu until late August or early September and then we'll hear another classic soundbite from Martinez about him needing another 5/6 matches before he's up to speed. You get sick of hearing or making excuses sometimes.
What's the story with Aaron Lennon??
James Potter
14
Posted 03/08/2015 at 19:25:02
He'll be back for a really exciting second half of the season, ready to start enjoying his football.
Jim Bennings
15
Posted 03/08/2015 at 19:28:37
He will catch fire in January, James... or maybe February... maybe March... no definitely April!
Tony Abrahams
16
Posted 03/08/2015 at 19:47:21
I don't expect any of the injured players to be fit, and yet we are still not in the market for any new players?
They say be careful what you wish for, but I don't think I'm the only Blue, who wishes the season wasn't starting this Saturday.
It's criminal how this club, is never prepared for the new season.
Sam Hoare
17
Posted 03/08/2015 at 20:08:44
I think we can be fairly sure the team will be along the lines of:
Howard
Coleman Stones Jagielka. Baines
McCarthy. Barry
Mirallas Osman (or Barkley) Cleverley
Lukaku
Won't be inspiring stuff but hopefully we'll have enough for an unsettled hornets team.

Guy Hastings
20
Posted 03/08/2015 at 20:19:50
Watford will be totally wound up for it, we won't.
Jamie Barlow
21
Posted 03/08/2015 at 20:27:53
Tony, I don't think I've ever had a pre season like this before. It's not bothered me one bit that there's been no football. I've quite enjoyed the break for once.
As for the season starting, I'm not looking forward to it. I haven't watched any pre season games so I've no idea if we're anywhere near where we should be but after reading ToffeeWeb every day, I'm not filled with any great hope.
Apparently, we're not fit again and the squad we have is nowhere near strong enough. We've got two shit goalkeepers. A dodgy centre back pairing. An ageing left back coming towards the end of his career. A midfield that can't pick a pass, unless it's sideways or backwards. Half our players have hamstring injuries and won't be up to speed until February. We also have two shit strikers. All that managed by a useless clueless manager with no plan and no ideas of who to sign or where to play them if he eventually does sign anyone.
Roll on Saturday and Watford. COYB
Amit Vithlani
24
Posted 03/08/2015 at 21:11:43
A bit farcical really.
Denis Richardson
25
Posted 03/08/2015 at 21:20:55
Jamie -- that has to be one of the best summaries I've read on TW for a while.
Roll on Saturday indeed with likely Mr Kone upfront on his own.
Bob Hannigan
26
Posted 03/08/2015 at 21:24:46
Chris James # 6, is this the article?
David Barks
27
Posted 03/08/2015 at 21:26:39
I have absolutely no desire for the season start. I just don't really care since I don't expect anything. Last season I was so bored watching most matches, I don't see why this season is going to be any different. And judging by the sound at Goodison last season, most of those in attendance felt the same way.
The football is boring. The platitudes spouted by the manager are insulting. We haven't strengthened any single position. I just can't be bothered. And if I'm honest, I'm extremely worried about us this season. But I have so many other things in my life to worry about, that I'm blocking Everton out mostly.
John Malone
28
Posted 03/08/2015 at 21:46:07
I know it's early to say this but I can't help it, Martinez is so full of shite and I can't believe he's managing our great club!
Every sentence he comes out with leaves me feeling short changed, he just can't give a straight definitive answer and leaves me feeling full of doubt in him and evrything he does. Does he even know what he is doing or is only 60% sure??
Trevor Peers
29
Posted 03/08/2015 at 21:53:48
David 21; I think you've hit on a bigger issue, is there a general malaise at the heart of English football in general?

With the so called Sky 4 guaranteed to win all the domestic trophies surely it's just a question of time before the supporters of the lesser poorer sides including the Blues, just lose interest.

Hopefully that won't happen, but something needs to be done because football has become so mind-numbingly predictable.

Clive Rogers
30
Posted 03/08/2015 at 21:55:07
To be honest, I'm not sure we'll miss him as he had two very poor preseason games. He needs a lot of work to be a PL player.
Eddie Hayes
31
Posted 03/08/2015 at 21:55:51
Just read the Rockwood article which again says that RM is a physio. RM says he became a physio while at Zaragosa although his Wiki profile says he went there in 1990 aged 16, and left in 2000. Can anybody help me with this because I have not been able to find any evidence of a Roberto Martinez Montoliu recieving any qualification at or around that time.

Does anybody know if he started his training at 16 or 17? The present course is a four-year qualification but if at the time it was three years it would take some effort to study and still find time to play 35 minutes professional football.
Dick Fearon
32
Posted 03/08/2015 at 22:01:08
Mid way in the first half of the pre-season game vs Arsenal in Singapore, Deulofeu clearly indicated he had popped his hammy. On TV he was seen to clutch his leg while looking expectantly toward our bench.
His distress was clearly seen by spectators and TV viewers and was a topic of conversation between the two experienced commentators, both of whom stated it was foolish of Martinez not to have immediately subbed the lad.
The Echo's claim to have turned a new leaf on Everton matters begs the question of why it made no mention of let alone criticise the Everton bench over its inaction.
Lyndon Lloyd
34
Posted 03/08/2015 at 22:03:20
I could be wrong, Eddie (25), but didn't he take the course while he was at Swansea transitioning from player to manager?
Eddie Hayes
35
Posted 03/08/2015 at 22:06:16
Thanks Lyndon. I will have to check. But I am inclined to trust your word before mine.
Eddie Hayes
36
Posted 03/08/2015 at 22:16:54
Nope. It says he got his degree at Zaragosa, and I have checked its affiliated college about 72 km away. He did return to his home town of Balaguer but that would mean a commute of 102 km.
Michael Polley
37
Posted 03/08/2015 at 22:18:46
David/Trevor couldn't agree more. Not looking forward to this season. hopefully we will be proved wrong. COYB !
Totally agree about the Sky top 4. I tend not to watch the pre-match buildups anymore on Sky because they're a bunch of biased ass lickers who believe the Premiership has only 4 teams in it.
Stephen Brown
38
Posted 03/08/2015 at 22:28:17
Looking at Gerry, Lukaku, Barkley and a few others and I would suggest they all need to lose a bit a weight!
As a man approaching middle age with the spread that comes with it maybe I'm the wrong person to comment but have a closer look at the players and they seem to be carrying a bit of timber compared to their comtemparies in other teams!
Kieran Kinsella
45
Posted 03/08/2015 at 23:03:35
Eddie, a 102 km commute isn't that bad; I used to have 110 mile commute.
With regard to the 60% thing, remember two years ago when Kone was close to 100% and maybe the next game would be too soon for him -- in August, then September... then October, and ultimately he missed basically the whole season.
Similar story with Oviedo who "might be ready for the World Cup" and basically is still working his way back to fitness two years later. No need to mention Gibson or Pienaar.
It seems to me that, if RM is a physio, then he got his degree from some kind of mail order thing and even then it was probably second hand on eBay, and even then it was probably a fake Nigerian physio certificate scam that someone was trying to recoup some money on by selling it on eBay. The guy is a jokester.
Similar story with Stones leaving. He rambled on for 10 minutes straight about how we don't need to sell and Stones is great etc but he never actually categorically said "We aren't going to sell him." He is like a poor man's Riddler from Batman. With his soft tissue injuries and "moments" he could make a fortune flogging deep heat pads to old ladies on QVC at 3am. What he lacks is the ability to coach a football team.
I hate to mention the name of an RS "legend" on here, but towards the end of RM's reign at Wigan I remember Lawro just shaking his head after Wigan conceded 10 and saying "He's been here all these years and he still has a defence that ships 10 goals." Says it all really. Had he not inherited the defence he got from Moyes, God only knows where we'd be.
My worry is when Stones is gone it'll be Jags, Cosmo the clown in goal and a couple of soft has-beens holding their hammys as our backline. Fire this joke today.
Bill Gall
47
Posted 03/08/2015 at 23:11:00
Eddie (#29),
I agree with you, unless he took a correspondence course there is no mention of him going to a facility to study for a physiotherapy course. I also read that he has a post graduate degree in business.
In regards to soft-tissue injuries it is interesting to note that in 2012 he told the Daily Mail that " I always believe every injury can be avoided. vbI don't believe in soft-tissue injuries, if you get a soft -tissue injury in football a mistake has been made."

Go figure that one out.
Eddie Hayes
48
Posted 03/08/2015 at 23:20:27
Yes Bill. I have had a good look for him but found nothing. A possible reason for dismissal which would save having to compensate him if true. Maybe Lyndon can take up the baton or come up with some ideas. Has anybody seen the inside of his office? If I got a degree aged nineteen or twenty it would be on my wall.
Bill Gall
49
Posted 03/08/2015 at 23:24:26
Bob Hannigan
50
Posted 03/08/2015 at 23:24:53
It seems to me that hamstring injuries can be somewhat prevented. Broken foot bones, ankle and knee injuries, not so much. The secret must be in the proper training methods. Why can't we solve that problem?
John Daley
51
Posted 03/08/2015 at 23:37:25
Well done boys. Possibly the most laughable thing i've ever read on here. So now we're claiming Roberto Martinez has lied about his qualifications and thus the club may have grounds to boot his arse out the door without paying compo....all because Internet snoops Bill and Eddie came up empty in their search for concrete proof of his credentials? Like you're the ToffeeWeb version of fucking Oracle from Batman?
According to Martinez, he got his degree in physiotherapy from the University of Zaragoza whilst playing for....cue Cilla... Zaragoza. If you're trying to suggest he didn't get a degree in the subject and is simply bullshitting about it, then how did he blag his way onto a post-graduate course?
Eddie Hayes
52
Posted 03/08/2015 at 23:53:25
Hi John,Are you saying that Roberto does not have a well proven record of bullshiting? He fooled thousands of us for half a season. Sadly I stayed with him longer than most.
Bill Gall
53
Posted 03/08/2015 at 23:58:18
John,
There is nowhere in my article that I stated that Mr Martinez lied; I simply stated that I agreed with someone else in his reading of Mr Martinez's history in Wikipedia. There is no mention of him having a degree in Physiotherapy. I never even mentioned that this could be grounds for dismissal.
Alan Humphreys
54
Posted 03/08/2015 at 00:05:13
"Cue Cilla" - not heard the news then John?
Think we're all concerned about these injuries happening before a ball is kicked in anger. Heavy legs too.
Don't need a degree from Zaragoza to see that something isn't right as present in the set up, either in the training or after care.
Gary Poole
55
Posted 04/08/2015 at 00:15:08
I agree with Kieran Kinsella. I think that R.M. has completely destabilised the club after Moyes. He cannot coach a team to defend properly and he has nullified our attacking options. It's one of those situations where I have no optimisim for the forthcoming season. Very sad....
John Daley
56
Posted 04/08/2015 at 00:25:12
Eddie,
I wouldn't make claims one way or the other about his proclivity to tell porkies, but I do know that he takes plenty of stick for making sweeping statements that seem somewhat detached from reality. Statements that seem quite ludicrous when you step back and think about them. Bit like someone saying if your degree is not hanging on your office wall for all to see, then it's a figment of your imagination and probably evaporated when you pulled it out your arse.
There's a large number of questions to be asked of our manager going into this make or break season but never did I think "Has anybody seen the inside of his office?" would be one of them.
You say you "had a good look" in an attempt to verify his academic credentials. How did you go about that? How much time and effort was put into this fine tooth comb background check? I hope it was a bit more thorough than Bill's admitted technique o typing 'Has Roberto Martinez got a degree' into Google.
John Daley
57
Posted 04/08/2015 at 00:29:06
Bill,
Yes, you agreed with Eddie, who said: "I have had a good look for him but found nothing. A possible reason for dismissal which would save having to compensate him if true".
Also, if you're going to put faith in Wikipeia as a reliable source, then at least read it thoroughly. You say it mentions nothing in regards to Martinez studying a physiotherapy course?
It's right there, under 'Personal Life'.
Gary Poole
58
Posted 04/08/2015 at 00:36:37
Sorry but in my opinion the issue about whether RM has a degree in this or that is a bit misplaced. I'm happy to accept that he has the credentials (bits of paper) to be a professional football manager (TBH the notion that he could have circumvented this would be quite ridiculous). Problem is that he appears to be a SHIT football manager. That is a far bigger issue for me.

Andy Crooks
59
Posted 04/08/2015 at 00:41:51
When having a go at Roberto, and I'm happy to, I think it needs a bit of focus. I think the main thing is tactical ineptitude, followed by a seeming inability to motivate.
I suspect that transfer dealings are not entirely his remit. If we had loads of money I COULD BRING IN A FEW GOOD PLAYERS. Also, I don't imagine he , or at least I hope he doesn't, carries out the duties of a physio. I think he might have studied physiotherapy, who cares where, as back up in case he didn't make it as a coach. I 'll leave it there.
Phil Sammon
60
Posted 04/08/2015 at 00:52:07
If he has indeed studied physiotherapy then he should stand down on grounds of the Hippocratic oath. He's ruining careers left, right and centre.
David Barks
61
Posted 04/08/2015 at 01:00:08
John Daley is apparently Martinez's biggest backer. Way to sidetrack the conversation.
The fact still remains, we have hamstring injuries up and down the squad. He tries to play off a player grabbing at his hamstring as heavy legs, while then saying he's 100% fit. He left Gerard on the pitch when it was plain for all to see his hamstring was injured.
I don't think the issue is what degree he has. But rather, what the hell good has it done?
Jack Cross
62
Posted 04/08/2015 at 01:05:56
I have just read Roberto's stats, said mother wanted him to get another trade to fall back on, just in case his football coach career didn't take off. But he definitely qualified. He said he doesn't believe in soft tissue injuries and if there are any it's a mistake. That was on Wikipedia.
So that sort of falls in to what you are saying Andy, doesn't it?
Ant Dwyer
63
Posted 04/08/2015 at 01:15:11
A big lesson has to be learned from last season's opener v Leicester city. These teams who have come into the big time are chomping at the bit and we can not expect 3 points, we have to earn them.
Geri being injured is a major blow as he has to be the creative spark we have lacked last season, but even without him we should have plenty in the tank to take this one.
Again we can not take it for granted as if we play like we did the other day v Villarreal we will be caught out.
Massive game for Ross and Mirallas for me, Lukaku can avoid responsibility in my opinion with his recent injury.
Bill Gall
64
Posted 04/08/2015 at 01:23:26
John #43 Thank you for pointing out my mistake over Mr Martinez under Personnel life . As far as me agreeing with Eddie regarding being grounds for dismissal, if you have a look his comment it was posted "after " mine.
John Daley
65
Posted 04/08/2015 at 01:37:45
David,
Where have I 'backed' Martinez? Beyond backing him against accusations of falsifying a degree, I think you'll struggle to find an example.
Don't raise the veering off track card either. I never raised the issue. It was brought up by others who questioned whether he actually studied for one simply because their search results brought up no results, cited it as a possible reason for instant dismissal without severance, and then suggested Lyndon should 'investigate' (like he's Columbo or something). You can't sidetrack a conversation that's already took a detour through a bulls colon.
Anyway, even if I was 'Martinez's biggest backer', what exactly would be the problem with that? It's an Everton website after all and until the season starts and/or we begin to struggle then I certainly won't be panicing and complaining about everything turning to shit, or squeezing a little snub-nose against my cranium because I can't cope with the doom and gloom thoughts of what might happen.

John Daley
66
Posted 04/08/2015 at 02:01:50
Bill,
I apologise. I just had a look back and I got the order of the posts the wrong way round. The 'grounds for dismissal' one actually followed directly after the post in which you signalled your 'agreement'. So, it was unfair of me to lay that specific part on your shoulders.
Mark Andersson
67
Posted 04/08/2015 at 02:09:46
Interesting comments re: Martinez credentials. It doesn't matter either way, he is our manager, appointed by our chairman and board. All undisputed facts.
A reminder that in his first season the team got their highest points haul. His second season he had the Europa League to blame for a disaster in the Premier League.
This season, he can not hide. I am looking forward to seeing this manager get what he deserves.
It's shit or bust, not only for him but Everton FC. There seems to be less and less posts defending Martinez.
No news today about new players then...
Anto Byrne
68
Posted 04/08/2015 at 05:58:18
Kone's knee injury effectively ended his career. Should have been farmed out to Wigan or Blackburn last season to regain match fitness.

As far as Naismith is concerned we should let him go on a free and make a handsome profit. Keeping Kone and his £35k a week and letting Long go... Stupid.
Paul Cherrington
70
Posted 04/08/2015 at 10:09:50
Injuries are part and parcel of football and every club will have some players out with hamstring injuries sometimes. However, the number and frequency we currently have suggests something is wrong with either our training methods or medical department, as others have noted.
The fact we had loads last year and already this year (when the season hasn't even started properly!) sets off warning bells. Martinez should be looking into this and rectifying whatever the problem is.
Liam Reilly
73
Posted 04/08/2015 at 12:04:10
Watford's priority will be to avoid defeat on Saturday. They'll park the bus and look to steal something from a dead ball situation where we've looked vulnerable in mid season.
I suspect this one to be less about guile more about getting the ball to Lukaku quickly; even if it's not pretty. We need Deulofeu back for the games against the top sides where he can make a real difference.

Harold Matthews
74
Posted 04/08/2015 at 12:16:33
Cheers lads. Entertaining stuff indeed.
Yes Stephen #30. Several lads were definitely carrying extra timber. Not surprised with Delboy. He's hardly played a full game in the last six months.
Barkley and Lukaku never look any different and I often wonder how they rate on the body fat measuring test. When big guy Cantona played for United, his lack of body fat topped the charts.
Benteke started last season with a build like Lukaku. He also played like him. Cue injury and a layoff followed by a return where his large head appeared to have been transplanted onto a slim athlete's body.
Needless to say, this new Benteke ran around like a 2-year-old and helped save Villa from the drop. The other day, still slim, he scored a wonder goal which left Brenda speechless. The world rocked on it's axis.
The message is clear but will our boys follow suit? Are Lukaku, McGeady and Deulofeu knocking off the pounds as we speak? Will we be amazed when we gaze upon their new streamlined bodies or will some jerk comic chuck them a sausage roll? We await with interest...
Barry Jones
76
Posted 04/08/2015 at 14:59:56
John Daley, thank you for giving me a good belly laugh in your posts. ToffeeWeb is all the more enjoyable when served with large dollops of cutting-edge wit.
Jack Cross
77
Posted 04/08/2015 at 15:37:11
Surely it is better for a coach to have knowlege of a player's well being than not. Got to be a plus surely, he just might see something the medical team have over looked. He obviously knows what he is talking about as he is trained in that field. Wikipedia says so.
Paul Cherrington
78
Posted 04/08/2015 at 16:27:15
I hope that, just because he did a course in it, doesn't mean he is interfering with the medical team's job and causing all these hamstring injuries. As people have noted a lot of medical staff have left since Moyes went. It makes you wonder why...
Ian Cowhig
80
Posted 04/08/2015 at 20:46:09
Martinez is like a political spin doctor. But not a very good one.
He never gives a direct statement that can be used to question him, ie "Deulofeu will be ready for next weekend's game." By saying he is 60% ready, he can say 61% next week if he doesn't make as much progress or 80% if he does.
A good manager is very clear in what he wants. Doesn't confuse things. Everything is black and white. Easy for everyone to understand. Martinez give us 50 shades of grey every time he speaks to the press.
So imagine what he is like when telling the players what he wants them to do. And the tactics the team need to follow. No wonder the players look confused and knackered.
Dave Lynch
81
Posted 04/08/2015 at 22:00:31
I'm in agreement with a couple of posters on this thread and I mentioned it last season. Martinez for some reason sucks the enjoyment out of the game for me personally. I can't put my finger on why or when it happened either.
He just does not inspire or excite me and neither does the team.

Bill Gall
82
Posted 04/08/2015 at 23:11:43
Paul (#58)
If you are interested in the fitness training at Everton and Mr Martinez's involvement, read the highlighted article in my #34 posting. It makes interesting reading especially his views on soft-tissue injuries. Hamstring injuries unless they are a complete tear are considered soft-tissue injuries.
Jack Cross
83
Posted 05/08/2015 at 01:50:21
Well there is no doubt that the team is not as fit under RM as under Moyes. I remember when Distin first came to the club, he said he had never been so tired in training, and had to have a nap even day when he got home.
And Jerome Beckford was complaining (I think during a cup tie) that he felt tired. He was having a slanging match with Moyes, and Davie, said to him you don't get tired at this club.
It's like going from one extreme to the other, but the team seemed to have more passion under Moyes. Maybe our lifeless displays are just simply down to fitness or lack of it.
Ant Dwyer
86
Posted 05/08/2015 at 14:33:44
As the weekend draws closer I'm feeling increasing frustrated at the thought of the same old Everton team coming out against Watford.

I mean, if you look at years gone by, the excitement of new players, especially attacking players fill us with promise, I now feel robbed of Geri, robbed of a much needed new attacker, robbed of a creative midfielder we were promised.

If you think back to the last game v Watford we had Andy Johnson scoring, again a new era a new dawn an a fuzzy feeling with a new goalscoring hero.

Think of the Yak away to Bolton scoring to gain us a victory infront of more blues than Bolton fans.

Then think of now. Robbed of excitement. Cleverly is a good addition but he is not someone who I'm pissing myself with excitement to see, Rom and Miralas are not fully fit, and Geri is out.

Kone!!! Naisy!!! See my point!?
Lee Gray
87
Posted 05/08/2015 at 15:47:44
Hate to say this but I'm worried, very worried!
Drew Shortis
88
Posted 05/08/2015 at 17:37:17
I seem to remember us regularly being down to the bare bones of the squad under Moyes due to injuries. I don't think this is something we can lay at Martinez's door, it's just the nature of modern footballers. If you look around other PL teams, there are physio rooms full of crocked players all the time.
Looking at the pre-season games, I wouldn't say fitness seemed a major concern, though sharpness could well be an issue for one or two. Mirallas and Cleverly both looked pretty sharp.
From the sound of it, we will be missing Deulofeu for the first match, Lukaku should be fit, McGeady, Pienaar, Besic and Gibson will all be out but that leaves us enough to field a very strong squad. By the end of the transfer window, we will have a couple more players in and hopefully McCarthy, Mirallas and Stones will still be with us.
I share the concerns after last season, but remain hopeful remembering the season before. I think the biggest issue facing us is Martinez adapting his tactics to suit the game. He proved against Arsenal with the 4-3-3 that he could spring a surprise, but I would like to see him mix things up more often as other teams have sussed out how to deal with our default style of play.
If Martinez can prove he can adapt then I see no reason why this season couldn't be much better than last, but I fear he may be as stuck in his (4-2-3-1) ways as much as Moyes was with his favoured 4-5-1 system. I hope he proves us all wrong!
Abhishek Saha
89
Posted 06/08/2015 at 03:21:34
Drew, I couldn't agree more on the 4-3-3 formation. If we don't try a different formation against Watford in the first match of the season at Goodison, then when and against whom should we?
But everything tells me that he will stick to his 4-2-3-1.
Paul Cherrington
90
Posted 06/08/2015 at 09:38:59
The main difference between Moyes and Martinez sticking to their favourite formations is that, under Moyes, it usually worked and was solid. I can't say the same for Martinez which is why we're in trouble and people are getting upset.
Ant Dwyer
91
Posted 06/08/2015 at 12:46:49
Only problem with the 4-3-3 option at the minute is who plays in the attacking 3? Lukaku is a dead cert and Miralas is a must if fit, but if not?
Also this leaves another space, McAleny looked lost in wide area last time out, Kone would be Martinez's preferred choice but is useless an after that were back to forcing Barkley out wide.
Osman hasn't got the required pace to be wide in the 3 so I can't think of another option.

Add Your Comments
In order to post a comment, you need to be logged in as a registered user of the site.
Or Sign up as a ToffeeWeb Member — it's free, takes just a few minutes and will allow you to post your comments on articles and Talking Points submissions across the site.
© ToffeeWeb