Everton vs Watford
by

78 Comments [Jump to last]
| 07/08/2015
Match Preview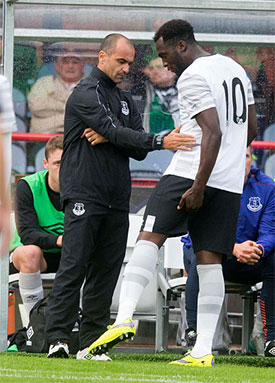 Romelu Lukaku is being assessed to see if he will be fit to face Watford
Thanks to one of the latest finishes to a season in recent memory and the new season kicking off a week early to accommodate next summer's European Championships, Premier League action resumes this weekend after just 11 weeks, although for Evertonians in particular, it feels like it has rolled around a little too soon.
Just two additions to the squad over the close season, a spate of hamstring injuries and doubts over whether key striker Romelu Lukaku will be fit enough to start mean that many Toffees fans go into the season opener against Watford in slightly apprehensive mood. There is unquestionably the excitement that comes with the return of competitive football to Goodison Park but also a nagging feeling that, for the second season running, the team is not fully prepared.
Though Roberto Martinez insisted after the friendly with Dundee on Tuesday last week that he did not expect Lukaku's injury to be serious and that it was merely a case of him feeling "heavy-legged", the manager was unable to confirm whether his main marksman will pass a fitness test before the big kick off this weekend. He explained that the Belgian will be assessed over the final 48 hours but, unless it's a ruse to keep his rival in the opposite dugout guessing, it would seem as though it might be touch and go as to whether Lukaku will play.
With no striking reinforcements yet secured, the No.10's absence would leave Martinez with a number of questionable fall-back options. The most obvious would be to field his only other centre forward in the form of Arouna Kone, but the Ivorian has just one goal to his name in two years with the club – a year on the sidelines notwithstanding – but his pre-season showings have left many Blues aghast at the lack of decent goalscoring cover.
Steven Naismith and Kevin Mirallas can both operate up front but neither are suited to the lone striker role as it is employed in Martinez's system so accommodating either would require a modified approach. Conor McAleny, while impressive in the summer friendlies, is too untested and inexperienced to risk. Fingers crossed, then, that Lukaku makes it.
Elsewhere in the side, like Mirallas, John Stones is expected to shake off an ankle knock and take his usual place at centre half alongside Phil Jagielka as part of a very familiar defensive unit anchored by the Gareth Barry-James McCarthy axis. Muhamed Besic, Darron Gibson, Aiden McGeady, Steven Pienaar and Tony Hibbert are all ruled out through injury.
It means that the main question marks surround who fills the attacking and wide positions. Ross Barkley is a clear candidate to play in the hole behind whichever striker is selected, with Mirallas on the right and Tom Cleverley or Leon Osman on the left. Gerard Deulofeu, the other summer acquisition only has an outside chance of being involved, and could only hope for a place on the bench at best given the caution over his hamstring.
Whichever line-up is selected, it should have more than enough to overcome a newly-promoted side but the Premier League is a much more competitive environment these days and the promoted clubs, with their enthusiasm for the start of the new adventure, can prove to be very tricky opponents.
Watford promise to be a different proposition to the kind of team they were the last time they were in the top flight – admittedly some time go now. Now run by the Pozzo family, who own Udinese in Italy and Granada in Spain, they also have a new manager in the form of Quique Flores and, in contrast to Everton, a slew of new faces in the dressing room.
The Hornets have signed no fewer than 10 players this summer when you add the permanent acquisition of Matej Vydra (from Udinese, of course), including two players with Premier League experience in the form of Etienne Capou, whom they acquired from Tottenham, and former West Ham midfielder, Valon Behrami.
They also boast a physical striker in the form of Troy Deeney who will be the target for just the kind of aerial service that has proved to be such an Achilles heel at times for Martinez's Blues. Deeney scored 21 times for Watford in their promotion-winning season last term while Vydra notched 16 so there will be plenty for Everton's defenders to watch out for. All those new signings will take time to gel, though, and acclimatise to the Premier League, however, which will hopefully work in Martinez's favour.
Assuming that the Blues control the game in the manner in which we expect and his side can keep the visitors at bay, Martinez's main concern will be scoring goals at the right end. Even with Lukaku in the line-up, his team struggled at times to find the net but if they can get things clicking and get an early goal, it will get the home crowd on side and, hopefully, pave the way for an opening-day win.
The alternative is more worrying given the psychological toll that the poor start a year ago took on the players and, eventually, on the paying customers at Goodison Park. Failure to win would not be disastrous, but with such a tough sequence of fixtures over the next two months, it would be a bad way to start.
Kick off: 3pm
Referee: Mike Jones
Quotes sourced from ToffeeWeb Match Reports
---
Reader Comments (78)
Note: the following content is not moderated or vetted by the site owners at the time of submission. Comments are the responsibility of the poster. Disclaimer
Sam Hoare
1
Posted 07/08/2015 at 08:57:48
The lack of cover for the likes of Lukaku and Stones demonstrates how thin our squad is. No doubt the likes of a Browning and Mcaleny could acquit themselves well but it's a big ask.
I suspect Lukaku will play even if at 80% because RM will be desperate to get a win here given the tough games to follow.
I expect we'll see:
Howard
Coleman Stones Jagielka Baines
McCarthy Barry
Mirallas Osman Cleverley
Lukaku
I think that team should be good enough to beat Watford at home but I hope it doesn't become our default team playing the same football that was so uninspiring last season. Time will tell.
Ray Roche
2
Posted 07/08/2015 at 09:21:03
Sam, the thing about hamstring injuries is that you can't "run it off". Any attempt at a sprint will only leave you with an extended period on the sidelines just as McCarthy was last season.
Sorry. It's "heavy leg" syndrome isn't it......?
Jamie Barlow
3
Posted 07/08/2015 at 10:01:08
The Blue Union just posted on Facebook that they think Charlie Austin is a done deal.
I'd be happy with that.
Paul Kennedy
4
Posted 07/08/2015 at 10:29:06
I want to be optimistic, I really really do... But I am worried!!!
I am sick of the media ex players from other clubs telling our staff who we pay a salary too which club they would be better off playing for tell them all to sod off!!!

Paul Cherrington
5
Posted 07/08/2015 at 10:32:25
I would actually play Mirallas as the main striker if Rom isn't fit and play McAleny off him as he looked good in pre-season playing that type of role. I think it would offer us creativity and a proper goal threat still.
Adam Luszniak
6
Posted 07/08/2015 at 10:34:59
Fingers crossed we click because losing the first game could be disastrous considering the rest of our early fixtures. My lineup would be:
Howard
Coleman Stones Jagielka Baines
McCarthy Cleverley
Mirallas Barkley Osman
Lukaku
Terence Leong
7
Posted 07/08/2015 at 10:46:10
If Lukaku is fit, we have to play him.
If not, I reckon we can play Mirallas or Naismith upfront.
Or give McAleny a shot.
Likewise, I agree that we should play Cleverley in place of Barry.
So, I think it's worth either of the following:
McCarthy, Cleverley
Mirallas, Barkley, Osman
Naismith/ McAleny
OR
McCarthy, Cleverly
Barkley, Naismith, Osman
Mirallas/McAleny
Much as I think there are flashes of Kone being up to it (whenever he is playing alongside Lukaku), he plying as a lone striker is not quite cutting it.
McAleny or Naismith deserves a chance upfront.
Al Reddish
8
Posted 07/08/2015 at 10:48:34
Regarding Charlie Austin, Paddy Power have just suspended betting on his next permanent club.
Anthony Flack
9
Posted 07/08/2015 at 10:51:15
Al -- maybe Austin is the winner of The Great Bake Off.
I cannot see him coming over to us... I hope I am wrong as it would make us a lot stronger.
Christy Ring
10
Posted 07/08/2015 at 10:52:04
If we signed Charlie Austin to partner Lukaku, it would restore my faith in Martinez.
Jim Lloyd
11
Posted 07/08/2015 at 10:59:58
If we sign Charlie Austin, it might just be that I get a flicker of faith that this board are not cardboard cut-outs!
Denis Richardson
12
Posted 07/08/2015 at 11:10:18
Sam - that'll not be far off the starting line up. Unfortunately with the lack of competition, the back 7 basically pick themselves every game.
I wouldn't be surprised to see Barkley in the starting line up instead of Osman though as Osman does not have the legs to last more than 60 mins. Also wouldn't be surprised to see Lukaku on the bench, I just cannot believe the guy will be fit enought to start tomorrw.
Personally would prefer us to play 4-4-1-1:
Howard
Coleman Stones Jagielka Baines
Mirallas McCarthy Cleverley Oviedo
Barkley or Osman
Lukaku (if fit)
Unfortunately our squad is so thin that there is very little on the bench from an attacking perspective. If Lukaku's not fit then we only have Kone or McAleny as back up, former not good enough and latter very green. Still I'd hope both are good enough against essentially a Championship side!
John Crook
13
Posted 07/08/2015 at 11:17:06
I can't see Austin signing to sit on the bench. Martinez only reverts to a 4-4-2 when the players demand it when they realsie they are in a relegation battle by February.
Nick Page
14
Posted 07/08/2015 at 11:22:23
I read last night that Austin didn't want to uproot his family from Wiltshire and that he wanted a London club. Spurs were in for him, apparently.
Hope the rumour is true. Would give us some hope.
Laurie Hartley
16
Posted 07/08/2015 at 11:25:30
If Lukaku isn't fit perhaps we should play 2 up front - Mirallas and Barkley.
My team would be:
Howard
Coleman Stones Jagielka Baines
Cleverley McCarthy Barry Osman
Barkley
Mirallas
That is a good team on paper and one that many Premier League managers would like to be sending out this Saturday.
Hope springs eternal -- Up the Blues!

John Malone
17
Posted 07/08/2015 at 11:29:31
Load of bollox. It's back on Paddy Power and we're third in the odds. I hate transfer window rumour bullshit. Can't we just hear nothing until a deal is done!
Justin McCallum
18
Posted 07/08/2015 at 11:32:40
Very disappointed with the transfer business carried out so far this window.
Being the lowest spending club in the league and being outspent by Watford... and considering the very poor season we had last year leaves me dreading this upcoming season.
I was at the Villarreal game and yes I know it was a friendly/testimonial (Rooney love-in) but it looks like it's going to be exactly the same lack of goals and penetrating the last third... as last season.
Hope I am wrong.
Thomas James
19
Posted 07/08/2015 at 11:32:58
Lukaku's fit we will go with one up top and 3 behind.
If he isn't ,then I think we could try a 4-4-2 and play Naismith and Mirallas up top.
Tim,
Coleman, Stones, Jagielka, Baines
Cleverley McCarthy Barry, Osman
Naismith, Mirallas
Bench: Deulofeu, Barkley, Lukaku? Ovideo, Robles, Galloway, McAleny
Not a bad team with good options to come on off the bench.
James Stewart
20
Posted 07/08/2015 at 11:33:09
I would go:
Howard
Coleman Browning Jagielka Baines
Mirallas McCarthy Cleverley Osman
McAleny Barkley
You don't need 2 defensive mids in this kind of game. I'm assuming Lukaku is not fit of course.
Nick Page
21
Posted 07/08/2015 at 11:47:03
Just looked at the new 3rd kit on the OS, pulled up squad players and noticed that Stones didn't have a squad number. Maybe they're just being prudent but if he wasn't for sale then he'd have a number, right?
Steve King
23
Posted 07/08/2015 at 11:52:52
Just an glitch I think Nick. He's got the number 5 shirt this year and it shows up when you select it for printing.
DON'T PANIC!!!!!!!!!!!!
Christy Ring
24
Posted 07/08/2015 at 11:57:17
My team to play Watford:
Howard
Coleman Stones Jagielka Baines
Mirallas McCarthy Cleverley Oviedo
Barkley
Lukaku (hopefully)
Bob needs to change the system and play only 1 defensive midfielder.

Harold Matthews
25
Posted 07/08/2015 at 11:59:52
Shuffle them round all you want. I can't get excited by any of the above teams.
Mike Powell
26
Posted 07/08/2015 at 12:01:45
My team against Watford:
Howard
Coleman Stones Jagielka Baines
Cleverley Barry McCarthy Mirallas
Barkley
Lukaku if fit; if not, he will play Kone so let's hope Rom is fit.
Kase Chow
27
Posted 07/08/2015 at 12:01:53
Harold Mathews #19
Spot on
Paul Avery
28
Posted 07/08/2015 at 12:03:32
James #15 why would you not play stones?
Tim Greeley
29
Posted 07/08/2015 at 12:11:29
Soooooo nervous!!!
My main hope is that Watford is more ofa mess than we are right now and somehow ship us a couple easy goals. Whoever got my hopes up with Austin, damn you. He'd be a game changer for us. Too bad he'll end up being a bit player in cup ties for fecking Spurs. Stupid old game.
Kone is only useful alongside another striker so if no big man I think we need to go 4-4-2 or roll with SuperKev uptop with Ross behind him. Oyyyyyy vey people!
Tom Bowers
30
Posted 07/08/2015 at 13:22:23
Even the strongest squad available at Goodison these days may still see a struggle. The goalscoring is going to be a problem without a fully fit Lukaku and even with him I am not so sure things will be better than last season.
I hope he doesn't play tomorrow less than 100%.
Chris Simpson
31
Posted 07/08/2015 at 13:54:31
It's 20 years since we last won the FA Cup. Since then, not a pot to piss in. So why is everyone on here like Dr Doom?
Last season, if we had backed Roberto Martinez, we might have won the Europa League and now been in the Champions League... but we didn't; he played a poor defence so we cold concentrate on the Europa League. Moyes provided us with 11 years of useless drudgery that ended in him getting his ambition to manage Man Utd. RM is our best chance to win anything with the current setup and if he does win a pot then some Spanish club will want him, and then you will all be sorry.
We need to give the team a lift so they will respond to the crowd like they did against Man Utd. No more drivel just support COYB.
Milos Milenkovic
32
Posted 07/08/2015 at 13:56:53
Harold, maybe this 4-3-3 line up would be exciting:
Howard
Coleman Stones Jagielka Baines
McCarthy
Cleverly Barkley
McAleny Lukaku Mirallas
Ross Edwards
34
Posted 07/08/2015 at 14:05:09
I think we'll win easily. 3-1. If we don't win tomorrow it would be a disaster considering the fixtures we have in the weeks to come.
Duncan McDine
35
Posted 07/08/2015 at 14:11:11
It's pretty clear that the team will pick itself depending on who's fit enough to start.
It will be interesting to see if Ossie starts the game... He could potentially be what makes the difference if they come and park the bus, but I'd be tempted to keep him on the bench to start with. His vision and craft would be better used when legs start to tire.
Anyone hoping that Barry is left out will be disappointed! In fairness, I'd like to see him play tomorrow... Roberto needs to learn to give him a rest every now and then this season though.
Kerry Frahm
37
Posted 07/08/2015 at 14:41:57
If (and part of me isn't too bothered if it is the case) Lukaku pulls up lame before the match then McAleny should get the run.
He's young, spirited, unknown to the opposition and shown he is capable. Kone... none of the above.

Daniel Lawrence
38
Posted 07/08/2015 at 15:02:16
Trust me, Watford won't park the bus, anything but.

Trevor Peers
39
Posted 07/08/2015 at 15:13:48
It would be great to start with a win; to do this we must score early on. Kone will play, that's inevitable, especially if Lukaku isn't fit.
Let's hope it's his last game in a Royal Blue shirt, if the Austin rumours are true.
Matthew Williams
41
Posted 07/08/2015 at 15:18:32
5-3-2 for me:
Robles
Browning Stones Jagielka Galloway Baines
Coleman Cleverley Oviedo
Mirallas McAleny.
Mike Childs
42
Posted 07/08/2015 at 15:24:14
Sad times indeed when Harold cannot get excited about the season opener. For me, as long as Bobby's in charge, I worry and also am less than enthusiastic.
Donald Twain
43
Posted 07/08/2015 at 15:29:24
This could go horrible I feel if we don't start with a high tempo and force the game. If we play they way we did for most of last season we're in trouble both on the pitch and in the stands.
God help us if we go behind; I'd like to think the crowd would get behind the team if we did, but in the current climate I can see it going toxic again.
Bill Farmer
44
Posted 07/08/2015 at 15:36:51
I can't say I'm that excited either, but I do think that whatever the team selected it will be too good for the thrown together opposition Watford will provide.
No doubt if we get the right result, everything in the garden will be lovely; if not, it will be 'Roberto Out'.
Perhaps we should hold judgement until October, at least.
Jamie Crowley
45
Posted 07/08/2015 at 15:55:22
Any ideas what channel we're on Directv in the States? Can't find it scheduled...
Jamie Crowley
46
Posted 07/08/2015 at 16:03:31
Found it.... USA Network here. Channel 242 on Directv if you're scoring at home...
Harold Matthews
47
Posted 07/08/2015 at 16:41:46
Milos Sorry mate.
Matthew #31 Can't say you're line-up excited me but it certainly made me sit up.
Jon Ferguson
50
Posted 07/08/2015 at 17:46:39
With the aforementioned injuries I'd try:
Howard
Galloway Jagielka Stones
Coleman. McCarthy Baines
Barkley Cleverly
Lukaku
Mark Rankin
51
Posted 07/08/2015 at 18:08:01
McCarthy/Barry or McCarthy/Cleverley?
Has to be the latter surely?
Jay Harris
52
Posted 07/08/2015 at 18:25:13
I cant honestly see Lukaku playing as hamstring (sorry... heavy leg) injuries will take more time to clear up and I hope we do not risk further problems.
Having said that, Watford are a big direct physical side so we will have to have strength around the pitch, therefore I would let Ossie sit this one out and tell Kone he is in the Last Chance Saloon to redeem himself, even though he has already failed his audition.
I would go 3-5-2 with Galloway or Browning being talked through the game by Jags and Stones with Coleman and Baines as wing backs and Barry McCarthy supporting. Cleverley to have a free role just behind Kev and Kone up front.
Once we have contained Watford's enthusiasm, I would bring Ross on for Barry to really get at them.
It is though, as Harold said, seriously worrying about the lack of quality depth in this squad.
Paul Kossoff
53
Posted 07/08/2015 at 18:58:46
West Brom to pay £15m for a striker, while we make do with Kone as back up, where is the money Bill?
Andy Walker
55
Posted 07/08/2015 at 20:37:43
The money's there for sure Paul. Just don't think they trust Martinez to spend it wisely. Can't say I blame them.
Tony Abrahams
56
Posted 07/08/2015 at 21:06:03
Wether you blame them or not Andy, this statement just doesn't make sense.
Sandra Williams
57
Posted 07/08/2015 at 21:13:41
I was at the Titanic Hotel, in Liverpool, today having lunch and watched the Watford team arrive for their overnight stay. Here's hoping they don't have such a relaxing sleep tonight! I'll be back in my usual seat in the Top Balcony tomorrow and going into my 41st season of attending GP......it's the hope that kills you! But COYB!!
Tony Abrahams
58
Posted 07/08/2015 at 21:31:06
Season 41 for me also Sandra. Hope isn't such a bad thing, it's better than frustration and despair anyway.
Always want to win something, it's a hope that will never leave me, but it's the tempo and style, that are going to be even more important than winning for me, this year.
Sandra Williams
59
Posted 07/08/2015 at 21:50:54
Agree with you Tony.....and at least we're old enough to have witnessed some 'good times'! Let's hope we have more to come....sooner rather than later! Last season was torture, to be honest, and apart from one or two games I couldn't wait for it to end. Am not overly optimistic about the new season but we'll all just have to cross fingers and hope it's better than the last one! But we have to get off to a good start, and not leave it until January to get going!
Paul Kelly
60
Posted 08/08/2015 at 00:52:34
Well, after all my negative input and Bob bashing over the last couple of months, coupled with the thoughts of last/pre-season and the football I believe we are about to witness, now that it is a mere few hours away I can't effing wait.
Got my mojo back! Bring it on!
Jermaine Jennings
63
Posted 08/08/2015 at 06:24:35
COYB.. Will be leaving London shortly to see Watford get hammered!!!
Darryl Ritchie
64
Posted 08/08/2015 at 06:51:58
A good 8 hours sleep; up at 7am to watch the Blues beat the crap out of Watford, then off to work. All is right with the world!
Brian Wilkinson
65
Posted 08/08/2015 at 07:02:42
After 10 mins of kick off, the doubters will be moaning, followed by a get in, finishing 3 points in the bag and some still unhappy.
We have done all we can to keep Stones, Mccarthy and Mirallas signed up, Cleverly looking an astute signing, Del boy back, possible additions to follow.
Nows the time to get behind the team and hope Bobbys magic Brown shoes return..
Duncan McDine
66
Posted 08/08/2015 at 07:39:17
I find myself at the age of 35 with a wife and two kids, slightly embarrassed that since waking early, all I can think about is Everton v Watford (to the point of obsession). Guess I'm not the only one though...
Nev Renshaw
67
Posted 08/08/2015 at 07:47:35
Bloody hell. A whole ruck of injuries already and not a ball kicked in anger yet.
James Marshall
68
Posted 08/08/2015 at 07:57:58
I've been up for 6 hours because I live in Bangkok and the excitement here is palpable. I've seen Utd, Arsenal, Chelsea and Man City shirts.... Oh.
Kerry Frahm
69
Posted 08/08/2015 at 08:10:44
Same here in Aus James #57. Just trying to decide if I have a pre-match snooze after dinner or do I stay awake right through?? And which seasons shirt do I wear. I have an old Umbro or Puma or Le Coq?? And do I stream it from the laptop to the telly in the lounge or watch it in bed with headphones on??Decisions... Decisions! COYB¡!¡
Adam Luszniak
71
Posted 08/08/2015 at 08:33:21
If Lukaku doesn't play, I think we need to have 2 up front. Martinez did this a couple of times last season, let's hope that sort of flexibility is more on offer from the manager this time around. Kone and Naismith up top? Agree not a strike partnership to strike fear in to the heart of any PL defence, but neither can play a loan striker effectively. How about the following, taking in to account the rumours of Baines' injury:
Howard
Coleman Jags Stones Galloway
Mirallas Mcarthy Cleverly Oviedo
Kone Naismith
On paper I'm really good at this managerial lark
Jamie Barlow
72
Posted 08/08/2015 at 08:44:21
I think 2 months of nerves have hit me this morning. I don't usually get up this early on a Saturday. Eyes pinged open at 7:00 with Everton on the brain. I haven't missed this little sickly feeling I get in the pit of my stomach every weekend.
An early goal and the confidence will flow, hopefully.
COYB.
David Chait
73
Posted 08/08/2015 at 10:04:58
So Martinez has stated that Barkley is best at 8 and ready to be our box to box player..So for fks sake do it and stop blowing hot air! We know it, you know it, take a chance for once!
Liu Weixian
75
Posted 08/08/2015 at 11:59:00
Not to dampen spirits here, but the depressive side of me think that it could be a repeat of the opening day loss against Blackburn so many seasons ago. 3-2 the score.
But having said that, I am going for a 2-1 win. A lucky goal after 30 minutes of endless passing, only to concede from a corner after the break, and then a dramatic last-ditch winner. Macca and Coleman the scorers.
Colin Glassar
76
Posted 08/08/2015 at 12:00:16
And so it begins........... COYB!!
Denis Richardson
77
Posted 08/08/2015 at 12:12:07
Tik Tok

John Malone
79
Posted 08/08/2015 at 12:24:20
Great day for football, love it! COYB!
Peter Barry
80
Posted 08/08/2015 at 12:25:29
l always tell myself I don't really care anymore after so many seasons of dross and unfulfilled promises yet here I am again thousands of miles away as usual living in Bali and just having moved house today so having no TV to watch so I'm on the internet seeing what TW has to offer and waiting for the seasons start and looking forward to the banter on the Live Forum.
Ian McDowell
81
Posted 08/08/2015 at 13:05:32
Sometimes teams that haven't made many changes in the summer prior to the seasons start can have really surprisingly good seasons. Hoping thats the case of us. Watching Utd v Spurs and Spurs are looking very good in the first 20 mins.
Ian McDowell
82
Posted 08/08/2015 at 13:07:48
As I say that United go 1-0 up.
Mike Childs
83
Posted 08/08/2015 at 13:15:42
At least the Spurs scored. Wrong goal unfortunately.
Dave Abrahams
84
Posted 08/08/2015 at 13:20:28
Peter. (66) Al you Everton fans, living in foreign lands never fail to amaze me, miles and miles away but still got the Everton bug, I hope you are all happy tonight.
Going to the match myself soon, do a bet, watch my grandkids and great grand son coming to the house with their Everton kits on, excited at the start of a new season, then my two sons getting ready to take them all hoping for an Everton win, think back to when I was their age and how excited I used to be, would love that excitement to come back again, especially to me.
Mike Childs
85
Posted 08/08/2015 at 13:45:48
Sounds like a great day for you Dave. Hopefully a cherry on the top of the cake (a victory) awaits you. Here in Worcester MA. I await the live forum.
Al Reddish
86
Posted 08/08/2015 at 14:13:01
Howard Coleman Stones Jags Galloway Barkley Barry McCarthy Cleverly Mirallas Lukaku start.
Jason Murray
87
Posted 08/08/2015 at 14:15:24
We've already won Battle of the Mersey today, now it's time to do the business on the pitch - COME ON YOU BLUE BOYS!!!!!
Ernie Baywood
88
Posted 08/08/2015 at 14:23:00
Obviously some truth in the Baines injury rumours.
Barry continues in midfield.
Neil Wood
89
Posted 08/08/2015 at 14:24:23
So nervous. Was so wanting to see Del Boy today but kind of glad in a way he will be returning for the televised fixtures... Think he will give that bit more .

Would love to see us 2 or three up with half hour left and get Mcaleney on.
Come on today boys, first games have massive impacts on your season. Confidence builder
COYB
Al Reddish
90
Posted 08/08/2015 at 14:27:18
5 Live confirmed Baines ankle injury and said he could be out for a while.
Colin Glassar
91
Posted 08/08/2015 at 14:34:57
Need to win this one. We have the 4th worst first game record in prem history according to sky. That is pathetic.
Add Your Comments
In order to post a comment, you need to be logged in as a registered user of the site.
Or Sign up as a ToffeeWeb Member — it's free, takes just a few minutes and will allow you to post your comments on articles and Talking Points submissions across the site.
© ToffeeWeb