Blues beat Bournemouth to Holgate
by

100 Comments [Jump to last]
| 12/08/2015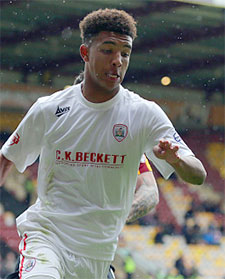 (Clint Hughes/Getty Images)
Everton are closing in on Barnsley's highly-rated defender Mason Holgate and hope to tie up a deal this week.
The 18-year-old underwent a medical today ahead of a proposed £1m move, with the Blues beating out the Cherries for a player who trialled with Manchester United last month and was also interesting Swansea and Aston Villa.
Holgate would likely arrive on a similar appearance-related deal that took another defensive prospect in John Stones from Oakwell to Goodison two years ago.
The Doncaster-born defender, who can operate at centre half and right back, made his debut for the Tykes last December and was offered a new contract this summer but he turned it down in the face of interest from the Premier League.
---
Reader Comments (100)
Note: the following content is not moderated or vetted by the site owners at the time of submission. Comments are the responsibility of the poster. Disclaimer
Neil Thomas
1
Posted 12/08/2015 at 14:04:00
Great signing for future, but that's no good now if we end up in Championship.
Eivind Nyhus
2
Posted 12/08/2015 at 14:28:06
Great if he signs, but we need someone able to step into our first eleven on a moments notice.
Tom R Owen
3
Posted 12/08/2015 at 14:28:14
Lots of ifs! If we get him. If he turns out as good as John Stones I will be delighted.

Not sure if he is cover for Jags short term however.
Daniel Lawrence
4
Posted 12/08/2015 at 14:35:47
The one comment on that website thinks it's because he'd be more likely to get first team football with us than them! I'd have laughed at that a year ago.
Malc Kitchen
6
Posted 12/08/2015 at 14:41:09
We need experienced players not kids! Van Dijk, N'koulou or Dragovic would be ideal! But it's like the old adage 'You can drag a horse to water, but you can't make it drink!' RM is the horse. Wish he'd get on it and ride off back to Wigan!
Ross Edwards
7
Posted 12/08/2015 at 14:41:46
I'm sure he'll turn out to be a talented player like Stones but we need players who can strengthen the first team now. He certainly isn't the defensive cover we're looking for at the moment.
Hopefully he isn't one of the 3 signings RM was talking about because if it is, it would sum up the window we've had.
Victor Jones
8
Posted 12/08/2015 at 14:46:35
If he turns out to be as good as Stones, he will be sold on. I rate Garbutt. He never got a proper run of games. I rate Browning. Never plays. I rate Galloway. Rarely plays. What chances will this lad get. Martinez last season played Alcaraz ahead of youth. This season he will drop Barry back into a defensive roll to. accomadate injuries. We have all seen dozens of youngsters come. and go. Would Martinez have given that West Ham youngster a game? In similar circumstances. I doubt it.
Charlie Burnett
9
Posted 12/08/2015 at 15:06:05
We've turned into a club that is looking for youngsters for the future hoping that we do a Man United. We will be relagated but have a great U21s squad.
Richard Reeves
10
Posted 12/08/2015 at 15:13:56
The young players that the manager has signed (Galloway, Besic, Lukaku,McCarthy and Deulofeu) are good signings along with the ones he has given a chance early in their careers (Stones, Barkley and Garbutt) when the previous manager would have probably introduced them a lot more gradually and maybe not at all in the case of Barkley.

The ones he has been linked with (even if he is unable to get them) like Sergi Roberto also point to a level of player that could take us to the next level and are what I consider to be proper footballers and not so much athletes.

I don't know anything about this lad Holgate but going by his age and Martinez's track record with the younger players as i've pointed out above i'm guessing he must be pretty good.
Jim Knightley
11
Posted 12/08/2015 at 15:14:07
Good. We need senior players, but it does not mean we should forget about the future. We brought Stones to some criticism a couple of years ago, precisely because he was not ready for the first team. There is no telling how good Holgate could become, but our progress as a future club necessitates youth investment.
Paul Ellam
12
Posted 12/08/2015 at 15:21:28
Get him. Now!
Then make more signings for the first team.
Paddy Howlin
13
Posted 12/08/2015 at 15:22:14
Would be a good signing for the future, but should not be classed as the short term replacement for Alcaraz and Distin. Hopefully we can pull this one off.
Robert Pierpoint
14
Posted 12/08/2015 at 15:56:00
Seems like a good signing to me. He won't be close to the first team yet, he has less experience than Stones did when he arrived, but should be one for the future.
I think that you are being a little harsh there, Victor. Garbutt has not had a run of games because he has Baines in front of him and at the minute he is not ready to be a PL left back. He has got a good loan move there and he could contribute to our team in the years to come. You mention Galloway, but he started on Saturday. This is pretty decent saying that he only had minimal league one experience when he joined.
Because the Premier League is so competitive (unlike La Liga there are no easy rides on this league) it is difficult to blood lots of youngsters in the same team. Indeed, it could be argued that the by product of having the most competitive league is that the national team suffers.
Alan McGuffog
15
Posted 12/08/2015 at 16:11:52
Any chance that one day we shall be linked with a highly rated prolific goal scorer ?
Raymond Fox
16
Posted 12/08/2015 at 16:27:53
Richard 9, good to read what has actually happened and not from the "get Martinez out" gang!
The young man Holgate looks to have a future, but as has already been said he's not ready for our Premier League side yet.
Let's face it, we want quality players but are not exactly a star attraction anymore. What we did 20 or 30 years ago has no relevance today, its no easy task to sign the players we may want.
Shaqiri being an example.
Richard Reeves
17
Posted 12/08/2015 at 16:30:04
We don't need another defender. How many people would have thought Stones was ready for first team action in Martinez's first season? If Moyes was still here Stones probably wouldn't have had a look in and for all the people questioning that decision the same amount of people would be defending it saying the manager knows best.

Our first choice is Stones and Jags, that's always going to be the case unless someone gets injured so anyone coming in is cover which is ideal for someone like Browning who needs to be introduced gradually as Stones was in his first year.

He has proved himself ready to cover in my opinion and I believe Galloway is good enough to cover for Jags. It makes sense to me for the progression of the team to have Galloway and Oviedo play at left back, changing from time to time allowing each player to be fresh and if Jags does get injured (which is quite rare) to move Galloway into that position. I know most people don't agree but I think both Browning and Galloway are capable.
Mark Tanton
18
Posted 12/08/2015 at 16:32:05
I might get shouted down here, but he perfectly fits the business model of selling up later too. If we can make him a forty million quid player, he's been another Everton success story.
Gavin Johnson
19
Posted 12/08/2015 at 16:39:15
Would be a very good signing as one for the future. I like it that Martinez seems to be looking at buying one of the lower leagues best young prospects each summer.
Sign him up, Bobby, and while you're at it, buy Lennon, a CB, No 10 and the striker we desperately need.
Sam Hoare
20
Posted 12/08/2015 at 16:39:26
Always happy to bring in good young prospects but it seems to me that promising, fresh, defensive players is not something we lack in. We already have Browning and Galloway as well as the likes of Jonjoe Kenny, Garbutt, Pennington and Gethin Jones.
Perhaps he's better than many of though the chances of him being another John Stones is very slim. He's one in a million.
James Hughes
21
Posted 12/08/2015 at 16:58:24
WTF!?!? We need first team players... so we sign an 18-year-old who has potential to be 'phenomenal'?
A previous OP stated we will know after one game, well we do know. Same old slow passing with no idea on defence or set pieces.
I am worried more than ever about the future of this once big club. Is Martinez accountable for new signings?
Shane Corcoran
24
Posted 12/08/2015 at 17:08:28
The U-21s will have a rock solid defence to build upon.
Charlie Gibson
25
Posted 12/08/2015 at 17:11:09
Good signing for the future but still need a quality CB for this season. Disappointed that Van Dijk looks to be going to Southampton.
Holgate is under 6 foot - unless he's still got his growth spurt to come (which is possible given his age), I doubt he could become a top Premier League CB. Maybe a good RB though if he's quick and strong in the tackle.
Steve Brown
26
Posted 12/08/2015 at 17:12:28
As well as signings for the future, can we also have some signings for the present?
Tony Draper
27
Posted 12/08/2015 at 17:24:51
Delighted that we look to have secured yet another quality young signing.
David Chait
28
Posted 12/08/2015 at 17:26:52
This is a "wait and see" acquisition. Not a "Next Stones", I don't think. I don't see any England youth representation in his Wikipedia page and he failed his trial and Man Utd. So I won't get ahead of myself just yet.
Richard Reeves
29
Posted 12/08/2015 at 17:36:59
When I said we don't need to sign any new defenders I was referring to first team players, not Holgate.
Stu Smith
30
Posted 12/08/2015 at 17:39:32
Bit old isn't he? According to SSN he is 'just' 198 years old!!!
Colin Glassar
31
Posted 12/08/2015 at 17:39:33
Obviously one for the future so why are some of you getting your knickers in a twist? This lad isn't the CB we are all waiting for. He's simply a lad who might come good in a year or two or, shouldn't we be buying good youn talent?
Chris Green
32
Posted 12/08/2015 at 17:47:21
Somewhat concerned about his age! Holgate, meanwhile, is just 198 years old and made 22 appearances for Barnsley last term - his first full season in the first-team. This seems a gamble! :-)
Jimmy Kelly
33
Posted 12/08/2015 at 17:50:20
So now we're deciding whether somebody's a good signing based on their Wikipedia page David? Unbelievable.
For what it's worth, Stones only broke into the international youth set up at the age of 18, the same age as Holgate is now. Peter Clarke, on the other hand, represented England at every level. Make of that what you will.
Also, you don't 'fail' a trial. There's actually no evidence that United decided against signing him, it may be that he wasn't prepared accept the terms/prospects he was offered by them. Alternatively, they may have thought he was fantastic, but decided that they would be better doing what most teams do in their position - let him learn his trade somewhere else and then buy him when he's ready for the first team. Saves the hassle of coaching them I suppose.
I honestly cannot believe anybody is unhappy at this signing. I certainly hope it isn't one of 'the three', and of course we need to strengthen the first team, but if the likes of Holgate, Galloway, Garbutt, Dowell, Henen etc can all make it, maybe we'll finally get to the level we all dream of.
Jay Harris
35
Posted 12/08/2015 at 18:04:12
Looks a good prospect on paper but we are not unique in trying to pick up good youth players and bringing them through.
West Ham and Southampton have been doing it for years.
Most Prem clubs have top class academies and very good scouting connections.
Spurs tonked our U21s the other day so I wouldnt think that our current crop of youngsters will be winning the league sometime in the future.
Youngsters learn and look up to the stars of today. How many of them have we got for our youngsters to look up to and emulate.
Paul Jeronovich
36
Posted 12/08/2015 at 18:10:34
Great, file under 'one for the future'
Now for a few signings for the first team please as we are one defensive injury away from disaster.
Jimmy Kelly
37
Posted 12/08/2015 at 18:13:08
Jay, the first choice back 4 for our 'under 21s' would probably be Garbutt, Galloway, Browning and Kenny, none of whom are currently available for selection. Throw in the fact that Spurs had one of the top 10 keepers in world football playing and you start to realise that we might be comparing apples with pears.
I'm guessing that with the logic you apply, you also believe that West Ham are closer to winning a major trophy than Arsenal, based on the result at the weekend?
Jay Harris
38
Posted 12/08/2015 at 18:17:06
Fair point Jimmy, although from what I've read it wasnt Spurs keeper that made the diiference.
I am just very frustrated about our clubs inactivity at senior level right now.
Ian McDowell
39
Posted 12/08/2015 at 18:28:29
Good young player so it seems. Anyone take Barton on a free? One thing he doesn't care for reputations of players of the big clubs and would at least get his foot in. Something we seem to be lacking, especially on trips to Anfield.
Colin Glassar
40
Posted 12/08/2015 at 18:30:04
I would Ian. Even only as a squad player he wouldn't suffer fools or slackers.
Simon Berrey
41
Posted 12/08/2015 at 18:31:46
I love our commitment to youth and nothing tells me that this lad isn't going to be great for our future. What does worry me is that we appear to shuffling the deckchairs on the Titanic. Everyone else has their players signed and is ready for the season, which I would like to point out has already started !
And I know the London biased media delights in painting us as poor penny pinching "has beens", but we aren't really doing anything to break out of that stereotype.
Come on Roberto, let's aim high. Let's stop whinging, mix up the team a little, change the tactics ( play one CDM, two upfront ), and make our opponents think a little.
COYB ! Let's bring back the Glory Days. Even Kone looks up for it.
Danny Broderick
42
Posted 12/08/2015 at 18:35:57
This is some much welcome good news, but it is only a start.
Keith Harrison
44
Posted 12/08/2015 at 18:37:27
Agree Colin. Barton would give us that Peter Reid, even Phil Neville mentality, and drive the team on. It could be a very shrewd move indeed if it happened.
Pete North
45
Posted 12/08/2015 at 18:47:56
I wish I could join those applauding this move but to me it is yet another example of the inept recruitment of players we have seen over the last couple of years. RM told us at the start of the transfer window that we were going to recruit a centre back at the top of his game to compete with Jagielka and Stones. What we appear to have so far is a promising 18 year old.
In terms of priorities, the last position we need another teenager for is centre back when we have Browning and Galloway both proclaimed as Premier League centre backs of the future by the manager and we also have Pennington who is already Championship standard.
If young Holgate has Stones talent then ok we cant turn such an opportunity down because that would probably make him the best investment opportunity available in the U21s market. Unfortunately, in view of RM's record to-date I cant help thinking this is more a case of good relationship with Barnsley built up since Stones signing plus Barnsley obviously know a good young centre back when they see one plus we desperately need cover in that position equals lets take a punt on Mason Holgate. That is not the sort of lazy approach that other Premier League clubs will fall into these days.
It would however help to cement the RM invention that he is being very brave in bringing through young talent which causes us to finish bottom half. But I suppose thats another issue...
Darren Bailey
46
Posted 12/08/2015 at 18:48:39
Stu, you beat me to it. 198 years old doesn't fit RM's bill of bringing in players for the future...
Still won't be the slowest in the squad even at that age though-that's still Barry.
Brent Stephens
48
Posted 12/08/2015 at 19:26:12
Clearly not a signing for immediate inclusion in the first team, so why are people using this to criticise lack of first team signings? This isn't a signing INSTEAD of first team signings.
Steven Jones
50
Posted 12/08/2015 at 19:56:35
Apparently he is right sided and can play at right back. Very accomplished ball player, passer and athlete. With Hibbert moving off stage over next year or so, we need to build up cover in the area.
This is an excellent buy and part of the business model that appears to be able to fill the defensive positions with classy youth leaving the powder dry for the attacking creative transfers that we need to make.
Great move RM and now lets have the attacking acquisitions and the left sided 1st team CB.
I would be happy with Geri and Cleverley as well as Lennon - plus Garbutt secured, the Striker and Left CB. (a No 10 will be next year me thinks)
Hennen, Holgate and the preseason seeing a number of players such as Pennington, Galoway, Browning, McAleny come through will be a big step in transforming an aging squad that Moyesey recognised when he left. RM is doing a great job in turning over the shape of this squad.
We just need to secure those couple of difficult signings at the tail end of this transfer window ... Keep The Faith!!!
Pete North
51
Posted 12/08/2015 at 20:07:49
Brent - if only we could be certain about that !
Dave Abrahams
53
Posted 12/08/2015 at 20:12:52
I haven't seen this lad so don't know if he is good bad or indifferent, but if he played 22 times for Barnsley, in a tough league, I'd say he must have good potential, I don't think he'll considered for the first team but you never know.
Liverpool are playing an 18-year-old who they signed in January and this is ahead of two or three experienced players; Gomez looks very good to me, sad to say.
Phil Malone jnr
54
Posted 12/08/2015 at 20:29:33
One of our biggest mistakes is making Jagielka captain, makes it tough to drop him for being one of the Premier League's worst centerbacks. Also looks like Van Dijk's off to Southampton.
Holgate's meant to be a decent player but is he first team ready or another Henen?
Mike Powell
55
Posted 12/08/2015 at 20:31:24
Steven, are you serious about Martinez doing a good job? He is ruining our team. Players played out of position, Barry Cleverly, McCarthy all similar styles and all starters.

Don't even get me started on the tippy tappy shit. The sooner the bafoon leaves the better.
Tom Bowers
56
Posted 12/08/2015 at 20:34:18
We can all speculate about what will happen if Stones gets an injury keeping him out for a few weeks. There is absolutely nobody on the books who is ready to step in and do a first class job and that includes Barry, Hibbert and any youngsters.
Whilst youngsters have promise and are eager they are susceptible to errors and that is not affordable in the centre of the defence in the Premier League. Everton need an older experience head ready to step in who can be dominant particularly in the air. I would have liked Ron Vlaar but alas he's crocked.
Kelvin Thomas
57
Posted 12/08/2015 at 20:51:38
Yes to Holgate, no thank you to Barton!
Still looking forward to the CB, no 10 and attacker!
Kev Cooper
58
Posted 12/08/2015 at 21:03:58
I hope he turns into a decent player and you have to support any new player. However quality players have become available that would take our team forward and we've missed out. Now Van Dijk looks like he's going to Southampton. All the mid-table teams are passing us by.
Where are we going? Do Martinez and Kenwright have anything that resembles a plan?
Dave Ganley
60
Posted 12/08/2015 at 21:21:57
Ditto Kelvin #49
Andy Walker
61
Posted 12/08/2015 at 21:26:11
I must have missed all the clamour to sign Holgate up. Maybe he'll be a good long termer, but really is this what we need at this stage?
Established players must be running a mile from Mr Martinez. As for beating Bournemouth to a signing, is that what it's come to?
Colin Glassar
62
Posted 12/08/2015 at 21:41:38
Well if they are running a mile, let them run Andy. If they don't want to play for Everton FC then they aren't worth the bother in my book.

We all want these three new players in ASAP but only if they want to play for Everton. Not Martinez, not BK, Everton.
Steven Jones
63
Posted 12/08/2015 at 21:52:33
Tom 48
Browning is the answer in the current squad. He looks like a 20M CB in the making. I was impressed with him at Swindon, Leeds and Villa Real friendlies.
Catch 22 with all of this is if we went out and replaced Alcaraz and Distin with say an Evans/Van Dijk/Zapata/Klavan and any other expecting to play 1st team CB's we would block the opportunity for Browning/Pennington/Galoway.
Andy Walker
64
Posted 12/08/2015 at 21:54:38
That's fair enough Colin, but I do think the manager is part of the equation when players consider if they want to join us. Just look at Stoke, players are being attracted there (have you been there!) for some reason and the only one I can come up with is the manager.
Charles Cook
65
Posted 12/08/2015 at 21:58:22
Andy, I remember similar comments when Stones was signed.
These guys may not be the priority at a given moment, but if good, young talent becomes available, my view would be to seize the chance.
Faisal Qureshi
66
Posted 12/08/2015 at 22:06:13
I maybe wrong, but I cannot see what players want to play for Everton right now.
Maybe Martinez is building for the future or he thinks that Everton can win with kids. At least he is buying English kids and giving them a chance.

Andy Walker
67
Posted 12/08/2015 at 22:09:05
I think we are only comparing Holgate to Stones because they happen to have come from Barnsley. Unless Barnsley have suddenly become the premier English club for developing defenders, in which case buy the rest off their defence, I think it's a red herring. I think the reality is, it's highly unlikely that Holgate will turn out as good as Stones. If Holgate had come from say Rotherham would we be using Stones as a comparitor?
Danny Halsall
68
Posted 12/08/2015 at 22:15:56
Is anyone else wondering why we are not in for Adama Traore? Seems like a steal at £6 million. If Villa land him that will be a real coup!
Steven Twine
69
Posted 12/08/2015 at 22:16:28
Just been reading the Barnsley fans forum and they are not that bothered about him going. A lot said he's nowhere near ready for the Premier League.

A couple suggested he's a big time Charlie now after his Man United trial. A lot said he's no Stones.

And just off topic they also said if Stones signs a new contract with us then the sell on fee is terminated.
Colin Glassar
70
Posted 12/08/2015 at 22:19:31
Andy for a player to come to a club an offer has to be made. Do you really think Martinez calls the player/agent and makes them an offer directly? I think this is the chairman's and/or the CEO's job isn't it?
The manager probably has a lot of input later but a formal offer has to be made first for him to start selling his project to the player........before they run!
John Crawley
71
Posted 12/08/2015 at 22:19:31
Andy 55 The only reason you can come up with for players going to Stoke is the manager? What about wages!!
Ian Hollingworth
72
Posted 12/08/2015 at 22:29:29
Malc (5) sad thing is Wigan fans would not want him back and given the division they are in that says it all for me
Jim Jennings
73
Posted 12/08/2015 at 22:30:26
Andy Walker,
Who are all these established players running a mile from Martinez? You don't think the £70,000 per week wage on a 5 year deal has anything to do with players (Shaqiri) signing for Stoke? Did you also "miss all the clamour" to sign Afellay, Shay Given and Philipp Wollscheid?
Fuck me, some people really will use any old brush to beat Martinez with at times. You know, there are some things that occasionally happen in football that aren't his fault.

Dean Adams
74
Posted 12/08/2015 at 22:34:05
Jim.
Dont be daft!! Martinez not to blame, whatever next?
Mike Keating
77
Posted 12/08/2015 at 22:56:49
Great - I've renewed my season ticket to watch us sign another promising bench warmer who might become 'the next John Stones' and shove a few more million in the bank. Is this what we have to look forward to instead of challenging for trophies?
No wonder we go on about our 'istory - we have no future!
Charles Cook
78
Posted 12/08/2015 at 23:05:37
I see what you're saying, Andy, but for myself, yes I would make the comparison . I'm not talking about the player or selling club – it's about the principle of taking opportunities when they present.
I know little about the player – though that rarely stops people from commenting, but the point I was making is about the reality of not being able to control when players are available .
If a good young player is available, then, regardless of the first team requirements, I think we should look at moving for him.
Dennis Jones
80
Posted 12/08/2015 at 23:37:11
Get a life, won't you all. We need a No 10. Messi would do. We need a dominant centre back. Name who you like. Similar for new striker, etc, etc. We can't afford the very best, but I at least have faith that we will get the best that we can.

In the meantime, have a plan B. Nurture our Academy and buy in those who can add to that. We have a reputation for giving youngsters a go, which similar of potential will take note of. Remember the famous quote, "You'll win nothing with kids".
Steve Jenkins
81
Posted 12/08/2015 at 00:00:31
Always glad to sign promising youngsters! However the first team squad is woefully thin and we need players ready to step into the first team.
As far as this lad goes – one thing you can say about Roberto is he does appear to have a good eye for young and athletic players, so hopefully this lad will be another.
I can see him starting with the U21s, following a loan period next season; he'll then cover Coleman at right back, before perhaps eventually moving to CB in the coming seasons
Ste Lewis
83
Posted 13/08/2015 at 08:14:18
With Galloway and Browning in the first team set up this season this is obviously one for the U21s. Barnsley bring their centre backs up to play out from the back and that obviously fits well for us too. There is no negative spin to be made here, to crowbar some in seems petty.
Abhishek Saha
84
Posted 13/08/2015 at 09:49:16
Holgate signing, in isolation, is good or maybe just routine, like a club investing in youth for the future. However, against the backdrop of all these bids being made for John Stones, this signing makes me uncomfortbale. If he was getting cover for Jags and Stones, then it would have been someone ready to play in the premier league in case of any injury to our first choice CBs. This one seems to be more like an investment for the future to fill in the void that would be created if Stones was to depart. Hence, I'm not getting a good feeling about this.
Matt Traynor
85
Posted 13/08/2015 at 09:54:17
Abhishek #71, or, he could be an investment for the future to fill the void that will be created when Jagielka starts to wane with age...Much like we saw with Distin in the last 18 months.
He was more likely to get 1st team appearances at Bournemouth (Distin won't improve) this season than us. He's obviously considered his longer term development to be better served with us.
(FWIW I still expect Stones to be sold).
Abhishek Saha
86
Posted 13/08/2015 at 10:04:20
Agreed Matt
Charlie Dixon
87
Posted 13/08/2015 at 10:33:45
Can never complain with the Club snapping up a highly rated British 18 year old. We all moan like shit on here but imagine being a Barnsley fan! They must be sick to their back teeth with sides like us coming and stealing their academy prodigees.
Still think we'll get 4 more in. Lennon and Austin permanently and a couple of loans. Lets try and keep the faith. We all love this great Club and at the end of the day we're all more important to it than Martinez, Kenwright, Elstone or Stones for that matter.
Onward Evertonians don't let your hearts be low.....
Matt Traynor
88
Posted 13/08/2015 at 10:56:02
Charlie #74, I'd venture that, in Stones' case, the Barnsley fans are hoping that we do sell him so they get their injection of cash from the profit!
I believe the Holgate deal will also include a sell-on clause.
In a way, as we're a "small club" in the eyes of the media (and our owners it would appear) then it probably makes us a preferred vehicle for taking these players on, developing them, and selling them to the media darlings of the day.
James Stewart
89
Posted 13/08/2015 at 11:17:24
@5 I agree with that list. Van Dijk, N'koulou or Dragovic for me. Holgate is fine one for the future but it does smell a little of hypocrisy cherrypicking a smaller club's promising young player while the Stones saga drags on.
Personally I think its all a front and he will be sold on deadline day. At no point have we come out and said 'Not for sale at any price'. Plus if he were staying his agent would be swiftly demanding a new contract in light of Chelsea's interest.
For me Browning was our player of pre season games and looked every inch capable of filling Stones's boots should he leave. I would like to see a lot more of Browning this season so every cloud and all that.
Dave Pritchard
90
Posted 13/08/2015 at 11:24:43
We take players from 'lesser' clubs and 'bigger' clubs take players from us.
This is the way football works. Fans of the selling club are usually left disappointed and fans of the buying club are usually happy. No good complaining as it works both ways. Main thing for the selling club is to get the sell-on percentage sorted beforehand.
Mike Keating
91
Posted 13/08/2015 at 11:25:50
So that's our future role in the Prem - we get our hands on a few rough diamonds, polish them up, shove them in Ratner's window and sell them on whenever a bloated sugar daddy wants to treat his latest manager.
And what do the fans do?
Hope we strike lucky one year and retain a few gems long enough to win the League Cup?
Sad state of affairs for us and just about everyone else.
Martin Mason
92
Posted 13/08/2015 at 11:32:59
He seems like a perfect buy for a club in Everton's position and it's a business area that we are very good at so credit where it's due. If he's good enough he'll make the first team and if he's even better then he'll be sold on.
Mike Keating
93
Posted 13/08/2015 at 11:37:31
Yes Martin it's good business but it's not much fun to watch. How much longer are we going to chant along with "Everton are the greatest football team" before we realise that we aren't even in the running anymore.
Ray Roche
94
Posted 13/08/2015 at 11:38:58
James Stewart @76 and Dave Pritchard @77
Lads, there us a big difference between approaching a "smaller club", asking about a players availability, and then putting in a bid acceptable to both clubs, and the likes of Chelsea leaking stories, offers etc. to the press and then getting their players to come out and welcome Stones to Stamford Bridge, especially after being told that Stones was not for sale. I thought you might have been able to work that out for yourselves.....;-)
Mike Keating
95
Posted 13/08/2015 at 11:47:38
Spot on Ray - as I said on a previous post, this was always the way amongst clubs who showed a certain amount of respect to one another and the game had not become distorted by greed and the obscene disparities in wealth and power that characterise the current state of affairs.

Mike Allison
96
Posted 13/08/2015 at 11:52:11
All our players are available for the right price. Almost anyone in the world is. If we were offered the cost of a new stadium for three players we'd take it.
The Stones issue is that we want Stones more than we want the amount Chelsea are offering.
Patrick Murphy
97
Posted 13/08/2015 at 11:55:09
It's official now the lad has signed on a five year contract. I'm not sure how long some posters have been watching the game, how long they have been interested in it or even if they like the game of football at all. But buying or bringing up your own young talent for any club is a must, even the mega-rich clubs do it.
I'm not sure what some people expect the club to do, Finch Farm they argue doesn't produce enough first-team players, we only nurture young players to feed to the other richer entities, the players that do come through the ranks such as Barkley aren't good enough for the Premier League etc etc and the rants go on and on.
I'd much rather the management take a punt on a young player for a £1m or so than bring in ageing professionals such as McGeady or Kone I'd also like the management to be a little braver with some of our young strikers by giving them 10 minute cameos here and there. who knows they might thrive in the PL, they certainly couldn't do much worse than some of the seniors have done in the past 12 months.
Everton FC as a club have never fully relied on the transfer market to build a team, it's always been a mix of players who joined the club whilst they were in their youth and buying players who are ready for the first team. Fantasy football may be entertaining on a computer console but in the real world it doesn't work.
Ray Roche
98
Posted 13/08/2015 at 11:56:46
Mike, I think that the word "respect" and "Chelsea" are never going to appear in the same sentence again, unless preceded by "lack of". They are without doubt the most arrogant set of nuggets in the Premier League, and when you think that the Prem also contains City, Utd and the Deluded Ones from across the park, that is some statement. Cockney Rent/Barrow Boys with the charisma of damp undies.
James Marshall
99
Posted 13/08/2015 at 12:00:19
All I can think about is toothpaste.
Dave Abrahams
100
Posted 13/08/2015 at 12:05:38
Thanks for that information Patrick and I echo everything you say in your thread.
Colin Prendergast
101
Posted 13/08/2015 at 12:08:45
I have a few Barnsley supporting mates who are honestly very surprised at us buying him and can't see what fuss is about. May turn out ok but doesn't seem like we beat off the biggest of competition for him.
James Marshall
103
Posted 13/08/2015 at 12:12:23
Colin, weren't Utd interested in him?
Mike Keating
104
Posted 13/08/2015 at 12:14:06
Patrick, forgive me for encouraging you to follow a link to the Daily Mail but John Terry is the only Academy player of note to make it at mega rich Chelsea which probably raises another question - why do they Hoover up so much young talent when their cheque book does all the talking?
http://www.dailymail.co.uk/sport/football/article-2903231/Chelsea-sent-30-players-loan-season-Lewis-Baker-s-switch-Sheffield-Wednesday-making-star-midfielder.html

Colin Prendergast
105
Posted 13/08/2015 at 12:20:04
James - he had a trial there apparently but doesn't look like any follow up. To be fair we only beat Wigan to Stones, and now Bournemouth for this lad so doesn't really mean anything. But my mates raved about Stones and said we massively underpaid but aren't bothered about losing this lad...
James Marshall
106
Posted 13/08/2015 at 12:27:28
Didn't Sheffield Utd once pass up the opportunity to sign Maradona?
Jay Wood
107
Posted 13/08/2015 at 12:53:25
Steven #61 you say Barnsley fans believe if Stones signs a new contract with us then the sell on fee is terminated.
If correct , then surely it is already terminated as JS signed a contract extension with us to 2019 in August last year :
Dave Pritchard
108
Posted 13/08/2015 at 13:20:33
Ray (81). I agree that the way players are approached is important and that things should be done correctly. Unfortunately it often is not. My general point about the way players move around still stands though.
Jamie Crowley
110
Posted 13/08/2015 at 14:29:08
I concur with Patrick at 83.
Buy low, sell high. We seem to be following a very sustainable and profitable business model under Roberto.
I'm also not too bothered by not signing a CB who's "ready to step in". We have Besic who can slot at CB in the event of injury, and I'd be entirely comfortable dropping Garreth back into that position if the need arises.
Save the money to buy a winger. We need a wide man. With Mirallas and DelBoy we are fine, but we seem to push a natural CM out wide when one of them is out of the lineup and it ruins our balance. Wide man please Roberto.

Sam Hoare
111
Posted 13/08/2015 at 14:37:42
Statistics would suggests he's far more likely to be the next Scott Spencer than John Stones but best of luck to him.
Important to invest in young talent though i'd wish we were bringing in some more flair players. Pity that Andrade loan didn't work out.
Mike Manchester
112
Posted 13/08/2015 at 14:47:01
The good news here is that if RM is spending 1-2 mill on a reserve team player, then surely he must be confident of having enough money to purchase the 3 new players he reminds us of in every press conference.
Also the fact that he chooses to reinforce the idea that he will be bringing in 3 players in named positions, tells me he DOES have a plan. I can't see how anyone could form a different opinion.
Despite all the naysayers EVERY one of our good players has signed a new contract, to spend more time with RM. Even KM who could have made more money at West Ham.
Also, wtf is up with people slaughtering the "tippy tappy" football. Sure it might not click perfectly at all time and in all matches, but surely you must understand it creates better footballers. Were you all knocking it when we were ripping teams apart 2 seasons ago?
Some may retort with the slow footy of last season, but again all of you I assume are aware of the influence of confidence and momentum.
Any way, I think I just wanted to rant abit myself. So thanks TW and TWer's
Dave Pritchard
113
Posted 13/08/2015 at 15:28:51
Jamie, I doubt that Besic is going to make a PL centre-back. Barry could play there but I still think we need to make a centre-half signing.
James Hughes
114
Posted 13/08/2015 at 15:29:54
Ray #84 you are 100% correct in that post sir, also add to that the
'special (needs) one' and his treatment of his medical team this week and you have to gawp at the lack of class on show.
Roll on the 12/09 and lets hope we are playing with a semblance of sense and style. If not just get the 3 points regardless and enjoy the post match interviews from both him and RM.
Jamie Crowley
115
Posted 13/08/2015 at 15:34:13
Dave -
I think Mo is a defensive midfielder. But in an temporary role I think he could slot in at CB. As could Galloway I forgot to mention - he's not a RB.
So I'm not too fussed about getting a CB in the window.
We need another wide man for sure in my humble opinion. That's my top priority - as if anyone is listening at Everton!
Add Your Comments
In order to post a comment, you need to be logged in as a registered user of the site.
Or Sign up as a ToffeeWeb Member — it's free, takes just a few minutes and will allow you to post your comments on articles and Talking Points submissions across the site.
© ToffeeWeb