Everton vs Manchester City
by

96 Comments [Jump to last]
| 22/08/2015
Match Preview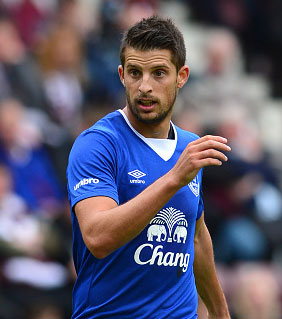 Kevin Mirallas is back to 100% fitness according to Roberto Martinez
(Mark Runnacles/Getty Images)
Everton are back at Goodison Park and under the glare of the live TV cameras again for the visit of Manchester City and a match that has taken on an entirely different complexion from the Blue point of view in the wake of last weekend's stunning 3-0 win at Southampton.
Following a summer of frustratingly limited transfer activity and the disappointing 2-2 draw against Watford in the season-opener two weeks ago, the run of fixtures that would see Everton take on all of last season's top eight sides before the end of October looked even more daunting. Now, however, in the context of the performance at the St Mary's Stadium, the horizons of possibility have broadened a little; not too much stock should be put in one match but it at least lays down a marker for how Roberto Martinez's side can play.
It was a timely display because City, having fallen short last term of the standards they set in their title-winning season in 2013-14, have started this campaign in blistering fashion, taking six points from six in their opening two games, and not only firing six goals without reply but blitzing reigning Champions Chelsea in the process. The Everton that left the field after the Watford game to vocal disillusionment from the terraces might have approached this Sunday's game with a good deal of trepidation but with that win over the Saints under their belt, there should be plenty of self-belief coursing through their veins.
Martinez will be bolstered by the return to full fitness of Kevin Mirallas following a heavy ankle knock sustained on the opening day. He was included on the bench last Saturday but was not needed and, together with Gerard Deulofeu who only made a late cameo in the Southampton game, he will have benefited from an extra week's rest.
Whether either wide man will start, however, will largely come down either to how the manager approaches the visit of Manchester City in terms of formation or whether he will feel the need to reward the likes of Arouna Kone for his impact in both matches so far. Martinez has used a deceptively defensive-looking 4-5-1 line-up against the top teams like Arsenal and Manchester United but employed a counter-attacking strategy to soak up pressure and then pick the opposition off on the break.
Martinez hasn't been able to find a winning formula against the blue half of Manchester, however. Thanks to a rampaging goal typical of Romelu Lukaku's own first season at Everton, the Catalan's side took the lead at the Etihad in early October 2013 but ended up losing 3-1 and would give up a lead handed them by Ross Barkley's spectacular opener in the reverse fixture as well to lose 3-2. Last season's 1-1 draw secured by Steven Naismith's equaliser represents the only point the Blues have picked up against City under Martinez so it will be interesting to see how he approaches this one.
For his part, Lukaku appears to be in bullish mood following his brace at the St Mary's and Barkley is also off to an excellent start with two goals to his name already as well. Both are likely to start, with one of Mirallas or Kone likely to form the final prong in a three-point attack, and it would not be surprising to see the rest of the line-up unchanged, with Brendan Galloway continuing at left back in the absence of the injured Leighton Baines.
Whatever shape and selection he goes with, Martinez's side face what could ultimately be one of its most difficult tests on home soil all season. They have lost reserve firepower with the departures of Edin Dzeko and Stefan Jovetic while Pablo Zabaleta has been ruled out through injury but Sergio Aguero looks sharp and hungry, Yaya Toure has banished talk that he is too far over the hill to influence City's quest to regain the title, David Silva has lost none of his creative brilliance and ex-red Raheem Sterling has plenty to prove on his first return to Merseyside.
It promises to be a stern examination not of Everton's slightly depleted defence but also of their rebuilding confidence and resolve. But, as is always the case for these kinds of games, the prize at the end should the Blues pull off a win in terms of confidence is huge. If the 12th man of Goodison can raise the roof in the manner in which they so often do when City come to town – perhaps with the added lift of a couple of new signings in the bag by the time kick-off rolls around – it could provide the shot in the arm to carry Martinez's men over the line.
Kick off: 4pm
Referee: Anthony Taylor
Predicted line-up: Howard; Coleman, Stones, Jagielka, Galloway; Barry, McCarthy, Cleverley, Mirallas, Barkley; Lukaku
Full coverage: ToffeeWeb Match Report
---
Reader Comments (96)
Note: the following content is not moderated or vetted by the site owners at the time of submission. Comments are the responsibility of the poster. Disclaimer
Steven Higgott
1
Posted 22/08/2015 at 08:15:29
Tough call for Martinez on this game; does he go with the side that beat Southampton so impressively or will he bring back Mirallas into the side?
Whichever he picks, I think we will have a classic game on our hands here, both teams will be up for it. Hopefully we will have our shooting boots on,
Hart IMO is a bit doggy as a shot-stopper so, if we attack like we did against the Saints in numbers, then we will have opportunities to score, even off rebounds.
It was like a breathe of fresh air seeing us counter-attacking in numbers instead of slow play getting the ball up the field, so let's have more of that.
John Jones
2
Posted 22/08/2015 at 08:22:38
I have a positive feeling going into this game, All the unwanted media propaganda that has been around Everton in the past week might just might Galvanize the squad.
For me though the Referee has to put in a good performance. For all the flair and speed in the City team, they are also a bunch of dirty bastards. Also the linesman that didn't give offside for probably the most offside goal you will ever see at Anfield is officiating our game.
I really liked the system last week and again this could work against Citeh. But because we are at home will Martinez revert back to the possession based game?

Sam Hoare
3
Posted 22/08/2015 at 08:45:45
City looked top class against Chelsea and this will be a very tough examination with the likes of Silva and Aguero being on form and world class players. A similar style to Southhampton where we look organised and prepared to cede posession whilst hitting with deadly quick counters. Get the likes of Lukaku one on one with Mangala and it could be our day.
Realistically id probably be content with a draw but get a win and we will have some real momentum at the start of the season.
Glen Garrett
4
Posted 22/08/2015 at 09:20:46
I think that, if Everton can play like they did last week and just tighten up at the back a little bit more, I can then see Everton beating Man City, providing they don't slip up at the back because City will punish that, just like Chelsea did last season. Them beating Everton 3-6 was soul-destroying; three goals at home & still letting in six.
I am pretty sure that if the defence can tame City then Everton can go on & get the win attacking like they did last week they looked the part the only worry is defence this game will also test Stones.

Eddie Dunn
5
Posted 22/08/2015 at 09:42:47
This is the acid test. We will learn more about our team's prospects for the season, against an in-form City than away to a depleted Saints last week. I hope our crowd stay patient and don't get on the player's backs, as we will need to wait for our chances against them.
It would be an unbelievable boost if we could win, but a draw would be a good result.
Rahul Sreekumar
6
Posted 22/08/2015 at 09:48:53
I'm looking fwd to this (and facing all the other top 5/6 in the next games). But a little nervous at the same time too...
Nick Entwistle
7
Posted 22/08/2015 at 09:56:10
No problem. City are our cup final remember? Agree with Eddie on this, it will tell us a lot and positives could come from any loss.
Can't believe I just said that... Can we play Jelavic?
Christy Ring
8
Posted 22/08/2015 at 09:57:19
I think we should play to our own strengths and not worry about city. Lukaku is a completely different player with someone beside him upfront and Barkley has been a revelation in his free role.
Jay Wood
9
Posted 22/08/2015 at 09:59:06
What a difference a week and a win can make in football!
Booed off at half time in the season's opener against Watford, cheered to the rafters going in 2-0 up at half time against the Saints.
Confidence in sport comes from good performance and winning. Another win Sunday against clearly the early season form team would give us real belief and momentum as the succession of early difficult fixtures continues.
Dating back to last season, GP home performances have been largely insipid and toothless. The Shitteh game, on the back of last week's win at the Saints, may just have come at an optimum time for us, as in recent years Everton has largely 'been up' for the games against the elite clubs, especially at GP.
I am anticipating a crackerjack of a match and hoping a win for Everton will make a real statement to the league and even our own fan base as to what we are capable of.
Nick Entwistle
10
Posted 22/08/2015 at 10:01:15
Jay, you're giving the game away. No one under 50 would say 'a crackerjack of a match'!
Jay Wood
11
Posted 22/08/2015 at 10:03:52
Still plenty of lead in my pencil, thank you very much Nick! ;-)
Jim Lloyd
12
Posted 22/08/2015 at 10:12:41
I'm not so sure this is the acid test Eddie. I think it will be an extremely hard match for the lads. We are not a complete team yet, we're developing, though. I think the acid test will come over this season in a developing sort of way.for the team.
I absolutely agree with you about the crowd. I think a number of the lads confidence is fragile and the last thing they need is us getting on their backs.
They won brilliantly last week but tomorrow is a different game altogether. I think it is so massively important to back them, and not get too impatient and for heaven's sake not boo them. All that will do is hand over the initiative to City.
To me it more about how we play tomorrow. If the team play in the same manner as last week, it won't guarantee a win but it'll be great to see them getting in the face of some of the best players in europe.
It's a weird one. It's like the team at home are waiting for us to back them and us waiting for them to get at the opposition.
Well, what we can do is encourage them and see where it gets us...and the team.
I thought the supporters last week, as usual, were superb and I hope more of the home crowd follow their example...especially the miserable get behind me!
.

John Malone
13
Posted 22/08/2015 at 10:14:08
I'd air on the side of caution in this one! City are a different animal from Southampton and will definitely punish us if we give them space in the attacking third!
I reckon we should park the bus and counter attack for the majority of the game then see how we're doing and change for it last twenty if necessary!
The last thing we want to do is stand toe to toe with Aguero, Silva, Toure, the quality just isn't there to out play them so play to our strengths which is pace and power up top, with plenty of early diagonal balls to get in the space behind their defence!
Brent Stephens
14
Posted 22/08/2015 at 10:25:00
Jay, Nick. A cabbage to both of you.
Andy Walker
16
Posted 22/08/2015 at 11:24:21
One crap performance against a poor team and one good performance against a poor team.
We now need a good performance against a very good team. The good thing is Goodison will be rocking at 4pm on the back of a 3-0, so the team needs to come out with a positive attitude and to keep the crowd on side. We might stand a chance then.
David Hallwood
17
Posted 22/08/2015 at 11:26:31
Does Marinez stick or twist? Oh to be a manager. The football manager in all of us says don't change a winning team, because the Barkley, Kone, Lukaku trio looks potent. My feeling is that he'll drop Kone in favour of a more defensive midfield, possibly even Besic.
To state the obvious, a tough game and I'll be happy with a point.
Paul Avery
18
Posted 22/08/2015 at 11:30:51
Make sure they get closed down quickly; Jimmy Mac needs to have a big game.

Denis Richardson
19
Posted 22/08/2015 at 11:46:04
Don't think this is really a game we can use as the 'acid test'. We may be at home but try have a hatful of world class players we could only dream about.
All I want to see is commitment, aggression and a quick tempo. Have a go and see what happens.
Laurie Hartley
20
Posted 22/08/2015 at 12:01:04
This is the first time in a long time that I have looked forward to a game with confidence. The performance against Southampton showed me what this team is capable of.
I was very critical of the manager and team last season and also paid out on Lukaku on a couple of occasions. I hope, and think, I will be eating my words over the coming weeks.
If we roll City, keep hold of John Stones, and sign Yarmolenko everything changes. We could be on the up again.
Lyndon, I would go along with all of your team except for Mirallas. I think Kone has to start – to me, he played a big part in bringing the best out of not only Lukaku but also Barkley. Don't change a winning team.
Dave Abrahams
21
Posted 22/08/2015 at 12:01:58
I was very pleased with last week's performance but, to be honest, the thing that stood out like a sore thumb was the defending at corners.
There was no improvement from last season; they were all standing still when corners were taken and jumping to defend them from a standing position. This has got to improve; Southampton had two or three good chances from these corners.
Jim Lloyd
22
Posted 22/08/2015 at 12:06:56
To a degree, Dave, but did you see the number of times that Stones got pushed in the back as the ball was coming over? It seemed to me that was a definite worked ploy by Southampton.
Tom Bowers
23
Posted 22/08/2015 at 12:07:11
We know City have the better squad and are expected to win but anything can happen and we are all hoping Everton bring their A Game – especially the defence, where I would like to see better passing and tackling.
Last week, they could easily have been trailing before the first goal due to poor defensive work. Aguero and Ya Ya have to be kept quiet.
Chad Schofield
24
Posted 22/08/2015 at 12:09:40
Strangely City's attacking intent may suit how we played against Southampton... but it's likely it could end up like a basketball match (end to end), with a scoreline to match.
0-0 and I'll eat Paddy Ashdown's hat.
Dave Abrahams
25
Posted 22/08/2015 at 12:17:45
Jim (18), yes, I noticed that. I thought Southampton got away with quite a lot both attacking and defending corners but nevertheless Everton were still very poor defending corners for the reason I've stated; just watch them tomorrow.
Pete Edwards
26
Posted 22/08/2015 at 12:20:34
Whats with the comments saying Southampton were depleted or a poor team?! Am I missing something here?!
Some people just don't seem able to compliment when we play well and just want to put a downer on everything.
Colin Glassar
27
Posted 22/08/2015 at 12:21:23
Barry (yes, I'd start him), Macca and Cleverley are going to have to swarm all over YaYa and Fernandinho. Stop those two and you stop City. 2-2 draw though.
Jim Lloyd
28
Posted 22/08/2015 at 12:42:35
Will do, Dave. I never have thought that Jags is particularly good at defending crosses, even in Moyes's time. We nearly always had 11 in the box when defending a corner and quite often it was like bagatelle. I'm not so sure it's any worse now but I will take note.
All in all, the team performance against Southampton was excellent and I'm with Pete here: How come they are suddenly a bad team after what they achieved last season?
I think Arouna showed some really good chasing back and bombing forward and I think he added to the potency of Gareth, Macca and Tom in the midfield.
We do have to get into them, as they are so good in creating opportunities, and with a centre forward such as Aguerro who to me is the best in the Premier League. Still and all, we've got some decent players ourselves and I'm sure they'll be coming here knowing they're in for a game.

Dave Ganley
29
Posted 22/08/2015 at 13:23:59
Well, I guess we shall see where we are at after tomorrow's game.
So long as we close down quickly and attack at pace, then we should give them a game. Go back to slow dull to boring build-up play and standing off the opposition, then we shall struggle. Hope its the former.
Looking forward to the game tomorrow. COYB
Tim Greeley
30
Posted 22/08/2015 at 13:40:33
Both matches last season were hard fought, close and low scoring. (Frankly we were unlucky not to draw them both.) So it stands to reason that tomorrow will be a goalfest. 3-3 for me. Open and entertaining.
Mike Childs
31
Posted 22/08/2015 at 14:21:04
I for one Pete was not putting a downer on the performance as our intensity and teamwork were great. The fact of the matter is Southampton's best 3 of the back 4 and their starting GK were missing. Forester and Bertramd injuries, Alderweild and Clyne traded.
John Brennan
32
Posted 22/08/2015 at 15:15:22
I liked Roberto's stance during the press conference re this game. I thought I saw a more resilient Martinez, a guy who no longer was looking too earnest to please. He seemed quietly determined, and focused on the job in hand, and was very eloquent in the face of the persistent questioning re the Stones saga.
It's been regularly stated on ToffeeWeb how some/many think he is a waffler who uses a thousand words where a hundred would do. He still retains that trait, but I liked the way that he showed a diplomatic contempt for that plodding persistence from the first questioner, and displayed a steely determination to steer the conference onto this game. Good on yer, Roberto.
Toffees to win 2-1; (Mirallas, Deulofeu).
Jamie Crowley
33
Posted 22/08/2015 at 15:42:09
Last week was simply wonderful - one of the best games I've seen us play in recent memory.
Tomorrow is a different proposition altogether.
City have looked outstanding. Everton can be awfully Jekyll and Hyde.
I think possibly the largest factor tomorrow will be the fans. If they get frustrated and start the grumbling, I think we are doomed. If the players come out with intent and determination, Goodison will get behind them and lift them – especially on the back of last week's performance.
I'm actually not as optimistic as most. But as always cling to hope. As long as our effort is good and the fans get behind the team...
Eugene Kearney
34
Posted 22/08/2015 at 15:56:17
I bet we send the three new signings out for a walk round the pitch before the match.....
James Stewart
35
Posted 22/08/2015 at 16:40:51
I would go:
Howard
Coleman Stones Jagielka Oviedo
McCarthy Cleverley
Kone Barkley Mirallas
Lukaku
Barry is not mobile enough to keep track of Silva and City's speed. Not the game for him. Cleverley has impressed me and he has a good engine.
Kone and Mirallas have to play to offer an out ball on the counter.
Left back is a tough call but I'd go for experience with Oviedo unless his fitness is a problem.
Jamie Crowley
36
Posted 22/08/2015 at 16:46:18
I'm hoping we go 4-1-4-1 like last week, with Kone pushing up to morph into a 4-1-3-2 when we are in attack (or a 4-4-2...).
Howard
Coleman Stones Jagielka Galloway
Barry
Kone Barkley McCarthy Mirallas
Lukaku
Cleverley and Deulofeu off the bench for Mirallas and Kone respectively with Deulofeu moving up into the attacking second striker if the opportunity presents itself. Oviedo in for Galloway if needed.
Chris Wilson
37
Posted 22/08/2015 at 17:07:38
I like your set-up, Jamie (35). Ordinarily I would shudder at the thought of Barry on the pitch for this one, but I think City will target our flanks, especially our leftback. This could pull Jags a little out of position and expose our center of defense. So I like Barry at DM position there. If he limits his movement, I think he can just read the game and cut out attacks through the middle in our defensive third. I hope anyway.
And I like how you incorporate Mirallas and Kone. I like KM as a counter-attacking threat, but I also think Kone takes a lot of heat away from Rom. We're going to need both to get a result.
Geoff Trenner
38
Posted 22/08/2015 at 17:14:00
Any win tomorrow & we go top!
Ged Simpson
39
Posted 22/08/2015 at 17:25:56
Geoff: Just what I said to my missus... who is a kopite.
Mick Quirke
40
Posted 22/08/2015 at 17:31:21
And we'd stay there unless the Shite won at the Emirates on Monday.
Jim Lloyd
41
Posted 22/08/2015 at 17:43:18
Well said Jamie, I agree that the supporters can have a massive influence. I'm happy if we have a go at them, as we did to Southampton but this City team look the bees knees.
So I'm going with some trepidation but I think I'll lose my bloody voice again.
Come on lads, get stuck into them and I hope the miserable bugger behind me is on his holidays!
Ged Simpson
42
Posted 22/08/2015 at 18:05:17
Jim - As a kid we had season tickets with a miserable git behind us. I recall my Irish granddad turning round one game and just whispered in his ear.
He was rarely moaning after. Always wondered what he said; he'd never tell me.
A fond memory but not necessarily recommended!
Jim Lloyd
43
Posted 22/08/2015 at 18:08:14
Haha!. Great stuff Ged. I don't think he was offering him a pint of Guiness!
Ged Simpson
44
Posted 22/08/2015 at 18:09:00
Me neither, Jim.
Graham Mockford
45
Posted 22/08/2015 at 18:33:44
Ged,
Just reminded me of an experience at Anfield. I was invited by some business partners to the Derby match. We were 2-0 down when Timmy rifled one in with 10 minutes to go. Despite being surrounded by 100s of them, I had to jump up and celebrate. I was showered with all sorts but, as I sat down, a steward come over and told me I couldn't celebrate an away goal in that part of the ground.
I gave him a short answer and off he went to return with a policeman in tow. The bizzie said if we score again and I celebrate he will throw me out. I said "I'll take that'" and I do believe a little bit of his mouth curled up in a smile.
Anyway unsurprisingly it took five years to get re-invited. As I took my seat, an old boy behind me tapped me on the shoulder and whispered in my ear, "I don't mind if you celebrate if you score."
Tony Marsh
46
Posted 22/08/2015 at 18:38:47
Remember David Moyes at Man Utd saying the fixture list was bent and anti Utd? What would Davey think about the horrendous run of games we have been handed?
City at home will be a hard-fought affair; I reckon a score draw...
Why do we seem to always play Liverpool at the same time of year home and away season after season? Did Davey have it spot one?

Jay Harris
47
Posted 22/08/2015 at 19:23:57
City like to use a lot of width so for this one I would bring Mirallas in for Kone to give Gallloway some support and an outlet.
When we get forward he can also go inside to link up with Lukaku and Barkley.
He also carries a goal threat from the edge of the box.
Other than that the same team and tactics as Southampton and another 3 points (I hope).
If we play well and and not that tippy tappy shit we will give anyone a game. If we revert to type and play two deep DMs then I won't have as much faith.
4-1-4-1 with Barkley given that free role again and McCarthy pushed higher up the pitch.
The post-Moyes era has always been close, even when we were crap, so I predict 2-1 or 3-2 to us.
Steve Carse
48
Posted 22/08/2015 at 19:47:08
Jay, not sure Mirallas is the man to give protection to your full back. Kone did an excellent job doing exactly this in the second half at Southampton, for both FBs.
Mike Oates
50
Posted 22/08/2015 at 20:52:59
I don't think this is a game where Galloway starts, he's just too inexperienced, Silva and Co will target him and I don't think he'll stand up to it and particularly if Mirallas plays in front of him. We need to go with Oviedo even if he's only 90% fit.
It will be a really tough match and the key is keeping Silva and particularly Aguero quiet. Stones and Jags will be tested big time, I'm just not sure they are up for it.
Forecast 1-1 at best.

Oliver Molloy
51
Posted 22/08/2015 at 21:29:34
3 - 2 to us in a rip roaring very exciting game which will have everyone talking about Everton for the next few days.
Coleman, Lukuka x 2 penalty in the last 5 minutes to win it for us!
Dreams do come true.
Harold Matthews
52
Posted 22/08/2015 at 22:22:05
Kolarov murdered Chelsea. We need a fast wide-man glued high and tight to the right touch-line ready for the counter attack. McCarthy and Stones can cover the fullback. If Kolarov comes forward they will be wide open. It's an old football ploy to put the blocks on a marauding wingback and we'll probably need to use it.
Every time we play City they get away with umpteen yellow and red card offences. I hope this referee and his assistants can stay strong.
Drew Shortis
53
Posted 22/08/2015 at 22:46:28
I always worry about going up against City but we normally do pretty well and for once I'm feeling confident. If the boys can put in a massive effort and hit them on the break as we did against Southampton then there's no reason we can't get a result tomorrow,COYB!
Neil Wood
54
Posted 22/08/2015 at 23:06:19
Howard
Coleman Jagielka Stones Galloway
McCarthy. Cleverley
Deulofeu Barkley. Mirallas
Lukaku
Ernie Baywood
55
Posted 22/08/2015 at 23:27:06
As much as it's clear that the counter attacking style suits us, there's part of me that thinks City might not give us the same opportunities as Southampton did. Committing players forward is one thing but it's the way that you lose the ball that sets up the break. Southampton gave it up in terrible positions.
There's a big part of me that worries that going into this game with a counter attacking strategy won't work. That we'll effectively go down without getting a punch off.
At home, bit of confidence, and some good attackers available. I'd go for the throat.
Tony Byrne
56
Posted 22/08/2015 at 23:39:13
I hope RM keeps the same team from the Southampton game, with the same counter-attacking tactics but admittedly this could end up with the scoreline similar to the Chelsea debacle last season!!
What a game this could be, the crowd will make a huge difference... especially if we start well & go one up early on. I couldn't give a toss how City have started as we have a great record at Goodison Park against them.
Anyway, for what's it worth, I predict two scorelines:
3-3
1-0
COYB
Eric Holland
57
Posted 22/08/2015 at 23:59:48
Graham (#44),
Love it. Haha...
Tony Ashcroft
59
Posted 23/08/2015 at 01:36:31
Yarmolenko and Austin, please.
Minik Hansen
61
Posted 23/08/2015 at 02:06:42
Graham Mockford what a story, good one. :)
Colin Leary
62
Posted 23/08/2015 at 02:06:57
Apparently Man City are Angry and Hungry to beat the blues tomorrow according to the red rags.
Colin Leary
63
Posted 23/08/2015 at 02:08:50
http://www.express.co.uk/sport/football/600149/Manchester-City-keen-to-maintain-title-winning-form-against-Everton

Matt Traynor
65
Posted 23/08/2015 at 05:48:17
Graham #44, years ago I went to a derby at Mordor, and one of my schoolmates arl fella's was working, so couldn't make the game and offered me his season ticket.
We were 1-0 down in no time, and equalised when the ref gave a penalty (it was so stonewall there was no opportunity to stiff us). When Wayne Clark slotted it home I managed to keep my composure and quietly celebrated, until my soft arse mate decided to tell the people around us I was a Blue...
Then Wayne Clark scored from a header, towering above David Burrows to nod past Dropalot, and having been "outed" I didn't care and was dancing away at my seat. I looked down the entire length of the Kremlyn Road and there was one other Blue in the same position.
Of course then the ref did stiff us, and blew for a foul saying Clarke had fouled Burrows. He hadn't, and even the Reds admitted it. So thank you Joe Worrall you biased twat for making me look an idiot. The lovable reds around us were only to quick to suggest I "sit back down".
At least we didn't lose the game...
Richard Lyons
66
Posted 23/08/2015 at 07:59:06
I love all the positive thinking, I only wish I could share it. Our performance last week resembled the counter-attacking style of the Netherlands team over the years. However, the Dutch have always come unstuck when they finally meet proper class... and I fear that's exactly what's going to happen to us today.
Harold Matthews
67
Posted 23/08/2015 at 08:27:55
Yes Richard, I am definitely scared stiff and would prefer Besic to Barry. A quick moving attack needs to be matched by a quick moving defence, as Chelsea found out last week.
Trevor Peers
68
Posted 23/08/2015 at 08:30:25
Roberto should stick with a winning team, but a I fear not. Last week were brilliant on the counter-attack. It suits the squad of players we have.
We usually do well against Citeh... let's hope it continues today.
Philip Yensen
69
Posted 23/08/2015 at 09:02:46
It will be irrelevant what team is fielded today if their instructions are negative. Possession football? forget it; close them down, move the ball forward to Lukaku and support him. If we play possession or slow football, City will stuff us.
I think the biggest problem is the Jagielka - Stones partnership. Good players individually, as a central partnership, they are all over the place, most of our central defender partnerships have had an incredible understanding with each other: Labone - Hurst, Mountfield - Ratcliffe probably our best two partnerships.
Watching many of our goals conceded aerial-wise they both tend to lose the player they suppose to be marking or are marking the wrong player. Distin got caught up in this lack of cohesion, he can win most high balls but never seemed to know if it was his responsibility to attack every ball thrown into the box.
In short, forget individually who we are playing against; hit them quick, hard, close 'em down quickly, and we have all the ability in the world to score plenty of goals. The skilled goals we scored last week showed how good we can play.
Eugene Ruane
70
Posted 23/08/2015 at 09:11:19
Have to say, I'd feel a lot more confident about the game if I heard that Sergio Aguero last night suffered a freak Dave Beasant-style accident and would miss the game.
Or if Sergio doesn't have a catering-sized jar of salad cream, capable of severing a toe tendon, maybe a he could suffer a David James-style injury and pull a muscle reaching for the remote.
(Anything will do – come on God, get your fucking finger out!)
Steve Croston
71
Posted 23/08/2015 at 09:11:42
I think Roberto will swap Cleverley for Mirallas and leave it as it is. We will be on the back foot for most of the game and this has to suit us if we counter like we did against Southampton last week.
Mirallas always turns up for these 'big' games and has a hint of the bastard about him which I actually like and can get the crowd going on a Sunday. I fancy us to play well today and can't ignore the 4/1 on offer at the bookies as part of my acca, COYB!! 3-2 Everton.
Jim Lloyd
72
Posted 23/08/2015 at 09:20:59
Matt, their twelfth man yet again!
For today, I'm satisfied if he starts with the same team. We played well last week and it was great to see the lads attacking the ball, whether it was in our box or theirs. They seemed to have found the appetite they had the season before last.
I know, one swallow doesn't make a Summer but it's a great start.If Roberto thinks that the same team as last week can do the job, then that's good enough for me.
The good thing now, is he has Gerry and Kevin (hopefully!) fit and raring to go, so we can change tactics. If Mo is fit then, he can come on if Barry is being left floundering. Though I think now that we've got Tom Cleverley, he's taking a fair bit of the workload from Gareth and James.
It will most likely be a really stern test, as I see City as better than llasat season and hungry for the title.
I'll be chuffed if we play well against them. As for prediction, nah, as long as we play as well as we can then let battle commence.
Mike Corcoran
73
Posted 23/08/2015 at 09:42:50
I'm going to Monaco from along the coast today, I'll keep an eye out for Yarmelenko! I hope nyet a winner
Ged Simpson
74
Posted 23/08/2015 at 09:55:16
We will win 2-1. Just so you know
Jim Lloyd
75
Posted 23/08/2015 at 10:08:27
Who scores Ged?
Luke Welch
76
Posted 23/08/2015 at 10:36:15
We could try three at the back and push Coleman and Oviedo as Wing backs. Then have McCarthy, and Cleverley in the middle and Ross in the cap between the front 2.
Dave Pritchard
77
Posted 23/08/2015 at 10:52:18
If City are angry let's hope they are angrier still after the game after we've tonked them (1-0). Also worth making them angry by giving a few hefty challenges early on.
Mike Childs
78
Posted 23/08/2015 at 11:19:17
May the Live Forum be as enjoyable as last week!
Colin Glassar
79
Posted 23/08/2015 at 11:27:11
Quietly confident about this one. I'm not saying we'll win but I don't think we'll lose either.
Jason Thomas
80
Posted 23/08/2015 at 11:31:02
Nice to know a win will send us top!
They should help the Stones/Yarmolenko cases.
Denis Richardson
81
Posted 23/08/2015 at 11:38:23
So predicting a draw Colin?
Derek Knox
82
Posted 23/08/2015 at 12:35:31
I can't see him leaving Gareth Barry out, (unless he's injured of course) but having said that, I think his experience, coupled with that 'something to prove against his former employer' could be invaluable in this fixture.
As with last week, I believe with the correct tactics, and correctly timed substitutions, this game, as was the case against Saints, is definitely win-able.
The papers are full of the usual transfer drivel, (to be expected, I suppose) but all are tipping City to turn us over, as was the case last week.
COYB
Ged Simpson
83
Posted 23/08/2015 at 12:45:16
Jim (#68): Kone and Cleverley.
Mike Childs
84
Posted 23/08/2015 at 12:51:23
Happy to report I just saw Chelsea first XI for today. No Stones in the lineup. Also no Cahill who takes the hit for Terry's shit play and allows Zouma a start. Pedro right in to.
Ben Bowley
85
Posted 23/08/2015 at 13:13:38
Theres a mixture of excitement and nervousness inside me.
It would be wonderful if we win, I'll be watching at my friend's house. But with Stones, Jagielka, Coleman, Galloway, Barry and McCarthy at the back, Cleverly in the middle and Mirallas, Barkley and Lukaku up front, I would say we look a bit strong.
Jim Lloyd
86
Posted 23/08/2015 at 13:19:37
I've just been for a bit of a walk... and it's raining and definitely a storm brewing. Don't know about the players but I'm knackered already. Probably dehydrated, so definitely need a bit of tonsil juice before the match.
Well in Ged, I'll bet on Ross and Rom to score... don't mean 4-1 though!
Come on you Blues!
Tony Abrahams
87
Posted 23/08/2015 at 13:30:12
I don't know if anyone has said but the choice of referee is an absolute disgrace.
This fella comes from Altrincham; how the fuck is he allowed to ref the Manchester clubs?
James Marshall
88
Posted 23/08/2015 at 13:35:17
Good start by West Brom - I don't remember ever wanting Chelsea to fail quite as much as I do today.
Mike Childs
89
Posted 23/08/2015 at 13:41:51
Who's the ref today?
Raymond Fox
90
Posted 23/08/2015 at 13:43:41
If we get anything out of this game I'll be delighted.
I think we will have to score a couple because Aquero must be a nightmare to mark and I fancy he will score for one.
It will be a searching test for us to find out how good we are!
I'll have everything crossed, but we really need to get behind the team today.
Mike Childs
91
Posted 23/08/2015 at 13:50:53
I just looked up Anthony Taylor: if not the worst ref in the EPL, he's in the bottom 3.
Pedro with his first at Chelsea.
Jim Lloyd
92
Posted 23/08/2015 at 13:56:00
Seconded Ray. We have a big part to play today, right from the start! They have a tremedous team and they seem to have the belief in themselves that they lost at times last season.
If we can match them we will be doing a great job.
David Hallwood
93
Posted 23/08/2015 at 13:56:17
My prediction is..... Ross to score a Newcastle like goal;1-0, he then puts a ball through to Rom to score a carbon copy Soton goal; 2-0 Rom combines with Kone and Kone goes clean through only to be brought down by Hart -penalty, red card Citteh down to 10 men & 3-0 as Rom converts. After a 15 pass move, Cleverly spots Coleman's run into the box, pings a prefect pass and Coleman scores a la Carlos Alberto-4
0
I'm still working on the 2nd half.
Jay Wood
94
Posted 23/08/2015 at 14:16:46
David #84
Nice one!
Cracking punchline!
David Hallwood
95
Posted 23/08/2015 at 14:27:12
Just shown Stones going into Goodison-all smiles.
Martin O'Sullivan
96
Posted 23/08/2015 at 14:30:14
David, All smiles form Stones, obviously got the half-time score from the Hawthorns.
Tony Abrahams
97
Posted 23/08/2015 at 14:38:25
David a penalty off this ref? He only gives them against us.
Mike the fact that he's one of the worst refs, (have you seen a good one?) doesn't really matter. Imagine Everton having a fella from Maghull refereeing Everton.
Colin Glassar
98
Posted 23/08/2015 at 14:38:32
Does that mean he's already signed for Chelsea then Martin? I'm trying to read between the lines here.
Brian Wilkinson
99
Posted 23/08/2015 at 14:44:59
Come on Everton make a statement to the rest by showing last week was no fluke, win this and just maybe we can keep hold of our star players and rebuild.
Put in a performance today, crowd get behind the team, I then think Stones will stay.
John Atkins
100
Posted 23/08/2015 at 14:45:11
OMG the hacks will have a field day tomorrow over John Stones now that horrible Terry has been sent off
Gary Russell
101
Posted 23/08/2015 at 16:53:56
Just reading the yesterday's results and reports on the BBC. This annoyed me. On the Tottenham v Leicester game it states this:

'Claudio Ranieri's side are above Manchester United on goal difference after three games, although Manchester City and Liverpool can leapfrog them later this weekend.'


Guess what? They (forgot) to mention us, who, if we beat City can also go above The Foxes. On goal difference of course.

Are we so irrelevant, we don't exist?Journalism like this makes ya blood boil. Just tell it how it is or might be. Sorry I apologise, this isn't journalism. That would mean that have to be impartial and tell the truth.

I am quite hopeful that we can turn the corner in one way and young John heads the words that are being offered and realises that he has enough cash already and shows some character. No one is even contemplating reporting that we might be on to something (youthful squad) in 2/3 seasons down the road and THAT we might not be a bad proposition at all..... Shower of gobshites
Add Your Comments
In order to post a comment, you need to be logged in as a registered user of the site.
Or Sign up as a ToffeeWeb Member — it's free, takes just a few minutes and will allow you to post your comments on articles and Talking Points submissions across the site.
© ToffeeWeb