Tottenham Hotspur vs Everton
by

54 Comments [Jump to last]
| 28/08/2015
Match Preview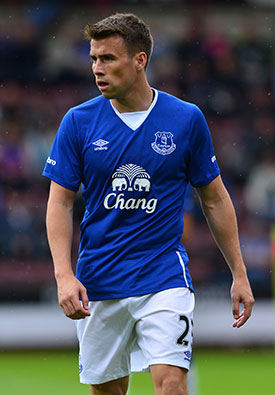 Seamus Coleman is expected to go straight back into the team after sitting out the win at Barnsley in midweek
(Mark Runnacles/Getty Images)
With the John Stones transfer saga put to bed – albeit with inactivity on the incoming-transfer front causing uneasiness among supporters – Everton travel to Tottenham for the late afternoon televised kick-off tomorrow hoping for a rare win in N17 on the heels of that thrilling Capital One Cup adventure in Barnsley.
Like Stamford Bridge, White Hart Lane has become a frustrating place to visit for Everton in recent years, where they haven't won since a Vedran Corluka own goal in November 2008 handed David Moyes three points that, at the time, moved the Blues seven points ahead of Spurs who were languishing in 15th place. They came close two years ago when Gylfi Sigurdsson snatched a draw with a late goal but it's largely been a difficult fixture for the Blues in the Premier League era.
Tottenham come into this weekend in a similar position in the fledgeling 2015-16 table, having managed two draws from their opening three games. Two of those early fixtures were away from home where they were edged 1-0 by Manchester United on the opening day and held by an exuberant Leicester who were coming off back-to-back wins to start the season.
It's Tottenham's only home game so far that will give Everton cause for optimism, though; Mauricio Pochettino's men threw away a 2-0 lead against Stoke and eventually had to settle for a 2-2 draw that suggests they can be vulnerable both mentally and defensively. It also provides scope for Martinez to go after them in an attacking sense to some degree, although he will hopefully be mindful of the manner in which his side surrendered a precious advantage in this fixture last season with a poor second-half showing that rendered Kevin Mirallas's stunning goal moot.
Although many eyes will inevitably be on Stones, Mirallas will feature prominently in Evertonian minds as they ponder how Martinez will set up his side for this one. For reasons best known to the manager, the Belgian was an un-used substitute against Manchester City last Sunday in a 2-0 defeat that was crying out for his attacking talents and although it was only League Two opposition, he underscored how important a player he is – particularly in terms of weighing in with goals –with his performance against Barnsley on Wednesday evening.
Though Gerard Deulofeu came off the bench at Oakwell to turn in a game-changing display of his own, you would think that Mirallas would be the more reliable starter for Everton at White Hart Lane... although there are plenty who would like to see both wide men on the field together at some point this weekend given how dangerous they were in the cup midweek.
Martinez will, obviously, need to balance any attacking intent with defence and with Gareth Barry taking a rest for the Barnsley game, it's almost certain that he will make his 700th senior appearance tomorrow, alongside James McCarthy as the defensive-midfield axis protecting the back four. That is if Martinez doesn't elect to drop Barry into a left-back role in place of Bryan Oviedo who made a welcome return to the side on Wednesday but betrayed plenty of rustiness following six months on the sidelines with injury. In that instance, Tom Cleverley or Muhamed Besic would partner McCarthy in the middle.
Brendan Galloway's prognosis isn't yet known but he has been ruled out, along with Darron Gibson, Steven Pienaar, Tony Hibbert and Leighton Baines. Seamus Coleman will almost certainly return at right back after he too was left out of the Barnsley game.
From Tottenham's perspective, they will be without their chief play-maker in Christian Eriksen who misses a second match with a knee injury – music to Everton ears given how influential he can be to Pochettino's side. New signing Clinton NjiĂ© will be available to make his debut but will probably start on the bench, while Heung-min Son, a big-money striking acquisition from Bayer Leverkeusen will have to wait for international clearance before he can make his debut.
As the emphatic win at Southampton a fortnight ago showed, Everton can turn on the style when they're in the mood and they seem to have enjoyed playing away more than in front of the home fans at Goodison recently. Since the debacle at Stoke, the Blues have won three, drawn one and and lost one in the League and if they can approach this one with the same intensity as they did the game at the St Mary's, they could give the Londoners a shock.
Kick off: 5:30pm
Referee: Mike Jones
Predicted line-up: Howard, Coleman, Stones, Jagielka, Oviedo, Barry, McCarthy, Cleverley, Barkley, Mirallas, Lukaku
---
Reader Comments (54)
Note: the following content is not moderated or vetted by the site owners at the time of submission. Comments are the responsibility of the poster. Disclaimer
Kunal Desai
1
Posted 28/08/2015 at 20:05:34
Spurs' midfield is woeful without the play-maker Eriksen and depriving any service to Kane. Win the midfield battle and I can see us taking all 3 points.

Let's hope we are not in a charitable mood tomorrow.
Colin Glassar
2
Posted 28/08/2015 at 20:08:37
Definitely a winnable game, Kunal. Spurs aren't in a great moment right now and Poccetino is starting to feel the heat.
Craig Fletcher
3
Posted 28/08/2015 at 20:26:44
Agreed Kunal, Colin. I'd love to see us start with Mirallas and Deulofeu alongside Rom and Barks and have a good go at them from the off, as I suspect they will start a bit nervous (much like us at Goodison!).
Take Eriksen out, that isolates Kane to an extent. Still, I think we need Barry and McCarthy to win the midfield battle for this one. Hopefully Oviedo has recovered from his 120 minutes at Barnsley to start.
Adam Oakensworth
4
Posted 28/08/2015 at 20:35:50
Can't see Bobby starting both Kev and Delboy but starting with at least one along with Ross and bringing another on as a sub gives us good options.
Unlike everyone else I'm not a fan of Cleverley. He passes the ball sideways, wins very 50/50 balls and has no pace. Would like to see Besic start ahead of him
Tony Byrne
5
Posted 28/08/2015 at 22:26:15
I reckon the only change from last week's team is Oviedo at left back. I would like to see Mirallas start in place of Kone but I just can't see RM leaving him out.
I would hope that the squad will be buzzing after the club came out with the statement regarding Stones, a big lift to us fans and players alike.
If we get at Spurs early on and get a goal then I can see the Spurs fans quickly showing their displeasure and this will play right into our hands.
Spurs 0 Blue bBoys 2.
Paul Mackie
6
Posted 28/08/2015 at 22:28:35
I reckon tomorrow will be:
Howard
Coleman Jagielka Stones Barry
McCarthy Barry
Deulofeu Barkley Mirallas
Lukaku
Bit of a tasty line up in my opinion.
Paul Mackie
7
Posted 28/08/2015 at 22:29:19
Except maybe with Besic in midfield instead of Barry's clone
Mark Tanton
8
Posted 28/08/2015 at 22:41:57
Mirallas to replace Kone, Cleverley into the middle for Barry and Deulofeu on the right. Oviedo at left back.
Are we in green, by the way?
Ian Jones
9
Posted 28/08/2015 at 23:12:06
This is a game that could see us kick on. A win here and confidence will be high before the home game against Chelsea. Tottenham were awful away to Manchester United being devoid of any creative ideas going forward. They made Blind look like Beckenbauer,
Jimmy Salt
10
Posted 28/08/2015 at 23:14:50
Is there any reason why people think Barry won't play?

Richard Lyons
11
Posted 28/08/2015 at 23:20:14
Jimmy - perhaps the reason is simply wishful thinking?
This is one we have to win if we want to be serious CL contenders; and it's surely one we can win. I'm feeling more optimistic than of late...
Jay Harris
12
Posted 28/08/2015 at 23:33:42
We seem to enjoy most success with a 4-1-4-1 formation so I would go for
Howard
Coleman Stones Jagielka Oviedo (Galloway)
McCarthy
Deulofeu Cleverley Barkley Mirallas
Lukaku
Darryl Ritchie
14
Posted 29/08/2015 at 00:12:07
Jay@10; Looks like a pretty good squad. It's the starting 11, and the formation I would go with, although I think RM will start Barry over McCarthy...just saying.
Phil Walling
15
Posted 28/08/2015 at 00:12:54
Two certain features of tomorrow's team will be the return of Barry and the inclusion of only one of Mirallas and Deleofeu from the start
I suspect Barry's 700th game will be at left back with Cleverley alongside Macca. Don't be surprised to see Ossie make his first start of the season.
1-1 is my confident prediction !
Peter Murray
16
Posted 29/08/2015 at 00:15:09
This is not a game where we can concede 3 and expect to score 5.
We are at last looking like we will always score goals. It is the defensive errors we have to eradicate and a lot depends on the mental state of Stones.
Let's hope the Chairman's terse but unequivocal statement helps to settle him. If so,and if Howard maintains his concentration, a clean sheet is possible.
Let's also hope that, as we are in the capital, Chelsea don't try some revenge destabilisation via their gutter press cronies. Given their recent conduct they are capable of anything.

Prediction-2-0 to the Blues.

Mark Andersson
19
Posted 29/08/2015 at 01:06:15
Great pre match report.
I watched the Barnsley game yesterday, woeful defending by the Blues so this game is hard to predict. A good performance is needed; a win or draw would be a bonus.
Have we any new players yet?
John Brennan
21
Posted 29/08/2015 at 07:25:21
Mark, the Daily Mail say Martinez hasn't yet given up on Yarmolenko.
You know they always get it right!!
Jim Bennings
22
Posted 29/08/2015 at 07:49:49
When did we last win at White Hart Lane?!
I know we are certainly due one there, for some crazy reason we always struggle there. I say crazy because Spurs are not exactly a top 3 or 4 side; we should be beating them more.
It's a big game under the circumstances and one we need a performance in.
Sam Hoare
23
Posted 29/08/2015 at 07:54:11
Spurs relied on Eriksen and Kane a huge amount last season. The former is out and the latter not firing so far. We can win today.
Mark Tanton
24
Posted 29/08/2015 at 07:55:35
We had a couple of very good wins there under Moyes. 2-0 with an Andrew Johnson goal and OG (with ten men), and a 3-1 win with Lescott scoring one.
Jim Bennings
25
Posted 29/08/2015 at 08:26:35
That's right Mark, I enjoyed those wins, the 2-0 win win AJ getting a goal, I think it was one of the best performances in the Moyes era.
What we'd give for more of that today eh?
Mark Tanton
26
Posted 29/08/2015 at 08:29:17
I'd love that kind of win today. Remember Moyes giving us the Leeds win finally as well, after about sixty odd years?
Harold Matthews
27
Posted 29/08/2015 at 08:32:19
Don't know who will play left back if Oviedo has not recovered. Otherwise the usual defensive line-up with Barkley, Kone, Lukaku and Cleverley on the attack. Against good teams, wingers leave Lukaku isolated and he hardly gets a touch.
I seem to recollect a recent Spurs encounter where right back Dier latched onto the ball on our empty left side and hit an unexpected early diagonal cross which caught our mighty defence by surprise, allowing the alert Harry Kane to nod one home. Real schoolboy stuff. An all round loss of concentration.
With or without wingers, we have a very talented bunch of lads who are capable of causing much trouble for the opposition. Unfortunately, we seldom keep a clean sheet and the manager doesn't seem too bothered about it. Unlike Pellegrini who personally conducts all the defensive training sessions with City and it shows. They do everything right, we do everything wrong. Until a top class defensive coach is hired, we will continue to suffer.
Nevertheless, Spurs are not on the same planet as City and we do have the ammunition to blow them away. My heart couldn't take another 3-5 victory. 1-2 will do just fine.
Steven Jones
28
Posted 29/08/2015 at 08:37:47
Deulofeu and Mirallas to start on the bench given hard exertions on Wednesday.
So no change line up for me with exception of Oviedo in at LB.
I would love Barry to have a niggle or pull a hammy to let Besic in!!
James Hughes
29
Posted 29/08/2015 at 08:46:17
A repeat of the performance and result against So't'on will do nicely and a good display from the ref as well. Last season, a blatant tackle from behind wasn't penalised and lead to their winner.
They are not playing well so far make sure we keep it that way and don't play them into form... COYB
Sam Hoare
30
Posted 29/08/2015 at 08:51:01
Suspect Besic will be knackered after 120 mins. That's the first time in 8 months he's played more than 60 mins I think.
We could have done without extra time at Barnsley and I hope we're not too tired...
Neil Gribbin
31
Posted 29/08/2015 at 08:51:49
I'm going for 2-1 to us. We owe Spurs, they aren't playing well, and if the team play as well as they can, we will do them.
Jim Bennings
32
Posted 29/08/2015 at 08:59:03
The thing is, we know Spurs aren't that good, they are not the team they were under Harry Redknapp, the attacking, vibrant team.
It's a case of can we be clinical and can we concentrate for the full 90 minutes?
One things for sure, I very much doubt we can keep a clean sheet, especially if we defend like Wednesday night.
Denis Richardson
33
Posted 29/08/2015 at 09:06:48
All about the defense as usual. If we keep a clean sheet we'll win but it's a huge IF.
Conceding 5 goals against watford and Barnsley doesn't bode well, before you even chuck in the Stones issue.
Fingers crossed none of our two CBs get injured!
Eddie Dunn
34
Posted 29/08/2015 at 09:10:52
Barry missed the game midweek and McCarthy came on in the 110th minute. We conceded 3 goals. Despite his lack of pace Barry often performs well (not always!) but he does a lot of things to keep us ticking over and his passing is far better than McCarthy's.
I expect that we will start with the team that played Man City, as long as Brian is fit. I wonder if Martinez has thought about putting Stones on the bench and playing Barry or Besic at centre-half?
Mirallas could sneak in in place of Kone, but away at Spurs I expect that Roberto will try to stay in the game early on, and hope to do what we did at St Mary's on the break.
Hopefully our wingers will get on earlier today but hope that we don't need to bring them on at all. The Spurs performance at Man Utd may have been poor, but at home we have always found them a hard nut to crack, and Kane is still the man to fear. 1-1 for me.
Ian Jones
35
Posted 29/08/2015 at 09:20:41
Hi to Ian Jones @ 9. This could get interesting if we post contradictory statements!
Jim Bennings
36
Posted 29/08/2015 at 09:25:20
Eddie
It's just predictable that Harry Kane will get his first goal of the season tonight, his last goal?? Yep you got it, against us at Goodison on the last day in May.
Most teams or players struggling for a bit of form know they are quite safe when the football doctor is coming to town, Dr Everton, coming to a ground near you soon to cure your blues!
Roger Sunde
37
Posted 29/08/2015 at 09:35:58
Everton like to ship goals vs struggling strikers, like Falcao and Soldado last season, so I would be surprised if Kane didn't score.
Ray Roche
38
Posted 29/08/2015 at 09:40:11
I'm a bit confused right now....what team are we going to put out? I mean, according to the reports in the meeja, McCarthy has gone to City, Mirallas is now at Spurs, Stones is at Chelsea, Barclay is also at City , Seamus is at PSG (don't they sell sofas?) but we've brought in Evans. Oh, and Yarmolenko.
The press. Don't you just love em.
Anthony Flack
39
Posted 29/08/2015 at 09:51:36
Ray cheers, I read your post in preview and nearly choked on my croissant as all I saw was McCarthy gone to City....
Abb Dhanani
40
Posted 29/08/2015 at 10:09:28
I'm going to be "wrong ending" it today. On my own in there with the Spurs season ticket holders. Any advice?
Neil Wood
41
Posted 29/08/2015 at 10:10:18
I would be half tempted to sign the Chelsea doctor just to play mind games with the smug nob end maureenio !
Anyway... Today....
Spurs are tosh and we should go and look to dominate them. We should start with Del Boy cos if he's on song and in confident mood following midweek he will tear Danny rose and new one.
Lukaku brace with a sweet one from Del Boy. COYB
Dave Pritchard
42
Posted 29/08/2015 at 10:10:58
Barry has played better than McCarthy this season.
Phil Walling
43
Posted 29/08/2015 at 10:43:06
I'm sure I read somewhere that Barry's OPTA stats are among the best in our squad. In spite of that he has never been well received at Goodison – a bit like Phil Neville, really.
I suspect that we don't react well to 'workhorses' preferring the 'showy' players like Deulofeu and, dare I say it, Stones. Perhaps it's all that's left of the School of Science – now sadly reduced to the School of Philosophy. As developed at the University of Wigan.
Laurie Hartley
44
Posted 29/08/2015 at 10:59:45
Dave @ 36 - I agree with you about Barry. He was one of our best players against City. He must start against Spurs.

Not at left back though. If Oviedo can't start for whatever reason, I think we could do worse than go with Besic in that position.

I would also like our players to display some of that "anger" that Pellegrini talked about last week - after all we are playing in London. I think we will be up for this one.
David Greenwood
46
Posted 29/08/2015 at 11:13:01
Would love to see Del, Rom and Kev all start. Can't see it happening. A midfield three of TC, Ross and Macca. Can't see that happening either. Same result as against Southampton would do nicely. I can see that happening!!!
David Hallwood
47
Posted 29/08/2015 at 11:44:51
I'm not sure of the rules, but can we recall Garbutt?
Eddie Dunn
48
Posted 29/08/2015 at 11:48:43
Yes Jim, Soldado couldn't find the net until Dr Toffee sat him down and "Hey Presto" he pops one in November 2014. he waited 593 minutes.
In the FA Cup defeat at Arsenal, in March 2014 Ozil hadn't scored since December 2013, and guess what?
Mike Allison
49
Posted 29/08/2015 at 11:50:48
David, it depends on the specific agreement we had with Fulham.
You know he's injured anyway though right?
Raymond Fox
50
Posted 29/08/2015 at 12:26:41
Play Spurs like we did Southampton same tactics, same team bar injuries.
They bet - Evens Spurs 3/1 Everton 11/4 the Draw.
Anybody's guess what the result will be!
Frank Wade
51
Posted 29/08/2015 at 12:32:11
Quote here from Lyndon's report on home game v Spurs last season " was worrying how easily they were being contained and then played through by the likes of Christian Eriksen, Ryan Mason, Moussa Dembele and Nasir Chadli "
I know Eriksen is injured but some posters seem to think Spurs have a weak midfield. Based on what I saw in both games against us last seson, I for one would not agree.
Tim Greeley
52
Posted 29/08/2015 at 12:56:00
I actually think Gazza Barry has been better this season than last. And I'm no big fan of his. Regardless you know he is gonna play. Oviedo's fitness is the only question I see. other than I predict the same line-up as the last two Premier League games.
We need SuperKev to get at least a half-hour from the bench to put Spurs to bed. I freakin' hate Spurs!!
Dave Pritchard
56
Posted 29/08/2015 at 15:41:46
All those who were rested against Barnsley seem likely to start. Oviedo likley at left-back presuming Galloway not fit. Bit of a worry as Bryan played 120 mins on Wednesday and only just back from injury. Otherwise I would think it will be unchanged from last Sunday although Mirallas for Kone a possible.
Chris Wilson
57
Posted 29/08/2015 at 16:14:33
Live forum isn't up yet, so I thought I would just say...interesting scores right now. One in particular involving the soon-to-be-ex-Liverpool manager Brandon Rogers. HA!
Jon Cox
58
Posted 29/08/2015 at 16:18:08
You never know, if we sing a certain little song about a certain little shit, the Tottenham fans might like to accompany us!
Vineet Sood
59
Posted 29/08/2015 at 16:50:47
Oh Dear! Jose under pressure too.....couldn't happen to a nicer man!
Mike Hughes
60
Posted 29/08/2015 at 16:59:10
Come on Everton.
After today's results it will be a large middle finger to Jose and a nice rendition of 'Singing The Blues' tonight ... and tomorrow ... and Bank Holiday Monday.

John Malone
62
Posted 29/08/2015 at 20:47:39
Have a look at this cracking song the fantastic blue support have come up with! Guaranteed it will rock the place against Chelsea!
http://mobile.newsnow.co.uk/A/789904724?-11192:825
Steve Jenkins
63
Posted 30/08/2015 at 06:20:59
Anyone know the latest with Funes?
On or off or still going through paperwork, visa issues etc?
Add Your Comments
In order to post a comment, you need to be logged in as a registered user of the site.
Or Sign up as a ToffeeWeb Member — it's free, takes just a few minutes and will allow you to post your comments on articles and Talking Points submissions across the site.
© ToffeeWeb