Everton confirm deal for Rodriguez
by

124 Comments [Jump to last]
| 28/08/2015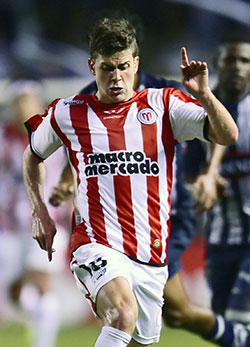 Striker Leandro Rodriguez has completed his move to Everton from River Plate Montevideo, the club have announced.

The Uruguayan signs a four-year contract and becomes the Blues' fourth signing of the summer following the acquisition of Tom Cleverley, Gerard Deulofeu and David Henen. While viewed as a promising prospect who, it was thought, would likely begin his life on Merseyside in the Under-21s setup, Roberto Martinez indicates that he could be ready to contribute to the senior side this season.
"He probably won't [need time with the Under 21s] because he has played enough games with his first team in Uruguay in a really competitive league," Martinez is quoted as saying by MailOnline.
"If you look at the amount of strikers that come through those environments, you don't get surprised about the quality of these players.
"I am not saying that to put pressure on the boy, but he is a player we can be very much excited about in the future."
The fee for the 22-year-old, who did not need to apply for a work permit because he holds an Italian passport, is believed to be in the region of Ł500,000.
He is expected to be followed by Argentine defender Ramiro Funes Mori, whose transfer from River Plate in Buenos Aires has been held up by paperwork.
Both players have been on Merseyside since the weekend awaiting the final clearance before completing their moves but Roberto Martinez said in his press conference this morning that he expected both deals to be confirmed by the end of today.
He also said he was looking at bringing in two additional attackers before Tuesday's 6pm transfer deadline.
Earliier, the Liverpool Echo's Phil Kirkbride, tweeted that a delay in paperwork could push the unveiling of the pair to early next week and that may still be the case with Funes Mori who is awaiting work authorisation to play in the Premier League.
---
Reader Comments (124)
Note: the following content is not moderated or vetted by the site owners at the time of submission. Comments are the responsibility of the poster. Disclaimer
Bob McEvoy
1
Posted 28/08/2015 at 10:10:25
"two additional attackers..."
Yarmolenko and.... Messi.
Sam Hoare
2
Posted 28/08/2015 at 10:14:16
Lennon and....Nolan.
Steve Cotton
3
Posted 28/08/2015 at 10:18:03
Well at least the board can say they got 2 of the 3 promised players! And obviously John Stones not leaving is like a new player too.
Yes, I do sound cynical but this club can do that to you...
My money is on these 2 unknown South Americans and Lennon on loan. Come on life doesn't get sweeter than this.......
Donald Neville
4
Posted 28/08/2015 at 10:24:40
So are these two of the three RM was talking about? This is what we have waited for? Come on, man.
Every team that finished ahead last season has added ready-to-go players to get stronger and RM counters with "future talent".
Gavin O'Leary
5
Posted 28/08/2015 at 10:33:56
I will wait and, see, but it's not good enough, we need player's with immediate impact on first team.
Jim Bennings
6
Posted 28/08/2015 at 10:36:28
Still a bit annoyed that we have neglected the goalkeeper issues.
Paul Thompson
7
Posted 28/08/2015 at 10:48:08
That underwhelmed feeling persists. Both the expected arrivals are untried, massive gambles and are unlikely to figure in the 1st team anytime soon. The additional two better be decent and immediately usable!
Stephen Brown
8
Posted 28/08/2015 at 10:49:09
Very true Jim especially watching Robles in the week!
I'm sure that David Marshall from Cardiff went to WBA for 4m. He would have been a great signing!
Anthony Burke
9
Posted 28/08/2015 at 10:51:49
Premier League clubs have spent a combined £700 million between them.
Should we complete these deals today we will have just passed 1% off that total... quite embarrassing if you ask me.
Daniel Lawrence
10
Posted 28/08/2015 at 10:59:22
De Guzman on loan and Lennon then...thrilling and well worth waiting all summer for.
Alec Smith
11
Posted 28/08/2015 at 11:01:28
Paul (#5), I feel the same. And I can't believe for one moment that Roberto thinks these are the signings to quell the unrest among the masses.
There's gotta be a 1st team shoe-in Name on the way.... just hope that isn't Lennon. Nothing against the guy, but that would leave me a little deflated!
Kase Chow
12
Posted 28/08/2015 at 11:01:42
I'm really not sure about the level these two have been playing at. Especially Leandro. There's no-one in any of the grounds! What is it - Sunday league?
James Stewart
13
Posted 28/08/2015 at 11:06:34
Mori, Lennon plus 1. Rodriguez is a wild card and one for future.
Anthony Flack
14
Posted 28/08/2015 at 11:08:47
Kase, maybe read the other threads there are some very knowledgeable people out there offering insight which might temper you instinctive boring negativity...
Sorry to pick on you but, if you are not sure, then why the bias to negativity?
Aaron Underwood
15
Posted 28/08/2015 at 11:16:55
Mori has had caps for his country, and hes being signed as back up, thats not that outrageous.
Plus Martinez just said in a press conference that Rodriguez is being signed as a you player and that he will bring in an additional two attacking players. If that's Lennon and Yarmolenko, or De Guzman then we will have to find something else to moan about, which I'm sure wont be hard.
Steve Cotton
16
Posted 28/08/2015 at 11:18:25
For people who didn't think Mori and Rodriguez were at the Man City game, there are photos showing Mori in the crowd with an Everton scarf round his neck. The empty looking seat next to him was were Rodriguez was sitting.
Obviously being only 5 foot nothing he couldn't see over the seat in front hence it looked empty.
Jake Lucas
18
Posted 28/08/2015 at 11:23:53
Mori will be one of the 3 targeted. RM has already stated Rodriquez is a signing for the u21's and therefore doesn't count as one of the 3 signings he's targeting.
Does anyone else still feel like we need an extra body at the back, even if just on loan till Baines gets fit?
Would love to see Yarmalenko and Austin join.
Timothy Blanshard
20
Posted 28/08/2015 at 11:31:10
Yes, all we need now is Nola and Barton, or has Joey (put me fag out in your face) been snapped up by the mighty Burnley?
I know we'll give these new lads a chance even though I was hoping we'd get Lennon even if it was only for the commentator to be able to say again Lennon to McCarthy, it's much better than City saying Sterling to Silva. That spurs chairman Levy is probably asking for £20 million plus bonus kick backs to spurs like, extra money if Aaron wears blue or he plays in a day that ends in 'y'.
After Roberto's stance with Stones he's in my good books at the moment, I truly believe he is trying his hardest to build a great team. I also think if Stones did get sold it's possible Roberto could walk and may even has threatened it to BK, wreck my team and I'm off Bill. I know it would mean RM being a hypocrite breaking his contract, but it would also probably mean Blue Bill breaking his promise to back Robbie to the hilt.
Mark Tanton
21
Posted 28/08/2015 at 11:38:00
I hope you're right Jake - did you actually hear Martinez say he's not one of the 3? I heard him say he'll go into the development set up, but nothing else.
Chris Sillett
22
Posted 28/08/2015 at 11:39:59
I feel relieved that Rodriguez is more for the U21's than the first team as the step up to the Premier League will be massive for him. Time is running out though for the no 10 we want and a striker, I hope we are a bit more ambitious than getting Lennon and another unknown striker.
Kase Chow
23
Posted 28/08/2015 at 11:44:28
Hi Anthony #10
I have followed the other threads and indeed contributed to them
There was mixed feelings about Mori and citations of centre backs from South America not being solid. Of course I'd love Mori to do well. I'd be made up if we plucked a bargain AND he had the bonus of scoring goals. But with only 1 senior centre back on the books and our other centre back having his head turned, you'll excuse me for wanting someone reliable, dependable and with EPL experience. I'd rather have Evans who's tough and knows the league
As for Rodriguez, his scoring record is poor (something like 19 in 80 game) in a league more renowned for attacking than defending. Also, the level he's playing at doesn't make me believe that he's going to take the EPL by storm. Okay, if he's one for the future. But until we get a striker that can put Lukaku under pressure and/or support him up top as a genuine goal threat, then I'm disappointed
I'd like to be positive and I enjoyed our attacking display on Wednesday. But as far as this transfer window has developed so far, I'm feeling more negative
Apologies if that displeases you but hopefully you at least see where I'm coming from even if you don't agree?
Aaron Underwood
24
Posted 28/08/2015 at 11:45:26
He said Rodriguez would go in to the development, and that Mori was one of the three.
Also that he felt the youth team had enough coming through to cover defence, and so he would sign a further 2 attacking players for the senior squad.
Andrew Ellams
25
Posted 28/08/2015 at 11:46:16
I thought Martinez said Leandro wasn't coming to join the U21s
David K Shaw
26
Posted 28/08/2015 at 12:36:36
Is the Everton homepage down for a reason? Or is it pre TDD paranoia?
Brian Porter
27
Posted 28/08/2015 at 12:42:22
Mori is not as bad as some seem to think. It's not that easy to be selected for Argentina, who are not exactly a poor team, and he comes from one of their top clubs. A lot of people have been urging Martinez to scour the Latin Americas where it's possible to pick up decent players for very low prices, (by PL standards). I think a few people could be pleasantly surprised by this lad once he's had a little time to settle in with the first team squad.
Richard Murray
28
Posted 28/08/2015 at 12:44:23
Martinez said Rodriguez will be like Holgate, i.e. with the u21s.
He said two more 'attacking options' on top of these two signings, but didn't specify positions.
Anthony Flack
29
Posted 28/08/2015 at 12:48:58
Kase sure thing, I think the scoring record you refer to was corrected elsewhere
When we signed Stones and Coleman what was your gut feeling at that time. I accept in advance that my argument is unbalanced as for every Stones there are many less successful outcomes.
I suspect it is a natural thing to be drawn to a negative view where one is uncertain. Even as a well worn and scarred Evertonian I prefer to hope he will be the next Suarez all be it without certain cannibalistic traits.
Fingers crossed and sorry if I came across as arsey.

Anthony Dwyer
30
Posted 28/08/2015 at 12:49:23
Jim Bennings (#4).
Spot on, agree completely. A goalkeeper was the priority for me as Howard is definitely far from the peak of his powers but is still much better than what Robles will ever be.
I was one of the many fans who was very disappointed that Martinez reinstated Tim straight away last season even though Robles had 3 clean sheets in a row. Still I do agree Tim is a massively better goalkeeper.
Both our keepers are no were near good enough, so one or both should have been moved on and a good keeper with experience should have been our first investment. I can't help but feel we have a good defence, consisting of some of the best individuals in the league, but yet we are very poor defensively. If I'm honest I put a lot of it down to Roberto having poor tactics but if you look at Tim's stats they are worrying.
It is clear we need other positions filling too but I feel some of the current squad can compete in a competitive way to keep players on there toes, but this is not the case in goal.
Centre half is a must but we only need an experienced back up player (maybe a Johnny Evans style - ideally on loan) as Browning, Galloway and Holgate will probably only need a season out on loan before one of them can step up to become the back up defender.
Obviously a striker would also be nice, but if we are honest, Roberto mostly plays one up top on his own so what top quality striker wants to sit on our bench. Rodriguez on the cheap may be a viable option.
A play maker is also a position we need but again we have Barkley and Mirallas who can be inventive in this roll.
Do not get me wrong, if we had £50m I would argue that we need 4-5 top quality signings but in my opinion we will be lucky to spend £20m.
If I'm right I'd have still got Cleverley and Deulofeu, a cheap centre-half or a loan signing and a £10m goalkeeper.
Ben Jones
31
Posted 28/08/2015 at 12:50:47
http://www.skysports.com/football/news/15134/9968748/who-is-funes-mori
That's a good bit of analysis from Sky, makes me more confident in him. Says his mentality and his heading is his strongest assets, which to be honest, is what we're missing in that defence.
Happy that Rodriguez is not one of the other two first team signings either. We've been linked with about 20 players, so will be very interesting who we'll get.
John Aldridge
32
Posted 28/08/2015 at 12:52:02
Pedro...now he's realised he signed for the wrong club. And Brett Angell.
Kelvin Leung
33
Posted 28/08/2015 at 12:55:08
Who here can honestly say they were thrilled by signings of Phil Jagielka, Brian Oviedo etc at the time? I also recall people labelling Tom Cleverley as an underwhelming signing/"settling for rejects"/"Wigan-factor", but so far he has been a useful and versatile signing to say the least.
Let's get behind the team and the new fellas before we jump to conclusions with a glass-half-empty approach. Players will be signed or not signed, regardless of what we say and how we feel.
Eddie Dunn
34
Posted 28/08/2015 at 13:03:28
We are papering over the cracks at the back and we are shipping goals even with the (Baines apart) first choice defence. We certainly can't afford any more injuries and at least one centre half is a must. Evans would do for me, he is hard, is tall and has experience.
If we can land one or two attack-minded players( Yarmalenko or Austin) then we will all get a boost, but I fear that if it doesn't happen, the whole team and fans will feel underwhelmed. Add to that the emotional cost of the Stones affair, and we could meltdown.
I hope we can build on the siege mentality, use the hate for Chelsea, inspire the fan-base with some last minute transfers, and get the hopes back up, like after the win at St Mary's.
Fingers crossed, come-on Roberto.

Paul Cherrington
35
Posted 28/08/2015 at 13:13:23
It worries me that Martinez seems to be more intent on looking at attacking players still rather than shoring up the under-manned defence.
Victor Jones
36
Posted 28/08/2015 at 13:19:44
When a big pizza pie, hits you right in the eye, that's a-Amori.
That's how I think we will feel about this guy. Like a slap in the eye. But I hope that I am wrong. But I reckon that Mori will fare no better than Alcaraz.
Why can Martinez not just go for a good solid no nonsense British CB. There are a few out there. Scott Dann was available. Ashley Williams. Jonny Evans. Shawcross. Reid. Even Lescott as cover.
Or the Dutch Celtic CB Van Dijk. But no, no. No. We go for a player that could be anything. Incredible.
Ben Jones
37
Posted 28/08/2015 at 13:24:08
Looking at the attacking players we have
Osman, Pienaar, Barkley, McGeady, Deulofeu, Mirallas, Naismith, Cleverley, Kone, Lukaku.
That's a lot of attacking players to fill in 4 spots. If we want 2 more, surely we have to sell some of them right. I know it's argued some of them aren't fit enough or some of them play a bit deeper, but McGeady is the one I can see leaving. I'll be surprised if he stayed.
John Malone
38
Posted 28/08/2015 at 13:26:58
As much as I want glamour signings I honestly would be glad to see cover at right back in Sam Byrom and a young talented british goalkeeper in the Butland mould. Pennington and Robles looked our major weaknesses against Barnsley dread to think of them playing in the prem against top quality!
Mark Tanton
39
Posted 28/08/2015 at 13:27:35
Well I wouldn't count Osman, or Pienaar - both on their way out physically. Naismith and McGeady filed under not good enough. Kone will play a part, but not a huge one. Cleverley isn't an attacking player. So that is where we're short surely.
Nick Page
40
Posted 28/08/2015 at 13:31:10
"Pennington and Robles looked our major weaknesses against Barnsley dread to think of them playing in the prem against top quality!" Pennington!? Didn't you mean McGeady or did you not see the game?
John Francis
41
Posted 28/08/2015 at 13:38:42
As an aside to the two attackers we are waiting for, what about left back? Oviedo looks a couple of games away from fitness. That could be 6 points down the drain.
Barry isn't fast enough for that position in this league, yes he has performed well in that position a couple of times through substitutions, but 90 mins against this leagues speedsters would surely find him wanting.
We should give some thought to asking Ashley Cole, even on a short 6 month contract. Give him a mill, worth a try imo.
I have missed the medics assessment of Galloway, can anyone update me?.
Harold Matthews
43
Posted 28/08/2015 at 13:50:39
Kase. (and anyone else who seeks to be enlightened.)
Go to the RUMOURS page. Scroll down to the Uruguay Striker thread and read posts 99, 100 and 101 by Martin Tanco, our blue from Uruguay.
Amazing stuff. Pity the editors didn't put it on the top of this page.
Eddie Dunn
44
Posted 28/08/2015 at 13:54:21
John 25, Our manager said that while Pennington was on in the first half, he was the best player on the pitch!
Matt Ostnes
46
Posted 28/08/2015 at 13:59:07
Josh (#27), Funes Mori can play pretty well as Left Back. He's very good with crossings and passing for being a centre-back (he made like 5 assists in the last year). Obviously it´s not his natural position but he knows how to play in it.
His first matches in River were as left-back and usually when the starter left-back was injured or suspended the first option was to move Funes Mori to the left and start with the Mori substitute as CB (Balanta).

Peter Gorman
47
Posted 28/08/2015 at 14:03:08
I agree Eddie, Pennington didn't let himself down at all, he was solid which couldn't be said about Stones or Jags in the first half.
Eddie Dunn
48
Posted 28/08/2015 at 14:09:27
Harold, thanks mate- how interesting, a real insight. it seems that the two lads we are hopefully signing are pretty good.
Drew Shortis
49
Posted 28/08/2015 at 14:23:48
Just seen Spurs have signed the excellent Heung-Min Son from Leverkusen. Lots of negative comments on Yahoo from people who clearly haven't seen him play. I do hope we manage to get one marquee signing in late on to add a bit of attacking quality and show the likes of Stones, McCarthy, Lukaku and Stones that we are ambitious.
Would like to see us bid for David Marshall off Cardiff. Very good keeper. I just don't have faith in Howard or Robles. Too many goalkeeping errors between them. We need someone reliable between the sticks. Can't see Martinez going there though.
Now Stones is set to stay and we have Mori in with Holgate, Galloway and Browning as backup we need an extra striker and either a top class left winger or the fabled number 10, or both. I can't see us having the money for three acquisitions, so with Barkley looking back to his best I would invest in a striker and left-winger as we have plenty on the right. With Heung-Min Son going to the Spuds for £22m there can't be too many suitors left for Austin.
Deadline day is going to be very interesting. Thankfully we don't have to wait until gone midnight for answers!
Brian Harrison
50
Posted 28/08/2015 at 14:24:39
Yes we needed a replacement centre back in case of injuries, and the young striker cost virtually nothing in todays terms. I thought McAleny might be given more of a chance this season, as at 23 surely this is his make or break season.
I was surprised that Osman has been given no game time this season, thought he might have got a run out against Barnsley.
Brian Cleveland
51
Posted 28/08/2015 at 14:26:19
I know everyone is calling him Mori, but I believe Funes would be more appropriate.
Basically Spanish convention is that you have two surnames, hence Funes AND Mori. (Funes his father's side, Mori his mother's). Basically women don't take their husband's name, they keep their own name including two surnames and the first (paternal) passed on to their children, the father's being the first of the two.
So if you use just one surname, you use that of the father and hence Funes.
So before you run out to get Mori on your shirt because it's one letter cheaper, just check because you might need Funes and you might even need Funes Mori (more expensive still!)
:-)
Mark Tanton
52
Posted 28/08/2015 at 14:26:29
I agree that Austin seems to be going spare now - although West Ham still want a striker, and he wouldn't even have to move.
Tottenham's new striker looks like an awkward first year foreign student in the pictures of him signing.
Simon Jones
53
Posted 28/08/2015 at 14:28:42
#28 Kase, just read the stuff by Martin Tanco, brilliant insights into Uruguay and explains why so many good players come from that nation. Even if he is only half right about both players we could have two decent players to add to the squad if they can adjust to the Premier League.
Simon Jones
54
Posted 28/08/2015 at 14:30:09
Sorry, meant #28 Harold
Sam Hoare
55
Posted 28/08/2015 at 14:44:24
I think Martinez sees Leandro being in and around the first team sooner than later. Holgate was on the bench this week and not in the last u21 game so he too is somewhere in between.
Hopefully Mori brings a bit of steel and toughness to our back line though I don't see him playing that much unless Jags or Stones get injured.
Teddy Bertin
56
Posted 28/08/2015 at 14:46:05
Don't be so down on Lennon if it happens guys. Just because he's played for us before doesn't make it a boring signing. A lot of people were writing Del Boy off as a boring "Martinez" style signing. Nonsense. Seriously exciting player. Lennon would be a brilliant addition and offer work rate that we could never expect from Kev or Del Boy and creative threat that we could never expect from Nasey or McGreedy.
Frank Crewe
57
Posted 28/08/2015 at 16:41:36
From Skysports concerning their new Korean striker
"Koreans are obliged to serve a two-year conscription by the age of 28 and the law only exempts athletes who win a medal at an Olympics event or finish first in competition at the Asian Games. Son is yet to achieve either."
Spurs better hope he doesn't get his call up papers anytime soon. He's 23 now so those two years will be in the next five.
Brent Stephens
58
Posted 28/08/2015 at 17:05:27
There are several pics of Funes Mori with that (Funes Mori) on his shirt. So both surnames, it seems. Good for our commercial income.
Harold Matthews
59
Posted 28/08/2015 at 17:23:08
Hamburg took a chance with a 19-year-old Turkish International, flogged him 2 years later to Bayern Leverkusen for £14M and he is now the star of the team.
Hakah Calhanoglu, midfield playmaker supreme and ace dead-ball specialist. Watched him several times, including the Champions League game against Lazio where he scored a great goal and ran the show.
They're out there if you look hard enough. Unfortunately, I've since read that the mob across the park have enquired about the lad.
Andy Finigan
60
Posted 28/08/2015 at 17:46:54
Thanks Harold. I went on you tube after your info regarding the YouTube footage of Rodreguez and I was very impressed. I know YouTube could make an average player looks great but he reminds me of Gary Lineker.
Dave Abrahams
61
Posted 28/08/2015 at 18:33:32
Teddy (#52) I hope we get Lennon too; he offered plenty as a loan player, gave the team a lift.
Some didn't want Cleverley; he's not too bad, is he?
Matt Muzi
62
Posted 28/08/2015 at 18:56:46
We need a top draw signing to lift the fan base, lift the team and dare I say it the club. I'd like cover at RB & I've wanted a new keeper for the last 5 years!!
Colin Glassar
63
Posted 28/08/2015 at 19:04:04
Careful with what you wish for when you keeping on going on about marquee this, marquee that....... Bill is capable of putting a big tent in Park End and saying, "there's your bloody marquee!!".
John Francis
64
Posted 28/08/2015 at 19:08:44
Can I be the first to welcome Leandro to the wacky warehouse. Enjoy the ride lad!
Colin Glassar
65
Posted 28/08/2015 at 19:11:52
Bienvenidos Leandro. Some will say you are crap and underwhelming but I'll give you a chance to prove yourself. If indeed you are crap well, adios. Just joking lid.
Peter Roberts
66
Posted 28/08/2015 at 19:13:14
Lets hope hes more Suarez than Forlan. Let's just hope he gets his teeth stuck into finding the net rather than opposition arms .
Geoff Evans
67
Posted 28/08/2015 at 19:13:34
Exciting prospect
Paul Cullinane
68
Posted 28/08/2015 at 19:19:08
Welcome aboard Leandro (have you got any mates looking for a start)?
Seriously we have to be pleased with this business. I just hope we tie up a CB and a LB and then we will look a decent squad.
John Byrne
70
Posted 28/08/2015 at 19:21:16
RM says he's one for the future. He's not a teenager, he's 22. At what age should we expect to see this lad in the first team because he'll be going straight into the U-21 setup?

Hopefully he's not one of the three signings that we're supposedly after because we need someone who can make an impact this season. Having said all that, welcome to our great club. Hope you settle in well and hit the ground running. Best of luck, Leandro.
Brin Williams
71
Posted 28/08/2015 at 19:22:33
Not sure he's in the same league as Suarez or Forlan but so long as he can do a bit of fore-play and score that'll do me!
Brian Cleveland
72
Posted 28/08/2015 at 19:23:36
And I really thought this one was a wind up when someone starting playing around with his Wikipedia page! Guess not!
Welcome Leandro!
David Chait
73
Posted 28/08/2015 at 19:24:27
It's not a lot more left field that buying Coleman for £60k... so you never know! curious to see how this one plays out. Either way, welcome to the greatest club on Earth; transfer requests not welcome.
Kieran Kinsella
74
Posted 28/08/2015 at 19:26:40
If he's half as good a Bent, Vellios, Beckford and our other low cost strikers then he won't be that good.
Davie Turner
75
Posted 28/08/2015 at 19:32:45
I'd happily take a post Man Utd Forlan Peter, good luck Leandro

Chris Kelly
76
Posted 28/08/2015 at 19:33:39
Know nothing about him, but happy to see what he is made of. Somebody must have seen something positive. Big change and big opportunity for the lad. Can't be easy moving all this way.
Sam Hoare
79
Posted 28/08/2015 at 19:58:39
Low risk punt on this lad and expectations are fairly low but best of luck to him...
John Keating
80
Posted 28/08/2015 at 20:09:51
So far this transfer window has been.... embarrassing?
We still seem to be waiting on the striker, Number 10, central defender, goalie we are desperately in need of.
Michael Ward
81
Posted 28/08/2015 at 20:12:32
I, for no reason whatsoever, think this lad is going to be class and will go down in the annals along Cahill and Coleman as a belter of a signing. I may be still full of man love for Roberto after his "money can't buy everything" comment the other day though!
Andrew Presly
82
Posted 28/08/2015 at 20:14:10
I'm getting.........Joao Silva
Peter Roberts
83
Posted 28/08/2015 at 20:19:34
Davie, so would I but Forlan wasn't cut out for the Premier League. At half a million who knows he could be a Seamus Coleman or an Apostolos Vellios but is a low risk high reward signing. Either way, he's one of ours so lets back him.
Mike Gaynes
84
Posted 28/08/2015 at 20:27:05
Harold, thanks for the head's up on Martin Tanco's posts. Brilliant and informative, and a link to some lovely goals. Makes me happy.
Brian Williams
86
Posted 28/08/2015 at 20:33:23
Window will seem fine once it's closed and Berahino's signed ;-)
Tony Ashcroft
87
Posted 28/08/2015 at 20:35:21
He looks like the love child of Gareth Bale and Big Dunc, here's hoping! :)

Colin Glassar
88
Posted 28/08/2015 at 20:39:34
Great article by Robbie Savage in The Mirror. The moron makes the perfect case for every mercenary footballer out there and his bitterness towards Everton seeps through every line.
He's horrified that Stonesy and Berahino won't go to bigger, and better, clubs. I only read half of it before I puked. Who's next? Michael Owen? Alan Shearer? Lawro?
Garry Corgan
89
Posted 28/08/2015 at 20:41:12
It's unlikely but he might go on and prove to be an incredible player for us, but, in any case, it's a shitty
signing
.
We are in need of players that will improve the team and, for me, this doesn't do that. An untested, bargain-basement, player.
The manager and board need to show some intent by going out and getting somebody we know improves on what we've got because, in a few positions, what we've got simply isn't good enough.
Dave Lynch
90
Posted 28/08/2015 at 20:44:42
Suarez came from this league and didn't do to bad.
The environment these lads grow up in makes them hungry and ambitious, I'll bet this boy will hit the ground running.
Phil Rodgers
91
Posted 28/08/2015 at 20:50:30
You did better than me colin. He's a perennial douchebag
Anthony Hawkins
92
Posted 28/08/2015 at 20:55:02
BBC are reporting RM as saying Rodriguez is ready to press for first team action. £500k and ready for the first team? Really? Ok RM, you're the boss!!
Joe Green
93
Posted 28/08/2015 at 20:55:24
Colin (78)
Throughout this Stones saga, I've noticed that 99% of pundits who are ex-professional footballers believe he should move. Basically, they all believe in following the money.
It struck me that us fans might value opinion from ex-managers, or even owners, because their opinions would better reflect fans interests. Ex-players opinions could be restricted to on field issues.
Brent Stephens
95
Posted 28/08/2015 at 21:00:31
Anthony, I guess "pressing" doesn't necessarily mean "ready". It might be a gentle hint to Rom as much as anything. What did Stones cost and how long did it take for him to be a real challenger for places?
Colin Glassar
96
Posted 28/08/2015 at 21:02:41
Joe, there are very few ex-players I would even condescend to listen to but there are a few exceptions and the ones I respect all agree that Stones should stay and these are Gary Neville, Peter Beagrie, Glen Hoddle and, believe it or not, Carra. I know there are a few more but these are the ones I can think of.
Len Gowing
97
Posted 28/08/2015 at 21:05:36
Harold (#55). My 9-year-old has been banging on at me for weeks to post on TW that we should look at Calhanoglu and today whilst sat by the pool in Turkey I relented and looked at some of his work hadn't heard of him previously and yet a 9-year-old can pick him out. Yes, they're out there if you know where to look and yes, I'd sign him.
Dave Lynch
98
Posted 28/08/2015 at 21:25:56
Anthony.
How do you know how this lad is gonna perform?
If he's shite..... He's shite but let's give him a go first eh, before we writ the kid off.
Harold Matthews
99
Posted 28/08/2015 at 21:26:29
Nice one Len. Your boy is a class act. Make sure you listen to him in future.
Denis Richardson
100
Posted 28/08/2015 at 21:31:44
Finally a signing! Only cost £500k so can't really get excited given we spent £6M on Kone.
Hope the guy turns out decent, if not he didn't cost much.
Any chance of signing someone who isn't 'one for the future'?
Also presume that's the end of McAleny.
Drew Shortis
101
Posted 28/08/2015 at 21:36:46
Could be the next Junior or Joao Silva but there's always a chance he could be the next Seamus Coleman bargain buy. Good luck Leandro. I hope you seize the opportunity with both hands!
Winston Williamson
102
Posted 28/08/2015 at 21:36:56
As RM likes to play with only one striker (most of the time), we need a super-sub type striker. Maybe Leandro is this type of player.

Simon Bates
103
Posted 28/08/2015 at 21:38:23
Robbie Savage is still obviously bitter about our small club which refused his services on a free transfer, hypocrite was begging to come here.
Good luck to the latest recruit, but the impression I got from RM's comments above are he's ready for the main squad now?

Darryl Ritchie
104
Posted 28/08/2015 at 22:09:26
He'll be 2 years with the U-21s, so unless he is something really special, he won't have a sniff at he senior squad until 2018. By that time, we will know what we have.
Tony Hill
105
Posted 28/08/2015 at 22:11:21
What's interesting here is that we seem to have developed a South American scouting system or, at least, that we have some capacity to check players there. That could be invaluable and I for one am pleased that we are hunting out potential gems at low cost. We only need to find one real jewel to change the club.
Steven Jones
106
Posted 28/08/2015 at 22:19:21
I watched Pennington very closely for 90mins against Leeds in preseason – I was very very impressed with his composure, positioning and use of the ball. He actually reminded me of Mark Lawrenson.
I think he is a another one that can make it in the Premier League ... if not easily Championship ..
Anthony Hawkins
107
Posted 28/08/2015 at 22:22:24
@ Dave Lynch #87. Far from writing off the lad, im trying to be realistic and give him the benefit of doubt.
How many players rated at £500k do you know who have set the premiership alight? They usually have a much higher price tag.
I'll be very happy if he comes in and proves he should have cost even £5m
Andy Crooks
108
Posted 28/08/2015 at 22:22:55
Kieran. # 67, I would leave Bent off that list. I thought he did a good job for us.
Mike Corcoran
109
Posted 28/08/2015 at 22:32:41
He looks boss against some comedy defenders on YouTube so he should bagfuls in training. He does look like a penalty box predator though who will throw any part at the ball to get it in.
Aidy Dews
110
Posted 28/08/2015 at 22:57:31
What are people moaning about? We've signed a young promising lad for £500K! Hardly a big risk is it.
Yes, he may well turn out like Joao Silva or Vellios but who knows, this kid might have a bit more about him and be a useful player for us?!
The one thing you do know with Uruguayans is that their usually grafters and put themselves about and who knows, he may make an impact with us.
Martinez says he's one for the future but also feels he can help the team out this season aswell so he could be our third choice striker for the season. Martinez also says apart from Leandro & Mori, he wants another 2 attacking players. Now I don't know if he wants another striker or a winger to go with a No.10 but he says he wants 2 attack minded players before the shut of the window.
I'd of loved us to of got Yarmolenko sorted but it's looking very unlikely. I've got a feeling we're gonna end up with Lennon permanently and de Guzman on loan. I don't mind de Guzman, he's decent I think and on loan it's a no brainer, but I don't rate Lennon and never did even when we signed him on loan. He's got decent pace and works hard, but in terms of goals and creativity, I don't think he brings enough to the party in that sense and I think we can do better!
Mick Howard
111
Posted 28/08/2015 at 23:02:38
(#94) Sixty grand, Seamus Coleman....
Let's not forget, McCarthy and Mirallas have re-signed and two months ago it looked like they were going.
How much of the transfer budget has gone on a signing-on bonus and their increased wages? Money well spent and well done RM and BK.
John Malone
112
Posted 28/08/2015 at 23:09:10
Nick 38, Eddie 41, what I meant is weakest as in no decent cover in them areas i.e. Goalkeeper and right back. McGeady was and still is shite but we've now got Delboy.
The manager always blows smoke up players' arse's to make them feel good but from what I saw I wouldn't want to rely on Pennington in the league if the worst happened to Coleman!
Alexander O'Brien
113
Posted 28/08/2015 at 23:12:14
De Guzman as people seem to suggest, doesn't make any sense even as a loan. We already have more than enough competition in that area. Lennon yes as McGeady is woeful!
Gary Carter
114
Posted 28/08/2015 at 23:14:57
Martinez doesn't sound anything like he views him as one for the future as he has stated that he won't need to put him in the U21s due to his game experience.
Just sounds like a cheap hopeful buy from a man that is nothing but a mouthpiece for the board and that we are being sold down the river with cheapskate buys instead investing properly in players!!!
Frank Wade
116
Posted 28/08/2015 at 23:20:22
On Harold's direction I read the posts by Martin Tanco in The Rumour Mill section on Our Uruguayan Striker. Martin made some calls to Uruguay which suggest this lad cost ٢m not 𧺬k and looking at Martin's YouTube link, it's easy to see that he could be worth a lot more. He's looks a real player to me who could possibly develop into a great player in a more professional environment.
Scored some good goals against the top teams in Uruguay Nacional and Penarol. Some nice assists too at the end of the clip. A striker with a deft touch and an eye for goal. I know YouTube can be misleading but...
Zac Farbrother
117
Posted 28/08/2015 at 23:21:08
Very excited about this one, been a fan of his for some time now. Welcome to the mighty Everton lad.
Bob Hannigan
118
Posted 28/08/2015 at 23:21:53
I'm wondering if Tottenham is holding off selling Lennon to us until after the fixture tomorrow. What do you think?
Anthony Dwyer
119
Posted 28/08/2015 at 23:54:55
Great news, I would rather take a chance on a young South America player than a overpriced Brit.
Good luck young Rodriguez, seize your chance with both hands.
Keith Crawford
121
Posted 28/08/2015 at 00:37:10
When we get these promising young players it always remind's me of that MontyPython sketch with all them milkmen in a dusty old room. Every time the door opens another poor milkman is added to the collection, never to see the light of day again

Then again, what do I know ? I thought The Waltons was a documentary!
Mike Allison
123
Posted 29/08/2015 at 01:51:46
More to the point, the article says 'two additional attackers'. Does that mean beyond this or is this one of them? The way the article is written suggests that it means as well as this, but nothing so far this window has suggested that.
Oh, and don't bother with cynical bullshit answers, they won't be clever or funny, I want to know what is the actual context of the use of that phrase?
Chris Wilson
125
Posted 29/08/2015 at 02:10:05
I think he meant two more, Mike. Probably Lennon and...mystery player to be named later.
Steve Austin
126
Posted 29/08/2015 at 02:14:12
I live in Vancouver, and have watched the Whitecaps scout and build their team around a lot of these types of players. They have the youngest team in the MLS, and only one other team is younger in Mexico.
Right now, without any of the so-called big name signings, this team is the most exciting to watch, they attack in numbers, defend in numbers, and are the best team in the MLS right now.
Now I know the MLS is not on the same level, but these players are players. They are hungry to succeed, have great skills, are tough as they play in countries were poverty is the norm for most. We may have stumbled on a gem here, and if we have there seems to be a boat load of them down there.
Also check out the damn keeper for the Whitecaps, he makes ours look like the crap they are. Why not come over here and sign him away. He stated he would love to play for a big European team. And on a final note I do love the milkman sketch as well.
Steve Jenkins
127
Posted 29/08/2015 at 04:24:37
Welcome Leandro!
I'm all for signing youngsters with potential for a low fee. The obscurity of the team and division he plays for means our scouting system must be pretty extensive & you'd imagine he's been watched a fair bit.
As others have mentioned low risk, high reward. Coleman being a previous example of this model working brilliantly, but of course it doesn't always.
Of course this doesn't always work out for every Coleman there'll be a Gosling.
I have no problem with the younger players Roberto has targeted, in fact they've predominately been players with big potential and tend to be in the skilful, classy, composed and athletic mould from what I've seen from them.
The players I predominately haven't been impressed with have been the older ones he's brought in to give more experience - A A, Mcgeady and Barry etc.
All this said, we really need to be strengthen the first team squad, I've excepted we won't be replacing the keeper this year as we hoped, but I am happy to hear that hopefully we'll be bringing in a striker and number 10, reading between the lines of Roberto comments, it will be the quality of these signings though that will matter.
Steven Jones
128
Posted 29/08/2015 at 08:31:38
Aidy 101
Yarm will Come to EFC.
RM has had a conversation with him - got into his head!
Yarm is now posturing that he will run down contract and elave on a free - message to their owners.
Martinez, as per ROM from Chavski, is biding his time, has buit a bond with Yarm and whether it is before DD Monday, or in Jan on a -pre-nuptial, or next Summer - Yarm will come.
Knowing Ukrainians first hand they play hard ball and then turn mercenary once they are between rock and hard place.
You heard it first hear - He will be an Everton player come Tuesday morning!
Steven Jones
129
Posted 29/08/2015 at 08:33:58
BTW - RM was very confident on landing the two players he seeks in attacking positions when asked at the press conference yesterday.
My guess is Lennon plus Yarmolenko.
Mike Keating
130
Posted 29/08/2015 at 09:45:30
What's McAleny done wrong?
Harold Matthews
131
Posted 29/08/2015 at 12:37:58
So pleased RM will not be mixing this lad with the 17yr old kids of the U21s. 16yr old in the case of Evans.
Leandro has had plenty of experience in a competitive league which has produced Cavani, Suarez, Forlan and many others. He'll probably need building up a bit but I'm very hopeful.
The Everton scouting network is a complete mystery. Sunderland nicked our Head of Academy Recruitment in November but we must have shadowy scouts weighing up senior players all over the globe. Hence Funes Mori and Rodriguez.
Didn't Moyes join some sort of Football Manager game network which kept him up to date on 350,000 players worldwide? Anybody got more info on this?
Of course, we do know that Martinez had dealings with S America while at Wigan and I'll bet he gained a few new friends on his World Cup stint. Intriguing stuff.
Danny Halsall
132
Posted 29/08/2015 at 12:59:22
Underwhelming signing to be honest, that said does not mean that it will be a bad one. The way that Martinez has spoken about him makes me very hopeful, but on the other hand he says that anything and everything is 'phenomenal'!
As for the Yarmolenko deal, I think that is dead in the water. Both the player and the Kyiv chairman have come out and said that he will be staying at the club until the winter to help them get out of the UCL group stages. Who knows who will be coming in, if anybody.
Paul Tran
134
Posted 29/08/2015 at 16:23:52
Harold, I did some work with a Northern English club a few years ago, among whom were three of their scouting team. They mentioned that there is some pooling of information, particularly in Latin America and what we used to call Eastern Europe, where the agents and third parties are notoriously difficult to work with.
They also mentioned that they regarded Moyes as extremely thorough in his scouting/player research methods. They also had the view he watched players too much, possibly due to budget and cautiousness.
Ray Said
135
Posted 29/08/2015 at 16:57:22
Harold (#118) I recall a post here several years ago that the Collyer brothers who developed Championship Manager and are mad Blues supporters gave Moyes access to their database to scout players.
Maybe Michael or Lyndon recall this?
Aidy Dews
136
Posted 29/08/2015 at 17:21:25
Steve Jones #115, I hope your right mate, I'd love Yarmolenko at the club, I think he's the kind of signing to really make us competitive and challenge for the European spots but I just can't see it happening at this stage now.
Michael Kenrick
138
Posted 29/08/2015 at 17:29:19
Ray (#121),
Correct; just search "Collyer Database" on the site and you'll see a fair few links in the past. Maybe that was Moyes's secret!
Gary Carter
139
Posted 30/08/2015 at 11:07:57
I noticed at the end of the Spurs game interview that Martinez, when questioned about Stones slipped in "We HOPE to bring one more in"! So basically yet again we've been let down by the board and Martinez has been their mouthpiece by just blatantly lying to the fans about the number of players and type of experience players we are "bringing in"!! It's just becoming a massive piss take now!
On another note, I was reading the Echo's online match report from yesterday's game where Phil Kirkbride waxed lyrical about how a nil-nil draw with Spurs is some sort of massive turning point for Martinez! That was odd enough but he also said, and I will directly quote now:
"The Catalan has altered the club's thinking, changed the way the team play and attracted a type of player a lot of Evertonians thought of out their reach."
I was wondering if anyone else found this a very strange statement? For me, we have not signed anyone I would have considered out of our reach at all!!! More like we have signed the sort of players, misfits and potentials, we always sign — only not as many of them have been any good as the ones Moyes used to unearth.
Add Your Comments
In order to post a comment, you need to be logged in as a registered user of the site.
Or Sign up as a ToffeeWeb Member — it's free, takes just a few minutes and will allow you to post your comments on articles and Talking Points submissions across the site.
© ToffeeWeb