Martinez: Transfer business done until January
by

40 Comments [Jump to last]
| 09/09/2015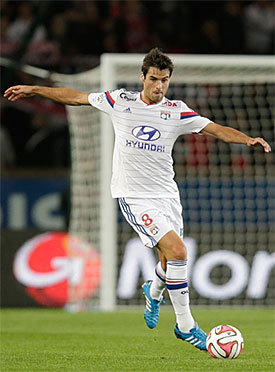 Everton are believed to have offered Yoann Gourcuff a deal but he has no intention of leaving his native France
(Kenzo Tribouillard/AFP/Getty Images)
Roberto Martinez insists his work in the transfer market is done now and has ruled out adding any free agents to bolster his squad before the winter window.
Having failed to land the creative attacking midfielder to potentially fill the "No.10" role that he made his top priority for the summer, the Catalan is believed to have approached talented midfielder Yoann Gourcuff about joining the club this month.
The French midfielder was recently released by Lyon following an injury-plagued spell there and emerged as potential acquisition for the Blues but, according to reports from France, Gourcuff will sign for Rennes after making clear his desire to remain in Ligue 1.
"The squad is closed from our point of view and I am delighted with the numbers," Martinez is quoted as saying by the Liverpool Echo.
"It is a very important period for us. It is now about competition until December and, as you can imagine, it is about creating a real strong competition for places.
"And I feel we have enough talent in the squad to face that period so clearly we are not going to be looking for any other players."
---
Reader Comments (40)
Note: the following content is not moderated or vetted by the site owners at the time of submission. Comments are the responsibility of the poster. Disclaimer
Andy Peers
1
Posted 09/09/2015 at 20:43:22
I think the recent window was a shambles. The initial signings of Tom and Gerry was ok and done pretty swiftly. The rest of the signings just seemed like panic buys after we were told, all along, that our targets had been identified and will be purchased before the window shuts.
If the last three signings were the main targets then we are in trouble. There seemed like there was a lot of options out there, but we didn't jump on the opportunities quick enough. It just doesn't seem like £20 million spent wisely for a club that is watching every penny.
Jimmy Salt
2
Posted 09/09/2015 at 21:16:51
I can't help feeling that they were going to sell Stones (or another) and use the money to buy, then.......
James Stewart
3
Posted 09/09/2015 at 21:33:08
Have to agree with the first comment. Good early business done and then a complete let down. We missed out on Payet, Wijnaldum, Cabaye, Valbuena, Ayew, and of course Yarmalenko. Signing just one of that lot would have drastically improved our potency.
It would have also been a statement of intent to combat the Stones saga and show that we are serious about challenging the top sides. Just like we did when we signed Lukaku.
It's all well and good saying we want to keep the likes of Stones, Barkley and Lukaku but, if we don't show some ambition beyond that, what is the point?
Craig Mills
4
Posted 09/09/2015 at 21:35:58
The early bird signings of Cleverley and Deulofeu for £4.5M seemed very good business, but I honestly can't believe there are too many Blues who can say they feel the same after shelling &pound14M on an unknown defender from the South American league and a guy who doesn't warrant a squad number at Spurs on Deadline Day.....
I sincerely hope the prove me wrong.
Kristian Boyce
6
Posted 09/09/2015 at 23:52:01
Doesn't he normally criticize the January windows as they are a disruption to squad harmony?
Kase Chow
7
Posted 09/09/2015 at 23:56:52
Andy #1 is spot on
Couldn't have said it better
Spragg Johnson
8
Posted 09/09/2015 at 23:57:25
The next three months should be spent finding a new home for McGeady and a decent lawyer who can cancel the contracts of Hibbert and Gibson.
Malc Kitchen
9
Posted 10/09/2015 at 00:24:56
Very true guys, I heard today Gibbo is back in training, So fingers crossed he stays fit as he is a class act! I would add Pienaar & Oviedo Baby (regretably) to that lawyers list, 3 times already been injured this year!
Richard Lyons
11
Posted 10/09/2015 at 06:27:44
Yarmolenko in in January, please (Dynamo Kiev will be out of the CL by then). No-one out.
(OK, McGeady out).
Kunal Desai
12
Posted 10/09/2015 at 07:10:26
We always seem to come up one or two players short every summer. It used to happen under Moyes as well. The squad has never had enough strength in depth with reasonable quality.
I see us finishing somewhere between 9th and 12th with the current squad.
Ged Simpson
13
Posted 10/09/2015 at 07:33:12
Will it be a "shambles"? Who knows yet. Certainly Cleverley and Deulofeu look good and we cannot judge the others yet unless you are psychic.
As for the names we apparently missed ...well did they want to come?
Every transfer window ends up like this and not necessarily because we did bad business; just that others have more money.
It may be that other signings turn out to be crap but to assume it is is a real "glass half-empty" mindset and we do have a good record of finding cheap gems.
Sam Hoare
14
Posted 10/09/2015 at 08:04:40
Richard @9 there is next to zero chance of Yarmolenko coming in Jan. He has set his sights higher than us. Unless perhaps we are sitting comfortably in top 4 at the time...
I tend to agree with first post.
Seems like we were unable or unwilling to get our main targets and ended up with no playmaker and overpaying for a CB who represents a risk at the least.
Difficult to know what was attempted behind the scenes. But surely Ayew and Payet in particularly should have had the carpet rolled out for them. Or Cabaye.
We are still woefully short of creativity from the middle of the park and I wouldn't bet on first choice Barry/MCCarthy assisting or scoring more than a handful of goals between them this season.
Jim Bennings
15
Posted 10/09/2015 at 08:19:19
Malc
Gibson and "staying fit" shouldn't even be in the same sentence anymore.
The guy is a proven injury prone player, you can't get more than five or six matches from him and expect anything more.
I think when he did play last season we got a bit carried away, it was possibly due to how bad our midfield was, but Gibson didn't do anything great in the league games he featured in, he had one good game in Europe v Young Boys.
The fact we a even considering him as useful tells us where we are as a club, he should be farmed to somewhere like Blackburn or Bolton.
The amount of decent midfielders we missed out on during the summer was alarming and spending only real sizeable cash on a relatively unknown central defender is a risk in more ways than one but we are familiar with this being the Everton way now.
Andrew Yates
16
Posted 10/09/2015 at 08:48:22
I'm not particularly frustrated by the summer signings, lets see what happens.
What does frustrate me is this unbearable fascination with this 'Barcelona-esk' formation, do any managers actually have the balls to revert back to 4-4-2 or whatever to enable us to utilise the players we do have to their optimum potential!?
Rom & Ross or Kev up front with Del Boy and Lennon/Kev running the lines with Cleverly and Macca in the middle of the park bossing the game sounds delicious to me.
Instead we insist on this fractured combination of "Oh yeah, Arouna do you mind sort of playing inside left but a bit up front when we hoof it!? Ross do you mind stagnating in this forward/middle slightly off centre no man's land role which we know you love!?"
Argh, Cabaye would have been a dream move, but alas we either weren't prepared enough (seems like a Martinez trait) or we weren't prepared to invest, either way we are left wondering every year, what the hell is going on?
Let's beat Chelsea with a Stones back post header in the 97th minute and I'm sure we'll be ok.
Eddie Dunn
17
Posted 10/09/2015 at 08:53:12
It's a chicken and egg situation. If you show ambition and spend big, like on Lukaku, it gives other targets the impression that the club is on the up and worth considering. If you don't have Euro football to offer and aren't London-based, then the least you have to do is show that the former is possible, or that you may win a cup.
Otherwise you have to pay inflated fees and wages. We are not in London, and probably won't win a cup, and we don't compete at the top of the pay scale.

Barry Pearce
18
Posted 10/09/2015 at 09:56:05
I hope I'm wrong, but I wouldn't mind betting over a period of time that Mason Holgate turns out to be our best summer signing.
Colin Grierson
19
Posted 10/09/2015 at 09:57:29
Informed I am just glad that the whole transfer window farce is all over. I won't judge until I've seen the team perform with the new recruits. The ones I've seen already, I'm happy with.
Let's hope the South America and prove worthy Blues.
Thomas Surgenor
20
Posted 10/09/2015 at 10:24:14
I don't believe that the window was a shambles; I think we came out stronger.
Also, I believe the club were under the illusion that the Yarmelenko deal was tied up. Maybe by his agent?
How different would the window have looked if that deal had gone through as planned?
Anthony Dwyer
21
Posted 10/09/2015 at 10:38:13
I was not exactly happy with the transfer window, but with the formation we play we did not need a huge amount of money to be spent on a striker as he or Lukaku would be on the bench or played out of position. That said, we may have unearthed something in the signing of Rodriguez, who knows? Kone has done Martinez a decent turn by hitting the ground running too.
We needed a centre-half; we got one. Yes, he is an unknown but that is not always a bad thing is it?
Deulofeu and Cleverley are genuine first team players who do strengthen the starting team. I'm not Martinez biggest fan but even I would not blame him for not foreseeing Cleverley's injury.
The biggest positives to take from the previous windows are we are bringing players in at the right age group rather than in previous windows were Alcaraz, Barry and Kone were bought. Another massive positive is the fact we kept suitors away from a number of our main men, namely Stones, Coleman, McCarthy and McGeady (OK, messing about the last one).
We now have a good young spine with three solid pros to help them out; if two of them step it up, we will be a good team this season. For me Jags is always good, he's a great captain and a true leader. Howard has shown signs of improvement; Barry must do the same... if not, McCarthy needs to step up and take more responsibility in the centre of the park.
With Stones, Lukaku, Barkley, Deulofeu and McCarthy, we have some really top youngsters. Keep them fit and in form and we could be going places this season, especially once we get Baines back (still some time off, I know). At the minute we have to try to be positive, Chelsea this weekend is a tough task but pretty soon the games become easier and we could sneak up on a few teams.

Chris Gould
22
Posted 10/09/2015 at 11:02:57
The entire window was dominated by the media's insistance that Stones would go to Chelsea. Personally, I can forgive the lack of a marquee signing because of the way the club handled that whole abhorrent saga.
Interestingly, the papers are reporting that Stones is requesting a £38m release clause if he signs a new contract. That would be senseless from the club's perspective and I hope we tell Stones and his agent to shut up and just play. He still has some making up to do after handing in the transfer request, regardless of the pressure he was under.
Why give him a new contract if it allows a club to swoop in for him in January and trigger the release clause? We have him on a contract for 4 more years where we can name our price, so what exactly is the point of a new contract? Yes, he deserves a pay rise, but it has to come without a release clause, unless it's something ridiculous like £60m.
Peter Gorman
23
Posted 10/09/2015 at 11:16:36
In all honesty, what would it have mattered had we signed somebody like Yarmalenko? Martinez is still a tactically poor manager and we would not see the best of any player under his management.
Paul Cherrington
24
Posted 10/09/2015 at 11:34:18
I agree that the lack of signings is cos we didn't sell Stones in the end and therefore didn't have the money we were banking on to make a big money signing (or two). I'm not saying that's wrong or we should have sold him but I think that is what's gone on.
Mike Childs
25
Posted 10/09/2015 at 11:36:29
The truth hurts doesn't it Peter?
Peter Gorman
26
Posted 10/09/2015 at 12:01:22
Yes, Mike, but cider helps.
Eddie Dunn
27
Posted 10/09/2015 at 12:14:50
Peter,
I am currently making a cider press so I, for one, will be able to handle the truth.
Jim Bennings
28
Posted 10/09/2015 at 12:59:28
With regard to John Stones maybe we won the battle but we know we are eventually going to lose the war.
His heart is still not with Everton if it's true about the request of a clause in a new contract.
Mads Kamp
30
Posted 10/09/2015 at 17:21:20
God damned all the negativity in here is depressing... We' re looking good. This is the strongest Everton side for decades, top 4 potential. It's a tight knitted group and we shouldn't underestimate that. Shaqiri, Yarmolenko etc. are divas who need entire seasons to adapt – if ever!
I believe we are stronger than the RS, Spurs, Man Utd and the like. Champions League here we come! Roberto will lead the way.
COYB
James Hughes
31
Posted 10/09/2015 at 17:31:42
Barry #16 that's a great call. A couple of good seasons with us and he grows and matures. Then boom, another transfer window and fun and games begin. Lovin it already.
Craig Mills
32
Posted 10/09/2015 at 20:48:28
It was on the radio radio today about a new contract for Stones and the talk of a 㿒M release fee........?
Only at Everton could you see this being true, 4.5 years left on his current deal and there talk of a contract release fee for a few £m more than what we've turned down.
For me, offer him a deal, no problem with that, but if any clause has to be added, it's 㿞M + add ons
Charles Cook
33
Posted 10/09/2015 at 21:01:02
Only at Everton, Craig? The media can say whatever they like about whoever they like. That's all this is.
Steve Cotton
34
Posted 10/09/2015 at 21:24:56
Sadly we all know he aint worth £38m.....
Eric Holland
35
Posted 10/09/2015 at 22:40:10
A stuttering Chelski on Saturday and Costa not in any sort of goal scoring form.
Welcome to Goodison! If a team or player are having a bad run, it's always us that breaks that bad run.
Come on blues, let's change this for once: 2-0 to the Blues.
Paul Cherrington
36
Posted 11/09/2015 at 09:22:02
I fancy us to win this one with the added spice of the Stones saga hanging over it. I can imagine our boys are well up for it and will be raring to go.
Drew Shortis
37
Posted 11/09/2015 at 11:27:15
I think it was a good transfer window, but one Yarmalenko, Shaqiri, Kagawa or whoever short of being a great one.
For me, the most important factor was keeping the existing team intact. We got rid of two of the deadwood players in Alcaraz and Distin and brought in seven, including Deulofeu for peanuts.
I think Ramiro will prove to be a success and Cleverley looks like a useful addition. Lennon will work his socks off and add pace and drive. Holgate could turn out to be the next Stones and Leandro is the wildcard.
Nowhere near a disaster but it is disappointing that we missed out on the Number 10 we do still need. At least Ross seems to be back to his best.
Harold Matthews
38
Posted 11/09/2015 at 12:05:13
Steve. Not worth 㿒M? Over the last few games he ain't been worth ٦M. The way he stood and watched the ball go over the head of Jags and didn't bother chasing Kane was mind-boggling. Stones was the one marking Kane, not Jags, who had his back to him.
Believe me, if I had the power I would swap Stones for Eric Dier tomorrow and play the big Spurs roughneck in the Barry position. Apart from crippling Cleverley, this monster of a lad played some really good stuff and dominated the middle of the park. So much so, that Spurs put a video on You Tube entitled "Eric Dier versus Everton". Am I right in thinking this lad was once a young Blue?
Okay, maybe Stones will turn into a super centre back and captain Everton and England but I won't be around to see it. Selfish I know but I want to see us flying high right now. Since losing Distin and Fellaini we are flimsy in the extreme but we do have lots of pace up front and need to make it count. Against Chelsea for starters. They are mighty slow at the back.
Kristian Boyce
39
Posted 11/09/2015 at 14:20:09
Harold,
Dier was never officially a blue, but here as a youth loan from Sporting, in what was a very bizarre deal. He was here for about a 1 1/2 years and didn't get anywhere near the 1st team. If I recall within a few months of returning to Portugal, he was in Sporting's first team as a starter. We basically developed him for free and sent him back to his team a better player, and I don't believe we had a clause to buy him in the future. He was here at around the same time as Mustafi, who is a World Cup winner and has gone on to make a number of multi-million pound transfers, but we released on a free.
Gary Carter
40
Posted 12/09/2015 at 08:00:40
There's two ways I look at the "success" of the transfer window and both are endemic of Everton.
The first is just not quite good enough. Just like on the pitch we lacked that final piece of the jigsaw, the killer pass, that little bit of extra class. A Yarmolenko, Kagawa type signing that would have given us a buzz and sent out a message of intent.
The more cynical view is that again like on the pitch when poor team selection, poor substitutions and God awful, drab, dire, boring negative tactics hold us back, we have been sold short
Harold Matthews
41
Posted 12/09/2015 at 08:36:12
Cheers Kristian, didn't realize Dier was here at the same time as Mustafi who I remember very well. A young, strong, fairhaired left back who was quite promising but didn't look anywhere near as good as one or two of the youngsters we have with us today. He looked destined for the bench and his subsequent success in Germany was a massive surprise. Maybe the slightly slower pace suited him.
Harold Matthews
42
Posted 13/09/2015 at 14:52:24
Change of plan: after yesterday's performance, I wouldn't swap Stones for anyone.
Michael Kenrick
43
Posted 14/09/2015 at 03:04:00
Glad that you've finally got on board the bandwagon regarding our young Barnsley star, Harold. Who was I to challenge the lofty wisdom of your constant criticisms? But this is indeed a welcome change of mind.
Add Your Comments
In order to post a comment, you need to be logged in as a registered user of the site.
Or Sign up as a ToffeeWeb Member — it's free, takes just a few minutes and will allow you to post your comments on articles and Talking Points submissions across the site.
© ToffeeWeb