Duo could be back to face Man United
by

29 Comments [Jump to last]
| 25/09/2015
Stones and Coleman doubts for WBA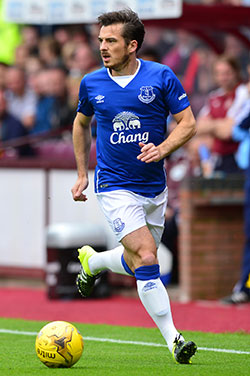 Tom Cleverley and Leighton Baines could both be back as early as the middle of next month as they make good progress on their respective injuries.
Roberto Martinez says that the pair are ahead of schedule in their recoveries and that the visit of Manchester United after the October international break is an achievable target for both players.
Having made what looked to be a successful return to action during pre-season. Baines suffered a setback with the ankle that required surgery at the tail end of last season almost on the eve of the Premier League season and was forced to undergo a second operation to correct the problem.
Cleverley, meanwhile, had to be stretchered off with ligament damage in the goalless draw with Tottenham last month in what was only his fourth League appearance for the Blues since arriving on a free transfer over the summer.
"Tom avoided surgery and tomorrow he will be running on the grass and he wants to play against Manchester United," Martinez said in his press conference ahead of Monday's clash with West Bromwich Albion.
"That is a realistic target and is three weeks earlier than we thought. Leighton is the same."
The manager also indicated that longer-term absentees Tony HIbbert and Steven Pienaar are due to resume training around the same time next month.
In terms of the trip to The Hawthorns, Martinez didn't rule out either John Stones or Seamus Coleman from making the squad following their recent injuries but suggested the Merseyside derby the following weekend is a more realistic for both players.
Coleman suffered what appeared to be a minor hamstring strain in the win over Chelsea a fortnight ago while Stones was withdrawn from Tuesday's League Cup tie at Reading as a precaution after appearing to aggravate a knock to the knee that he sustained against Swansea last Saturday.
---
Reader Comments (29)
Note: the following content is not moderated or vetted by the site owners at the time of submission. Comments are the responsibility of the poster. Disclaimer
James Hughes
1
Posted 25/09/2015 at 16:51:45
Please don't rush either player back into the fray, give them the extra time and it will pay dividends later.
Leighton is coming back from a repeat injury and Cleverley was proving all us doubters wrong (OK maybe just me ) There is no need to rush them back into the starting squad and with the usual manic Xmas period looming we should keep them fresh for that
Mike Gaynes
2
Posted 25/09/2015 at 17:10:46
Assuming there's still a place on the pitch for both of 'em...
The eminent Mr Baines may find that the left-back seat no longer has his name carved on it.
That speedy young kid is going to be tough to push out.
Carl Rutherford
3
Posted 25/09/2015 at 17:27:11
No Coleman and Stones, leaves us a little exposed at the back. A probable back four of Browning, Jags, Funes Mori and Galloway. Have we ever fielded a more inexperienced back four? 2 players making their first league starts and another teenager with less than 10 league starts.
Mike Gaynes
4
Posted 25/09/2015 at 17:44:13
Fortunately the WBA attack is about as potent as my 97-year-old Uncle Lou.
When Morrison is your most dangerous offensive threat and you're playing Anichebe in the back, you obviously have some issues.
I don't think Roberto will be tossing and turning in fear for our fallow backline.
Julian Wait
5
Posted 25/09/2015 at 17:56:07
Let them get fixed, hopefully for United, and definitely for the RS game. I don't think it's complacent to say I am quite happy with the understudy players right now.
And not even a sniff of 3-5-2 from the off in any game, please, Roberto... only for certain situations, eg, to change a game.
James Stewart
6
Posted 25/09/2015 at 17:59:06
Can't wait to see Baines back. Galloway has done well but Baines is one of our key players. There isn't a better back 4 in the league than Coleman, Stones, Jagielka & Baines.
William Cartwright
7
Posted 25/09/2015 at 17:59:59
Carl (3);
Yes you're right, a very inexperienced back four. However, if selected, I expect they would cope very well.
Congratulations to Roberto for generating a extremely good squad. We may not like all the options who are still in the back-up group but we do have strength in depth.
I think the biggest and most underrated aspect of Roberto's management achievement has been to generate a superb blend of youth and experience. The opportunity for young guys to learn from Osman, Hibbert, Barry, Pienaar, Baines and Jagielka as the old guard, is one of the reasons why the youngsters have been able to flourish.
ps: Off topic but does anyone else think a punt on Pato would be a good thing? He has been performing brilliantly in the last year. . . . .
James Stewart
8
Posted 25/09/2015 at 18:00:14
@4 it was until they signed Rondon. He is a real handful.
Sharabi Singh
9
Posted 25/09/2015 at 18:04:30
It'll be like having four new signings in the squad. Pienaar and Hibbert may be past it but it's good cover until the end of the season and then they can be replaced... Hopefully with some more youth players who must see that they will get rewarded with first team action if they show they're up to it.
It must be a real incentive for them to see Galloway and Browning getting game time.

Sam Hoare
10
Posted 25/09/2015 at 19:00:30
James@6. Yes and no. Coleman and Baines especially provide a huge amount offensively but I actually think defensively we may be harder to break down with Browning and Galloway as the full backs. If nothing else it replaces two smaller players with six footers and makes us more solid at set pieces.
Colin Glassar
11
Posted 25/09/2015 at 19:52:06
Great news but even better news is Blatter is going to the nick!!
Max Middleton
12
Posted 25/09/2015 at 20:19:03
Can someone tell me what we will or have been missing about Cleverley?? I'm all for supporting every player but, with so many options on the bench, will he even make it there when fit again?
John Malone
13
Posted 25/09/2015 at 20:20:20
Rondon's looked dangerous. Big test for Mori to go in next to Jags after one full apperance!
David Chait
14
Posted 25/09/2015 at 20:40:42
When is Dowell due back? A real talent! seemed really close to the first team and so young!
Tony Hill
15
Posted 25/09/2015 at 21:49:58
I think you are right, David, about Dowell. If he is granted luck and is well cared for, I think he has it in him to be one of our very best. His touch and speed of thought and his graceful running style are great to see.
Timothy Sebastian
17
Posted 26/09/2015 at 06:28:07
I would like to see Browning, Galloway & Funes Mori given another go for a full game together with Jags. It's going to be a long season and the more opportunities we give for the back-up defence team to build up a rapport & understanding of each other's strengths and weaknesses will be to our advantage.
James Morgan
18
Posted 26/09/2015 at 07:35:25
On a side note, I was sat opposite Gibson last night in his new restaurant, The Pit Smokehouse, in Culcheth. Very nice might I add. I noticed his wife had the car keys.
Thomas Surgenor
19
Posted 26/09/2015 at 07:43:43
While I agree that experience is important, it isn't everything!
With the current injuries we are likely to field:
Browning Jagielka Funes Mori Galloway
Last season, we would have fielded the more experienced back line of:
Hibbert Alcaraz Jagielka Distin.
I know which one I'd prefer!
Harold Matthews
20
Posted 26/09/2015 at 11:51:54
With Rondon, Lambert, and Berahino backed up by Fletcher, Brunt and Morrison, West Brom will be hard to keep out and we'll need to be on top of our game to get something out of this one. Definitely our hardest away match so far.
Victor Jones
21
Posted 26/09/2015 at 14:48:50
I have no problem with Coleman and Stones missing the WBA game. Browning and Funes Mori are able replacements. Browning has impressed and Funes Mori has played at a good level; both should manage to cope with Albion. Are WBA really as good as some people think? We cannot fear this level of team.
And Baines should not be an automatic choice, when fit. I actually thought he was one of our weak links last season. His defending was on occasion poor, and his free kicks and corners were woeful. He needs to be back to his very best to regain his place. To go straight into the team, would be a lack of vision... almost disrespect to Galloway. But Martinez can be like that.
If we protect the back four (McCarthy and Barry) and play on the front foot. Keep passing forward, not sideways. Play Barkley, Naismith, Kone and (reluctantly) Lukaku (I believe he needs to miss a game but I know that he will play). Play 4-4-2. Again no wingers for me. Play narrow.
We can break WBA down. Lennon and Deulofeu to stretch them late on. And our defence will be fine. Let WBA worry about us, not us worry about them.
Well, that is the theory... and we are Everton. So who knows what will happen? COYBS.
Kelvin Leung
22
Posted 26/09/2015 at 15:42:49
Hopefully the grass won't be too slippery for Tom...
Tony Hill
23
Posted 26/09/2015 at 17:35:06
I'm looking forward to seeing Funes Mori if he plays, see what we've got for our £9.5M and if he can back up his promise so far. It will be a test and we have a very mixed record at their place. (I always remember that we lost there in our title seasons of 69-70 and 84-85.)
It's a significant game in its way because it's the sort of fixture where we often come up short. If we can take a win, that would be a real sign, I think, that we are over the malaise of last season.
Colin Glassar
25
Posted 27/09/2015 at 12:21:49
WBA have always been a bit of a bogey team for us, Tony. I remember the '68 final and a game in the late '70s when the Three Degrees destroyed us at Goodison. I can still hear the impact Regis's head made on the ball, we thought the net was going to burst.
James Marshall
26
Posted 27/09/2015 at 12:33:19
I love how people come on here and say things like, "don't rush players back", as though they're somehow qualified to judge. Do you work for Everton? Are you a qualified physio or doctor? Maybe you know the players personally and work with them on a day to day basis?
Weird.
Trevor Peers
27
Posted 27/09/2015 at 12:40:00
I imagine both Stones and Coleman will be fit enough to play tomorrow night. We need our best team to stand any chance of winning. Roberto won't take any chances unless they are completely knackered.
Peter Gorman
28
Posted 27/09/2015 at 12:49:49
James, I'm not one of those people but I would guess their comments are less based on intimate knowledge of the players and more to do with the fact the manager has form for doing precisely that.
For example, Barkley last season. Martinez admitted it was a mistake and you didn't have to be a qualified physio to agree.
Rob Newling
29
Posted 27/09/2015 at 12:51:18
Have seen your Uncle Lou, Mike (#4)? Whilst I wouldn't be offering him an extended contract, I reckon WBA might pose slightly more of a threat!
Colin Glassar
31
Posted 27/09/2015 at 14:20:26
Mike 4, my main worry is that Pulis is the master spoiler and he will try and frustrate us from the off. I know it's incredibly frustrating to watch but we will have to be patient as his teams are extremely hard to break down.
James Marshall
32
Posted 27/09/2015 at 14:50:06
James - for what it's worth, I agree with you. There's no need to rush anyone back. My point is that the manager is the one who works with the players and his staff (and the players) will know the right time is to come back.
When players break down soon after returning from injury though, I don't blame the manager for that. It happens, it's very common and unpredictable.
Add Your Comments
In order to post a comment, you need to be logged in as a registered user of the site.
Or Sign up as a ToffeeWeb Member — it's free, takes just a few minutes and will allow you to post your comments on articles and Talking Points submissions across the site.
© ToffeeWeb