Martinez hails second-half 'reset'
by

25 Comments [Jump to last]
| 29/09/2015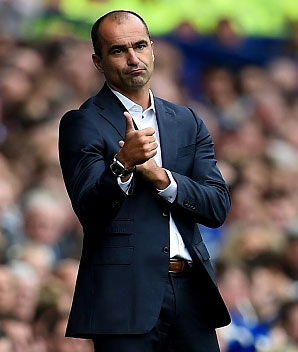 Roberto Martinez says a "completely different approach"in the second half helped turn a 2-0 deficit into a 3-2 victory at West Brom last night.
Everton had been, in the manager's words, "ordinary" in the first period but were nevertheless unfortunate to go into the half-time interval a goal behind after Ross Barkley missed a sitter and Saido Berahino punished poor defending with the opening goal in the 41st minute.
Craig Dawson doubled the lead in the 54th minute but Romelu Lukaku's instant response halved the Blues' deficit and sparked a rousing comeback thanks to Arouna Kone's equaliser and the Belgian's second six minutes from time. It was the first time that an Everton side had come back from 2-0 down to win away from home for 30 years.
"It was incredible character," Martinez told Sky Sports after the game. "We all know how difficult it is to win football games full stop but against a side that doesn't concede goals from open play we had to show a lot of desire to improve.
"The reaction was the most pleasing aspect of the performance," Martinez later continued to evertonfc.com. "We took responsibility and wanted to get a win with a completely different attitude.
"Our first-half performance wasn't up to our normal level. I wouldn't say we were playing badly but every player was off by two or thee per cent. We couldn't find passes and we were quite loose. We were ordinary, even though we created the best chance for Ross Barkley.
"In the second half, I wouldn't say it was a change from one or two players - it was the whole team. We had a reset and then it was a completely different approach."
Martinez has been credited with another significant game-altering decision with his substitutions in the 72nd minute that helped swing the pendulum further in Everton's direction.
The Catalan withdrew Steven Naismith and Tyias Browning in favour of Darron Gibson and Arouna Kone and the Ivorian delivered the equaliser just three minutes after entering the fray.
"We were getting a little frustrated," the manager continued in reference to his substitutions. "We weren't getting into good positions [and] we couldn't break West Brom.
"Obviously we've got a very good squad, with really good options. I thought Steven Naismith had a done a really good job but Arouna Kone with his freshness brought a different problem [for West Brom] straight away and we took advantage of that confusion, if you want.
"It was great to have a player like Darron Gibson who could open lines of passing and could give us a bit more composure and get us higher up the pitch."
---
Reader Comments (25)
Note: the following content is not moderated or vetted by the site owners at the time of submission. Comments are the responsibility of the poster. Disclaimer
Brian Williams
1
Posted 29/09/2015 at 17:23:47
Making the right substitutions at the right time can turn a game on its head. I didn't see last night's match but if that's what happened, well done, Roberto. Today's football isn't about just 11 players, it's definitely a squad game.

Minik Hansen
2
Posted 29/09/2015 at 17:28:18
I'm amazed everytime Gibson comes back, he still can get straight into the game. I've got a great feeling about us this time around; he is getting into the groove and staying fit. COYB.
Scott Bosworth
3
Posted 29/09/2015 at 19:50:21
I want to write off Gibbo every time an injury (or now a civil problem) comes up, but the truth is I love him as a player and think he's genuinely one of the best players in the team when he's fit.
If he wasn't on silly wages I'd still be happy to keep him for just the 45-120 minutes of fitness he's got, because it's sheer quality.
Mike Dolan
4
Posted 29/09/2015 at 20:38:50
Gibson always looks so solid when he plays. He brings so much composure to the attack. If only he could stay fit.

Dave Lynch
5
Posted 29/09/2015 at 20:56:29
If Barkley had the same composure and vision as Gibson he'd be worth billions.
Ross I'm afraid is overrated, that last attack when he even failed to get a pass away was criminal and he's the worst corner taker I've ever seen.
Sam Hoare
6
Posted 29/09/2015 at 21:03:29
Dave, that was Deulofeu. Ross may be overrated but I think you may be guilty of the opposite. He has shown this season that he is improving and if continues to do so then he may live up to the hype after all.
Phil Walling
7
Posted 29/09/2015 at 21:10:35
I read through the critiques of the game the English 'nationals' this afternoon to find that only the headline writers seemed prepared to give us much praise for last night's performance.
Indeed, the Daily Mail's Midlands correspondent thought Everton so poor that his Everton 'team average' performance point was only 5.91 as against Albion's 6.27 with Funes Mori marked as low as 4 with four other players on 5!
At least he saw fit to grant Romelu the MotM epithet with a 'sparkling' 8. What is it with these so called 'experts'?
John Daley
8
Posted 29/09/2015 at 21:34:22
"If Barkley had the same composure and vision as Gibson he'd be worth billions. Ross I'm afraid is overrated, that last attack when he even failed to get a pass away was criminal and he's the worse corner taker I've ever seen."
If Gibson didn't possess a physique better suited to a pub league, could run with or without the ball, could score a few goals and could stay fit for more than five minutes then he'd be worth the new contract he was supposedly going to be offered. That last drive when he didn't bother to wait for the piss haze to pass and ploughed into a petrol pump was criminal. He is however the best cyclist clipper I've ever seen.
Barkley has easily been one of our best and (surprisingly) most consistent performers this season. Very, very few players are going to possess everything and be the total package at his age. To continue to criticise him when he's been performing admirably is simply churlish. To compare him unfavourably to Darron Gibson is ridicolous when only one of those players is ever going to have had an Everton career even worth reminiscing about when they retire.
Scott Bosworth
9
Posted 29/09/2015 at 22:05:11
Dave can be forgiven for the mistake – the first time I watched it I also thought it was Barkley (hair color, I guess?), but Sam Hoare is correct: Barkley was the one screaming down the right side looking for the pass the whole way.
In fairness to Deulofeu, as awful as failing to get that pass off was, it appeared to me that the failure was largely up to exhaustion and not selfishness. On review, it looks like he just started running, and struggled to get the right foot in the right place, and then just ran out of gas.
Gavin McGarvey
10
Posted 29/09/2015 at 22:17:11
Agree with the Gibson positivity on this thread. He's just a really great player to watch (though I would like a few more goals). Pity regarding his injuries, otherwise renewing his contract wouldn't be a question.
Martinez made the right substitutions at the right time, so all credit to him for that. Kone made a real difference to the attack and Gibson helped us to keep the ball and make good use of it.
Great win for the blues.
David Hallwood
11
Posted 29/09/2015 at 22:24:10
The problem with Gibson is where do you play him? RM prefers 4-2-3-1, so he would have to replace Barry or Macca, or Barkley. Personally I would like him to replace Barry, but that's not going to happen anytime soon.
Anthony Dwyer
12
Posted 29/09/2015 at 22:33:48
I can't understand how people seem to be crediting Gibson for this fightback when to me it was clear it was more Kone's display that turned the game in our favour.
Kone somehow makes Rom look like a £30M striker every time he's around him. He closes the gap between the midfield and Lukaku which in turn almost knits us all together as an attacking unit.
Also, for yous who want to slate Barkley, I can't see were you are coming from. I will grant you that Ross didn't have his best game; also, I will admit he is frustrating at times but he keeps the ball well and is sheer quality. He is wasteful at times but can you tell me any footballer who is not.
Outside of the top 10/20 players in world football almost every player is wasteful at times. We need to get behind Ross and Rom as even when they are not at their best, they can still win us a game, as Rom did only last night.
Back to Gibson, yes he is assured on the ball... and yes, he has quality, but you can buy a Darren Gibson for £10-15M anywhere; you can't buy a Ross Barkley for that money.
Andy Mack
13
Posted 29/09/2015 at 23:13:29
Seem churlish when we are back up to 5th, but have we ever had a first-half reset? Why do we always have to try and pull things back in the second half after a crap first-half display? We should absolutely be strolling over WBA, or are the margins in the money laden Premier League that close this season.
I'll hail your words, Martinez, if we're cantering away at the weekend after three first-half goals.
Gibson. Two goals in three seasons for a midfielder who the commentators are still convinced has a hammer of a long range shot! (Which will break for half as season if used...) The sooner he is moved on, the better, but as Sir Alex found out, only a mug would pay his wages for such little reward. Too many wages are being wasted on part time players.
Well done, Kone mind you,; he was written off even more than Gibson, but somehow manages to transformed the team. Naisy is a worker and a nark, but his season highlight reel has been played already and is not suitable to all opposition as a shoo-in forward.
Galloway. Seizing his chance just like Baines did way back when, he's going to be a Goodison hero.
Baggies Fans. Showed some class giving the fella who sank them an ovation off the pitch.
Tom Bowers
14
Posted 29/09/2015 at 23:26:37
When you are down, the only way is up. Down 2-0 away from home in less than an hour is bad but luckily there was plenty of time left and scoring immediately works wonders.
However, better not try it again on Sunday. The back line is still finding its feet and it showed. Hopefully Stones is back Sunday.
Harold Matthews
15
Posted 29/09/2015 at 00:56:47
Pulis made sure Barkley had no room but the the lad did fine and is having a great season. Learning all the time, his best is yet to come. It's easy to forget that his various injuries have cost hime more than two years playing time.
One of my favourite players, Jags looked tired throughout. Half a yard off his normal pace and not mentally sharp. Hopefully he is not carrying an injury. Reverting back to his old right centre-back position should have helped but it didn't. Young Browning was often left without proper support.
Deulofeu has a right foot like a magic wand. Legless at the final whistle, he was my MotM, closely followed by Lukaku and Galloway.
Many people knock Barry but from my point of view he is absolutely vital to the way we operate. Take him away and we're like a ship without a rudder. Gibson can't replace him. He's too attack-minded and even slower.
I'm dreading the derby game. I dread every derby game. The suffering is beyond description. Would you know it. Dancing Boy is back. If I had a dog I'd take it for a walk.
Anthony Dwyer
16
Posted 30/09/2015 at 01:22:27
This is the time to give the red shite a good kicking. Stevie G is in America so he can't referee the game as he's done for at least the last 5 years, Cara has gone too.
Surely we need to start with Deulofeu, Barkley and Kone behind Lukaku. I have a worry though that Gibson will play as a third centre-mid almost inviting the reds on.
They are poor, out of form, and destined for a kicking, they have no back bone an no left-back, Del Boy is the key to this derby, leave him wide, feed him an reap the rewards.
Darryl Ritchie
18
Posted 30/09/2015 at 06:38:39
I don't think we have many 3-2 'come from behind' wins in our arsenal. If we play like we played in the first half, we'll lose more than we win. Against a better quality team than West Brom, we'll get buried; and the fans will get totally bored and completely pissed off! No more slow starts.
We need to put in a full 90 minutes of quality football. When we're firing on all cylinders, we can beat anyone....including the RedShite! Especially the RedShite!!
COYB
Paul Cherrington
19
Posted 30/09/2015 at 09:39:58
At the moment, I would put Gibbo in for Macca as he seems to be a bit off form. That would allow Gibbo to collect the ball off the back four and start spraying those forward passes around to get us on the attack.
Dave Lynch
20
Posted 30/09/2015 at 15:48:19
Sorry, lads.
I have watched it again and it was Deulofeu. Mistake probably due to beer and having my head in my hands effing and jeffing at the telly.
Jay Wood
21
Posted 30/09/2015 at 16:53:02
In comparison to last season, LOTS of good signs after 9 competitive games played:
• Meaner defence, even with a number of absentees.
• More incisive midfield and forward play.
• Greater potency in attack.
• Many players woefully off their game last season back close to their best.
• Younger players being blooded and acquitting themselves more than well.
• A variety of strategies and game plays by the manager.
Add to that, a greater resilience in adversity. Between February 2014, when we came from behind to beat Villa at home in the PL, to May 2015, when we recovered from a 1-0 deficit to WHU away to win 2-1 - a run of 52 PL games over 15 months - not ONCE did we recover from losing the first goal to win. (Although we did manage it in two Europa League games.)
This season, we have drawn level with Watford after going behind twice in the game, recovered from a losing position in both our LC ties, and now won from 2-0 down to the Baggies, as we did away to Barnsley in the LC. That's salvaging something from 4 of our 9 games to date.
Ross is a player reborn. Gerry is going to wreak havoc if he continues delivering killer curling crosses as he has this second time around. Stones oozes class. Our bench looks stronger. Kone liberates Romelu in ways that greatly enhances the team.
Rom needs just 4 more PL goals this season to join an elite group of 4 who scored 50 PL goals before the age of 23. Interestingly, 3 of the 4 are scousers: Fowler, Owen and Rooney, with Cristiano Ronaldo making up the 4th.
Inconvenient stats for those given to being hyper-critical of Lukaku.
Now... let's bring that all together and ... don't freeze on Sunday!
Graham Mockford
22
Posted 30/09/2015 at 17:08:14
Jay,
I think you are right to be point out a positive side to our start to the season.
Just in terms of results we had six points last year compared to 12 this year. If you add to the fact our start is pretty tough then it's probably a lot better than many imagined.
I thought 15 points from the first ten games would represent a good start. We could potentially get there by Sunday.
I think it also shows that our plan last year to not go too hard preseason when you could see we were half-baked was a misguided one.
In some ways the tough first ten games may have played to our advantage as the squad is noticeably better conditioned.
Jay Wood
23
Posted 30/09/2015 at 17:19:12
Graham (#21), the point you allude to – a better pre-season and higher fitness levels – is another factor I forgot to mention myself.
Last season, especially early doors, we were blowing out of our arses around the 70-minute mark. This season, apparently, we have a league high for scoring 45% (5) of our PL goals in the final 15 minutes of games. That's a hark back to Roberto's first season when again my recall is that we finished games strongly.
I should know better, but there is well-founded grounds for optimism around the club right now. But then I look at the next game in the fixture list...
Nothing like a derby game to torpedo such hopes!
Surely not this time...? Surely...?
Graham Mockford
24
Posted 30/09/2015 at 17:23:31
Jay,
I know what you mean; it's the game I least enjoy of the season. I'm putting my lucky pants on, and even considering funding a banner plane flyover, which seems to have worked this season.
Jay Harris
25
Posted 30/09/2015 at 17:30:57
I think Barkley has been a revelation this season but did have a bad day at the office the other night.
Hopefully he will be up for the derby but we need to stop this "relaxed" football and be right on it from the start.
Chris OCallaghan
27
Posted 01/10/2015 at 20:36:41
I've been reading ToffeeWeb for years now but have decided to sign up after seeing a bit of praise for Gibbo. I've been an avid fan of his for so long, he can pick a pass short or long, is dogged and reminiscent of a Carsley type from the days.
He has gotten serious stick on this site and being honest it's fair to say the lad is a bit injury prone but, when he is fit, he has got to be starting... I mean Barry ffs!
It's time Gibbo steps up and becomes the player we know he can. It's interesting now that Gibbo isn't even getting game time when he's fit with Ireland so I get the sense he wants first team action again.
I must say I'm a very happy Evertonian at the moment we seem a far better team then last season and it seems mistakes from last season may have been learned. We have an excellent team and people are fighting for positions; it's eye-pleasing to see and hopefully Roberto can actually start doing what he did today and play the correct subs at the appropriate time.
He more or less mocked the fans last season with his sheer arrogance for change from fans and the team itself. That shows me he has balls... and big ones. So, if he can fix his tactical side and perhaps play one DM against weaker opposition, then absolutely why can't we aim for Champions League?
Add Your Comments
In order to post a comment, you need to be logged in as a registered user of the site.
Or Sign up as a ToffeeWeb Member — it's free, takes just a few minutes and will allow you to post your comments on articles and Talking Points submissions across the site.
© ToffeeWeb