Coleman set to return against Poland
by

30 Comments [Jump to last]
| 07/10/2015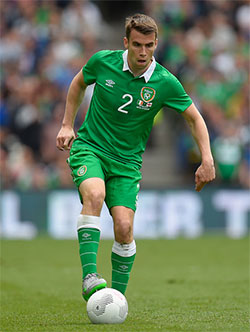 (Stu Forster/Getty Images)
Seamus Coleman has been ruled out of the Republic of Ireland's Euro2016 qualifier with Germany this week but his international manager Martin O'Neill says that he will definitely be fit to play against Poland on Sunday.
The Everton right-back sat out of training earlier this week as he continues his recovery from the hamstring strain he picked up in the Premier League win over Chelsea last month and is therefore not being considered for his country's first match of the current international break.
The Irish face two crucial games in their bid to qualify for next summer's European Championship finals and if O'Neill's prognosis is correct, Coleman will feature in the second one in Poland this coming weekend.
One win in either of their final two group games should be enough to see them finish in a play-off place, although two wins for Scotland would edge them out of the qualification picture.
"Seamus has done a little bit of work with the physio and the doctor,", O'Neill had said on Monday. "Obviously he's very keen to play if he can. We'll see. It's a day by day thing." Today, however, O'Neill said that Coleman, who will turn 27 on Sunday, will be considered for the Poland game.
Assistant boss Roy Keane said that dealing with injuries and suspensions is frustrating but is part of the game.
"We had it from day one," the former Manchester United midfielder said yesterday. "Most managers and staff in international football will tell you the problem is you turn up and [have] the injuries and suspensions we've got this week. That's part of the game.
"I think with Wes [Hoolahan]'s injury another 24 hours will make a big difference to it. Obviously Seamus hasn't kicked a ball for three or four weeks now so he would be more of a concern. We'll see how it goes."
Coleman's Goodison team-mate Darron Gibson is back in Ireland's squad after recovering from a metatarsal fracture. The 27-year-old made his comeback as a second-half substitute in the Blues' victory at West Brom the Monday before last.
---
Reader Comments (30)
Note: the following content is not moderated or vetted by the site owners at the time of submission. Comments are the responsibility of the poster. Disclaimer
Tony J Williams
1
Posted 07/10/2015 at 17:25:42
Brilliant, so he can break down again.
Why is he with the squad if not fully fit?
Colin Glassar
2
Posted 07/10/2015 at 17:32:01
He's probably terrified of another tongue lashing from Keane, Tony. If I was Martinez, I'd make sure he stayed at Finch Farm until fully fit.
Graham Mockford
3
Posted 07/10/2015 at 17:51:24
Sometimes I feel I swim against the tide on here but am I wrong in thinking this could benefit us.
Let's just imagine he is fit, Martinez has presumably let him join the squad on that basis unlike Stones who was withdrawn.
Surely a run out for the Republic can only be a good thing in gaining match fitness ahead of the Man Utd game.
Cue him pulling up after 15 minutes clutching his hamstring!
Ray Roche
4
Posted 07/10/2015 at 18:03:12
I have always been of the opinion that any player injured playing for his country, any country, whether it's a poverty-ridden little country or a World power, should have all his wages paid by them for the duration of any absence due to an injury received on International duty. This would not only stop the likes of O'Neill or Keane deciding a player is (probably) fit, it would also reduce the number of worthless friendlies.
On an other point, I seem to recall that the lack of an International break was the only thing that prevented England from competing with the best countries at the World Cups. We've had these breaks for several years now and Engerlund are as bad as ever.
Des Farren
5
Posted 07/10/2015 at 19:19:07
Fully fit? What's that, Colin? He may not have been fit for the Liverpool game but he may prove himself fit for Poland.
Martinez cannot unilaterally rule him out of contention. He must release him. I don't think Keane is involved in the process.
Jay Harris
6
Posted 07/10/2015 at 19:39:25
Totally agree with Ray.
International managers do not give a shit about clubs; they only want their pounds worth of flesh and sod the consequences.
I am sure Seamus wants to play but commonsense should prevail here and if his injury flares up again they should be responsible.
Mike Connolly
7
Posted 07/10/2015 at 20:11:01
Normally I would be kicking up a fuss. However, if he does breakdown, it's better him breaking down for Ireland as opposed to against Man Utd. And if he comes through it, we have had the benefit of Ireland giving him a 90-minute fitness test.
With having a strong back up at the club, I'm not worried as much as I would have been last season about him playing for Ireland.
Peter Cummings
8
Posted 07/10/2015 at 22:00:18
Hamstrings tend to last longer to recover from and can often take several weeks to sort out, if they ever do. If he plays v Poland and comes through what will be a tough game, I think he'll be 100% ready for Man Utd.
Jim Hardin
9
Posted 07/10/2015 at 22:05:52
Ray,
Whilst injuries might not bankrupt the England FA, can you imagine what it would do if Argentina or Brazil, or Spain had to pay those wages to the clubs? They would go bankrupt.
Chris Williamson
10
Posted 07/10/2015 at 22:07:39
He's nearly 27? When did that happen? He was a promising 21-year-old only yesterday!
Colin Glassar
11
Posted 07/10/2015 at 22:19:03
Des, didn't they play an unfit Gibson who then broke down and missed another season?
Ray Roche
12
Posted 07/10/2015 at 22:25:21
Jim, well they could always take out some insurance.....

Personally I'm not really concerned about the financial state of Spanish football, for instance. I mean, are Barcelona or Real Madrid relying on Sky TV to keep going?
We are.
Mike Williams
14
Posted 08/10/2015 at 00:09:19
Ray @ 4 - There is already an agreement in UEFA regarding International FAs paying players wages if injured on international duty. I believe it only applies at finals of a tournament though so it wouldn't count for qualifiers like these??
Victor Jones
15
Posted 08/10/2015 at 04:16:49
Coleman will need to be fully fit. Or else he could be set back for months. The Poland game will not be a stroll in the park.
Tom Kelly
16
Posted 08/10/2015 at 07:04:37
Sound. Just hope he's fully fit so he can play for us again.
Ray Roche
17
Posted 08/10/2015 at 09:58:45
Mike, I wasn't aware of this agreement; however, I recall a radio discussion along these lines some time ago and there didn't appear to be an "covering all eventualities" agreement then. The conclusion was that players clubs picked up the tab for wages etc for players who were injured.
When you think of the number of Premier League players who trot off to the AFCON during the season, it's becoming a bit of a joke. You can't even take your kids out of school for a week in Malaga without getting fined...
Richard Reeves
19
Posted 08/10/2015 at 10:46:05
I heard on the radio late last night that Tom Davies was asked to join in with the England first team in training due to lack of numbers. I don't know much about him but he's got to be doing something right if he was the only one picked from the Under-21 setup and at only 17, he must be quite good to be in there in the first place.
Shane Corcoran
20
Posted 08/10/2015 at 10:53:10
Colin # 11, Gibson injured his knee playing for Ireland. It had nothing to do with his fitness levels.
If Scotland lose tomorrow night we'll be guaranteed to finish third. In that case I'd say Seamus will be back on Merseyside.
Whilst I desperately want to see him playing on Sunday if there's something to play for I can understand other Blues' reservations.
However, this is potentially Seamus's biggest international game we're talking about. If we get through he'll get to play at his first major tournament at the peak of his career. Surely no Blue would suggest he be stopped?
Nick Entwistle
21
Posted 08/10/2015 at 11:30:02
He isn't an England tosser just playing another game, always proud to represent the three lions blah blah. Ireland are almost at the Euros. He'll want to play regardless of being fully fit or not. Who would take his place? Some bloke from Wolves or similar.
Since when did Gibson have any fitness level?
Colin Glassar
22
Posted 08/10/2015 at 11:35:02
Shane, I'm no expert on Irish football but hadn't Gibson just got back from another long-term injury when he played for Ireland and injured himself again? Also, isn't it true if you're not fully fit you're more prone to injuries?
Shane Corcoran
23
Posted 08/10/2015 at 11:50:26
Colin, I don't think you need to be an expert on Irish football to pose the questions you've posed. I don't recall exactly
To answer your question, I don't know.
He missed the start of the season 2013-14 but played for Ireland against Germany and then some game time for Everton before the injury to his ACL in October 2013. There's no evidence to suggest the injury related to previous injuries or lack of game time but who knows?
It seems with Gibbo, although I don't believe in bad luck, he just seems to one of those players that injuries follow around.
Shane Corcoran
24
Posted 08/10/2015 at 11:52:57
Nick, Cyrus Christie of Derby will take his place tonight if he himself is fit. If not, I've taken a half day from work and will be wearing the number 33.
Getting excited now. Not about the game, but about the Brady v Dunphy argument pre-game. It's just a pity the late great Bill O'Herlihy won't be there to ref it.
Colin Glassar
25
Posted 08/10/2015 at 11:54:18
Shane, maybe Gibson is just one of those players like Owen, Carroll and Sturridge who's body just can't take it.
Shane Corcoran
26
Posted 08/10/2015 at 13:24:49
Well that's sort of what I said. Saying his body can't take it suggests that maybe he shouldn't play at all.
Nick Entwistle
27
Posted 08/10/2015 at 13:33:19
Shane, surely the more pedestrian International game is better suited to glass-man Gibson than the Premier League. Obviously the best way to not get injured is never play any game at all.
We just have to accept that, like Saha, there's a reason Man Utd sold him, and sold on the cheap. As good as he is, and I think he could be our best player, he has to be let go when his contract ends.
Shane Corcoran
28
Posted 08/10/2015 at 13:42:57
Nick, I'm not sure if you're agreeing with me or countering something I said. My main point was about Coleman which you seem to agree with me about.
On Gibson, I just pointed out that his ACL injury wasn't necessarily related to a previous injury or lack of game time as Colin was perhaps suggesting. He could probably do with a a few minutes over the two games which I'd say Martinez would welcome. Hopefully he won't be needed.
Nick Entwistle
29
Posted 08/10/2015 at 14:41:54
Neither, Shane, just adding that the guy is damned if he does, damned if he doesn't. Don't play matches, don't get match fit. Play matches, get injured.
But you have to hope that he does have a future ahead of him when he can play possibly 25-30 matches a season. If not, then he may want to do his body a favour and quit. He last did that in the 2012-13 season, many could well have been sub appearances.
Who would even want him on a pay-as-you-play basis?
Shane Corcoran
30
Posted 08/10/2015 at 14:44:22
Nick, I guess at that stage Darron would need to sober up (pun intended) and take the necessary paycut.
David Torpey
31
Posted 08/10/2015 at 15:58:44
I can't feel sorry for Gibbo; IMO, he's a bit lucky to have a contract with us. If we came to work for 20 mins and then had to do fuck all but recover for months at a time, we'd all be be fucked off in an instant... not to mention the drink driving antics. FFS.
I'm not a big fan – even on min wage I'd move him on. Sorry, Gibbo lad, but you know, do us a favour and contribute something sometime soon please.
Frank Wade
32
Posted 09/10/2015 at 15:44:53
Ray (4).
In answer to your opinion, FIFA issued a bulletin back in 2012 on the 'FIFA Club Protection Programme' in which the clubs are indemnified for injuries to their players on International duty. Probably known in FIFA circles as the Gibson clause.
There is a 98-page document available to read. It stipulates a max of €20k per day compensation, where a player is unable to play for his club for 28 days afterwards. However, there is a clause relating to 'existing injuries', an injury for which the player is receiving treatment at the start of the 'operative time' – presumably the start of the International break. This is why managers/clubs are unwilling to release players who are on the injured list when the break starts. In Ireland's case, I think Roy Keane may be prepared to cough up the compensation himself.
Fingers crossed all will go well for Seamus and he can contribute to another historic Irish victory and get him to a Finals tournament. The match against Poland was always going to be the key match, as the German match was not expected to be a source of points, so I would guess that Seamus was always expected to be fit for Sunday and never risked last night.
James McCarthy was immense last night.
Add Your Comments
In order to post a comment, you need to be logged in as a registered user of the site.
Or Sign up as a ToffeeWeb Member — it's free, takes just a few minutes and will allow you to post your comments on articles and Talking Points submissions across the site.
© ToffeeWeb