Life beyond Barcelona for Deulofeu
by

16 Comments [Jump to last]
| 16/10/2015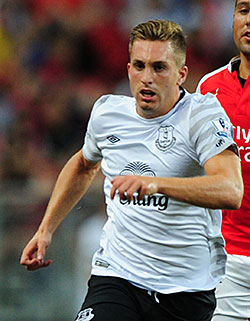 Lauded through his teenage years as Spain's and Barcelona's "next big thing", Gerard Deulofeu always carried the air of the consummate Continental footballer, even during his loan spell at Goodison Park – destined to succeed where both the physical demands and the defensive responsibilities aren't as great as they are in the Premier League.
Far from pining for La Liga and the Nou Camp, however, the 21-year-old reveals to The Guardian's Sid Lowe his excitement at the back-and-forth nature of the Premier League, his maturing approach to the game, the mutual faith he has in Roberto Martinez and his belief that, in Everton, he has found a long-term home.
To observers assessing his situation at the end of the 2013-14 season, Deulofeu's return to England on a permanent basis would have come as a surprise. Determined to succeed at his boyhood team, Barcelona, the ambitious and confident winger returned to Spain expecting to be promoted from Barcelona B into incoming manager Luis Enrique's senior squad.
After assessing both the player and his existing attacking options – Neymar, Luis Suarez and Lionel Messi among them – Enrique concluded that there was as yet no place for Deulofeu at first-team setup and farmed him out on loan to Sevilla where he started well enough but would end up frozen out of the picture as Unai Emery's side went on to lift the Europa League trophy.
Emery's assessment of him suggested that he would never be cut out for the English game, despite his impressive season on loan with the Blues: "Make him play with team-mates, on a big pitch, where he has to go up and down, it's hard. He doesn't have that maturity or capacity for sacrifice yet."
And yet Deulofeu made up his mind after that disappointing year at the Ramón Sánchez Pizjuán that if he was not to be part of Barca's setup, he wanted a full transfer to Everton, and he is embracing the demands of the Premier League, his manager, the club, and the fans whose heart he never left.
Everton's a historic club, really English, and it's vital to keep that identity, but we're not so English in style: we could play in Spain. Roberto gives us the confidence to play.
Gerard Deulofeu
"Roberto's always had faith in me," Deulofeu says. "I have to work hard, I know that, but I'm very happy to be back. I was convinced things would go well with him.
"England's very different. I was at Barcelona for 10 years and it's another world. We had 65, 70% possession most weeks; we always had the ball to the point where it wasn't necessary for me to defend. Then you leave, play somewhere else and realise you have to.
I like counter-attacking football: the Premier League's end-to-end, almost every team plays that way, and I love that. That first wave of pressure is brutal but if you can ride that, space opens. Pam! Back and forth, back and forth.
"Maybe the world's best players are in La Liga but the Premier ... pffff. I really like the Premier," he continues. "The first year was difficult because I'd never experienced anything like it, but I love it. I feel at home; I'm a good fit.
"Besides, Everton's a historic club, really English, and it's vital to keep that identity, but we're not so English in style: we could play in Spain. Roberto gives us the confidence to play.
"The fans are more involved," he adds. "When you come out to the [Z-Cars] theme, it's lovely. The supporters have been fantastic, from the first season. I want to play well for them."
Read the full interview: The Guardian
---
Reader Comments (16)
Note: the following content is not moderated or vetted by the site owners at the time of submission. Comments are the responsibility of the poster. Disclaimer
Phil Sammon
1
Posted 16/10/2015 at 23:11:01
That's interesting about him not been required to defend at Barca. It's also promising that he's looking to address it.
For a lad who's grown up always being the star, he's a very grounded and likeable person. We've clearly had an impact on him too. Good stuff all round.
Jim Lloyd
2
Posted 16/10/2015 at 23:19:41
Yeah, just the fact that he wanted to come to Everton speaks well for the lad and how much he respects Roberto. Roberto also believes the lad is capable of great things.
I think we're very lucky to get him
Ernie Baywood
3
Posted 17/10/2015 at 00:43:43
Surprising to actually get an interesting insight from a footballer. He's got a good point about adjusting to defending in a league that goes back and forth.
I still think our approach is wrong with him. We clamour for him when he plays well then scream to drop him when he doesn't impact a game. For me, you just decide whether you're prepared to live with the bad moments. If you're not, then he's an impact bench player at best. If you can live with the bad moments then he's a key player who needs regular game time to continue his development.
Scott Bosworth
4
Posted 17/10/2015 at 01:02:28
"I was at Barcelona for 10 years and it's another world. We had 65, 70% possession most weeks; we always had the ball to the point where it wasn't necessary for me to defend. Then you leave, play somewhere else and realise you have to."

That is one of the most fascinating statements I have seen in a while – it had honestly never even occurred to me that this would be a potential side-effect of being surrounded, from early years on up, by the very best players in a possession-based system.
Mark Andersson
5
Posted 17/10/2015 at 01:11:46
Good article, seems like Roberto does have a plan. Let's hope we get a good result against the Mancs.
Matt Traynor
6
Posted 17/10/2015 at 03:28:12
Let's hope for Gerard's sake that Woy never lands the Spanish National Team job...
Joking aside, it's good to see he's yet another player that's come in and been bitten by the bug. I know he's only had a bit part role so far, but he seems to have improved in some aspects of his game from 2 years ago. Hope he keeps progressing.
Anthony Dwyer
7
Posted 17/10/2015 at 05:26:38
A nice little interview again from.Gerry, no talk of him being home sick or looking for a champions league club to move to so good stuff. No need for excuses then or claims of being misquoted either, great news from one of out foreigners.
That's two interviews Gerry has given were he seems to sound like a grounded young man who shows a willingness to learn with the hopes of becoming a success at the mighty blues. If he can push on fully once the new year sets in we will have a really youthful looking attack, spearheaded by Rom, Ross, and Gerry.
By next season, behind them could be McCarthy and Besic again a youthful looking midfield, and Stones, Funes Mori, Galloway, Garbutt and Browning. Add a few experienced players to the mix in the quality of Jags, Baines and Coleman an we look like a side with a future.
Let's see if our board can continue to keep the so called bigger clubs away from our prized assets and add a bit too it too. Gerry has a buy back clause, but if he is playing regularly he may decide against moving back to a side that had no space for Fabregas, Alexi Sanchez, Pedro and Yaya Toure.
Helen Mallon
8
Posted 17/10/2015 at 05:53:44
I believe his best position will be just behind the striker. He can do magic with the ball and HE can pick a pass.
Duncan McDine
9
Posted 17/10/2015 at 08:20:38
Its a good read... It sounds genuine too. Us lot have given him every reason to love it here though... His name gets chanted more often and louder than any other!
I'm amased that I've almost forgotten that Mirallas exists... this is mainly due to Gerard's and Barkley's form. Down at Swindon in July, I was worried that if we lost KM to another club or injury, we'd be completely fecked!
Would love a win today! COYB
Mike Allison
10
Posted 17/10/2015 at 08:42:54
Ernie, I can definitely live with it. He should be an absolutely key player as far as I'm concerned. He's actually not great off the bench at the moment, he tries too hard to do something special, gets ahead of himself and sometimes looks clumsy. He's much better when he's right into the game from the start.
I can't abide it when Evertonians whinge about the likes of him, Barkley and Lukaku. Having those three developing together, along with Stones, is such a special thing compared to our last 25 years.
Colin Glassar
11
Posted 17/10/2015 at 08:55:16
This might be the only country left where attacking players are expected to defend. Everywhere else attacking players are expected to do just that, attack!!
I've had the privilege of seeing some of the worlds best forwards play at the zenith of their careers e.g. Pele, Muller, Cruyff, Lineker, Raul, Best etc....and not one of them could defend or were expected to. Only in the prem can you hear, "get back and defend, you lazy sod"!! Bewildering.
Dave Williams
12
Posted 17/10/2015 at 10:03:53
Great point Colin.
Bally couldn't defend, Best, Law, Charlton, Young - the list goes on. Leave him upfield ready to go on the break and teams have to leave 2 defenders back to cope with him.
Develop his attacking prowess - our defence can cope without him this season.
Dave Abrahams
13
Posted 17/10/2015 at 10:24:29
Dave, did you see Best and Law they could tackle as good as any full backs and all over the pitch.
Derek Thomas
14
Posted 17/10/2015 at 11:16:45
Dave and Colin #11 & 12; I think you're only 30% correct Re all those 'Fancy Dans', all those 'fancy dans' couldn't tackle 3 Weetabix...get real.
Remember when we went a goal down Vs Bayern, the only out field player in the shot, chasing back trying to scoop it off the line, who was he then? Mountfield, Ratters, PvdH, Reid? No it was that well known 'fancy dan' Sheedy.
Aug 67 Vs MU whose that tackling back covering both fullbacks...the video is out there and the game is well worth a watch any way.
I can remember the video of Law and Charlton on a post each defending corners in a big Euro game (Lisbon?)
Plenty can, do and did. Some didn't need to, some, like Barkley, Van Persie, Saha, Limpar, shouldn't be allowed any where near our own box.
Brent Stephens
15
Posted 17/10/2015 at 11:21:21
In his early games in his first spell with us I wasn't impressed with his work rate (tracking back). Towards the end of his loan spell I thought how noticeable it was that his work rate had improved. Now I'm also impressed with those early stabbed crosses, such quick feet. Augurs well.
Nicholas Ryan
16
Posted 17/10/2015 at 11:41:05
Is there room to play Deulofeu and Lennon together ... then Lennon can do all the tracking back, which he seems happy to do.
Add Your Comments
In order to post a comment, you need to be logged in as a registered user of the site.
Or Sign up as a ToffeeWeb Member — it's free, takes just a few minutes and will allow you to post your comments on articles and Talking Points submissions across the site.
© ToffeeWeb