Martinez defends his position on Howard
by

76 Comments [Jump to last]
| 30/10/2015
Coleman doubtful for Sunderland clash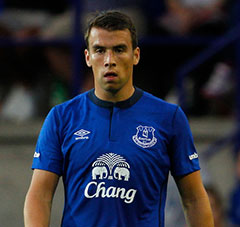 Seamus Coleman is a big doubt for the Sunderland game after coming down with a stomach virus this week
Roberto Martinez has reiterated his stance regarding the goalkeeping situation at Everton, insisting that he won't allow a culture of blame to infect his squad.
The Catalan fielded more questions about the form of Tim Howard at his pre-match press conference this morning, evidence of the pressure that has been building from media scrutiny and supporters alike on the manager to give Joel Robles an extended run in the team.
Howard's latest dip in form has created an opportunity for his Spanish understudy to impress, one he took with both hands on Tuesday against Norwich in the Capital One Cup but for now Martinez remains unmoved over who is first-choice 'keeper is.
"Football is about competition for places, that's why it's great to see someone like Joel enjoying his football and performing how he did, having an incredible influence," the Catalan explained.
"That's what you want all over the park. Goalkeeper is no different, we want that competition, that stimulation for players, and that's very important. It's the only way you can be consistently good.
"I'm delighted with the form of Joel, and delighted to have the experience of Tim Howard when most needed, especially when you have the young players or inexperienced players of the goalkeeper and back four.
"Sometimes you can be too young, and you need that little bit of know-how and direction.
"That's why Tim Howard has always been so important, through good moments of form and bad moments of form, but his role on the pitch is more important than individual performance."
He expounded on his views of the situation further in the Liverpool Echo, insisting that he would not allow a "blame culture" to grow at the club.
"There is no guarantee that any player will start and have the position for the whole season," Martinez continued. "But in the same manner as a goalkeeper, you cannot be with a sense that 'I've made a mistake, I am going to lose my position' We don't manage the squad in that manner.
"Of course, we want competition for places and everyone gets judged on their levels but I will never allow the dressing room to be managed in a blame culture, where we try to highlight an error or blame someone for a result."
Meanwhile, Everton could again be without fullback Seamus Coleman this weekend with Roberto Martinez revealing the Irishman has been struck down with a stomach bug this week.
Coleman has only recently come back from a month-long absence due to a hamstring injury and the Blues look likely to be denied his services when Sunderland come to town on Sunday.
"[Seamus] couldn't be involved on Tuesday and he's a huge question mark for the weekend at the moment," Martinez told the media. "He's had a stomach bug, nothing serious but he's lost a lot of weight and he's going to take a bit of time. We'll keep an eye on him but the weekend might just come too soon."
There was good news about the prospect of Leighton Baines and Muhamed Besic returning to the side after their own injuries, however. The manager confirmed that both players return to training today.
"Maybe it's just a little too early for them to be in a position to be selected for the weekend," Martinez said in reference to the pair who have recovered from ankle and hamstring injuries respectively.
---
Reader Comments (76)
Note: the following content is not moderated or vetted by the site owners at the time of submission. Comments are the responsibility of the poster. Disclaimer
Steve Moe
1
Posted 30/10/2015 at 14:05:08
I am one of the few who enjoy the manager. I have my reasons, none of which pertain to his game strategy or choice of team selection.
However, not sticking with Joel is a mistake. Howard does not like to be benched and would be a better keeper if benched not just rotated out for a game.
Play Joel, COYB
Paul Nicholls
2
Posted 30/10/2015 at 14:27:45
"His role on the pitch is much more important than his individual performance," the Catalan explained.
Sorry, please explain that to me.
Barry Pearce
3
Posted 30/10/2015 at 14:30:17
What sort of bullshit answer is that?
Peter Carpenter
4
Posted 30/10/2015 at 14:43:18
He picks the ball put of the net as well.
Philip Roberts
5
Posted 30/10/2015 at 14:46:22
Paul, I think it means that no matter how shit he is, he ain't gonna get dropped. Apparently our young back four will learn a lot more by watching him rooted to his goalline and shitting himself every time the ball goes anywhere near the goal than they ever would playing in front of Robles.


Tony Hill
6
Posted 30/10/2015 at 15:04:50
Seamus worries me. His head has not been right for a while and in my opinion he's lost a significant amount of general fitness. He's a superb player but we haven't seen it for a long time.
Dave Abrahams
7
Posted 30/10/2015 at 15:21:39
Steve (#1),
I would love to know what you enjoy about the manager? I'm just naturally nosy.
As for trying to understand what he says about the team, players, and football in general, don't even try, you'll go crackers if you listen to him for too long.
Charlie Burnett
8
Posted 30/10/2015 at 15:29:22
Playing Howard is about money and links with America. Tele sales, ESPN, advertising Nike, the lot.
Mike Hughes
9
Posted 30/10/2015 at 15:34:24
"
Meanwhile, the manager fielded more questions about the form of Tim Howard
"
Looking at his 'answer' does beg the further question, did Roberto Martinez invent the waffle machine?
And Joel had an 'incredible' influence.
(But he has to be phenomenal to get in ahead of Tim).
By the way, what is the point in citing Tim's experience when he has made some basic errors recently? Surely a spell on the bench is needed to recharge his batteries / focus? Where is the competition for places when the error-prone incumbent retains his place?
Apologies for what some may interpret as negative. But it is becoming unbearable to listen to / read (at least for me). Maybe I'm alone in just not getting it.

Julian Wait
10
Posted 30/10/2015 at 15:59:50
I really hope RM is right, but I know most of us think he is wrong. I have to wonder, if Jags, Baines, and Coleman were playing, would he have made the same decision?
Or is it just a BS excuse for not making the tough call that would get media attention and potentially ruin Howard for good at Everton?
Liam Reilly
12
Posted 30/10/2015 at 16:27:34
I'd agree that players have to play without fear and one or two mistakes should not cost a place in the side but this is not one or two. It's a chronic inability to deal with crosses and we will no doubt be under an aerial bombardment on Sunday.

Lyndon Lloyd
13
Posted 30/10/2015 at 16:29:16
With his comments about a 'blame culture', Roberto finally gets to the nub of his decision rather than blathering on about experience.
It's a laudable position notion but it doesn't square with January/February this year when Howard was out for 6 weeks and he could have rewarded Robles for his form without looking like he was assigning any blame.
He's made another rod for his own back here and put Howard in an uncomfortable position which they can only get out of by the latter regularly finding some top-class performances or, at least, eliminating the errors from his game.
That doesn't seem likely but it would obviously be to the team's benefit if it happens so fingers crossed because we can't afford a repeat of last season.
Tony Marsh
14
Posted 30/10/2015 at 16:38:15
Let's face facts: Ticking Time-Bomb Tim was finished when SAF palmed Moyes off with him. I remember Howard getting slammed by the media. He hasn't improved with age.
The biggest Gobshite I ever heard in football was Graham Taylor but now Roberto Martinez has that dubious honour. Each week that passes becomes harder to bare with Bobby Torro-Shit in charge.
Kenwright makes out he is one of us yet he kept Moyes 8 years too long and now he is allowing this Muppet Martinez carry on with the nonsense. The inmates are definitely running the asylum at Everton..
Jay Harris
16
Posted 30/10/2015 at 16:39:47
That is the most unprofessional comment I have ever heard from a manager.
It is OK to go out and give goals away and make mistakes because there wont' be any consequences.
My God, how much are these guys paid and now they know they can go out and consistently play shit and not get dropped.
Explains a lot about our consistency and lacklustre application.
Brian Harrison
17
Posted 30/10/2015 at 16:53:17
The more I listen to RM, the more confused I get.
We as fans are not saying one mistake and you should be dropped, but if you constantly make mistakes maybe for your own good you should be taken out of the firing line. I am not totally convinced about Robles but RM brought him to the club, yet barring injury or the Carling Cup, RM seems reluctant to give him a start.
As I have said before certain players are undroppable under RM, and his stance on Howard confirms it for me. So how long must a player be out of form before RM considers leaving them out of the side?
He talks about competition but it only seems to apply for certain positions, he quite often will change wide players, but very rarely changes Lukaku or Barry and McCarthy.
Scott Goin
18
Posted 30/10/2015 at 16:54:51
I can see how Martinez would be worried about the youth and inexperience of his current back four. Without Jags, Baines, and Coleman, he probably feels that he needs Howard's experience and better communication at the back.
He may be right and Roberto certainly has a lot more information regarding Robles in training than we do, only seeing him once every month or two.
Michael Penley
19
Posted 30/10/2015 at 16:59:08
Why not play Coleman with the flu on Sunday? He might make mistakes, but that doesn't matter because his role on the pitch is much more important than his individual performance.

He might let in goals because his flu-weakened muscles are too slow to react to being beaten in defence, but we can't have him being blamed for that - we don't want a 'blame culture' here at Everton.
Steve Moe
20
Posted 30/10/2015 at 17:11:07
Dave, I feel as Martinez is very good with the young players, the players appear to enjoy him which has provided a stable locker room and environment. The players believe in his vision. I put more faith in a guy that players like over one they despise.
Sam Hoare
21
Posted 30/10/2015 at 17:12:39
Ermmm...."There is no guarantee that any player will start and have the position for the whole season".
Well that seems to contradict what your saying which is basically you won't drop Howard irrelevant of the mistakes he makes because that would be construed as blame... strange.
Mike Price
22
Posted 30/10/2015 at 17:17:48
Howard has always been substandard but the last 18 months he's undermined the team and is a complete liability. Focusing on the last few games and his dubious character is ridiculous.

How does he not get called out by the press for the utter nonsense he spouts?
Denis Richardson
23
Posted 30/10/2015 at 17:21:20
Sam 17 - that was my initial thought but then it occured to me that he said 'the whole season' at the end. Was that a clue that he feels this is Tim Howard's last season as No 1 and that Robles will at some point come in? Or better still we're going to sign a new goalkeeper in January (maybe Valdes)?
Or maybe I'm deluded and trying to find some grain of optimism in the bucket of nonsense he regularly comes out with.
Fact is we have no competition for places apart from the wide AM positions. Every other place is nailed on if the senior pro whose place it is, is fit enough to play. Sunderland and going to load our box with crosses, it's going to be interesting to see what happens.
Clive Mitchell
24
Posted 30/10/2015 at 17:25:04
I like Roberto, but he doesn't half talk crap.
I've no idea why Howard stays in the team. Some on here have heavily criticised Osman in the past, Barry now, but the Howard thing is fundamentally different.
Howard is not competent at this level. We can all see it. It's like the absence of the emperor's clothes. So, whatever the reason Howard stays in the team, it's unforgivable, and it'll end in tears.
God knows what the dressing room must be like with him stealing a place in the starting eleven.
Tony McNulty
25
Posted 30/10/2015 at 17:54:38
Following the RM comments, an order for champagne and cigars was made by the new Sunderland boss.
Colin Glassar
26
Posted 30/10/2015 at 17:56:47
You've nailed it there Steve 17, as long as the players, and the board, are happy with Martinez, then he's as safe as houses.
The likes of Mirallas, Barkley, Stones, Lukaku, McCarthy and soon, Galloway etc... have all signed up to long-term contracts because they believe in their manager and teammates and the direction they feel the club is heading in.
It's a known fact that the veterans, eg, Howard, Barry, Hibbert, Baines, Jagielka etc, have been hugely influential with the younger players and, since the departure of Eto'o and his mate, the atmosphere at the club has improved ten-fold. This doesn't mean Tim isn't still a shit goalie (he is) but he's a huge, and respected, character around the club.
Ross Edwards
27
Posted 30/10/2015 at 18:17:39
So basically as long as you're a good talker or influence on the pitch and in the dressing room, that's more important than your performance?
So basically, 'I stick to my favourites no matter how badly they play' is what I gather from that. His role Roberto, is to keep the ball out of the net and command his area.
He has been dreadful at both over the last year. Players should only get picked based on form, no matter how influential he is. If he's a liability he should be dropped. Simple as.
But instead Howard maintains his place and will probably be handed the captaincy on Sunday. An absolute joke.
Gavin Johnson
28
Posted 30/10/2015 at 18:20:48
Tim Howard hasn't been a safe pair of hands since after the World Cup. Prior to that, there were a few dissenting voices on ToffeeWeb by people who didn't rate him, but most saw him as one of the league's better goalkeepers (myself included) until his transformation after that World Cup.
Has Tim Howard taken his eye off the ball?! Well, we know he has in the literal sense... usually when there's any kind of set piece! Yes, the deficiencies were always there, but they were not so glaringly apparent. I'm having a panic attack every time there's a corner now.
Maybe age is catching up with him and the reflexes are a little bit slower. Or the slide in form, which coincided with him being lauded nationally for his World Cup heroics is a sign of complacency and Tim's started to believe his own hype?!
IMO, it's probably a mixture of both. I had felt more assured in the first few games. He'd shaved the beard off, which had become a sideshow in itself – Howard was quickly becoming some kind of role model for aspiring facial hair growers, and there was also the work for PETA, while admirable, this could be another factor that might be confusing Howard what his role is and what should be his first priority? Keeping a high standard of goalkeeping for EFC who pay him an obscene amount to do so.
The money and contract probably play a part too along with Martinez saying he's No 1 come what may. I'm not a fan of players flashing their wealth. The recent Instagram pic of Howard showing off his leg room on a transatlantic flight while purposely displaying his diamond encrusted Rolex is an example of everything that's wrong with the modern professional IMO.
I count myself as a Martinez supporter and I think there's been some improvement this season. But I cannot support him on his decision to stick with Tim Howard in goal.
Scott Goin
29
Posted 30/10/2015 at 18:39:16
@Gavin 24
I agree, Howard's dip in form after the World Cup could be due to his huge burst of fame and not feeling like he needs to focus or work as hard. Hopefully he's over that now and is working hard again but it's difficult for us to know if that's the reason.
Those not in America may not know that Howard has become a semi-regular color commentator for American broadcasts of the Premier League on NBC. He was on the commentary team for the Manchester Derby one day after Everton's loss to Arsenal. He usually only does Liverpool, Manchester United or Manchester City matches on days where Everton does not play. Still, I have to wonder if it's taking focus away from his main job.
While I can see where Howard's experience and better communication could be good for the young back-4 against Sunderland, there's a limit to that benefit. I'll be watching him closing on the weekend to see how he's performing. I don't think Roberto can put this off too much longer if things stay the way they are.
Andy Ellis
30
Posted 30/10/2015 at 18:55:39
Martinez is a fool; all he's doing is piling on more pressure for Howard. First cross when he freezes, the crowd will be on his back; he needs to be taken out, other top clubs do this to better goalies.
I was at the game the other night and could not believe how bad we were. Team selection, tactics (or lack of), negative body language from players, it was one of the worst in a long while but somehow we fluked it through.
That game reaffirmed to me that he needs to go. This decision over Howard will just alienate him further from fans like me and may sway others who've been more supportive of him to think again.
John Crawley
32
Posted 30/10/2015 at 19:03:53
Scott you can look at this another way – the last thing a young back four need is a keeper who's indecisive and doesn't come off his line when he should.
As for your comment that Howard is a better communicator, I think you're mistaken; from what I've seen sitting behind the goal, Joel talks more and isn't afraid to have a go at the back four.
Darren Hind
34
Posted 30/10/2015 at 19:15:36
What's this about Howard only being shite at crosses since the World Cup? Which World Cup are we talking about?
He's always been shite at crosses, always. That's why SAF bounced him out of the door. A top-class goalkeeper needs to have a degree of bravery; Tim Howard doesn't have it and Fergie knew it.
This notion that Howard had a fantastic World Cup (the last one) is fanciful too. Yes, he impressed the fuck out of a nation who are still learning the game... but, from what I saw, he seemed to be making an awful lot of routine saves... the sort you would expect any professional keeper to make.
Martinez has had a shocker here.
William Cartwright
35
Posted 30/10/2015 at 19:18:45
There must be a reasoning behind this but none of us can figure it out. There's the rub. It must be one of the following:-
1. Wider commercial interests linked in to marketing in the US
2. Stubbornness by the Manager
3. Crass stupidity by the Manager
4. Dressing room morale
5. Dubious contract agreement
6. Blackmail victim
7. Long-term training plan for Robles to see first hand how not to perform
8. Reverse marketing strategy
9. Roberto sees something that none of us do
Too much of a struggle to think of any rational, straightforward, logical reason; just the way Roberto sees it, I guess. Hard to imagine then, with a knowledgeable and patient fan base, he must be out of step with nearly all if not everyone. Why?
Scott Goin
36
Posted 30/10/2015 at 19:20:21
John @28
I haven't really seen where Robles is particularly decisive or better at coming off his line. On the first cross against Norwich, he was way off, fell down, and left his goal wide open. Stones had to head away the ball on the goal line.
As for his communication, Robles does seem to be getting better but I don't think he's as good as Howard in that regard yet. We also don't really know if he's communicating the "right" things. Martinez sees him every day at practice and obviously has concerns or else Robles would have taken the top spot by now.
I'm willing to give Roberto a little leeway on this since he has more information than I do. I just hope he's capable of making a switch if Howard can't improve his form.
Christy Ring
37
Posted 30/10/2015 at 19:21:35
"His role on the pitch is more important than individual performance" – how does that comment make sense?
If you concede goals from crosses and corners, which Tim Howard is doing regularly, his individual performance is 'shite', and his back four must be terrified, and can't figure out what is his fucking role.
Harold Matthews
38
Posted 30/10/2015 at 19:40:00
Youth and inexperience? How about the Serie A goalkeeper Donnarumma. 6'-5", age 16? He has played the last two games for AC Milan. One in the League and one in the Cup where he kept a clean sheet.
I can't see any changes in Howard since he turned 30 or since the World Cup. For me, he has always been a brilliant shot-stopper who flaps and makes poor decisions when he has time to think.
There is very little competition for places. We have the permanent starters who come straight back in after suspension or injury. We have the not-so-permanent subs who sometimes start, ie, Osman, Gibson, McGeady, Naismith, Oviedo, Robles, Besic, Kone, Browning and Lennon.
Form has little to do with selection; it should do but it doesn't.
I can't say I'm happy with Martinez but I'd feel better if he talked straight and truthful like Koeman, Bilic or Monk. All this verbal ring-around-the-roses claptrap is quite insulting and continually leaves us in the dark.
He is the manager and I accept that he is trying to do it his way. I am a fan and if I need to protest I will do it my way. Cheers.
Andrew Laird
40
Posted 30/10/2015 at 19:48:43
The last time all this happened and the pressure was well and truly on him, I seem to remember Tim Howard pulling up injured...

Why doesn't Roberto just say "Tim Howard stood by me and my methods when they were exposed to be sub standard so I will do the same for him, indefinitely."

John Crawley
41
Posted 30/10/2015 at 19:50:58
Scott, he did make a mess of that first cross but I think we saw later in that game he came out with a good punch and took the ball confidently. We also saw, when he had a run in the side last season, he came out and commanded his area, something that Howard just doesn't do.
He's not perfect by any means but the question is whether he is better than Howard. Right now I'd say it's not even close!
I also don't buy the argument that, because he sees him in training, he knows better than the fans. Supporters often throw this up but football is a game of opinions. I remember years ago people arguing that Hinchcliffe should be in the team when Walker was the manager. He clearly didn't like what he saw in training. Joe Royle came in and put him in the team straightaway.
John Crawley
42
Posted 30/10/2015 at 20:00:50
I should add that maybe, just maybe there is a little chink of light in Martinez's comments about the "whole season", the implication being that he's not going to keep picking him indefinitely if his current form carries on.
There again, I could be grasping at straws!!
Keith Glazzard
43
Posted 30/10/2015 at 20:01:14
Roberto has made his decision, it seems.

Big Sam has his defence sorted out, and scoring won't be easy. A clean sheet is definitely required. So no goals conceded from crosses into the 6-yard box has to be a priority. Let's see how it goes.
Andy Ellis
44
Posted 30/10/2015 at 20:03:10
Don't be arguing about the merits of each of the keepers, lads; we need a new keeper, full stop. We have done for a while. Our manager has neglected this... total incompetence on his part.
Trevor Peers
45
Posted 30/10/2015 at 20:05:43
Roberto would be much more suited to the role of youth coach, as he seems to have gained the respect of the younger players in the squad.
Dealing with the senior professionals is another matter; he seems to be far too easy-going with them, and it shows on the pitch with so many indifferent performances from that group.
The reason being, some senior players know they will be selected, no matter what their form is, and that leads to complacency.
Jay Woods
46
Posted 30/10/2015 at 20:12:57
Justifying the unjustifiable is surely part of the job description of being manager at Bill Kenwright's Everton.
Andy Crooks
47
Posted 30/10/2015 at 20:42:25
Good post, Gavin, # 29.
Describing a Premier League goalkeeper as a good shot-stopper is just ludicrous. Imagine the opposite. Err... he's okay but not so good at shot-stopping. He is very poor and the coach's sad support of him demonstrates once more what an utterly shit coach we have.
Harvey Miller
48
Posted 30/10/2015 at 21:21:44
Bobby is telling us that experience is all you need; form means nothing. How far those overpaid idiots can get? We could as well get Neville Southall back again with his 700+ matches experience. Who cares if he does not move any more or even see the ball, he's the next best thing in this boss's mind games?

We will end up somewhere between 9 and 13 when the season ends and that is going backwards big time from Moyes's time. I really do miss Moyes if the alternative is the current "boss". He was truly dire at times but there were seldom two bad games because old Davey must have told them in a certain way.
Peter Jansson
49
Posted 30/10/2015 at 21:22:07
Seriously... is his role on the pitch important?
What is important? That all, and absolutely all other opposing teams know that, when Howard receives a pass, his skills are so bad so that about the only thing he can do is to kick the ball as far away as he can?
Howard is actually a problem when coming to having ball possession. If the opposing team can press Everton high enough to pass the ball back to Howard, they lose ball possession.
Is there anyone that has not seen that? We have a goalie who cannot pass the ball.
Joe Edwards
50
Posted 30/10/2015 at 21:30:53
Martinez will be hung out to dry with the ridiculous decision to persist with Howard who is well past his sell-by date. Robles has proved he is more than ready to step up to the plate with another MotM performance in the Capital One Cup.

Yet Martinez refuses to drop calamity Howard and only the final whistle against a Sunderland team who thoroughly deserve to be bottom of the league will tell.
Oliver Molloy
51
Posted 30/10/2015 at 22:02:39
Martinez... He obviously sees things that we don't, whereas we all see things in the football match that he doesn't! Roberto is heading back to last season and I predict his stance on Howard will come back to haunt him.
I just do not understand the drivel he comes out with sometimes. Howard is done and dusted (of course he will produce saves but he will cost us more points – watch and see) and Martinez needs to stop the pretending and get his finger out and sign a keeper if he doesn't rate Robles.
If the League Cup is a competition Martinez wants to win, why is he playing Robles in front of Howard? Will he drop Robles for the next match against Middlesbrough or what? The man is a hypocrite with some of the stuff he comes out with.
Les Netherwood
52
Posted 30/10/2015 at 22:40:59
On Sky News tonight, he said that football is all about competition for places, and this was why Tim Howard is back in for the Sunderland game (and every other game)... so it seems he has no competition at all. He talks absolute rubbish and the sooner he goes the better... with Howard, Kone, and all his Wigan backroom staff as well.
The Sunderland game is going to be interesting... but when is BK likely to act... if at all? When if ever will we get new owners? Kenwright has no intention of selling and the club will continue to stagnate while much smaller clubs have new owners, new grounds, grandstands etc. I would be happy to have a new manager right now.
Eddie Dunn
53
Posted 30/10/2015 at 23:01:02
Howard got rid of that horrible beard, and his form improved; however, this was only a temporary upturn and now Tim will have to shave off some more hair to achieve the consistency needed.

Eventually, by the end of this season, Howard will be totally smooth from top to tail,and still he will fail to gather high crosses, or dive at the feet of marauding forwards.

Then Roberto will have to admit that the hirsute Robles deserves his chance.
Christine Foster
54
Posted 30/10/2015 at 23:07:35
What a load of bollocks. A keeper's primary role is to be a shot-stopper, preventer of goals. That's 80% of his game. It really doesn't matter what else he does or contributes on the field if that 80% is dropping like one of his missed crosses.

No player has a right to have his name on the teamsheet, no matter how badly he plays. I am sure Osman, Hibbert would wonder why the same argument is not made by the manager for their inclusion.

To me he does not trust Robles to play on a consistent basis, which means he knows something we don't. This is surely Howard's last season but between the lines it doesn't look like Robles will ever be the Number One.
John Hughes
55
Posted 30/10/2015 at 23:15:55
Never heard so much bollocks from an Everton manager in all my 50-odd years following the Club. Ironic, given that there has no doubt been a lot of reflection amongst Evertonians over the last few days.

What did Bill say as part of his eulogy on Thursday, in memory of HK: something along the lines of ".......the thing is he got it. He understood us..." Well, this bloke doesn't get it at all. Arrogance of the highest order and given that I was heartened to see the fabric of our great club shine through on such a sad occasion on Thursday, it nonetheless puzzles me that this charlatan is somehow conning all concerned at GP, let alone the faithful.

Despite everything, let's hope we get the three points up for grabs on Sunday and apologies for the pun, Tim.
Mike Hughes
56
Posted 30/10/2015 at 23:37:38
'Bollocks' is definitely a trending word on this thread.
According to Paddy Power we're 1/2 on for a win while a draw is 3/1 and an away win 13/2.
Even more bollocks given our home form and their 'new man' effect (John Barnes excluded).
I obviously hope we win but the smart money says 3/1 draw looks very tempting. Not that I'll be having a football bet.
Second thoughts... 2-1 to us (a Funes Mori header and a Lukaku bicycle kick from 30 yards in off the bar on 90 mins).
Harvey Miller
57
Posted 30/10/2015 at 23:40:06
There is a reason why Man Utd chose to sell Howard to us. They saw that he was too prone to mistakes and did not command his area when high balls were coming in.
Victor Jones
58
Posted 30/10/2015 at 23:59:53
I have never rated Tim Howard. He has been making mistakes since he joined Everton. The difference now IMO is that he is playing behind an unsure shaky defence. Everton are on the whole making more defensive errors and Howard's mistakes now are more costly.
Yes, under Moyes we let in goals. And yes, at times, we were stuffed, but mainly in my humble opinion Everton were more defensively aware, and solid; we are no longer solid. Our defenders seem to not know how to head a ball clear. Combine that with TH not coming to punch or catch the ball... well you get the picture.
Not very good, but not all Howard's fault... although he hardly inspires confidence. The buck stops with Martinez for poor defending and for all this nonsense over Tim Howard. It could only happen at Everton.
And sell Coleman. Cash in now while his stock is still high. His mind seems to be elsewhere. I think his better Everton days are behind him, sorry. He has been making just as many mistakes as Howard. And Stones also needs to tighten up... in fact, most of the team needs to smarten up.If a few results go against us tomorrow, we could find ourselves in 14th or 15th place. Even more pressure heaped on to Mr Howard, and our leaky defence. So more pressure then on to our misfiring midfield and our "wingers" (who spend more time at RB) and then pressure on our "hit and miss" £28 million striker.
Still, our manager talks nonsense, and still people think he is the man to take Everton forward. We need to beat Sunderland; I stress again, it is vital that we beat Sunderland, or this is close to being another lost season. Another capitulation.
When Robles was playing in a run of games last season, that run saw Everton play well and we managed to scramble to safety. Just wonder what would have happened with Tim Howard in goal? Would we have kept those few clean sheets? Just a thought. Rant Over.
Karl Jones
59
Posted 31/10/2015 at 00:08:33
That first corner against Sunderland is going to be a pretty scary moment. Sunderland's tactics will be:

Bombard the 6-yard box. Allardyce never misses a trick.
John Pickles
61
Posted 31/10/2015 at 00:28:06
Now if ToffeeWeb didn't have a 'blame culture', it would be a very quiet site.
Matt Traynor
62
Posted 31/10/2015 at 03:45:40
John #54, you're right, ToffeeWeb does operate a blame culture, and whose fault is that?
Mike Gaynes
63
Posted 31/10/2015 at 04:20:40
Darren Hind #30:
"Yes he impressed the fuck out of a nation who are still learning the game..."
What an absolute boatload of shite that is.
First, it wasn't just us that Howard impressed the fuck out of... FIFA unanimously named him MotM, the BBC called him "brilliant", the Mail said he was "deservedly hailed a hero" and Vincent Kompany tweeted: 'Two words: TIM HOWARD. Respect.'
And second, "still learning the game" my ass.... we poor undereducated Yanks finished ahead of your lot in the last two World Cups. We won the group ahead of England in 2010, and of course your boys had already slunk off home (last in their group, I believe?) when Howard put on his show against Belgium.
Brian Hill
64
Posted 31/10/2015 at 05:47:41
Mike Hughes, very amusing reference to John Barnes. I live in South Africa and the football channel here has him as one of their resident "experts". Every time he opens his mouth I want to throw my TV out of the window.
One of the greatest newspaper headlines ever was inspired by his managerial incompetence: "Super Caley Go Ballistic, Celtic Are Atrocious."
Ian Hollingworth
65
Posted 31/10/2015 at 07:06:59
That takes the biscuit.
I had not much time for RM as I don't think he should be managing our great club. But now, with that drivel, he proves yet again why he is not fit to run this club
Football is about winning matches. When you are not winning matches and a contributing factor is players' under-par performances, then another player is given a chance. That is the basics applied at any level of football, is it not?
We should be about winning football matches, not who likes who... I despair at this man. Get him out before it is too late.
Max Middleton
66
Posted 31/10/2015 at 09:26:59
"Sometimes you can be too young" errmm, Robles is 25, has 2 European cup and an FA Cup medals so what's the bullshit about? Was the team young last season when Robles kept 3 clean sheets on the bounce?
I do like Howard but he certainly goes through phases like this too regularly; easily beaten when the chips are down. The Rooney goal, a nice finish but for feck's sake, Howard, is that the best you can be?
Anish Dosani
67
Posted 31/10/2015 at 09:28:11
The only hope we have of solving this is if the talk of a takeover is true. New owners would put Martinez under a lot more scrutiny than the current board, and he'd have to justify his decisions better, and not talk so much waffle.
Here's hoping for that takeover and beginnings of a new dawn for our club.
Eugene Ruane
69
Posted 31/10/2015 at 12:40:20
"There is no guarantee that any player will start and have the position for the whole season,"Ă'Âť Martinez continued. "But in the same manner as a goalkeeper, you cannot be with a sense that 'I've made a mistake, I am going to lose my position.' We don't manage the squad in that manner."
I agree – to make a mistake and lose your place is nuts.
However, it is totally disingenuous to suggest we are talking about A (ie, one) mistake.
Howard has made the same mistake four or five times in recent games and these mistakes have cost us goals.
More worrying is that he seems to think standing rooted to the fucking goal-line, flapping at a balls being butted at him, as a perfectly fine strategy and one that doesn't need changing.
(I'm presuming this is as I've not heard one sentiment expressed along the lines 'Yeah I know, I've been fucking up good-style, but from now on, any cross anywhere near me and I'm ploughing through all hands to get that fucking ball.')
Andy Meighan
70
Posted 31/10/2015 at 13:54:34
"There's no guarantee that any player will start and have the position for the whole season."
Er... not strictly true, that is it, Bobby.
Howard, McCarthy, Barry and Lukaku.
There's four who will keep their place regardless of how poor they are playing the man's nonsense is starting to wear a bit thin now.
Steve Davies
71
Posted 31/10/2015 at 14:31:20
I despair with Martinez. On Tuesday, over 90 minutes we got another draw in a match we should have won in 90 minutes. At best, the guy is a draw merchant!!!
You cannot have a team that are not picked on merit. If a player is out of form, you drop him. If the player that replaces him does a good job, you play him next week. If you don't then the message it says is that it doesn't really matter how you perform, the manager will continue to pick his favourites like Howard (and Barry last season). You cannot have that in any profession.
Even when Martinez gets it right, he changes the team at the next opportunity. The expression "Do not change a winning team" doesn't apply to this guy.
He is an apology for a manager and, after seeing the untimely death of a great man, player and manager in the same week, I have to say that Martinez as a player and manager is not fit to lace Kendall's boots.
RIP, Mr Kendall, thank you for the good times...
Brian Porter
72
Posted 31/10/2015 at 14:33:40
Martinez, with his intractability and refusal to accept reality, is setting both him and Tim Howard up for a fall. I think the atmosphere at Goodison will already be mildly toxic after the dire performance on Tuesday after his eight changes almost cost us the tie, and his subsequent remarks about the goalkeeping position, but just one mistake by Tim Howard could turn the crowd irrevocably against both men.
If that happens, Martinez will surely find himself increasingly put on a limb, with the board's support surely not extending much longer to a manager who refuses to face facts and whose team selection is based more on dressing room influence than on-field performance. He is making his own position untenable; if results don't improve drastically, he must be heading to the exit door before long.
Gavin Johnson
73
Posted 31/10/2015 at 15:49:08
Mancini dropped Joe Hart when he was playing shite, and he's one of the world's best keepers. Alex Ferguson dropped the keeper he'd brought from Aberdeen (Jim Leighton) who'd played for him for many years.
The top clubs and managers will make these decisions and won't be worried about upsetting a senior player. If anything, when players are untouchable, it's likely to breed more disharmony in the dressing room.
Of course the fans aren't privy to everything, but judging Joel on how he played on Tuesday and the way he was playing towards the end of his run last season, he should be playing right now. Howard needs a boot up his arse. He's the weak link in the side and opposing mangers don't need to do much homework to see that with our record of conceding from corners and set-pieces.
Paul Andrews
74
Posted 31/10/2015 at 18:07:16
Gavin (#64),
100% correct. In our recent games, most of the wide free kicks against us have been dropped into the same area. It can't be a coincidence
Andy Crooks
75
Posted 31/10/2015 at 18:15:37
Mike # 57, do you think he should start against Sunderland? Do you think it is fair on Robles if he does? Would you agree that he has done a good job for Everton, deserves our respect but his time has passed?
Sid Logan
76
Posted 31/10/2015 at 18:49:24
I would welcome a little of the blame culture to develop at Everton Football Club, but only in respect of the Manager. When there are so many players consistently underperforming, more often than not, the Manager is a key factor.
At the risk of upsetting a lot of people, I have to say I absolutely love Klopp's quote which is something like "Barcelona may be a symphony but I prefer rock 'n' roll football."
Jurgen – so do I... but unfortunately we have to live with a manager who is proving unable to reconcile his Barcelona dream with the realities of the Premier League.
Colin Glassar
77
Posted 31/10/2015 at 19:00:17
I think Roberto should end each sentence with "grasshopper".
Ian Bennett
78
Posted 31/10/2015 at 19:10:09
Matt 56 - can I blame Osman?
Rick Tarleton
80
Posted 31/10/2015 at 21:27:00
Tim Howard's role is to instill a lack of confidence in all the players around him, to raise the chances of the opposition and to basically make it very difficult for Everton to win. He fulfils that role perfectly.

Paul Corbishley
81
Posted 31/10/2015 at 21:52:45
He is talking shite again. Stating that football is about competition for places but then reinstating Howard. It's simple: he tells Howard that Robles played well the other night and we are going to give him a run. If you want your place back, work hard, that's competition.
It all looks too comfortable for the players at Everton at the moment. We could all name the starting 11 for the Premier League games bar maybe Kone, Naismith & Lennon in the same places.
I just get the feeling they are doing enough to keep their places but not trying to achieve. Take the other night; they only upped their game after the crowd reacted to Kone being taken off... they battered Norwich for 15 mins, got the goal back, then...
Jon Withey
83
Posted 01/11/2015 at 11:49:17
Guess we'll see what happens today — no doubt Sam will note Howard as a potential weak point.
With Browning, Galloway, Funes Mori and Stones in front of Howard, I think he is right to point out that experience in defence is currently an issue. A fact, really.
I just hope this seasons 'keeper issue doesn't turn into last season's central-defender issue and that we look at another 'keeper in January if this continues.
Still, he can't do much until January, and Robles is hardly Buffon is he?
Christopher Timmins
84
Posted 01/11/2015 at 12:09:15
Robles is no Buffon at present and he won't ever be unless he starts to get some game time. He did enough on Tuesday to be retained today. I don't buy into the inexperience issue with the back 4, the one thing the defenders must have is confidence in the Goalkeeper!
I wonder if the former Barca number 1 is an option in January?
Les Netherwood
85
Posted 01/11/2015 at 22:07:20
What a result today....I can even put up with all that tippy- tappy negative passing in our own half (but not for long).
I thought Kone was outstanding today in midfield, but our defence was jittery at times with our international goalkeeper glued to his line for another headed goal against us.
I must say it was a pleasure to see the lads when in attacking mode for all the goals. Well done, Blues
Add Your Comments
In order to post a comment, you need to be logged in as a registered user of the site.
Or Sign up as a ToffeeWeb Member — it's free, takes just a few minutes and will allow you to post your comments on articles and Talking Points submissions across the site.
© ToffeeWeb