Martinez urges Hodgson to use Barkley's attacking strengths
by

68 Comments [Jump to last]
| 11/11/2015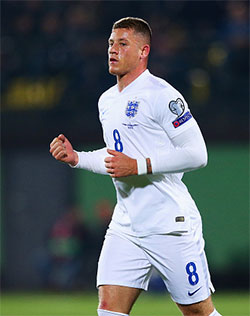 Has Barkley done enough since the last international break to earn a starting berth for England against either Spain or France?
The debate over how best to utilise Ross Barkley's prodigious yet unrefined talents at international level looks set to rumble through the international break as Roberto Martinez voices his concerns over how Roy Hodgson will set his team up against Spain on Friday.
Much has been made by the England manager over what he sees as weaknesses to the defensive side of Barkley's game, deficiencies that have made him reluctant thus far to make the 21-year-old a regular in his starting line-up.
While Hodgson used some of his fringe players in the final two Euro2016 qualifying games, he has said that he will be using the friendlies against Spain and France as opportunities to field as close to his first-choice XI as availability will allow. While he intimated last month that Barkley would need to maintain his club form and play his way into a starting role for England, it remains to be seen whether Hodgson has been convinced.
Martinez feels that a player of Barkley's ability could be tailor-made for the games against two sides that are expected to be among the candidates to win next summer's European Championships, that is if England play the right way and adapt from their usual possession-based strategy.
The Catalan fears that should his star midfielder be deployed by Hodgson in either or both of the upcoming friendlies, Barkley could be wasted unless England play in a manner more akin to how he views his more counter-attacking Everton team. "It's quite simple. People will look at what Ross does ­defensively, but I look at what he can do ­offensively against these sorts of teams," Martinez says in The Mirror, with a nod to the tension that has existed between the two bosses over what should be Barkley's remit in a given team.
"These international teams when they lose the ball, there is space, but you need pace and power to break into that space. Ross gives you that.
"Those four seconds as soon as you win the ball, who can affect the game then in transition? He is the best in the business. But if England don't want to play like that, if they just want to wait and get set and have the ball, Ross is not special.
"We have got to that point where Ross Barkley knows how special he is and what he does. Depending on how they want to use him, he will be influential or not for England."
---
Reader Comments (68)
Note: the following content is not moderated or vetted by the site owners at the time of submission. Comments are the responsibility of the poster. Disclaimer
John Daley
2
Posted 11/11/2015 at 07:32:18
"Those four seconds as soon as you win the ball, who can affect the game then in transition? He is the best in the business. But if England don't want to play like that, if they just want to wait and get set and have the ball, Ross is not special."
I was kind of in agreement with what Martinez was saying until then. Unless I'm reading it wrong, he's basically saying Ross is effectively neutered playing in the style his own Everton team practices for large periods of a game?
Colin Glassar
3
Posted 11/11/2015 at 07:36:34
For all those of you who constantly complain about Ross not tackling, or heading the ball, here's all the proof you need. It's not the lad, it's his boss who's told him not to bother with his defensive duties.
For most managers, a player like Barkley is a luxury they can not afford and Woy is no exception. He will always go for the dependability of a Milner or a Henderson over the unpredictability of a Barkley or a Vardy. That's why England will never win a major tournament ever again.
Kieran Fitzgerald
4
Posted 11/11/2015 at 07:43:45
It's easy at club level to say that Barkley is the creative masterclass England need at international level. We have thirty eight league games plus cup competitions. In an international tournament, you get six or seven games max.
Barkley has produced very little at club level recently but has the luxury of being able to get away with it due to so many league or cup games. He can be shielded as a result and there is always the next game. If he goes to the Euros next summer and is invisible for the first two games, as he is prone to be, Hodgson with be pillared for it and England could be out of the tournament.
What Ross needs to do is make it impossible for Hodgson not to pick him. Be the Barkley of two seasons ago, not the one of the last twelve months.
Jim Bennings
5
Posted 11/11/2015 at 08:10:53
It's a really difficulty situation surrounding Barkley.
He's clearly a player with talent from what we saw two season's ago and at times earlier this season but there always seems to be something slightly missing from his game, I'm not sure it's consistency, it's more to do with the actual man himself.
Saying that Martinez is the reason why Barkley doesn't like heading the ball or tackling, I'm not so sure, I think that's a bit of both really. Barkley doesn't seem to be that type of personality, the fire in your belly type that we saw in Rooney at that age or Tim Cahill, or dare I say it Gerrard. I'm not convinced Ross will ever really be a leader like those guys were regardless of age or experience.
So what do we do with him?
He's at present our only serious attacking central midfielder so we can only hope, as he doesn't really head, tackle or play enough killer passes, that he does the next best thing and starts firing in more goals. The shooting seems to be his most positive input, and for me that's possibly the main reason he still makes the team at the current moment.
He's coming to an age where soon he should be as complete a player as he'll ever be, so he needs to try stepping up on various to reach his full potential.
My hopes for Barkley this season would be close to, if not actually scoring 10 league goals, more regular assists, more work on his spacial awareness and a better reading of the game.
Phil Sammon
6
Posted 11/11/2015 at 08:13:40
Absolutely agree with John Daley. It's all very well telling Hodgson how to set up his England team to accommodate Barkley. Meanwhile Everton do the exact opposite almost every week.
The baffling thing is Martinez knows this... but still persists. Madness!
Brian Harrison
7
Posted 11/11/2015 at 08:29:06
Let's be perfectly honest: on his performances so far, Ross has not set the world alight, and some might argue that, if the team was picked on merit, he wouldn't be in the Everton team week after week. So it's a bit rich of RM to start lecturing any other manager... maybe if he worked on the weaker parts of Barkley's game, he would be a better player.
Yes, there are players who don't do anything defensively for their teams but they get away with it because, when they receive the ball, they either create or score a lot of goals. Unfortunately Ross doesn't create a lot of goals or score a lot of goals.
Sam Hoare
8
Posted 11/11/2015 at 09:21:03
Yes, John and Phil. A staggeringly ironic comment from the manager given how often we have watched our team struggling to break down an organised defense with Barkley staying on the pitch shuffling nervously from side to side!
There have been signs of more frequent and daring counter-attacking to be fair of late so maybe he will start practising what he preaches a bit more...
Dave Abrahams
9
Posted 11/11/2015 at 09:21:47
I still hope Ross can become a special player for us but I often think back to what a well respected and idolised former Everton player said about him: "He's a good player but he hasn't got a football brain."
It often looks that way during the game, when he appears to have blinkers on. Maybe it will all click for him one day when he realises football is a very simple and easy game to play.
A lot of young footballers are ruined by fools... also known as coaches.
Harold Matthews
10
Posted 11/11/2015 at 09:41:22
All this patting on the back is doing Everton no favours. Barkley will soon be strutting around like he owns the place. Already he takes charge of all the free kicks and corners and recently he ran his eye over the U21s with assistant manager Jones and big Dunc.
I'm not a Hodgson fan but Barkley has looked a better player for England than for Everton, where he slows everything up by taking far too many touches before deciding what to do.
If Martinez thinks this is wonderful and the lad continues to refuse moving the ball on like Scholes or Alan Ball, I will sink into a deep slumber and never wake up.
Jim Bennings
12
Posted 11/11/2015 at 09:50:51
The one bit I don't like is where Martinez says: "Ross knows how special he is".
I don't like that myself, I much prefer managers to always demand more from his players because, when they start thinking they have made it before they actually have, that's when problems start.
Geoff Evans
13
Posted 11/11/2015 at 10:09:49
Barkley is very much a work in progress and has a lot to do to convince at both Premier League and international level.
Jack Plant
14
Posted 11/11/2015 at 10:11:05
I've been amazed by the negativity towards Barkley on here in recent weeks. Yes, he's had a poor season, but so far in 2015-16 he's scored 6 and made 3 for club and country, that's a decent return for this stage of the season.
He's also started taking a lot more responsibility in terms of always looking for the ball rather than going absent for periods like he did last season. Yes, he's had the odd poor game, including West Ham last weekend, but no player has a blinder every match. I can't see why people are so keen to have a go at him.
Dave Abrahams
15
Posted 11/11/2015 at 10:28:42
Jack (#11),
I think every poster on here wants Ross to do well, we are trying to point out the continual errors he is making, it's called constructive criticism, and surely you can see the same mistakes he makes.
There doesn't seem any real improvement in his overall game. We all hope that will eventually come; nobody is against the lad.
Eric Myles
16
Posted 11/11/2015 at 10:37:57
"if England play the right way and adapt from their usual possession-based strategy"
Pot, kettle, black.
Jim Bennings
17
Posted 11/11/2015 at 10:38:35
Jack..
Has Barkley scored 6 this season??
I can recall three league goals, not sure if he's being credited with the one at Arsenal after the wicked deflection, and a goal at Reading in the Cup!
I can't remember him scoring anymore!?
Paul Cherrington
18
Posted 11/11/2015 at 10:41:16
I agree with Martinez in that we have to accept the type of player Ross is and stop stressing out expecting him to do something alien to his game every match. The Premier League and England team is full of carthorses who run around a lot and kick anything that moves. That's why we never win anything at international level. Effort is prized above skill in effect.
Until we cherish players with skill and let them play their natural game without constant criticism, this will never change.
This is where the manager comes in; he needs to set the team up around a player like Ross to allow other players to do what he doesn't & compliment him. I think Ross has been pretty good this year and the stats back this up... trouble is, if he isn't scoring 5 goals a match & running rings round everyone, some people say he's rubbish.
Jim Bennings
19
Posted 11/11/2015 at 10:41:41
Oh now I remember, yes his two England goals..
I prefer to just count his Everton goals myself especially given one of his international goals came against San Marino, I'd fancy myself to score against them!
I get the point your making though, he's got goals in him Barkley, he just need to become a little more in tune with what's happening around him.
Ben Jones
20
Posted 11/11/2015 at 10:57:09
I don't see why Barkley's had a poor season? Did he play that badly against West Ham? He was excellent in the start of the season.
He was effective against Sunderland. And do people remember how he was last season?
If we keep mindlessly criticising one of our own, he's getting nowhere.
Peter Gorman
21
Posted 11/11/2015 at 10:57:14
"Those four seconds as soon as you win the ball, who can affect the game then in transition? He is the best in the business."
Best in what business? Running down blind alleys or shooting into the stands? Barkley is just as likely to do those as score a worldy.
He is still just a kid and heaven help England if they need to depend upon him. One day, he should make a great player but very much a work in progress whose position at Everton shouldn't even be assured let alone England.
Jack Plant
22
Posted 11/11/2015 at 11:01:08
Dave (#12),
I think we are too quick to jump on his mistakes and offer 'constructive criticism' before recognising that he has made a huge improvement on last season in terms of his work rate and decision-making, the two areas of his game I feel he was most lacking in last season.
What really gets to me is comments like Kieran's "Barkley has produced very little at club level recently." – If he continues at his current rate, Barkley will have scored or assisted 20-25 goals for Everton by the end of the season, for me that's a huge contribution.
Yes, as Jim says he has room for improvement in his awareness but he is improving, and even if he doesn't, he's already one of our best players.
John Raftery
24
Posted 11/11/2015 at 11:29:58
Ross has had a better season up to now with more end product than in 2013-14 when his performance was vastly overrated. In that season, he scored six goals and one assist. Any team needs more tangible output than that.
He is showing greater maturity now but is still maddeningly inconsistent and it may be that he remains like that through his whole career. The history of football and the English game in particular is littered with mercurial characters capable of great moments but always leaving managers unsure of what they will get from them. Le Tissier, Hoddle, Waddle, Currie and Hudson are a few that spring to mind.
As others have recognised, the risk posed by such players at club level is less than at international level where every match is vital. As a club, we do not really have any option but to hope that Ross continues to improve. England do have other options and Hodgson knows he cannot afford any hit-or-miss gambles in his selection for next summer.
Andy Walker
25
Posted 11/11/2015 at 11:42:44
The 4 seconds Martinez refers to after we win the ball i.e. the transition, are where Ross can indeed make the difference. The 4 seconds after we lose the ball must be just as important then, which Martinez appears to ignore. This is when Barkley is at his worst and why he is still a long way off the complete midfielder. Frustrating because the ability and skills required to make the difference offensively are usually much harder for players to attain than the defensive duties.
Ross just doesn't seem to have the appetite for a midfield battle and I can understand Hodgson's concern. I can't believe Martinez is so naive as to tell Ross to forget about the defensive side of his game, this just doesn't work in today's game. There are two sides of the 4-second coin and if Martinez puts such great emphasis on this from an attacking perspective, he has to do the same defensively, but then this is where Martinez is weak.
Ray Roche
26
Posted 11/11/2015 at 11:47:57
Any flair player will only produce if you play to their strengths and accept that they will make the occasional cock up trying something different. England has had a procession of flair players over the years who have failed to produce at International level due to the preference for Milner and his like and the requirement to have to work their chunks off, regardless of the negative impact it would on their game.
Rodney Marsh played for England 9 times, Le Tissier 8... and even Glen Hoddle, a shoo-in for just about any team, only managed 53. Carlton Palmer had 18 caps... 18 caps. Kendall didn't get one...
For Barkley to fulfil his International and club potential, he has to be played to his strengths and if that means he doesn't have to waste his energy racing back to cover, then so be it. His strength is going forward at pace, carrying the ball but he needs an end product, a player or players who will make runs into space for him to pass to. There is insufficient movement at Everton, hence Stones etc standing with the ball at their feet, arms outstretched looking for some movement up front. Look at how effective Lukaku is when we play him the ball in the way that he wants it.
As Harold says at post (#9), he has to move the ball quicker but he has to have players making the runs to take advantage of a quick ball. Martinez should be coaching that into the team, getting the midfield and forwards to start making quick decisive runs so that Barkley and Deulofeu can use a killer pass.
Oh for a mentality like Leicester have, speed and energy and not a little skill.
Tony Abrahams
27
Posted 11/11/2015 at 12:10:24
Jim 10, the one you don't like is "Ross knows how special he his".
This seems to me more about how Martinez feels about Ross than anything, because I honestly think that one of Barkley's biggest problems is he lacks self-belief.
I said on another thread that I don't think the manager could do anymore for Barkley, but I would love to see Deulofeu play central and do well. This might make Ross sit up and take notice, that you need a real attitude, to become one of your team's best players out on the pitch.
Ernie Baywood
28
Posted 11/11/2015 at 12:41:27
Andy (#20),
Why does he have to become the complete midfielder? Who exactly is the complete midfielder? How many teams have them?
Personally, I'd rather we focused on making his strengths world class instead of focusing on making his weaknesses slightly less poor. Disciplined defensive midfielders are ten a penny; Ross Barkley is a rarity.
John Keating
29
Posted 11/11/2015 at 12:48:38
The two recent defence splitting passes Deulofeu has made for Lukaku is more than the midfielders have made in a season and a half.
Ray Roche
30
Posted 11/11/2015 at 13:05:14
Ernie, good post.
Michael Williams
31
Posted 11/11/2015 at 13:11:44
An American here, who chose EFC as their Premier League team. I like this website because I can learn from the articles and the comments but I am amazed by how negative the tone in some of the comments. I'm not a life-long fan, however... so what do I know?
To me Everton has about 5-6 real talents and Barkley is one of them. He's just about to turn 22, is only in his third full EPL season. Of course he's inconsistent and I'm sure he's working on it. The #10 position is the hardest on-field position to play. He has accepted the burden to carry the attack in the middle of the field which is big at his age, for club and country.
As far as his defense goes, yeah it's middling but what makes Barkley a talent is his desire to take on people, and pace and strength in the middle of the field. We Americans would commit crimes to have a talent like that to develop and I see very few Englishman with those skills. Give him time. He's improving.
Aidy Dews
32
Posted 11/11/2015 at 13:48:44
Jim (#4) & Brian (#6),
I totally agree with those posts. And also Dave (#8) & Harold (#9), you two also.
Just a question, Dave: who was the player that said Barkley hasn't got a footballing brain? I said the same thing in another post after the West Ham game and also said he doesn't have that intelligence either when it comes to seeing and picking out passes and also made the point Harold did about Barkley slowing the game down, especially when we attack, and got told to have a word with myself! It's good to know I'm not the only one to see all this.
But I agree with the other posts who make the point that it is down to the coaching staff to work on this, work on the parts of his game that aren't great to make him a more rounded and better player.
I see a lot of people saying 'well we don't need Ross to track back, make headers or tackles. As long as he keeps on doing the business in attack...', but he doesn't always, does he?! You see, players like Silva at Man City, you can forgive him for not getting back, not that he doesn't, but he doesn't like to put a foot in like our Ross but he does the business in the final third every week without fail nearly, whether that's creating a lot of goals or scoring?!
Yet for me, Barkley still doesn't do enough in that final third. He's got to start being more creative and seeing the bigger picture up there for me and get himself in to the box more and on the end of things. Bobby ought to give the lad videos of Beardsley to watch, he had a bit of everything, great spacial awareness, could dribble with the ball and beat men, create, score worldy's and tap ins and he got into the box and didn't give up on things.
Aidy Dews
33
Posted 11/11/2015 at 14:10:33
And to those who keep saying we need to accept his cock ups and mistakes as that's the kind of game he plays, how much time do we give him to keep on doing this?
Surely he should be learning from things like this and cutting it out, not doing it so much! And a lot of the errors you see him make, are unforced aswell.
We had Rooney come through and play for us at 16 and I can't remember him making many mistakes, if any?! At that age, his passing, wether it be long or short, through on goal, was on point. He saw a picture in his head of how things could develope going forward before most and had a great footballing brain and intelligence.
Tbf, you've either got it or you haven't. And it's not something you can coach either but you can educate players and broaden their horizons to game play, certain situations and for them to pick the right option at the right time and try and improve and fine tune that part of their game as much as you can.
Andy Walker
34
Posted 11/11/2015 at 14:11:58
Because, Ernie, if he improves his weaknesses, he will improve our team and make us more successful.
The list of exceptional midfielders is personal opinion. Ross has the potential to be added to the list in the future and why wouldn't both we and he want to improve himself?
Exceptional, complete, midfielders can dominate games and the only way to dominate a game is to be at its centre when your team has the ball but also when it doesn't. Gascogne in his pomp did this, Zidane, Keane, Scholes, Gerrard, Lampard, Messi all get stuck in when their team don't have the ball. I don't mean they were all great tacklers but they had attitude and presence and influenced play even when their team didn't have the ball.
Ross is still very young but I would hate that his development was curtailed by a manager who couldn't help him develop the weaknesses in his game.
Harold Matthews
35
Posted 11/11/2015 at 14:22:05
True Ray, lack of movement means lack of options and less forward passing.
Mr Martinez talks as though everything is perfect but he must know it isn't. No-one makes runs like Ramsey, Ramirez, Sanchez, Lampard etc. Even McCarthy ought to try it now and again but, let's face it, we don't know his instructions. Cleverly definitely does it but might need someone like Gibson to pick him out. Barkley has all the tools but is often more concerned with getting a shot in.
Everyone knows Barkley has wonderful control of a football. He can do things which take the breath away. In the last England game, he went past players as if they weren't there. Amazing stuff. Felt good being an Evertonian but I was wishing he would do that for us. Instead of being critical, maybe Martinez should ask Hodgson how he gets Ross to perform in such a dynamic manner. I'm beginning to wonder about our boss. I really am.
Les Martin
36
Posted 11/11/2015 at 14:28:49
You could argue that no-one in the Premier League knows Spanish football quite like our Bob so he is aware of what needs to be done.
Ross simply needs a moving ball to run onto 10 yards outside their box, it's as simple as that, he will do the rest and create an opportunity, no complicated tactical genius required!!
Jack Plant
37
Posted 11/11/2015 at 14:59:45
Aidy, are you seriously saying Rooney never made a mistake for Everton? Don't you think it's harder to remember his mistakes than Barkley's because he played for us over a decade ago and Barkley played at the weekend?
As for the age point, setting aside the fact that breakthrough age has been going up across the whole League, Barkley missed a lot more time in his late teens through injury than Rooney did, which has held him back.
As for 'how much time do we give him to keep on doing this?' – don't you think he's improved a lot this season, as you can see from his goals and his assists return (not to mention his workrate)?
There seems to be a big divide between people who recognise that Barkley has actually come on a long way and had overall a very good start to the season, and people who are making the same criticisms of him as last season despite the fact he has addressed lots of the issues in his game.
Tony Abrahams
38
Posted 11/11/2015 at 15:07:09
Harold, you're not the only one, mate. Martinez has some good points, but for a man who spent a lot of his career in the lower leagues of England, pragmatism isn't one of them.
Michael (#28), a good positive post, but what I would kill for is Ross Barkley continuously trying to do the things you talk about. His manager praises him to the heavens, he's playing for his boyhood club... what is there to worry about?
Nobody plays well every week, but it shouldn't be for the want of trying, to do the things you're good at. JUST KEEP GETTING ON THE BALL. That's how he will develop to me.
Mick Quirke
40
Posted 11/11/2015 at 15:31:43
Ross does sometimes get that final pass wrong on our counters but in full flow with pace and strength and the opposition backpedalling, there's no finer sight.
Credit too for Marti­nez for moving on from purely possession-based football.
Matthew Williams
41
Posted 11/11/2015 at 15:35:35
Pot shots from the edge of the box would help no doubt, like at Norwich away. We never shoot! Jeez.
Ray Roche
42
Posted 11/11/2015 at 15:41:43
Andy (#31),
"If he improves his weaknesses he will improve our team and make us more successful."
Andy, as I'm sure you remember, many Continental and South American players were criticised in GB in the past for being one-footed, ie, having great ability in one foot, but the other one was just for standing on. Their attitude was to make their best foot as good as it could be and not waste time trying to make the other foot anything other than the standing foot.
I believe it's still the philosophy that prevails. Why else would players try and hit balls with the outside of their foot, like Lukaku did for Kone, rather than the inside of what might be considered the correct foot to make the pass?
I would sooner Barkley be a tremendous No 10 than someone like McCarthy who can run around for 90 minutes but do eff-all with the ball. Let him use his energy for that electric burst of pace and great shot at goal. I don't think his large frame is that well engineered for the frenetic 90 minutes of all out-action.
Much of your post, though, is spot on.
Jay Woods
43
Posted 11/11/2015 at 16:06:43
Hmm, I can see how a player who persistently makes the wrong decision during attacking play could be a real asset for England. I'm really worn out with this flaw of his and perplexed at why it has not yet been coached out of him.
Bobby Thomas
44
Posted 11/11/2015 at 16:19:19
#2 John Daley
Exactly what I thought!
Dave Abrahams
45
Posted 11/11/2015 at 16:55:53
Andy (#29), the former player who said Barkley hasn't got a football brain said it at a private function, so I won't name him, but it is a true story and if you saw this player you would have admired him and you would listen to what he had to say, a great Evertonian as a player and a fan, who is still going to Everton as a fan.
The other week, back to Barkley, we were 5-2 up against Sunderland and Ross had the chance to really show his undoubted ability but he spent most of that time taking part in the sequence of passes, someone said it was eighty, and Ross must have played thirty of those passes, most of them three- and four-yard passes... a waste of time (for me); he's better than that.
Alan Humphreys
46
Posted 11/11/2015 at 17:18:27
Listened to Talksport last night in tears as Andy Goldstein did his impression of Roy - pretty much spot on.
England bore me, Ross could play a blinder for 89 minutes score a hat-trick but give the ball away in injury time and that would be all Roy could talk about in his press conference. Alternatively he could come on in the 89th minute with the team losing 5-0 and still it would be his fault.
Roy has no idea what to do with players like Ross and Raheem but give him the likes of the antiquated Kane and Milner and he'll cream his britches.
Mike Powell
47
Posted 11/11/2015 at 17:49:12
Why do people on here always pick little faults in Ross instead of his good points? Ross is a great player. I and many more Blues are absolutely made up we have got him and he is not playing against us.

Ross and Rom are two of the best players in the Premier League so enjoy while they're with us. Who cares if he doesn't tackle? Neither does Messi and anyway isn't that what Barry and McCarthy are there for?
Denis Richardson
48
Posted 11/11/2015 at 18:00:05
Personally, I feel far too much responsibility is being put on this lad's shoulders. Everyone seems to forget he's only 21 and still learning his trade. Why he's suddenly considered the hope of the nation is beyond me, especially as he hasn't even played that much or is playing particularly well.
In saying that, Martinez should shut up and stop telling the England manager what to do; not that I'm a Hodgson fan. His comment makes no sense anyway as he's describing the exact way we play. Barkley should also not constantly have his arse kissed and be told he's the greatest. A lot of talent, yes... but a long way to go to get to the finished article.
The likes of Stones, Barkley, Deulofeu, even Lukaku should just be allowed to play and get on with it on the pitch, learn the game week by week. The level of expectation is far too high for these players and the manager really should play these down and take the players out of the spotlight but we know he won't.
Ask Martinez about any of our players and you'd think they were all world beaters...
Brent Stephens
49
Posted 11/11/2015 at 18:05:17
Mike #43 "Who cares if he doesn't tackle? Neither does Messi and anyway isn't that what Barry and McCarthy are there for?"
I love Ross's abilities. I don't care if Ross doesn't tackle. I do care that he ambles back into midfield once we've lost the ball, and never gets / keeps goal-side of an opposing player (you DON'T have to tackle, just jockey and limit options). In doing that he drags into our midfield one more of their players who he could otherwise keep occupied in their own defensive duties if he just stayed further forward. He achieves next to nothing coming back.
Ian Jones
50
Posted 11/11/2015 at 18:41:12
In summary...
Ross does some simple things well but he does some simple things poorly, like many of our (and other clubs') players.
However, he also does some amazing stuff.
So room for improvement then.
I expect it's a confidence thing as well!
Helen Mallon
51
Posted 11/11/2015 at 18:43:58
Andy Walker (#22), is Ross being used as a midfielder? I don't think he is. Martinez uses him in a free role and has Barry and McCarthy doing his donkey work for him.
I think that's the problem Hodgson has; he likes to set his teams up regimental and alas Barkley will fall short. He will only become a regular if he gets a settled midfield role at Everton.
I do believe he is a central midfielder in the making but, if he plays like he did against West Ham, he will have to wait a long time... just my opinion.
Dave Abrahams
52
Posted 11/11/2015 at 19:11:17
Regarding Martinez and the lavish, over-the-top praise he gives all our players, I was reading about John Robertson, the former Notts. Forest winger. He said Clough said to him after Forest slaughtered Luton Town 5-0, "You're a good player, son." Robertson said he felt 10 feet tall.
Clough kept his praises simple, but if it came from him it was sincere and it was coming from someone who knew the game.
Nobody can take Martinez's complements seriously as they come too often to be sincere, they are just soundbites.
Kenn Crawford
53
Posted 11/11/2015 at 20:31:54
We have 11 players on the park of which 7 have defensive duties, how many defenders do you want? We complain about not being able to break down stubborn defenses but if you want everybody back defending the balls that are cleared will keep coming back, due to no outlet.
Let's leave Ross alone to do his thing or we could go back to the Moyes days when on numerous occasions he fielded teams with no recognized strikers. Ross has abilities that not many players posses, lets let him develop and stop criticising his every mistake.
As someone once said, "Show me someone who never makes a mistake and I will show you someone who does nothing." Enough said.
Don Alexander
54
Posted 11/11/2015 at 20:35:54
Whoever the former Everton player was that said Ross hasn't got a football brain was pretty perceptive. Like everyone else, I've read about him never even playing football until he was 10, then turning up at Everton and amazing the coaches by pinging penalties in with either foot (!?), and then signing on and scoring "worldies". Well the fact is you still don't need all the fingers on one hand to count his best goals for us.
He produces way too little creatively to be allowed not to try to defend and he is, to everyone saying how young he is, 21 years old. By that age, good international footballers are making eye-catching, game-changing performances 'most every time they take the field.
Unfortunately I just wonder whether Ross has got the know-how, arrogance or cussedness to shine as every last one of us hopes.
Guy Hastings
55
Posted 11/11/2015 at 21:03:34
Four seconds! 1-and-2-and-3-and 4. Count them. Christ, if I had four seconds on the ball before anyone got to me I'd be pretty good too - and I speak as an asthmatic 63-year-old with iffy vision in one eye.
Andrew James
56
Posted 11/11/2015 at 23:34:56
Comparing Ross and Wayne is pointless. Wayne was a force of nature playing up front. Ross should be compared to, and you will hate this, a certain midfielder who recently retired across the park. Tall, powerful, loves a shot and a set piece.
It's a tough role to master hence why Gerrard and Lampard progressed much older than the younger Rooney.
Barkley will come very good, he just needs time.
Eddie Dunn
57
Posted 12/11/2015 at 00:06:37
Dave 13, yes "Everybody wants Ross to do well", but nobody wants Ross to dwell.
I'm with John Daley, 100%.
John Daley
58
Posted 12/11/2015 at 00:06:54
"..he is, 21 years old. By that age, good international footballers are making eye-catching, game-changing performances 'most every time they take the field."
Such as?
Don Alexander
59
Posted 11/11/2015 at 00:13:25
It hurts me to say it but Gerrard aged 21 was making a major impression week-in week-out for Liverpool. Lampard took just a little longer to develop but even at 21 he was scoring very regularly, at least.
I'm no fan of Martinez and I have no respect for his coaching system. Whether or not Ross, who to me unfortunately seems very very impressionable, takes too much notice of "instructions" or whatever, he really needs to personally get a grip, as young as he is. With the ball control etc etc at his disposal he should, if he has a football brain, be the very first name on an England team sheet.
Unfortunately though, most of us are surprised he's one of the names on ours. Perhaps "Nice Lad" is no sort of pre-requisite for "Star Player". I truly hope I'm wrong. Over to you, Ross... and just tell the coaches to fuck off.
Raymond Fox
60
Posted 12/11/2015 at 01:43:34
Ross is too inconsistent to be a great player. I'm sorry to say that the lad appears to lack the game intelligence that great players possess. To my mind if doesn't naturally possess this now he never will.
He disappoints too often and has been built up far too early by all and sundry which is a common occurrence especially with the media nowadays. Ross is an above average player with a lot of natural physical ability but to my mind seems destined to lack that extra spark that would elevate to a higher level.
Hope I'm wrong mind you, but that's the way it looks to me.
David Chait
61
Posted 12/11/2015 at 04:32:36
Wow things change fast. 5 games and Barkley was boy wonder again. He had made all his assists by then and we thought he had made the "switch" which would see his creative forces come to the front.
We were happy to think maybe he was the Number 10 we needed and might have saved a fortune unwittingly.
Another few games and it's the Barkley of last season. Pointless, slow and indecisive.
It's probably somewhere in between. He did start better than he has been playing recently. His last really good performance was for England.
Barkley running with the ball makes me nervous as the end product often does fall down as he takes it too far before trying the pass. I referred to this prancing with the ball waiting for something to happen even during his purple patch and it seemed to be getting worse each game.
Barkley is best moving the ball around and spraying it. He can do it, I'm just not sure how he is being managed.
Harold Matthews
62
Posted 12/11/2015 at 04:41:24
John. The only one I can think of right now is a Turkish 21-year-old, Hakan Calhanoglu, of Bayer Leverkusen. Every time they're on the box the commentators go bonkers about him and he does seem to run the show. A free kick specialist, he once scored a twisting screamer from 50 yards. Rumours say Man Utd might go for him.
Mark Andersson
63
Posted 12/11/2015 at 06:30:46
I would love to hear what Arsen Wenger thinks about Ross, funny how the top managers are not knocking on the door willing to pay stupid money for Ross.
The hype behind any English players including Stones is ridiculous. I followed Rooney when he went to united. He knew who he was going to pass to even before he received the ball.
Ross looks like he has to remember all the information given by the coaching staff and his natural game has suffered. Martinez trying to put square pegs again.
Kim Vivian
64
Posted 12/11/2015 at 11:14:46
Ross Barkley - 10% Good...80% average...10% poor/weak.
Know your strengths and weaknesses.
Build on strengths, eradicate weaknesses, improve where you're average and you have a worldy...
Aidy Dews
65
Posted 12/11/2015 at 11:58:53
Jack Plant (#34), can you name me one obvious mistake Rooney made then when he broke through with us and during his whole time with us? Cos I honestly can't! And that's not because it was a long time ago either. Don't forget, Barkley was 16 also when he first broke into the squad and was named on the bench in an away game at Birmingham many moons ago, and made his debut at 17.
I get that he had a triple leg break and that as a youngster and he missed out on a lot of coaching but I'd imagine at that age you don't really learn individual defensive shape and discipline and where to be on the pitch when your team doesn't have the ball?!
And yeah, Barkley's stats have improved this year, but do I see him performing better, at the moment? No. At the start of the season he was picking up but I think his form has dipped since then and his work rate is just the same. He doesn't get back and help out enough defensively, he doesn't track runners or close down, backs out of tackles but we all agree that he's not great at that side of the game and we all agree he needs to learn that side of the game to become a more rounded and better player!
If I'm being honest, I think because obviously a lot of you are scousers and he's one of your own and you all think a lot of him, it can cloud your judgement on him and you don't see a lot of wrong in him – not everyone, but a lot of you. I'm not a local and aren't that attached as you lot are and I can see the good and bad in him and when I do highlight his efficiencies, a lot, like you, come out and fight his corner and only want to talk about the good in him.
I'm not picking on the lad or digging him out, all I'm doing his highlighting the things I don't like in his game and what I think either needs stamping out or improving if he his to become a better player. I agree, he has so far improved his goal scoring, assists and chances created stats and good on him, he needed to, and long may it continue, but I just feel there's other parts to his game that he needs to step up at.
Aidy Dews
66
Posted 12/11/2015 at 12:14:43
Dave #41, I know exactly what your talking about! Haha I can't believe I've finally seen someone else that sees the same, purposeless stuff from Barkley that I do. I know the sequence your talking about, and in that sequence he must've done a one-two, and 2-3, 3-4 & 4-5 with Lukaku, or however you want to put it.
There was a moment in that passage of play where, in just one area of the pitch he just kept playing it and playing it between him and Rom for like 5 or 6 passes and I thought, what's he doing? Why doesn't he look left and look to spread the play and open the game up?
That's another thing of his I hate. He does it all the time, things like that that slow the game down and allow the other teams to get back and set up defensively. A player with a footballing brain and intelligence doesn't play like that, they look to make the pitch big, spread the play and open up gaps to then play into and exploit. It's not rocket science!
And fair play to you mate if you don't want to give names but whoever he was, I agree with him on that point.
Jon Withey
68
Posted 12/11/2015 at 13:54:53
Far too much criticism of our youngest players, Stones, Barkley, Galloway never asked for the hype so don't beat them with it.
We are lucky to have paid a relative pittance for three decent Premier League players who could get even better.
Don Alexander
69
Posted 12/11/2015 at 17:05:11
When I say 21-year-old internationals should most of the time be game changers for the better, it's obvious that there's been very few 21-year-old internationals in this country. In any other decade than this one, neither Ross Barkley nor many, many others of the current crop would have got near the international team, and that's despite the fact that England have only ever been in one tournament final.
I think Ross is over-hyped, big-time. That's not his fault, but he's now 21, the same age as Alan Ball when he was the Man of the Match in the 1966 final. And don't tell me Ball had it easier in his day. He played to the limit of his ability, always, as did Rooney and as should any professional.
Rooney, Ball, Best and other greats were not "forces of nature" but they were in love with football from the moment they could stand and spent every waking moment playing it. Their instincts developed from that. They practised what they weren't good at and only then did they achieve the recognition they earned by consistently excellent performances.
The fact is, Ross doesn't seem to me to have similar instincts at all. And if anyone accuses me of being unfair in comparing him to Rooney, Ball and Best, I'm not comparing him in any way because not only is he nowhere near their levels, right now he's bloody lucky to still be in our team.
He can also shut me up big time by putting in performances we've seen so very, very few glimpses of, which caused all the hype in the first place. Otherwise he'll stay put, being paid a fortune for not doing very well and never seemingly trying to improve.
Dave Lawley
70
Posted 12/11/2015 at 17:19:00
Spot on, John Daley in the first post. What struck me is RM is basically slagging himself off. I've never seen a team in this league so slow and ponderous getting the ball forward as RM's Everton, with the (very rare) exciting odd game excluded.
When we do break fast (often thanks to Ross's ability), the evidence would suggest that this is in spite of RM's tactics/instruction as for 95% of the time we slow the play down with our 'composure' on the ball, play sideways and backwards, (very) slowly building pressure. So, when Ross does get the ball, he's 5 yards outside their box with their entire team between him and the goal.
Then, most Evertonians seem to get frustrated at Ross's inability to 'do something special' and make the difference, with the ball more often than not going backwards again (probably to our keeper) or being lost to the other team without even an attempt on goal to show for all that possession. Very, very frustrating and not enjoyable to watch IMO.
Tim Wardrop
71
Posted 12/11/2015 at 18:56:47
Aidy (60) - Rooney had lots of terrible games for us. It's your memory that's hazy
Barry Jones
72
Posted 12/11/2015 at 19:37:04
Ross is very talented but the comment about the lack of a football brain is unfortunately true. The problem is that I am not sure that kind of thing can be coached or developed. It's about intelligence, spatial awareness, and doing the right thing at the right time. People like Xavi and Iniesta have it by the sackful. I keep my fingers crossed for Ross. Only time will tell.
Tony Hill
73
Posted 12/11/2015 at 20:37:11
It's an overused word but I think Ross is enigmatic.
The pass he put in for Walcott's goal was not produced by someone without a football brain and I look back to a few of his performances a couple of years ago which were remarkable for someone of any age - against Swansea and Arsenal away in particular (in the latter game he dominated, including one stunning back heel for Pienaar which was a piece of art, and he generally made Wilshere look a plodder). People like Scholes, Carragher and Redknapp are not fools and have all hailed him as specially gifted.
But he is too often paralysed by indecision which we've all tried to analyse on here. I think it's a deep-seated confidence problem which occurs when he has too much time too think and he needs coaching to deal with that, including possibly from a sports psychologist.
He's a major frustration for much of the time but I for one am sticking with him because I think he's a fantastic talent and when it works for him it's exhilarating to watch. If he gets a measure of consistency then Everton as a team will be improved enormously and that is a chance still worth waiting for.
Add Your Comments
In order to post a comment, you need to be logged in as a registered user of the site.
Or Sign up as a ToffeeWeb Member — it's free, takes just a few minutes and will allow you to post your comments on articles and Talking Points submissions across the site.
© ToffeeWeb