Champions League the key to keeping young stars at Goodison
by

120 Comments [Jump to last]
| 26/11/2015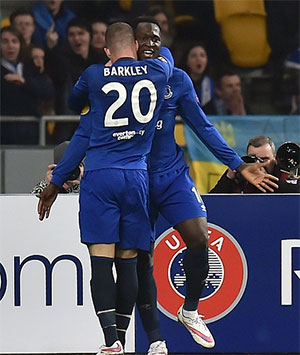 Roberto Martinez has admitted that while Everton have created the conditions for the club's young talent to grow and become better players, ultimately only starring in the top competitions is going to keep them around.
With Romelu Lukaku attracting attention yet again as he passed double figures for goals this season, Ross Barkley blossoming for club and country, John Stones continuing his mesmerically precocious form and Gerard Deulofeu emerging as one of the Premier League's most exciting talents, talk has turned to how the Blues can keep hold of their best players.
The manager feels that his squad is as strong as its been since he took over in the summer of 2013, with an important blend of youth, experience and depth, and he says that Everton "have to achieve" this season to demonstrate that progress.
"There are two things that can keep a player happy," Martinez said in the Liverpool Echo last Friday. "One is that he's got a stimulation to become better and he can see that he's growing every day and the other is to be in the best leagues and the best competitions.
"So you have to get into the Champions' League, that's the top and bottom of it. That's why sometimes you have to set a season where everyone invests into the team and then see where that can take you, that's what we're doing now.
[Y]ou have to get into the Champions' League, that's the top and bottom of it. That's why sometimes you have to set a season where everyone invests into the team and then see where that can take you, that's what we're doing now.
Roberto Martinez
"I feel we are getting stronger. Over the last five windows we have been getting stronger by adding numbers, options and quality players and young players that become important. It comes to a point where we have to achieve and this season is very, very important for that."
The Catalan is pragmatic enough, however, to acknowledge that Everton's current position relative to the biggest clubs in makes them vulnerable to losing their star players – although the enormous transfer values he is sitting on at Goodison that would cushion the blow aren't lost on him – which raises the importance of how you replace any departure.
[Y]ou need to be ahead of losing players or having to move them on," Martinez continued.
"As long as you end up with better options – when I say better options, I mean if you lose one player you get in two. You need to be able to be strong. I think now financially we are in a position that in each window we should be able to get stronger even if we lose players.
"What message would it send if we lost Stones, Barkley, Lukaku and Deulofeu? We are going to be the richest team in the world then!
"I think the message we are a football club that is working every day. Our recruitment system should identify players that can help us assemble a strong squad. That's not a worry.
"I'm talking about creating a squad which isn't just about finances, it's also about manpower, focus and concentration and giving responsibility to inexperienced players and now I feel that this season we have to get the benefits of that."
---
Reader Comments (120)
Note: the following content is not moderated or vetted by the site owners at the time of submission. Comments are the responsibility of the poster. Disclaimer
Paul Andrews
1
Posted 26/11/2015 at 06:38:53
Given the up and down form of top four or five clubs this would be a good time to go for it. I would hope to see us play on the front foot at a high tempo from first whistle in every game.
We are a very good side when we play high tempo, a side that can give any of them a game. It also suits players like McCarthy who is a far better player if the game is fast-paced rather than when he has got time on the ball on the half-way line. That sounds contradictory but it's true.
Same with Ross, in a fast-paced game he restricts himself to one, two or three touches max rather than trying to run at packed defences and overplaying.
It may be too early in our progress this season but we should believe we can get there.
Denis Richardson
2
Posted 26/11/2015 at 07:24:49
Sorry to be cynical but this just sounds like laying the groundwork early for us to expect a big sale in the summer. In other words, if we don't finish top 4 expect one of our stars to be gone next year, maybe two. I told you so etc...
The chances of finishing top 4 are small given the competition (of course we can go for it). I'd rather we just finally win a trophy.
(Also remember finishing 4th doesn't even get you into the CL, all you get into is the qualifying and there's no guarantee of making it through that!)
Let's take each game as it comes and try and win the League Cup and go from there.
Duncan McDine
3
Posted 26/11/2015 at 07:40:19
That is pretty cynical, Denis! I think everything Roberto says here is spot-on. We've been taking the piss when he's given it all the 'phenomenal / incredible' nonsense.... So I'm relieved to read some of the more down-to-earth stuff of late.
Darryl Ritchie
4
Posted 26/11/2015 at 08:11:06
The current squad is the best we've had in years. We have talent, depth and youth in abundance. The chances of winning silverware or getting top 4 or 5, have never been better, but to keep players from leaving, it needs to happen.
Most players will leave eventually, one way or another. The trick is replacing them. McGeady leaves, Hibbert retires, not really going to cause RM much grief. Barca comes back in for Deulofeu, Lukaku heads off to Europe or Stones grabs the big bucks from Chelsea, then we have massive holes in the squad which will be difficult to fill.
If we do well this season, then, perhaps, this all becomes academic. We have gone from one of the oldest starting 11, to one of the youngest, in two years. I hope they grow old at Everton... we shall see.
Ajay Gopal
5
Posted 26/11/2015 at 08:55:34
The most exciting quote for me is: "It comes to a point where we have to achieve and this season is very, very important for that." Sweet music to my ears! Roberto is no fool, he knows that all the potential should start to deliver.
Personally, this season I would be ecstatic with a League/FA Cup trophy and finishing among the European places. Hopefully, that would keep the circling sharks away for at least 1 more year. For that to happen, the squad needs to be utilised better – otherwise, players like Deulofeu, Barkley, Barry, Lukaku, Kone, Coleman, McCarthy will burn out early. So, we as fans need to be understanding when RM tinkers with the team, sometimes even a winning team.
Bringing in players like Cleverley, Naismith (he had a hat-trick against Chelsea remember?), Mirallas, Besic, Lennon, Gibson, Galloway & Funes Mori (after Baines and Jagielka come back in), Browning, maybe even Pienaar and Osman for cameos, will be crucial to keeping the momentum going until the end of the season. It is now or never! COYB!
Colin Glassar
6
Posted 26/11/2015 at 09:07:16
As long as Hibbo stays I'm happy. The lad has so much potential he reminds me of a young Dani Alves or a Cafu.
Sam Hoare
7
Posted 26/11/2015 at 09:33:24
If English teams keep performing like they did last night then very soon we will only get 3 teams into the Champions League. Wouldn't it be typical if that happened just as we cracked 4th!
Andrew Presly
8
Posted 26/11/2015 at 09:50:00
Just win the League Cup and you can all do one. NSNO!
Matt Traynor
9
Posted 26/11/2015 at 09:53:45
Sam #7, call y'self an Evertonian? That's not nearly as unlucky...
Yes, England gets 3 entries into the CL two years from now. But we confound everyone by finishing 3rd next season.
Unfortunately that year's CL winners are English but finished outside top 3 in the Prem, and would take our place instead.
And it would be the RS.
Dave Abrahams
10
Posted 26/11/2015 at 09:56:51
I'm with Paul (#1) mixed with Ajay (#5); have a good go at playing fast aggressive football and expect the team to be tinkered with to give players much-needed rest at various times during the season.
Beresford McWilliam
11
Posted 26/11/2015 at 10:23:50
On a slight tangent, with the skyrocketing value of players, how much better off we might we be offloading any potential sales revenue to fund a new stadium?
As stated, I think the decision of whether some of them stay or go will come down to whether we get Champions League but, if we do fall short and players leave, do we invest in the stadium and fill a large piece of the puzzle! I know this has been discussed in the past but, rather than having to clean out the whole club to do it, we could with potentially only 2-3 players.
Realistically it'll be a bit of both, I'd think, but I'm for the majority going into a new stadium and then reinvesting in young talent, playing the long game, which seems to be paying dividends at the moment.
Conor Skelly
12
Posted 26/11/2015 at 10:38:00
This young crop will make Top 4 this season & I think our name is on that cup. I also think we should add more young quality.
I've been struck with the mad notion that we should put in a £10M bid for Jack Grealish in January. He's been dropped by Remi Garde and won't be one bit happy about it.
I think he regrets declaring for England too and, as he hasn't pulled on the Three Lions yet. I don't see why he can't change his mind back and go to the Euro's with Ireland.
He would make an excellent long-term replacement for Pienaar on the left and would be another one to add to this golden generation.
Jim Lloyd
13
Posted 26/11/2015 at 11:17:46
I think we are progressing really well and are very reminiscent of our first season with Roberto as Manager. Although now, we have a stronger squad as well.
I think last season, we lost so many players for such a long time it was bound to disrupt our play. Getting Geri on a permanent (hopefully!) deal was a master stroke and it's obvious that Geri, Ross and Rom like playing together. I think our football now is showing Jimmy Mac to be a quality player again and he seems to be enjoying his football and took part in the fast flowing move that resulted in a fabulous goal on Saturday.
I think that getting Ramiro was another great bit of business too. Thank heavens Roberto didn't listen to the advice of that bloody expert! Brendan is coming on a bundle and is another who is really enjoying his football and I think Gareth Barry has been exceptional so far this season.
We've also got a bench now, of quality players with the likes of Tom Cleverley, Kevin Mirallas eager to get on and Bainesy and Mo Besic just about ready to join as well.
It might be too big a task to get into the top four (but wait and see if we get anyone in January) but there are one or both cups to go for as well.
We will have richer clubs coming in for our players (that's always been the way in football) but I think we have a bunch of players who like playing under Roberto and like playing together. If we can get some success, and I see a Cup win as that, we will attract players, as well as having more chance of keeping most of the players we currently have.
Patrick Murphy
14
Posted 26/11/2015 at 11:31:07
I don't think that Denis (#2) is way off the mark. The subtext of what Roberto is saying is that the last close season the club 'pushed the boat out' by keeping John Stones, but unless we make that Champions League place this season, the odds on us keeping all of our prodigious talent for next season, will be very much against us.
Obviously we all want to see the team progress; however, I believe that whilst the possibility of achieving 4th place or higher isn't out of the question, we all know that those clubs with huge funds will bolster their squads in January. We are unlikely to do so and that will likely scupper our chances.
It's a great shame because the team has so much talent but it will take another 12 months to become a top team; unfortunately the financial position won't help us to keep those players... unless of course the team surpass my expectations.

Minik Hansen
15
Posted 26/11/2015 at 11:43:35
Remember Gibson also, he is excellent when he subs in.
About our players liking playing together, Roberto has got it right about bringing in ones with the right attitudes helping the team.
A great run of the last part of 2015, I only see it continue come start of 2016 and beyond with these players we have. Definetely the best squad we've had for a while!
Aidan Wade
16
Posted 26/11/2015 at 11:48:55
Conor, if Grealish can't get in an abject Villa first team, should we pay £10 million for a player who might struggle to get on our bench?
I fear Roberto is right: there's a lot of articles about Everton's stellar youth collection, in concert with the agents, they will be writing endless articles about how X is moving to Y.
Unfortunately, getting into the top 4 is as hard as ever. Even if Chelsea fail to improve (and it's not impossible for them to go on a serious run, they are only two wins behind us with many games to play) we still have to finish ahead of Spurs and RS, and, eh, Leicester.
By the middle of January, we will know if we are in the running or if the wheels have come off. I really hope we can hit a run of form, buoyed by recent good results and keep it up as long as possible. We are barely a 1/3 into the season and it's too early to say.
COYB and we'll see where the year takes us. Bournemouth for starters.
Shane Corcoran
17
Posted 26/11/2015 at 12:06:56
I'm happy to hear RM talking more directly and clearly of late.
This is a realistic statement.
Given the amount of defensive reinforcements being brought in recently in the shape of youth players I'd imagine that Stones is the most likely departure.
It's already clear that Chelsea are prepared to pay huge money for him so I'd say he'll be off next summer unless a Top 4 place is guaranteed.
Just on the number of Champions League places available, has anything actually changed or is there just a danger of it happening this year?
Winston Williamson
18
Posted 26/11/2015 at 12:07:24
So the ball's in the players court. If they want Champions League football, they have to produce for EVERTON!
Simple really.
Nigel Munford
19
Posted 26/11/2015 at 12:18:41
Aidan, I have to agree with you on Jack Grealish, he's showing himself to be a bit of a liability, an expensive liability at that at £10 million.
Jim Lloyd
20
Posted 26/11/2015 at 12:36:47
I don't see the need for being cynical. I think Roberto is saying it as it is. He isn't hiding anything. He's just saying if we don't make the Champions League it is quite possible that a player, or more, could go.
What he is also saying is that, if any go, he wants to be in a position to improve the squad if a player does leave. It's no secret that John Stones put a transfer request in. He might well go in the Summer but I guess Roberto will have someone lined up (as well as Ramiro who he's already bedded into the team) to replace John.
To me, he's said there is no point in seeing Ross, Rom, Geri and John go and us just being a rich club (mind you, the Board might think it's Christmas!). I think he's already prepared for who he wants, should anyone leave.
As it is, we have an increasingly younger team with some top older players and we are progressing well. It will really be a massive factor if we can win the League Cup this year.
Barry Pearce
21
Posted 26/11/2015 at 12:36:55
I agree with Denis (#2).
Roger Helm
22
Posted 26/11/2015 at 12:50:45
Geri is great but he is not really ours – he is on effectively a sort of loan in that Barca pay us £2 milllion (less whatever his wages are) for us to develop him for a year so that they can take him back if he does well, or leave him if not or if he gets injured.
Of course he may decide to stay (who wouldn't choose Merseyside over Barcelona?) but I think only if we do get into the Champions League. Still, it is on the cards £ we have a stronger squad now than when OFM managed it.
Christopher Wallace
23
Posted 26/11/2015 at 12:59:15
Paul (#1),
Totally agree. We look dynamite on counter-attack, and an early goal really opens teams up to our pacy attacks.
Similar to how the shite played 2 years ago, with a more solid defence, will see us up there. We really need to continue our momentum and win the majority of games between now and end of January – it's there for the taking.
Harold Matthews
24
Posted 26/11/2015 at 14:36:57
So this is one of those seasons where, despite offers, we hang on to all our star players and go for it. Personally I would have gone for it in the derby but many fans said we couldn't risk a defeat.
Anyway, it seems as though one or two big names will be departing in the summer and three or four quality lads, already earmarked, will be brought in to make the present squad even stronger.
A gradual step-by-step progression to the kind of side Martinez has always envisioned. Whether or not he succeeds only time will tell but he certainly appears quite confident about it.
Dave Pritchard
25
Posted 26/11/2015 at 15:16:11
£10 million for Grealish. No thanks. At least we got Drenthe on a free so only lost out on wages.
Raymond Fox
26
Posted 26/11/2015 at 15:22:27
Martinez doesn't go for an easy life, he sets high targets which puts him in a position to be shot down: fair play to him.
I think we all understand that it's going to be very difficult or impossible to keep some of the very best of our players at the club in the future. It's not only Champion League that's the attraction, it's also the lure of the extra wages that clubs the likes of Man City, Chelsea and Man Utd can offer them.
He's correct to highlight that we need to finish top 4 this season. I don't believe we are there yet, but if we are ever going to escape this "very good but not quite good enough" reputation, now's the time to bury it!
Minik Hansen
27
Posted 26/11/2015 at 16:37:56
Raymond,
The likes of Tottenham have taken a step up and Man City a big one, to help fill the top of the table, which we have done under OFM with limited transfer funds. We're still challenging, but slightly more than recently, as in now able to spend some money on quality players. So you're right about that the time is now to show we are a VERY GOOD TEAM.
We need to beat the likes of subtop clubs that have gone a bit ahead of us: Tottenham, with West Ham and Southampton, alongside Liverpool. I haven't checked their upcoming matches, but I believe we have an advantage, especially in the form that the lads are showing. Bring on the next!
William Cartwright
29
Posted 26/11/2015 at 16:54:46
I suppose there are three types of personality emerging from a debate like this.
First the positive, "glass half-full" type (nice one, Ajay @5). Second, the negative, "glass half-empty" type (Patrick @14). Then there is the "who has stolen half my drink" type (step forward and take a bow, Denis @2). Worryingly he has a lot of sympathy. Who knows. Always look on the bright side of life I suppose...
Personally I am hoping I have to eat my hat in response to my severe criticism of Roberto last season. I just hope someone doesn't put any doo-doo in it first! COYB
Denis Richardson
30
Posted 26/11/2015 at 17:01:06
Duncan (#3) & Jim (#20) – you maybe right and I'm being too cynical having been ground down by 11 years of Moyes and the rest of the Everton 'management'. However, I personally don't like these comments from RM as, for me, it sends the wrong message to our better players anyway. It's basically saying to them you can leave if we don't perform.
Seriously speaking, would a Lukaku, Stones or Deulofeu rather scrape into the Champions League with Everton and have zero chance of winning it (probably little chance of even getting out of the group), or play in the Champions League with a Barca, Bayern, PSG or other established Champions League team? Even if we finish 4th, any large bid for them and they'll still want to leave, it's human nature.
The message to the players should be simple: you're at Everton and until you're somewhere else you focus 150% on us, end of. I remember the days in the past when any player saying in the press he'd like to play in the Champions League was slated for not being 100% focused on us. Now the manager is even condoning that type of thinking publicly. There are simple diplomatic ways to answer these obvious questions: one game at a time, focused on immediate future, will deal with what happens when it happens, best players not for sale, etc etc... But no – we have to come out with this nonsense because RM is incapable of keeping it simple. Afterall, we can still say NO to any bids even if we don't make the Champions League.
If we make top 4, it will be a great achievement, don't get me wrong, but that's only the very beginning. Even IF we make it somehow into the group stages, our ranking is so low we'd be in a group with at least two (if not three) of the top seeds – does anyone really think we can go toe to toe with Bayern or Barca? Look at Man City and how many years it's taken them to just get out of the group stages. The Champions League is totally different to the Premier League and making 4th should not be the be-all and end-all, it's just the first (hard) step on a long journey.
All our staff and players need to focus on Everton, regardless of where we may or may not finish come May. Obviously ambitious players will want to play at a 'higher' level but let's not publicly tell them it's okay to bugger off in the summer if we finish 5th or lower (which will likely be the case).
All players will leave at some point and if we get silly offers we should sell, regardless of Champions League qualification or not, assuming we have or can get decent replacements. It should not be contingent on Champions League qualification.
I personally don't give a shit that we finished 4th in 2005 as it meant nothing in the end. I do however still have fond memories of Paul Rideout's header in '95 and us lifting the FA Cup....
Just mho......
Alan Bodell
31
Posted 26/11/2015 at 17:01:14
Grealish, FFS?
For one, he isn't that good: loses the ball after not releasing it sooner; and two: he is a disruptive influence we don't need.
I wouldn't take him on a free – and as for making the England team... don't make me laugh.
James Stewart
33
Posted 26/11/2015 at 17:04:40
Stones, Barkley, Deulofeu and Lukaku are all ready for Champions League football so it's up to the club to show ambition and build around them.
We have some experience in Barry, Baines, Jagielka etc but our squad is simply not good enough for the Champions League once you look past the first XI. The Europa League virtually crippled us; we need to add a top class goalkeeper and a creator of the Banega, Yarmolenko ilk and only then we can start to think about it.
Mark Andersson
34
Posted 26/11/2015 at 17:10:56
Wow, that is a positive thread. It's really hard typing with your fingers crossed.
Bottom line is our loveable manager is doing a great job for the board. He knows that we won't make the top 4 and if we did we ain't got the squad to fight on both fronts.
Short term I think he has told our star players that the only way you get your big money move is to first do it for Everton FC.
The younger players are playing with a smile on their faces and look like they're enjoying the moment of now.
Justin McCarthy
35
Posted 26/11/2015 at 17:27:00
We did not make a marquee signing in the summer. I think another quality player signed in January could gives us that little bit extra needed for Champions League qualification.
An attacking midfielder who plays on the left would be ideal. Kone is not comfortable on the left although he is playing really well, and Mirallas is probably better on the right where Geri has to be a starter.
Geri, Ross and a marquee signing could be the new holy trinity. Eventually Gareth Barry will need replacing, but that can wait until at least next summer.
Jamie Barlow
36
Posted 26/11/2015 at 17:33:57
Well that was a nice long depressing post, Denis. I don't see anywhere Roberto telling the players they can leave.
I suppose it doesn't make a difference anyway. In your mind, if we don't qualify, they'll leave and if we do, we'll get battered off every other team and they'll leave anyway.
We might as well not bother.
Darren Hind
37
Posted 26/11/2015 at 18:12:45
Martinez inherited some of the most coveted young players in the Premier League. He has also been backed to to the tune of £70M to enable him to add to the squad that had finished 6th... Why the fuck should we not expect / demand more?
Unlike other managers, he hasn't just taken over a crop of players he doesn't know. He's in his third season. These youngsters are now coming into their own.
If he blows this and doesn't qualify for Champions League football, he should be deemed a failure and we should be looking for a manager who is as good as the players.
Peter McHugh
38
Posted 26/11/2015 at 18:19:29
It might be they have it agreed in their contract they can go if we don't finish in top 4 this season, ie, McCarthy, Mirallas, Lukaku, Barkley.
I would say the chances of us getting top 4 are less than 5%. Chances of a cup win this season about 10%. Fingers crossed...
Mike Berry
39
Posted 26/11/2015 at 18:21:30
It is simply inevitable that they will be cherry picked. I feel that we are on the verge of something special. The next couple of games will be crucial to that.
Paul Andrews
40
Posted 26/11/2015 at 18:21:34
£70 million?
What is his net spend?
Peter McHugh
41
Posted 26/11/2015 at 18:26:09
Darren - as you say young players, it takes time for youngsters to mature and develop and 3 seasons doesn't seem enough time to give either them or the manager time to me. Why so trigger happy?
Joe Foster
42
Posted 26/11/2015 at 18:31:43
3 years managing in football is a long time these days.
Denis Richardson
43
Posted 26/11/2015 at 19:13:43
Jamie (#32) – the point I'm trying to make is that all of our better players will leave sooner or later, regardless where we finish in the league. It's a bit stupid imo saying us keeping them depends on finishing top 4. If a couple have a Champions League qualification clause then that's another matter (maybe that's the case).
Main thing is get the most out of them now and, if (or when) they leave, try and replace them adequately so the team and club as a whole moves in the right direction. Us selling players should be only dictated by how skint we are and/or if we can get a decent replacement, not league position.
I should just stop reacting to any RM comment – after the last 18 months or so, am at the stage where I find almost anything he says irritating.
Bring on Bournmouth.
Les Martin
44
Posted 26/11/2015 at 19:20:40
Best squad by far since '85. We will get better and it's down to getting the balance of the team right, which appears to be working so far, compared with the Eto'o period last season when we were a mess!
These young players are bonding and I don't think any of them will want to leave for a couple of seasons yet, as they can see something happening.
January may still be interesting in the transfer market despite El Bob being coy on the subject.
Kunal Desai
45
Posted 26/11/2015 at 19:27:13
On our day, we can wipe the floor with anyone; the problem we have is consistency and lapses of concentration at crucial moments in a season.
The game that springs to mind was the Palace defeat at home, the game after thrashing Arsenal. Combine that with brittle mental strength together with being short defensively, and missing a class quality playmaker in the Arteta mould, are the reasons we will not finish in the top 4.
I still think the top 4 will be that of last season and Chelsea will finish strongly in the second half. We have some great younger players to push us to get a top 6 finish but to get 4th you really do need some big game players when the tough gets going.
Danny O'Neill
46
Posted 26/11/2015 at 19:43:09
Kunai, don't disagree with you but inconsistency is what you get with young players and we've more regularly starting now than we've had for a while.
It's a tricky one for us; as documented today, securing Champions League (hate that name by the way as it's not a competition solely for Champions like the old European Cup... hey, I digress) is key to keeping hold of them. However, are they consistent enough to do it? Vicious circle but this season lots of teams are being inconsistent so who knows?
I must disagree with your rating of Arteta. He was good, and yes, quality indeed but stood out in what I think wasn't as technically classy a squad as we now have. I believe his move to Arsenal demonstrated that he wasn't quite top drawer as he didn't have the same impact when he went up a level. I am now London based and they refer to him as a poor man's Fabregas. Harsh in my opinion but I can see their point.
Minik Hansen
47
Posted 26/11/2015 at 19:56:05
Ok, big game players, we have some in the making and just what if we have them right now? I think that's what Martinez is saying, about achieving it this season.
Danny O'Neill
48
Posted 26/11/2015 at 20:01:37
Darren Hind @34.
Martinez inherited some good young players, yes, but putting a different perspective on it, arguably more willing to use them as opposed to Moyes who was cagey and cautious. Different approaches but Barkley being a good example: hauled off during the first-half against Blackburn for making a mistake, whilst now playing without the fear of making a mistake restricting his game.
Would Stones have been given the platform to rise to prominence this soon? Also Lukaku, Deulofeu and McCarthy are the current manager's signings.
And just to finish on a note of agreement: yes, we should demand; we're Everton and need to lose our inferiority complex!!
Darren Hind
49
Posted 26/11/2015 at 21:05:35
Danny ONeill,
You really are having a laugh, aren't you?
Martinez has been an unmitigated disaster as far as Ross Barkley is concerned. He has almost destroyed the boy, despite being universally recognised as one of the most talented young midfield players in the country.
Martinez has played him all over the shop, he destroyed his confidence by playing him on the wing, by playing him when he wasn't fit and playing him when he was injured.
Cream will/is rising to the top, but please don't try to tell me Martinez has had a positive effect on Ross Barkley.
As with Stones, who knows if he would have played under Moyes, it was TGT who signed him so presumably he would have been part of his plans.
Anyway if you're looking for a Moyes v Martinez argument, you've got the wrong fella... neither of them have impressed me. They may have signed these youngsters, but they have both made really heavy weather of getting the best out of them.

Peter McHugh
50
Posted 26/11/2015 at 21:14:11
Joe (#39), 3 years is a long time lifespan these days but personally I think it's wrong and not long enough.
Danny O'Neill
51
Posted 26/11/2015 at 21:21:05
You've got me wrong, Darren, I wasn't looking for an argument at all, just adding a different slant. Clearly you were with your opening gambit.
I respect your view, you clearly don't mine as I'm apparently "having a laugh". People can differ in thought.
Patrick Murphy
52
Posted 26/11/2015 at 21:27:35
Roberto has not been given £70m to strengthen the squad, he has purchased £76m and sold £42m which means that he has been given circa £35m to build his squad.
Agreed it's a significant figure but it's tiresome having to keep trotting out this statistic because some behave like tabloid journalists and spin the figures to suit their own agendas.
If Stones leaves in the summer and we don't buy anybody, we will be back to the days of negative net spend.
Danny O'Neill
53
Posted 26/11/2015 at 21:31:34
Unambiguated disaster? The lad is actually in good form and progressing well in my humble (but clearly laughable) opinion.
Kunal Desai
54
Posted 26/11/2015 at 21:40:36
Danny – I perhaps should have been more specific about Arteta. The Arteta of pre 2009 (before picking up that horrendous injury against Newcastle). I agree; he was never the same player thereafter.
Danny O'Neill
55
Posted 26/11/2015 at 21:56:31
Fair one, Kunai. Don't get me wrong, I rated Arteta; I clearly loved watching him and understood him taking his chance when it came. I just think in context he was a shining light in a team that included the likes of Kilbane, Neville, Carsley and Hibbert as regular starters.
No disrespect to players who made it to the top level and great servants; what we needed at the time but made him stand out. Would he now in this team to the same degree?
Andy Crooks
56
Posted 26/11/2015 at 21:57:33
Why should talented young players feel entitled to Champions League football? Would it not be something if they actually did enough to get Everton there?
If they have any fucking pride, they should earn their money and make this a special era. I believe some will, others will want ready-made Champions League football and some will say, "Who can blame them?"
Perhaps, but you can only earn so much money and, in my old-fashioned view you can have 'bought success' or 'hard-won magnificent success'.
Dave Cooney
58
Posted 26/11/2015 at 22:23:23
Howard Kendall took over a team that had finished 15th. In the January of his 3rd season, despite being backed significantly in the transfer market and having some emerging young stars in his side, he was 18th in the League. He kept his job and finished 7th (and won the Cup). It was, in my opinion for us, much easier in those days to do well (we were one of the Big Five).
My point is, thank fuck the club kept faith and didn't listen to the beauts who were clamouring for his head. I stopped going last season because I was arguing with those saame beauts who were giving Barkley down the banks for every misplaced pass. These will be the same ones who will call him a Judas when he goes to the Mancs. These people more than anything were conducive to him not getting back quicker to form – it took a summer break and something else for him to regain his confidence.
If we finish top 4 this season it will be a Cloughie-like feat. The idea that 'we're Everton, we belong up there' is silly in today's money dominated game. Spurs, Man City, Man Utd, Arsenal, Liverpool, Chelsea & Leicester are above us in the betting to win the League – so we are supposed to come 8th. Go figure.
Andy Crooks
59
Posted 26/11/2015 at 22:37:43
Dave, I have never seen the point in giving players abuse at a game. Constructive criticism on a site like this seems fair enough to me but at the match it is confidence-sapping and utterly pointless.
In my opinion, Ross Barkley is an immense talent who should be central to our future. I hope and believe he is a real Evertonian who will help us get Champions League football, win us trophies, and retire financially secure as a respected Everton great. What could be better than that?
Danny O'Neill
60
Posted 26/11/2015 at 23:08:49
Well said, Dave. I too can genuinely hand on heart claim to be one of those who did not join the leaflet campaign of 1983 to oust Howard. I'm an '80s man; the FIFA playstation / PC Football Manager generation combined with Internet influenced over-analysis of football Sky TV style has generated a fan that can't accept the reality of football and fact that shit happens in equal doses to it going well.
Yes, the landscape has changed but ultimately on the pitch there is always a human factor. Kevin Sheedy could mesmerise with his left foot but equally frustrate (and I heard the moans) with his idleness... but he won titles. Very few players are the perfect finished all-round article and I doubt Ross will be but will he be bloody good and exciting to watch in a blue shirt in the best team we have had since my teenage years? Yes!
John Daley
61
Posted 26/11/2015 at 23:54:14
Patrick @49,
Did you read the Daily Mail piece proclaiming that the Everton board have backed Martinez to the tune of £200M?
Don Alexander
62
Posted 26/11/2015 at 23:57:00
Martinez is obviously trying to protect his own contract with this statement. That said, even though I don't rate the guy, I don't blame him for doing so. He's showing basic human nature.
The players at our club mystify me. Last season, disastrous as it was, they eventually threw off "Bobbie's" tippy-tappy shackles when four-nil down to Kiev in March, then did just enough for a month to put to bed a relegation battle, before reverting to the mantra of our phenomenal Catalan.
Why do they still listen to this guy this season, or his so-called coaches?
John Daley
63
Posted 26/11/2015 at 23:58:28
Patrick Murphy
64
Posted 27/11/2015 at 00:28:10
Thanks for that link, John (#58). It was a curious piece to say the least; Roberto can't fail because he has been backed to hilt and this season he must deliver... stand-by for operation Goodison as the Ginger gunfighter arrives just in time to save the day?

Paul Kelly
65
Posted 27/11/2015 at 04:58:31
Written by non other than Adrian Durham – wind-up merchant.
File under 'ignore'.
Darren Hind
66
Posted 27/11/2015 at 05:38:42
Oh, that is good news: we can now compare Martinez to Kendall... and if he gets top four, it will be a Cloughie-like feat... Oh, and we're "supposed" to come 8th.
I didn't realise Martinez belonged in such exalted company. Perhaps we should be grateful for 8th as that's where we're "supposed" to finish anyway.
From where I sat, the "Beauts" who turned on Barkley where the ones who thought the manager was doing a Cloughie-like job. It just didn't occur to them that the lad was being so badly managed.
If it was just Barkley whose career was put on ice for a season through rank bad management, I could overlook it... but the same has happened to Robles, Mirallas, Besic and soon Galloway.
Martinez was totally responsible for sections of the crowd turning on Lukaku; by leaving him isolated for the entire season he was ignoring his strengths and laying bare all of his shortcomings. He also put the breaks on the careers of both Seamus Coleman and Leighton Baines by making them stay at home to accommodate his possession obsession.
We are talking about top, top, youngsters who are coveted by the top sides... Martinez needs to get his shit together, because If they are going to realise their full potential in an Everton shirt, we need a manger who is at least on a par with them.
I wonder when Leicester are going to realise where they are "supposed" to be finishing???
Tom Dodds
68
Posted 27/11/2015 at 07:17:04
Darren,
(All) Your posts are absolutely spot,(and top-dead-centre) on! A perfect summarisation of where the manager and players are now, and how they got to this point in time.
Martinez, if he has (to him!) higher aspirations, ie, managing Barca one day or whatever, stands right here and right now on the brink of his own ambitions and capabilities.(Always remembering mind that he is still relatively young.)
The next 6 months could be the most perspicacious in the club's history... Will we finally break the 'Grand old team of York' syndrome???
Plus's also abound mind, re players leaving, that, if we do hit the high spots, then we might just attract an (enthusiastic) investor.
Dave Cooney
69
Posted 27/11/2015 at 14:10:14
Darren, you have a great sense of drama. Give me a copy of your coupon for Saturday as well mate.
Paul Andrews
70
Posted 27/11/2015 at 15:02:16
Martinez has been backed with around £35 million, not £70 million, when you take in the board's requirements for him to bring money in by selling players to offset against incoming transfers. He achieved that by selling the likes of Fellaini, Jelavic, Anichebe etc.
To bring in players with the quality of Lukaku, Deulofeu, McCarthy etc to replace them for a net spend of approximately £35 million is very astute business indeed.
Denis Richardson
71
Posted 27/11/2015 at 17:58:17
Paul, you can't seriously say that Martinez has only spent £35m – this whole net-spend thing really is a load of nonsense imo as I cannot understand why cash from player sales somehow doesn't count when looking at how much was/is spent on player purchases.
End of the day, once a player is sold the board decide how much of the proceeds the manager can use for purchases. Therefore how is that's not included when working out how much the manager has been backed by the board?
Whether the cash came from TV, gate receipts, player sales, it all belongs to the club. Why does cash from player sales not count when working out transfer spend?
Don't get me wrong, £28M for Rom was a very decent price although £13M for McCarthy was too much for a CDM but that's just my opinion and getting off track.
Explain to me why for example the £27M odd we got for Fellaini or the £6M odd for Anichebe doesn't count when calculating what money Martinez has spent? By the same 'net spend' argument, Carroll cost Liverpool minus £15M as the £35M spent by them doesnt count because they got £50M for ladyboy... so Brenda had a net spend of minus £15M, even though he wasted £35M on Carroll??
Can anyone of the TWs who go on about net spend (same arguments trotted out when looking at Moyes's 'spend') explain to me why proceeds from player sales don't count?
In our case, Fellaini wasn't even bought by Martinez in the first place.
I don't want to start a discussion on Martinez being given a lot or a little cash – I just want to know why cash from sales is ignored when looking at how much a club has spent in transfer fees. (eg, if we sell Barkley for £40M and Martinez pisses it up the wall, that somehow is fine as it's a 'net spend' of zero??)
Patrick Murphy
72
Posted 27/11/2015 at 18:22:09
Denis (#67),
Net spend is the only way to judge a manager's spending; you can't dismiss the Fellaini money because he was purchased prior to Roberto's arrival. Martinez has spent circa 㿸m, he has sold 㿖m meaning Martinez has spent in net terms circa 㿏m.
Assuming that Lukaku fetches a fee of upwards of 㿙m and perhaps John Stones and Barkley are sold for a combined fee of 㿞m then he will have made the club a profit of circa 㿀m even if you use the 㿸m figure as the baseline.
If Everton sold Barkley for 㿞m and Martinez spent it on 5 useless 㾶m players then the net spend would be nil, but the useless players would still have a value of 㾶m in the accounts for each of let's say a 5-year contract.
Personally I couldn't give a toss whether Everton make a profit or not on players as the only currency that counts is the goals and points that are won by whichever players are in the squad and whatever their cost or sell-on values.
Paul Andrews
73
Posted 27/11/2015 at 18:35:15
"Paul, you can't seriously say Martinez has only spent £35 million."
You are right; I can't. And I didn't.
Darren Hind
74
Posted 27/11/2015 at 19:41:03
Is funny how the Robbie-can-do-no-wrong crew can bleat about how much more Spurs and Liverpool have spent without ever mentioning the money they pulled in for Suarez and Bale. Yet, as soon as Martnez's spending spree is mentioned, they want to scream "Net Spend".
Let's be clear here: Martinez had absolutely nothing to do with Fellaini's transfer. The dogs in the street knew he was going before Martinez even got the gig. To claim Martinez recouped the money on Fellaini is a pathetic attempt to give him credit for what was already a done deal. It's not as if he had a player ripped from his grasp either. Martinez would have had to be a dumb fucker to have had Fellaini in his plans.
I wouldn't even give him credit for Big Vic's transfer, despite the incredibly generous offer made by WBA. Martinez (by his own admission) tried very hard to persuade Vic to stay. I'm not even sure if Vic kicked a ball for him.
Patrick may grumble that it's the claim of a tabloid journalist, but anyone saying Martinez has been given north of £70M is stating an irrefutable fact and the extremely knowledgeable Mr Murphy knows it.
Paul Andrews
75
Posted 27/11/2015 at 19:45:55
Darren,
Does anyone who disagrees with you ever simply pass a comment with their genuine opinion?
Or do they just bleat,whine,etc. The emotive terminology you post does little to enhance your point.

Colin Glassar
76
Posted 27/11/2015 at 19:52:26
Saint Roberto to you, Darren.
Patrick Murphy
77
Posted 27/11/2015 at 19:54:20
Darren (69) Can you please identify who these people are within the "Robbie-can-do-no-wrong crew"? I see scant evidence on this site of any such people existing.
Some think the man is doing OK; some believe he has improved the team; some don't think he has done anything to help Everton FC.
Should we all start wearing different coloured scarves and hats at the match so that we can show what camp we each belong to? A Spanish Flag if you are a Martinez disciple... or a Union Jack if you are not that impressed by the man?
Martin Mason
78
Posted 27/11/2015 at 20:00:41
Surely only net spend has any meaning?
Darren Hind
79
Posted 27/11/2015 at 20:03:33
Patrick there are people on here who will blame everyone but the manager no matter how bad it gets... Post #66 (cough).
Nice attempt at diversion by the way. I noticed that now you are challenged, you are not denying Roberto has spent north of £70M... but then you can't really can you.
Darren Hind
80
Posted 27/11/2015 at 20:08:36
Nice one Colin.
I'll be happy to refer to him as Saint Roberto if he honours his promise to get us Champions League football.
Chris Gould
81
Posted 27/11/2015 at 20:12:26
Even Champions League won't necessarily keep players coveted by richer clubs. Atletico Madrid won the league and were a minute away from winning the Champions League. They still lost their best players to richer clubs.
Their success and good form simply put their players in the shop window. If Lukaku continues his current form then he will be off at the end of the season. Sad as that is, I can't see any other outcome.
Paul Tran
82
Posted 27/11/2015 at 20:14:58
I suspect that none of our big money sales in recent years have been down to the manager. It's the player moving to a bigger club. I always work on the basis that the manager takes the credit/stick for all sales and purchases and do the same for other clubs, which makes for a fairer comparison.
I'd be more inclined to bash Martinez for keeping older unused players at the club on long, expensive contracts than for 'spunking £70m' on players who have generally turned out to be good.
Darren's spot on about the Kendall comparisons. Martinez will have to fill up the trophy cabinet before he's fit to lick Howard's boots. This is harking back to the success redefinition of the Moyes years.
Success isn't 8th or 4th. It's winning trophies.
Martin Mason
84
Posted 27/11/2015 at 20:15:55
My own feeling is that RM has been guilty of some unbelievably bad selection and tactical decisions. And yet it seems that he has the ability to learn as well in how to get the best of Lukaku and a new very high tempo attacking style with defenders getting forward as they used to do. If he is able to learn then I'd forgive him any past transgressions. If he reverts back to his previous comfort zone then I think he needs to go.
I believe that how Kone has fitted in and how Deulofeu has finally been given a role in which he can shine has been critical but RM can take credit. I also believe that stopping trying to shoe Barkley into a box has been a massive credit for RM as with his much freer range he's been able to just concentrate on being creative and whether he can tackle or not it has been really positive for us.
There is a chance that something special will come from this squad in terms of increasing revenue organically by winning things and doing the rescue job that only a sugar daddy can otherwise do. I haven't been a great supporter of RM, seeing him as a bit of a chancer, but if the club can rise from the ashes of decades of mismanagement with him as coach, I'll give him a chance.
Paul Andrews
85
Posted 27/11/2015 at 20:17:54
My post #66:
Martinez has been backed with around 㿏 million, not 㿲 million, when you take in the board's requirements for him to bring money in by selling players to offset against incoming transfers. He achieved that by selling the likes of Fellaini, Jelavic, Anichebe etc.
To bring in players with the quality of Lukaku, Deulofeu, McCarthy etc to replace them for a net spend of approximately 㿏 million is very astute business indeed.
Darren,
"There are people on here who will blame everyone but the manager, no matter how bad it gets... post 66 (cough)"
Can you explain where I blame everyone but the manager in that post please.
And also point out anything that is factually incorrect.
Patrick Murphy
86
Posted 27/11/2015 at 20:18:30
Darren,
We are never ever going to agree about how much money the manager has spent. In your terms and conditions it is the 㿸M figure; in my terms and conditions, it is the lower 㿏M figure.
If I go to cash-converters and sell a CD for a ٣ and purchase a DVD for a 㾶, I have spent ٣ but, according to your world view, I would have spent 㾶.
Perhaps that is why I'm not very rich, I have fallen for the old money trick. Ah well.... back to Cash-Converters tomorrow to sell that useless DVD for a ٟ.

Raymond Fox
87
Posted 27/11/2015 at 20:26:47
It's not difficult to grasp, is it?
Martinez buys players for £75M but he sells players that are valued at £40M. He's gained the services of £75M worth of players but has lost the services of £40M of players that were in the Everton squad when he took over, so it's cost the club £35M.
It's one of Darren's little exaggerations that he likes to throw in to better his point of view. Darren, how many of our squad would be first-choice picks in a Man City, Arsenal, Man Utd or Chelsea side?

Darren Hind
88
Posted 27/11/2015 at 20:45:39
This is getting a little desperate chaps.
So. Although Fellaini and Anichebe were not players who Martinez made plans around. They were not players he signed and they were not transfers he could prevent... YET... because they hadn't managed to complete their transfers until a few weeks after he arrived, he should therefore be credited with the transfers and their fees should be part of HIS "Net Spend"???
Laughing here
Only Everton have fans who are desperate to credit a manager for transfers he had no control over. He spent £75M... You can dress it up all you want but you will never alter that fact.
Raymond Fox
93
Posted 27/11/2015 at 20:59:01
Give over Darren, you're massaging the facts and you know it.
Again how many of our squad would be 1st choice pick in a Man City, Arsenal, Man Utd or Chelsea side.
You reckon it's a sacking offence if we don't get in the top 4 this season!
Paul Tran
94
Posted 27/11/2015 at 21:03:41
Just out of interest, Darren, what's your take on the £75m he did spend?
Darren Hind
95
Posted 27/11/2015 at 21:04:22
Patrick if you move in with a new bird and she sells her CD'S (the ones she had before you came along) to cash converter, Then you go ahead and spend a tenner there. guess what... You have spent a tenner.
You'd deny it, of course...
James Flynn
96
Posted 27/11/2015 at 21:05:14
It's always tricky with Roberto. It's about "ME" with him, 100%. Think otherwise if you like.
Darren Hind
97
Posted 27/11/2015 at 21:08:49
Raymond, All of those clubs you mentioned would love Coleman, Baines, Galloway, Barkley, Lukaku...
The difference is all their managers are successful and could get the best out of them. Martinez is not at the level of his players.
Patrick Murphy
98
Posted 27/11/2015 at 21:09:34
Darren, Of course I'd deny it, I'd fake a burglary in the flat and claim the insurance and hope to god she never found out that I nicked them... and if I spent a tenner to boot without her permission my life wouldn't be worth living. :)

Darren Hind
99
Posted 27/11/2015 at 21:20:52
Take it easy Patrick, this WAS a hypothetical bird...
Tony Abrahams
100
Posted 27/11/2015 at 21:20:59
Sounds like an Elstone v Anderson this does. Darren, I love it when you go all aggressive, like your first post was, and my take on what you said, is you believe we have a chance.
If the manager can muster half as much aggression into the players. I would also believe we have a great chance, but I'm not so sure. Moyes had a great record against the lesser clubs, (flat track bully) but to get top 4, we have got to beat the better teams.
Hopefully this run we are on will breed confidence, but until we play without real fear, it will never be done. I would personally sooner win a cup, and think the fact we can beat anyone on our day, gives us a much better chance than top 4. Unless the manager starts to really earn his corn, as you say.
Martinez, has spent £75 Million, it's undeniable, but if one of his better players were to be sold, the books will have been balanced as Patrick said, and not many people would argue, that the squad hasn't been strengthened in the process. Wether this makes him the right man is open to debate, but this team is more than capable now, so let us see, what this season brings!
Paul Tran
101
Posted 27/11/2015 at 21:22:05
Getting to the CL won't matter unless we make the suitable reinforcements, it'll be like the bowler hat to a sombrero days again when we qualified and bought the earth-shattering talents of Neville and Beattie!
Gotta be a cup for me.
Raymond Fox
102
Posted 27/11/2015 at 21:24:46
They might like them to be at their clubs Darren but would they be first pick? You've put Baines instead of Stones I'm sure you've realised now.
Lukaku is a Chelsea reject (I do rate him better now than that though now); Galloway wouldn't start for any YET. I don't think Baines or Coleman would start for more than 1 or 2 of them, same with Barkley.
We're a good progressive team but top 4 is stretching it, Darren.
Colin Glassar
103
Posted 27/11/2015 at 21:26:38
Darren, he never promised us Champions League — that was our blabber-mouth of a Chairman.
Paul Tran
104
Posted 27/11/2015 at 21:36:44
I've had enough of Darren & Raymond's semantics-fest, but following on from Raymond's last point, I think our best selling point is that our young players' best chance of first team football is to stay put. Stones is the only one who I think would walk straight into a top side, but when push comes to shove, it's the English player that gets the chop first.
That's our best tactic for attracting and keeping young talent.
Darren Hind
105
Posted 27/11/2015 at 21:39:30
"As Patrick said and not many people would argue, that squad has been strengthened in the process".
Fair enough Tony... so why are we in a worse position in the league if the improvement is so obvious?
We seem to be universal agreement that the PLAYERS are better... so what do you suppose is holding us back?
Colin Glassar
106
Posted 27/11/2015 at 21:41:01
It's all down to the players at the end of the day. Do they believe they are part of something that could be special and decide to stay? Or, do they want instant success (like Sterling and Delph) and go to the highest bidder?
This isn't in the manager's hands.
Darren Hind
107
Posted 27/11/2015 at 21:44:46
Lukaku is not a Chelsea reject, he was a Jose reject – how he must be regretting it now...
Turning the question on its head: how many Chelsea players would get into our team ?
Colin Glassar
108
Posted 27/11/2015 at 21:53:01
I'd have Cortois and Hazard, Darren. Maybe William as well.
Tony Abrahams
109
Posted 27/11/2015 at 22:12:22
As I said Darren, it's open to debate, but my own personal view is, the tactics. If a man can learn, he becomes better, but the jury is still out with me for the reasons I gave in my last post. I agree with most of what you said except making Baines and Coleman stay at home. This only happened after we started last season by conceding way too many goals, and one of the reasons for that was we were too exposed with the way our fullbacks were pushing on.
You was one of the few to call it right after the way our manager never prepared for last season, but maybe he has realised what a big job Everton is,in the process.
I wish we played like your posts, honest and straight to the point, and I also can't work out why the crowd is so quiet at Goodison. Last year was understandable the football was so boring, but now we are scoring goals and it's still pretty quiet. Is it because the fans are still not struck on the style of play, or is it because we have started playing educated football once again?
The jury is still out for me, but whereas under Moyes, we never really expected to win, I think that under the present regime, people are starting to believe again. Win a cup and I will believe myself, not that I would ever give up on Everton anyway though mate.
Eric Myles
110
Posted 27/11/2015 at 22:36:05
Paul (#92), Beattie was with us before we qualified for the Champions League playoffs.
Peter McHugh
111
Posted 27/11/2015 at 23:02:02
Haha Darren - which players in Chelsea team would get in ours? Is that serious? How about Courtois, Terry, Fabregas, Matic, Willian, Oscar, Hazard, Pedro and whilst not on current form, ordinarily Costa.
Darren - 96 using your analogy Martinez must be better manger than Mourinho then.
Dean Adams
112
Posted 27/11/2015 at 23:06:32
I guess we should continue this thread at the end of the season when we will know the pertinent answers.
John Daley
113
Posted 28/11/2015 at 00:12:27
Gross spend/Net spend? Who is to say which carries more weight? Both figures are there in black and white and people are just going to choose to focus their attention on whichever best backs up their argument. 
It's like debating what counts as the more accurate measurement of cock size: limp or mid lob-on? Danny Devito's is about the size of a foamy banana when flaccid, yet he can doff his hat hands free when he's got the fucking horn. So is he well endowed for a wee man or just packing an in proportion pocket rocket for a pudgy pipsqueak? Depends who you ask. We know what Danny would say, but Warwick Davis would be like "Woah, woah, woah. Wait on a minute".
As for qualifying for the Champions League? We may have young players with the potential ability to advance to that level but (at this moment in time) I fear they lack the necessary mentality and maturity when things aren't going their way. That in itself wouldn't be an insurmountable problem if the management team and more senior players in the squad were capable of compensating, by acting as a steadying influence, taking the lead and steering their younger, more inexperienced, colleagues through any challenges and onwards towards their target. I don't believe that's the case here though. If anything, the senior pro's at Everton have proven time and time again that they have a propensity to fold under pressure themselves whenever it looks like they could be on the verge of achieving any sort of tangible success. They're liable to be as much impediment as positive influence when push comes to shove. 
Same goes for the manager himself, whose 'leading from the front' response to things going severely off the rails last season was to freeze... for what seemed like absolutely ages... and act like his team's fate lay in the hands of the gods, rather than his own. 
Europa League again at best this season (but with a sneaking suspicion we could finally get lucky in one of the cups).

Darren Hind
114
Posted 28/11/2015 at 06:23:34
Decent debate, guys.
Tony,
I realise how I'm coming across, but the truth is, I really like a lot of what I've seen from Martinez this last six months. It's the silly denials and blind devotion that get me typing.
The question of which Chelsea and Everton players would get into each others team is an interesting one (even if somebody spoiled it by suggesting John Terry would get into ours). What it shows, is that although Chelsea spend much more, there isn't that much difference between the two in terms of quality. Yet – and this is my entire point – Martinez finished 11th with his squad whilst Jose was winning the League by the length of our street.
John Daley nails this for me: we need to find a winning mentality and that has to come from the Manager. He has to instil it into the players he has got, or bring in players who already have it.
Three years is a fair crack of the whip by Premier League standards. How long should Martinez be given? As long as Moyes? His better players will be long gone by then.
I'm desperate to see us back up there, so I can genuinely put my and on my heart and say I'm desperate for Martinez to realise his own potential and prove he is a top manager. If he doesn't, we're back to square fucking one again.
It's no good bleating about other clubs being richer than us, if we take Man City and Chelsea out of it, the rest of them are richer because they deserve to be. This is the hand we have been dealt. we can either fold and watch on, or we try to win the pot.
Enjoy the Bournemouth game guys, Having missed a few homes games this season, I've copped for a somewhat undeserved ticket, but I'll make as much noise as I can.
"Oh Roberto, he had a dream..."
Paul Andrews
115
Posted 28/11/2015 at 07:11:47
Morning Darren,
Don't be silly, it's not blind devotion, it's a confidence and belief that he will get it right, using your logic.
Martinez is 7th and Mourinho is 15th?
Have a good trip.
Phil Sammon
116
Posted 28/11/2015 at 07:22:03
I'm very sorry to link to another forum...but this gross/net spend debate got me thinking about this little gem...
http://forum.bodybuilding.com/showthread.php?t=107926751
Tony Abrahams
117
Posted 28/11/2015 at 11:03:07
Darren I could tell by your tone, you was up for something. Enjoy your day mate, even if the ticket is undeserved!
Paul Tran
118
Posted 28/11/2015 at 11:18:27
I'll buy into to the 'richer clubs' argument at the point when we're consistently playing at our peak and still can't close the gap.
Martinez inherited a team of good players, but did he inherit a set of winners? I don't think so. Can he turn them into winners? I'm not sure. Can he turn 'his' players into winners? Possibly, but he's got to convince me.
First he's got to get them winning consistently, then I'll look out for them choking towards the finish line.
Denis Richardson
119
Posted 28/11/2015 at 12:07:27
Patrick 81, Ray 82 – I can obviously work out the net spend maths calculation. However, for me your arguments are not very convincing.
The total cost paid for a player is what counts as that is what the club paid at the end of the day. Martinez (and any other manager coming in) inherits what's already there, be that the cash in the bank account or the players on the pitch – both are assets for the club.
Likewise, Martinez came into the club when it was pretty obvious Fellaini would be sold and wouldn't form a part of his plans. Fellaini was the same has having cash in the bank to buy players, just like any other player in the squad. If he buys low and sells high, then great.
But what matters at the end of the day is the performance of the players bought relative to what was paid for them – regardless of where the cash to buy them came from. (Nevermind the fact that the sales negotiations are rarely even carried out by the manager.)
Again, an obvious example would be someone like Barkley. The net spend line of thinking makes no sense whatsoever for players who came through the academy. The logic basically says any money from selling the player doesn't somehow count. If we sold him for £40M and bought 4 Bilyaletdinovs, then yes, we would have £40M 'worth' of players in the club but any sane fan would tell you the manager/club had pissed £40M down the pan. Also Barkley came to the club years before the current manager did so how can any sales proceeds (if he's sold) be ignored if Martinez then reinvests them somewhere else?
The above also doesn't even take into account the club backing the manager when giving players new contracts (and the signing on bonuses that come with them). How much would the 5 years contract for Howard end up costing, or Barry or the extensions for Osman, Hibbert, Mirallas, Stones, Barkley etc – not saying these were good or bad but these still total tens of millions that the club has given or 'backed' the manager. These also seem to be ignored, probably as there is an issue with transparency.
Martinez has been 'backed' by a shed load more than a 'net' £35M by Everton football club.
Anyway – all a little academic as the only thing that matters happens on the pitch and trophies are the only things that count at the end of the day.

Brian Denton
120
Posted 28/11/2015 at 12:19:37
John Daley (104) I can safely say that your second paragraph is one of the most memorable I have ever read in ToffeeWeb. I request - nay demand - that Eugene respond.
Danny O'Neill
121
Posted 28/11/2015 at 12:38:40
Darren Hind......perfectly put!
Brent Stephens
122
Posted 28/11/2015 at 12:39:43
Phil #106 - cracker. I'm going to read that every other day - 4 times a week!
Ray Roche
123
Posted 28/11/2015 at 12:46:03
John Daley (104)
Or, as a little guy I used to work with would say, "Big man, big dick. Little man, ALL dick"
Kevin Tully
124
Posted 28/11/2015 at 13:06:21
Surely the yardstick we should use is to compare our spend with the rest of the clubs in the PL?
One for P Murphy esq.
Brin Williams
125
Posted 28/11/2015 at 13:23:16
JD 104 - sounds like a 'cock & bull' story to me!!
Colin Glassar
126
Posted 28/11/2015 at 13:23:46
We are mid-table in the salary league and according to the experts that's where you should end up position wise.
I saw a study by some football geeks yesterday who have done a load of number, and stats, crunching and have predicted we will end up 6th this season.
Brent Stephens
127
Posted 28/11/2015 at 13:41:24
Colin #116 "I saw a study by some football geeks yesterday who have done a load of number, and stats, crunching and have predicted we will end up 6th this season."
Colin, can they tell us which games we'll win? I'll just go to those! The rest I'll bitch about on the Live Forum!
Ian Riley
128
Posted 28/11/2015 at 14:08:12
No club is beyond selling a player(s) for silly money. A price of –40M or –50M for one player cannot be refused and should not be. Chelsea, Manchester united and Arsenal are not beyond selling at the right price. Everton are a big club to me but we are not a brand worldwide with a owner who can bankroll the club.
If it means selling one player and bringing two top players in then so be it. Personally if we make the top four, players will be sold. It's what we do!
Trevor Peers
130
Posted 29/11/2015 at 10:07:35
Roberto's dreams of Champions League football took a huge battering after the Bournemouth result. So selling some of our young players has become inevitable, only a tactical genius can keep an under-funded EPL team in the top 4 places.
Our hopes and dreams should be concentrated into winning one of the domestic cup competitions. So let's hope Roberto doesn't weaken the team too much on Tuesday night, or we could crash out.
Add Your Comments
In order to post a comment, you need to be logged in as a registered user of the site.
Or Sign up as a ToffeeWeb Member — it's free, takes just a few minutes and will allow you to post your comments on articles and Talking Points submissions across the site.
© ToffeeWeb