Blues legend says Martinez's Everton is starting to gel
by

43 Comments [Jump to last]
| 02/12/2015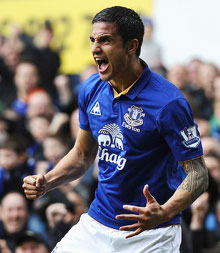 Tim Cahill says that Everton are approaching a different level now that Roberto Martinez's patience is starting to pay off, particularly with young players like Ross Barkley.
The Australian hero spent eight years with Everton and enjoyed the peak of the club's achievements since the turn of the century – the fourth-place finish and close brush with Champions League qualification in 2005, the semi-final of the League Cup in 2008 and the FA Cup Final in 2009.
Still an avid Blue, Cahill watches Everton matches from China where he is currently playing his football for Shanghai Shenhua and he expressed to the Liverpool Echo how impressed he is with Martinez's evolving side.
The 35-year-old feels that the Catalan's plan is starting to come together and even if he thinks there is scope to add a bit more steel in the middle of the park like when he was plying his trade at Goodison Park, he can see Martinez's vision.
"I'm always watching Everton," he said. "I had a great time there but the football that they play is on a different level now – the way they keep the ball, the way they spray it round and also how patient they are.
"It seems like some games they can play so much great football and it can frustrate you at times as well because you are waiting for that biting tackle or that changing moment that we had back in the day.
"You had players that could mix it up and when you play with players like that maybe that's what they're lacking. But overall, will you sacrifice that for a trophy in the cup that's coming up? Most probably because it's starting to really gel.
"Martinez has been patient. Obviously he's had to wait to use players – the likes of Ross Barkley. I played with Ross when he was coming through and he was one of the best young players that I've ever played with.
"When you keep players like that, and you give them confidence and you let them play and let them shine, obviously it comes through – and keeping Stones too."
---
Reader Comments (43)
Note: the following content is not moderated or vetted by the site owners at the time of submission. Comments are the responsibility of the poster. Disclaimer
Peter Murray
1
Posted 03/12/2015 at 00:25:54
Great stuff from a dedicated player who terrorised both City and Liverpool.
Roberto, give him a ring, bring him home and get him on the back room staff as soon as you can.

Colin Glassar
2
Posted 03/12/2015 at 00:26:47
Jeez Tim, you will be considered a heretic from some on here.
Peter Gorman
3
Posted 03/12/2015 at 01:11:20
Over-egging it a bit, Tim. The way they keep the ball is irrelevant if it is just staying along our back line. Going forward I don't see our current team being any more slick than Cahill and Co.
What wouldn't we give to have some of the steel of Cahill in his prime.
Patrick Murphy
4
Posted 03/12/2015 at 01:28:24
Peter (#2),
Have you forgotten all those last-ditch tackles in our own box and the ball being pumped up the pitch for some poor soul to chase down? The styles of Cahill's era and the present one are chalk and cheese. Will the 'new' style prove any more successful? I don't know the answer... but hopefully it will.

One thing I do know is, that without the support of the fans, it will be an uphill struggle for the team to achieve anything. If people are so bored with our style and are so adamant that the RM way is doomed to failure, perhaps they should consider not attending games to show how much they dislike it.

But I would imagine if we manage to overcome Man City and make it to Wembley, many of those truly disgruntled fans will be flooding the site with requests for tickets for the big match.

Mark Andersson
5
Posted 03/12/2015 at 04:42:00
Good post, Patrick. Although I'm not overly confident of Roberto and his brand of football, having the younger players coming through is rather exciting when it works.
Once the team gels for the full 90 minutes then, on their day, they can beat anyone !50; including City... and especially Liverpool.
I am 100 % behind this team, I suggested in another post that the doom mongers need to believe and support the team. We need to have the same passion as the away fans !50; imagine an extra 30 thousand with that kind of passion. That's the real key to turn this promising team into world beaters.
Jim Lloyd
6
Posted 03/12/2015 at 06:39:55
Although some seem to consider our manager a clown and not fit to be a manager at this club, I think he is developing a brand of football that is both effective and exciting.
I thought we had an excellent first season and the criticism of the "tippy tappy" style was unfounded. I think it was more difficult in the second season because of the number and length of injuries we had to the squad.
This season, we have just about got the full squad of players back in the last few weeks, with about a third of the season gone. If (big if but you never know) Martinez can keep the squad he's developing and bring in a player of the calibre of Yarmolenko, then we will be capable of challenging for the top six.
Mark (#5), I totally agree with your last paragraph. I think there's too many who are just waiting for what they see as "tippy tappy shite" to begin the criticism of the players.
Paul Cherrington
9
Posted 03/12/2015 at 09:57:17
I would totally agree with what Tim is saying – oh what I would give for someone with his bite & agression in our midfield.
I think getting him back on the coaching staff would be a great idea; it would instill that will to win and mental toughness that we seem to lack a bit at times.
Dave Ganley
10
Posted 03/12/2015 at 10:23:06
Patrick #4 I normally enjoy your posts as they are generally well reasoned but this one I feel you are way out of line. To suggest that unhappy fans should not go to the game to show dislike is ridiculous in the extreme.
You are obviously very happy and entertained with the football you are witnessing. Fair enough. Many are not. Many are bored and tired of conceding sloppy goals from a team that seems to have had little or no defensive coaching. Everybody is entitled to their opinion.
You make it sound that following Everton is just a fad, to be switched on and off like a tap depending on which way the wind is blowing. Doesn't work like that. By suggesting that some supporters stay away because they have the temerity to criticise the current regime, you are insulting all those fans who have put in years and years of time, effort and an awful lot of money.
This is not Martinez's club, this is our club and we fans will be here long after the current incumbents have disappeared. Just because some of us have the gall to have a go at the current manager and tactics doesn't mean that we don't want him to succeed. I would very much doubt that you could find any Everton fan who wouldn't quite happily eat their words if that meant we were winning trophies and competing at the highest level.
Personally, I am one of those fans who is not excited at going to the game anymore and judging by the mute atmosphere at the ground, it appears I am not the only one. I resent Martinez for having that effect on me but don't mistake my opinions for not wanting Everton to succeed.
I am lucky in that I have seen Everton win titles and trophies and would desperately love those feelings to come back. I have a season ticket and have done for many years and also go to the cup games and I have seen off more rubbish managers than good ones so please don't be insulting me by suggesting I don't go to the game for effectively having differing views from yourself.
David Edwards
11
Posted 03/12/2015 at 10:27:00
I agree with the two previous posts (Mark & Jim): we are finally looking like a team that could do great things. With a couple of additions in the middle and back, who knows where we might end up?
Roberto has his style of management and the players are now doing good things. You only need to look at the top teams in Europe to see where he is aiming. I for one will back him and the team to try and achieve that goal.
Dave Abrahams
12
Posted 03/12/2015 at 10:47:26
Got to agree with Dave (#5) – I am not enjoying watching Everton through big proportions of matches. I'm desperate for Everton to win but I want them to win with a bit of style and I not only want Evertonians to like us – I want neutrals to like us as well.
If the fans who don't like Everton's style at the moment stopped going, the gates would reduce by quite a few thousand because, talking to friends who go to different parts of the ground, there is a dislike by many who watch the Blues.
Like Dave, Patrick is one I always look for on here because of the sense he provides; I disagree with his point of view on this occasion but I respect his take on the situation.
Dave Southword
13
Posted 03/12/2015 at 13:04:11
Apt that a Tim Cahill article turns up. It's becoming as fashionable and "cool" to have a pop at the manager now as it was when Tim was marauding around Goodison.
When our team doesn't click now, it seems like the passes are just for the sake of it and we have no threat. When it does click, the football can be breathtaking.
Remember Moyes's bad periods, or Smith's, or Walker's (his bad period was his entire reign), or Kendall's, or Lee's? Of course, often during those periods we could hump it forward and that might create a bit of a stir, or give the ball to Beagrie and watch him go all "Deulofeu" without the final ball. Very little hope though.
We very often experienced the glass ceiling with Moyes – semi-finals, finals, big derbies etc all dripping with missed opportunity. It's not just about the mental block we developed during that time, we had teams built to be sturdy, but we didn't have the plan or the ability to beat teams where work rate, determination and bloody mindedness weren't enough.
I believe we are developing that ability as a team. I also believe the bad times and off days were much worse under certain other managers. I sat through the early 90s, through the "Boring, boring, Everton" chants, through the mid-teen attendances. That's not where we are now.
Jay Harris
14
Posted 03/12/2015 at 13:52:31
I am totally in agreement with Dave.
I have watched Everton for over 55 years and I do believe we have the best squad of players we have had in a long time but I have major reservations about a manager that does not believe in scoring goals from anything except open play and does not believe in practising defending corners and free kicks.
Winning the league would get me over my reservations but I don't see that happening anytime soon.
Julian Exshaw
15
Posted 03/12/2015 at 15:53:33
Nice to see that Tim is supporting RM. We all know we are not the finished article yet but the side in general is playing good attractive football and we have progressed significantly compared to last year, although not admittedly in terms of points.
It was, however, around this time last year that we started to slide but I don't see that happening this season. I like what I am seeing. I think RM needs time to develop the side into his way of playing and he's getting there. Let's get behind him and stay positive.
Darren Hind
16
Posted 03/12/2015 at 17:11:05
Dave (#8),
I couldn't agree more, we are struggling enough without world class fans who love this club being told to stay away because they won't deny the evidence of their own eyes.
Peter Gorman
17
Posted 03/12/2015 at 17:41:48
Dave, I wish Maritnez was bucking the trend but so far this season we have lost to City, drawn with Spurs, beaten Chelsea (who hasn't), drawn with Liverpool and lost to both Utd and Arsenal.
If the glass ceiling is being used as a stick to beat Moyes with, given that there is little evidence to suggest it has been broken, shouldn't we apply a bit of stick to Martinez?
There is a lot of revisionism going on, in my opinion, when it comes to the football served up by Moyes. The man was at the helm for 11 years so of course I wouldn't expect to dig deep to find some examples of turgid performances.
But does anyone seriously believe our football now is more breath-taking than Pienaar, Cahill, Arteta and Osman in their prime? Simply not true, I know, I have the DVDs and still watch them on a dull day.
Who cultivated Baines and Coleman as the 'undertaking' fullbacks? Who cultivated the Baines and Pienaar partnership? It wasn't Martinez I can tell you so give credit where it is due is all I ask.
Incessant passing the ball around at the back and inviting high pressure? Now that we can say hand on heart is a Martinez hallmark.
Patrick Murphy
18
Posted 03/12/2015 at 17:58:28
I wasn't advocating that supporters don't attend football matches, merely that, if they are so upset, then perhaps they should consider not attending games to show how much they dislike it. It's not a new concept, many did exactly that in 1983. What was it those leaflets said? "X thousand can't be wrong".
I didn't agree with those fans at the time but I did accept their right to withdraw their support if they were that unhappy. I'm not certain that their absence had any effect whatsoever but we'll never know for sure. Early January 1984, the fans were back onside and the rest, as they say, is history.

Paul Andrews
19
Posted 03/12/2015 at 18:33:58
Peter Gorman,
Our attacking strength this season has come from counter-attacks, mate.
Could it be that Martinez is trying to draw teams onto us before springing the counter-attack?
Dave Abrahams
20
Posted 03/12/2015 at 18:38:21
Fair enough, Patrick, I know what you mean. I'll never withdraw my support, cradle to the grave, but again it works both ways and although Howard Kendall got it right in the end, he drove thousands away, many of whom never came back.
I hope Martinez can do half as good as Howard but his stubborn attitude doesn't help his cause. Attack is the best form of defence, and when we decide to attack, well, we are not bad at it, are we?
Peter Gorman
21
Posted 03/12/2015 at 19:01:00
Interesting point that Paul but I actually think the counter-attack with a 4-5-1 has become en vogue across the league. Martinez is not being original here though it is certainly different from Moyes I grant you.
e.g. We did Utd last season 3-0 using counter-attacking at home. They did it to us this season using the same.
Can't say I'm particularly a fan; yes the counter-attack works well going forward but it plays dangerously at the back, especially if the players refuse to close down or the opposition really press high up as we've seen time and time again.
Colin Glassar
22
Posted 03/12/2015 at 19:07:25
Let's just say Martinez is a bit like marmite to many fans. Marmite on toast, with lots of butter, and a nice cuppa is a favourite of mine.
Paul Andrews
23
Posted 03/12/2015 at 19:13:25
Good points Peter.

I agree the counter attack system we sometimes play is still a work in progress.We have a long way to go before we perfect it. Only two teams scored more than us this season, though.

We do need to balance it at the defensive end. John Stones as good as he is and will be does overplay at times. I am prepared to put up with the inevitable mistakes to enhance the players ability to play out from the back.
Eddie Dunn
24
Posted 03/12/2015 at 19:32:10
Hey we may be feeling chuffed in reaching a semi, and this team can play some fantastic stuff, but take a reality check. We have had lower league opponents apart from Norwich and we have just played Sunderland, Bournemouth (an out of form West Ham) and Boro. The team have been a let-down against Man Utd, Man City, Liverpool and Arsenal.
We really need to whack a few of the so-called big boys to announce our return to the top table. We did play some fantastic stuff under Moyes too. Pienaar - Baines, Ossie and Felli, plus Cahill's super goals. We are still some way off putting in a shift for the full 98 minutes, and perhaps it is down to training, but if we don't cut out the over-playing at the back, then we will be winning nothing. I hope Martinez's patience will be rewarded with this group of promising young players developing and learning together and becoming the team we all dream about.
I still think we need a boss man in the middle of the park, orchestrating things, shouting, pointing and putting in some hefty tackles. Perhaps Macca can be that man? We will need that against City with their hit-men in midfield.
Michael Williams
25
Posted 03/12/2015 at 20:03:52
Tim's right. This is a an exciting team RM has put together. The attacking quality they show at times is as high as any in the league, even Arsenal or Man City.
However, they're young and will make more mistakes from which they will have to learn. What this team could use is someone like... Tim Cahill.
Raymond Fox
26
Posted 03/12/2015 at 20:13:54
Our play's boring!
As Paul has already said there's only 2 teams in the Prem. that's scored more goals than us: Man City 30, Leicester 29, Everton 27, West Ham 25, Arsenal 24, Spurs 24, Man Utd 20, Southampton 20, Reds 18! Chelsea 17!
We may have conceded a few too many goals at 19, granted, but I think if we're boring, the whole of the league must be one big yawn.
Gavin Johnson
27
Posted 03/12/2015 at 20:37:32
Judging by the posts on some of the threads this week, there's more infighting and disharmony than a Labour party meeting.
Jay Harris (#12). Fair play to you. I'm glad it looks as though you've revised your stance on the point you made earlier in the season when you said that none of Martinez's signings could get into any top 6 side. I'm guessing you've done a U-turn by saying we've now got the best squad in years. At least you're appreciating his players, if not the man.
I enjoyed reading the story and agree with everything Tim says about the team's development under Martinez. I also think he's right that there's the possibility of us winning a cup competition with this new style of football.
Dave Ganley
28
Posted 03/12/2015 at 22:05:03
Well as I said in an earlier post, everybody is entitled to their opinion. Basing how entertaining we are on how many goals we have scored isn't an opinion I share, especially as we have scored nearly half that amount of goals against three piss-poor teams in Villa, Sunderland and Bournemouth.
Granted you need to put those goals away but, as far as the home games were concerned, the crowd were that excited, you could hear a pin drop in the stadium. Allied to that, people were still streaming out early.
Maybe I imagined the awful Man City, Liverpool, Man Utd and Spurs games? When we start taking the game to these kinds of teams and not just being startled in the headlights, then I shall start to get excited about the football we play.
As I also said earlier, I take absolutely no pleasure in making my observations as I want us to be challenging for and winning trophies but, as yet, we are no further forward than when Moyes was in charge.
Paul Andrews
29
Posted 03/12/2015 at 22:19:25
Dave,
He broke our record for Premier League points in his first season. That takes him further forward than Moyes.
I mentioned earlier we are a work in progress, a little patience required.
Jay Harris
30
Posted 03/12/2015 at 22:35:33
Gavin,
I think you will find I said "Big 4" sides; and yes, I have revised my view a touch.
Lukaku has impressed me a lot more of late but I still have reservations about the manager, his signings and preparation of the team.
I really hope I am proved totally wrong but the feelgood factor following recent results (if not performances) has returned to a number of Blues. I hope it remains for the rest of the season.
Paul Johnson
31
Posted 03/12/2015 at 22:50:34
I haven't commented for a good while now. But this thread has got to me. I am as frustrated as anyone when we don't close out games and I am not going to go into judging our current manager against our former.

I must say though that anyone who thinks our current style of play is boring is a one eyed monster with an agenda who should start following a lesser standard of football to get their fix imho.
Denis Richardson
32
Posted 04/12/2015 at 00:44:45
TC angling for a coaching job next year?
Anto Byrne
33
Posted 04/12/2015 at 02:43:50
Cahill has a book out at the moment and is pretty honest about the club the manager and other players. As we know Moyes had his favourites and believed that poor form was only a matter of games.
Neville wasn't one of the boys and as club and team captain had higher expectations of his teammates, his level of professionalism was that football was a job and therefore he had to equip himself to be able to perform at the top level.

Worth a read if you can get a copy.
Jim Hardin
34
Posted 04/12/2015 at 03:01:07
Paul,
Can you agree that the league strength varies from year to year so there is no set benchmark for points totals to reach that can be used objectively to compare two different teams, years, and managers? This makes it hard to use such a number as a comparison point.

That said, Moyes qualified for Champions League by getting one of the top four highest totals for points in the league that particular year versus all of the rest of the teams. Thus, RM still has some way to go.
Paul Andrews
35
Posted 04/12/2015 at 07:20:24
Jim,
I see your point. The record highest total of points we achieved wasn't enough to get us into the Champions League, so that particular season was one of a high standard.
I think I am right in saying when we qualified for the playoff, we were the only team to ever do it with a negative goal difference.
Andrew Clare
36
Posted 04/12/2015 at 09:01:38
Dave (#26), I agree. Until the top teams fear playing us, we will remain at the same level that Moyes took us to.
I hate to say it but, even when our neighbours haven't got a particularly good team, they still are formidable opposition for the so-called top teams; on the other hand, we are looked on as easy-meat.
We are still two or three players short of being that team. Those players being a top class goalkeeper, a commanding midfielder and a left-sided attacker. If we can keep the current crop of players together, then by next season, I think we will be there. It's a big 'if' though.
Dave Abrahams
37
Posted 04/12/2015 at 10:54:42
Paul (#29) re your last paragraph, did you see the second half performances versus Bournemouth and Middlesbrough? If they were not boring to you then no game will be.
That's what people are going on about, they cannot or will not play for 90 minutes, just turn off after going ahead; they came unstuck against Bournemouth and they will do again unless they are instructed to attack a lot more than they do.
Most of us can see a potentially very good team in the making; the manager is not letting them use that potential in lots of games.
Mike Berry
39
Posted 04/12/2015 at 18:49:27
Potentially a very good team in the making. But watch out for the vultures circling next month
Terry Hanton
40
Posted 04/12/2015 at 23:03:23
I had my doubts about RM but Tim has a point. The front men are flying. Geri, Ross & Rom are on fire. Phenomenal goals of late
The football they are playing is top drawer. They just need to stop conceding – which they will do when Jags is back.
Joe O'Brien
41
Posted 05/12/2015 at 02:54:17
I'm a big fan of RM. We play some great football. Moyes was high tempo but a bit of "lump it up and play from there" merchant.
My only gripe with our current play is that it's too slow, but I think that will change. We've got the players who are capable of fast passes.
It'll all come with time; he's not been with us that long. This is the best squad we've had in my lifetime (30 years).
The reason I think why, in the past two matches especially, we thought we had both games killed off and paced ourselves. It's a long season.
It would be great to have Timmy in the backroom with Big Dunc
Steve Brown
42
Posted 05/12/2015 at 04:56:57
It is starting to gel now, but I am no longer convinced that Martinez is the right man to complete the job. My view was that his first season with a record points haul had earned him the right to learn from last season's disaster. But his stubbornness about tactics and players, the great managerial delusion that they have insights that fans and critics can't see, well I doubted that he could show enough flexibility to learn from his mistakes.
It seemed right to give him until November but, on reflection, I don't think he is the right man to take this talented squad forward. It is because we have such good potential overall – the best for 35 years? – that we cannot squander it.
My main worries are Martinez cannot organise a team defensively, he cannot adjust his tactics during a game when needed, and that he does not plan for critical moments in the game such as free-kicks and corners. Finally his stubborn determination to pick certain players on reputation rather than merit. Step forward Tim Howard!
Hate to say it, but imagine what Jurgen Klopp could do with this squad?
Dick Fearon
43
Posted 05/12/2015 at 09:23:23
Here in Oz, the powers that be banned 200 fans without recourse to any kind of arbitration. The result has been a massive boycott by spectators.
The rights or wrongs on both sides of the argument may be up for debate by the wider audience but what has become abundantly clear is this kind of spectator action has shook authorities and clubs to the core. They are desperately scrambling to repair the damage.
If UK fans showed half of the unity as their Australian counterparts ground fees and massive player salaries would come tumbling down.
Patrick Murphy
44
Posted 05/12/2015 at 10:11:27
Steve (#39),
I hate to say it but imagine what Everton could do with the resources our neighbours have had? I also remember that the previous incumbent across the park was also held up as an example as to where Roberto Martinez was going awry and how he was light-years ahead of our guy.
Everton's manager, Mr Martinez, is far from perfect and deserves some credit and some criticism in equal amounts, but this constant comparison to those in charge of the other lot's affairs is both unfair and a little mystifying. It would seem that some Blues have more good things to say about the local enemy than they do about their own club.
I assume because the comparison is always with those across the park that the other managers in the Premier League wouldn't or couldn't do as well or better than Roberto?
Brin Williams
45
Posted 05/12/2015 at 10:31:48
PM 41 - Spot on - took the words right out of my mouth.
Paul Tran
46
Posted 05/12/2015 at 14:47:16
It would be great to have a character and midfield goal poacher like Cahill in our team right now. I'd like to have him back in the backroom staff, how much could these players learn from his nous and drive?
Add Your Comments
In order to post a comment, you need to be logged in as a registered user of the site.
Or Sign up as a ToffeeWeb Member — it's free, takes just a few minutes and will allow you to post your comments on articles and Talking Points submissions across the site.
© ToffeeWeb