McCarthy remains an injury doubt
10/12/2015

23 Comments [Jump to last]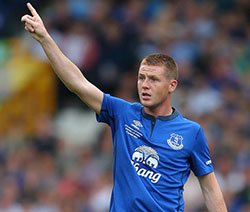 James McCarthy will undergo another fitness test to assess his availability for Saturday's trip to Norwich City.
The midfielder has missed the last two games with the hip problem he picked up in the draw with Bournemouth 12 days ago but will be checked on at Finch Farm tomorrow before Roberto Martinez selects his squad.
Speaking to the media at his pre-match press conference this morning, the manager announced that no fresh injury concerns came out of Monday's 1-1 draw with Crystal Palace.
Despite being briefly affected by an ankle complaint in the first half, John Stones came through the match with no ill effects and Leighton Baines also came through another 30 minutes' worth of action unscathed.
"James McCarthy will have a late fitness test to see if he can be in the squad travelling to Norwich," Martinez said.
"Apart from that, there is nothing different. From the squad that we had in the last game against Crystal Palace, everyone is fit and available."
"After the Middlesbrough game, [Leighton Baines] took a bit of a knock and it took him 24 hours to get back to normal," Martinez continued. "but following the game against Crystal Palace, he had no reaction.
"When a player is out for such a long period like Leighton was, you can't just expect to him to be perfect for 90 minutes.
"He's getting close to challenge for a start but at the moment his contribution has to be measured from a medical point of view."
Martinez concluded by suggesting that Phil Jagielka's appears to be ahead of schedule in his recovery from a knee injury and has been pencilled in as being ready for the latter part of the Festive programme.
The Everton skipper hasn't played since damaging knee ligaments in the defeat at Arsenal in October.
---
Reader Comments (23)
Note: the following content is not moderated or vetted by the site owners at the time of submission. Comments are the responsibility of the poster. Disclaimer
Charles McCann
1
Posted 10/12/2015 at 15:08:33
It would be great to have James back for the weekend. If fit I would like him and Cleverley or Gibson to make up the centre midfield in place of Gareth Barry.

Against Palace James McCarthy's defensive instincts were badly missed and Barry again showed why he is such a liability.
Mike Iddon
2
Posted 10/12/2015 at 15:44:24
Hope he's fit, we miss him defensively. Barry a liability? He's been one of our best players this year starting attacks from deep.
David Graves
3
Posted 10/12/2015 at 16:22:59
I agree that a pairing of McCarthy and Cleverley could be a positive development but I just don't get how anybody could see Barry as a "liability".
Charles McCann
4
Posted 10/12/2015 at 16:40:49
Yes Mike. In my opinion he is a liability. Against Palace for eg he lost his man for the goal, he was very lucky not to give away a penalty from an earlier corner and also was at fault for losing possession in a very dangerous position near the end of the game. His lack of pace is one of his main weaknesses which results in him usually being at least booked once nearly every game.
Now not everything he does is bad and at times can look okay against the poorer teams but believe me without McCarthy covering his ass against some of the better teams he will be a real weakness.
I could understand him getting some game time if there were no other options but there are in the form of Besic, Gibson and Cleverly. Barkley could even drop deeper into centre midfield if we're chasing a game. Hopefully Roberto will use his squad a bit more in the coming weeks.
Patrick Murphy
5
Posted 10/12/2015 at 16:57:11
Barry is a liability? Everybody sees the game differently but as far as I'm concerned so far Barry is my player of the season. He is a seasoned professional, he is a leader and he never hides.
Barry has had more good games in an Everton shirt than bad and if you were to compare his input to that of Phil Neville for example, Barry's contribution to Everton has been far greater.
I realise that he has made mistakes and sometimes gets caught in possession, however, at the moment he is a very important cog in the Everton team. I expect that to change over the next twelve months as the team evolves and McCarthy and Cleverly with Barkley will likely form the midfield, but at the moment I think Barry's the right choice, pity he's not a few years younger.

Charles McCann
6
Posted 10/12/2015 at 17:04:36
I respect your view, Patrick, but I'm sticking with mine! The lack of leadership 2nd half against Bournemouth was obvious to me. But as you say we all see things differently.
Keith Monaghan
7
Posted 10/12/2015 at 17:16:32
Charles, as you say it's all opinion. But with all due respect Yours is amazing. Yes, like all players, Barry makes mistakes and sometimes gets caught in possession. But for me he's been our best and most consistent midfield performer since he joined us, and he's been outstanding this season. As someone else said, he doesn't hide, and how do you figure he gets booked nearly every game? Your arithmetic is seriously damaged!
He attempts and succeeds with more forward passes than Barkley, and a forward pass from McCarthy is as common as snow at Easter here! I too wish Barry was a few years younger, he shows more leadership on the pitch than any of the rest of our team and is a key player for us.
Yes he didn't cover himself with glory re the goal vs Palace, but who else did, especially our keeper - on the line again for another header from around the edge of the 6-yard box, TH too busy grappling with the nearest opponent.
Denis Richardson
9
Posted 10/12/2015 at 17:31:21
We have enough games coming up this month, nevermind a semi final on the horizon, given everyone would have had almost a week to recover from the palace game (and we didn't have to travel), I'd keep him on the bench to make sure he's 100% when he does come back properly.
Give him a run out in the second half is need be but I'd rather he didn't start. Cleverly did ok against Palace.
Ian Jones
10
Posted 10/12/2015 at 18:41:51
Amazing how people see players contribution differently especially re Barry. Still like to see what Gibson could bring to the side but you can't play everyone.
Ben Jones
11
Posted 10/12/2015 at 18:47:11
I agree Barry has been excellent, from deep he's great on the ball, he really is.
But saying that I would be curious to see a partnership from two of Besic, McCarthy and Cleverley in midfield. More legs meaning less goals conceded, but probably less composure on the ball meaning less possession.
Wouldn't mind seeing it though, just to see what happens more than anything...
Nigel Munford
12
Posted 10/12/2015 at 18:53:27
Mark @#2 have to agree, Barry's been very much improved this season and I really cannot understand why he gets slated on here so much.
Brian Hennessy
13
Posted 10/12/2015 at 19:28:55
Charles, I had to read your post twice, thought I was seeing things.
Granted, Barry had a really poor season last year but he has been excellent this term.
To describe him a liability is way off the mark in my opinion,
Howard, on the other hand... now that is what I call a liability all day long. Teams now know any decent ball around the edge of the six-yard box is a goal waiting to happen.
John Daley
14
Posted 10/12/2015 at 19:56:12
The Gareth Barry of this season is much improved over last and, for me, he has leadership qualities above those of our default captain, but I can still see where Charles is coming from.
Whilst I wouldn't go so far to label him a 'liability', there are numerous times when his lack of pace has led to him being caught out and, due to the position he plays, our defence being hopelessly exposed.
His only hope of remedying such a situation is to try and take out the attacker before he scampers away from him completely, usually leading to a free kick in a dangerous position.
Those instances may have been drastically cut down this season, but the weakness is obviously still there and always will be unless he's secretly undergone a leg transplant or been injecting Cheetah cum into his calves.
Steven Jones
15
Posted 10/12/2015 at 21:39:45
I actually hope he does oit make it... on three counts:
1. He could do with a rest. Sit and watch build up appetite and energy for the rest of the season.
2. Give space for Cleverley to play.
3. My controversial hunch is I would love to have Gibson and Besic be our league winning central midfield.
The more the Barry and Mac base is broken up the more chance for rolling the dice from a stable but limited selection to one that could rip up the league like Reid and Bracewell.
I always like to dream...
James Flynn
16
Posted 10/12/2015 at 22:00:17
Have to think anything "Gibson" is done and dusted.
Appears he's healthy. Also appears that terrible sequence of events occurred while he was drunk-driving has finished him at EFC. It came and went, but let's face it.
Drunken, broke-ass Des Gipsan would be doing some days in the pokey for what Everton's Darren Gibson did.
The schedule about to get crowded. Maybe here or there, Gibson gets some minutes. But that's all until he's sold in January.
Anthony Dwyer
17
Posted 11/12/2015 at 00:25:16
I really like McCarthy, he's our best centre mid and a mainstay in our starting 11.
I don't agree that he will come in for Barry though and play alongside Cleverley, Barry is in fantastic form and Martinez can't field a team without him so I'd suggest Kone may be the one to miss out once McCarthy is back fully fit with Cleverley playing out on the left.
Harold Matthews
18
Posted 11/12/2015 at 05:18:34
I want McCarthy and Besic as the DMs and Cleverley in the Kone position. While Barry remains in the middle of the pitch, we are tilting heavily to the right with a big hole on the left.
This has been going on since the start of last season. Martinez knows it, which is why he is coaching Besic for the centre and left role. "The No 6 role", says young Besic.
Phil Sammon
19
Posted 11/12/2015 at 05:33:20
If he's not 100% then there's no point risking him. We are blessed with options at the moment so there's no rush.
I know a few people think Gibson and Mirallas are finished, but Martinez keeps sticking them on the bench. That considered, I can't for the life of me figure out why neither were brought on when we were chasing the game v Palace. One, our second greatest goal threat and the other without doubt the best passer at the club. Both have their faults but I think Martinez is mad not to use them.
John Paul McGurk
21
Posted 11/12/2015 at 12:17:50
I would love to see Stones alongside McCarthy when Jags is back. Gareth is a lot better this season though there is 2/3 times every game where he makes mistakes that against the top teams he will be punished.
Against Spurs, he was poor... but a lot better now, maybe he is playing for a new contract. I would go after Nolito in January as Kiev won't let their prized asset go.
Harold Matthews
22
Posted 11/12/2015 at 13:32:48
JP. With offers of 㿒mil floating about, Stones will definitely not be changing position.
Alex Jones
23
Posted 11/12/2015 at 17:42:10
I preferred Cleverley there as he moved the ball forward much more and didn't have any less energy. McCarthy has been poor this season and was poor all of last season, barring a game against Wolfsburg and another against Man Utd.
I just hope Baines is back as Galloway has covered well but is way out of his league against anyone half-decent.
Anyway no matter how well Cleverley plays he'll be moved out as soon as McCarthy is back I'm sure. Bobby gets in sweats if the ball moves forward too quickly.
Anthony Dwyer
24
Posted 11/12/2015 at 18:02:47
John Stones is a remarkable centre-half, I wouldn't even consider playing him in midfield unless we had a major injury crisis.

Geoff Williams
25
Posted 11/12/2015 at 20:19:37
Gareth Barry is a super player and doesn't deserve the criticism he regularly receives. He reads the game better than any other player on our books. He makes the players around look good.

Stones is able to bring the ball out of defence confident in the knowledge that his defensive position will be covered.
Add Your Comments
In order to post a comment, you need to be logged in as a registered user of the site.
Or Sign up as a ToffeeWeb Member — it's free, takes just a few minutes and will allow you to post your comments on articles and Talking Points submissions across the site.
© ToffeeWeb