Baines: Blues need more composure
by

31 Comments [Jump to last]
| 13/12/2015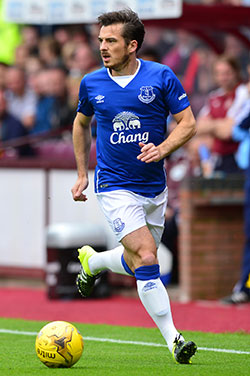 Reflecting on two more points that slipped away in the 1-1 draw at Norwich yesterday, Leighton Baines says that Everton still have a bit to learn.
The Blues should have been out of sight by the halfway stage at Carrow Road yesterday but only led 1-0 when they conceded another soft set-piece goal shortly after the interval and they relinquished control of a game they had utterly dominated in the first period.
Baines made his first start of the season after completing his recovery from successive ankle operations and he admits that Roberto Martinez's men need to tighten up at dead-ball situations and learn to orchestrate matches like the top sides.
"It was a poor goal to give up and from there it becomes end to end, which has happened in our last few games," Baines says in the Liverpool Echo. "We could score again but we could also concede again, we're too open.
"We have got to get better at controlling the game, ultimately, and keeping our composure.
"You see the top sides, and they might let a team back in, but they keep their composure and keep playing a certain way. We have got to learn a little bit.
"It had shades of Bournemouth about it where the game got a little bit open and end to end.
"We've got to improve, that's the top and bottom of it."
The 31-year-old acknowledged the exciting aspect of Everton's current team where Gerard Deulofeu and Romelu Lukaku again combined for the Belgian's 12th Premier League goal of the season but he cautioned that opposition sides are finding it too easy to create good goalscoring opportunities at the other end.
Cameron Jerome's chance 20 minutes from the end of yesterday's draw was a case in point – Wes Hoolahan's back-heel presented what might well have been a winning goal on a plate for the striker but he blazed over the bar.
"In the last few games, you can argue we've done enough to win them, but if you showed a highlight reel of all chances in the match, you could make a case for the opposition as well," Baines continued.
"We want to keep our excitement going forward but it can't be to the detriment of what we are doing at the back.
"We have got to strike a little bit of a balance."
Full interview: Liverpool Echo
---
Reader Comments (31)
Note: the following content is not moderated or vetted by the site owners at the time of submission. Comments are the responsibility of the poster. Disclaimer
Alexander O'Brien
1
Posted 13/12/2015 at 18:11:25
After today's results, bizarrely we closed the gap to 4th by a point. 3 points off 5th but a couple off the bottom half.
The season is still there to achieve something so, if they get their act together and win football matches instead of throwing them away, 4th is still up for grabs.
[I don't believe a word of that either!]
Colin Glassar
2
Posted 13/12/2015 at 18:21:06
Make Bainsey the manager!!!! Good points Bainsey lad. It's up to you, Tim and Seamus to calm down the youngsters so they don't become too enthusiastic going gung-Ho and losing shape which happened in the second half.
Dean Adams
4
Posted 13/12/2015 at 18:27:53
Yeah, Barry is far too cavalier!!
James Stewart
5
Posted 13/12/2015 at 18:33:47
Glad Baines is back, his experience is vital. Our attack completely withered and died when Deulofeu came off. Terrible sub that one, even when tired he can pick the lock with a killer pass like no-one else in our team. Kone should have been replaced.
Sharabi Singh
6
Posted 13/12/2015 at 18:40:53
Kone should definitely have come off sooner. I think Martinez concentrates that much on watching the game that he forgets there's a bench behind him. He talks a lot about the importance of the squad – so use it!
Colin Glassar
7
Posted 13/12/2015 at 18:44:04
Who mentioned Barry? Well since you did, Barry needs young legs next to him in case he loses the ball. That happened a few times yesterday as Cleverley was pushing forward all the time and Barry was a bit isolated on the counter attack. I'm all for being cavalier as long as we can keep our shape.
Raymond Fox
8
Posted 13/12/2015 at 18:47:34
If you go more defensive, chances are we will score less goals – it's a trade-off really.
I don't rate Baines any great shakes when it comes to defending corners either, and speaking of which, okay he might be a bit rusty, but the corners he took yesterday never reached far enough, they were poor, it's no wonder we don't score any!
Stewart Lowe
9
Posted 13/12/2015 at 18:49:31
To add to the last comment, if we look at this positively and learn quickly how to play 90 minutes of good football and not just 45, we could still very easily reach 4th. Not one team other than Leicester has shown anything like title-winning football and there is still 3 games before we reach halfway.
So, if 16 games can produce a gap of 14 points between Chelsea and the last Champions League place I am sure we can make up 6 points within final 22 games, but only so long as we start doing it now.
Eddie Dunn
10
Posted 13/12/2015 at 19:19:53
I like Baines and his honesty and intelligence.
Just watch Steve McClaren after his side's super result at Spurs. No bullshit, just plain talking! What a refreshing change from our overlord.
Glen Garrett
11
Posted 13/12/2015 at 19:27:49
Great to have Baines back in the 1st team again; not only is he a good defender, but he will bring more attacking options into the team. With Mirallas down the left too, and Deulofeu down the right Lukaku can be spoilt for choice.
Make Baines Captain... his experience will count.
Glen Garrett
13
Posted 13/12/2015 at 19:38:47
Raymond (#6), having Baines back in the squad will tighten and mature the defence to being better; he also brings danger and threat to the other teams in games.
Baines on his day will work his magic and open up the opposition to create chance after chance. Baines is quality and he is loyal to Everton Football Club, who cares what you really think.
Oliver Molloy
17
Posted 13/12/2015 at 20:08:53
Well, I take from what Baines is saying is: basically when it becomes an "end to end" game, we are not good enough!
Harold Matthews
18
Posted 13/12/2015 at 20:09:17
Yes James, taking off Deulofeu when we needed a goal was a strange decision. He was no more knackered than Kone, who was left on to win us the game.
Colin Glassar
20
Posted 13/12/2015 at 20:16:11
Harold, I think Deulofeu was taken off as he was losing his rag and the crowd were on his back. Something he will have to get used to if he's to reach the very top.
Patrick Murphy
21
Posted 13/12/2015 at 20:18:50
I would have made him stay on and told him to get used to it. He'll have to be told that in England a sign of a good player is getting stick from the opponents fans, the more they boo the more scared they are of your talent, I'd also tell him to grow a pair and stop being a such a delicate flower.

Jamie Crowley
23
Posted 13/12/2015 at 20:25:25
Swimming against the tide...
I thought Baines, despite his spot-on analysis, was part of the problem yesterday. He looked a step (or two) off the pace. The way Galloway has played, I'd not have dropped him and I personally saw Baines as a bit of a liability.
This is said with the full recognition that it was his first start after one hell of a long layoff. I know he'll get up to speed. At least I hope so.
I possibly (?) also feel bad for Galloway who's not really done a thing to get dropped.
Ray Roche
26
Posted 13/12/2015 at 21:13:13
Eddie
McManaman is still a blue. He said in a Times interview that the result he looks for first is Everton's. Liverpool were his employers, nothing more.
He is the epitome in media circles of the "Once A Blue" mindset.
Chris Jones
27
Posted 13/12/2015 at 21:18:19
Jamie (#18) – I'll swim with you. I thought Baines was, predictably and understandably, not quite there too. We're still quite unbalanced – seems like everything's down the right and, if that's not working, we struggle.
Ross was having one of his AWOL games, so should've been replaced earlier and Kev's head is elsewhere isn't it? Given the way some of their defenders were resorting to niggly stuff, I'd have tried Lennon to get in behind them and perhaps win some decisions. We needed a tried option when things were not going our way.
Richard Duff
29
Posted 13/12/2015 at 21:20:26
To be fair Baines is coming back from a long and phsycologicaly difficult lay off but he was not great second half. Neither was anyone else. Norwich stepped it up, increased the pressing and it worked. If we want to be top 4 we can't be bellied by inferior teams getting physical and in your face, we should know having spent 1997 to 2007 doing the same! Norwich hassled and the lies of Ross got crowded out.

Deulofeu become obsolete and I would have taken him off for Mirallas as Rob but also Kone for Naismith. Fight fire with fire and get some long balls up top to get Norwich back in their own half.
Bobby Thomas
31
Posted 13/12/2015 at 21:55:27
Fowler says in his book that McManaman is a massive Evertonian.
Everton released him/decided not to follow it up and Liverpool offered him a YTS, which as those of us over X age will remember was the 2 year Youth Training Scheme. Apparently he went back to Everton asking for a just a year, so he could sign for us instead.
Naturally, we declined.
Gerard Carey
32
Posted 13/12/2015 at 22:00:10
Like LB but only stating the bleeding obvious. One or two more of the players will say something along the same lines during the week!!! Why not go and do something about it in the next match?
RM is the same, doesn't seem to be able to think on his feet, looks brain-dead during games when we need a change of tactics or a change from the bench. A little tweaking and the draws could be turned into wins. That's what good managers do!!!
Helen Mallon
33
Posted 13/12/2015 at 22:00:57
My observation was this: the two central midfielders are Martinez's biggest headache and our Achilles Heel. Barry - McCarthy or Besic - Cleverley – What is the best pairing?
Our problem yesterday was (especially in the second half) Barry not having the legs to cover for Cleverley as Tom bombed forward or to cover the full backs and that's what Macca does perfectly. The ideal pairing would be Cleverley and Macca (maybe Besic); this would give the perfect combination legs all round.
I know Barry has been one of the best players and Roberto loves him but he should be benched and let the younger pairing have their chance.
Anthony Dwyer
38
Posted 14/12/2015 at 01:10:40
FFS, we are talking about Norwich, before that Palace and Bournemouth!
The problem is, Martinez isn't making important decisions quickly enough, we called Moyes for dithering, Martinez is worse.
Fans can clearly see how a game is going, Martinez can't. That's an issue.
Jamie Crowley
39
Posted 14/12/2015 at 01:12:13
I'm totally swimming in the adult side of the pool here but...
Macca when he was on ESPN in the States - the dude loved us. You could totally tell. He absolutely is a Blue, whom frankly we completely fucked the pooch on, who went red for his playing days.
But from my experience here on "telly"... dude is definitely a Blue.
When he and "Sir" Ian Darke did games here in the States it was laughable - it was like two homers just pulling for Everton.
Polar opposite from your media in Blighty.
Ernie Baywood
40
Posted 14/12/2015 at 01:37:30
Nothing I disagree with in Baines' comments. I'm going to take some solace that it should be easier to learn how to close out a good performance than to learn how to perform.
Feels like we're on the cusp of something. As we've said many times – it's the hope that kills you.
Malc Kitchen
41
Posted 14/12/2015 at 02:36:34
Here's hoping then Ernie, 6 fucking points dropped... that's the reality. We should be same as Man Utd or above them if we'd put Norwich to the sword!
Harold Matthews
44
Posted 14/12/2015 at 09:51:32
I've just been on another thread saying everything is bright and Martinez is good at this, that and the other. I switch to this thread and I'm down in the dumps again. Problems, problems, problems (terrible word to type with one finger).
So yes, I do have complaints. Ross Barkley is not a perpetual motion, water-carrying half-back. Get him back in his normal position behind the big fella and don't fill his head with complicated instructions.
Bainsey was one of the main culprits in the Norwich match. It was he who conceded the fatal corner when it was easier to clear the ball upfield with his right foot. He didn't even try to kick it into touch. It was he who fell asleep and allowed Jerome the free shot which he blazed over. I don't know about needing more composure. A bit of concentration and less ball-watching would work wonders.
Eugene Ruane
45
Posted 14/12/2015 at 10:42:55
Harold (29) - I get the feeling the idea of 'concentration' is barely paid lip service by our coaching staff.
It's obvious right now (ie: at this specific point of this season) that the capabilities of most of the teams in the PL aren't all that different.
I say that simply based on the evidence - Liverpool beat Chelsea, Newcastle beat Liverpool, Bournemouth beat Chelsea, we beat Southampton, Southampton beat...well you get the idea.
It's always annoying when we throw a lead away (as we have far too many times over the last few seasons) but this season, with only Leicester and Arsenal showing any real consistency, if is particularly galling.
With a bit of mental strength, we could have taken advantage of this, but have shown ourselves to be one of the worst offenders.
It's incredibly frustrating and you see it (abandonment of concentration) kind of take a strange hold in just about all our games.
Sometimes it lasts 10 mins, sometimes an entire half, but you know there will be that period where the invisible fog descends and suddenly we appear to be an alehouse team playing the Brazil 70 side.
A few times in the past I have suggested we need a 'concentration coach', someone who is dedicated to keeping concentration at 100%. Most of them are decent players but so are most players in the league, so the difference in how a team does (where it finishes) comes down to more than who can do most keepy-uppies.
We're not mentally strong imo and that needs dedicated 'coaching' if we are to achieve anything.
The only alternative is to find a mouthpiece player who drags all those around him to greater things and doesn't allow those around him to switch off (Reid, Keane, Souness, Collins etc).
Unfortunately, these days, such players are as rare as..um..there being less than 5 mins added time at Anfield, if Liverpool are losing,
Steavey Buckley
46
Posted 14/12/2015 at 13:23:20
Coded message from Leighton Baines, the season is over when it comes to finishing in the top 4, maybe next season?
Harold Matthews
51
Posted 14/12/2015 at 17:32:55
Yes Eugene, you've banged the drum on concentration for many years but it's still a massive problem.
I totally agree with the idea of an enforcer and hope McCarthy, Cleverley or Besic grow into the role. We've no real leaders out there and it shows.
Ray Roche
52
Posted 14/12/2015 at 17:51:10
Jamie Crowley #24
"completely fucked the pooch on"
Two countries separated by a common language. ;-)
Add Your Comments
In order to post a comment, you need to be logged in as a registered user of the site.
Or Sign up as a ToffeeWeb Member — it's free, takes just a few minutes and will allow you to post your comments on articles and Talking Points submissions across the site.
© ToffeeWeb