Martinez wants Everton to develop a ruthless streak
by

112 Comments [Jump to last]
| 14/12/2015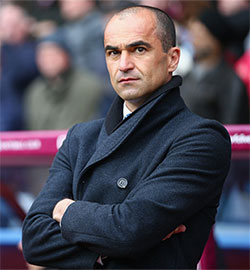 That Everton as a team are generally too nice is a charge that is often levelled against them, something Roberto Martinez wants to rectify as his young team learns from the disappointments of the last three Premier League fixtures.
The Blues have surrendered six precious points from winning positions against Bournemouth, Crystal Palace and Norwich over the past couple of weeks, the last four as a result of soft goals conceded from corners which the Catalan admits "is a problem at the moment."
"You shouldn't concede from corners at that ratio," he continued in the Liverpool Echo. "A corner cost us two points [against Palace] on Monday , and we conceded a corner and it cost us two points today. It was unfortunate but I am sure that we can do a lot better.
"[D]uring a game in the 90 minutes you need to do certain jobs and you need to be ruthless and you need to have a nasty streak in order to keep a clean sheet and at the moment we are being heavily punished for that."
Martinez's faith that his team can only get better from here is a running theme in his latest comments and he has pleaded for patience from supporters who are growing frustrated at the lost opportunities to push for a place in the top four. Rival teams continue to drop points in what has been an unusually unpredictable Premier League season but Everton have been unable to capitalise.
"Clearly the last three games we feel really hard done by and we feel that the game has been very cruel on us," he said after again refusing to single out individuals for criticism. "We have dropped six points that we deserved and it is up to us to make sure that we learn from that.
"We need our fans more than ever to understand that we have a fantastic team, a team with an incredible attitude and great character and now we need to develop a bit of know-how and something which will help us reflect that in the score.
"The excitement is the attitude of the players. The togetherness of the team and the way we work so hard. The talent to create so many clearcut opportunities in the first half. That's very, very important.
"We have to go through this period probably to realise that all the good work that we do and all the expansive football that we play and all the quality that we show in our play is backed up by a bit of a ruthless streak in front of our goal and make sure that we don't give an opportunity to opposing teams to get back level."
Full interview: Liverpool Echo
---
Reader Comments (112)
Note: the following content is not moderated or vetted by the site owners at the time of submission. Comments are the responsibility of the poster. Disclaimer
Paul Andrews
1
Posted 14/12/2015 at 07:23:20
Lyndon,
Fair comments from Martinez. We need to develop a nasty streak. I posted last week, we are too nice. He has done the hard part by creating a fast-flowing attacking force scoring plenty of goals while playing football that has the fans excited. he just needs to tighten up defensively and we will be some side.
He asks for a bit of patience; if we give it to him we will be rewarded. Alternatively we can get shut and start all over again, thereby wasting the last 3 years.
Steve Harris
2
Posted 14/12/2015 at 07:45:11
What I want is our manager to develop a ruthless streak!! How can he expect the players to be nasty when he comes out with shit like "The performance is more important than the result"?
I think the lethargic attitude of the team reflects the laid back attitude of Martinez. At least he at last seems to acknowledge that we have a problem defending corners; maybe we will start to work on putting that right on the training ground now...
Ian Jones
3
Posted 14/12/2015 at 07:50:35
You could also say we gave points away against Liverpool from poor defending at a corner.
Stephen Brown
4
Posted 14/12/2015 at 08:03:14
At least he's recognising there is a problem!
Mark Andersson
5
Posted 14/12/2015 at 08:16:41
Stephen, sorry, Martinez knows he is losing the fans again and saying what he thinks we need to hear. We were woeful in the 2nd half, maybe Roberto's waffle during the break sends the players half asleep as they were useless.
If we don't start playing consistently for the full 90 minutes, then I can see us slipping down the league.
Les Martin
6
Posted 14/12/2015 at 08:38:37
Spot on, Roberto, I agree with everything he has said, and the fact that there is no excuses is refreshing.
It will be interesting to see how this transpires from training pitch to matches, as you would assume work will be done to rectify these problems.
Colin Glassar
7
Posted 14/12/2015 at 08:40:16
That's usually the first step on the road to recovery, Stephen.
John Crawley
8
Posted 14/12/2015 at 09:02:22
Oh the irony, the main person who needs to develop a ruthless streak is Martinez who should have dropped Howard last season!
Darren Bailey
9
Posted 14/12/2015 at 09:06:40
But, then again, Roberto "there's no need to practice corners" is there? At either end of the field. I think I read somewhere that we have conceded 14 goals this season from corners (don't quote me on that – I saw it somewhere when I was very angry from the result on Saturday).
It has to be addressed at both ends of the pitch. Barkley, Deulofeu, Barry, Baines (less so) and Cleverley have all taken corners this season and have all been shocking. How can players that are so technically good with a dead ball be so bad from the corner flag? Penalty spot or the edge of the 6-yard box – that's what the fans want to see. Not hitting the first man or taken short for it to end up back with the keeper 5 seconds later.
As a centre back myself (not any more, I might add), I'd be so frustrated if I was Stones or Funes Mori making that run up field to be chasing back because of the counter. I'd just not bother if I was them. Look what happened the last time we put a decent corner into the edge of the 6-yard box – Funes Mori = goal.
Simple football; stop making it so difficult for yourselves.
Sam Hoare
10
Posted 14/12/2015 at 09:24:57
"We need our fans more than ever to understand that we have a fantastic team, a team with an incredible attitude and great character"
I believe the first part but not the other two. We have some brilliant players but I'm far from convinced that they have the attitude and character that goes along with winning. We seem very clearly to be fragile and possibly too nice and/or complacent.
Every team is capable of giving away a lead but to do it so regularly and with such a drop in performance levels in the second half is worrying.
If we had held onto the leads against Bournemouth and Norwich we would now be 5th with 2 points off 4th and a real momentum going into Xmas. Instead we are slap bang in mid-table with frustration seeping through the fans.
I really hope that Rm can offer more than rhetoric to fix this problem and that we can make up for these missed opportunities with a run of wins or else we may look back on this period with our fantastic young core of players with sad regret as they will be off sooner rather than later if we don't climb the table.
Dave Abrahams
11
Posted 14/12/2015 at 09:42:48
I can understand him not having a go at individual players, we can do that. What I don't get is, "We have been hard done by in recent games" – no, Roberto, we haven't; the players have cocked it up with silly and avoidable mistakes, and you have played your part with poor substitutions and lack of preparation at corners, at both ends of the field.
We have been saying this for the last 18 months but nothing changes or is likely to with your complacency, and still the brilliant away fans have to endure this nonsense. Will you ever change? It doesn't even look remotely possible with your stubborn streak and you are here to stay with this invisible board.
Patrick Murphy
12
Posted 14/12/2015 at 09:56:43
One of the reasons for the defensive lapses may be the fact that, compared to the rest of the team, there is no real competition for places in that department. Jagielka is the only recognised defender who will be fit enough to return in the coming weeks, with Galloway or Baines vying for a place at left back. I don't know whether this is by accident or design, but it is an area that is relatively weak and if Roberto honestly doesn't see a problem with that department purely in numerical terms, then I believe he is misguided.
Losing either of our current centre-backs for any prolonged period will leave the team in a pretty vulnerable position, notwithstanding we already concede too many silly goals. Add in the fact that Lukaku is Everton's only real goalscoring threat and we have a situation where two key areas are inadequate both in terms of numbers and real quality.
Andy Walker
13
Posted 14/12/2015 at 09:57:04
Martinez needs to look in the mirror. First thing he can do is stop talking about 'complete performances' when we beat the likes of Villa. A ludicrous statement which could only lead to complacency which is exactly what we've seen in the last 3 games with no wins.
The man is his own worst enemy.
Graham Mockford
14
Posted 14/12/2015 at 10:12:16
The last three games have brought into sharp perspective some fundamental issues that need addressing.
For me, it's not about the players but the system we are employing which is making us a very open side. On a plus point, we are creating chances, scoring plenty of goals but at the same time making us easier to get after and score against.
This may well fit with Roberto's 'philosophy' but I'm not sure it's going to win as many points as we should given the quality of players we have.
We are effectively playing a 4-3-3. There are two problems with this for me. Our two 'wide' players, Kone and Deulofeu don't give us enough defensively as all the best sides playing this formation easily become 4-5-1 when defending and on the back foot.
Secondly, and probably most importantly, we are playing a predominantly attacking player Ross Barkley in the central three which puts us under more pressure when defending. Personally for me, if Barkley plays, he should be one of the attacking three and either Cleverley or Besic joins Barry and McCarthy.
The final issue is just basic defending of set-pieces. This needs working at on the training ground. Not exactly rocket science.
I for one don't want to return to the style of Moyes or calling for a big carthorse centre-half to rectify our apparent frailties. However Martinez needs to show some tactical flexibility to sacrifice some of our attacking intent at times to solidify us.
Patrick Murphy
15
Posted 14/12/2015 at 10:13:47
A quote by our very own American Keeper:
It's something that needs to be sorted out. We've conceded too many set-pieces and too many set-piece goals. Teams have worked out that we are maybe not very good at defending set-pieces so we have to start doing a much better job. We are trying not to panic about it, but it is a concern. There's no magic spell that will put it right, we just need to show a bit more gumption.
There's also a decent piece in the Echo by David Prentice, musing over some of the fans' reaction at Carrow Road last Saturday.
http://www.liverpoolecho.co.uk/sport/football/football-news/roberto-martinez-become-boos-buster-10592669
Tony Abrahams
16
Posted 14/12/2015 at 10:52:03
Graham, the formation also worries me because, although I think we are getting much better, and someone will get a proper hiding off us soon, the likelihood is, if we don't sort out our left side, the same thing will probably happen to us.
I personally go with John @4: we have got to change our keeper. I'm not blaming the defence for Saturday, because missed chances cost us the 3 points, but to concede at the rate we our doing from corners, needs addressing immediately.
Harold Matthews
17
Posted 14/12/2015 at 10:58:56
I like Funes Mori but I wish he would put his foot round the ball and try to knock it into touch instead of just whacking it out for a corner. Baines did the same on Saturday when it was easier to clear the ball upfield with his right foot. It happens all the time. Senseless people thinking that they have saved the day when they have actually dropped us right in it.
As for our own corners, if young Ward Prowse can hit an accurate one every time, why can't we? It's not even difficult.
Barry Pearce
18
Posted 14/12/2015 at 11:11:46
I agree, Harold, spot-on.
Henrik Lyngsie
19
Posted 14/12/2015 at 11:22:08
I agree with Graham (#10). On top of being poor at set pieces defensively, I also think we are too vulnerable in open play. Problem is that neither Deulofeu, Barkley or Kone are very good at protecting the defence. Most teams defends with the whole team and the striker is also the first defender. We have four players who are not defending at all, Lukaku, Kone, Deulofeu and Barkley. Maybe against the bottom teams we will be OK, but against the top 6 it is certainly a route for disaster.
There has been a debate previously regarding Barkley and that he should use his energy only offensively. But I think he needs to be able to work both ways. Like the one who used to wear Number 8 for the Reds (I won't mention his name). In modern football, you need to be as good as Messi if you are not supposed to track back.
We can't afford to play 4-2-3-1 and none of the three are defending properly.
Frank Crewe
20
Posted 14/12/2015 at 11:51:49
I don't buy into any of this. If we converted a higher percentage of the chances we're making into goals we wouldn't be fretting about the odd goal we concede.
Man Utd lost to Bournemouth. The RS scraped a home draw to West Brom after having 70% possession. Spurs lost to Newcastle at home after being in front. Chelsea, who supposedly have the best defensive players in the Premier League, are huffing and puffing away in the bottom six.
The fact is it is almost impossible to stop opposing teams from scoring one way or another. Clubs don't spend millions on attacking players for the good of their health.
We have a decent defense but, like all Premier League defenses, it is not impregnable. If we played with 10 defenders, we would still concede goals.
Our problem is that we are losing our intensity in games. We're getting off to flyers in the first half, make loads of chances and score a goal or two. But then comes half-time and the difference is obvious. The intensity of our attacking play simply drains away and the opposition gets on top and before you know it they've equalized.
Now maybe they're not fit enough to maintain the level they start with throughout the game. Maybe they get discouraged because they haven't got the bigger lead the chances created merited. Maybe we need better leadership on the pitch to stop heads dropping when we are under pressure. Maybe it's a combination of all three. But it is not about who runs back to defend and who doesn't.
Take more of the numerous chances we make and our problem is over.
Andy Meighan
22
Posted 14/12/2015 at 12:05:20
We've shown all the patience in the world; unfortunately this is a recurring theme – losing goals from set pieces – but nothing has been done about it.
We've got centre-backs who are brilliant ball players but shithouses when it comes to putting their heads in when it matters... The likes of Labone, Lyons, Watson, Ratcliffe, Gough etc would put their head in a cement mixer if it meant preventing a goal. Today's centre-backs wouldn't.
I'm sorry, Martinez, but you'll be getting no more patience off me. I've been patient enough... it's time for you to deliver. Oh and I suppose you'll be trotting out the same drivel after the draw with Leicester on Saturday???
Dave Ganley
24
Posted 14/12/2015 at 12:16:55
Sorry Patrick, #8 I don't buy into the theory that lack of competition at the back is the cause of our defensive problem. For years in the Moyes reign we had a regular back 4 of Baines Jags Distin/Lescott and Coleman. I never saw them being as sloppy on a regular basis as they are now and you could say that those 4/5 defenders were nailed on to start when fit so not much competition for places but still did ok. Our defensive problems lie in the coaching or lack thereof of decent defensive coaching. We look all at sea when defending set pieces and who to mark, clearly there is little or no homework done on who are the opposition danger men. For all those advocating having a Dann or a Shawcross in our defence, then it would do little to enhance the defence due to poor preparation and coaching. The defenders we have are good but being poorly coached, you don't need to be a rocket scientist to see that.
Graham #10, how many defensive players do you want on the pitch? We already have 6 and you want to add another? Who would you drop? Barkley? You say you don't want to return to the Moyes era yet you are advocating a team nearly 2/3 full of defenders. Somehow, and i'm not entirely sure how, Moyes has this reputation of dour defensive football. We had a back 4 and ONE defensive midfielder. 2 wingers, an attacking midfield of Arteta and Cahill and a centre forward. Makes Martinez look like the dour defensive manager with that line up. The problem we have is lack of organisation defending as a team. I get the impression Martinez feels that if we have 2 DM then that will take care of itself but apparently without any practise. We saw against Palace that Barkley can track back and tackle so we can only assume that the manager a) doesn't want him to track back or b) lets the lad be lazy by not rebuking him when he doesn't track back. Either way its poor management.
So 2 years down the line and Martinez finally admits there is a bit of a problem defending set pieces. Well I suppose that is a step in the right direction, finally. Will he sort it out? Debatable. If he keeps with the current defensive coaching staff then I have absolutely no confidence he will sort it. We have been leaking goals for a long time and it has not been rectified by the current set up. There's no point trying to bleat that we have been hard done to, you get your just desserts for most part in this game and we get what we deserve. The Palace game aside, where we actually played for the full 90 minutes and were a bit unlucky, we got what we deserved against Bournmouth and Norwich. We took the foot off the gas when leading and tried to coast. Its fine being a flat track bully and thrashing very poor teams like Villa and Sunderland but I think the hysteria following those games went way over the top.Do we have potential? Definitely. Are we anywhere near reaching that potential? Absolutely not. Lack of desire to finish games off, lack of defensive preparation and lack of using substitutions when it is clear that players are tired. I suppose I could throw in a distinct lack of fitness to last 90 minutes also. If we had any proper team coaching and defensive management then we wouldn't need to pay 2DM. We could free up another place for an AM, if only the team understood what its role is defensively. Lets face it, with hard games coming up in January we could do with a bit of organisation and probably a bit more going forward. I don't forget about the awful games against City, United, RS and Spurs this season amongst others.
We can also forget about ifs buts and maybes. If we won such and such a game we would be 4th, 3rd whatever. Fact is we didn't and we are not. At the moment we are a mid table team with flashes of brilliance mixed with flashes of disasters which is why we are where we are. If Martinez finally gets to grips with defending and gets rid of that ridiculous notion of you score 3 we score 4 nonsense, then we may finally get somewhere. If not then we will stay a mid table team, yet again not even remotely realising potential. Bloody hard being an Evertonian!!
Tony J Williams
25
Posted 14/12/2015 at 12:43:26
Amen Brother Dave.
To be fair though. it's not a recent issue.
As an Evertonian, I used to worry about corners back in the '80s, the '90s and of course the '00s.
The problem we have had for a decade too is that we have been shit with corners at the other end too.
It's not a Martinez issue, it's an Everton issue, which obviously includes defensive staff, players AND the manager.
It's heart-in-mouth time every time we have a corner now and what I have noticed is that Stones, since coming back injury, seems to be getting pushed around a lot more than he used to. He used to stand toe to toe with the big grocks, but now doesn't.
It's good that Martinez and it seems Howard are acknowledging the fact that we have been shit at corners for a few seasons now... didn't take long, did it?
I hear David Moyes is looking for employment; head defensive coach, anyone?
Mike Gwyer
26
Posted 14/12/2015 at 12:45:12
Don't know why everyone is so concerned, Jimmy James will be back on Saturday so everything is now OK.
Shit & sorry, forgot about Howard. Oh more shit, Leicester are brill with corners. More bollocks, Deulofeu can't tackle to save his life.
But the good news is, if we can limit Vardy to just 2 goals, we will only need to score 3 to win. Game on.
Eddie Dunn
27
Posted 14/12/2015 at 12:50:06
It doesn't seem to matter who the personnel are, they whole squad is culpable for not tracking back, over playing all over the park, when a simple one-two would be better. It is a mindset instilled by the coaching staff.
The minute a team in this league, switches off, they get punished. It is an unforgiving scenario, and we have only tonked two poor sides, and yielded good leads to average teams. When we have played good sides (Arsenal, Man Utd, Man City) we have lost.
There is a pattern developing, and we will relive the nightmare through the rest of the season. We are incapable of putting in 95 mins of passionate, skillful football.
Martinez talks of "Character" and "an incredible attitude" amongst the players. He is mistaken, as these are the qualities that are missing. Too many withdrawn, timid individuals, afraid to do anything that the boss hasn't instructed. They don't know how to change things on the pitch themselves, as Martinez doesn't delegate, he directs everything from the touchline, and doesn't even consult his coaches during the game.
He is to blame for the malaise – not the robots on the park.
Mark Andersson
28
Posted 14/12/2015 at 12:52:11
Dave Ganley, by far the best post I have read in the last two years.
I said in a earlier post that Martinez knows he is losing the crowd once again and trying to buy some time. He need not worry as there are more than enough, including the board, who are convinced we are just a couple of tweaks around the corner of becoming the '80s glory team. Wake up to the fact that the league never lies, stats are accumulated for a reason, and Martinez is full of shit.
For the most part of this season I've backed him as we had no choice as he ain't gonna be sacked any time soon. Born a blue, I'm just glad that I witnessed the 80s; it's the generations after I feel for. The Millionaire Club, as we were known in our glorious past, is now at best as a small club, punching above our weight.
When my generation and the few older generations before pass, Everton FC will become the no-marks of football, like Leeds United, Wolverhampton Wanders, Nottingham Forest, Derby County and many more likewise.
Big club status, my arse... cling on to Bobby's and Billy's words all you like, but that's all they are – words.
One last thing: I love TW as it's both informative and as frustrating as Everton FC, but I'm hooked on both.
Colin Malone
29
Posted 14/12/2015 at 12:55:38
We have a very good young team because Roberto has given young players a chance.
But, as well as the team being more ruthless, Roberto has got to make some ruthless decisions. The goalkeeping selection is the main decision where most question Roberto's ruthlessness.
Steavey Buckley
30
Posted 14/12/2015 at 13:20:55
It is the manager who is too nice with certain players, who play no matter what form they are in.
Andy Walker
31
Posted 14/12/2015 at 13:50:35
There is only one explanation for how the team can play so well in the first half and poorly in the second half, and that is mental attitude. What exactly is Martinez saying to the players at half time? They are not coming out pumped up that's for sure.
Martinez has said it himself we deserved to win against Norwich based on the first 45 minutes. How arrogant is that? That arrogance transfers onto the players no doubt following Martinez's half-time talk and complacency took over.
The players should have been bollocked at half-time after only being one up and should have come out raring to put things right. But they didn't, a symptom of weak, naive, management. He failed to motivate his players who came out in the second half expecting it to go the same as the first. It's the managers job to stop such complacency, he failed and what made it worse was he failed at Bournemouth too.
Clive Mitchell
33
Posted 14/12/2015 at 14:01:19
As John (#4), said. RM has forfeited the right to complain about being soft touches or letting in goals from corners because he has persisted in playing a sub-standard goalkeeper.
Can you imagine how the centre backs and other key defenders feel as a corner is about to be taken, knowing that the goalkeeper will do nothing to intervene and that there's a keeper on the bench every week who might at least try?
Ian Jones
34
Posted 14/12/2015 at 14:02:01
Does anyone know what Martinez said at half-time? He may have given the team a bollocking for all we know. Although I doubt it.
The responsibility also lies with the players. Whether we practice corners or not, I also doubt Martinez suggests to players that they shouldn't mark people. Others have nailed it with lack of leadership on pitch.
It also doesn't help the game plan when the opponents sneakily up their game in the second half.
I seem to remember many of us were complaining that we only get going when we concede the first goal. Now we switch off having got the first one, two or three.
Ian Jones
35
Posted 14/12/2015 at 14:04:14
Forgot to add this link below
http://www.dailymail.co.uk/sport/football/article-2881876/Southampton-3-0-Everton-Romelu-Lukaku-goal-sets-Saints-march-Graziano-Pelle-Maya-Yoshida-add-second-end-losing-run.html
Perhaps Lukaku scoring own goals from corners is a good enough reason to keep him away from defensive duties!
Jim Burns
36
Posted 14/12/2015 at 14:10:47
Frank @ 16 – I tend to agree . It's obvious that teams going in at half time a goal or two down, will be given a kicking by the manager and come out in the second half fighting. It's happened twice now at least with Bournemouth and Norwich. Martinez and the players know that – so unless we come out with the same intensity early in the second half, initiative is quickly lost.
In the last two games it was as if the teams had swapped shirts at half time – a game of two halves was an understatement.
If we had converted 20% of the chances we had at Norwich, we'd have been home and dry by three or four goals at half-time.
I can't decide whether us dropping off at half time is down to the manager's tactics or the players – either way if we had come out guns blazing for the second half we wouldn't be putting ourselves under pressure and conceding.
Jay Harris
37
Posted 14/12/2015 at 14:33:19
Spot on, Dave Ganley.
Martinez teams have a history of conceding goals at an alarming rate.
I think I am right in saying Wigan were relegated with a record number of goals against (95 in a season I think).
At least the man has at last admitted there is a problem but what is he going to do about it.
Graham Mockford
38
Posted 14/12/2015 at 14:39:18
Jay (#27),
No you would be wrong: 73 goals conceded.
Record is held by Derby with 89 in a 38-game season.
Not exactly a ringing endorsement defensively though.
Bill Gall
39
Posted 14/12/2015 at 15:00:00
Martinez is his own worst enemy, stating what has been obvious for quite a while to many people, that although exiting at times, there does not seem to be the intensity in Everton's play that is required in most games, to dig in and grind out results when it is needed.
His game management is his weaker part of his game plan as he seems to set the team up good at the start of the game, but he seems reluctant to change things when the opposition change their set up and change the game into their favor. He also seems to leave his substitutions until after 70 min and the thing that I don't understand is when they do substitute a player he stands on the line getting instructions of where and what he is supposed to do wasting time to bring him on.
For the past couple of seasons I have commented that we should look at bringing in a Italian defensive coach as defense seems to be in their blood from when they are born, but I guess that type of person will not fit into his philosophy. The only thing I can think of is he has the same mindset as Kevin Keegan when he was at Newcastle of, you score 3 we will score 4 that makes for good watching,but in the premier league at this time it is not going to happen . "Goals get you the points but it is your defense that wins you the game."
Martinez's philosophy is great when it works and will get you lots of friends but when it does not work your so called friends quickly become your enemies. In his years in the Premier League most of them have shown a poor defensive set up that if turned around can make him one of the most successful managers Everton has had, but if he continues with his stubborn attitude to change, he will become another who failed to fulfill the potential he looked to have.
Steve Brown
40
Posted 14/12/2015 at 15:51:35
Would Roberto go out and sign a Peter Reid? Given the lack of leadership in the team, we need this but he just wont do it.
Harold Matthews
42
Posted 14/12/2015 at 16:12:34
Remember the Pat Nevin theory on these crap corners? Speaking from Goodison, he said that the texture and colour of the turf was different on the other side of the touch-line, causing a faltering of the stride in the run-up.
Mark Daley
43
Posted 14/12/2015 at 16:22:22
A ruthless team needs a ruthless manager. We need someone who's a hard case, a no-nonsense Evertonian with a record for ruthlessness; maybe even done time in Barlinnie for it.
No, it's no good, I can't think of anyone. We're stuck with the Phenonemonal One.
Mark Daley
44
Posted 14/12/2015 at 16:31:03
Phenomenal even... thinking about RM ruins my spelling.
Dennis Ng
45
Posted 14/12/2015 at 16:41:44
When I first read this, I was wondering if RM frequents this website. Fingers crossed that he walks the walk and sign some gritty players in January.
What about that Barton guy as a coach? Don't think he's any good on the pitch anymore but surely he can stir up some controversy.
Ray Roche
46
Posted 14/12/2015 at 16:49:40
Harold, I thought that the difference in colour at the pitch side was due to the running track being completely artificial turf instead of the mixture used in modern pitches, hence the little "puff" of black sand when the ball lands on it.
Russell Smith
48
Posted 14/12/2015 at 17:53:48
Why does the different "texture" of the running track and pitch not affect our opponents when they are taking corners?
Good point above about us being rubbish for years with corners. I can remember TW being up in arms about Arteta never beating the first man. The last consistent crosser was Hinchcliffe, and before that Sheedy.
Why doesn't Deulofeu take more corners? With his short backlift, he won't have to step off the real grass, and we all know his crosses are peaches 70% of the time.
Raymond Fox
49
Posted 14/12/2015 at 18:01:53
This old chestnut keeps coming up every week, its the manager's fault that we are conceding goals because the players are not defensively coached. How do you know how they're coached!
Did you watch the weekend matches, if we are not defensively coached, then most of the league are not either, there was loads of goals conceded from corners!
The fact is, it's not that easy when a decent cross is made, the attackers have the upper hand when they are moving towards the goal. Have a look back at the goals we have conceded from corners, there's defenders competing with the scorers but the attackers are out jumping us.
All our defenders are current Internationals, most of them are experienced, they know how to defend, but they failing to deal with corners too often. They are the ones that's not dealing with the corners, so who's to blame, it's much easier to blame the manager.
Stones goes missing on corners, Baines and Coleman are poor, what about Barry and McCarthy, I can jump better! Funes Mori is the only one that's decent.
Armando Canaj
50
Posted 14/12/2015 at 18:04:34
Quite a few comments posted here about the need for the Manager himself to develop a ruthless streak. I may not be in the know of inner workings and dynamics of EFC and the style, but are you!!!??
WHAT exactly have you based this judgement on? His demeanor in interview or on the touch line? What's he supposed to do, jump up and down when we misplace a pass or shot on goal. Slide on his knees when we score, like those ego maniacs Pardew, Morinio (misspelt I know, but can be bothered googleing it) soon to be followed by Kloppy.
I'm calm when at work. Calm when things go wrong, but trust me, the team know what I expect and when we've under delivered. Management isn't about public tantrums or blaming the individual. Those manager exist, but they're never I'm charge of progressive team. They manage by fear which is a negative emotion.
I'm just getting over the Norwich game. I got back from the game at 22:00.
I have faith in the team and manager. He should start Naisy on place of Kone against Leicester. Mirallas needs more game time before he starts. Stay with it all. Massive improvement over the last three years and it WILL keep improving.
Who's one of the most gritty player we've had in the last 20 years. He's coaching at the moment. No-one seems to question Duncan's role in the attitude of the team. Should he not have a massive in instilling grit! This isn't a one-man management team. He has a trusted backroom staff.
Michael Polley
51
Posted 14/12/2015 at 18:11:18
Summed it up perfectly, Dave: "It's hard being an Evertonian". But we will all keep the faith because that's who we are – Evertonians!!!
Ged Simpson
52
Posted 14/12/2015 at 18:16:53
Mark 39: Sam Allardyce? Moyes back?
I'd rather us play the way we are than grind our results in a dour way.
Brin Williams
53
Posted 14/12/2015 at 18:19:41
So – 'Martinez wants Everton to develop a ruthless streak'
With who – the opposition?
I think they need to develop a ruthless streak with each other. It's all very well having these love-ins, kissing and cuddling when they score but there doesn't seem to be much arse kicking when the goals go in at the other end.
Hanging of heads is not enough they need to be more demonstrative, more verbal and start shouting at each other and showing their displeasure at the mistakes being made.
Team spirit is not just about being nice with one another – as a team they should be able to criticise and show it on the field in front of their supporters
that way, naming and shaming, we will probably get something done.
The Martines luv-fest should be over by now and he too should kick arse and have his arse kicked.
There is a similar luv-in going on across the park at the moment, new managers like to be liked by the fans and the players – it doesn't always work out.
Martinez has a golden opportunity to show his displeasure in the January window by getting rid of the dross/over the hill or start pushing them nearer the exit. They know who they are and so does he but does he have the cojones to sort it out.
As for having a midfield enforcer, I was under the impression that we already have one – goes by the name of Besic – now there's a ruthless streak in the making!!
Andy Walker
54
Posted 14/12/2015 at 18:23:54
If they dominate games first half the tactics are right. If they dominate games first half the players are doing their job and are in form.
So what happens at half time to cause such a reversal in the match? Only one thing, Martinez does his team talk and second half tactics.
They then come out looking like they think they have won the game. There lies the problem, complacency.
James Hughes
55
Posted 14/12/2015 at 18:33:49
Brin, I have to agree with you.
We could and should be in the mix right now and in the top 4, not mulling over points dropped by poor defending.The only thing consistent about EFC under Roberto is our approach to corners.
That said, we are playing some amazing football this season and all we can do is keep hoping we click and get it right from front to back.
Paul Commons
57
Posted 14/12/2015 at 19:26:36
Moyes said recently that he didn't realise he still had much to learn until he left Everton. And that was after ELEVEN years!
So take comfort, dear TWers, this guy is just starting out and with only SEVEN years experience as a Premier League manager, he needs our patience and understanding.
The blessing is that 'seventhish' under Roberto is a mite more entertaining. That's if we can make it!
Gavin Johnson
58
Posted 14/12/2015 at 19:32:20
How could anyone prefer the Moysiah or big Sam?! At least with Roberto we have the small hope we might do the business on a cup run.
I've really enjoyed this season so far... Even though it's been frustrating at times. Some of the football has been sublime. Although we often flatter to deceive when you look at the final scoreline.
I guess which camp you're in comes down to whether you have a cavalier or a round head mentality. So in that case I'd be in the former camp.
Ian Brandes
59
Posted 14/12/2015 at 19:43:09
Shouldn't Martinez have developed this ruthless streak? Forgive me, I thought he was our manager. If he is serious, he needs to do something about our 1st choice goalie, who does not command his area, and flaps around like a demented duck when we concede.
The tragedy in all this is that we have a GREAT team in the making, and our manager needs to step up to the mark to make sure we achieve our full potential.
I tire of hearing the drivel he spouts when the majority of fans have been bemoaning our disastrous reaction to set-pieces for a very long time.
You are the manager, Roberts. Sort it!
Paul Commons
60
Posted 14/12/2015 at 19:48:19
Andy, could it be that the half-time talk is so full of praise that they think the job is done? Maybe.
We all used to moan at Moyes because we thought he told them to shut up shop. But the truth is none of us has a clue what gets said although the likelihood is that the players just lose focus and concentration and don't give a stuff what the manager says to them!
Mark Taylor
61
Posted 14/12/2015 at 19:52:09
What's the problem, fact is, we won the game on Saturday 1 - 0.5.
Or at least so says RM, who apparently thinks set pieces should only count as half a goal. Unfortunately, the rule setters haven't caught up with this yet, so it was a draw.
We all know what the problem is. We have a goalie who won't boss his box. Our defenders might be iffy dealing with corners and wide free kicks but I think that is partly because their goalie leaves them panicking, partly because RM sees no urgent need (until maybe now) to actually practise defending them (or even attacking them).
Our friends across the park have a similar problem, except their goalie sometimes comes for crosses but then flaps.
Oh for a Schmeichel. Have you noticed the really good team have a top goalie who bosses the box and if you don't have one, you're among the also rans. Arsenal might win the league this year because in Cech, they finally have a decent goalie.
Butland might be close to £20m now, but that might be the shrewdest investment we could make.
Bill Gall
62
Posted 14/12/2015 at 19:58:46
Armando (#45),
Your comment about, "Mirallas needs more game time before he starts". How is he going to get more game time when he sits on the bench for the majority of a game??
Trevor Peers
63
Posted 14/12/2015 at 20:03:51
I can see both sides of the argument on this one; no-one wants Moyes to return, yet Roberto still has a hell of lot to learn.
Some of our football has been delicious this season, and I guess with our policy of only adding two decent players each year, it is a long haul job for any manager we might employ. Let's just hope we sort out the goalkeeper and left wing positions this summer, if not sooner.
It all comes down to money and realistically Roberto is safe as houses anyway, BK loves him.

Dennis Ng
64
Posted 14/12/2015 at 20:40:07
I don't think RM has to learn that much. He just needs to learn the guts to put a boot up someone's behind.
Man, we need to man-mark Mahrez and Vardy for 90 mins, no napping. They just don't give up.
Colin Glassar
65
Posted 14/12/2015 at 20:54:27
Leicester play like a pub team on speed, Dennis. I don't know how we can cope with their attack.
Trevor Peers
66
Posted 14/12/2015 at 20:57:26
Simple nobble Vardy early on Colin, that's being ruthless.
Joe Foster
67
Posted 14/12/2015 at 20:58:02
We won't is the answer to that Colin
Colin Glassar
68
Posted 14/12/2015 at 21:00:51
Hopefully Vardy, Mahrez and Kante will pick up a few knocks and miss the game.
Joe Foster
69
Posted 14/12/2015 at 21:01:12
We will need to out-score them.
Dennis Ng
70
Posted 14/12/2015 at 21:06:07
LOL I don't mind a shootout, 10-10 anyone?
I see some "determination" on our end but only on the offensive side. As many noted, Leicester are always first towards a loose ball, on both sides of the game. I hope the game against them will show our boys what takes to win titles; even if Leicester fall off later, theirs is a story to behold. They are the team to beat and the team to emulate now.
David Hallwood
71
Posted 14/12/2015 at 21:08:05
What people tend to forget about Martinez is that he inherited the best defence in the EPL if you measure the calendar year (2013). Secondly, I've been watching almost the same goal conceded for the last 1½ seasons – can't defend crosses, full stop.
But the worst bit is that it's down to basics; close down the space, stop the cross, track runners, the thing sir taught you when you were 10. Danny Murphy pointed it out against Bournemouth, in the second half, they were able to run into space without an blue shirt within 10 yards of them, run past players without a tackle FFS take on for the team, you're defending a lead if you need to bring them down to break up play so be it.
It's galling to think that if we had won the last three games, we'd be 4th on GD. We won't have a better chance to get a CL spot, that way we get to keep our young stars without it we start from scratch albeit with wads of cash.
Dennis Ng
72
Posted 14/12/2015 at 21:11:56
David, you forget to mention how many players we have in our box when we concede. That shows poor coaching. Not sure if they skip that training but it's insane that we're so bad just 2 years after our dreamy season.
Jack Cross
73
Posted 14/12/2015 at 21:23:50
We do have to sort our defensive mistakes out, but we basically lost 6 points in the last three games down to bad finishing. It's no good having the opposition on a back foot, if we miss an abundance of chances.
If we had scored 3 goals in each game, and we had the chances to do so, there would have been no way the odd defensive mistake in each match would have been enough for us not to take all three points.
As we seem to rely on Lukaku scoring, I think we've got more problems than a bad defence.
David Hallwood
75
Posted 14/12/2015 at 21:55:26
Good point, Dennis (#66);
Watching Leicester v Chelsea and Leicester hunting in packs to defend the lead. If they sat back like us, they would've lost as Chelsea came back.
Ian Hollingworth
76
Posted 14/12/2015 at 22:12:47
Yes please RM we need a ruthless streak and we need you to start that process. Make some tough decisions and stop this nonsense of sitting back on a lead.
Now would be a great time to start as we have the league leaders visiting on Saturday.

Armando Canaj
77
Posted 14/12/2015 at 22:31:47
Bill (#56), I meant to say he needs more game time before he starts and plays a full 90 minutes. Build fitness, game time, confidence etc.
Harold Matthews
78
Posted 15/12/2015 at 01:21:15
Mahrez cost £450k from a French 2nd division club. That's what I call good scouting.
I do believe Martinez can be quite ruthless but I'm not at all sure how good a coach he is.
Peter Barry
80
Posted 15/12/2015 at 04:28:57
How important is the Manager?
Well just look at the difference Raneiri has made to Leicester and you can see. Which is why we have to get rid of Roberto – he is just not good enough.
Brian Porter
81
Posted 15/12/2015 at 06:29:08
I agree with most of my fellow posters here. It's clear Martinez is trying to appease the fans by saying what we've been saying for over a year. If he truthfully has only just recognised the problems we have at corners, it's a terrible indictment of him as a manager and coach.
He needs to be a leader by example when it comes to being ruthless: stop playing favourites and find a new keeper who can command his area and tell Howard his day has come and gone.
Stop bringing returning injured players straight into a settled team, undoing any rhythm and team spirit that has built up. Like Baines, they need a few substitute appearances before coming back for full games, but what's the betting Jagielka will instantly replace Funes Mori when supposedly fit? I must say I'm not sure Jags should be there ahead of Ramiro, who is turning into a great find.
Ruthless, Roberto? Tell Jags he's on the bench until he's proved he is fitter and ready to replace our Argentine international, if he ever will be. Funes Mori is younger, fitter and faster and if we want to move forward with younger players, he should keep his place unless he screws up.
Kone, again not really brilliant and should be rotated with Naismith and Mirallas, perhaps then such players won't be wanting out in January. If Rom is injured, those two constitute our only other real goal threats. Let them leave and we have no backup for Rom at all.
Martinez is simply being reactive, not proactive and needs to lead by example rather than waiting 18 months to identify a problem, then doing sod all to actually solve it. In any other business he'd have been out the door by now, but we simply allow Martinez to merrily churn out his weekly platitudes and soundbites while the team flounders under his control.
Peter McHugh
82
Posted 15/12/2015 at 06:30:23
Either we don't practise enough on set plays and stopping crosses in our box OR the coaches including manager aren't good enough OR the players aren't up to the task. Probably a combination of all three.
Martinez knows the problem (who doesn't) and must identify the cause. Why this has taken so long is a concern but can't change the past.
Those calling for Moyes to do defensive work clearly have short memories about how we defended corners with him in charge. He is not the answer. Maybe Unsworth or Sheedy can help on this aspect but otherwise I do think we need to bring someone in.
James Marshall
83
Posted 15/12/2015 at 06:45:28
A ruthless streak? A nasty streak? What does that even mean?
What they need to do is stop teams scoring stupid goals against us, and learn to defend set pieces – it has fuck all to do with being nasty.
We're the new Newcastle under Keegan at the moment, and it won't win you shit unless you learn how to defend.
We do need to be more aggressive when it comes to marking players on crosses, that's for sure.
Paul Andrews
84
Posted 15/12/2015 at 06:53:16
James,
You answered the question in your first para in your last para.
Look at the way most teams defend set-pieces. Two/three blockers stand around the penalty spot, the centre-halves or centre-forwards are obstructed in their runs, grappled, grabbed or pushed. They are mostly unbalanced to attack the ball even if they get past the blockers.(attacking teams have turned it around by doing their own blocking). And most importantly at the point of challenge the defenders are prepared to take a head clash to defend the aerial ball at all costs.
We don't do any of the above.
Andy Walker
85
Posted 15/12/2015 at 07:46:19
If only we were like Newcastle under Keegan. They challenged for the EPL and nearly won it. We are mid table also rans.
If we were as good as Keegan's Newcastle we would at least be in the CL.
Andy Walker
86
Posted 15/12/2015 at 08:00:12
A ruthless streak is frequently demonstrated by top sports teams. When such teams are dominating their opponents they don't let off the gas. You see it in cricket (Australia at their best and also S Africa now), you see it in RU with the all blacks. In football Man Utd and Man City at their best come to mind.
In other words it's the mental strength that comes from concentrating on winning matches and not getting into the mindset half way through that the job is done. Everton have demonstrated these soft, weak attributes in recent weeks against Bournemouth, Middlesbrough (remember the second half), Crystal Palace, and now Norwich.
We have shown we can play well, but then we show a lack strength to keep it going for 90 minutes or at least until the opposition are truly crushed, which can never be after just 45 mins.
Darren Hind
87
Posted 15/12/2015 at 08:30:21
Quite amusing really, some of us have been saying this for 3 years and the denials have been almost hysterical. Now he finally admits it (did he have an option?) and they are "fair comments".
Bobby may be a little slow on the uptake, but by finally recognising the problem, he is taking the first step to curing it.
The dynamics of our games are repeatedly altered by conceding these soft goals. Hopefully the players may now start to get the results their talent warrants.
Paul Commons
88
Posted 15/12/2015 at 08:32:19
Whilst the manager is an easy target to blame for any deficiencies in our play, the fact remains that it's the relevant players who get paid fortunes to perform for 90+ minutes.
For all the rave reviews, Stones is far from being a top centre-back (yet), Funes Mori is just a stand-in, and the goalkeeper is past his best. Many of the non-defenders brought back for set-pieces just seem to stand around or concentrate on wrestling matches with opponents whilst totally ignoring the flight of the ball.
Where are the leaders? Where is the professional pride in carrying the job through? Strange that the current Champions seem beset with the same problems but it's not their manager getting the stick!
Mark Andersson
89
Posted 15/12/2015 at 08:55:20
Just watched the Leicester v Chelsea game; brilliant – that's how all teams should play. Playing for each other, running their socks off, playing with no fear.
They will murder us if they play like that. We have the wrong manager, Martinez is doing what was asked of him by the board, the fans want better than mid-table nearly men.
Christine Foster
90
Posted 15/12/2015 at 09:10:24
You don't develop a ruthless streak, you have to bring one in. The players we have are about as ruthless as a jam butty. Great on the ball, but little fight and bottle. Who is their in the squad to stamp his authority on the pitch?
Where are the hard-nosed pros that you need to circle the wagons and lead by example? As much as we like the style of play it's pointless if it doesn't bring results.
Fortress Everton can only be achieved by the manager not accepting sub standard performances, attributing ownership for mistakes by the players, putting steel inside the velvet glove begins with him, dropping players and bringing in fighters and scrappers.
Darren Hind
92
Posted 15/12/2015 at 09:32:03
Paul
The Chelsea manager is getting more stick than Martinez has ever got.
Bit unfair really; he is renowned for organising tight defences, whereas this particular problem has dogged our boy throughout his managerial career.
Martinez has managed literally dozens of defenders and they have all conceded soft goals... at what point will you accept they are not all out of step bar him?
Dave Abrahams
93
Posted 15/12/2015 at 09:35:32
Christine (79) well said, I watched Leicester last night, from front to back they all played and worked for each other for NINETY minutes, they all wanted to win, backed each other, talked to each throughout the game. They wanted to win and will continue to play like that, they never stopped and most importantly gave their supporters something to cheer for the whole game, the supporters were as good as the team.
We can can be and have been as good as that, play with that determination for the whole game and we will back them to the hilt, win lose or draw, no slackers, strolling back and failing to do the basics.
Martinez cannot rouse them, how often does he change the style of play during a game, to me there is no one at the club who can give the team the massive uplift it needs, if they are already at the club they are keeping very, very quiet about it.
Anto Byrne
94
Posted 15/12/2015 at 10:24:00
Martinez needs to develop a ruthless streak, eg, players not performing need to be put on notice.
Barkley is a great talent but against Norwich he could not be arsed. Deulofeu needs a good talking to man to man. That is Barry's job on the pitch, diving screaming and play-acting is not the Everton way.
Rule 1 don't change a winning formula unless is not working. For all his good work holding up the ball and laying it off square, Kone missed a chance that Mirallas would have buried. Mirallas can do the hold-up link play if we need someone and has better defensive qualities than Kone. Unless he starts banging them in what use is he? Rant over.
Denis Richardson
96
Posted 15/12/2015 at 12:03:49
Wow - has it really taken him two and a half season to realise that defending corners is a problem for us? This weakness has been written about on this site for a long long time and our esteemed manager only now recognises it's an issue, after it's cost us a good 8 points this season already (with which we'd now be 4th).
Goals from set pieces (for or against) count exactly the same as goals from open play. And to think he gets paid over £2M a year FFS!
PRACTICE DEFENDING SET-PIECES!
Lewis Montgomery
97
Posted 15/12/2015 at 12:14:41
As a fan, it's very easy to see things from a one-sided perspective. Palace have been one of the strongest teams away from home this season, and Norwich's performances recently have shown they can dig in and get a result (and they got lucky that it was only 0-1 at half time).
We're all obviously disappointed not to win these games. We want fast, bold, attacking football, and we've got it. Does that mean we're going to concede goals?... Yes, it does. I'd rather see that than a team set up primarily not to concede/lose.
Brin Williams
99
Posted 15/12/2015 at 13:24:47
It's been said umpteen times on here – Martinez show your ruthless streak – DROP HOWARD!!!
No wonder we're leaking goals – IT'S THE GOALIE!!!
Sam Hoare
100
Posted 15/12/2015 at 13:37:56
Yes, Dave 81...I suspect that Leicester will show us this weekend what a well-organised, well-motivated team look like. On paper you'd probably only take 2 or 3 of their players over ours if that but we know that we'll do well get 3 points.
Have to say that, if we had to lose to anyone at the moment, I'd pick the Foxes. Love that they are the top of the table and showing that money may not reign supreme all the time. Obviously I'm hoping that their form is temporarily interrupted this weekend though!
Frank Crewe
101
Posted 15/12/2015 at 13:57:21
Amazing. The attack misses chance after chance but that's okay. The defense concedes an equalizer, they're the worst in the world.
If we had beaten Bournemouth, Palace and Norwich like we should have done considering the amount of chances we created in all those games, we wouldn't even be discussing the odd goal we conceded. We'd be too busy basking in the warm glow of a winning team and a top four position in the league.
Jim Knightley
103
Posted 15/12/2015 at 14:47:48
It's not just the goalkeeper, Brin. It's much more than that.
We conceded a lot of big chances in Martinez's first season, but were not punished, but were probably benefiting from Moyes's defensive legacy. The big question mark for many of us was Martinez's ability to arrange a defence (as well as his ability to buy the right players). That question mark remains, and has been repeatedly emphasized this season.
Martinez can motivate our attacking players, and he can help our young players along, but we will not do anything in the league when we cannot protect a lead. Martinez is set on the three up top, which has been effective but left us vulnerable at the back. The problem in part is Barkley, who is defensively negligent and often leads to us having 4 attacking players up the field. We can't expect clean sheets when we have four attack-heavy players, alongside attacking full backs.
It is needless to say that injuries have impacted on us, and the lack of a stable defensive unit, and experience, will lead to soft goals being conceded. But the problem goes back further than that, and the return of a fully fit Baines and Jags will not solve the problems (although it may help).
I don't think this is a question of personnel, except for Howard. Our defensive unit is very good. Baines and Coleman are superb full backs, Jags is a very good centre-back, and Stones may be the best young CB in Europe. McCarthy is also a very disciplined and effective DM and Barry, after being so poor last season, has improved.
The problem is tactics, and this has to go back to Martinez. We cannot look vulnerable at every piece, or be aware of that vulnerability. We cannot be so open at the back, and leave our defenders exposed so often.
It's a balancing act, but it's one on which Martinez's legacy will hang. I think the team is as good as any we've had in a very long time, and our first 11 should be capable of beating anyone in the league on their day. We will be more attack minded, because that is the Martinez way, and we can't expect Moyes-like defensive efficiency. But we must be better than we are at the moment, and must work on these deficiencies quickly.
We are playing a fantastic counter attacking team this weekend, with Mahrez facing up to an unfit Baines, who will have Kone supporting him defensively... This might be time from a tactical change for Martinez, because a lost to Leicester will deflate us and end any lingering hopes of a realistic top 4 challenge I expect.
The Leicester game is massive. We should have taken 9 points from the last 3. We were better than Palace and far better than Norwich, and although Bournemouth deserved a point we should not have forfeited a 2-goal lead. Now we need to turn that around or the pressure will mount on a young team and a young manager, with increasingly difficult fixtures getting nearer and nearer.
David Hallwood
104
Posted 15/12/2015 at 14:55:21
No Frank (#86) This hasn't happened in the last month, this has been happening for the last 1½ seasons, and I'll repeat, I've seen almost the same goal scored against time and time again.
If you go back through all the successful sides, they all had great defences, and 1-0 usually in the dying moments of the game is the order of the day (where do you think the phrase 'Fergie time' comes from?).
Without this ability to hold on to what we've got and/or squeeze the life out of the opposition and pop up and score a couple more (with the Soton game being a perfect example – so we can do it) we're going nowhere fast, and we'll lose our good young players and have to start again. We won't have a better opportunity to push on than this weird season, and the goals against are making us also-rans.
Steve Jenkins
105
Posted 15/12/2015 at 15:44:41
I was that pissed off and frustrated on Saturday that I haven't been able to bring myself to post until now.
Nothing new – great attacking, shit at defending in open play and set-pieces.
Our full-backs are always exposed – even when they're in line with the centre-backs and not further up the field – they're too narrow and allow space for their wingers to go past them and get crosses in at will.
RM – you've built a fantastic squad of players that play great attacking football and you deserve huge credit for this part.
Please though (in relation to our defending), either address it yourself or if, as we suspect, that isn't your forte, then do what all great managers do, and bring in someone to be part of the coaching team that can sort out the weak areas of a team – ie, defending.
Someone who understands it and lives and breaths defending, because it's beyond clear from watching us weekly that nobody has a scooby how to coach good defending, in the current set up.
It is the only thing holding us back from being a top side – so please, please, please, pay it the respect it deserves and address it.
Beyond frustrating now to be dropping points week after week because of this.
Raymond Fox
106
Posted 15/12/2015 at 16:11:41
We will beat Leicester, you watch... Why? Because I think the time is right for us to give someone a spanking!
Not much logic in that statement, I know, but with them beating everyone in sight, it might suit us; I was hoping they would beat Chelsea!
Sorry to leave the thread, Graham has just posted figures on the other thread for goals conceded and scored against us for Moyes and Martinez and there's very little difference!
We are rubbish when the ball's in the air, but the trouble is we don't appear to have a defender that excels in that situation, so what we do about it is up for grabs! Change the goalie is worth a try.
Also we are not scoring enough goals when we are well on top; if we were we wouldn't have to bother about giving a soft goal away.
Maybe we are saving them for the Leicester game...
Jay Harris
107
Posted 15/12/2015 at 16:37:57
Raymond,
I have to disagree with Graham. I don't think there is any doubt we were better organised defensively under Moyes with arguably a lesser team that didn't have Barry, McCarthy, Lukaku and a mature Stones and Barkley.
In the two seasons from 2011 we had 40 goals against in the league. In Moyes's last season, where he lost interest from January, it was 45. Last season we conceded 50 and are already at 21 against in 16 games.
Posters that think we don't have a defensive problem under Martinez need to pay more attention to the game.
10 goals more against per season in the league is quite significant, let alone a Barnsley team that scored 3 against us.
It is a fact that the team do not practice defensive drills under Martinez like they used to do under Moyes and this laissez-faire attitude applies to our own corners and set-pieces too.
The manager is the weak link in the current setup – not the players.
Raymond Fox
108
Posted 15/12/2015 at 17:22:40
I'm only quoting Grahams figures Jay, whether there right or wrong I haven't checked, perhaps Graham will answer.
Barkley and Lukaku in the team now is no plus to our defence Jay, also I don't think you can say that Moyes lost interest in his last season, he is not that kind of manager.
We have a problem when the balls in the air there is no doubt, Martinez has criticised the defence when they have given soft goals away.
Now it's a matter of opinion who you criticise: the players whose job it is to defend, or the manager stood on the touchline.
I think this argument about defensive drills is overplayed too Jay, the fact is we don't know what drills their doing + the fact that they are all current Internationals and you would imagine they know what their suppose to be doing!
Martinez looks bright enough to me, do you not think that they have had discussions about giving soft goals away at corners.
Graham Mockford
109
Posted 15/12/2015 at 17:32:52
Jay,
I think you are being a bit selective with the stats, my comparison was based on the whole of Moyes tenure and the whole of Martinez's tenure. They are pretty well identical.
However I partly agree with some of what you say. We certainly did not concede as many goals from corners under Moyes, I don't have the numbers but I don't think you need them as it's pretty obvious. This in reality should be the easiest thing to sort out as it is effectively a set play at which you have the opportunity to organise yourself properly. We shall see of course.
What the stats don't really show is how many goals you should be conceding if you are generally dominating possession and games in total. It's no surprise that Moyes's best period defensively coincided probably when he was turning out his best side 2007-2009 with Arteta, Pienaar, Baines, Fellaini and Cahill et al. I believe the current side is certainly on a par with that side if not better from an ability perspective. That team, however, was conceding goals at less than a goal a game. (Tim Howard was in goal, by the way!!)
That's really the benchmark for this side especially if you are scoring at a rate of 1.8 per game.
Set pieces aside I think it's about the tactical flexibility that the manager employs and having the game craft to know when to tighten up. That was definitely the case against Bournemouth and Norwich when a more canny side would have shut the game up.
I actually think it's quite interesting Martinez and senior players seem to be acknowledging this instead of trying to see the positive in dropped points.
Saturday will be interesting, if we are too gung ho we could easily get picked off on the break. I think we will need to be tighter more competitive and be patient. If that means a 1-0, so be it.
Darren Hind
110
Posted 15/12/2015 at 18:11:57
Raymond,
"The fact is, we don't know what drills they are doing" ... but we do, don't we? A couple of players have already told us Martinez does not think it's worth spending time on corners... why do you think everyone gets so pissed about it?
That said, I think you are right about the Leicester game. One of these games, we are going to give somebody a battering... and I have a really strong hunch it will be them.
Jay Harris
111
Posted 15/12/2015 at 18:18:06
Graham,
Thanks for that reply, which I do agree with.
Raymond, my point on Lukaku and Barkley is we have better quality players to give the ball to now, rather than the percentage ball that was sometimes necessary under Moyes. This undoubtedly helps the defense as it gives them an outlet and they are rarely under pressure.
Like you, Graham, I am really concerned about corners and crosses and that should have been dealt with a long time ago. The first and simple change I would make is to have Lukaku back for corners and leave Deulofeu or Mirallas on the halfway.
It is wrong to blame Stones and Funes Mori as the opposition have 5 or 6 players mostly capable of winning the ball in the air and we have seen the half-hearted attempts by Barry and Barkley to prevent them winning the ball.
I would also go with Baines and Galloway doubling up on Mahrez this Saturday with Baines filling the left midfield position.
Ray Roche
112
Posted 15/12/2015 at 18:28:34
Graham, we have to remember that the squad Moyes inherited was as poor a squad as I've ever seen at Goodison. He did pretty well to strengthen and settle the defence on the money available. Martinez inherited a good defensive set up. That may have an effect on the stats.
Raymond, whether they are Internationals or not, we and ALL clubs employ a defensive or/and attacking coach who should be doing a better job of it than they seem to be doing right now, otherwise why would clubs bother?
You might as well say "Why have a manager?" Let them line up against the wall and get two kids to have first pick. Wonder who'd be the last player left.......
Raymond Fox
113
Posted 15/12/2015 at 18:43:45
Darren if that was true then, it does not mean its not been addressed now. It seems very unlikely that the manager or the players considering their all International players have not gone into the reasons we are leaking goals at set-pieces.
All teams concede some goals at set-pieces we see it on the television every week. I agree that we are too weak in dead-ball situations and if possible we need plug the leak no argument about that, it's more about who we blame.
Most of the time attackers appear to be marked, but our players are making very poor attempts to head the ball!
Jay Harris
114
Posted 15/12/2015 at 18:50:16
Raymond,
I think Ray's post addresses that very well. Players need to be prepared properly including duties and tactics on corners and crosses.
I would argue that not ALL teams leak goals from corners and crosses every week. There are some very well-drilled defenses and they are all around us or above us in the table
Raymond Fox
115
Posted 15/12/2015 at 18:50:37
Let's face it, Ray, at corners all the defenders need to know is if they are marking an area or an opposition player, what else do they need to know?
Ray Roche
116
Posted 15/12/2015 at 19:00:04
Raymond, I'm a bit short of time (chef du jour) but don't we send scouts to see the way other teams attack different situations and report on how best to combat them? The players are not necessarily going to be aware of any ruse that the opposition has in their armour are they?
What do YOU prefer, zonal or man marking?
Raymond Fox
117
Posted 15/12/2015 at 19:17:42
I did say at corners Ray, I think in general defensive play the players seem to know what they're about, but at corners we just don't seem very good at carrying it out very well.
I think Howard has to shoulder some of the blame also because it would help if he was more decisive at when to come and attack the ball.
Darren Hind
118
Posted 15/12/2015 at 19:32:09
I think it's easy to blame Howard for the goals we have conceded from corners. He may be crap, but I've lost count of the number of free headers the opposition have been afforded.
No goalie in the world can do anything about that.
Paul Andrews
119
Posted 15/12/2015 at 19:36:11
Unlessss they come off the line and catch or punch?
Tony Doran
120
Posted 15/12/2015 at 19:52:44
To much reliance on to few players. Players need to pull their finger out and start scoring some goals. We need a player who can stir up the rest when they show signs of slacking off. No great leadership.
Dick Fearon
121
Posted 15/12/2015 at 21:08:53
Martinez wants a ruthless streak, eh? He could make a start with himself.
Cut the phenomenalness and a bit more of the realityness would not go astray, and fer lawd's sake practice set plays.
John Pickles
122
Posted 16/12/2015 at 01:24:45
We need to be able to win ugly if necessary. Maybe if we could mix it up with some aggression when needed.
We didn't pick up one booking against Norwich, only Arsenal and the Hammers (who have twice as many sendings off), have less bookings this season.
Never mind Rhino as defensive coach, bring in 'Psycho' Pat Van Den Hauwe.
Don Alexander
123
Posted 16/12/2015 at 03:40:59
Martinez is in his third season with us and now comes up with "We need to be more ruthless!" Never in his footballing life has he ever displayed ruthlessness.
His present bullshit is like a baker, after two years producing flat bread, saying "Maybe I need to use more yeast!" For "yeast", read "training/coaching" (what's the difference by the way, aren't they supposed to be in 100% peak condition from day one of the season?)
Training/coaching has resulted in Leicester City leading the Premier League with a whole squad costing what we paid for Lukaku alone. Hang your head in shame, Martinez, together with everyone except the ground staff and caterers at Finch Farm.
Christine Foster
124
Posted 16/12/2015 at 07:27:50
Palace boss Pardew's game plan was simple, at every opportunity get a cross in, win a corner and wait for the mistakes to happen. He got it spot on and for me it was clear that when we played Norwich the half time talk was to immediately nobble Deulofeu and pressure with crosses. Are we tactically inept, blind to see it or incapable of change?
We cannot close a game down, scrap when we need to or counter an oppositions plan. When do we seek to take advantage of another teams weaknesses? When do we change our gameplay to counter the opposition? When do we change our tactics during a game?
Football is no longer a game where a team can just play to its strengths, it must adapt and exploit the weakness in others to win.
We don't do that, that's why the manager is at fault, his selection, tactics and gameplay. It's a serious limitation that even poor teams try to exploit us with.
We play to win, but we also need to play not to lose.
Add Your Comments
In order to post a comment, you need to be logged in as a registered user of the site.
Or Sign up as a ToffeeWeb Member — it's free, takes just a few minutes and will allow you to post your comments on articles and Talking Points submissions across the site.
© ToffeeWeb