Everton beaten at the last in seven-goal thriller
28/12/2015

298 Comments [Jump to last]
Everton 3 - 4 Stoke City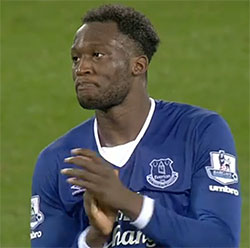 Romelu Lukaku turned in a magnificent performance and scored two goals but again ended up on the losing side
Everton twice came from behind and were on course for a huge victory but conceded two late goals, including a controversial stoppage time penalty, to lose a barnstorming festive encounter at Goodison Park.
Gerard Deulofeu's close-range finish had put the Blues on top for the first time in the game, adding to two equalisers from Romelu Lukaku that had cancelled out Xherdan Shaqiri's first goals for Stoke but Roberto Martinez's side remained too open in defence in the final 10 minutes and paid the price as Joselu levelled again and John Stones was the victim of more injustice at the hands of Mark Clattenburg. Marko Arnautovic rammed home a penalty after the defender had erroneously been adjudged to have fouled the Austrian.
Martinez had made changes from Boxing Day, with Brendan Galloway and Arouna Kone coming back into the side at the expense of Leighton Baines and Kevin Mirallas, James McCarthy returning in place of Tom Cleverley and Gerard Deulofeu replacing Aaron Lennon. The latter two players were absent from the squad entirely, a decision Martinez explained away as "protecting them" following their inolvement in the win at Newcastle two days ago.
His opposite number, Mark Hughes, went with the team that had beaten Manchester United on Boxing Day but both teams made early forays forward that hinted at the rollercoaster contest that would unfold. Ross Barkley had the first real shot of the game in the 10th minute with a wicked shot that might have been heading for the far corner but it took a vital deflection off a defender and flew behind.
Two minutes later, Arnautovic whipped a shot narrowly past the far post after quick footwork by Bojan Krkic had put him in while Lukaku sailed a shot over from distance with Ryan Shawcross backing off in front of him.
Stoke's early threat manifested itself in a move that carved the Blues open with a quarter of an hour gone, however, and Arnautovic touched Bojan's pass on for Shaqiri to slot home.
Everton were level seven minutes later, though, with an equally well-crafted goal. Barkley teased the Stoke defence before squaring it to McCarthy and he rolled a simple pass to Lukaku who was wide open in front of goal and couldn't miss.
That flurry of action sparked the Blues into a better period of play and Barkley raced away on the counter-attack before back-heeling nicely for Galloway but the defender could only drag a left-footed shot wide.
Coleman then went down in the penalty area under Erik Pieters's challenge but referee Clattenburg only awarded a goal kick – a decison that would anger Martinez further in the context of the award of a spot kick to the visitors at the end of the game – and Deulofeu was booked shortly before half time for simulation after he had wasted another counter-attacking opportunity with a heavy touch as he was about to enter the Stoke penalty area.
Everton had the measure of Stoke as the game approached half time but they were caught completely cold by a ball that dissected their defence and Shaqiri dinked an lob that drifted over Tim Howard and stunned Goodison into silence as he handed the visitors a half-time lead against the run of play.
Cleverley's turn and blocked shot in the area was the first chance of the second half as the Blues searched for a way back into the match but a combination of Howard and Funes Mori had to close down Glenn Johnson on the byline as he beat Cleverley at the byline for Stoke who remained dangerous coming forward.
The Blues were forced to be patient in their probing and prodding at a very well-drilled Stoke defence and Kone fired a rare shot disappointingly over on the hour mark but they were rewarded in the 64th minute with a second equaliser. Lukaku was picked out brilliantly by Cleverley's superb ball over the top and after regaining his balance, the Belgian tucked a right-foot shot past Jack Butland and into the far corner.
That was to be Cleverley's last piece of action as the substitute went off for Steven Naismith and the Scot came agonisingly close to putting Everton ahead almost immediately but his goalbound shot in front of goal took a crucial deflection and flew wide.
Everton maintained their intensity in laudable fashion, though, and were ahead a few minutes later as Barkley latched onto Lukaku's pass and squared it to Deulofeu who converted from a yard out to make it 3-2.
The home side remained too open in the closing stages, however, and when Arnautovic sent a difficult ball across the six-yard box, Howard couldn't get any purchase with his fist and substitute Joselu smashed in a first-time shot to level things up again.
And Arnautovic was involved again as Stoke opened Everton's defence up for a final time and the Austrian went down as Stones stretched for the ball. Clattenburg hesitated and, perhaps at the prompting of his assistant who was on the other side the pitch, pointed to the spot with the defender adamant he had got his studs on the ball.
Arnautovic slipped in taking the spot kick but still managed to hammer it down the centre and Stoke left Goodison having plundered the points, leaving the Goodison faithful ruing another hatful of conceded goals and a second successive home defeat, one that drops them back into the bottom half of the Premier League table.
Full coverage: ToffeeWeb Match Report
---
Reader Comments (298)
Note: the following content is not moderated or vetted by the site owners at the time of submission. Comments are the responsibility of the poster. Disclaimer
Frank Crewe
1
Posted 28/12/2015 at 14:52:37
Mirallas not even on the bench. Back in the doghouse again eh. I'll be amazed if he's still here in February.
Andrew Brookfield
3
Posted 28/12/2015 at 15:19:46
I'm a big Mirallas fan, but at times I've question his attitude – I can't help but feel him not being in the squad is due to more than just manager reference. If so, fair play to Roberto, he gets slated on here for being too nice, but maybe he's dealing with the bad apple well.
That said, would have liked to see Cleverly start – you'd think he'd be full of confidence after Newcastle.
Alexander O'Brien
4
Posted 28/12/2015 at 15:51:43
I'm amazed Mirallas is not even on the bench. I though he put a shift in on Saturday. Another two conceded today... can this team ever defend properly?
Jay Wood
5
Posted 28/12/2015 at 15:55:34
A very good game, full of good football from both sides.
Everton well in it, but Kudos to Stoke for two exquisite goals.
More to come in the 2nd half, I fancy... could go any which way.
Anto Byrne
6
Posted 28/12/2015 at 15:56:26
Two sucker punch counter attacks and a keeper all at sea, he made no attempt whatsoever with the second as he was so obviously out of position. How much longer do we have to endure this clown in goal?
Christy Ring
7
Posted 28/12/2015 at 16:12:25
Is McCarthy gone again with the same injury?? Don't know why he was rushed back, especially after Cleverley scored the winner at Newcastle.
Mystified why Lennon and Mirallas are not on the bench, 4 central midfielders and no width.
Craig Fletcher
8
Posted 28/12/2015 at 16:52:58
Absolutely gutted.
Jay Wood
9
Posted 28/12/2015 at 16:54:08
Fantastic game of football! Some top quality goals.
Just a bummer the final result...
What lessons were learnt today, I wonder..?
Peter Gorman
10
Posted 28/12/2015 at 16:55:05
What is the point in scoring 3 when it won't even get you a point?
But at least the team has learned its lesson.
Tommy Coleman
11
Posted 28/12/2015 at 16:56:17
It's amazing how much space teams get against us. So depressing, again.
Craig Fletcher
12
Posted 28/12/2015 at 16:56:24
Lesson learnt Jay?
Clattenburg is the worst ref in the prem.
Alexander O'Brien
13
Posted 28/12/2015 at 16:58:01
Scored 3 today, 2 last week and 3 at Bournemouth = 1 point. It's clear we can't defend to any reasonable level and it's pretty clear the manager and his coaching staff won't be able to fix it.
Frank Crewe
14
Posted 28/12/2015 at 16:58:56
Lessons learned? Our GK and defense is shit.
Mike Hughes
15
Posted 28/12/2015 at 16:59:05
Take the injury time win at NUFC out of our "next 12 games" and ..... this is progress?

Jamie Barlow
16
Posted 28/12/2015 at 16:59:16
Everything good we do, and there is a lot that we do good, is just thrown down the toilet because we can't do the fuckin basics right.
How about getting in someone who can organise a defence you fuckin idiot.
A total waste of a season because he's a hard faced prick who can't see what's right in front of his face.
I've backed this balloon so far but it's getting ridiculous now. 3 at home and we get beat.
Sort it Bobby or fuck off!!!!!
Peter Z Jones
17
Posted 28/12/2015 at 17:00:56
It takes a lot to get me to nearly break my computer. I can't think of a more exasperating team to support in history.
Steve Brown
18
Posted 28/12/2015 at 17:02:08
Seven goals conceded in two home games = sack Martinez. He has to go.
Nick Armitage
19
Posted 28/12/2015 at 17:02:57
This team won't move forwards until Martinez is shown the door. He is hapless.
Des Farren
20
Posted 28/12/2015 at 17:04:38
Disappointing Jamie yes.
Think you may be spending too much time on live forum.
Eddie Dunn
21
Posted 28/12/2015 at 17:05:19
Martinez dashed off down the tunnel at the end. I hope he never re-emerges. The tinkering with the team, Kone on the whole game, Cleverley with a great pass- and then subbed!

Three-two up and we play as open as the mouth of the Mersey! Unfathomable ! Why rush back Macca? and Howard ? Did he actually make a save? Stones...the most over-rated defender in the world.

Sack Martinez, sell Stones.
James Morgan
22
Posted 28/12/2015 at 17:05:21
Martinez out. Defence has not improved under him and we can't see games out. Hopefully we get new owners who will see through his bullshit.
Mark Frere
23
Posted 28/12/2015 at 17:06:20
Its all so predictable! Even when we went 3-2 up I knew we wouldn't see out the game. The fact is we are just a disorganised mess defensively!
All this good attacking play counts for nothing if we can't do the basics. We really are just a charity case and its painful to watch. Martinez knows nothing about setting up a team to defend. Iv'e seen enough. Martinez out!
John Atkins
24
Posted 28/12/2015 at 17:06:21
He won't be sacked
You know what our inept useless board are like - just as bloody clueless as Martinez
They will be happy with mid table, maybe. a Wembley trip and next years sky money !
Nothing will change
Tom Roberts
25
Posted 28/12/2015 at 17:07:54
Can somebody at the club please grow a pair and sack this charlatan today? We are not making any progress under him and cannot defend even with 2 supposed holding midfield players. It may not be this season but he will take us into the Championship eventually. Bill Kenwright, you must see what all of us other blues can see, week in and week out it's the same mistakes. A decent manager would have these players in the top 4 without any shadow of a doubt. Please make my New Year and save this club from further embarrassment and shame..Get rid...

Ian Riley
26
Posted 28/12/2015 at 17:08:35
Stoke good side!
Who the feck is our defensive coach! Sack him now! Martinez is not learning and we will finish between ten and thirteenth in the league. Anyone moaning at lukaku now! Very good team, wrong manager! Moyes would have us higher in the league! Let four goals in at home against stoke! A new low!
David King
27
Posted 28/12/2015 at 17:08:39
Martinez out !!
Robert Johnson
28
Posted 28/12/2015 at 17:08:41
Get Martinez out of Goodison now, and take Howard and Kone with him.
Robbie Shields
29
Posted 28/12/2015 at 17:08:42
Sensational game of football from 2 very very good sides. Reminds me of a game against Chelsea back in the Kendall mark 1 years at exactly the same time of year. Great game, pissed down, Everton played great and scored 3, every time Chelsea attacked they seemed to score! Remember singing the 'Frog Chorus' at half time when we were 1-2 down maybe. We then went on an unbeaten run until we'd won the league, this team is capable of the similar feats.
Don't be too downhearted guys, that was a great game of football and we didn't get much in the way of luck. Clattenburg had a good game first half, then got worse as the game went on. I thought it was a pen at first, but Stones definitely got the ball, what more can we do?????
Thought Barkley was great, Cleverley had another really good game, closed down so well and looked for forward passes all the time, his pass for Lukaku's second was wonderful. Lukaku was out of this world, Deloufeu was a manace and Barry was top drawer again. Thought the defence did pretty well, Mori and Stones were winning most battles. Not too much you could do about their first 2 goals which where very well crafted, 3rd was yet another clanger by Howard and then the pen wasn't a pen. That for me is another 3 points lost by Howard.
Robert Elliott
30
Posted 28/12/2015 at 17:09:50
We have a promising, but mistake prone centre half in Stones partnered by a foreign player learning the English game in Funes Mori. We have an inexperienced left back in Galloway and a right back in Coleman whose strength has always been attacking rather than defending. Behind them all we have a once decent but now seriously flawed goal keeper in Howard and in charge we have a clueless clown for a manager! The real question is, how do we not concede four goals every week!
Derek Turner
31
Posted 28/12/2015 at 17:09:56
I feel sick.
Paul Hughes
32
Posted 28/12/2015 at 17:10:10
Completely gutted we can't defend and Howard at fault for the 3rd goal. Let's face it we are a midtable team now. Martinez out please.
David Cornmell
33
Posted 28/12/2015 at 17:10:20
That was brutal. But lets be honest...we are Wigan. Score three at home and lose? Wigan.
Tony J Williams
34
Posted 28/12/2015 at 17:11:24
Should we play in white and blue on Sunday because this daft twat has finally turned us into Wigan.
John Malone
36
Posted 28/12/2015 at 17:11:59
Manager out before all the talent at the club has gone
Graham Morris
37
Posted 28/12/2015 at 17:12:39
So frustrating but not at all surprising. Lukaku will not hang around for long , he must know we are not going to win or qualify for anything with this manager. Stones can go . He is not the type of defender we need in this team. Barkley could be brilliant ( the third goal is what he should be doing regularly) but I suspect this stupid manager is coaching him badly. Howard, nothing to add.
All the good football will slowly disappear as confidence drops away with needless loss of points.
The thing is did anybody seriously believe we would shut up shop and win 3-2. I suspect no more than 10% of TW
Michael Polley
38
Posted 28/12/2015 at 17:12:50
Clattenburg is an idiot. He seems to have a thing against Everton. It was great tackle by Stones NOT a penalty. I hope this twat never refs another game at Goodison. That aside we can never see the game out. At 3-2 I just knew we shoot ourselves in the foot with shit poor defending, and what happened. Poor Lukaku must be so frustrated - he is scoring goals, the problem is the opposition is scoring more !!!
Martinez sort our defending for Fuck Sake, or find someone who can !!
John Atkins
41
Posted 28/12/2015 at 17:14:01
Stoke you horrible cheating b*stards
See you at Wembley
I'd love to beat them in the final !
Paul Jeronovich
42
Posted 28/12/2015 at 17:16:51
People, we cannot expect our strikers to pull us out of the shit for nearly every game. At some point we have to grind out a result. At 3-2 we should have it in us to do it. Sick to the stomach, really am.
Alan McMillan
43
Posted 28/12/2015 at 17:17:38
fear not! Chelsea rumoured to be taking Brown Shoes off our hands!
oh wait...
Craig Fletcher
44
Posted 28/12/2015 at 17:19:05
Love your optimism Robbie, and I've defended RM for a long time, but today has tested my patience. Some of the defending was incredibly poor and disorganised. It must be heartbreaking for our attacking players to score 3 goals, only to lose! TBF, Shaqiri's second was a wonder goal, just a shame that of course it had to come against us.
I still can't believe Clattenberg's performance. Coleman should have had a penalty, and Arnautovic shouldn't have been on the field to score the penalty at the end after three fouls I counted that should have been carded.
Robbie Shields
45
Posted 28/12/2015 at 17:19:16
It's lucky the match going Evertonians on the whole aren't as inpatient and full of hate as some of the keyboard warriors on here. At the end of the game the players were given a big round of applause and rightly so.
This is still a very very young side, built by Martinez, it's only going to get better and better, don't kill the goose that lays the golden eggs.
Max Murphy
46
Posted 28/12/2015 at 17:19:41
Defence awful. Is it any wonder we are having one of our worse defensive performances this season with a manager like Martinez? In our last 2 home games Leicester beat us for the first time at home in 30 years; Stoke have only scored 9 goals in 20 games at Goodison - yet score 4 today.

When we took the lead, the senior players should have roused the team in safety-first tactics - instead Naismith almost gifts a goal with an unnecessary back-pass. We have no strategy in these situations, and to repeat myself, no leaders. We are entering the second half of the season and we've won 3 games at home. Some deluded fans talk of Europe. Forget it and instead, think about avoiding relegation.

The sad thing about this season is the league is wide open and under a half-decent manager we would have been in the top 4.
Gerard Carey
47
Posted 28/12/2015 at 17:19:50
Simple, Martinez out. Horrible feeling after that. Seven goals conceded against leicester and stoke!!!!!. Martinez will never learn. We should be in top four with our squad but instead he dosnt do defense and we suffer.
Patrick Murphy
48
Posted 28/12/2015 at 17:19:51
We can forget a trip to Wembley or a top 10 finish, going forward we are as good as any, at the back we give chances away for fun, indiscipline, strange tactics and or selections from the manager constantly undermine all the good stuff.
If you fight back to take the lead in the last quarter of any game against any opponents and fail to take even a point from that game, you are going to finish in the lower portions of the table and will be turned over good style by the teams with class players, Stoke by the way have the mixture about right, good solid defenders for the most part and clever hard-working forwards, in my opinion they are better than the Leicester City team, we are not.
New owners, will, hopefully come in pretty damn soon and hopefully they will bring in a proper manager who understands that defending is as important as attacking - imagine where we would be if Lukaku hadn't have scored as many goals as he has?
Jay Wood
49
Posted 28/12/2015 at 17:20:16
Craig @ 10.
"Lesson learnt Jay? Clattenburg is the worst ref in the prem."
Riiiiggghhhttt!
Of COURSE! Clattenburg is the reason we conceded 4 goals against a Stoke side who, until today, had scored just 6 goals away from home in their previous 9 games on the road this season.
Me? I enjoyed the match as much as any I've seen this season. The Beeb is offering it at this best PL game this season.
As I said, the bummer is the result. What we COULD learn to do better is game management at critical times. That's just one thing we could work on to improve our win ratio, our points tally and more crucially, our league position.
Conor Skelly
50
Posted 28/12/2015 at 17:20:30
Football is about defending and attacking. Martinez has shown throughout his career that he can't organize a team to defend. Anybody remember Wigan conceding nine against Spurs. That's the joint most ever conceded by a Prem team.

And it's not like we are so good going forward that we don't need to defend. When your watching your team go 3-2 up at home after coming from behind twice to then go and lose is inexcusable. The fact that most of us knew we wouldn't hold out is enough evidence to suggest that it's a consistent problem. We have good players and the best striker in the league. That's why we score goals. Martinez has one job and it is to organize us not to concede goals. Final straw for me. Get rid!
Tony Twist
51
Posted 28/12/2015 at 17:21:55
Get better and better, I love your optimism. Martinez will take us down given time, he has no answer to us conceding goals. He is a joke of a manager.
Paul Hughes
52
Posted 28/12/2015 at 17:22:31
Looking at Old Trafford, a lot of Man Utd fans standing with van Gaal out banners. What about Sunday bringing Martinez OUT banners and then the board might realise we aren't happy.
Mike Allison
53
Posted 28/12/2015 at 17:24:44
It's very hard to enjoy football when you know your team could concede at any moment. It actually takes the joy out of the attacking football.
Football is about balance, about doing everything well enough to get the result. We've specialised in an extreme and it isn't the extreme that gets results.
The scary thing is that Martinez doesn't seem to realise this. He doesn't seem to prioritise results.
Joe Foster
54
Posted 28/12/2015 at 17:25:21
RM is not good enough for us. He is building a mid to lower tier team. If he bought a decent defender in jan how long would it take for him to drill the defending aspect out of him.
Ian McDowell
55
Posted 28/12/2015 at 17:28:42
Really should be doing better with this bunch of players. I don't want to start calling for the managers head but I feel we would be doing a lot better if we were better organised.
David Heaton
56
Posted 28/12/2015 at 17:29:00
The Manager should have done what Moysei did and ban Clattenburg from Goodison, the man hates Everton with a passion he has cost us dozens of points over the years.
As for the match what can you say when it's completely obvious to all supporter what the problems are. Martinez has not got a clue how to defend they must spend the whole training sessions play tippy tappy football.
Now his substitutes, takes off a midfeild player and puts on a forward when it's 2-2...If Cleverly was injured he should have brought on Besic, Kone a total waste of a shirt must have lost the ball dozens of times if the defenders made as many mistakes as the forwards we would be relegated.

Howard has no idea when to come off his line. Nice bloke but we will never have a rock solid defence with him in goal. He can be blamed for two of the goals.

I'm so disappointed I'm going for a lie down in a dark room.
Joe Green
57
Posted 28/12/2015 at 17:30:45
When we went 3-2 up, I thought to myself, we will lose 3-4. Seen it too much with this team.
The stat about RM that I fear most is that his teams always finish lower in the league year on year. I think we will finish lower than 11th this year. If we don't then change, he will take us down the following year.
Frank Crewe
58
Posted 28/12/2015 at 17:31:19
It's like watching Holloway's Blackpool when they were in the PL. Attack, attack, attack. Score lots of goals but couldn't defend to save their lives.
Lukaku must be wondering how many goals he has to score to stop our defense letting him down. He's our best player by a mile but he really needs to be in a better side with a solid defense.
There is no point in scoring three if we concede four. Howard doesn't need dropping he needs to be out of the club altogether because he's just stinking the place up. For every save he makes he'll make another mistake that leads to another stupid goal being conceded. He has no consistency outside of being consistently rubbish.
It's been 13 years since Everton sacked a manager but It's time to sack one now. We are making no progress at all. If we want to keep our top players come next summer RM has to be gone and a manager with know how needs to be in his place.
John Atkins
59
Posted 28/12/2015 at 17:31:23
This is the worst I've felt for a long time
Physically sick
Clive Lewis
60
Posted 28/12/2015 at 17:31:34
I expect us to lose every game now , how can a manager be respected as one unless you can organise a team to defend. For the neutral, Martinez is a great manager, every game is like a training session, loads of goals. This is no good, we need a professional manager and not an amateur!.
Eddie Dunn
61
Posted 28/12/2015 at 17:32:01
To all of the Martinez backers on here. You are all fools, because this is a recurring nightmare, and it will continue, and he will waste a great chance to actually get into the top 4 this season. This is a pivotal season, and we are blowing our chance of success, and our chance of success next season, as Lukaku is now the most sought-after striker in Europe.
When he leaves in the summer, and we watch Kone lead the line, just remember how you all defended the manager.
Sean Byrne
62
Posted 28/12/2015 at 17:32:08
Yet again another game where Martinez's ineptitude shines through. When will we ever learn how to see a game out? Undoubtedly this is the best side that we have had for many years and we are missing a great opportunity to challenge for a top 4 position.
Robbie Shields
63
Posted 28/12/2015 at 17:32:15
Tony #46, today we had Galloway, Stones, Barkley, Lukaku, McCarthy and Deloufeu playing, all in their very early 20's, then Mori, Coleman, Cleverley in their mid 20's, that's 9 players! We also have a Manager who is in his early 40's.
Why on earth would you not think we can only get better and better????? Come on, let's be reasonable here. A top drawer goalie would make a massive difference immediately but the rest of the team are going to get better and they have been getting better. I'm optimistic, we are on the verge of something special, now is not the time to panic.
Fraser Auld
64
Posted 28/12/2015 at 17:35:00
Imagine the post-match interview will go along the lines of:
Phenomenal performance to score three goals from open play against such a good defensive and organised team as Stoke shows that we have tremendous potential. We need to improve our defensive intensity in the key moments....
Must think we all button up the back!!!
Joe Foster
66
Posted 28/12/2015 at 17:35:39
The fear will allways be there with a manager that has relegated his last team. I don't feel we can ever trust any of this we could get better and better. It is allways a possibility that could happen but the way it is going that seems unlikely.
Kieran Fitzgerald
67
Posted 28/12/2015 at 17:36:00
Lukaku is single handedly keeping us up at this stage.
Paul Setter
68
Posted 28/12/2015 at 17:36:33
I never wanted Martinez in charge and was massively disappointed when we got him, I hope we get new owners as the current clowns we have will not sack him as Martinez is a yes man.

I almost don't care anymore when we lose as in my mind I'm hoping it's another step to him being shown the door
Peter Barry
69
Posted 28/12/2015 at 17:37:08
The manager picks the team, manager decides the tactics, manager picks the substitutes and when to deploy them. The manager gives the half time pep talk so tell me how is this not the manager's fault.

The first three goals were down to Howard and bad defending and the third to Clutterfuck who really hates us because he is a RS supporter. But the dodgy penalty would count for nothing if we had not let in the first three soft goals.
John Atkins
70
Posted 28/12/2015 at 17:38:33
Spot on Eddie
Robbie go lie down and take your pill mate
I'm a glass half full myself but you are way off
He has to go, we've good players but they are very badly coached and I mean very badly
Ian Riley
72
Posted 28/12/2015 at 17:40:08
The crap Martinez must have come out with in getting the Everton job! He relegated Wigan with Sunday league defending! Everton a top six side, sound defence and what do we have now! We play six defensive players and still look open to goals at any attack!
This could be Wigan all over again. Top players leaving and falling down the league over the next three years. Get a new owner in and new manager in before its to late!
Jay Harris
73
Posted 28/12/2015 at 17:40:09
Do people who go on about negativity now understand what we are upset about.
It was a great game but to concede 4 goals at home against anyone let alone a Stoke side that have scored 6 away all season and haven't even got a recognised centre forward is disgraceful.
Stoke played exactly the same team as Saturday we made numerous changes which also questions our fitness.
Craig Fletcher
74
Posted 28/12/2015 at 17:41:15
Robbie (56) the issue is that all those young players you mentioned are unlikely to stick around for three years in an under-achieving side, if a club with a recent track record of success comes calling. The timeframe for success if we want to keep this team together, is very short. If the fans are feeling frustrated, can you imagine how Lukaku, especially, feels at the moment?
Clive Lewis
75
Posted 28/12/2015 at 17:42:06
It is sad when you are fed up with cheering a goal knowing that we can score 3 they can score 4.
Martinez quote from Swansea, "if the opposition score 3 we can score 4"
This is the sign of a manager whom is only managing half a team, neglecting the defense, maybe he should receive only half his massive salary?
Tom Magill
76
Posted 28/12/2015 at 17:42:53
please go Martinez ,we've had enough
Dave Abrahams
77
Posted 28/12/2015 at 17:44:44
Lukaku became a man today, very good, he won't be here that long, hope we get substantial fee for him, stones was very poor, don't know if it was a penalty, the ref. ( sic) took a long time to make his mind up, even seemed to change his mind.
Nothing else to add, we can all see the mistakes and poor performances every week except the man who picks the team, changed my mind about not going to the game, saw some very good play, all undone by stupid errors, why did they revert to that tippy tappy nonsense after we went 3-2 up, ridiculous, not going to enjoy this wedding I'm going to.
Only Everton can destroy a fan like this.
Jamie Barlow
78
Posted 28/12/2015 at 17:44:46
I most definitely am Des.
I just think we're close to being a good side and capable of going far with this set of lads but the basics at the back are letting us down, along with our complete inability to cross the ball over the first man at nearly every dead ball. It's unforgivable that these highly paid professionals can't do it whether Martinez has them practising or not. Defending them, we are a shambles. In fact, our defending altogether is a shambles.
I want Roberto to sort it because I think attacking wise, we look pretty good but he doesn't seem to be able to do anything about it. I hope he gets someone in to help or finds the right formula but if he doesn't, he has to go.
Robert Elliott
79
Posted 28/12/2015 at 17:45:11
Anyone defending RM is beyond me. His Wigan teams leaked goals and we're now exactly the same. We're an injury from Rom away from being knackered. I wish RM was the answer, he has got us playing some excellent football, but I'd take a scruffy 1-0 win, the type that typified Moyes' time here over a 3-4 defeat any day. I get the feeling RM will go home and be happy because we scored 3 good goals. The fact that we let 4 in and are slipping into the lower half won't bother him.
Jim Bennings
80
Posted 28/12/2015 at 17:47:27
Give him the two City matches in the semi final and then once we are demolished in that fuck him off so we are not just allowing another season of mediocrity ebbing to a non event conclusion, sure we'll win two or three games between February and April to stave off relegation but it fools nobody.
This is appalling atrocious Wigan-essays ever ding and it just proves the organization of Martinez first season was mostly down to the way Moyes left it.
This is now Robero Martinez Everton Football Club.
He has brought the Wigan mentality of non defending with him, did Wigan not once lose a game 9-1 at Tottenham under Martinez??
He has rectified nothing with the defensive side of things, fuck that keeper off, he's total shite, Stones is grossly overpriced, great on the ball yes, great at defending NO.
Give Martinez til the end of January then move him on.
David Holroyd
81
Posted 28/12/2015 at 17:47:46
Martinez has to go he is only going to take us down,we are becoming Wigan. He will come out with some bullshit after the game. Out out out
Christy Ring
82
Posted 28/12/2015 at 17:48:07
Martinez clueless and stubborn. He's playing his Wigan system, won't drop Howard and Kone.
I read where the squad had a meeting with Martinez and Jones last week over his tactics and openness, he's never going to change, enough is enough.
Paul Columb
83
Posted 28/12/2015 at 17:48:16
Let's face a hard truth; the only ones who share any ambition for Everton are the supporters....and we're largely powerless.

Since the creation of the Premier League, which our club was instrumental in establishing believing we as a top side were entitled to more, we've been completely left behind. No plan, no vision, no finance, no ambition.

The current board are satisfied so long as our Prem status is maintained and Moyes proven as more than capable in this respect. Thought he was above it in the end, but we know how that went.

Up and coming players know we're nothing but a proving ground and, if competent enough, a decent shop window. They know they'll win nothing at Everton. Wrong decade.

And so RM will still be here come January and so will the young and talented core to the squad....until the summer. Wholesale changes needed, starting with the board. Happy new year Blues.
John Atkins
84
Posted 28/12/2015 at 17:49:32
He says in his post match interview the penalty decision is unacceptable and it makes you furious (yes it was a joke of a decision by a very poor anti Everton ref)
That aside guess what Roberto - your bloody tactics, defending policy, team selections, substitutions and the shite that comes out of your mouth is making me furious and these results are unacceptable !!!!
Tom Magill
85
Posted 28/12/2015 at 17:52:56
I was at the match today,never felt so let down by the way we let the 3-2 lead slip,our defence needs to grow a set really!Just play it out,unbelievable.It always seems so easy for other teams to score against us ffs.
David Edwards
86
Posted 28/12/2015 at 17:52:58
Well - the score says it all, really - can we now have a bit of agreement with all shades of opinion on TW and try to put pressure on Bill and the board to replace Roberto sooner rather than later . This has been a year coming since our disastrous run then - and it just hasn't improved. Come on - he has to go!
Paul Tran
87
Posted 28/12/2015 at 17:55:32
Robbie, there's no doubt these young players will get better, but what's stopping him bringing in a recent keeper and a proper defender? If he's asking us to close our eyes and cross our fingers, he's doing a good job of it. Will the likes of Lukaku trust him enough to stick around? What will happen when Barry can't go on?
Craig Mills
88
Posted 28/12/2015 at 17:56:40
I know a lot is said of our defence but it really really is so naive, that's 3 penalties given away in the last 2 home games, 2 goals conceded throwing away a lead today, the manor we threw it away at Bournmouth from a wining position was truly embarrassing, our inability to defend simple crosses into the box, the list goes on and on.......so, there is something fundamentally wrong with what we are doing as we usually start with 6 defensive minded outfield players who are all classed as "excellent" or even "world class" - that been the case how do we conceded so many damn goals.........arggggggggg

Graham Morris
89
Posted 28/12/2015 at 17:57:35
Can we please start playing WINNING football? This is doing my head in.
I really do wonder what the players make of all this. I know they're on huge money etc but they are professionals and they understand the game. They must question these tactics sooner or later. Maybe Lukaku needs to be the figurehead. What the hell could Martinez or Kenwright do if he had a few words. At the moment they'd be buggered without him.
Are we about to see another mutiny like last year when our style changed for about 8 games to get us out of trouble... Here's hoping.
Kieran Fitzgerald
90
Posted 28/12/2015 at 17:59:31
By the time we get as far as the Man City semi-final games, there will be no confidence left in this team. I was half thinking of going to watch the Spurs game on Sunday but won't bother now. They'll stuff us. I can only dread what City will do to us when we get that far.
Lukaku isn't playing for Everton at this stage. I think he is putting himself in the shop window. His big mouth of an agent can go to all the top clubs and say 'Look what Lukaku is capable of, even in a poorly playing team.'
Stones put in a transfer request last summer, let's not forget that. I'm not having a go at him. I just feel that he will look to put one in again in the summer first chance he gets. Why should he stay at a club where his confidence is being ground down and he is starting to look like a shadow of the player he really is.
Deulofeu will be gone within the next eighteen months. He will have more than shown enough at that stage to warrant Barcelona or some other club coming in for him.
Patrick Murphy
92
Posted 28/12/2015 at 18:01:16
Sorry Jim, but why give him until the end of January? We won't beat Man City over two-legs with our defensive frailties in fact the first-leg will probably suffice to see the wrong shade of Blues walking up Wembley Way.

He has to be gone by the end of this year, if we are to have any chance albeit a slim chance of rescuing one of the most frustrating seasons I can ever remember.

All the stars lined up in Everton's favour, keeping Barkley, Stones and Lukaku, seeing Man Utd and Chelsea struggle for form and we screwed it up good style even with a centre-forward who is and has been scoring for fun all season.

Roberto's job is to win football matches, that's it nothing else, six wins at the halfway stage is not good enough another six wins in the second-half of the season will likely see us hovering around mid-table not good enough with the talent at his disposal.

Mike Oates
93
Posted 28/12/2015 at 18:01:21
We had 5 forwards on for the last 15-20 mins, leaving only Barry covering an already poor defence. Has Martinez any defensive acumen at all?! Why not put Baines, Gibson on instead of Deulofeu to shore us up?
John Keating
94
Posted 28/12/2015 at 18:03:43
After every game I say the Wiganisation of Everton is continuing.
After today I think it might well be complete.
Thank God Villa, Sunderland and Newcastle are where they are or we would definitely be in the shit this season. Just praying we get to 40 points. We are more than likely safe this season but I think Martinez will complete plate the job next season.
How any Evertonian can justify this charlatan remaining at the Club... well they must be Phenomenally deluded.
We have learned absolutely nothing from the end of his first season in charge.
The fact that we play, for parts of the game, more open football is immaterial. Football is a game of results and we are not delivering in any way shape or form.
We are talking about the same issues now that we were this time last season, last month, last week.
The football I see is horrendous, might be good for the neutral but not for Evertonians.
Last Christmas, I called repeatedly for Martinez's sacking, this year I call for exactly the same.
Kase Chow
95
Posted 28/12/2015 at 18:03:46
It's errant and deficient to keep conceding as many goals as we do
Buck stops with the manager
Fact is he'll never be sacked so we have to put up with this crap blues
Colin Hughes
96
Posted 28/12/2015 at 18:04:05
How often do Stoke score 4 in an away game? They weren't even averaging a goal a game home and away combined this season.

We are a fucking joke at home under this fella. Get shut now and go for Hughes or Rodgers.
Conor Skelly
97
Posted 28/12/2015 at 18:04:23
Sell our assets (they're gone anyway) & give Moyes a summer & a £120M to spend. We'll be right up there this time next year.
John Parker
99
Posted 28/12/2015 at 18:05:36
Roberto will put a spin on this embarrassment and make us believe everything is okay. Time to go, methinks...
Craig Mills
100
Posted 28/12/2015 at 18:08:39
Stones in the main has been excellent this season but today was a horror show.

I thought he was caught cold for their 1st, he gave a simple pass away which led to their 2nd and then conceded a last-minute penalty which IMO was poor defending. He didn't need to dive in, he should have shown him the line and ushered him out. Diving in meant the ref has a decision to make and it went against us.

Added to that was his general poor passing and overall play. Hopefully Jags back in the team soon will have an impact – god, it needs too!!
Bill Gall
101
Posted 28/12/2015 at 18:11:29
The talk on here is about Lukaku not sticking around in the summer but, what will happen if someone comes in with a ridiculous offer in January, as the say the writing is on the wall that we will not qualify for Europe with the defense we have so why will he want to stay when his efforts are being wasted.?? Lukaku is one if the hottest goal scorers in the premier and some of the more big money clubs may feel he is what they require to make the next step up.
Peter Gorman
102
Posted 28/12/2015 at 18:11:59
Robbie @41 - don't use the phrase 'keyboard warrior' if you don't know what it means.
As for Martinez being a golden goose - if he is poultry he is a definite turkey.
Mike Hughes
104
Posted 28/12/2015 at 18:16:11
Robbie #41 - I've never read such deluded crap since seeing a text version of a Roberto Martinez interview.
And if those who justifiably criticise yet another defeat / draw from the jaws of victory are 'keyboard warriors' and 'haters' does that make those who defend him Roberto Lickers?
I'm an Evertonian and clap the players off but the applause ain't for this manager. if you don't believe me ask your guide dog.
Your further posts regarding the talent available only undermines rather than strengthens your point about the manager. Mid table mediocrity with that group of players - including an on fire striker - is a disgrace, particularly in a season like this one.
Lap it up all you like but it's unpalatable to me.
Andy Crooks
105
Posted 28/12/2015 at 18:17:38
There have been excuses for every abysmal result and doubtless there are more being lined up for this one. We have conceded seven against Stoke and Leicester,two of our easy games. We are going nowhere under this relegation haunted coach. Would Liverpool supportrrs stand for it? Would they be grateful for Martinez? He is inept and unfit to manage our club.
John Raftery
106
Posted 28/12/2015 at 18:18:25
Today was a day when we needed to keep possession, play the channels and make Stoke do the chasing especially when we were leading 3-2. The way we continually gave the ball away smacked of criminal negligence. Also I could not understand why with players obviously tiring, our manager chose not to use a third substitute, Osman or Besic, to bolster the midfield. Lukaku was magnificent but Stones was poor. It was another naive performance at Goodison, a ground where we are incapable of keeping a clean sheet and any decent away team will always fancy their chances.
Jackie Barry
107
Posted 28/12/2015 at 18:18:51
Why the bloody hell do we want Moyes back? Blimey will some of you lift your bloody expectations a bit, what's next Alan Stubbs or Big Dunc, what we need is a proven manager, and no not big bloody Sam either. This all lies at the feet of BK for lowering all of your expectations, he's turned this club into a driveling mess.
Patrick Murphy
108
Posted 28/12/2015 at 18:18:53
Bill (92) I too think that Lukaku may well leave in January if he gets the call from one of the big boys - Champions League glory, albeit unlikely is still open for his former club Chelsea and many other clubs would be silly to ignore his current form and with a possible 'takeover' in the offing cashing in on some of our star players may be what the current owners have in mind - who knows but let's be honest even a Carling Cup win or EL qualification via the league won't be enough to keep Lukaku at Goodison for much longer, so sad but so very true.
Michael Ward
111
Posted 28/12/2015 at 18:20:44
Plenty of you will call me stupid and naive but I honestly think a large part of our season so far can be put down to bad luck. Yes we are conceding too many goals, but today for example Stoke scored 2 good goals to take the lead and the last was a pen that shouldn't have been. The ball into the box for the 3rd was outstanding so while we can blame Howard also give Stoke credit. My main issue was the penalty decisions the one on Coleman was blatant and I haven't seen the one they were given but by all accounts Stones won the ball. 3 penalties against us in the last 2 home games, I can't remember us getting one all season.
This Everton team is playing the best football I can remember Everton playing in my lifetime. I think saying we can't defend is too easy. Blaming bad luck is also too easy, but - I am going to say a Martinezism here - we deserve more points than we have. Stoke now have 26 points from their last 13 games, they are a good team.
We will get our rub of the green soon enough, unfortunately I think top 4 is gone now, that probably means Lukaku and Stones are gone with it. I said last year Martinez needs at least until half way through this season before any decisions are made. So I can see the argument for him going we should be higher in the league, but I am still willing to stick with him until the end of the season, this team can win something.
Kieran Fitzgerald
112
Posted 28/12/2015 at 18:21:51
Conor @90, I'm not sure if your Moyes comment is tongue in cheek or not. Come the summer it may not be that silly an idea. Part of me is being genuinely serious. We may not have Lukaku or Stones but the squad won't be any worse than when he left. With a proper transfer kitty you wouldn't know what might happen.
Norman Jones
113
Posted 28/12/2015 at 18:22:33
Today's result sees us having chalked up just 6 wins at the half-way point of the season having scored no less than 35 goals.Table topping Leicester have reaped 11 wins from only 2 more goals scored in one less game. The all-important points difference is no less than 12 !
All this indicates that exciting though it may be to be in Everton's corner, the massive holes in our defence - in spite of deploying no less than 7 players in the cause - will ensure that we finish bottom half UNLESS SOMETHING IS DONE ABOUT IT !
Roberto is screaming blue murder tonight about referee Clattenburg. Perhaps he would do better to analyse the other 34 goals conceded when the official was nowhere in sight !
Mike Gwyer
114
Posted 28/12/2015 at 18:25:46
I am sick to fucking death of this style of management, fucking sick of it. I cannot understand why he did not close the game down, play the fucking game out. We had a line of midfield ball killers just waiting to get on the pitch and that man, who we have to call the manager of Everton Football Club, wants us to play more possession shite football. Fucking why?? TWAT!!!
Clive Rogers
115
Posted 28/12/2015 at 18:27:34
Conor,
Moyes has gone as a manager. He's worse now than when he left us.
Kunal Desai
116
Posted 28/12/2015 at 18:28:45
First and foremost the club ownership needs resolving as quickly as possible. The sooner BK and his men clear off the the quicker the club can start rebuilding and identify another manager.
I want the likes of Lukaku, Deulofeu, Barkley and Stones at the club next season at the expense of Martinez. The clubs ownership is now paramount to moving forward with changes below and to key personnel next summer
Unfortunately I see this season petering out similar to the last campaign.
Martinez is clearly on another level to what most think. His reason for leaving Mirallas and Lennon out of the side was because they played for large parts of the Newcastle game??!! This guy has seriously lost the plot, its like he's making out that both have played the 90 mins the entire season, why couldn't they be on the subs bench. He has to go end of the season. Time is up Mr Fraud
Patrick Murphy
117
Posted 28/12/2015 at 18:29:01
Michael (99) Teams over a season or half-a-season probably finish more or less where they deserve to, and all teams make their own luck, one game here and there can be called lucky or unlucky but almost 18 months of bad luck, sorry can't agree, it's a lack of fortitude, desire call it what you will but Everton and the manager have a distinct lack of it and this team should be more than capable winning more than one in three Premier League games and it should be able to win back to back Premier League games which is something that happened so long ago I can't recall the last time it occured, it certainly hasn't happened this season and it was probably last season when or if it did. That's not bad luck it's a major flaw.
Andy Osborne
118
Posted 28/12/2015 at 18:29:19
Martinez out.
Jim Hardin
119
Posted 28/12/2015 at 18:29:52
Poor defending by Stones, Galloway, and even Mori. As I have pointed out all season and even before, our back four are not strong or even good despite the posts by others. They allow too many crosses and too many shots. It isn't our goalkeeper being targeted by the opposition, it is the back four in front of him. They are not good enough as a unit.
Even on the Live Forum, people were excusing the errors by both Stones and Galloway because they are young. Fine, but then understand those errors are going to produce clear shots on goals and goals conceded no matter who is in goal. You can't have it both ways. Stop blaming the keeper while excusing the poor play in front of him. Fact is, until there is defensive organization and defensive options at center half, it doesn't matter who the goalkeeper is.
On the bright side, Lukaku looked a beast. For those who claimed he was not talented enough, really? Also, did anyone catch his 60 plus yard track back in the 49th minute to get in front of the Stoke player and stop him from going forward into our box? Excellent work by him.
Stoke is a good team and can play with anyone. 7 goals in any game is exciting and frustrating at the same time. Let us hope we do better next match. COYB!
Trevor Peers
120
Posted 28/12/2015 at 18:31:43
Get Moyes back till we sell the place, at least he's a safe pair of hands BK trusts him it will happen if we keep losing at home, and that is the disaster were looking at make no mistake.
Nev Renshaw
121
Posted 28/12/2015 at 18:33:19
There's only Leicester and Man Shitty that have scored more prem goals than us yet look where they are in the league compared to our position. Our defence (and I use that term loosely) need their arses kicking. It must really get Lukaku down that he scores all those goals and the team still win very very few games. I wouldn't blame him and one or two other players if they left the first opportunity they get. I'm so disappointed with my team.
Jackie Barry
122
Posted 28/12/2015 at 18:33:59
He had a proper transfer kitty at Man U and then went to Real Sociedad, on both occasions he was fired. The last person I would want to give 120 million to is Moyes.
Conor Skelly
123
Posted 28/12/2015 at 18:34:56
I'm deadly serious, Kieran. Apart from a few aging players we are no worse off. Bring him in to stabilize us from now until the end of the season and build from there. This is just last season all over again. Just as Martinez has form for shipping goals, Moyes proved himself year on year with us to take an average group of players and finish best of the rest. Imagine what he could do with the money.
Andy Osborne
124
Posted 28/12/2015 at 18:36:16
Not Moyes, and not Martinez. Give it to big dunc, until we get sold.
Tim Locke
126
Posted 28/12/2015 at 18:36:47
Moyes as number two?
Jackie Barry
127
Posted 28/12/2015 at 18:37:57
When Moyes was here they were considered more than average by many here, he just never had a ability to step up to the plate. Neither Martinez or Moyes are good enough for this club. The sooner we sell the better, a new owner will want success and they will make changes to get that success.
Alan Bodell
128
Posted 28/12/2015 at 18:38:00
Clive #103, what do you base that on ?, the thing most Blues have against him is the coming in for our good players.
I'd love to see him back with our current squad, we would never lose 4 goals at home to a Stoke.
Patrick Murphy
129
Posted 28/12/2015 at 18:38:42
Jim (108) You wrote "For those who claimed he was not talented enough, really?" and I can only assume that you haven't read Lukaku's own words in a recent interview where his own agent told Romelu that he was playing like a girl so perhaps those of us who were commentating on what he was producing during some of his early days weren't as far off the mark as you would have us believe, no complaints on the big man now or in recent months though, as he has improved ten-fold in both attitude and desire, unfortunately he is also playing to attract a club with more ambition than Everton FC
Ian Riley
130
Posted 28/12/2015 at 18:39:15
Does anyone really think the board will let Martinez go? Who would you have come in? Anyone on the board got the balls to call Moyes? Why Moyes? I don't think we have the ambition to call José. Look, we got a manager who relegated a club whom was not good enough for the championship!
Our top players will see through Martinez and will leave! My concerns over his defensive mindset is coming true. We have very good defenders whom are not protected. Our goals against at home is that of relegation form! Stoke, Bournemouth, and Leicester, have seen ten goals conceeded. All top teams in the premiership!
The main problem is Martinez is a nice chap, talks the talk and all other fans of other clubs see him as a good manager! Sorry the stats don't support this!!
I fear worrying times ahead!!!
Patrick Murphy
131
Posted 28/12/2015 at 18:39:16
Moyes is a number two and that's being polite.
Joe Clitherow
132
Posted 28/12/2015 at 18:41:11
Robbie 41 you should sit near me in the Paddock if you think matchgoing Evertonians haven't cottoned on to the inept clown on the touchline. The applause at the end was entirely for Lukaku on his own who was magnificent today but to no avail. The fact he was on his own clapping the fans in the last game before a transfer window is enough concern for me. Without his goals we would already be in the relegation places
Andy Osborne
133
Posted 28/12/2015 at 18:41:41
Big dunc for manager, with Moyes as defensive coach. That's my call. Anyone agree??
Jackie Barry
134
Posted 28/12/2015 at 18:42:01
People paint a far rosier picture of Moyes than I remember.
David Hallwood
136
Posted 28/12/2015 at 18:42:17
Unlike most managers, RM didn't come into a crisis hit club. OFM had been given the Man U gig after years of shopping at Primark and had left RM with a limited but settled squad with a mean defence.
This is taken from the BBC football website:
Premier League: 2013 in numbers
Fulham's defence was the worst, shipping 65 goals in 37 games, with Sunderland letting in 60. Everton were the meanest at the back, conceding just 33, while Arsenal's backline was breached 34 times.
The 4 leaked in against Stoke was the 19th we've conceded at home, which is easily the worst in the league. How is this possible with practically the same players (the only mitigating factor being the disruptions due to injuries) that are now protected by two holding MF be so fuckin' leaky.
Obviously the GK needs to go, but for God's sake why can't we hold onto a lead? As Ronnie Goodlass commented that it was like watching a kids' team; 2-0 up and still play the same way or switch off altogether Marinez keeps coming out with the same shite that lessons are being learnt, after the Bournemouth game, or was it the Palace or Norwich game. Well we've battled back to get to 3-2 up and did we close the game out? Yet another lesson to be learnt.
Marinez has got previous; his defence was a shambles at Wigan, which could have been a limited budget problem, but this time he's inherited a top defence with all the players at some time linked with top clubs, all internationals now look like a pub team
Martinez, too stubborn, too many favourites that play regardless, yet another person who believes their own publicity Get shut now before he destroys our great club

Jackie Barry
138
Posted 28/12/2015 at 18:43:08
Yet most were saying Lukaku was a waste of money not too long ago.
Ian Brandes
139
Posted 28/12/2015 at 18:43:50
BK should sack the charlatan now now, takeover not withstanding.
Put Big Joe in as caretaker, and unleash the Dogs Of War once again. We need to star winning, we need to play with grit and determination, and we need to defend.
David Greenwood
140
Posted 28/12/2015 at 18:43:54
Andy @121. No.
Kieran Fitzgerald
141
Posted 28/12/2015 at 18:45:17
Conor, the key word you have used is stabilization. We are a mess at the moment. We cannot afford to have seasons like this under Martinez. People may not want to see Moyes back but sometimes what you want and what you need are two very different things.
Chris Sillett
142
Posted 28/12/2015 at 18:46:08
Haven't posted on here for a while but need to vent my frustrations somewhere...this Everton team has to be the most exciting team to watch but also the most infuriating for defending and underachievement i've seen. We're like Brazil attacking but Scotland at defending or holding on to leads! I honestly believe Martinez's loyalty to Howard is the biggest problem we have, he's completely useless and the defence must know it but no matter how badly he plays he's undroppable to the manager, maybe it could be his downfall. If he was a genuinely good manager he would put Robles in for the next game but will he? Will he f*ck! I was one of the few people who was pleased with Martinez's appointment, the reason being that at Wigan it was clear he was trying to create a pleasing on the eye and attacking team but was limited with very average players, I thought with our squad it could turn out to be a good choice and his first season it was, but now with every game we throw away and opportunity we waste i'm wondering if his time is nearly up here, along with Howard's.
Jackie Barry
143
Posted 28/12/2015 at 18:46:08
David you are right about the keeper, but does anybody think Moyes would have got rid. Yeah right whatever. Both of these guys can't make a decision on their own so what makes anybody think they would be able to do it together?
Dave Pritchard
144
Posted 28/12/2015 at 18:47:32
Joe, Barry deserves the applause as well. He was magnificent again. Coleman great also.
Jackie Barry
145
Posted 28/12/2015 at 18:47:41
And you think bringing Moyes back would stabilize our dressing room, LOL!
Derek Williams
146
Posted 28/12/2015 at 18:48:50
Andy @ 121, God forbid!!
Jackie Barry
147
Posted 28/12/2015 at 18:49:59
We need somebody who is going to kick this team into shape, they think they just deserve to walk into the team week in week out, the club stinks of being too lax right now, it has for years.
Sam Fitzsimmons
148
Posted 28/12/2015 at 18:50:22
Didn't see the game today but Stoke scoring 4 against us.. .WTF. Martinez! You can fool all of the people some of the time....
Trevor Peers
149
Posted 28/12/2015 at 18:50:34
He did last time Jackie, and you think Roberto is a stabilizer haha I suppose god help us
Jackie Barry
152
Posted 28/12/2015 at 18:53:00
Far from it, I don't think either of them are up to the job. I just wish some of you would think outside the box that Everton FC has become. Look at Leicester they have somebody in place who has brought belief into a small club that we haven't seen for yonks.
John Austin
153
Posted 28/12/2015 at 18:54:57
Martinez needs to go after the shambles today. We were fortunate at Newcastle if we were to be honest. The last minute goal distracted us from the fact that we gave them too many chances. Any decent striker would have scored at least 2 against us the way we defended crosses. A team comes along today with some good players and scores 4! I don't think many people would blame Lukaku if he was to leave at the end of the season. Why should he stay? I'm now dreading the Spurs and Man City games. I'm even getting worried about Dagenham!
Andy Osborne
154
Posted 28/12/2015 at 18:55:40
It was only a suggestion until we got bought and we could bring in a proper manager. :-))
Trevor Peers
155
Posted 28/12/2015 at 18:56:15
Be realistic Jackie whose BK going to turn to in a crisis? He takes an age to appoint any manager, we may not want it but it will happen
Michael Evans
156
Posted 28/12/2015 at 18:56:25
Every great side has to have a steely backbone running down the spine of the side who know how to defend and win ugly if necessary.
Mix in a couple of artisans to create and a natural goalscorer.
With RM it is either EGO or naivety of the highest order !
Jackie Barry
157
Posted 28/12/2015 at 18:57:13
Fine, but what would he expect as wages a kings bloody ransom again for achieving sod all.
Dave Pritchard
159
Posted 28/12/2015 at 18:57:33
Andy 121 . Do not agree
Antony Matthews
160
Posted 28/12/2015 at 18:59:32
Says it all when we have to score 3/4 goals to win most of our matches. Might even be 5 soon !
Gary Heywood
161
Posted 28/12/2015 at 18:59:34
As soon as we lose the ball in any area of the pitch it's, oh shit!
Jackie Barry
162
Posted 28/12/2015 at 19:00:36
The person I want gone from this club more than any other is Bill Kenwright, until he has gone our fortunes will not change. I have nothing against him and wish him all the best, but if anybody has long gone stale at the club it is he.
Trevor Peers
163
Posted 28/12/2015 at 19:00:38
At least we'll stay up next season Jackie isn't that the objective ?
Bill Gall
164
Posted 28/12/2015 at 19:01:51
Bringing in Robles will not make any difference with the sloppy defensive set up in front of him ,was he not just a back up keeper at Wigan and just used in cup games.? .No the problem lies with the manager who simply believes that his philosophy of keep ball and try and score more than the other team regardless of how many they get is the way to play. Stopping the other team scoring does not enter into his line of winning.
Jackie Barry
165
Posted 28/12/2015 at 19:02:16
I believe we will stay up this season in all honesty. Next season with new owners in place (fingers crossed) Martinez won't be our manager, unless he makes the turnaround of the bloody century.
Norman Jones
166
Posted 28/12/2015 at 19:02:35
Sorry to come on again but it staggers me to find so many Evertonians who can see no further than Moyes as our next manager. For God's sake, there's a dozen like him in the lower leagues.The Watford guy would be my target.
On the subject of Romelu, he is twice the player he was last season and will continue to improve. No doubt his mentor Drogba will convince Chelsea to fork out £50M to get him back. Lets just hope there is someone in charge capable f spending it wisely.
Mark Tanton
167
Posted 28/12/2015 at 19:02:36
Well Martinez ain't fooling Phil McNulty, who is criticizing his management of this squad again tonight.
Andy Osborne
168
Posted 28/12/2015 at 19:02:52
Ok. What about big dunc as manager and Stubbs as defensive coach. Until we are sold and a proper manager comes in. Martinez has to go, if we are going to save this season.
Ian McDowell
169
Posted 28/12/2015 at 19:08:07
The man we need is Quique Sanchez-Florez. Has already coached at At. Madrid won the Europa league and has Watford one of the most organised teams in the league after brining in 10 players in the summer.
Kieran Fitzgerald
170
Posted 28/12/2015 at 19:08:14
Mark, there was a negative article about him on football 365 during the week.
Ian Brandes
171
Posted 28/12/2015 at 19:08:21
Andy,
Big Dunc was as much a legend off the field as he was on it. And not for the right reasons.
If we are talking caretaker, then Joe Royle is a no brainier and he would do it. Stubbs would want the top job, and do not thiink he is up to it yet.
Mike Green
172
Posted 28/12/2015 at 19:09:17
To have the (joint?) top scorer in the league and not be in the top half is criminal. We've dropped around 13 points in the last 6 games which would've put us joint top. We're just not ruthless or savvy enough - we are desperate for a leader in the thick of it who can pull the team together and pull us through these situations. Had we not got that last minute winner last week it'd be even worse.
Howard has cost us on more than one occasion and the lack of experience of the four in front for most of the season has too.
Lukaku has transformed his game over the last couple of months, he must be totally demoralised by the shambles at the back, he will be gone in June.
Bill Gall
173
Posted 28/12/2015 at 19:10:02
Trevor # 139. It did not take him long to appoint Martinez, as for all his talk of talking to football people all over Europe ,Martinez was his first choice as soon as Moyes handed in his notice, and I belived he was interviewed a week after Wigan was relegated.
Jay Wood
174
Posted 28/12/2015 at 19:10:27
Romelu's brace today takes him to 31 goals in the calendar year, at least 4 ahead of the likes of Aguerro and Kane.
How soon before seeing RL in the Royal Blue shirt of Everton becomes a distant memory?
Without a trophy, or at minimum, European qualification, how long do you think he and other blossoming young players the likes of Robbie Shields in this thread speaks of as part of a rosy future for Everton, move on to WINNING clubs..?
THIS is the crux of the concerns many have on here when analyzing performances versus results.
Today's game was AMAZING. The result was crushing. The window of opportunity this season is offering is rapidly closing to a mere cracked pane...
Norman Jones
175
Posted 28/12/2015 at 19:10:46
Andy, Big Dunc is part of the coaching staff at present so must take some responsibility for the way the team is deployed. Stubbs is the manager of Hibs and is unllikely to want to revert to the role of coach. Manager, maybe ?
Graham Mockford
176
Posted 28/12/2015 at 19:11:29
It's pretty basic stuff, the lack of nous shown by the manager is quite frankly staggering.
Having fought back to go 3-2 up, you tighten up with 20 minutes to go. The obvious would have been Besic for Kone especially since Cleverley had been replaced by Naismith.
About two minutes before they equalised there was a moment that summed it up. We had an attack which broke down and we had eight men ahead of the ball. It's not fucking rocket science.
We should be talking about one of the best centre forward displays in years. Lukaku was immense today, he bullied both central defenders, his hold up play and awareness was outstanding and his finishing as good as ever.
Instead we come away with nothing. This is not about players, our defenders are a match for any. It's the way we set up and play in such an open way regardless of what is going on. If Martinez cannot see the bleeding obvious and be able to flex tactics to suit a match situation we need to find someone who can.
Trevor Peers
177
Posted 28/12/2015 at 19:13:10
It's BK who picks any new manager, the fans have no say in it. Anybody who thinks otherwise is a fool, personally I'd fancy the Watford manager whose worked miracles this season , but does BK ?
No way he will go for Moyes, and I'd take that all day over Roberto.
Phil Rodgers
178
Posted 28/12/2015 at 19:14:00
Problem with Everton is Martinez just doesn't take the defensive side of the game seriously enough
John Austin
179
Posted 28/12/2015 at 19:15:27
Even mentioning the words "staying up' in this thread is a travesty given the squad we have. We should be looking up at the top four. That's what RM has now conditioned us to. A few more defeats in this tough run of fixtures and we will be very worried. I agree that Moyes would not be a good move. And a definite 'no' to either Big Joe or Big Dunc. We have enough good players to attract a top manager with or without new owners. Spurs showed the way when they sacked Sherwood and appointed Pochettino. Look were they are now. We should not accept anything less.
Patrick Murphy
180
Posted 28/12/2015 at 19:16:21
Stubbs, Ferguson, Moyes et al all the type of managers a small club with small club ambitions would appoint, if any potential new owners have anything about them, they will appoint a high profile manager who hates to lose and knows how to win - there aren't many about, but if we are going to merely swap Martinez for those mentioned above we can look forward to another decade of mediocrity or worse. I recall that some forty years ago, Everton sacked Billy Bingham, despite his team defeating Stoke two-nil at Goodison in the Third Round of the FA Cup, the game which had the fans salivating at the impudent skills of Duncan McKenzie, then like now they went for the wrong man and instead of getting a Clough or Robson they chose Gordon Lee.
Antony Matthews
181
Posted 28/12/2015 at 19:16:52
Would the Shite put up with this ?
Sid Logan
182
Posted 28/12/2015 at 19:17:42
Here is the fundamental question.
When we are 3-2 up what should be the strategy?
For me it's simple. Without leaving yourselves exposed at the back, you try to get a forth. What you don't do - which is becoming our trade mark - is pass it around to try to keep possession without any intent.
Because eventually it will be taken off you. The lack of real purpose - which we display whenever we go ahead - is the approach which is costing us games.
It's not about going gung ho but about ensuring you keep doing enough to stop the opposition gaining the momentum.
Martinez' possession football is (whenever we go ahead) warps in a strolling bunch of Barcelona wannabes. It's something we'll never be - but more importantly it's costing us games.
Stewart Lowe
184
Posted 28/12/2015 at 19:22:59
A much better performance and for most of the game we out out fought Stoke. It has dawned on me that Martinez's first season was so good because the had a settled and strong defence that Moyes had built and we were left in awe of us going forward. However, from a Moyes defence of Coleman, Distin, Jagielka and Baines, we are struggling to replace Distin who's strength Galloway, Mori, Browning do not have. If we could get a defence coach to work with us on that part of the game we would be pretty formidable.
Trevor Peers
186
Posted 28/12/2015 at 19:26:46
I agree Patrick but your not factoring in BK, who will go for the easiest option available as usual. BK isn't exactly a far thinking visionary is he, so let's be realistic.
Colin Hughes
188
Posted 28/12/2015 at 19:32:54
Antony (164) never mind the shite, Spurs, Sunderland or Swansea wouldn't put up with our form.6 wins in 19 games this season, lost more home games than we've won (and lost last two homes at back end of last season) and along with Villa are the only team not to win back to back premier league games this season.
It would get most managers the bullet.
Stewart Lowe
189
Posted 28/12/2015 at 19:34:42
How scary is this thought: We didn't have Lukaku this season either from injury or being sold? We would probably be well into the relegation zone surely, and we would be asking why this hugely talented squad (minus Lukaku) are worse off than Chelsea? I dread to think.
Jon Cox
190
Posted 28/12/2015 at 19:37:26
God, in the words of
Edward James Olmos (Miami vice)
That was bad.
Armando Canaj
191
Posted 28/12/2015 at 19:38:35
Someone explain to me how this was the manager's fault. The team looked good before kick off. Injuries can't be managed by the manager.
Charles Brewer
193
Posted 28/12/2015 at 19:41:35
Sid, that was spot on. The moment the third goal went in, it was as if the game was over and a bit of tapping about with no aim was fine.
Whether we went for a fourth, put 10 men behind the ball and had Lukaku as a lone forward 35 years ahead of everyone else (I remember that tactic from the more dour Moyes displays) or just probed and kept is safely in their half didn't matter. But messing around with no obvious plan AND leaving half the team up the pitch was suicide. As was demonstrated.
This failing was primarily a management failing. Howard is beyond doubt the worst goalkeeper I have ever seen on a consistent basis, and why Kone stays on after 60 minutes is a total mystery. (And this season I am a complete convert to Kone - it's just he's always burned out by halfway through the second half, so why make the poor sod keep running when there's nothin in the tank, and perfectly good swaps on the bench). But today, as at Bournemouth, there was a total failure of will on and off the pitch.
Something must change.
Kim Vivian
194
Posted 28/12/2015 at 19:43:00
4 goals - one well worked, no complaints, one a skewed cross that turned into a worldy (definitely meant as a cross), one I missed having a piss but evidently goalkeeping error and a (far from nailed on) penalty. I thought the referees were supposed to be 100% certain or give the defender the benefit of doubt. So yet another 3 points spunked. FFS.
Looks like we are still not getting the rub.
We have got to start winning our matches instead of relying on the opposition to lose them for us (Newcastle, thank you).
I remain hopeful.
Andy Codling
195
Posted 28/12/2015 at 19:45:12
Phil 161 -agreed Martinez just doesn't give a shit about keeping clean sheets. When we went 3-2 up I just knew that it wouldn't last, but to concede another two???
Roger Helm
196
Posted 28/12/2015 at 19:48:26
I am amazed how much Lukaku has come on. As well as scoring every other game, his hold up and linking play is now really good. He must be the best CF in England and I am sure he will go soon. Why would he stay in this amateurish setting?
The problem is the money he generates would be spent by Martinez. Why can't he see what everybody else in the football world knows, including pub teams and schoolboys, that the first and easiest thing to get right is the defence? I am 59 and I never thought I would live to see the day that Everton would concede four at home Stoke City.
Paul Jeronovich
197
Posted 28/12/2015 at 19:51:44
What Roberto doesn't realise is that Wigan, Swansea etc may settle for shambolic defending and lame excuses. We don't and he needs to realise fast that he's at a fucking big club. Cut the crap and drop players who are not doing their job. The attackers are fantastic but every time the opposition attacks, I shit my kecks !!!!
John Williams
198
Posted 28/12/2015 at 19:54:58
People calling for Moyes to come back! Absoluely riduculous.

John Austin
200
Posted 28/12/2015 at 20:00:07
There have been a few mentions of Big Dunc tonight and that got me thinking. How much influence is he having or allowed to have? Is the improvement in Lukaku down to his coaching? If so, great. But where is the passion that he showed (not as often or as focussed as we always wanted admittedly).

Allan Board
201
Posted 28/12/2015 at 20:00:27
More lame, contemptuous excuses from Mr Moment.Everyone's laughing Roberto, except the great fans of our club. Relegation would be catastrophic for Everton and there would be no return from it. You will be responsible for this if you are not sacked- now.
As I've said before, Martinez is the most damaging (fundamentally) manager in Everton's history.
Tony Hill
202
Posted 28/12/2015 at 20:00:34
We need a new Board and a new manager. That much is obvious. I have written off this season. I am afraid I don't care about the Capital Cup, especially if success means Martinez staying on.
We should collect as much as we can for Lukaku and Stones (who was dreadful today and whose stock may begin to fall shortly) since their departures are inevitable and we should aim to have a hard, competitive club and team in place for next time around. Lukaku may indeed go in January and I wouldn't blame him; his performance today, whatever his motivation, was one of the best centre forward displays I have seen an Everton player give.
That view of our position is depressing but it is realistic given the utter mess RM has made of things. A new manager will presumably have to follow any change of ownership, if that is not yet another Kenwright fiction. If there is no change of ownership and management then I will certainly not be renewing my season ticket and I urge others not to do so either.
The cosy, sentimental, mediocre, "we're all one big blue family" stuff has to be binned pronto. So does the delusion that things are just getting ready to blossom; no they're not. We're a football club and the object is to win, something we just don't do anywhere near often enough.
If we do not act with proper speed then I truly think that this club is set on a perilous, and possibly irrecoverable course. We simply cannot afford more of Kenwright and Martinez.
John Crawley
203
Posted 28/12/2015 at 20:00:53
We needed an experienced commanding centre half in the summer and most importantly a quality goalkeeper. We got neither and we have paid for it this season. Until he addresses these issues we're going nowhere. I hope Jagielka is back and upto speed for the cup semi-finals!
John Daley
204
Posted 28/12/2015 at 20:01:13
"Big Dunc is part of the coaching staff at present so must take some responsibility for the way the team is deployed"
You really think Ferguson has any real say in who the manager selects and how he sets the side up?
Maybe a more apt measurement of his worth is the obvious improvement in Lukaku's game since Ferguson begun working closely with the forward in an attempt to improve his hold up play and heading ability?
John Crawley
206
Posted 28/12/2015 at 20:04:08
John 176 I know that Ferguson has been working with Lukaku as he has said so. He's been toughening up Lukaku by challenging him on his hold up play. He was outstanding today.
Andy Walker
207
Posted 28/12/2015 at 20:08:01
What will it take for the diehard Martinez supporters to realise a leopard will never change its spots. Martinez can't set teams up to be defensively strong, this is proven over years of EPL management.
He has the luxury of working with the most talented squad we have had in 30 years and we are in the bottom half of the league. We certainly won't have the same talented squad next year as many will understandably, bugger off to work with a coach who understands the importance of building a team around a strong defence.
You fucked us over Martinez as I feared you would.
Tom Harding
208
Posted 28/12/2015 at 20:08:15
I can't believe once again that all it takes is a loss for stupid comments like, 'sack the charlatan' to come out. For God's sake some people need a reality check of their expectations versus how the rest of the league might react to seeing RM getting sacked on the basis of drawing and losing just a few games, having been on a really good unbeaten stretch and HAVING BEEN PLAYING SOME OF THE BEST FOOTBALL IN THE LEAGUE. Give it more time and we could be the next Atletico Madrid I reckon, but sack the manager and send us back to crappy defensive mediocrity.
What do you people want , big Sam? Actually it seems more like too many people who have commented here want and expect a mixture of big Sam and Arsene Wenger and they want their bread buttered on both sides. We should have won today but it is not the end of the world that we haven't. The pros massively outweigh the cons with an Everton team playing great football on the whole which doesn't relegate us to the last dregs match to be shown on Match of the Day. If we are still leaking goals in 2 years I might join you and see the need for a change but right now get a life please.....!!
John Austin
209
Posted 28/12/2015 at 20:13:06
Thanks John 180. If only our other coaches could have the same impact on the defence!
Simon Watts
210
Posted 28/12/2015 at 20:13:57
There seems to be a goal or two each match or every other match due to Howard. It makes me sad because he says check the stats. The stats say he is the worst. I think he got a lot going on in his private life and he is getting older. He likes to be a playboy but the mistakes are costing us. Both in his personal life and on the field.
Keith Monaghan
211
Posted 28/12/2015 at 20:16:17
Great entertainment, but not what we needed!
Lukaku & Barry magnificent, Cleverly great too whilst on.
Stones had his worst ever game for us, & Howard was …Howard! Kone tried hard, but ineffective. However, worst of all was Barkley- his usual consistent garbage – nearly every move loses all momentum when the ball arrives at him, and he takes so many touches on the ball to so little effect. And he hides when we don't have the ball – opponents pass him by so casually it's amazing – that's one of the reasons our defence gets so stretched. His free-kicks are rubbish and his crossing & corners pathetic. GD and Kone also a defensive liabilities – top teams in this league don't have lazy players. Teams attack as a team (like we do) and DEFEND AS A TEAM.
And why the hell did Macca start his first game for a month against on eof the league's biggest & most physical teams? And why didn't Lennon & Kev start, never mind be on the bench?
Guess I'm beginning to think we need a change of manager – Joe (or Peter Reid) in the short term to instill some reality and fight.
P.S. Moyes – no way. Stubbs - we need to aim higher. Dunc – unproven?

Grant Rorrison
212
Posted 28/12/2015 at 20:17:58
Paul 175. Drop them for who? Martinez doesn't have a lot of options at the back. We only have three centre halves and one as been injured since October.

As for the goal keeping situation. Robles seems to get better and better the less he plays in some peoples minds. He was considered a laughing stock for most of his time here then put in a few decent enough displays and suddenly he's Spain's answer to Peter Cech.
John Keating
213
Posted 28/12/2015 at 20:18:00
If Kenwright really loves this Club and only has its best interest at heart he would get rid of Martinez now.
I note that even our Martinez fans are keeping a bit quiet the last few weeks.
Where's everyone that were prepared to give him the benefit of the doubt last season and were adamant this season would see us progress under his Phenominally management
We have completely wasted this season when we could and should have been in a European spot with a good team.
If we give this incompetent another season we will be down
Iain Jones
214
Posted 28/12/2015 at 20:21:12
Just ring Jose and see what he says. If starts to laugh then we have lost nothing. But if he says yes we have a proven winner, albeit a bit of a twat.
Mike Berry
215
Posted 28/12/2015 at 20:21:45
memo to Martinez. Build from the back its a basic of football. Get rid of him and appoint Alan Stubbs
Ged Simpson
216
Posted 28/12/2015 at 20:25:13
Defence poor but we are a team developing well
Coyb
Tony Hill
217
Posted 28/12/2015 at 20:25:29
I disagree, Keith (184), about Barkley. I fear I may be in a minority but I thought he played very well, though I agree his dead ball deliveries are generally poor.
He set up Galloway for what should have been a goal in the first half with a clever back heel, he set up the third goal and his ball retention and passing in the second half particularly were of high quality in my opinion.
There is certainly more to come from him but I think he is steadying nicely and a better coach than Martinez could well bring him on to his full potential.
Andy Walker
219
Posted 28/12/2015 at 20:29:30
7 goals conceded in the last 2 home matches to Leicester and Stoke. Can you imagine any of our previous managers overseeing such a complete shambles?
How is he still in his job?
Joe Clitherow
220
Posted 28/12/2015 at 20:31:25
Rubbish laying blame on Barkley IMO. He has been getting better and better every game and is making better decisions after a not so great last season. Deulofeu though is our true hot and cold. Absolutely blowing for tugs last quarter of the game and pointing to others that he didn't want the ball. This could, of course, be down to the fact that all Everton attacks go down his side and he was simply knackered which makes it doubly baffling that neither Lennon or Mirallas was on the bench to pick up for him
Matthew Correal
221
Posted 28/12/2015 at 20:31:26
Only two teams have scored more goals than us this season and only six teams have conceded more... I'm not particularly bright but that tells me we don't have a problem going forward but have an absolute flaw in our defensive set up... I'm afraid the defensive midfielder has to be priority over the attacking winger...Baines over lapping, Coleman over lapping... etc... it doesn't work with both trying to get forward as you don't have defensive cover!!!! Oh yeah, having the sh!ttest keeper in the league doesn't help... I regularly think how many points that "world cup" game Howard had has cost us.
Les Netherwood
222
Posted 28/12/2015 at 20:32:04
Here we go again, letting in four goals at home, Howard crap again, Kone in the team Mirallas not even on the bench.. has this manager got any idea at all?
How he hangs onto the job is beyond me. How much longer do we have to put up with him? The defence is absolute rubbish with Stones playing short passes in our own penalty area(encouraged by Martinez) and always looking vulnerable, Coleman up the other end of the field when we need a right back, and anything in the air is always a big problem with Howard dancing up and down on the goal line and giving free headers to any attacker who happens to be in the area.
Lukaku was terrific again today and deserved to be on the winning side. No doubt it was the usual utter rubbish from Martinez at the press conference……… how much more of it do we have to put up with - let's get rid of him NOW.

Jay Gee
224
Posted 28/12/2015 at 20:32:52
We have two footballing centre halves. Neither one is an enforcer. Couple this with a dithering keeper and hey presto, against column = lots!

Rom will be off, but I would sell Stones and buy one strong CB and a hope of replacing our lost striker. Our defence has cost us our No9!
John Austin
226
Posted 28/12/2015 at 20:35:01
Keith 184. Moyes, Stubbs and Dunc are non starters in my view for different reasons. Let's forget about ex - players being touted as our new manager - stop gap or not. Peter Reid had opportunities as a manager and did not prove himself. Joe did a great job back in the 1980s but that was a long time ago. Martinez, although not an ex player, came in and said he understood Everton. Well that isn't working. We can name possible managers all day and we will all have our own opinions. My wish would be for a strong proven character with an independent mind who 'gets EFC' but has the balls to say that won't give us success on its own and we therefore need to change.
Jimmy Salt
227
Posted 28/12/2015 at 20:35:14
Havnt read everything on this thread but there will be people eating humble pie if Barkley ever leaves us the guy is class
Fran Mitchell
229
Posted 28/12/2015 at 20:37:41
In an ideal world, Martínez would have 2-3 years with these players. Maybe then he would get the best out of this team, and patience could be afforded.
The way he has us playing at times is sublime, really exciting stuff.
But it is not an ideal world, and he can't set up a defense and another bottom half finish will mean losing the core that makes us so exciting.
Martinez Out, Bielsa In.
Peter Fearon
230
Posted 28/12/2015 at 20:40:42
So Tony Hill, let me see if I understand you correctly. You would rather we lost in the semi-final against Manchester City because if we were to win that would strengthen Roberto's position? So you are actually hoping we lose? You must have been very unhappy after the newcastle game then. I wanted David Moyes out for years before he actually left but I never actually hoped we would lose a game. Somehow I felt that would have been disloyal.Thanks however. You confirm for me where far too many ToffeeWeb contributors are coming from these days, which is why I read the site less and less. The fact is that we are playing a very high standard of attacking football. It isn't winning football right now but I believe we are learning from these bad experiences.
Ray Jacques
231
Posted 28/12/2015 at 20:41:23
Not posted for a while, however am so fed up after today ( thought we had a break on Saturday to turn the season around, then 4 changes).
We need a new manger. We appear to have a fine collection of individuals and the best striker in the league, unfortunately they aren't taught , coached or managed to perform as a unit. We are like a kids team unable to defend a lead or see a game out, there is no savvy, nous or professionalism in the way we perform.
I don't want former players, existing staff or up an coming coach as manager but someone who is experienced and can organise the players to adapt to systems and circumstances on the pitch. Perhaps a Mancini or de matteo who have been winners and managed top clubs.
Very disappointed.
Ian Riley
232
Posted 28/12/2015 at 20:42:34
I would love a José or pep but I am realistic of our ambition as a club. I would take any of the top six managers in the championship. Or the Watford manager but let's face it Martinez is here for the rest of the season at least. Having Moyes back would be a back ward step but I think it's more out of desperation of our current plight when defending.
By the way big Dunc cannot be blamed for the defending. If anything, he needs phrase for working with lukaku. His form is immense!
Guy Hastings
233
Posted 28/12/2015 at 20:42:50
As I pointed amid the fury of the Live Forum, look where our wins have comes from this season. We could have been a goal down (at least one) against Newcastle who had the clearest chance of the game in the second half; Sunderland gave us a harder opening ten and closing ten minutes than the score suggests; Villa are shambolic; and who, hand on heart, thought we'd get three points away to WBA at half time? Chelsea are a pale shadow of their former selves - and it took hat trick sub Naismith to put them to the sword. Only Soton away actually convinced.
Can anyone explain Baines being dropped to the bench? Okay, he's not the LB of old but against Stoke I'd have banked on his experience. And why was Cleverly yanked? If neither was match fit then they should not be on the bench to start with, esp against a team like Stoke.
I thought my 49ers were bad at 4-11 (they are) but Everton at 6-19 just stinks.
Steve Hogan
235
Posted 28/12/2015 at 20:43:20
Can't believe the Barkley haters on this website. he was absolutely brilliant today driving Everton forward with some sublime touch's.
He is the only current Everton player who can play in this role, his pass for Delefoue's goal was supreme.
His critics need to take a long hard look at themselves and reserve their venom for the stubborn manager, who can see what is happening each week but refuses to shoulder any of the blame.
People are not stupid, he will eventually drive away all our better players who will quickly realise this team will go nowhere with him at the helm.
Tony Hill
236
Posted 28/12/2015 at 20:44:35
Yes Peter, you understand me correctly. I think Martinez is a bad and damaging manager for our club and I do not want him or our pitiful Board to have any excuse to carry on in their posts. "A very high standard of attacking football" has us in 11th place and heading downwards.
You carry on enjoying it and cheering down Wembley Way.
John Daley
237
Posted 28/12/2015 at 20:50:21
The Echo's player ratings for today's game provides a nice little snapshot of our season so far:
Lukaku gets a 9. Howard a 4.
Hannes Eerola
238
Posted 28/12/2015 at 20:52:19
Martinez out after this season or before! Talented squad all going to waste due to his daft style. A style that screams underachievement. "It's so nice and entertaining". After 90 minutes it's not. It just makes you gutted like today.

Luck is the last thing you can blame this season. At the moment, he is destroying the image of Everton as maximizers of results compared to the squad and resources available, which David Moyes DID play a big role in, like it or not (agree or disagree).
Alan Bodell
239
Posted 28/12/2015 at 20:54:32
Joe, Joe, Big Joe Royle has been out of the game for some time now... but I think he could do us a good job when this idiot finally gets a nudge out the door.
I've waited a long time before finally realising that Martinez is punching well over his weight in this league, my patience is shot to... Anfield!
David Price
240
Posted 28/12/2015 at 20:55:53
Lukaku and Barkley superb. Geri on fire in the second half. Centre midfield though was over run when Stoke attacked. Fair play they were excellent, but Clattenburg cost us again. We need the buy out asap and go for Jose.
He would attract the three players we need and bring out the best in an organised defence. As many say we are close to being special but I'm afraid our current manager hasn't the know how to make it happen.
Sid Logan
241
Posted 28/12/2015 at 21:02:16
Peter #195
We are learning nothing from our games. For the last 9 Martinez has said we will learn. But the in the next game he demonstrates that we've actually learned nothing at all.
More than that isn't Martinez a wee bit old and experienced to be still learning in every game. Or does he mean it's the players who will learn - I which case why doesn't he just teach or explain things to them them before the game.
The real problem is Martinez is a naive manager and nothing will change until he goes. If you're happy to remain in the middle to lower half of the table for the next few years that's fine. Otherwise he'll need to go.
It's not really our job to worry about who will replace him. That's the board's job. If we can't actually say a Manager is crap until we have a replacement we might as well give up.
It's almost akin to not being able to say a player should go until we have someone lined up to replace him.
We'll deal with the next stage when and if it happens! Anything is better than watching great potential go down the pan!
Tony Dove
242
Posted 28/12/2015 at 21:07:36
Keith@184. Ross was superb today. If people can't see that then I really feel like giving up.
Gary Edwards
243
Posted 28/12/2015 at 21:08:07
Robbie #41 .. seems that you weren't at the game mate ... otherwise you would have heard much derogatory chat re: Martinez, the fans are not happy and IMO rightly so.
Your optimism and positivity is heart warming though @ this time seems misplaced.
Julian Exshaw
244
Posted 28/12/2015 at 21:08:17
I am not a football coach , nor do I claim to understand the ins and outs of coaching and how it can influence players. I am also aware that our defence is pretty porous to say the least. On the other hand however, I haven't seen a better attacking football team this season and for this alone RM should be praised. Too often we are looking at the perceived negative elements of his coaching, to which. admittedly, there are some. Yet, I think he isn't receiving enough credit for the positives he's bringing to this group of highly talented players. We slaughtered OFM for his dour approach to games and now we are attacking RM. There are few perfect managers and RM isn't one of them. But to my untrained eye, he has delivered an attacking style of play, the likes of which I haven't seen from an Everton side for many a year.
John Daley
245
Posted 28/12/2015 at 21:08:27
Keith @184,
"...worst of all was Barkley- his usual consistent garbage"
That's the second successive game you've pointed the finger at Barkley even though he's been one of the best players on the pitch both times. Singling him out as the main factor behind this teams failings is like saying a lack of lipstick was the only thing letting the Elephant Man down in the looks department.
Sid Logan
246
Posted 28/12/2015 at 21:08:30
Also I just want to add Lukaku, Barry, and Barkley were all excellent today. Coleman, Galloway grew in to the game.
Kone was poor yet again.

Andy Meighan
247
Posted 28/12/2015 at 21:14:21
People coming on here blaming Clattenburg. Get real. One man lost that game for us. Martinez. Hasn't got a clue. Should've seen it out after Deulofeu's goal but still left it wide open. Get out of our club before you hang us.
Simon Watts
248
Posted 28/12/2015 at 21:15:21
Sick of it all
Sid Logan
249
Posted 28/12/2015 at 21:17:53
Didn't realise Barkley was getting so much stick from a few.
I have criticised him in the past but the last few games he has been superb.
If you don't think that you weren't at those games!
David Price
251
Posted 28/12/2015 at 21:18:22
Surely Baines should've come on to the left leaving Naismith to replace Kone.

Ste Lewis
252
Posted 28/12/2015 at 21:22:34
When Lukaku was learning his role and working on technical deficiencies did people on here support him? No, they ripped him to bits and called Martinez a fool for persevering with him. We are reaping the rewards for that.
How many games have we been able to field our first choice back 4? We have conceded an large number of goals from individual errors too, It doesn't help and the players need to learn fast. They are doing their learning on the pitch and that can be frustrating.
I feel we need to get behind the team AND manager, they know this isn't good enough but this is the closest we have been to having something special for a long time. The team needs patience and support but it's as though some of the curmudgeonly fuckers on here can't wait for it to go tits up so they can have a good gloat. Shame.
Mark Taylor
253
Posted 28/12/2015 at 21:27:14
Lukaku is playing for his big move, we were always a shop window and he has said as much; I'm sure his agent is talking to City, United and Chelsea right now. If not gone in January, then in the summer window. He most certainly is not intending to help us to a PL title or CL qualification down the line(even if that were realistic at the moment).
Given the fact he is playing very well for his move, we should clean up on his sale, given all the top clubs right now would be in the market for a young striker with proven PL goalscoring potential. We should make a mega profit in the books, maybe as much as £40m. Stones may also want out and it may not be such a bad time to sell him. Again, big bucks in book value, maybe another £40m (given his original transfer value was so low)
That might be £80m to spend, maybe more if we have new owners who want to invest. So who would you want to spend that money, bearing in mind such vast sums are, for us, a one off and cannot be wasted?
Martinez?
Chris Scully
254
Posted 28/12/2015 at 21:31:15
I am absolutely gutted with this result, and I fear that the likes of Harry Kane are going to tear us a new one. Spurs then shitty, oh lord help us...
John Austin
255
Posted 28/12/2015 at 21:32:30
Mark 212. Definitely not Martinez. Remember though that Barnsley are due £8m or so from the sale of Stones so we won't get the whole £40m. I'm beginning to wonder too if the time might be right to cash in on him.
Steavey Buckley
256
Posted 28/12/2015 at 21:35:18
The forced substitutions Martinez had to make and exposing Galloway by himself to the very dangerous Xherdan Shaqiri without cover from a recognised winger (or even Baines) were Everton's undoing.
I do not know what Martinez sees in Kone because he is not a left winger or someone who looks unlikely to score, yet, he was bought as a centre forward.
Without Lukaku, Everton would be in a worse situation than now. He is carrying the attack by himself without anyone remotely as good as him up there with him.
Brian Harrison
257
Posted 28/12/2015 at 21:48:49
While I was delighted in coming from behind twice, to then see us take the lead with some great attacking football. But I said to the people round me at the match,that with our track record this season I wouldn't bank on 3 points. But even I didn't think we could end up with nothing from the game. When things like this happen once or twice a season then being generous you could put it down to bad luck, but for it to happen as often as it has this season then there is more than bad luck involved.
People often say a team mirrors the manager, and our manager is a nice guy, but may lack a bit of steel. This sums us up play some really nice football but lack the steel to see the job through. I know some have mentioned different alternatives should RM go, I said some months ago I would have given Gary Neville a go. But cant see him leaving Valencia anytime soon. My other choice would be the man in the opposite dug out today. He has changed Stoke from the long ball Pulis football, to a good footballing side. He has also had a lot less to spend than RM, I know he doesn't come across as a nice guy but his team certainly play for him.
Early in the season I criticized Lukaku, but fair play to the lad his all round game has improved tremendously. To such an extent that I wouldnt swap him for any other striker in the Premiership. The sad thing is I cant see him being here next summer regardless of who the manager is.
Dave Pritchard
258
Posted 28/12/2015 at 21:49:10
Steavey, I agree that Galloway was left in the lurch. For much of the game we had nobody in left midfield as Kone was often in the striker position. Is it time for Baines as left-mid in front of Galloway? The team is just not balanced without proper left-sided players on the left flank.
Kim Vivian
259
Posted 28/12/2015 at 21:51:15
Jackie Barry -111.
Compared to LVG Moyes was given fuck all kitty to work with. He spent 10% of what LVG has invested in players and LVG's results stats over the same period of time are no better. For those who are unaware - I understand that Real Sociedad have a club policy that something like15 of their 25 squad players have to have come through their academy system - that's 60%, so in both cases I'd say DM has been dealt a pretty bum hand. Imagine if we HAD to have 60% academy players on the first team squad. It would be a nightmare scenario. All good charitable intentions and that what a fucking millstone.
I'm not advocating he should replace RM but we could do worse. DM would have a point to prove and he did do better with a considerably less talented bunch of players than RM is shaping up to do right now. And he was responsible for some pretty respectable signings. As well as some turkeys of course.
All may change for the better under RM and if it doesn't soon then he won't get the chance anyway because our key talent is going to be off eventually if not sooner and I include Rom, Stones, Barkely, Deulofeu, Coleman and possibly Macca in that casualty list.
So someone needs to buck up and bite the bullet in our camp while we still have some slack. Surely someone at the club can speak up and lobby for a good defensive coach to be recruited. I don't even know if we currently have anyone with that function. Maybe it is RM, God knows.
It has been mooted elsewhere that RM and DM could work as a team using their respective defensive and attacking strengths and if that could be made to work we could be on to a pretty groundbreaking format. Only problem is I get the impression that RM is some kind of control freak and if two management type personalities were going to work together it would need someone in some sort of 'director of football' type role. There must be suitable people out there.
Any ideas anyone?
Dave Pritchard
261
Posted 28/12/2015 at 21:56:47
Would anyone pay £40 million for Stones at the moment? Maybe our triumphant keeping hold of Stones in August has backfired.
Oliver Molloy
262
Posted 28/12/2015 at 22:14:38
Tell you what, only for Lukaku's goals we would be in and around the bottom three and in real trouble.
Howard at fault again for their second goal, what is he doing that far off his line?
Why is he palming the ball, taking the pace off it for their third, he should have punched it in my mind.
We are an easy touch when it comes to defending crosses and all the opposition know this.
We are so easy to score against, and Howard needs to be dropped.
I am beginning to side with those who have already pointed out the comparisons with Martinez Wigan.
Martinez needs a rocket up his arse from somebody at Everton and soon !
We have the worst defence in the league at home ( 19 goals against 22 for = 12 points from 10 games.
It's no good scoring goals if you keep letting more in the other end.
Spurs up next !
David Hallwood
263
Posted 28/12/2015 at 22:15:17
Julian(#206) if you're right that Everton are the best attacking side and we're 11th in the table, well that's proof that you get nothing with just attacking.
Just finished watching the entire match on game of the day, an a couple of points.
1) Stoke are a more than useful side with a great balance
2) first 2 Stoke goals was about brilliant football than our defensive frailties .
3) 3rd goal came from a cross that wasn't closed down that the GK didn't deal with, which has now got a name just like the Cruyff turn, ours is called groundhog day.
4) Kone was gash and should be on the bench as backup CF to give Lukaku a blow, and should've been substituted by Baines in the 1st half.
5) there are not enough runners from midfield getting beyond Lukaku, when we do we look devastating, instead we look for the perfect opening a la Arsenal.
6) Everyone in the game the ex-pros that are working in the media all say the same that Everton play like Wigan-lovely football shite defence. bottom half of the table about to lose the players that give us lovely football
7). Depressing time to e an Evertonian
Andrew Clare
264
Posted 28/12/2015 at 22:18:01
It's a shame that it's not working out with Martinez because we are looking great going forward and we are playing some great football.
I really think that a part of the answer to our defensive shortcomings would be to sign a top class goalkeeper. Howard was terrible for two of their goals being horribly out of position for one and slow to react for the other.
As for the defence well I'm not sure if he will ever sort that out. A new defensive coach is required urgently
Lukaku just looks on us as a WBA type club and has no loyalty. He will be off like a shot asap.
Everyone I speak to agrees that we look so vulnerable once we have scored a goal.
It was a cracking game and Hughes is doing a great job at Stoke now that he has the right personnel. Shaqiri and Bojan are two superb players with great skill and real football brains.
I'm very disappointed and worried about the forthcoming match with Spurs who also have some very dangerous forwards.
As for people mentioning Moyes well they have got to be joking. I would rather have anyone than him in charge of our team.
Fraser Auld
265
Posted 28/12/2015 at 22:20:07
Personally think Howard, exposed as he was today, did okay, wasn't the problem.
When we went 3-2 up we had Barkley, Naismith, Kone, Del and Rom on the pitch. We were basically playing 4-1-5.
You would challenge any team in the prem to play a formation as unbalanced as that for 20 mins and not concede at least one maybe two goals.
Martinez can moan all he likes about young players needing to learn how to manage a game but he's not making it easy for them.
Jay Harris
266
Posted 28/12/2015 at 22:21:07
Just for the record Martinez would not work with Moyes.
He has spent the last 2 1/2 years undoing everything that Moyes set up because he was sick of hearing about him.
He cannot stand to have his opinion challenged as evidenced by the players who have been cold shouldered or shown the door.
Martinez is an extremely poor manager in most senses of the word.
He insists on a 4-3-2-1 system in every game even though other managers have sussed it out.
If we didnt have the quality of players we would be where Villa are right now.
Agree with calls for Quiche Flores of Watford and Eddie Howe is worth a gamble given the turds he has polished to diamonds..
John Crawley
268
Posted 28/12/2015 at 22:37:10
Martinez needs to make some big decisions in January if this season isn't going to just fall apart. He needs to replace the goalkeeper, sign an experienced centre half and a back up centre forward. He also needs some coaching help on the defensive aspects of the game, whether that's promoting Unsworth or bringing some one in from the outside. He hasn't got time to piss about because if there's a takeover and we carry on the way we're going then he'll be sacked.
David Hallwood
269
Posted 28/12/2015 at 22:40:03
For all those who are saying the defence is shite (I'm one of them) think back a couple of season to Mitch Ward, Carl Tiler, Claus Thomson, Earl Barrett, Pistone, Hottinger I could go on and on.
Now we've got Coleman, one of the best right backs in the prem and linked with man U Chelsea etc, Stones linked with Chelsea & Barca, Jags, linked with a move to Arsenal a couple of seasons ago, Baines linked with Man U and Funes Mori. All of them full internationals and top drawer players to boot.
So this isn't a case of 'we need a better CH' or 'we need a better RB' because we've already got them. All of this IMHO makes Martinez even more hopeless as a manager. Most managers screw up because they've got limited budgets and, to quote OFM, turn up to a gun battle with a knife.
Martinez inherited a well-oiled talented defence and has turned them into a shambles. That and his weird,almost blackmailesque loyalty to Tim Howard, is the reason we're mid-table, and we're about to come into a run of games that are a lot more challenging than the easy games(ha ha) of December.
Ernie Baywood
270
Posted 28/12/2015 at 22:43:22
Can't believe anyone would criticise Barkley's performance!
Mind you the live forum was full of fault for Howard being beaten by Shaqiri's second. At that point I quit reading.
Ross Edwards
271
Posted 28/12/2015 at 22:54:01
If you're using the squad we have as a tool to defend Martinez, you're inadvertently destroying your argument. This man has one of the strongest squads we've had in years at his disposal, and he is massively underachieving. 6 wins in 19 is a pathetic return, regardless of how good the football is.
This manager cannot organise a defence to save his life, our defence is awful, shambolic, and yet again we are unable to close out a game.
This is the 3rd or 4th time this has happened this season. Sunderland, we threw away a comfortable 2-0 lead, luckily we went on to win 6-2, Bournemouth, twice, both in embarrassing fashion, Norwich, totally dominant, then we let in a soft goal from a set piece, and now today.
3-2 and we're still going gung ho, it's just amateurish naivety. Close the game out. We let 3 points turn to 1, then even managed to lose that.
It's not a penalty but let's not get too hung up on that because yet again our defensive frailties have come back to haunt us. Martinez said triumphantly after Newcastle that 'lessons have been learnt', well clearly on today's evidence, they haven't.
The defending for their second was abysmal, granted it was a great finish but the defending was laughable. You could have parked about 5 buses in the space left between Funes Mori and Galloway.
Inconsistency and basic errors are costing us and it's obvious that Martinez isn't going to learn. An in form Spurs, City away and Chelsea are our next 3 games in the league. If we fail to win any of them we're looking at a repeat of last season.
The excuse then was the Europa League, what is it now? Martinez doesn't have that excuse to fall back on this time. Some on here said at the end of last season that they would give him until Christmas. Well, we're at that point now, and he's not learnt or changed anything. If we aren't in the European places come May, we should look to get rid.
Andy Meighan
275
Posted 28/12/2015 at 22:57:35
David (225) think back a couple of seasons ago. Er... that was a couple of decades ago. When we never had a pot to piss in. We've moved on. Well on since those dark days but have we? Yes under Moyes we would've seen that out today.

Under this manager we defend no better than the shower you've mentioned. We are a complete and utter shambles. And it's now looking at Goodison that we are going to score 3 or 4 to win a game and how sad is that? The gaps all over Goodison are alarming. And at times it actually looks like we've got 8 men on the pitch.

If there is anyone still defending this man please take a long hard look at yourselves. You really are pissing into the wind.
Tim Locke
276
Posted 28/12/2015 at 22:58:55
Under Moyes most comments were too defensive. Too many 1-0, no flar, can't buy a centre forward and ruins anyone good. Note we the year we finished fourth we had a goal difference of -4. Under Moyes every goal counted.
Under Bobby, we have flair, we have goals, we have great football. We also have a suspect defence. Indivually amazing, Colman and baines two of the best full backs in the league. Stones the best English CB in the league and jag and moir both internationals and that's before you mention the others. But for for reason, average keeper noted, we keep letting goals in, are very sustibale to the high pressing game and likely to get caught on the break or a set peice.
If we could move the ball quicker. Cope better under pressure and work hard to cut out counter attacks, and clear set plays we would be winning the league.
John Malone
277
Posted 28/12/2015 at 23:06:34
Havn't read any of above comments been too pissed off to even talk about game until now but all I can say after that game is that we will never be a top team with Martinez in charge and if it wasn't for Lukaku being in the form of his life we would be nowhere!
We've gone from a well oiled well drilled persistent top 6/7 finishers with not much attacking talent, to a mid to bottom half team full of ability and goals but no organisation or discipline!
The manager has to go now before all the talent does and were left back to square one!

Ian Riley
278
Posted 28/12/2015 at 23:31:39
Tim, those were the days, clean sheets. I love the football we play but my nervous system, and heart does not like the defending. Yes we have better players and overall squad than under Moyes. It's all about what we enjoy as fans! Winning and losing with entertainment or walk away from goodison with a solid 1-0 win.
Martinez has brought an entertaining flair to goodison but fans are worried. We are leaking goals to teams that are around us in the league. No fear coming to goodison by teams. Under Moyes, if you won at our place, you deserved it and earned it. Don't see that anymore! Our home form is irratic!
Martinez is very lucky, he will be given time and money. Our top players will leave. They want more, money, trophies, champions league and sun shine. Players don't leave Everton because they don't love the club, they want more from there career.
Please learn from your mistakes Martinez because history is repeating it self from your Wigan days.
Victor Jones
279
Posted 28/12/2015 at 23:36:26
Bad result today. I am not that interested in an entertaining 3-4 defeat. Give me a dull, scrappy 1-0 win. We need to start picking up points. We need to stay in touch with the top six. This is looking like another season that opportunities are going to be missed. Another season when Everton fall short. January could make or break our season. People go on about giving our young players time. I say , that now is their time. This upcoming semi- final is their time. This team might not get another chance. Who knows if the fab four will all be Everton players next season. Sorry people, but this team has been together for three plus seasons. I want to see them do the business now. Not keep on hearing that everyone needs time. Leicester City didn't need much time to hit the heights. Spurs have a young team, and are flying. How much time do Everton need?
And yes I know that our defence is leaking far too many goals. But I never thought that Martinez has ever got our midfield right. Never. Teams run right through us. Our midfield IMO is never balanced. Our DMFs offer no protection to the back four. They also offer little going forward. Our left back has no protection. In fact our left side is very exposed. Our midfield is a mess. And far to much pressure is then put on our defence. Remember when we only a few years back had midfielders of the ilk of Carsley..Graves on..Arteta and Cahill. No pissing about there. If only we had Lukaku back then. And think what Barkley could learn from that bunch. And would they have folded to Stoke City? Anyhow that is all conjecture. My point is that we have a poor soft belly of a midfield. Should we ever have a balanced midfield,,,then watch the defence become more solid. But does Martinez see that......of course he bloody doesn't. Just my opinion. I just don't rate our midfield.
And yes, we need a new keeper.Have been saying that for years. I also want Martinez out. Now I seem to remember reading that Moyes now reckons that he is a better manager. He has learnt from past mistakes. Anyone for Moyes mark 2. Just a thought. And maybe, just maybe , he has learnt from past mistakes. Could he be any worse than Martinez??????
Brent Stephens
280
Posted 28/12/2015 at 23:39:41
Robbie #41 "At the end of the game the players were given a big round of applause and rightly so."
I think the applause was for Stoke! We know a good team when we see it!
Roger Sunde
281
Posted 28/12/2015 at 23:55:45
If you look at Stoke's second goal, Shaqiri looks after Arnautovic several times before he misskick the ball in freak lob that looks like a wondergoal.
He's left footed and I am pretty sure he tries to find Arnautovic and Howard is standing exactly where he should.
The third goal however shows Howard is the goalkeeper that holds the ball least this season of all the goalies, and we conceded at a crucial time.
Harvey Miller
282
Posted 28/12/2015 at 23:55:57
This is not better football than Moyes, this is pure Wigan style football and it will take us down eventually. Oh to have Moyes we would not see another fuckups like this but now we will and many of them because the new Messiah thinks they are good for you to LEARN.
I really know DM had his faults but still I would welcome him anyday instead of this poor excuse of a football manager. He promised us to Champions League football. Where are we now , 11 or 12,some 6 or even less points from the relegation line.
But as we are Everton he wont be sacked as there is no Moores around any more to tell him the facts in a TAXI.
Teddy Bertin
283
Posted 28/12/2015 at 23:56:25
I love the way that people use Martinez's squad against him. Ie: this squad should be in the top 4: Martinez out! Do you guys really think that Rom, McCarthy, Cleverly, Del Boy and Lennon would be at Everton if Martinez wasn't here? Who would we would have attracted if some ToffeeWebbers had their wish and Malky Mackay was in charge? We have an exciting attacking team because of Martinez. I've never seen football like that in all my years of going to Goodison. This is the 1st time in 30 years that we've had a striker who can take a ball down and find the back of net like Rom did with his 2nd goal today.
Martinez is to thank for that, we never had that under Moyes or any of the strugglers before him, right back to the 80s.
We play attaching football that leaves us vulnerable at the back and our strikers fresh.
We're shit at the back and we'll ever win the Prem with Robbie's naive defensive strategies, but let's not forget where've come from recently and the fact that recently Stoke battered Man U and Man City (they didn't batter us!).
Attacking teams thrive on confidence and the crowd getting behind them. Calling Barkley a Pr&£k and W£&ker when he turns to hold onto the ball at his home ground is not the way to build a team's confidence.
A whole stand jeering and swearing at Tim Howard when he fails to punch a ball is not the way to get his confidence up or make him feel respected and loved for his years of service to this club.
Playing at Goodison should be a fortress of support for our players and instead we're making the players feel timid and scared to make a mistake. Martinez is training the players to express themselves and be arrogant, only for the home fans to knock it out of them.
The people booing Coleman at the end in Gwladys street today were a disgrace.
Get behind the team or Martinez and all his flair players may as well walk away now. In 5 years time we'll all be moaning that we've got no one like Rom or Del Boy anymore.
When the crowd is so fickle it's easy to ignore them and just get stuck in and stop a team playing (Moyes). It's almost impossible to be free and express yourself when your own fans are calling our young exciting players W£&kers for losing the ball.
Any decent manager can get Everton to be a tough team to beat like Watford, Palace, Stoke, or West Brom but Martinez is trying to do something special on the same budget.
I'm hurting tonight too, but unless we get behind this team then we'll achieve nothing (just as many seem to predict and almost want).
Steve Carse
284
Posted 28/12/2015 at 00:03:40
Teddy (232), well that makes it easy to understand then.............it's all the crowds fault.
You must have ears for every negative crowd reaction. I'm a Gwladys St man myself, and all I heard was a crowd willing the side on, despite knowing that at any time now we could implode (sure enough we did). Of course a player will attract groans if whatever he tries doesn't come off.
Trevor Peers
285
Posted 28/12/2015 at 00:07:25
I get it now Teddy, it's the fans fault we're so crap at home, and Roberto is blameless. When we get relegated next season, let's just sack all the fans. But please keep lovely Roberto on simple.
Brent Stephens
286
Posted 29/12/2015 at 00:13:49
Rom superb, Barry excellent. Ross impressive.
15 goals conceded at home before today, now 19. Nobody below us worse than that.
Patrick Murphy
287
Posted 29/12/2015 at 00:16:49
Steve (233) For the first time in many games the Goodison crowd as a whole was right behind the team for much of the game but the pity of it all is that it's worse fears were realised and how. Evertonians are pretty loyal and will support their team through thick and thin, however, despite what some think they also know their football and they know that the present set-up is almost doomed to failure, yes it's great to watch at times and watching players express themselves is what we all want, but it has to be within a disciplined set-up with as much attention being put on stopping shots and goals as creating chances and goals one without the other doesn't and has never worked. Brazil, Argentina, Barca and any other flair team also has to have an ability to shut up shop when the time is right and attack when the time is right, conceding goals at the rate Everton do will never ever work. A good defence will enhance a teams chances of success a good attack with a porous defence won't succeed at any level of the game and certainly not at the top end of the game.

Victor Jones
289
Posted 29/12/2015 at 00:24:40
Sorry Teddy. I cannot see your point. The crowd was not to blame for that defeat today. So what if the crowd turns on players. Players need to be thick skinned and play to the final whistle. Why did they switch off with 10 minutes to play? Did the crowd stop them playing? Or maybe, just maybe it was all down to the manager. It's alright saying that Martinez has this bunch of players playing good football and expressing themselves - really? - but the fact is we are not winning football matches. We are mid- table. We are leaking far too many goals. We always look unbalanced. Some of our players look knackered after about 20 minutes. And we have a very difficult January ahead of us. I really hope that I am wrong, but methinks that this will be chalked up as another wasted season. But again I pray that I am wrong.
I try to be constructive. I try to point out were I think there are faults. I try to be positive. And I want Everton to win at all times. But the fact is we have a shite manager. The supporters are not to blame. Supporters can only support.........and suffer. Believe me.
John Crawley
290
Posted 29/12/2015 at 00:25:34
Teddy there's some truth in what you're saying but football isn't just about attacking or defending its about being able to execute both aspects. I wouldn't want to go back to Moyes because his style of play bored me to tears. However Martinez is showing some glaring weaknesses in his management. The worse of which is his failure to drop Tim Howard. He also needed to sign an experienced commanding centre half in the summer. On top of that he fails to get his teams to really press the ball and drill them to defend set plays. These are all major problems for the team and he needs to address them ASAP! A top manager would address these issues and still have us playing attacking football. I'm enjoying the attacking side at the minute but it will count for nothing if he's not able to sort out the defensive side of the game.
Tim Locke
291
Posted 29/12/2015 at 00:28:35
I am with you teddy. The bottom line is what we have been crying out for we now have, and have lost the think we thought was a given, a solid defence.
I think the biggest worry every fan has is the good players, are going to leave and we are left trying to rebuild again and again. If we knew it we going to be a three year project and Rom and his merry men where not going to leave and the team only get better then we would accept this phase. Our worry is Rom and others leave in the summer and what replaces them is no as good.
Think it is worth keeping things in prospective, Chelsea, Man U, Southampton, Liverpool all having shocking seasons. I don't many Man City and Arsenal fans are too pleased either. I think Leicester and Tottenham aside most teams fans at the top of the prem are thinking this is our year, we should be winning this or at least nailing top 4. Maybe the days of a run away top 4 has gone and it is a rag bag mixed top 10? I feel we should have at least 9 points more than we have and would even argue 12-15 would be out the question; which I think when combined with the thought most decedent players about going to leave is why people want Bobby to leave.
Ian Riley
292
Posted 29/12/2015 at 00:28:42
Sadly for some people, me included our expectations that we had in the summer are going. We are in the anger stage, then will come the acceptance stage. All Everton fans go through this every season. It's called the grieving process of hope!
Mike Gwyer
293
Posted 29/12/2015 at 00:37:47
Patrick Murphy - no:242.
That post is as close as you can get regarding the current state of play at Goodison Park.
The crowd are at their wits end and if we had white cushions we would show them all in unison!!!!
Patrick Murphy
294
Posted 29/12/2015 at 00:40:10
Tim (255) I'm not sure we have been crying out for what we have now, this is the sort of football that Mike Walker thought he could play in the Premier League, he couldn't and rightfully got the sack, Martinez will likely go the same way if his cavalier attitude to defending continues unabated.
I want Everton to score more goals than the opposition, at the moment we aren't doing that we are conceding at least as many as we score in most games and sometimes more. That is not what I want from any Everton team, particularly when they have proven themselves capable of better.
There is a a relatively simple solution, play two wide attacking players to negate the need for overlapping full-backs and tell the full backs not to cross the halfway line, it might disrupt some of our attacking flair but it will tighten up the defence, the other instruction to the full-backs is to tell them not to allow the opponents to put the ball into the Everton penalty area so often, look at the way that Stoke and Leicester and even Newcastle stopped Everton from playing the ball into their box too often, too easily, they might not have prevented every ball from doing so but they had a plan to stop us, we on the other hand invite teams to throw the ball in at every opportunity and we pay the price nearly every time it happens.
Kieran D'Arcy
295
Posted 29/12/2015 at 00:45:57
If Everton was just a business, Martinez would be fired. However it is so much more important than just a business, it is the heart and soul for so many people yet he is still there, absolute incompetence from the board down to manager.
Jay Harris
297
Posted 29/12/2015 at 03:08:45
Teddy
Ranieri, Eddie Howe, Quiche Flores, hey even Mourhino would walk on coals to have our " international" back 4 and most of the rest of our squad to manage..
The reason most people are fed up with RM is because he is all bullshit and no substance.
I have never seen an Everton team so unprepared, ill disciplined and set up so badly as they are now.
You may enjoy being beaten 3-4 or 2-3 every week but most of us don't.
We have become Wigan.... easy on the eye and easy to beat.
James Marshall
298
Posted 29/12/2015 at 04:12:01
Lots of us predicted it when he was appointed - that we'd become a great team to watch, but wide open and easy to score against.
To all the people talking about our so called 'shit goalkeeper and shit defenders' that's absolute nonsense – we have a good goalkeeper, and some very good defenders. The players alone are not the problem, the system is the problem.
We concede most of our goals with our defenders running back towards our own goal - why do you think that is? When do you see us sitting back on our 18-yard line defending face to face, in numbers, making it difficult to break us down? That's right, never. We don't play like that which means our defenders are not playing as defenders, they're playing as attackers who happen to play at the back – you can watch all our games this season to see it in action.
We're a force going forward, any idiot can see that. But you can't play with your two centre halves on the halfway line all game and expect not to concede goals. It's not not rocket science.
Martinez has always played this way. His teams have always played high up the pitch because he thinks we're Barcelona, and we can simply roll teams over but the PL is to strong nowadays and he needs to temper it.
The problem he has is that when he tells them to play slower and keep the ball, the supporters lose their shit and complain at that as well. There IS no middle ground with the way he sets a team up, so the players are damned if they do and damned if they don't.
A couple of years ago there were a lot of voices saying things like, "I'd prefer us to be entertaining than hard to beat", well you got your wish. A wish that will likely bring you mid-table obscurity and lots of short-term kicks.
Personally, aside from this post I've started taking a more short-term view of it and just enjoying the games. I know we lost but last night was a cracking game of football, again.
We won't win shit, and we'll finish around 10th I reckon but it'll be fun to watch anyway, and there'll be more football next season, and the season after.....
James Wong
299
Posted 29/12/2015 at 05:40:24
I've thought about this a bit and why Everton are leaking goals everywhere.
1. Both fullbacks are often on the attack to get the width Everton need to break teams down. This obviously leads to the centre-backs then getting pulled out of position.
2. The coverage for the centre-backs is usually either McCarthy or Barry. With three at the back, teams create confusion by drawing one of those players to the ball and creating space behind. When we're doing well and not conceding, it's usually because both McCarthy and Barry are back defending. Note the first goal where John Stones gets caught way out of position by Bojan's first touch and turn.
3. I thought the tactics were good at 2-1 down. Barkley beside Barry and Cleverley further afield. This allowed 4-2-3-1 defending and 4-1-4-1 when needed in attack. The problem then was when we were 3-2 up, the team continued to play an attacking game, because they felt they were close to getting that next goal which would have sealed the game. Unfortunately, once again their naiviety showed and they conceded two. Should Martinez have subbed a defensive midfielder on for Barkley after the third? Easy to say in hindsight.
4. Howard out of position on the second goal (the only way Shaqiri could have scored), and flapped at the third. (How many times has he not stopped a six-yard cross?)
5. I don't think this is a huge reason, but Martinez likes to throw out hyperboles and the players think they are better than they are. Stones was stellar earlier on in the season, and he looks like he's had enough. Coleman is a decent attacking full back, but he's still limited and he's not a great defender for 90 minutes. Funes Mori – not sure if he's a Champions League defender (which is what Everton should be aiming for), or just decent backup. Galloway, I'm still high on, but he needs a rest and it's good that Baines is coming back now.
John Malone
300
Posted 29/12/2015 at 08:03:42
Still sick!
Feel like me wife and kids have got up and left, how can football do that to you?
Roger Helm
301
Posted 29/12/2015 at 09:07:54
So at least we are playing good football .... No we're not! Good football is not only scoring goals and passing well, it is also about defending well as a unit, good discipline, keeping clean sheets and do on.
Conceding four at home to Stoke City - bloody hell, I never thought I would see the day.
Dave Ganley
303
Posted 29/12/2015 at 11:29:02
To all those who think its fun to watch, its not. We are going backwards. Any excuses for this season are unacceptable. Martinez took over a top 5 team and made everybody lower their expectations and accept a mid table team (if we are lucky).
Stoke outplayed us for large portions of the game yesterday. They kept possession comfortably and scored when they needed to (aren't we meant to be able to do that?)
You can count the number of good games we have played this season on one hand. The rest have been disappointing, conceding stupid goals, only playing for one half, Martinez continually moaning that we are unlucky. When he arrived at our club, not only did he make CL assertions, he also asserted that he would sort out the top 4 problem. Well he has actually sorted out the top half problem in that we don't beat anybody anymore. For fucks sake if this clown doesn't get out of our club soon he will drag us down in spectacular Wigan fashion. Entertaining? Absolutely not. Just fraught with frustration that 3 2 up with 10 minutes to go, you just knew we wouldn't hang on to the lead. That idiot manager can't go quick enough for me. He has completely spoiled any kind of exciting match day going experience with the dread of slow pointless build up play with no team balance allied with comedy defending week after week. Just fuck off now. I had enough this time last season and people just bleated that he just needed a bit of time. Well 12 months down the line and nothing has changed. We are still piss poor and conceding goals for fun. He actually does make Moyes look like a tactical genius!!
Andrew Clare
305
Posted 29/12/2015 at 11:57:55
Every problem has a solution.
We are playing well, scoring goals and we have a great squad of players.
There is only one problem and that is organising the defensive side of our game. It can't be difficult. Surely a top defensive coach could be brought in to work with the players.
I just wish people would stop referring to our former manager who turned us into a real negative dour outfit.
Hire a defensive coach now!

Max Murphy
306
Posted 29/12/2015 at 12:00:56
I agree Paul (#48). It is clear Martinez is not the man for our club and most if not all fans agree - he has to go. We have to show the board that the fans don't want him. We must protest and diplay banners voicing our opinion at the Spurs game - or else we face the consequences and the same fate Wigan suffered.
Steve Davies
307
Posted 29/12/2015 at 12:10:52
Enough is enough. Suarez kept Rodgers in a job and covered over the obvious cracks in his tactical nous. Lukaku is doing the same for Martinez. This squad of players should be doing better.
If Martinez plays Howard in goal and we lose against Spurs he should be shown the door. It is pure incompetence. Let him ply his Kamikaze style defending trade at Bolton, Blackpool or maybe Wigan again. Forget tactics, his record is not good enough......end of.
He will take us down eventually, like Holloway did to Blackpool. I coach kids teams and you explain to them the basics. I honestly don't think Martinez gives a damn about defending. Like Rodgers he is one big ego trip and who was given a chance at the big time, and both have philosophies about possession (basically spoofing it).
I don't like to make any player a scapegoat but if he cannot see that one obvious problem is Howard then why is he a premier league manager in the first place.
I must be one of those keyboard warriors that writer number 41 was talking about. However, from my seat in the Lower Gwladys yesterday I was not on my own.
Even if I wanted to, I find it hard to stick up for Martinez as he has brought it all on himself....
Dave Ganley
308
Posted 29/12/2015 at 12:13:54
Yeah Andy, players like Arteta, Pienaar, Baines, Coleman, Mirallas, Cahill allied with a mean back 4, really really dour team that was. Only problem Moyes had was that Kenwright never sanctioned the cash for a top level striker that Martinez has now. This fucking clown is making us accept mid table football. Exciting? Yeah right, for every other team playing us because they know we will concede stupid goals every week. Rom played out of his skin yesterday and if it wasn't for him the beating would have been much much worse. But I guess so long as supporters think that 6 wins out of 18 is great and we play scintillating football against shit teams is acceptable then I guess we get what we deserve
Andrew Clare
309
Posted 29/12/2015 at 12:31:43
Dave, I was referring to the previous manager's approach rather than the players so much and I suppose he was held back by our awful board but I still don't like him.
Peter Gorman
310
Posted 29/12/2015 at 13:26:25
Andrew, the idea of Martinez bringing a unique brand of scintillating football to make up for years of dour stuff from Moyes is probably one of the most persistent myths on TW and one that totally irks me.
Sure, more often than not the team might have clammed up when it counted but the idea that Pienaar, Arteta, Cahill, Osman, Mirallas, Saha, Yakubu and the gang were dour is just laughable. I could add further names to that over the years. We had a lot of good football to celebrate.
This line gets trotted out all the time, mainly because Moyes himself was dour and he burned all his bridges by making classless comments once he left but with even the most idle analysis there is really no substance to it.

Dave Ganley
311
Posted 29/12/2015 at 13:52:56
Fair enough Andrew, there are not many who do like Moyes now he has gone and burnt his bridges. I am certainly not advocating a return for Moyes, however, the side that he built with the above set of players would destroy the current incumbents. Cahill and Carsley on their own would terrify the life out of them. The team played good football and knew how to defend a lead. Maybe they weren't world beaters but they were a regular top 6 side, something this shower could only dream of. At present we are one dimensional who bully shit teams and the hysteria reaches melting point when we put 6 past Sunderland who are one of the worst teams in recent history to visit GP.
How we have got this reputation for playing scintillating football amazes me. Its a media driven myth that some fans are actually starting to believe. Apart from beating shit teams, what have we done? Where was this so called great football against City, United, RS, Spurs, Arsenal, Barnsley, Reading, Watford, 2nd halves against Norwich, Bournmouth....shall I go on? We are not a good side, we are an poor to average side at best which is heading in one direction with this idiot in charge, downwards.
Robert Elliott
312
Posted 29/12/2015 at 13:57:20
The idea of bringing in a defensive coach sounds good but in reality would it make any difference? Martinez demands his full backs push on, particularly at home, whereas any coach concerned about defending only wouldn't want them over the halfway line. The big picture is that we need to modify our approach at Goodison. We've conceded 19 goals from 10 home games compared with 9 from 9 away. Four of the five clean sheets we've had this season have come away from home. We've lost once away compared with four times at home. It's obvious where we're going wrong but it was the same last season so how can anyone have confidence that RM is the man to sort it out when he hasn't done so yet?
Roger Helm
313
Posted 29/12/2015 at 13:57:30
I don't know about being good to watch - for me they are a nightmare. If we lead 2 -0 with ten minutes to go I am terrified they will throw it away. Luckily I had to leave before injury time and missed the penalty. I would have probably have punched a wall and broken my hand.
With my blood pressure I think I am going to have to stop watching until we get a sensible manager.
Andrew Clare
314
Posted 29/12/2015 at 14:03:49
Yes we had some good players and we played some good stuff in-between performing abysmally against the so called Sky four or five and getting humiliated by Arsenal a couple of times at Goodison, surrendering to Chelsea at Wembley etc.
The reality was we were going nowhere.
I suppose until we get ambitious owners things will remain the same.
I do like the attacking play of Martinez and I agree defensively we are terrible.
Andy Walker
316
Posted 29/12/2015 at 14:24:53
Peter 272, spot on. Some folk have short memories, or more likely, now can't break themselves away from a prevalent narrative that persisted on TW during Moyes reign, based mainly on the colour of his hair, accent, dourness, bulging eyes in fact any physical attribute that had fuck all to do with his ability, or otherwise,as a manager.
Bottom line is that it's hard for some to see that we are now a worse team in terms of results, than under Moyes.
Michael Polley
318
Posted 29/12/2015 at 15:14:00
The Wiganistion of Everton is nearly complete!!!
Raymond Fox
319
Posted 29/12/2015 at 15:21:24
I agree with Teddy 249 on most of his post apart from the spectator comments,
You can forget about Martinez getting the sack this season because it wont happen!
People talk about us being a top 4 side, that was never on my radar, top 6 maybe, 7th or 8th was were I was expecting us to finish, that's maybe were we will finish come the end.
As Teddy says quite a number of players are only here in the first place because Martinez is the manager. I can understand fans getting on his back because it's really frustrating to watch, we are always dangerous going forward but we are too often conceding vital goals. I think we could be deemed a little unlucky on Saturday though, was it a penalty? Was Shaqiri's shot intentional, whatever we got beat, ifs a big word.
Stoke have proved this season that they can beat anyone on their day, so it wasn't a total surprise! The frustrating thing about it is we are close to being a very good winning team that would improve for a few tweeks.
At the moment we are too gung ho, so that's the managers fault, but as far as conceding some goals are concerned you can also blame individual mistakes, through some players not being good enough in the situation.
Is it best to change the manager, I honestly don't know, its 6 of one and 6 of the other!
Peter Gorman
320
Posted 29/12/2015 at 15:24:53
Andrew, another slight myth you are peddling there. Was it always abysmal against the so called big teams? I would say the results against the RS were the stand-out failure of his reign but then again, we had Moneybags Man City in our pocket for years.
Let's take a look at OFM last season to name but one; Losses to Chelsea twice (2-1 each time) and a 2-0 loss to Utd away back your theory. Only other teams we lost to that season were Sunderland, Brom, Reading and Norwich of all people.
Wins against 'big teams' included Utd, City and Spurs, the rest all draws.
Season before that; quickfire losses to City, RS, Chelsea and Utd at the start of the year but a strong finish with wins over City, Chelsea and Spurs and also an epic 4-4 draw with Utd.
Abysmal? I'd say not all that bad considering the gulf in funding. Over 11 years there were abysmal results aplenty but why do you overlook the fine times we pulled it off.
To date, Martinez has topped this with a win against Utd at OT and....that's it. Our form against the RS is still abysmal and the less said about THAT game at Anfield the better.
As for scintillating football; yes I loved seeing a 6-2 win against Sunderland but you presumably can't remember as far back as 2007 when we thrashed them 7-1. Dour stuff that.
Jay Harris
321
Posted 29/12/2015 at 15:33:02
Raymond
we are not just talking about the Stoke game yesterday.
Despite the fact our defense and midfield is littered with international players we leak goals like a sieve under this clown.
It is in his DNA just ask Wigan fans and look at their record.
He is obviously out of his depth to all but the blind or those that do not want to see.
Kevin Tully
322
Posted 29/12/2015 at 15:47:50
I think some are forgetting about the way Moyes set up his sides. The defensive solidity (and we were difficult to beat) was founded upon having 9 men behind the ball. 4-5-1 and a lone striker. You had to get past a 5 man midfield before you even got a chance to get at our back four.
During the past few games under Martinez, we have found ourselves with a very inexperienced back three of four who are being exposed. Stones, Galloway and Funes-Mori will not be able to keep top class strikers at bay without cover from midfield. It will be interesting to see we how do defensively when Jagielka returns. I'm sure we will fare a little better with an experienced head at the back.
A goalkeeper on the way out and an inexperienced defence will only end badly in this League. I'll be amazed if we don't sign an experienced centre-half during January. We are desperate for cover in that area.
Paul Tran
323
Posted 29/12/2015 at 15:52:33
Andy/Peter, I've got clear memories of Moyes that have nothing to do with dourness or ginger hair.
He did a great job getting us to be a regular top eight finishing side. At times, his teams played great football. At times we were very dull and aimless.
I wanted him out because I didn't think he could take us any further. That's it. One skill set to get us to top eight, another skill set to take us higher. He doesn't have that. The fact that Martinez doesn't have it either doesn't change things for me.
Christy Ring
324
Posted 29/12/2015 at 15:58:36
Martinez is totally different to Moyes, in that he hasn't a clue about shape or tactics. Nothing has changed from last season, feel so sorry for our full backs. Galloway has no on the left wing to help, and Coleman gets no support when we are constantly caught on the counter.
What did he do when Cleverley got injured? He brought on Naismith and left 2 natural replacements on the bench (Besic & Gibson). At 3-2 up, he had Naisy and Kone, where were they playing? And he still wouldn't bring on a midfielder.
I'm not looking for Moyes back, but he never made it easy for the opposition. Martinez isn't capable, if he was at Anfield, he'd be long gone.
Derek Cowell
325
Posted 29/12/2015 at 16:02:17
I worry that, if Dagenham get 2 corners we'll even concede 2 goals to them and they are bottom of the heap with only 2 wins all season and no manager! I really fear that there is even worse to come this season yet. To all those that say that we are Wigan with better players, I agree and we will end up where Wigan are now the way we are going. Defence is the most important element in football and only one man doesn't seem to appreciate that and by the look of his past career in management he never has!

Our defence are always on the turn chasing back towards our own goal when the opposition attack because they are all caught too far up the field when our attacking moves break down when we inevitably give the ball away cheaply in a dangerous part of the pitch trying to overplay in overly tight situations. It's criminal to commit the same mistakes over and over again and it is so frustrating because EVERYONE can see it... except for one man!

Failing to be able to raise a corner, cross or free kick beyond chest height on a regular basis is a joke for a professional player on tens of thousand a week! Incidentally, how anyone can blame Howard for the 2nd goal is laughable. He had to be off his line because if Shaqiri's intended pass had found it's man Arnautovic was alone in the middle with only Howard to beat.

Just because Howard is often at fault doesn't mean every goal is down to him! I'm surprise he doesn't get stick for not saving the penalties too! I can see Rom going in January because if I was a Champions League club owner with ambition to progress in the knockout stages I'd be looking for a top striker who is not cup tied... and there won't be many of them....
Kevin Tully
326
Posted 29/12/2015 at 16:02:40
Another little stat some with short memories would do well to remember, we were in the bottom half at this time of the year for 6 out of 11 full seasons ginge was here.
That's not a defence of where we find ourselves now, but let's see where we end up at the end of this season, mainly because Martinez is going nowhere.
Raymond Fox
327
Posted 29/12/2015 at 16:23:29
Jay, I don't think hes lacking in knowledge of how to defend, its not rocket science, he wants to be attack orientated, now thats ok, its just that he overdoes it most of the time!
I think on Saturday he tried to be too clever and made too many changes, otherwise we may have got a win, who knows.
I've supported him up to the hilt, but he does need to change tack a little.
Another couple of class players would help him mind.
Peter Gorman
328
Posted 29/12/2015 at 16:28:22
Paul, agreed with you 100% - I thought Moyes had brought us to a plateau and the time was right all round for someone to take us forward.
The point of the comparison is that Martinez is demonstrably not that man. He is lauded for bringing some kind of fresh style to the team but the record points haul aside, we have been heading backwards ever since. People who think otherwise either seem to have an inaccurate recall of history or very low expectations for the club.
A huge opportunity has been squandered; the question is what to do about it? If anybody pays poker would they be throwing more into the pot at this stage or looking to fold and start over with a new hand.
I can see nothing changing with this guy and I am happy to endure some short term loss to get rid and start over.
Tim Locke
330
Posted 29/12/2015 at 17:02:05
Patrick 259, it might be a slight generalisation that everyone was crying out for this type of football but the majority on ToffeeWeb have been craving attacking, free flowing goal scoring football. I didn't see many complaining 13/14 season when we bagged 72 points. Although people did complain about the open 3 draws.
The issue we have now is, better team, worse position in the league. We all sit and look at the team sheet and bench and think this is it, we will win this 2/3-0. And we normally score 2/3 goals it's just of late, note the first few games we didn't, we have conceded 3/4 goals.
We believe we should gave won games we drew, Bourmemouth, Norwich, Crystal P. Now we believe we should win games we are losing, Leicester and Stoke. The same was true last season, throwing away a 2-0 lead to Arsenal with 10mins left was like Bourmemouth this season only we did it twice in the game. We have learnt nothing come the cries.
We sit and we look and on one hand the team is without question improving, better players in positions and more strength in depth. Our bench is worth over £30m most weeks, it is amazing progression. But we are frustrated that we are not winning, we are not near the top of the league. In my mind there is no reason why we shouldn't be winning the prem this year.
I am sure like everyone when we steam rollered Villa and whipped Chelsea we had turned that corner, that we could beat the big boys and we could demolish rubbish teams. Sunderland was a delight to watch. But then we slipped, we stubled, and I am sure like most we are sat looking at the table thinking if only.
We have never coped well with a high pressing game being played against us. Bourmemouth, Norwich and Stoke all play that way. We also don't play well against teams that compress the midfield and defence and allow us no space. If you watch Crystal Place they play with 4/5 at the back with 3/4 in front; pressed very close together, which means we end up playing passes from 35/40 yards out, they normally get cut out and we get caught on the break. Our defence are high up the pitch because the opposition are so deep we can play high without compromising our position.
So why are we losing, lots of reasons. We do get caught on the break, see above. This is partly over comittment, if you watch us against Sunderland we played a lot of the game inviting them onto us and hitting them in the break. Personally I don't thing we need a defence coach I think we need to learn patience and ball speed. If you watch us break from an opposition corner, then we break at pace normally through the centre. When we win the ball back through Howard catching it we break slower, with Barkley. So normally the ball is given to one of the centre backs, Barry then normally turns and comes back to split the centre backs and takes the ball, who plays it to Barkley who will go wide, ball moved around and then a 'killer' pass is played through to Rom or Delboy, often it is cut out. You will notice Kone and Barkely are key to this often dropping back 10yrds inside out own half to pick the ball up.
We play much better then Barkely, Delboy or Rom pick the ball up 10-20 yards further forward and run at the defence. They normally then split, the defence drop back midfield push up and the space for Kone, Delboy etc to run into and pull the defence is created. We look very impressive at this and one of the best teams in the prem.
The problem we have is we try and force that space when playing slowly. We often lose the ball, which allows the opposition to attack and ironically if we win the ball back to counter attack and if not score create a good change. Often though we don't win the ball back and either conceded a corner, win a goal kick or something like that. Which means the game is slowed, we are back to playing it slowly and often the pattern repeated.
Second problem is teams press our slow play, so Stoke second goal you can see Arnautovic pressing our defence and asking his players to join in. They do but we pass it round them, get to midfield and then loss it, under pressure. We then get caught on the break with a goal. It is shocking play, we had the ball, and we gave it away for no reason. I think we look like I don't know what to do now coach? Which could be true, or might be more inpaintance on our part. It is so hard to play the killer ball. What we need to learn to so more is switch play quicker.
So currently we go left out defence, and then make a slow switch right, often losing the ball in the process. If we could switch it faster and go down a channel it would open teams up. But we need to be quicker at getting back to defence also. Now this is partly because we have played a high line, partly the opposition have at least one quick player and our players two aside (Delboy and Rom) are exceptionally quick and Barry is very slow. So any quick break will either result in a Barry foul, or them pulling one of the full backs out of place to cover the centre backs who are covering Barry.
I don't think there is s silver bullet solution, not like I can wave a magic wound and make Barry quick. But we can make some simple changes. First Howard, I don't care who is in goal, but who ever is needs to own the defence. So put men on players and stick with them. If one breaks through then Howard has to do a one on one save. Don't allow people to get pulled out of position. Don't switch the ball through the centre of midfield so much, it moves quickest when not being touched, so work on deeper left to right, right to left switching. Don't allow the opposition to press you, if I can see it then as players you can see it. Hit it long, very long, re group and invite the opposition on to you, never never never allow them to break.
I don't think this will solve all our problems and our football will look worse, hitting a long ball to the corner flag is not pretty. But it will, be effective, and it will stop us leaking and allow us to play.
To conclude I don't think it is as bad as everyone thinks, frustrating would be my summary. In the credit corner Bobby did bring in some very good players and had handled other issues, Stones etc very well. Let us do what the team needs to do and show some patience.
Ray Roche
332
Posted 29/12/2015 at 17:13:27
Kevin#282
"The defensive solidity (and we were difficult to beat) was founded was founded upon having 9 men behind the ball. 4-5-1 and a lone striker. You had to get past a 5 man midfield before you even got a chance to get at our back four."
If the beaut we had in the dugout or on the touchline had reverted to that when we went 3-2 up we'd have won yesterday. Kone off and Besic or Gibson or Baines on instead would have made all the difference.
Oliver Molloy
333
Posted 29/12/2015 at 17:17:10
Roger Sunde @ 247
I completely disagree with you regards your assumption that Howard is standing exactly were he should be for Stoke's second goal.
He is so far off his line, even Arnautovic could have lobbed it over him had the ball been crossed to him.
I know you are saying that Howard was positioning himself for a cross, but he is 6 - 7 yards off his line and doesn't need to be.
It's all about opinions , and mine is Howard keeps saying he is top rate - well prove it and read the game like you are supposed to.
I genuinely believe if Robles was in there we would have more points on the board.

Frank Crewe
334
Posted 29/12/2015 at 17:32:03
Very interesting piece in the "Echo"
http://www.liverpoolecho.co.uk/sport/football/football-news/Everton-fc-talking-point-Roberto-10661445
It appears sloppy defending is nothing new to Martinez.
Victor Jones
335
Posted 29/12/2015 at 17:38:36
Read your comments, Tim. Very good. But IMO this is only football. It is not rocket science. Defend and Attack. Score goals. Stop the opposition from scoring. Play players in their proper positions. What is Kone doing on the left wing? If Barry is too slow.....then drop him. And it does matter who plays in goal. It matters big time. And make meaningful substitutions. And what is Martinez ever going to achieve with tippy tappy. And yes he does revert to that in every bloody game. That's how teams manage to defend against us. We are knackered with passing the ball to death, to do anything worthwhile when we do get forward. FFS we are not Barcelona. And why play two DMFs every bloody game. And why have our two once great fullbacks now just not doing it......no bloody winger in front of them. And why can Baines now not manage to kick a ball more that 10 yards. And why is Miralles not featuring.It is all down to the manager. A top, top manager just might get a different tune out of these players. And he would not need rocket science to do so. But I guess we will never know. As Everton don' t sack managers. More's the pity.
Jay Harris
336
Posted 29/12/2015 at 17:40:47
The top and bottom of it is we have only beaten bottom half teams or none premier league teams this season.
Even against average opposition we fold like a pack of cards.
Our bullshit manager keeps saying we have to be better defensively instead of doing something about it.
It's as if he doesnt think it's his fault.
It's the referee, it's injuries, it's small margins, it's bad luck, it's the time of year, it's the players youth and blah, blah blah.
No other club having such young top class players and having spent 60 million would put up with a win ratio of only 30% and leaking goals like a sieve.
Teddy Bertin
337
Posted 29/12/2015 at 19:05:04
When did I say it was the fans fault? I said that we'll never win the Premier League with Martinez because he's defensively naive but how does fans calling Howard every name under the sun think that will help him get back to his best? He can hear all that. Do you guys think that groaning and screaming at Ross Barkley helped his game last season? The fans have to play their part. The players and the manager are to blame for the results ( not just the manager!) but we all know that fans getting right behind the team can give players an extra edge of confidence and determination.

The players looked scared to applaud the fans at the end. Rom and Coleman had the guts to applaud Gwladys Street and they got some applause back but a number of people booed Colman. how does that help? Don't be moaning about loyalty when these players go elsewhere. We should be behind these lads who are working their shocks off trying to get results. The fans only play a small part in detertmining results but we need to play that part well.

When players get frustrated, lose their heads and say/do stupid things we go berserk at their stupidity. Call the fans out for the same thing and all of a sudden everyone gets defensive. We need to look at ourselves too. The fans are not immune from critism just because we pay our money every week.
Gary Heywood
338
Posted 29/12/2015 at 20:07:52
EFC is a club going nowhere. As long as we avoid relegation battles every season, that is considered success. We don't have to win anything, just remain in the Premiership.

That's Martinez's job description and I expect him to be our manager for the next 10 years, just like trophyless Moyes.

We need to remember that Moyes could have easily decided to remain our manager for another 10 years with no pressure on him to win anything.
James Royston
339
Posted 29/12/2015 at 22:11:00
Been watching since 1947 and this is the worst defensive set up I remember in all that time. Totally inept goalkeeper equals nervous defenders, sorry Tim your time MUST be up you are constantly costing us games. We need get rid of as much of the deadwood as we can & we generally appear to agree who they are. We desperately need a goalkeeper & a tough guy solid defender &" leader ". Just a thought if we are taken over by the Americans ? just how long would they put up with throwing winning positions away so often ???
Paul Cherrington
340
Posted 30/12/2015 at 13:57:04
Well what can you say to that?! I am almost speechless - no way on earth should you score three at home and lose the game. It's just unacceptable.
I have to agree with the people on here who point the finger at the manager and say his time is now up. Sorry but this was meant to be the run of 'easy' games where we sweep all before us and climb the table to CL positions. Not really happened has it and the buck stops with him.
We just cannot defend to save our lives and this means, however good we are going forward, we will draw or lose more games than win, just like his Wigan team. It's like the wonder goal from Shaquiri - Howard should have been at the edge of his area clearing that out when he saw Galloway wasn't going to make it but he just backed off. The winning goal was a mistake from Grandad Barry - trying to cushion a big hoof out of the sky rather than just getting his head on it and clearing it.
It's a joke and the time has come for change. All the Martinez supporters asked for time when we wanted him out last year - well he's had it and we're still dealing with the same old problems now.
Add Your Comments
In order to post a comment, you need to be logged in as a registered user of the site.
Or Sign up as a ToffeeWeb Member — it's free, takes just a few minutes and will allow you to post your comments on articles and Talking Points submissions across the site.
© ToffeeWeb