Report: Everton set to sign Tarashaj
by

23 Comments [Jump to last]
| 05/01/2016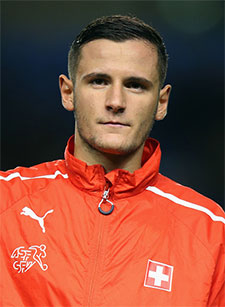 (Bryn Lennon/Getty Images)
Updated
Everton hope to wrap up the acquisition of Swiss talent Shani Tarashaj on Thursday and then loan him back to Grasshopper Zurich for the remainder of the season.
The 20-year-old forward was hotly tipped to join the Blues last week and it looks as though the deal will go through according to the Liverpool Echo.
Tarashaj apparently underwent a medical on Monday, has agreed personal terms and is expected to cost Everton around £3m. A delay in paperwork has pushed the deal back by 24 hours but the club still expect it to go through this week.
He made his debut for Grasshopper in 2014 but his career in their first team didn't ignite until earlier this season when he scored five goals in four starts. That earned him a new four-year contract in September and attracted the attention of Everton's chief scout, Kevin Reeves.
Tarashaj is of Albanian descent but Swiss born and has been capped by Switzerland at U21 level. According to his Wikipedia entry, Albania haven't given up hope of eventually persuading him to represent their country at senior level.
---
Reader Comments (23)
Note: the following content is not moderated or vetted by the site owners at the time of submission. Comments are the responsibility of the poster. Disclaimer
Phil Smith
1
Posted 05/01/2016 at 23:34:21
NOT what we need if Naisy and Kevin le sulk are off. Great that we are signing young talent for the future but we need a forward for the now!
Gordon Crawford
2
Posted 05/01/2016 at 00:00:45
I agree. We need a proven goal scorer.
Jamie And
3
Posted 06/01/2016 at 00:38:28
Seen this lads highlights and he definitely looks like one for the future, but I agree that we still need another striker to challenge Rom.
Minik Hansen
4
Posted 06/01/2016 at 02:19:24
Joins us and loaned out till summer, that's a good deal to me. He seems like having a great season and when he is here, he will be a good talent/company footballing-wise (as in adding quality) to the squad. Might be a regular u21 attacker next season, challenging Henen/Rodriguez, giving options to young attackers stepping up to the first team.
Dennis Ng
5
Posted 06/01/2016 at 02:55:38
I like stockpiling for the future, especially since I'm writing off this season before my vacation (don't want to be killed by hope). I just hope the manager will play youngsters more.
Harold Matthews
6
Posted 06/01/2016 at 04:10:09
Too experienced for the U21s. He'll join the first team squad in the same situation Besic has had to endure for the last couple of years and try to impress the boss in pre-season and in training. Doesn't look particularly strong or quick but will hopefully make the grade.
Jim Bennings
7
Posted 06/01/2016 at 07:26:20
Why loan him back though?
I've never understood this decision after buying a guy who's 20 years old.
If you pay 3 mill for someone you want him in your squad.
If Lukaku gets injured who have we got?????

Phil Sammon
8
Posted 06/01/2016 at 08:15:42
I met Kevin Reeves' son on a mango farm in North Queensland last year. I was in absolute awe when he told me his old man's job. All expenses paid travel around the world, watching football and seeking out the finest talent for EFC. I literally cannot imagine a better job. Lucky git!
Harold Matthews
9
Posted 06/01/2016 at 09:25:58
Phil. If you're visiting mango farms in North Queensland, you're doing so bad yourself mate.
Eugene Kearney
10
Posted 06/01/2016 at 09:39:05
Mink in #4 mentions the new guy Rodriguez and Henen who, judging by lots of reports when we bought him, is/was supposed to be very talented... have neither of these lads improved enough to replace Kone?
Eivind Nyhus
11
Posted 06/01/2016 at 09:52:13
Jim #7, from rumours I've read, Grasshoppers wouldn't sell him otherwise.
James Stewart
12
Posted 06/01/2016 at 09:59:09
I would have preferred Embolo... he's miles better, but he would have cost 㾻m-20m I suppose.
Nigel Gregson
13
Posted 06/01/2016 at 10:09:30
I think Naismith and McGeady are goners. So not a bad idea replacing them with wonderkids.
Phil Sammon
14
Posted 06/01/2016 at 10:09:46
Harold,
I should probably have stated that we were both working on the farm at the time... which is slightly less glamorous. Google 'mango rash' and see for yourself!
Harold Matthews
16
Posted 06/01/2016 at 13:56:22
Wow Phil. Learned something new. Didn't know about mango rash. Sounds pretty horrid.
Alan McGuffog
18
Posted 06/01/2016 at 17:42:11
Phil I can only sympathise. You're lonely, working out in the bush miles from anywhere, no ToffeeWeb. A mango can look damn pretty. Antibiotics should help!
Minik Hansen
19
Posted 07/01/2016 at 00:48:49
This game tonight was very important for Tarashaj I believe. It showed what our team does, I reckon he will work hard and come to us this summer being expected to hit the ground running. COYB.
Mark Andersson
20
Posted 07/01/2016 at 02:41:04
We have to learn to trust Roberto he has a long term plan. Forget about the results, what's important is the future results and playing style.
If we're no careful Roberto will be off to pastures new and take all that wisdom and vision with him.
John Codling
21
Posted 07/01/2016 at 05:26:33
Yes, that's right. Sign him and lend him back, just what the team needs. While we're at it why not let Geads go to Celtic and Everton pay his wages as they can't afford it?

If Rom gets injured we are in the shit, lets get our own house in order first. Unload all the crocks and all those surplus to requirement, reduce the wage bill and use the money to acquire better players.

Why was Hibbert given a new contract? Why are we talking about a new contract for Gibson, Kone? Everton Benevolent Socierty.
Jon Withey
22
Posted 07/01/2016 at 08:40:20
Well, seen as we need cover for RB now, Hibbert might not have been such a dumb idea.
Kone is a good 2nd striker to have in the squad, he holds the ball up well imo.
Gibson will be out on loan this month.
It's Oviedo I don't really know what we are doing with !
Peter Gorman
23
Posted 07/01/2016 at 11:53:12
Mark, is that a funny joke? Trust his plan over results; sure, let's have the best future results in the Championship.
Why is everything always an either/or situation? Is it too much to ask for good results now with good future results in the planning?
Anyway, this kid looks pretty good and has a natural finish. But as stated by others, we need some investment in the now as well as the future. If we can really coup £8 mil for Naismith then it'd be nice to see that re-invested this window.
David Hallwood
24
Posted 07/01/2016 at 13:45:21
Just been announced on the official website that he's been signed and loaned back immediately so he can complete his nation service... Bizarre!
Sam Hoare
25
Posted 07/01/2016 at 15:51:19
He's signed. One for next season. In the Galloway/Besic bracket perhaps of one who may need a little time acclimatising to the club before being ready to help the first team pretty quickly.
Apparently the likes of Valencia and Juventus were sniffing around him so hopefully we've snaffled up a gem and getting more first team in Switzerland this season is probably no bad thing.
Add Your Comments
In order to post a comment, you need to be logged in as a registered user of the site.
Or Sign up as a ToffeeWeb Member — it's free, takes just a few minutes and will allow you to post your comments on articles and Talking Points submissions across the site.
© ToffeeWeb