Besic eyes League victory at the Etihad to revive top-four charge
by

75 Comments [Jump to last]
| 07/01/2016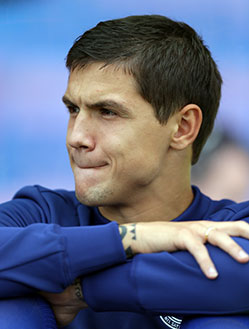 (Clint Hughes/Getty Images)
Muhamed Besic is already looking ahead to Everton's trip to Manchester City next week where three vital points are on offer as the Blues look to get back to winning ways in the Premier League.
The Bosnian's stellar performance alongside Gareth Barry was a vital part of Everton's 2-1 win over Manuel Pellegrini's team in the Capital One Cup last night, a result that sets them up nicely for the return leg at the Etihad in three weeks' time.
Before then, the two teams meet in the League next Wednesday in a fixture that a Toffees side hasn't won in over six years. Besic is in confident mood, however, and he says that the players want to finish in the top four, a goal they can build towards with a rare win on City's home turf.
"We play City in the league next week and there are three really important points to fight for because we want to get fourth place," the 23-year-old told the Liverpool Echo.
"I think it is important to go there and get a positive result to help us prepare for the second leg. There will be a great atmosphere and it will help us if we can get a good result next week."
Besic, making a rare start in a season in which he has battled injury problems, has earned rave reviews for his efforts in last night's first leg win. He was named as man of the match by the club but he has been quick to laud what was a terrific team effort.
"I am really happy that we won the tie," he continued. "The gaffer told us before the game to see the first leg as just one game, and that we needed to win. So it was really important to win this first game.
"I don't know [if it was my best game for Everton so far]. I'll have to watch it back. I was just doing my job.
"I have played in semi-finals before, back in Hungary, but that is not such a good league so this was the biggest game in my club career.
"But I am never nervous. It doesn't matter for me who I am playing against, I just play my football.
"City are a really good team but we were good, not just me, all of the team."
---
Reader Comments (75)
Note: the following content is not moderated or vetted by the site owners at the time of submission. Comments are the responsibility of the poster. Disclaimer
Paul Smith
1
Posted 07/01/2016 at 18:26:30
Besic has been a breath of fresh air in the last two league games. What stands him out as above McCarthy in my eyes is his ability to look for the forward pass. I feel he now deserves a prolonged run in the side as the more he plays the better he will become, well played no.
Joe Edwards
2
Posted 07/01/2016 at 18:36:29
I really think Besic can be the linchpin that Martinez is looking for to gel the team. His workrate and ability to pick out a pass are just what we have needed. If Martinez brings Kone back after Besic's display it will be nothing short of incompetence.
Eddie Dunn
3
Posted 07/01/2016 at 18:36:52
A refreshing character, all power to his elbow.
Gerard Carey
4
Posted 07/01/2016 at 18:37:22
Great to have someone with a bit of fire in his belly!!! Let's hope it rubs off on some of the others. He deserves a run in the team. If he progresses, he could be a future captain.
Dean Williams
5
Posted 07/01/2016 at 18:44:48
I love this guy, total commitment to the club. My only worry is Martinez dropping him as soon as McCarthy is fit.
Paul Ferry
6
Posted 07/01/2016 at 18:44:53
We could not have played as we did last night if we had had the somewhat customary two sitting holding defensive mids. Barry was sensational last night – his best ever game for us – and IMO at any rate that is due to Besic always looking forwards never sideways letting Barry do one of the things that he does best: a well weighted penetrating long ball.
Barry on the basis of well erm one game seems to really thrive as a single sitting defensive midfielder. How many challenges did he win in and just outside the box? His passing was top drawer.
And there's the rub. We all have eyes: Besic was superb last night in all aspects of his game. I'm a McCarthy fan but Besic has more to his game. Two defensive holding mids limits our options to do what we did last night (although granted we can also play lovely stuff with Macca).
I for one will be really interested to see what choices Roberto makes in this key area of the pitch in the weeks to come. I can't for the life of me see how Besic can be dropped after last night but Macca is waiting in the wings and while it makes sense perhaps to play two defensive mids in the 2nd leg I'd rather see more of the same thank-you and truly believe that we will get to Wembley if we do not sit back and instead do all the things that we did last night with Besic playing ahead of Barry.

Jay Harris
7
Posted 07/01/2016 at 18:48:13
Go Mo.
Derek Knox
8
Posted 07/01/2016 at 19:01:14
What an incredible difference he has made in the last couple of games, moreso last night, when starting the game, as opposed to a sub's appearance.
Could this be the kick-start we have needed? Let's just hope, if it is, i'ts not too late in terms of the League, where we have lost so many points in games we should have won.
I, like many other Evertonians, are worried that if we don't manage to get into CL qualification, it could signal the departure of some of our young stars, keen on proving themselves against Euro oposition.
It's still mathematically possible but every game from now to the finishing line will have to be approached with a similar attitude to last night!
James Stewart
9
Posted 07/01/2016 at 19:09:02
Besic has rare qualities, hard as nails, not afraid to tackle and top class technique on the ball. He is a winner and leader which is invaluable to us, as so many in our side lack edge to their game.
He reminds me of Roy Keane and it is vital we keep him fit now. He is the perfect partner for Barry as well so he should be starting even when McCarthy is fit, Besic is simply a better player.
Dave Lynch
10
Posted 07/01/2016 at 19:19:42
He's not just better than McCarthy, James.
He's the best midfielder at the club, an old fashioned get stuck in, no nonsense player.
If Martinez drops him for the next game I will not be responsible for my actions.
I swear...
Danny Broderick
11
Posted 07/01/2016 at 19:23:47
Some players can bring more out of other players. With his enthusiasm and fearless approach, Besic can spur the others on. How many times have we all said that we are too nice? Besic doesn't mind a scrap, and that's a great quality to have.
Helen Mallon
12
Posted 07/01/2016 at 19:32:39
So he's rested for next game then, eh?
Graham Mockford
13
Posted 07/01/2016 at 19:33:09
Dave Lynch #7
"The best midfielder at the club", I mean I know people get a little carried away on here but come on, he's had a good game and a half but Id like to see it happen over a longer period before we start building him up too much.
That's not saying I'm not excited that he could be the missing piece to make us harder to beat. Personally when McCarthy gets back to fitness I'd play them both alongside Barry. That gives us much more solidity and allows our full backs more rein to get forward.
Dennis Ng
14
Posted 07/01/2016 at 19:38:25
Looks like many will be on suicide watch if Besic gets dropped or rested.
Darren Hind
15
Posted 07/01/2016 at 19:38:46
Steady Guys.
He's been like a beer tent in the desert these past couple of games, but he's been out a long time so lets not start saddling him with comparisons to world class players.
Give him some air.
Derek Wadeson
16
Posted 07/01/2016 at 19:39:40
Besic could easily be the "new signing" we need in January to freshen things up and no settling in period.
Don't blame Martinez for not playing him up to now because of his injuries. But hopefully his time has come and he takes the opportunity and kicks us on.
A very important month as I have said before if we are still in two cup comps and climbing the league table.
Ross Kerry
17
Posted 07/01/2016 at 19:41:08
He' is simply the best footballer Everton have ever had and also the best midfielder in the world. He is also harder than Tyson Fury.
Paul Jeronovich
18
Posted 07/01/2016 at 19:44:28
How impressive has this lad been in the last few games. Keep it up Mo!!!
Dave Lynch
19
Posted 07/01/2016 at 19:52:11
No graham.
I watched the lad in the World Cup and he was outstanding then also, he hardly gave Messi a kick and man marked him out the game.
Dave Lynch
20
Posted 07/01/2016 at 19:56:53
Meant to add he's played over 25 games for his country and a good few for Hamburg and Ferençvaros so he's no new kid on the block.
He knows his way round a footy pitch.

Dennis Ng
21
Posted 07/01/2016 at 20:02:30
I remember yelling my lungs out for him to get played months ago. Pleasantly surprised by his involvement in the attack. I envision him and McCarthy being the midfield core. Fingers crossed that his form will continue to improve.
Chris Leyland
22
Posted 07/01/2016 at 20:10:28
Dave Lynch - In the game where the Mo-ssiah "hardly gave Messi a kick" , Lionel managed to score Argentina's vital 2nd goal. If you watch Messi's goal back, you can see Besic trying to keep up with him before tripping over his own man on the edge of the areas and landing flat on his arse whilst Messi nestles the ball in the back of the net.
Whilst there is no shame in being outdone by Messi, let's not re-write history.
Norman Jones
23
Posted 07/01/2016 at 20:14:54
For god's sake, this kid has had a couple of really outstanding games in his one and a half seasons here. He was tremendous last night but please don't let us get carried away. Beating the Mancs in a cup-tie does not a season make so he's spouting off far too early.
Martinez puts these guys up for interviews only for them to get knocked flat in the next few games. Remember Naismith was spouting Top Four shite after he beat Chelsea!
Mark Tanton
24
Posted 07/01/2016 at 20:19:50
Genuine selection problems when everybody fit. Moyes had Osman and Neville once Arteta had gone. Martinez has McCarthy, Cleverley, Barry and Besic to pick from. Barry is superb currently too.
I hadn't given this much thought, but credit to Martinez for bringing all four to the club, and making midfield much stronger in numbers.
Graham Mockford
25
Posted 07/01/2016 at 20:20:13
Dave,
I've seen him live in about half the 23 games he's started for us and without doubt the last game and a half he has played this week have been his best.
It will be great if he maintains that standard because he will definitely force is way into the team on a regular basis but I'm not getting carried away just yet.

Gerard Carey
26
Posted 07/01/2016 at 20:21:52
Makes you think though, it shows up the lack of fight or urgency our other players have. This time last year when we got Lennon on loan, his attitude in games was a lift to others.

I remember Baines saying that Lennon gave the rest a right gee up. Surely it should be a given that the players would give their best every game.
Glen Garrett
27
Posted 07/01/2016 at 20:22:56
I think Besic has got a lot of heart but Everton got a little lucky last night regards to the amount of chances city had at goal; they had nearly double the chances Everton did. Luckily for Everton, Man City didn't put half of them away but they do have an away goal.

I feel that Everton really do have to score at least a good couple of goals at the Etihad to get to the final as I feel that City will go all out in the 2nd leg. Everton have got what it takes in midfield and up front but the problem will lie in defence. Everton are way to open, and have got to seriously tighten up the defence if they want to reach the final.
Dave Lynch
28
Posted 07/01/2016 at 20:48:04
You're right Chris but watch the whole game, that was the only time Messi really got free of him.
I'm not saying he's a messiah only that I think he's our best midfield player, I have seen fuck all apart from Barry who has a wealth of experience to convince me otherwise.
Norman Jones
29
Posted 07/01/2016 at 20:49:22
Be fair, Gerard, just like Mo, Aaron has had little chance to shine. Both must have expected more game time although Mo's injuries have restricted him.
We all take too much notice of the shite manager and players spout these days and in many ways I preferred the Catterick era when he and players were judged solely on performance AND RESULTS !
Gerard Carey
30
Posted 07/01/2016 at 21:01:56
Sorry Norman, was meaning that Lennon's attitude showed up the shortcomings of others, this time last year we were on a bad run and Lennon helped to turn it around.
Jim Bennings
31
Posted 07/01/2016 at 21:02:17
Definitely surprised me with hoe good he's been in the last two games, last season he started off quite well but maybe, like the entire bunch last season, he just lacked confidence.
Without sounding bad, I think Besic could just be that nasty horrible bugger we have craved all season in the midfield.
Jim Jennings
32
Posted 07/01/2016 at 21:12:40
Agree with those who say let's not hype him too much, even if he has been excellent for the last game and a bit. The one minor criticism I would have of him is a slight tendency to hold onto the ball too long and get caught in possession. Thankfully, he busts his balls to try get back and win it again.
Ian McDowell
33
Posted 07/01/2016 at 21:33:22
Exactly what I want to hear. Football is 11 v 11 so get out there every game and give it a go. The days of fearing Man Utd, Chelsea and the RS and Man City are well over.
Gavin McGarvey
34
Posted 07/01/2016 at 21:36:05
I was impressed with his technical ability in the last couple of games. Also his hard work and the way he always looks for a forward pass, even if it does mean losing possession now and again. Early days yet, but a good prospect.
Jamie Crowley
35
Posted 07/01/2016 at 22:03:26
Imagine being the opposition playing against Mo and McCarthy in midfield.
Christ, you're in for lumps and you'll never get a second's rest.
I know the league campaign has been frustrating, but last night in my opinion was a glimpse into the future of what could be. And it is a glorious anticipation – for me at least.
We have the makings of something very, very special brewing, and Mo is a part of that.
Here's to good health, and some degree of loyalty from these younger players so Everton can reap the benefits of these kids and their talents.
Trevor Lynes
36
Posted 07/01/2016 at 22:16:52
Remember it was just one game so do not get too carried away. Players need to prove themselves against lots of different opponents and that will be the test. In the long term he may be able to forge a decent midfield duo with McCarthy as Barry must need rest and cannot go on forever.
He had his best game for us against City but he will face more physical opposition so he will need to keep his cool and continue his positive attitude.It was great to see a proper midfielder closing down and passing forwards. Let us hope that his enthusiasm rubs off on those around him.
Ian Jones
37
Posted 07/01/2016 at 22:37:23
Besic's first touch is good. Will remember his first touch in a blue shirt. Classic :)
Michael Williams
38
Posted 07/01/2016 at 22:57:31
I wish everyone, players, manager and supporters, would stop talking about reaching the top four. This team is not quite there yet. They're inexperienced and have not played together even a season yet. Next year will be better.
I would also suggest keeping Besic's performances in perspective as he's barely played the last year. He's had a good game and a half. Let's give some time. I like roller coasters but I don't get on one every time a player has a good game or two.
Christy Ring
39
Posted 07/01/2016 at 22:58:08
I'd like to see Besic and McCarthy together, with James as the defensive midfielder. We'd have some engine.
Paul Smith
40
Posted 07/01/2016 at 23:24:15
Still not convinced by Mo, he had a good game *yes, but let's see how he does in the next few games, providing he's picked, before the bunting comes out.
Nigel Gregson
41
Posted 07/01/2016 at 23:47:38
He's the prodigal son. Quiet but crazy, skilled yet nasty. Kudos for Martinez for spotting and then buying him. I think he saw the future captain of Everton in the World Cup.

I think the plan was to give him a bigger role in the team this year – he started against Chelsea but was injured in 10 minutes and then forgotten after Naismith scored the hattrick.
Jack Cross
42
Posted 08/01/2016 at 00:19:28
Besic. Done well in the last 2 games. But he's a red waiting to happen. Some of his tackles, we all saw them didn't we.
Another top 4. Am I pissed off to the back teeth hearing that.
Let's get to a position were we can have a real chance and take it from there. It's all possitive talk. To me its shite.
Don Alexander
43
Posted 08/01/2016 at 00:20:35
Steady on lads re Mo-be. Norman Jones at #21 has it bob on.
I'm delighted we're one goal to the good against Man City but to salvage the season in a meaningful way after what we've all had to endure so far we need to achieve consistency in a winning way. Two wins in a row would no doubt be described as "incredible/phenomenal" from our very own Baldrick but that's no longer going to get us close to what we should be achieving this season (or last, come to that).
Please Everton players, give me hope!
Steve Carse
44
Posted 08/01/2016 at 00:38:24
Jack (#38), anyone who actually tries to win the ball these days is ' a red waiting to happen'. Give me that over limping along allowing the opposition to make 50 yards up to the edge of our box without a challenge any day of the week.
Jack Cross
45
Posted 08/01/2016 at 01:24:48
Steve Carse 40.
Your obviously thinking more short term rather long.
One thing I did notice about him how short his passes were. That will come with games? I don't think so Steve.
Getting stuck in is alright with me, just get use to him missing games.
He plays two games and now he like the second coming. Get real.
Steve Jenkins
46
Posted 08/01/2016 at 01:46:11
As Dave said @17
If required - he can do a man marking job as well.
He's had Messi and, (I say this as a Welshman) Bale is in his pocket. He actually kept with Bale when Bale went on a full on sprint.
I can't speak highly enough of him - if nothing else, even if he's having a bad game, his desire and determination to win is infectious.
He hates to lose - and its written all over his face. Its what winners are made out of - and for the first time watching us the last two games I haven't felt like we've been "too nice".
He's added some mongrel to our side.
Longterm - he's captain material and you build your midfield around him.
It's been noticeable how his drive and energy has risen the performance tempo and standards of the other players and the fans have reacted to this.
Great write up on him here.
http://www.theguardian.com/football/blog/2016/jan/07/muhamed-besic-srapper-Everton-gem-Roberto-Martinez
Dennis Ng
47
Posted 08/01/2016 at 01:47:22
I'm asking out of real curiosity because I can't find the stat line on the web.How many red cards did he have in his career? I used to joke about Big Dunc on him playing 1/3 of a season cause he gets so many reds. Even Mirallas gets a red card time to time and he's not even close to defending when he got that.
I'm more worried about loss of form than cards, red or yellow. Worrying about cards is like worrying about taxes and death.
Mark Andersson
48
Posted 08/01/2016 at 02:35:23
Interesting debate, although I never saw the game I would play down any top 4 ambitions simply because our past form has been shite for 18 months.
Besic is hungry for games and only time will tell if he is the missing link we think is needed.
I was hoping this would be Martinez's last season, however if we go on to win a cup and finish the season strong then putting up with his bullshit sound bites next season will be worth it.
I ask of one thing only, beat the red shite convincingly at Anfield and I will die a happy man. I was in the kop when we beat them 2 nil in the 80s.
Harold Matthews
49
Posted 07/01/2016 at 02:50:32
Yes, Besic was also my MotM but fit again Bainsey ran him close. Their attitude and ability changed the game in the first half.
Much credit must go to Roberto Martinez who not only signed Besic, he coached him individually for the No 6 role and persuaded him to strengthen his body. He also placed Big Dunc with Lukaku and the improvement has been nothing short of spectacular. In the meantime, with regard to the 1st XI, he brought in Cleverley, Lennon, Funes Mori and Deulofeu, promoted Browning from the U21s and gradually awarded Barkley a permanent role in the side.
All well and good but he is now being forced to review the goalkeeping situation with Tim Howard one major error away from a riot. Quite sad really. He has been a hero many times during his Everton career but fans now think it's time for him to step aside. None of us can go on forever. Not even Tiger Tim.
Getting back to Funes Mori. What this lad has achieved is truly remarkable. No time to bed in. Thrown straight into the deep end and left to sink or swim. Even players at the very top are not expected to do that. For him, coming from a different hemisphere, a different country, a different culture, a different style of football, the challenge must have been massive. Yet there he was the other night, throwing his body in front of shots and calmly slotting in our first goal. A character of steel I would say.
So there it is. We're getting there. According to Martinez, even if top players leave we'll grow stronger. Got to hand it to the fella. He speaks a strange language but we're always on the way up. Even those mindblowing years of tippy tappy is paying off. The way the ten men kept the ball to play out time wouldn't have been possible when he first arrived.
For me it's all good fun. I like to see how he does things. Most of the time he drives me crackers and I scream blue murder but that's all part of being a football fan. Nothing like a good rant when we play badly. I find it very therapeutic.
Nigel Gregson
50
Posted 08/01/2016 at 04:43:14
Well said , Harold. We complain when we leak goals this year, but is it that surprising?

Most of the year we have had no baines no jags, but instead a high-potential rookie who still makes mistakes in Stones, and a fresh out of South America signing along with an 18-year-old Galloway (or is he 19 these days)?

Sure Howard is also culpable, but these three kids are having to deal with the toughest league in the world at the highest level possible and even tiny mistakes get punished.
Laurie Hartley
51
Posted 08/01/2016 at 05:33:41
Harold your praise of Funes Mori is well deserved. Here are two questions that might get a few of us scratching our heads:-
1. Which of our defenders is the best header of a ball?
2. Now that Jagielka has recovered from his injury what are we going to do with him?
Yes we are getting there.
Brian Porter
52
Posted 08/01/2016 at 06:43:10
Mo Besic definitely reminds me of Peter Reid at his best. Funes Mori, (love the way the pundits all got his name muddled up) is possibly Martinez's best signing. Let's not forget, Argentina select him in preference to other so-called big names including City's Demichelis. I honestly don't see how Martinez can simply drop him just because Jags is fit again and will be very disappointed if that happens. He has grown into that position and I noticed on Wednesday that when we were going forward, Stones included, he had the sense and awareness to hold a position as 'last man standing' at the back, instead of going all gung-ho upfield to join the charge, a really disciplined performance.

Couldn't be blamed for their goal, in fact if Stones had left Aguero to him and not gone across to double up on him he (Stones) might have been able to get to Navas and cut off his unchallenged run into the box. Martinez definitely has some great talent at his disposal. It will be a test of his managerial skills in the next few weeks to see how he handles his team selection. Does he go with the new young guns, Besic and Funes Mori for example, or bring back the old guard, Jags and McCarthy? I think it's time for him to show us he's got the balls to make big decisions that could define our season.

Remember his words about building a team based on youth? Funes Mori and Besic with their young fit legs with Stones, Robles, Deulofeu alongside Rom together with the steadying influence of Baines, Barry, and Cleverley, (not too old by a long chalk), makes for a pretty good base to build on, in my humble opinion. I've only supported the club for fifty seven years, so may not know everything, but I know potential when I see it. Look forward Roberto, not backwards. Sorry Jags, as much as I love you for what you've brought to the club I think your place I under serious threat from the new kids on the block.
Tony Hill
53
Posted 08/01/2016 at 06:58:08
Agree with Harold about RM's recruitment successes especially Besic and Funes Mori. It's the manager's greatest strength.
However, would Besic or Mori be in the side at all but for injury? He recruits them but then he leaves them out in favour of the seniors whenever he can.
Wednesday was great but I still think this manager is a bad thing overall for our club. As it is customary to say, I truly hope I am wrong.
Nitesh Kanchan
54
Posted 08/01/2016 at 08:00:04
I watched the 2nd half of Spurs - Man City games, the performance from the team was immense. But we should not get carried away because, from what I saw, it was a tired looking Spurs side and clueless looking Man City side who were passing more backwards and sideways rather than forward.

Next two away games against Man City and Chelsea will give us the correct judgement of the team. Even though taking nothing away from the team performance, which was fantastic, and got some life into Goodison crowd.
Harold Matthews
55
Posted 08/01/2016 at 09:14:17
Laurie. You always ask awkward questions. Funes Mori and Barry are both good in the air with the Argentinian able to leap higher. However, both are inferior to Gibson who uses his neck muscles to great effect. Actually, although the lad hardly ever heads a ball, Barkley also has a fine neck muscle technique.
Some players are truly surprising. During a match last season, the ball went out for a throw-in near the halfway line. Stones picked it up and nonchalantly hurled it like arrow to Jags who was 25 /30 yards away. Truly awesome. I showed a replay to my sons and they gasped with mouths open.
What will happen when Jags is fully fit? He is the captain, he has all the experience and can cover the ground quicker than the present CBs. He'll definitely regain his place and, putting my own opinion aside, Martinez is big on Premier League experience which places Funes Mori on the bench. Not sure I'd be keen on removing our best set-piece goal threat but Martinez has a stubborn streak and certain players are always sure of a start.
Michael McCarthy
56
Posted 08/01/2016 at 10:02:47
It could be Coleman's place under threat. Stones moving to right back Jags back in the middle.
Ray Roche
57
Posted 08/01/2016 at 10:35:09
Michael, that would remove the impact of Coleman's pace and ability to get forward,potentially one of our most important attacking options.
If Coleman isn't fit this or next week, maybe, but for any other reason, no thanks. This week I'd play Lennon at right back with a licence to get forward as much as possible.
Gary Edwards
58
Posted 08/01/2016 at 11:03:17
Graham (#25),

If Mo maintains the standard of the past two games, not only will he cement a place in the starting XI, Europe's elite will soon be sniffing around him. In the future, I'd love to see a midfield with Mo (as skipper) and Ledson / Walsh... the future is bright, it's royal blue.
Phil Bellis
59
Posted 08/01/2016 at 11:08:26
Harold mentions "all good fun"... Quite right, I've not had so much fun watching Everton since the great entertainers of 1966-1970.
An absolute joy following the Blues then; a developing team of quality youngsters mixed with old heads, regular high-scoring wins, home and away: 4-2 , 7-1, 6-2, 5-2, great football and the defeats quickly forgotten about with the post-match brown mixed

Michael McCarthy
60
Posted 08/01/2016 at 11:09:20
Ray, That means Jags on the bench. Mori has been outstanding and Stones if dropped will spit his dummy out. Both Man City and Spurs targeted our right. Why? Because Coleman caught out of position too many times.

For me, temper his runs or he needs better cover. I'd keep the current back 4. It has taken a long time for people to appreciate how good Barry is. Master class.
Andrew Clare
61
Posted 08/01/2016 at 11:37:28
I'm with you, Phil (#57). It's great watching this Everton team, just like the Catterick teams of the mid to late sixties. Attack at every opportunity, passing, keeping the ball on the deck, exciting wingers and a great centre-forward. It will happen for this team as long as we can keep it together.
On another note, I will be very disappointed if Funes Mori is not retained in the first team. He has been superb.
Ray Roche
62
Posted 08/01/2016 at 13:02:28
Michael, I wouldn't drop Stones but I'd rest him. Play Jagielka and Funes Mori. Stones could do with a break, in my opinion, and I'd consider two from Baines, Galloway, Lennon or even one of the youngsters who are apparently getting near the squad to complete the back four.

We shouldn't underestimate any opposition but we should be able to give one or two younger players a bit of game time. Rodriguez should be fit by now and without Rom it might be good to have a look at some of these players.
Jim Potter
63
Posted 08/01/2016 at 13:15:16
Jags and Stones for me.
Funes Mori has done well – especially in the air – but some of his passing terrifies me at times as he seems to switch off for a millisecond occasionally.
Funes Mori could end up covering right back with Seamus's injury (so could Galloway I suppose). Pity Browning is injured as I think he's a tremendous prospect.
I just think Jagielka's experience and his bossing about of his team mates helps us look more solid. Barry has excelled himself this season after a dodgy one last season; he's the fulcrum of a lot of what we do, breaking play up and setting us going. If we can achieve that solidity whilst retaining our exciting attacking play, then we could really push on.
Dave Pritchard
64
Posted 08/01/2016 at 13:21:08
This game tomorrow must be a chance to give several a rest. Some will be injured anyway and presumably Robles stays in goal.
I would definitely rest Coleman, Stones, Barry, Cleverley, Lukaku, Deulofeu, Barkley and maybe Baines. Game time for several of these – Galloway, Jagielka, Besic, Gibson, Osman, Mirallas, Kone, Lennon, Naismith, Oviedo and Pienaar.
Some on that list will be unfit or being transferred.
Ray Roche
65
Posted 08/01/2016 at 14:55:34
Jim, if Funes Mori's passing terrifies you, Christ only knows what you're like with some of Stones passing and dribbling... I'm behind the sofa sucking on a comfort blanket and I've got nerves of steel... well, sort of.
Jay Harris
66
Posted 08/01/2016 at 15:15:17
I really enjoyed the game and the result although 2-0 would have been better but lets have some perspective lads.
We drew against a tiring Spurs side who actually battered us first half and we scraped through by the odd goal against City and we have turned a corner and RM is the messiah.
Come on lads Martinez career is filled with inconsistency and leaky defences.
I am not saying don't enjoy the moment but it will be a while yet before we can measure ourselves against the best.
A new GK will be a good start and throwing the 4-2-3-1 in dusty bin would be another requisite.
Dave Pritchard
67
Posted 08/01/2016 at 15:33:04
Jay, I haven't read every word on this thread but I haven't seen anyone claiming that RM is the second coming.
Ben Dyke
68
Posted 08/01/2016 at 16:40:04
Does anyone know of any YouTube clips of the two crunching tracking back tackles against Yaya Toure, one of which was by this man!
Brent Stephens
69
Posted 08/01/2016 at 16:53:14
Ben 31 mins approx into the following highlights (a great site for post-match highlights and full coverage of both halves - all prem games plus):
Thomas Surgenor
70
Posted 08/01/2016 at 17:00:32
Just to add my two cents on the centre back issue;
Funes Mori is left footed and favours the left side.
Jags and Stones are right footed and play better/favour the right hand side.
Simples! Funes Mori retains his place.
Also, we may not have to choose. Perhaps fate has forced Roberto's hand into playing his once favoured 3-5-2, 3-4-3 etc. It would probably be the best way to go, during Seamus injury, to allow more of our better players on the pitch at the same time.
His best players in a 3-4-3 might look something like this;
Stones, Jagielka, Funes Mori
2x Wing backs in Baines and Lennon.
2 x Barry (hold) Besic (box-to-box link up),
and 3 free roam attackers in Barkley, Deulofeu, Lukaku.
Might actually be a bit too defensive but I hope you can appreciate the effort of trying to get our 10 best outfield players on the pitch at the same time.
Andrew Oxton
71
Posted 08/01/2016 at 18:10:35
Here you go, Ben
https://streamable.com/ed6q
Hope that works.
This kid is the real deal. Was delighted when we signed him. He will be a blue legend (if Bobby keeps playing him).
Darren Hind
72
Posted 08/01/2016 at 19:17:13
Jim Potter (#62),
Me too. Funes Mori seemed hellbent on trying to perfect the hospital ball, not only was he putting us on the backfoot, he was endangering his teammates.
He only did one against Spurs and he didn't do any against Man City. I'm hoping we can put it down to acclimatisation. They give you a little more room for error when passing out of defence in South America. It must come as a bit of a culture shock when you see people like Jamie Vardy ready to contest every pass you make.
Defensively he is adapting reasonably well and I would give him 7/10 which isn't bad all considering.
Jim Potter
73
Posted 09/01/2016 at 10:35:42
Ray (#65). A lot of our defensive passing has left me squirming this season – so I'm not picking on Funes Mori – just, for me, his tend to be the hospital ball that Darren mentions above. Stones's tend to be the occasional over hit pass forward (after calmly pirouetting past two threatening attackers). I applaud loudly whilst holding my thumping heart.
I like that our keeper doesn't just boot possession away and that we try and build an attack – but sometimes a defender just has to put his foot through it!
Andy Meighan
74
Posted 09/01/2016 at 11:16:47
Norman (#23) – the voice of reason... and totally right.

I've learned not to get carried away under this guy and let's not forget that, as well as we played against Man City, it took us 20 minutes to get into the game.

I'm still not totally convinced about Besic because he seems to waste a lot of passes and even the short ball he vastly overhits. That said, the last one-and-a-half games, he has been outstanding... so credit where credit is due. And the defence looks more compact and assured with him in front of them.

As for his comment about the top 4... all a bit silly: we'll be lucky to finish in the top half of the table. Not a prayer we'll take anything from Man City or Chelsea away – our recent results will tell you that – and it looks like Chelsea have hit a bit of form that'll leave us in he bottom half of the table.

I firmly believe we'll finish there; however, perform like we did against City... and you never know!
Laurie Hartley
75
Posted 10/01/2016 at 05:46:50
Harold (#55) – thanks for your response – sorry I didn't acknowledge it earlier but I have been moving house which has seriously disrupted my ToffeeWebbing. The reason for the move is I have just retired so that means I will be asking more awkward questions. ;)
So the manager played Jagielka instead of Stones against Dagenham – that makes sense to me because I do think Stones will benefit from the extra recovery time.
The selection for Wednesday night will be interesting... as you said, Jagielka covers the ground better than both Stones and Funes Mori. It is a conundrum though; I am not sure what I would do in his place given the choice. My head tells me that it has to be Jagielka and Stones but there is something very appealing to me about a left-footed, left-side centre-back that can head the ball.
Your comments about Gibson's and Barkley's heading ability got me thinking a bit. I like Gibson as a footballer but have never really given much thought about his ability in the air. That's a big plus for a midfielder, isn't it?
I don't want to start another Barkley debate but if he has that heading ability perhaps the manger should give him a few sessions with Duncan – it has certainly paid dividends with Lukaku.
I have enjoyed this thread; as Phil at #59 suggested, a lot us are having a bit of fun now. For those who aren't yet, hang in there – it's getting closer. I think the mad genius has had a Eureka moment.
Add Your Comments
In order to post a comment, you need to be logged in as a registered user of the site.
Or Sign up as a ToffeeWeb Member — it's free, takes just a few minutes and will allow you to post your comments on articles and Talking Points submissions across the site.
© ToffeeWeb