Boss pleased by 'extra significant' victory
by

48 Comments [Jump to last]
| 04/02/2016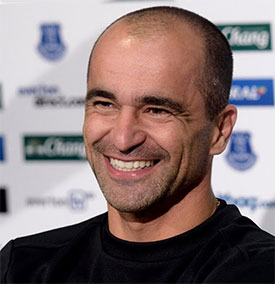 Roberto Martinez hailed a mature and professional performance from his Everton side this evening as they soundly beat Newcastle United to complete the Premier League double over the Magpies.
The 3-0 victory, earned on the back of Aaron Lennon's first-half strike and two Ross Barkley penalties late in the game, was the Toffees' first on home soil in the Premier League since November and it moved them up a place to 11th in the table, six points off sixth place.
"For many reasons it was an extra significant three points," Martinez told Sky Sports after the final whistle. "[Because of] the amount of points that we've dropped when we should have grabbed the win, today was very important. It gets you over [that 30-points mark] and allowed us to [have] a really mature look about at our performance at home.
"Today, I thought we really enjoyed playing in front of our crowd but [also] in terms of having a sense of knowing what to do all the time. I thought that was really pleasing, the way we worked hard for each other, the way that we controlled the game was very, very pleasing.
"Two clean sheets now,  back-to-back , we're defending really well with a lot of composure but then having a real threat going forward, scoring three goals and hitting the crossbar a few times and when Newcastle had a spell in the second half we defended really well in that period, something we haven't done in the past at home and we've got really punished. Today it was a really mature performance."
Martinez kept faith with Lennon following his impressive display against Carlisle United on Sunday and he was rewarded when the winger scored the opening goal in the 23rd minute. 
Barkley, the other standout performer in that FA Cup Fourth Round tie, then weighed in with two superbly-taken penalties — the second a cheeky Panenka-style chip — to wrap up the points.
"Every time we got the ball into that final third we looked dangerous and it was a really well-taken goal by Aaron Lennon who is enjoying a really good moment of form,"Martinez continued.
"From that point on it's easy to lose control but I thought we started the second half with the best chances. Maybe when you don't take them you [wonder] again whether you can manage the game well and throughout the 90 minutes I thought it was a really professional performance with incredible work-rate. It was a complete performance from that point of view.
"Ross is not just a young man anymore. He's a player fulfilling a big role in a very important team, and a team with expectations and I thought the way he played throughout the game showed that maturity.
"The  way he takes the penalties… well, he's just a really technically gifted footballer and, overall, a really impressive 100th appearance for Ross." 
---
Reader Comments (48)
Note: the following content is not moderated or vetted by the site owners at the time of submission. Comments are the responsibility of the poster. Disclaimer
Conor Skelly
1
Posted 04/02/2016 at 01:07:28
Yes, Ross was fantastic tonight for the most part and is starting to become the talisman we've all hoped for.

I also find Roberto's comments "Two clean sheets now, back-to-back , we're defending really well with a lot of composure" – quite telling.

I expect the same back four against Stoke. I've no idea why Baines was omitted but it was the right call. Bainsey has been my favorite Everton player over the past decade but apart from a few good moments going forward in recent games he's looked fragile defensively. Which begs the question – Where does he fit in?

In a team with attack minded players like Ross, Gerry and Rom that can't tackle, is there a place for defenders who can't defend.
Tommy Coleman
2
Posted 04/02/2016 at 01:10:29
"2 clean sheets back to back"
No Howard in goal.
Clean sheets this season.
Howard - 6
Robles - 4
Peter Larkin
4
Posted 04/02/2016 at 01:17:17
Well in, Roberto.
John Aldridge
5
Posted 04/02/2016 at 01:28:20
Are we finally learning, Roberto? I hope so – two clean sheets in a row. Can't be a coincidence that Robles was between the sticks for both of these, can it?
I was watching Robles this evening while the ball was up the other end of the field – whistling, shouting, organising. He was taking control of the back four.
Let's hope for another step in the right direction at the weekend. I'm happy after a home match for a change!
Anthony Dwyer
6
Posted 04/02/2016 at 01:35:22
Fuck me, Roberto is talking like we beat Barcelona at the Camp You.
We have beaten the piss poor Newcastle united side that everyone has gone to town on, now all of a sudden we have turned some sort of corner.
I don't mean to sound like the voice of doom, but let's get realistic, our back to back clean sheets are Newcastle and Carlisle, and we are in the month of February.
This is after the whole of season 2014-15 for Roberto to kick start our season, something he managed just in time to keep us up.
This season Martinez says clean sheets are not part of his phylosiphy in January and now in Febuary we claim to be trying to keep clean sheets.
Martinez is just to stubborn to take things onboard in a timely fashion, resulting in another season being wasted.
We can get goals, and if Roberto keeps clean sheets we will become a force to be reckoned with, but why is it he seems to do this type of stuff when its far to late.
John Jones
7
Posted 04/02/2016 at 01:58:49
Got to say RM got everything spot on tonight.
Obviously Robles was an enforced changed but the lad performed well wothout really doing to much, more than anything it seemed the defence look more assured with him there at present.
I was surprised to see Lennon and Oviedo still in the team after Carlisle but it was the right choice both are heading into decent form, especially Oviedo who is keeping Baines out of the team on merit at the moment. Who hasnt really looked his normal self sonce coming back.
Id like to see Lennon continue on Saturday against Stoke with Gerri maybe down the left, allow them to seitch wings every so often.
Im not sire we will see Noasse against Stoke, I think he maybe on the bench but not used unless needed, the lad hasnt had a hame for 8 weeks now. A home could suit him better to start anyway.
I hope tonight the second half of our season begins. We had a decent Jan window and if reports tonight are true then the take over looks like its progressing another step.
Onwards and upwards!!
John Malone
10
Posted 04/02/2016 at 06:01:53
Is Martinez taking the piss?? Talking about clean sheets as if he's just discovered the wheel!
I honestly can't believe this guy the shite he comes out with, is he trying to patronise everyone in football stating simple obvious facts like we were all oblivious!
He want's to have good long look in the mirror before he starts next season which he will as Bill won't sack him!
Clean sheet's win football matches, win's cup's and even win's league's ask George Graham, Sir Alex, Jose Mourinho not the suicide football he promotes which actually kill's confidence and breed's doubt and insecurity in the back four!
It's Martinez who need's to get up to speed not us, John Stones is a class act and is being made to look a fool by being stitched up by his own manager who is telling him it's ok to overplay at the back and take unnecessary risks!
For me Martinez is the root of all our problem's it's his coaching method's which have made us a soft touch, less fit and a calamity act in front of our own goal.
Jon Withey
11
Posted 04/02/2016 at 06:50:31
Good performance against a limited team.
Lennon and Barkley very good but I was also glad to see Cleverly back.
Also good to see us win convincingly without Lukaku contributing much.
Jon Withey
12
Posted 04/02/2016 at 06:57:48
Regarding Martinez, he still needs to pay more attention to defense and set-pieces, which can also win games – otherwise I have no major problem with his purchases or attacking set-ups.
Jon Withey
13
Posted 04/02/2016 at 07:01:49
Stones needs to get his head straight but class is permanent. I get the feeling he wants to prove that he is worth more millions every game - he just needs to keep it simple for a bit.
Our best youngster on form right now is Barkley though.
Harold Matthews
14
Posted 04/02/2016 at 07:16:42
Much easier than expected on a wet miserable night where the odd mistake was often down to the conditions.
Ross had a pretty torrid time for most of thr first half when tightly marked but finished very strongly and will hopefully form a good partnership with Niasse when our new boy gets up to speed. Kone did a good filling in job but Lukaku is our main man and I wish him a swift recovery from that nasty bang in the back.
I don't know why we drop so deep when the opposition are having a good spell. For a start it completely blocks the keeper's view and increases the chance of a deflected shot. Something rarely suffered by Barcelona, who can't get out of the box quick enough.
With McCarthy and Lennon on the right, Cleverley and Barkley on the left with Barry watching the middle, we were very well balanced. Not a hole in sight but the heavily marked Lukaku was not enjoying himself out there and we need to get back to using him properly.
Oviedo, Cleverley and Lennon showed the kind of graft and zip required for the task ahead. Three under-rated lads who love wearing the royal blue shirt. I'll be surprised if all three feature in the next match but much will probably depend on fitness problems we never hear about.
All in all, a satisfying result against the worst Newcastle side I've seen in years. Difficult to see them avoiding the drop.
Chris Gould
15
Posted 04/02/2016 at 07:21:28
John, with all due respect, you have no idea what Martinez is telling Stones to do. I personally think Stones is making mistakes due to a lack of maturity. He needs to be benched if we want to keep some clean sheets.
I also think it wouldn't have made a difference who was in goal last night. Howard is competent when he has defenders in front of him who.... defend. In saying that, he's lost the crowd and needs to go. The negativity he receives is a distraction.
I believe we will have a strong finish to the season and finish 6th or 7th. It will be a season where we scratch our heads and wonder how we missed out on the top 4.
For all of Martinez's faults, I still see a lot of positives in what he is trying to do. I actually think he is learning, but the process is labouriously slow!!
Keeping in Oviedo and Lennon at the expense of 2 of his regulars, plus dropping Stones indicates that perhaps he is going to start making the difficult decisions that he has previously shyed away from. He has also moved on a couple of players who many on here never deemed good enough. In their place we have an exciting young prospect and a pacey striker.
The fact is our best defensive displays have come with Funes Mori and Jags paired together. It has nothing to do with who was in goal. Hopefully he'll stick with these two for the remainder of the season. Although it may knock a few million of Stones's selling price.
Politics shouldn't affect team selection, but too often it has.

Phil Hoyle
16
Posted 04/02/2016 at 07:39:36
Well said Chris #12
Rob Hooton
17
Posted 04/02/2016 at 08:11:26
One of the biggest pluses of the night was the work rate of the team, chasing and harrying like they should EVERY game. More of the same please
Jim Bennings
18
Posted 04/02/2016 at 08:30:14
Stones may have class but as a defender if you want clean sheet sometime Row Z needs to become your best friend and last night we didn't see any of that piss-farting about with the passing across the back and you know what, it was actually quite refreshing to watch.
I'm all for playing good football but I'm not interested in this new age walking the ball out of defence, your defenders don't need to be playmakers, they need to stop the opponents scoring, that is the priority and the bread and butter of being a defender.
No Howard in goal also did seem to bring an air of comfort too, it's like you almost felt the defence knew last night was about change for the better and for common sense purposes, it showed even against a bad Newcastle team.
Lennon showed everyone too why it's been ridiculous to have underused him all season. I haven't forgotten that he transformed our season last year even if a lot have.
Again it made a change to not see Gerry puffed out after 50 minutes, don't get me wrong I love watching Deulofeu but he's not for every game yet.
Ray Jacques
19
Posted 04/02/2016 at 08:52:19
We will not be relegated and I don't feel that we can make the top six, therefore besides the FA Cup we have 14 league games to play in which although we are involved in the present, we need to utilise as a look ahead to next season. With this in mind I would suggest the following:-
1) Despite the disappointment of this season and the fact that despite the manager's opinion that the team have not underperformed, we need to be realistic and 'accept' that he is going nowhere and will be in his current post for next season. There has been no vote of confidence/communication or comment from the owners or board, so we can only surmise they are satisfied with the current situation. Unless we are on the verge of being sold, I don't see any changes afoot.
2) Robles should remain in goal for the remainder of the season. It is likely that Tim Howard will leave in the summer as his age and performances this season make his situation untenable. Therefore stick with Robles and give him a decent run in the team. At seasons end the manager will /should know if he is good enough to be our goalkeeper for next season or whether we need to buy a new first choice.
3) Keep Jags and Funes Mori as first choice centre backs so the latter can learn further about playing in the premier league and playing alongside an experienced centre back. We have spent large parts of this season with two inexperienced centre backs (I know they are international footballers) in front of a hesitant and mistake strewn goalkeeper who doesn't command his area so its no surprise our defensive record is chronic.
Stones needs to earn a place on merit, not reputation or valuation. If someone wants to make a bid for him in the summer, then so be it, if not then he stays and plays for a place. I don't want him in the team purely because it may add to his value (recent performances suggest if he is in the team his value will reduce). For every couple of million on his valuation, his mistakes may cost us the same financially in league position or a cup run. His summer valuation (if there is an offer) will likely be influenced by his performances in the Euros rather than how he plays for Everton.
Imagine the media backlash if he cocks up for England or the clamour for him to join a so called 'big' club (terrible expression, it should say rich club) if he plays well!! I was happy he stayed in the summer but that was not only because of his potential but also because it stuck two fingers up to Chelsea/Mourinho and the press putting out stories each day. In fact our stance on Stones last summer has probably been the highlight of the season!
4) Give the new man up front Niasse as much game time as possible by playing 4-4-2 in all home games. Whether we like it or not Lukaku will not be in an Everton shirt next year. The lads goalscoring record is fantastic over a 3 year period and one of the rich European clubs will take a punt on him. No Champions League = No Lukaku,. I don't see how we can criticise a player for wanting to play at the highest possible standard so we need to be making plans for a life without him.
John Malone
21
Posted 04/02/2016 at 09:09:05
Jim 15, agree one hundred per cent!
Chris 12, with all due respect I do know what Martinez is telling them because it's plain to see since he took over and it's exactly what Barca and Pep do split the two centre halves, push the fullbacks out wide and drop your centre mid in between, use the goalie as a sweeper and pass it out from the back vwithout hitting it long!
And it's a load of shite unless everybody and I mean goalie included are good footballers who can pass and move under pressure! And even then it's shite because if the opposition press quickly and hard enough and force a mistake they are in on goal!
The reason John Stones will not put his foot through it more often is because Roberto Martinez is telling him not to! He's blew that much smoke up his arse to give him the confidence to play his way that the lad had started to think he is Lothar Mattheus and is making ridiculous decisions a school kid wouldn't make and Martinez had took way too long to pull him out the team!
Paul Andrews
22
Posted 04/02/2016 at 09:21:31
John,
You are right in the centre-halves splitting to allow Barry to drop in. That system does not result in Stones not being aware of space around him, it does not cause him to allow players making simple runs to lose him. The system you mention causes the problem when we have the ball, not defensively when the opposition has the ball.
John Stones may well learn to be a top class defender; he is far from that at the moment.
Dave Abrahams
23
Posted 04/02/2016 at 09:21:35
John (18), I agree completely with your point of view. Loads went overboard about our performances against Villa and Sunderland; this game was the same, we won against a very poor team.
And as Harold says, although a lot of the passing was down to the weather, it wasn't a great performance and more evidence is needed that the manager is improving the team, against better teams than this terrible Newcastle team.
Ian Hollingworth
24
Posted 04/02/2016 at 09:21:39
Good and much needed 3 points.
It's a step in the right direction but we now need consistency and a run of results against better opposition than the last 2 games.
COYB

Phil Walling
25
Posted 04/02/2016 at 09:23:50
Got it in one, John. The rather technical book 'The Numbers Game' sets out to explain this tactic and, like you, concludes that it only works if you have top class players. Those who can be described as 'the finished article' rather than those learning on the job.
I'm so old fashioned that I expect coaches/managers to apply a style that best fits the players available. Martinez applies the style and expects his players to adapt to it. Some are not up to it whilst others never buy into it.
It's a battle of wills, really. And one which can have very painful consequences. Roberto expects his players to play through them. Hence only seven wins from 24 games.
I suspect we shall gain another four wins, probably against bottom half teams.
Russell Smith
26
Posted 04/02/2016 at 09:34:21
Although we shouldn't get carried away as this was a victory against a very poor side it is very telling that probably one of our better balanced displays has come without Stones, Deulofeu and for 55 minutes without Lukaku. For all Kone's faults, as a target man to hold up the ball and allows the breaking midfielders to come through in support, much like Sharpie did in the '80s, he is actually very effective. If he could add goals to his game he would be a more than useful player.
The shape of the team was much better with Jags and Funes Mori staying more central and the full backs only moving forward when the opportunities were right, plus they had better defensive cover from Lennon and Cleverley. It is also worth noting that our improved defensive work occurred with McCarthy back in the team.
Niall McIlhone
27
Posted 04/02/2016 at 09:43:10
I didn't see the game last night, but I hope RM is right in his reflections on the maturity of the performance as game management has been our biggest problem this season, evidenced by the number of points – at least 10 – surrendered late in the game.
That said, by all accounts the Magpies were atrocious, so the big test is Saturday at Stoke, but at least that win last night takes just a little bit of pressure off, so let's hope that translates into the performance?
I agree with the comments on here about Aaron Lennon, he has shown both last season and this, that when given a chance to start, he has the drive, skill and athleticism to influence a game, I do hope he is given a run, he still has the pace to devastate defences on the break.
Would an option be to play Gerry in a central role in attack on Saturday? He's played in that position for Spain U21s I think?
Chris Gould
28
Posted 04/02/2016 at 09:50:40
John, you DON'T know what Martinez is telling him. The tactics are obvious to all of us, but is he really telling Stones to piss-fart around in his 6 yard box, or put the goalkeeper under unnecessary pressure with his back passes?
How come Funes Mori and Jags aren't making the same mistakes with the same system? Stones's positional play is awful. Martinez is definitely not responsible for him losing his man time and again.
Don't get me wrong, Stones has every chance to become world class, but right now he's too immature. It was fine to allow Barkley time to make his mistakes as he had players behind him to bail him out. Stones's mistakes cost us goals.
Steven Jones
29
Posted 04/02/2016 at 09:55:54
Well in Roberto!!
John Malone... are you taking the piss?
Keeping a clean sheet doesn't win matches...
Think before you write.
WE win 3-0 and people want to pick fault and slag our manager off.
Even the commentator said it could have been 8 without Elliot's saves and last ditch blocks.
Marvel in Barkley's performance please not slag off our great club...
John Malone
30
Posted 04/02/2016 at 10:04:40
Ok Chris, you belive whatever makes you feel better mate!
Are you telling me Stones would be playing that way under any other manager in our league? No he wouldn't he would be bollocked and told be told in no uncertain terms get rid, clear your lines and get out!
Could you imagine what Moyes would say if he put his foot on the ball and stood still waited for all his options to be closed down then passed back to the goalie who was being closed down!
Could you imagine playing competitive football yourself with someone who done that? You'd be grabbimg him by the throat and be telling him don't ever do that to me again!
Like I've said before it's suicide football and the stats prove it since the manager's took over, I believe in freedom to play passed the halway line I do not want to see my centre halves knocking the ball round like it's five a side!
Patrick Murphy
31
Posted 04/02/2016 at 10:11:29
It's funny that when Howard is injured, Roberto picks that moment to 'rest' John Stones – that indicates to me that Roberto is fully aware that John Stones will make mistakes, due to his inexperience and incorrect decisions so therefore prefers to have the American in goal.
People who think that John Stones isn't a proper defender or a very good footballer are forgetting that defensive minded players don't reach their peak until their late 20s and John Stones has a long way to go before he gets there, but he will get there a lot sooner than most, unfortunately we as a club won't get the full benefit of it - transfer fee aside.
As for the game last night, I'm always at a loss to understand why people often say that the teams that we beat are always much poorer than was expected, I'm too busy watching Everton to notice how poor the opponents are to be frank, and last night I thought it was a good all round team performance where every player was willing to do the dirty work for most of the match.
A very important three points in the context of a disappointing season in our overall points haul, but this team is far more capable than the results have suggested so far, but only if they apply themselves like they did last night.
Jim Bennings
32
Posted 04/02/2016 at 10:49:17
If Stoke are poor on Saturday I'll gladly beat them!
I doubt they will be poor, especially after getting tonked Old Trafford there is likely to be a bit of anger and we know the Britannia is very much the Alton Towers of the Premier League is terms of getting a rough ride.
We will need to be defensively sound and not passive in front of goal.
Let's be honest, we are due a bloody win against Stoke especially at that place.
Ray Jacques
33
Posted 04/02/2016 at 11:22:48
The first goal against Swansea summed up the general problem with our defending this season. Stones and Howard, or either one not doing their job correctly and the end result is we concede.
Hopefully the next run of games will be without both and the proof will be a reduction in our goals against column. We shall see.
Denis Richardson
34
Posted 04/02/2016 at 11:24:30
One swallow does not a summer make.
A 3.0 home win is very nice but let's not forget we were playing one of the worst teams in the league, who were also woeful last night.
The other 'great' clean sheet was against Carlise!
It's a small step in the right direction but let's start patting ourselves on the back when we get a few more results like this.
Of our now 7 league wins all season, 4 have been against the bottom 3.
At least the three points last night pretty much puts the R word to bed.
Phil Walling
36
Posted 04/02/2016 at 12:05:28
Denis, picking up on your theme, I PREDICT that we shall achieve FOUR further victories and nominate WBA, Villa, Sunderland and Norwich as the most likely victims of our new found co-ordination.
On the other hand, I am HOPING that Mr Niasse Guy will prove to be a gift from the gods and that once he's up and running we shall win EVERY game!
John Roberts
37
Posted 04/02/2016 at 12:19:15
Ray (#16), I totally agree – Martinez will not be sacked and Lukaku will be sold and nobody should begrudge him for going.
Martinez has had 3 seasons; this season was set up perfectly – no Europe commitments, big squad with plenty of talent and arguably the in-form striker in the league... and it's been a mess.
Martinez, nice bloke but talks so much nonsense and must go. An example last night, he said the the second goal changed the game and we were able to control it from there. That was in the 88th minute!!
Chris Gould
38
Posted 04/02/2016 at 12:26:40
John, we're in agreement that it's suicide football. But, in my opinion Stones's mistakes are more to do with immaturity and inexperience than bad tactics. And, yes, I believe he'd make them under other managers. I don't see Jags and Funes Mori making the same mistakes.
I am not in any way defending Martinez's defensive record. It's indefensible!! But I don't believe Stones's poor defending entirely down to Martinez. However, it is his fault that he kept picking him!
It doesn't actually make me 'feel better' either way. Strange that you suggest it would.
Geoff Evans
39
Posted 04/02/2016 at 12:52:23
I'm not an admirer of RM, but a 3-0 win in the Premier League is an excellent win. To do anything but praise the team and manager would be churlish. More of the same please.
Dave Abrahams
40
Posted 04/02/2016 at 14:28:34
Geoff (#32), yes, praise them for the result by all means. But the performance wasn't very good at all in my opinion.
If you watched the match and both teams, you would have noticed that Newcastle were woeful, and it took us to the 85th minute to make the game safe.
John Malone
41
Posted 04/02/2016 at 15:08:52
Chris, your argument was I don't know Martinez is telling Stones to play that way and my point was I do because that is his philosophy which he implemented when he took over.
The philosophy which crucified Distin into leaving the club who even though was in the twilight years of his career was one of our best most consisitent performers over the previous couple of seasons, fast, strong and good in the air!
I totally agree with you he is not telling Stones to make the wrong choice or the wrong pass but he he is teaching him to try and run before he has learnt to walk and not teaching how to defend properly! In turn losing the team valuable point's and making Stones look bad!
The commentator during last night's match made the comment that a Wigan defender came out and stated that Martinez gives you the confidence and belief that you can pass the ball about anywhere in any situation on the pitch which for me is very wrong and contradict's the way our defenders and team played last night when it was paramount not to get beat!
I also agree the mistakes are less when Jags and Mori play but they are a lot longer in the tooth than Stones and have already learnt their trade where as Stones is a sponge and open to taking on the fashionable concept of PIATB without nailing the fundamentals of being a defender!
Would you teach a striker how to play with his back to goal before you he learnt how to finish?
Paul Olsen
42
Posted 04/02/2016 at 15:17:10
#36
Valid, if we think that all learning as a footballer happens after they turn professional. A striker has been practicing finishing since age 4-5.....
Brent Stephens
43
Posted 04/02/2016 at 16:15:42
Phil #22, The Numbers Game apparently has one stat that says ""As the number of years a country has experienced of civil war goes up, so does the average number of yellow cards per player from the country."
What we're often left with, with stats like this, is a question about the direction of causation. My guess is that an increase in the number of years of civil war is caused by an increase in the number of yellow cards issued. Jeez, football has a lot to answer for!
Brent Stephens
44
Posted 04/02/2016 at 16:18:34
Phil (#31), I love the handle "Mr Niasse Guy". Let's hope he's the opposite on the pitch!
Paul Andrews
45
Posted 04/02/2016 at 16:41:02
John 36,
Martinez will be telling him to play from the back no doubt about that. He won't be telling him to leave oceans of space.
He won't be telling him to allow players to make simple straight runs off him. He won't be telling him to not compete physically.
I sincerely hope he learns the basics of defending,saying that he has the ability of a top class midfielder.
In my opinion that could be the future for him, as a holding midfielder.
Geoff Evans
46
Posted 04/02/2016 at 17:05:06
Dave: Agree with your view, not going overboard, but got to start somewhere. Hopefully will help confidence.
Chris Gould
47
Posted 04/02/2016 at 19:24:36
John, I think you are blaming Martinez for Stones's bad defending, and I just don't think it's as simple as that. Out of all of our defenders you'd think Stones would thrive the most under the Martinez way. The problem is that he is a very immature and inexperienced defender. I don't think it would matter what tactics were employed, he'd still make costly mistakes. Funes Mori and Jags don't make those mistakes because they are better defenders.
If Stones can't play the Martinez way because he's too green, then he needs to warm the bench. Martinez won't change the system for him. Galloway is a young defender, but we haven't seen him take the same risks.
It's very unlikely that he is giving Stones directions and coaching that he isn't giving to the other defenders. Stones hasn't learned a thing from playing alongside Jags or Funes Mori and that is worrying.
My point is, you can't blame Martinez when none of the other defenders are taking the risks he takes. If they were Martinez's orders then we'd see it from all of them.
Guess we'll have to agree to disagree. Nobody knows what goes on at the training ground.

Denis Richardson
48
Posted 04/02/2016 at 21:24:51
Phil 31, I'll certainly take those predicted wins...
John Malone
49
Posted 04/02/2016 at 22:33:35
I am Chris I'm blaming Martinez for everything which is wrong with our great football team at the minute because I'm totally pissed off with the season so far and he's the man in charge!
Andy Sommer
50
Posted 05/02/2016 at 07:47:54
Watching the game, Cleverley impressed me. The lad was everywhere on the pitch. McCarthy brought a lot of energy, breaking up possession and hassling the opposition into mistakes.
For me, these guys were the reason for the win and clean sheet. Energy, passion, desire.
Tony Rio
51
Posted 05/02/2016 at 18:07:22
Spot on Roberto - and 2 clean sheets is significant, but more our tenacity defending against Newcastle. Managers learn, we all do. What our club needed was a complete cultural change after the last manager who seemed determined to re-invent us as a plucky mid table side hard to beat. We needed a clean radical sweep and an injection of increased expectation to be challenging for titles. Roberto has done that. Phase 2 now - the defence. I honestly think we're on the cusp. I remember too well how many games we lost or drew under the last manager in the last minute....when EVERYONE in the ground knew we we're going to concede. We've not had a settled back 4 all season and our key defensive midfielder Mccarthy has been missing for a long time. Roberto hasn't tried to restrict stone's cavalier attitude - rightly or wrongly it has made him into a £60 million asset. The same with Ross.
Denis Richardson
52
Posted 05/02/2016 at 18:47:58
Tony 46 - 60m for Stones?
(Can you send me what you're smoking?)
Tony Rio
53
Posted 06/02/2016 at 01:53:12
Funny Dennis. ...nearly laughed
Add Your Comments
In order to post a comment, you need to be logged in as a registered user of the site.
Or Sign up as a ToffeeWeb Member — it's free, takes just a few minutes and will allow you to post your comments on articles and Talking Points submissions across the site.
© ToffeeWeb