Coleman dedicates goal to his newborn daughter
07/02/2016

24 Comments [Jump to last]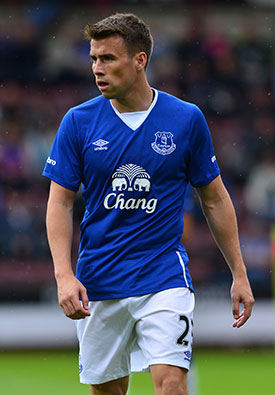 Seamus Coleman scored his first goal of the season in today's 3-0 victory and wheeled away with the now traditional thumb-sucking and rocking crib-style celebration to mark a special 24 hours for him personally.
The Republic of Ireland international explained to evertontv's Darren Griffiths that his wife gave birth to a daughter, Lily, at two o' clock yesterday, saying, "it's no secret who that was dedicated to today."
"It's funny how these things happen," he continued. "You just get that feeling that you're going to score a goal. It was great seeing what my wife went through yesterday and how proud I am of her and to go out on the pitch, you just have to enjoy those moments.
"To score the goal as well was special."
Coleman is usually deployed deep as the last defender for offensive corners but the 27-year-old says that he has recently been given license to be in the penalty area in those situations, a move that paid dividends at the Britannia Stadium where he headed home Everton's second goal in the 28th minute.
"It's only been the last couple of weeks that they're let me go up for corners and I've missed a sitter against Swansea so I thought I wouldn't be allowed back up after that
"Obviously, they've seen that I got a bit of space at the back post that day so they've trusted me to get up for corners."
Everton had the game against the Potters more or less sewn up by half-time, a surprising turn of events given what happened in the reverse fixture at Goodison Park and Mark Hughes's expenditure in recent months. It was testament, however, to a terrific all-round display by Roberto Martinez's men.
"It was a great first-half performance from the lads," Coleman continued. "I thought defensively we were very solid which you have to be when you come to places like Stoke because if you give them anything, their fans can get right behind them.
"We took our goals brilliantly and Cleverley did brilliantly for Rom's goal  and you always trust Rom to finish it. And then Aaron Lennon had a very difficult chance. Some people might think it's easy but when you've got from the halfway [line] to the goalkeeper to think about what you're going to do, he knew from there he was in a one-on-one but he kept his composure."
Griffiths suggested to him that confidence in the Blues' dressing room must be sky high after back-to-back wins and two clean sheets in the Premier League and Coleman agreed.
"It is, definitely," he replied. "The three goals were great but keeping back-to-back clean sheets are very important     because that's been our downfall recently. We've always been alright going up the other end but we showed that we're resilient now at the back and long may that continue."
---
Reader Comments (24)
Note: the following content is not moderated or vetted by the site owners at the time of submission. Comments are the responsibility of the poster. Disclaimer
Carl Sanderson
1
Posted 07/02/2016 at 01:04:29
Why didn't he call his daughter Lily Royle Kendall Gabriel Dean Young Lawton Angell Coleman? I think we should be told.
Paul Ferry
2
Posted 07/02/2016 at 03:12:33
Wonderful header Seamus, wonderful! Best piece of business in the last decade for our Seamus.
Congratulations on the birth of Lily. There's something just well nice that Seamus married his high school sweetheart. Lovely fella and like Everton coming back into good form at the right time.
Minik Hansen
3
Posted 07/02/2016 at 03:14:24
Those back-to-back clean sheets/wins must stretch more than two games! ;) Congrats to Coleman from Greenland. COYB.
Steve Brown
4
Posted 07/02/2016 at 04:41:55
Carl, his wife drew the line at Angell I reckon.
Ernie Baywood
5
Posted 07/02/2016 at 05:36:23
Interesting that we're putting him forward at corners. He always a great last line in the event of a break due to his pace. Who stays back now?
And congratulations Seamus.
Stephen Brown
6
Posted 07/02/2016 at 07:37:14
Eva Toni Anne Coleman would have been good!!
Terry Murray
8
Posted 07/02/2016 at 08:54:33
Well done, Mr and Mrs Coleman. A great couple of days for you. Long live Kilibegs!!!
Conor McGregor
9
Posted 07/02/2016 at 09:00:46
Congratulations to Seamus on the birth of his baby girl.
And a great display yesterday, great win – keep the run going, lads.
On a another note, why are the third jerseys not on sale, like the home and away jerseys?????
Brian Porter
10
Posted 07/02/2016 at 09:20:01
Many congratulations to Seamus and his wife. Welcome to the world, Lily.
Liam Reilly
11
Posted 07/02/2016 at 10:11:21
Nothing in life comes close to the joy of the birth of your child. But that goal will certainly top off a great week for Seamus.
Good uck son, now get ready for those sleepless nights.
Steve Carse
12
Posted 07/02/2016 at 10:23:49
Seamus's header was the best headed goal of the season in the PL. As usual for an Everton goal, it was underplayed by the media. MOTD even put it down to poor defending. The run to meet the ball, the body shape needed to direct it, and the power and angle he got on it were unbelievable. Just another headed goal though according to the Press and TV boys. Now if that had been Deli Alli..........
Darren Hind
13
Posted 07/02/2016 at 10:35:39
I think his header yesterday hasn't quite received the acclaim it deserves.
Maybe we were so relieved to see it go in, or perhaps the third goal took our minds away from it. but as headers go this was as good as anything I have seen from an Everton player.
I know thats a bold statement, given that we have had some superb headers of a ball down the years, but take another look, A spirit level will probably prove he wasnt quite horizontal at the point of contact, but he was very close. the distance he travels through the air is incredible
The movement, the timing, the desire and the execution, were all immaculate, it was a fantastic header.
Joe Royle, the Latch, Sharpie, Andy Gray, Tim Cahill, Big Dunc, would all have been very proud of this goal and although they have all scored truly brilliant headers, this one comes out on top for me - yes I remember Gray's brace
Made up for him. If you haven't seen it in slow mo, do your self a favour
Anthony Flack
15
Posted 07/02/2016 at 10:37:33
Steve it was a cracking header and a great delivery from Cleverley. The commentator on one of the streams ridiculously described it as a free header ! The same chump also said that Oviedo is not normally a left back and attempted say Cleverley went down easily. With the latter comment even his co commentator who I think was a Stoke player put him straight...
We actually look quite dangerous at corners, with better delivery and more threat from Funes.
Tony Hill
16
Posted 07/02/2016 at 10:38:20
I would love to see Seamus get back to his best form and let's hope the excellent goal yesterday will help that. He's a superb right back when he's confident and fit and he would greatly improve us if he recovers the stuff he was showing two years ago. I think he will.
Tony Hill
17
Posted 07/02/2016 at 10:41:53
Darren (11), he has a fine appreciation of angles does Seamus. I never thought he got enough credit for that extraordinary finish last season against QPR which was perfect to the millimetre. Then, of course, there was his goal against Southampton.
Simon Jones
18
Posted 07/02/2016 at 12:16:59
Coleman's goal was great. The way Jags moved away and drew the defender to make the space for Coleman to run into was well worked and a joy that the corner beat the first man for a change!
Michael Penley
19
Posted 07/02/2016 at 12:24:44
The corner almost looked like a... practiced routine. It couldn't have been, could it? Martinez wouldn't have allowed time in training to be spent on something which only results in a goal 0.47% each time, would he? Nah.
Anton Garvey
20
Posted 07/02/2016 at 12:55:14
Well done Seamus have a great day and a great life.

COYB
Tim Greeley
21
Posted 07/02/2016 at 13:21:11
Seamus is the man. We should try to not underappreciate him; dip in form or not, he is a Blue and represents Everton as well as anyone else associated with the club. Congrats on your new daughter, Seamus, mine are 6 and 2 and the absolute joy of my life. Enjoy!!
ps: I like how he acknowledges the sitter he missed versus Swansea at the death. Ahhhhh!!! Oh well he will make up for it I am sure.
Colin Glassar
22
Posted 07/02/2016 at 17:00:46
Congrats Seamus. I just hope you can get a proper nights kip before each game, we need you rested and focused, let the wifey look after the kid (until the summer at least).
Kim Vivian
23
Posted 07/02/2016 at 17:52:54
Seamus's goal was clearly worked out on the training ground. Worked perfectly and a great strike. Who says we don't practice set pieces?
David Price
24
Posted 07/02/2016 at 18:32:42
Just seen Chelsea equalise in injury time and watch them celebrate as you do. The ref played 6 seconds more at the end.
Funny that....

Joe Foster
25
Posted 07/02/2016 at 21:22:23
Awwww
Michael Polley
26
Posted 08/02/2016 at 11:45:11
Great header.Showed some hunger & desire to win that ball in the air. Very nice indeed
Add Your Comments
In order to post a comment, you need to be logged in as a registered user of the site.
Or Sign up as a ToffeeWeb Member — it's free, takes just a few minutes and will allow you to post your comments on articles and Talking Points submissions across the site.
© ToffeeWeb