Everton vs West Bromwich Albion
by

47 Comments [Jump to last]
| 12/02/2016
Match Preview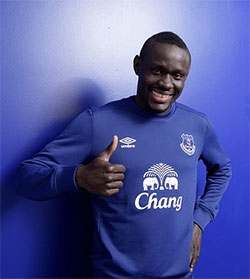 Oumar Niasse will be hoping to make his first appearance after training all week
With their eyes trained upward again thanks to an uptick in form over the past couple of weeks, Everton go in search of what would be a fourth consecutive victory when West Bromwich Albion make the trip north.
Since the disillusionment and frustration that welled up after the Capital One Cup semi-final defeat to Manchester City, optimism that something can be salvaged from the season has crept in on the back of the subsequent three matches. Roberto Martinez's team won back-to-back Premier League matches for the first time this season and progressed to the fifth round of the FA Cup.
Not only is there hope that the Blues can grab a second chance at booking a place at Wembley but, having moved into the top half of the table following last weekend's romp at Stoke City, the possibility of finishing in one of the European places doesn't seem so distant after all.
Everton have the chance to further those claims and complete a second league double this weekend when West Bromwich Albion come to Goodison Park. The Blues earned a thrilling come-from-behind victory at The Hawthorns back in the reverse fixture and another victory would give Martinez's men a chance of closing the gap on the teams above them, depending on how results go elsewhere.
The Baggies may only have won three times away from home all season — albeit two of them coming against sides currently sitting in the bottom three and the last was in October — but, as a Tony Pulis outfit, they always have the propensity to frustrate sides that like to come out and attack.
That kind of opposition has posed problems for Everton over the past couple of seasons, as evidenced a little over a year ago when West Brom came to Goodison and ground out a 0-0 draw against the Toffees in a game made infamous by Kevin Mirallas's penalty miss.
Fittingly, the Belgian international should be fit to play a part in this one and make amends if he is selected. He made a late cameo at the Britannia Stadium last Saturday after recovering from a knee tendon problem and should be in the squad again this time.
He is unlikely to get a start if Martinez prolongs his recent nod towards continuity and his players' form. Aaron Lennon, magnificent in all of Everton's three consecutive 3-0 wins over the past fortnight, has grabbed his opportunity with both hands since the debacle at the Etihad and has been keeping Gerard Deulofeu on the bench. Should that continue this weekend, Pulis might breathe a sigh of relief because it was the Spaniard who was the architect of that 3-2 Everton win over West Brom in September but Lennon has been in sparkling form and showed at Stoke in particular how dangerous he can be.
Leighton Baines, meanwhile, could be in the same boat given the recent form and fitness of Bryan Oviedo who has been rewarded with a new three-and-a-half-year contract. Baines sat out the cup tie at Carlisle at the end of last month and might be forced to watch on again against West Brom from the dugout.
Another player likely to start on the bench is new signing Oumar Niasse who missed out last week due to a lack of fitness but who could be in line for a debut as a substitute this time around if the conditions merit it. The 25-year-old has been showing his new teammates what he can do in training this week and Romelu Lukaku, his potential strike partner, has been impressed with the Senegalese's power, even if he remains a little raw.
Slight doubts over the fitness of Tim Howard and John Stones mean that Martinez could quite easily named another unchanged line-up, with Joel Robles keeping his place in goal after recording his third clean sheet on the bounce and Ramiro Funes Mori continuing his impressive partnership with Phil Jagielka.
With Everton in fine goalscoring form this season — they've only been shut out twice in the 24 games in all competitions since they last played West Brom — finding the net should not be a problem, even given the fact that they'll be going up against a Pulis defence. Indeed, it's a visiting team that could find the going hard so soon after being forced to play extra time at Peterborough in the FA Cup on Wednesday.
The key, therefore, will be keeping things tight and organised at the back, particularly when defending set-pieces. The Baggies almost pulled off a smash-and-grab raid from set-pieces on their last visit to Merseyside but were denied a 2-1 victory at Anfield by a 96th-minute Liverpool equaliser. Things have looked and felt safer at the back since Robles came into the side but he and his defenders could be tested more sternly this weekend if the Midlanders are up for it.
Kick-off: 3pm
Referee: Michael Oliver
Predicted line-up: Robles, Coleman, Jagielka, Funes Mori, Oviedo, Barry, McCarthy, Cleverley, Lennon, Barkley, Lukaku
Full details: ToffeeWeb match page
---
Reader Comments (47)
Note: the following content is not moderated or vetted by the site owners at the time of submission. Comments are the responsibility of the poster. Disclaimer
Dave Southword
1
Posted 13/02/2016 at 00:10:44
Waiting for 2pm to see who is the first name on the team sheet...
Clive Mitchell
2
Posted 13/02/2016 at 00:13:24
No one could argue wth that line up. This has banana skin written all over it. So a proper test.
Tom Cuffe
3
Posted 13/02/2016 at 00:18:18
3-0 anyone ?
Colin Battison
4
Posted 13/02/2016 at 00:21:03
Clive #2....no chance of this happening, West Brom are shocking in every department.

If RM doesent tinker with the team then this will be an easy win for me on current form. Keep that bloody winning mentality and no changes please, RM.
Phil Walling
5
Posted 13/02/2016 at 00:26:26
Again no value available on Everton 'to win', so I have backed us to triumph 2-0 at 13/2.
Perhaps a tad optimistic to hope for yet another clean sheet but at last our boys do seem to understand the value of it. Rom will do the rest.
Philip Holding
6
Posted 13/02/2016 at 00:30:00
Hope he makes no changes, if by some miracle (forgot word for opposite to a miracle) we are not beating a very poor West Brom side, we can bring on Kev, Geri and Niasse. That line up has worked brilliantly the past few games and needs no changes.
David Pearl
7
Posted 13/02/2016 at 01:08:15
Phil - better value half time/full time Everton
I'm going for 4-0 with Lukaku to find his shooting boots again.
Actually, I've been searching for odds on Leicester being relegated next season (with no luck).
Ciaran Duff
8
Posted 13/02/2016 at 01:35:16
Spot on with the line up. Looking to the bench later on if we are struggling to break them down or coasting.
WBA were very poor mid week in the Cup and will park 2 buses. The team (and crowd) will need to be patient and disciplined. If we can get ahead we could smack them. If we don't then it could be like Swansea again.
Ian Randles
9
Posted 13/02/2016 at 01:51:48
First time posting so go easy...

For me it has to be no change in the starting line up. Joel Robles, Phil Jagielka and Funes Mori are the reason for three clean sheets, Howard has given us years of service and deserves respect and a good send-off but his time unfortunately as our No1 is up.

Stones is a luxury that at this time in our progress we can't afford to keep, he can't develop as a true defender (Moyes style) under Martinez. And Martinez doesn't seem to want to control his play, and (in my opinion) he would make an excellent holding ball playing midfielder (but unfortunately our manager will never see this),

Lennon in the last 4 games has been brilliant the same as he was this time last year, Deulofeu is class but doesn't help out and goes missing in games. If we could make a point off Lennon tiring teams out and then Deulofeu coming on for the last 20 minutes to cause havoc then we would shoot up the table.
Mark Andersson
10
Posted 13/02/2016 at 02:40:57
They will park the bus for sure to agitate the crowd which doesn't take much these days.
If we get a early goal we should win, on the other hand the longer it takes to break them down the less chance we have.
My only prediction is no matter what the result there will be polar opinions on here. That's what I love
Phil Sammon
11
Posted 13/02/2016 at 03:44:59
With that starting line-up we may be looking at a bench of:
Howard
Stones
Baines
Mirallas
Deulofeu
Niasse
Kone/Osman
Almost an embarrassment of riches!
Mark Daley
12
Posted 13/02/2016 at 05:11:04
Start Shaw and keep Rom as a tactical sub for when the little lad gets tired.
Danny O'Neill
13
Posted 13/02/2016 at 05:34:28
Ian, no need to be defensive; it's a forum where all can aire their opinions.
Your points are valid. But Stones isn't a luxury (I get your point about now; that's why he's been "rested"). John is a gem a will be an outstanding centre back when he hits late 20's. He's a centre back / defender not a midfielder, he's just a young defender learning his trade with mistakes in him at this point in time.
The lad will come good.
You and a lot of other posters are right; don't change a winning team. But this is Bobby brown shoes!
Harold Matthews
14
Posted 13/02/2016 at 06:07:10
Welcome Ian. Interesting post but disappointed you didn't mention McCarthy when discussing clean sheets. Also, the very disciplined 2 banks of 4 in front of Joel.
Tend to agree re Stones. As Souness pointed out recently, the lad doesn't yet sense danger and get himself across to cover his fullback. As a matter of fact, Jags is also slow to get across, whereas Funes Mori will race to block both sides.
As for Stones in the holding role? We know big aggressive grock Erik Dier (thanks Eugene) does a fine job for Spurs but he is well supported by other big grocks. Barry, like Lucas across the park, uses experience and anticipation and doesn't go wandering off. Also, £38mil was offered for centre back Stones so we are not about to tinker with his position. The lad is poetry in motion but, according to Jags, will need another 50-100 games to understand the role and reach his full potential.
Like you, I would go for an unchanged line-up against the Baggies. They'll bring in four or five fresh pairs of legs and provide pretty stern opposition. Despite the clean sheets, teams did get good chances but failed to take them. Pleased to see Phil has gone for 2-0. I hope his winning streak continues.
Dennis Ng
15
Posted 13/02/2016 at 06:37:26
For Stones, he should be rotated in as much as possible without disrupting the rhythm we have now. He can't get that 50-100 games if we don't feel confident enough for him to start so rotation is going to bridge that.
For this game, keep the same team, keep the same style/tactics until it is figured out then tweak it. I want to see more substitutions this game, Del and Mirallas need to see more game time even if they are not starting.
Tim Locke
16
Posted 13/02/2016 at 07:11:12
Travelling up this morning with the wife, thought it would make a lovely valentines present, this is her first game ever, also our 14 week old child's first game (youngest in ground?) so come on Bobby brown shoes, inspire the lads to another vital win.
My prediction before the Leicester game was a win, so sticking with that. So far we are 3 points my prediction of a 65 points finish, which should leave us top 6. An ok season but clearly Leicester have exposed that any team could win it, which leaves most supports feeling disappointed/let down with a 5/6th finish.
Biggest problem too many draws, CP, Cheslsea, Norwich, Bournmouth are all games we should have won. Feel the Stoke game which we should have drawn evens itself out with the Man City one which we should have lost.

David Greenwood
17
Posted 13/02/2016 at 07:36:52
You old romantic Tim. Hope you and your family have a great day.
I think you will get your win. It wouldn't even surprise me if it was 3 - 0 again.
Kevin Elliott
19
Posted 13/02/2016 at 07:57:56
If they play like they did against Posh and us like we did against Stoke we will destroy them.
Colin Glassar
20
Posted 13/02/2016 at 08:08:00
Speaking to a Baggies fan on Thursday, he thinks they will get sucked into the relegation fight. They've got a massive injury list, they can't score goals and their key (healthy) players are in poor form..... They will probably beat us now.
Nah, think we will win 2-0 and Pulis will be sacked tonight.
Steavey Buckley
21
Posted 13/02/2016 at 08:29:05
The predicted line up should be the one to hope for.
Paul Kelly
22
Posted 13/02/2016 at 08:34:00
Potential banana skin? Doubt it, can see a comfortable victory, 3 or 4 nil, don't know why Im confident, not the Everton way.
Chris James
23
Posted 13/02/2016 at 08:40:33
Surely even Martinez can see there's no option to make other than stick with the same starting line-up including the keeper and back 4 who've kept three cleanies.
With Howard, Baines, Stones and Niasse to boost the bench alongside Deloufeu and Mirallas we'd have plenty of defensive and attacking options to bring on and we can give Kone a chance to get used to weekend's off.
Clive Mitchell
25
Posted 13/02/2016 at 09:06:11
To those who think there's no chance of this being a banana skin, I hope you're proved right. How long have you been supporting Everton?
Alan Bodell
26
Posted 13/02/2016 at 09:45:29
With a fully fit healthy squad Pullis would park a bus against us so now with their injuries it will surprise me to see any of their players cross the halfway line unless we get that oh so vital 1st. goal, they're going to be very physical too so a few early yellow cards would be nice.
Paul Olsen
27
Posted 13/02/2016 at 09:48:57
Everton, on a three match winning run with clean sheets and nine goals. Big favourites at home to an injury-stricken Tony Pulis Side that arguably is a much poorer side?
Nah, nothing points toward a banana skin here..........
Andrew Clare
29
Posted 13/02/2016 at 09:52:24
COYB'S keep up the good run!
John Hammond
30
Posted 13/02/2016 at 09:57:20
Please, please, please name an unchanged side Bobby. Niasse and Gerry on as subs if we make a mess of things. Might put some money on another 3-0!
Dave Ganley
32
Posted 13/02/2016 at 10:20:43
Fully expect an unchanged team and a routine win. Wow I never thought I would speak those words again on match day, routine win. Well the last few games have restored my optimism somewhat, not in the results, more in the way we have played. If we can keep the same style of play and not resort to unnecessary keep ball across the back then maybe we can start to finally realise our potential. Kiss of death I know!!
Comfortable 2/3 0 win. West Brom are rubbish
Brian Harrison
33
Posted 13/02/2016 at 10:23:11
We know that West Brom will defend deep with everybody behind the ball. We must not get frustrated as is very easy, we must be patient fans as well as players. They are fighting for their Premiership existence so it wont be a pretty from them. So Lennons pace might not be as important as it has in the last few games as they wont attack in numbers so I don't think they will leave much space to run into. Might have to use Deulofeu to open them up in the second half if we are still looking for the first goal.
Score early and that will force them to throw more men forward and that will play into our hands.
Graham Mockford
34
Posted 13/02/2016 at 10:32:08
Ian #9
Welcome, once you start you may find it hard to stop.
I agree with Harold that it's about shape as well as the actual defenders and keeper employed.
For what it's worth however this season's stats for our three centre halves this season show
Goals per game conceded
Jags 1.1 14 games
Fumes Mori 1.3. 16 games
Stones. 1.5. 20 games
Plato Stavrinos
37
Posted 13/02/2016 at 11:35:35
A while back Martinez was talking about Baines taking up a midfield role like Philip Lahm did for Bayern. I would be keen to see how that would work out since he is struggling to get back in the side. I know Cleverly is doing a good job but just a thought.

Paul Thompson
38
Posted 13/02/2016 at 11:47:57
After watching WB against Peterborough I'll be seriously surprised and disappointed if we screw this one up. They were awful. They've got two good (fit) players - Fletcher and Berahino and the latter looks disinterested. Pulis has dome his usual stabilise then go nowhere job. They will park the bus and hope to grind us down. As said above, we have to be patient, but an early goal would, I suspect, open the floodgates. Looking forward to seeing something of Niasse.
Gordon Roberts
39
Posted 13/02/2016 at 11:59:19
I think the role Lahm does for Bayern is more of a holding role, Gareth Barry's position, not the current position occupied by Cleverley.
Dave Southword
40
Posted 13/02/2016 at 12:00:21
I'd be keen to see that at some point as well, Plato. His ability to crisply and accurately pass the ball would be useful in there.
Richard Lyons
41
Posted 13/02/2016 at 12:03:34
As long as we are patient early on, we will get a goal and then go on to thrash them, like in the 4-0 drubbing Villa got back in November. If not, I sense the return of the "Martinez out" chorus...
Si Turner
42
Posted 13/02/2016 at 12:11:42
Phil (5) I am on Everton -1 at 13/10 because we could always let one in but I think we will get a bag full today.
I am hoping for plenty in the 2nd half to get the St end bouncing!
Harold Matthews
43
Posted 13/02/2016 at 12:27:22
Yes Plato, I don't know what happened with the plan to deploy Baines in the midfield role. Leighton actually started his career in the role now occupied by Cleverley with emphasis on attack.
Actually, with Osman, Pienaar, Cleverley, Besic, Mirallis and the Grasshopper lad, we're pretty well covered on that side of the pitch and I can't imagine him playing on the right.
Jim Bennings
44
Posted 13/02/2016 at 12:27:57
Having seen West Brom lately if we can't comfortably dispatch these today then we don't deserve a good end to the season!
As for the Lahm role for Baines in midfield??
Why would you change what's been a winning team lately?.
Baines is a left back and only a left back, he and Oviedo will challenge for that one berth, you can't just mess up the team with square pegs in round holes to accommodate certain player's.
Jim Bennings
45
Posted 13/02/2016 at 12:32:58
Stones may well be poetry in motion but for my centre half I'm just quite happy to see a pig in shit.
You don't need poetry in motion in defence to keep clean sheets, Stones didn't play at Stoke, did we not play some classy football there?.
I'll leave the poetry in motion to a silky creative midfielder thanks.
Brent Stephens
46
Posted 13/02/2016 at 12:50:22
Jim, you'd settle for a William McGonagall, maybe?
Roman Sidey
47
Posted 13/02/2016 at 13:01:50
Odds on Niasse scoring from the bench?
Aidan Wade
48
Posted 13/02/2016 at 13:23:03
For much of this season, this is the sort of game where we:
1) Take the lead
2) create loads of chances but fail to convert them
3) relax and think we're too good to lose...
4) find ourselves level then a goal down in short order
5) just about get back to all square
6) Have a frantic last 5 minutes of normal time hammering away for a winner
7) Almost concede a last minute goal on the counter, the players get really nervous, the opposition smell blood.
8) spend the last two minutes of injury time just praying for the final whistle and a point.
Hopefully instead it's another step on the road to redemption. We have the talent, just need the brains.
Paul Kelly
49
Posted 13/02/2016 at 13:46:24
Clive @ 23, nearly forty years mate which makes my statement all the more bizarre, must be the lighter font there using on here, channelling out negative vibes or bollocks like that or something.
Mark Gardiner
50
Posted 13/02/2016 at 13:53:42
If Martinez brings Howard and Stones back in then it will finally prove that he has no business managing a premier league side. I don't think that he will however, surely even he can see the utter madness in changing a winning team.
If you were the manager of Barcelona and Messi had been out injured and you kept winning without him then you could understand changing the team but we are talking about possibly bringing a goalkeeper back into the team who is not as good as the current number one has been.
Hopefully we get to see a glimpse of the new lad today as well. I'm surprised that given he had his paperwork for last Saturday's game that he didn't play a small part coming off the bench. I know that he hasn't played for a while but three-nil up at half time and cruising would have been an ideal opportunity to give his rusty legs a few minutes. You don't get match fit by not being involved in a match.
Plato Stavrinos
51
Posted 13/02/2016 at 14:04:02
Howard is on the bench.
Phil Sammon
52
Posted 13/02/2016 at 14:10:16
No arguments with that selection. Wonder why Niasse was left out of the squad though.
Brian Abbott
53
Posted 13/02/2016 at 14:11:08
Unchanged team - Great news COYB!!
Add Your Comments
In order to post a comment, you need to be logged in as a registered user of the site.
Or Sign up as a ToffeeWeb Member — it's free, takes just a few minutes and will allow you to post your comments on articles and Talking Points submissions across the site.
© ToffeeWeb