Coleman admits words are empty without results
by

59 Comments [Jump to last]
| 16/02/2016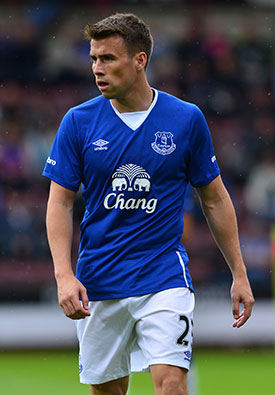 Seamus Coleman says that this season is turning into the "same old story" after more home points went begging against West Brom on Saturday.
Everton were beaten for the sixth time in front of their own fans this season and dropped back into the bottom half of the table, just when it looked as though they might put a run of results together to get them back into the European qualification picture.
Roberto Martinez and Gareth Barry cursed Everton's luck against the Baggies where 34 shots failed to produce so much as an equaliser to cancel out Salomon Rondon's first-half goal but while Coleman also feels the Blues were unlucky, he is also aware that there have been too many results like that this term. "This result is hard to take, but it's not like we played bad," the fullback told the Liverpool Echo. We just couldn't break them down.
"It's very frustrating because the way the season has been, you can start clawing people back with a decent run.
"We know we're not where we should be. There's no point telling fans we're talented if we've not got results and are where we want to be.
[I]t's frustrating — last season was quite similar as well. It's the same old story, and I don't know about every other player but for me personally, I look at games and say 'If only we had won this one or that one.'
"People say it evens out but we're not where we want to be."
---
Reader Comments (59)
Note: the following content is not moderated or vetted by the site owners at the time of submission. Comments are the responsibility of the poster. Disclaimer
Jim Bennings
1
Posted 16/02/2016 at 08:13:26
Sounds like the players are getting tired and frustrated of the same old failures.
The trouble is whatever it is that's meant "to even out as the season goes on" luck or consistency, it's always too late for Everton to achieve anything other win a few games when there's nothing at stake and nowhere to finish.
We have proved time and again that we fail to pass the high pressure tests and the FA Cup will no doubt follow suit, be it at Bournemouth or a later stage, we just await the hard luck story once more.
I don't really know where or when the talking stops and action starts.
Seamus is right though, it's no good telling the fans what they already know and have known for 18 months.
Darren Bailey
2
Posted 16/02/2016 at 08:37:47
I'm starting to get fed up with hearing the same old crap from the players not to be honest. Barry, Jags, Rom and now Coleman have said what we all know recently and their words are starting to grain on me. Stop fucking talking a good game and talking about shit results and all that and put it right.
It's like me saying to my boss "I know what I should do" and then not doing it.
Colin Glassar
4
Posted 16/02/2016 at 08:46:59
Spot on Darren. I'd put a gagging order on all our players as every time they open their gobs to the media we seem to struggle in the next game. Phil Neville started all this "we must do better" shite and it's jinxed us ever since.
Liam Reilly
6
Posted 16/02/2016 at 10:23:25
Barton is right of course, anyone can see that and there could be an exodus this summer, but what I don't understand is why Martinez doesn't bring in a recognised defensive coach before it's too late to salvage something this season, because the current incumbent brought in from Wigan clearly is beyond useless.
It's ultimately a results-based business so RM must know that his job is on the line – especially with a takeover looming; so surely self-preservation should dictate that he needs to close this hole, because our defending at set-pieces is comical.
James Marshall
7
Posted 16/02/2016 at 10:24:54
I don't think we'll get relegated this season. There are, and I've said it before, some really shit teams in the Premier League compared to us so we won't go down – however, what Barton says is clearly true. There is a trend with RM's teams.
Aside from that, if we do get new owners, and those owners are American, who's going to be put in place to make footballing decisions regarding managers/player purchases? It's one thing having new owners, it's quite another when they know dick about football.
James Marshall
8
Posted 16/02/2016 at 10:25:34
Re a summer exodus – all our players are contracted, they can't just leave. It's up to the club to keep or sell them, not the players.
Liam Reilly
9
Posted 16/02/2016 at 10:31:59
There's very few clubs that can keep an unhappy player these days, James, and expect the same commitment from them going into a new season.
lt would be be far more desirable if they choose to stay for another year because they could be part of something exciting and challenge for trophies and the Champions League places.
To me, we are not that far away if he can re-examine his principles and sort out the defense.
Usman Khan
11
Posted 16/02/2016 at 11:05:18
Who would people choose to take over from Martinez, particularly given that we are very unlikely to be in Europe and a number of our better players are likely to have agitated successfully for a move over the summer?
Peter Larkin
12
Posted 16/02/2016 at 11:42:51
Is this the same Joey Barton who stated Neymar is nothing but a show pony? That worked out well, didn't it.
Personally I hate these pundits. They jump on the bandwagon when they think it's a popular thing to say. It's amazing how the players get off with murder, missing sitters, basic errors, some would need to look in the mirror.
Chris Gould
13
Posted 16/02/2016 at 12:00:35
Denis (#6),
I don't think it's the case that Martinez's supporters can't grasp or accept it. I think that they/we believe that at some point (a mountain of patience is required) he will get it sorted. The evidence suggests that he won't, but at some point he'll have to.
I think we've seen the beginning of him getting it together. He's played the team that many have been calling for, and he's made some big decisions and then stuck by them.
I think the reason many still support him is because they recognise that he is building a very good, potentially great, team. Many of these players have come because of him. He's managed to convince Bill to open the purse strings. He's allowed Barkley to learn and develop, make mistakes, and continue to play. Many managers would not have trusted Barkley and would have stifled his development.
We all view things in a different light. I suspect we will win the next 3 and then the hysteria will die down once again.
Mark Andersson
14
Posted 16/02/2016 at 12:03:29
Liam Riley, is that a veiled attempt to support Martinez? We are nowhere near what you proclaimed, that "we're not that far away"...
Do you not look at the Premier League table, the stats of our pathetic home record???
Jesus man wake up, you're as deluded as the manager.
Don Alexander
15
Posted 16/02/2016 at 12:05:41
Can I have a pint of what you're having, Chris Gould?
Brian Furey
16
Posted 16/02/2016 at 12:13:57
A lot of teams come to Goodison now knowing they can park the bus and frustrate us and hope to score a lucky goal like West Brom did. It's easy to say we should have a much better record at home, and I agree we should, but I think luck plays a huge part in goals and games. If you go 1-0 up then the other team have to come out and play a bit. How many games at home have we been all over teams but can't get the breakthrough?
Hopefully Niasse can give us some new fresh attacking ideas rather than Kone. RM's substitutions sure leave us fans frustrated and I'd say Mirallas & Deulofeu even more so lately. Seeing Kone and Osman come on before them must have been a real kick in the teeth.
John Keating
18
Posted 16/02/2016 at 12:22:38
Liam and Chris,
Have you both been saying the same things since the latter end of his first season? How long are you both and other Martinez acolytes going to go on about this great team he is building. This clown could manage Barcelona and he'd fuck it up!
Look at his past history not one single thing has changed since he went into management and believe me not one single thing will change. This fool is entrenched in his ways and that's it. When he takes us down no doubt we'll hear some posters decrying our bad luck and we were so nearly there etc etc.
Mike Oates
20
Posted 16/02/2016 at 12:30:27
Martinez will change, he has to, this is his last opportunity; mess this one up with the "most talented" (stupid) squad we've ever had and he's back to the Championship with Cardiff or whichever daft owner believes in him.
He's tried to go more defensive recently with Cleverley, McCarthy and Barry all playing in what is really 4-3-2-1 formation to help shore up the defence, but at the cost of no width on the left only the right with Lennon, Deulofeu or Coleman providing the cutting edge, on top of what Barkley does in the centre.
Even though it's tight on Oviedo, he needs to re-introduce the Baines - Pienaar combination on the left.
Chris Gould
21
Posted 16/02/2016 at 12:50:49
Actually, John, I haven't. I had problems with him in his first season, and wanted to personall
Jamie Tulacz
22
Posted 16/02/2016 at 12:51:20
All very well with blaming the players for coming out with these soundbites, but do they not generally have media obligations and they're just asking questions put to them?
Winston Williamson
23
Posted 16/02/2016 at 12:56:48
Whilst he persists in playing 2 defensive midfielders (whoever the opposition), with the center-backs splitting and the full-backs moving forward – the results won't change.
Whilst he persists in not setting out defensive tactics on set-pieces and stopping crosses coming into the box – the results won't change.
Whilst he persists on playing out of form players and players out of position – yep, the results won't change.
ps: If corners are not important, maybe someone ought to let Pulis now, as WBA have scored two against us this season!
Peter Cummings
24
Posted 16/02/2016 at 13:04:27
I think most of us are sick and tired of hearing 'the bleeding obvious' from players after every screw up, we all know that with our best squad for a long time we should be on our way into European competition instead of heading the other way.
After reading Barton's comment, as a lifetime Evertonian, he is simply voicing what we all feel about the current state at Goodison. As one who has lived and breathed EFC since I saw my first game on the shoulders of my uncle at age six in the Boys Pen, who helped clear snow off the pitch on more than one occasion in the 'fifties, who spent years selling the club pools coupons around the city and gloried in our famous 'School Of Science' nickname.
Even now, 3,500 miles from home I check in to TW and the Echo EVERY day for the latest updates which are making increasingly gloomy reading as we needlessly lose games and throw away points at an alarming rate.

Jay Harris
25
Posted 16/02/2016 at 13:07:46
I remember an old mentor of mine when one of my colleagues was going on about building for the long term and was told in no uncertain terms "Without results in the short term there wont be a long term".
Let's hope it is being heard loud and clear that RM is not good enough for EFC.
Chris Gould
26
Posted 16/02/2016 at 13:14:50
John, as I was saying, I wanted him removed from his post for most of last season, but decided to give him this season to get his shit together after the way he dealt with Stones and Chelsea.
Of course, I see his flaws, but I do believe he is laying solid foundations. I will reassess at the end of the season. Of course, if that is okay with you?
Harold Matthews
27
Posted 16/02/2016 at 13:22:45
A definite dig at Martinez. Sounds like the players are getting a bit cheesed off with being told how wonderful they are. Unfortunately, without different instructions, they will still carry on doing the same old thing.
In Coleman's case, no early crosses. Just slow the tempo, take on the fullback and try to open things up.
Winston Williamson
29
Posted 16/02/2016 at 13:39:40
Going further on the defensive frailties:
Watford (H): cross into the box from our right - GOAL
Man City (H): cross/shot into the box from our right - GOAL
Liverpool (H): Corner - GOAL
Man Utd (H): Corner - GOAL
Man Utd (H): cross into the box from our right - GOAL
Sunderland (H): Individual mistake by Stones - GOAL
Sunderland (H): cross into the box from our righ - GOAL
Palace (H): Corner - GOAL
Leicester (H): soft penalty given away - GOAL x2
Winston Williamson
30
Posted 16/02/2016 at 13:47:35
Leicester (H): cross into the box from our right - GOAL
Stoke (H): cross into the box from our right - GOAL x2
Stoke (H): soft penalty given away - GOAL
Swansea (H): soft penalty given away - GOAL
Swansea (H): cross/pass into the box from our right - GOAL
West Brom (H): corner - GOAL

Mark Daley
31
Posted 16/02/2016 at 13:48:20
I suspect RM knows the game is up but he will not resign and will not say anything that could be held against him to justify his dismissal on performance grounds; hence the tripe because what else can he say?
Brenda did the same thing in the last 2 or 3 weeks before the RS decided to accelerate the process of allowing him to consider alternative career path opportunities.
It's the takeover or bust.
Denis Richardson
33
Posted 16/02/2016 at 14:07:29
Chris 13 (&15), it's all well giving the manager time and I do agree he's brought some very talented players to the club as he's got the gift of the gab and can sell bullshit very well.
Issue is, these same players won't stay here long as we lounge around midtable, unable to beat teams at home. I would be very surprised to see Stones and Lukaku still here come next season. They've seen the Martinez 'magic' and realized it's built on hot air. Mirallas will def go and we'll see about Coleman.
As for giving him time. He's now well into his 3rd season with us, his 7th in the prem. I haven't seen anything this season, at all, to suggest any improvement (never mind significant) from last season, despite the squad being stronger.
People keep saying we're building and we're close to something big. Trouble is this has been the case for at least 18 months and we're still going nowhere.
RM made a huge thing about the EL being an issue last season and this was swallowed by many. What's been the issue this time? We're in mid February now and we haven't moved on at all since last season.
Sorry but the guys' had enough time - he simply should not be in the premiership. At pretty much any other club he would have been sacked by now.
Alex Mitchell
34
Posted 16/02/2016 at 14:12:50
We used to be a fortress at Goodison, very hard to beat. This manager has no idea how to defend and quite frankly has me worried. He takes Baines out for speaking to the press saying he has 3 full backs plus a 31-year old.
We are going to lose 2 to 4 players in the summer, from the best team we have had for a long time. Sorry but the manager has to go – we are not Barcelona or Wigan
Jamie Barlow
35
Posted 16/02/2016 at 14:29:22
"He takes Baines out for speaking to the press saying he has 3 full backs plus a 31-year-old"
Where did you read this, Alex?
Brian Cleveland
36
Posted 16/02/2016 at 15:16:07
I will defend Marti­nez in so far as I think he has decent ideas on closing the gap between the youth and the first team which is a pretty dramatic gap (in the Premier League in general, not just us), and with that has signed some decent young players... but that is as far as it goes. He is not a first team manager.
Is there a backroom role for him to oversee youth progress towards the first team and as perhaps transfer consultancy... what is that... is that a Director of Football (whatever one of those actually is!)?
I think we have a decent squad and he is partially responsible for that, just get him off the bloody touchline and get someone there who has a bit more nous who will instill confidence and order in the players and the fans too.
Victor Jones
37
Posted 16/02/2016 at 15:20:00
All very well people going on about Martinez being a work in progress. And that the young players are still learning the game. What? Are our young players( and some of the senior players) bloody thick. They keep making the same mistakes (as well stated above) over and over and bloody well over. When exactly are the going to learn? When are they going to stop the mistakes? When are they going to fulfill this potential that some people seem to think is their destiny. There is no evidence that this current bunch of players will win anything at Everton. They might at other clubs. But not (for now)at Everton. And I can only blame Martinez and his useless Wigan cronies. Watch this bunch of players go when they are properly coached. Watch them go under any half decent manager. But not our Bobby. No sir.
So our young players need time. Soon our "young " players will be mid twenties. Then senior players. How much time is needed. Defending corners is basic. Defending set pieces is basic. Taking corners is basic. Taking free kicks is basic. How much time do our players need to learn the basics. Multi million pound footballers failing on very basic football techniques. But let's give Martinez time. Time to get right what every football team in the country can do.(at all different levels).
Sorry for banging on, but all this talk from some supporters about the young players needing time , is nonsense. IMO. How much time did young Dele Alli or Harry Kane need, to make their mark? How much time did Leicester City need to turn things around. Football is about now. We had a chance of a league cup final. No, not for Everton.. We had a chance to really push the top four this season.. But No. Our young players need time. Our team , full of internationals, needs time. What a load of crap. Time is running out for this squad. As I fear some will be moving on.(and can you blame them). Then watch them fulfill their potential. Watch some of our youngsters then really hit the heights.(I believe that). But the shame is that it will not happen at Everton. And that really is a shame.
But as I am ever the optimist. Let's hope that we beat Bournemouth, and then Villa. At least keep the season meaningful for a few more weeks.
Brian Murphy
38
Posted 16/02/2016 at 16:28:21
I would have no problem with RM playing 3 holding midfielders in front of the centre halves but in this scenario you would to have your 2 full backs playing as wingers really. This still shouldn't be a problem as lets say McCarthy covers right back and Cleverly left back and you still have Barry in front of the center halves. If he was to play 3 sitting midfielders you have have to get the fullbacks to bomb on or there would be no support for the front 3. It would also allow you to play Barkley with a one of Lennon, Geri, Mirallas (wishful thinking) through the middle behind Rom.
Anyway any type of new formation idea for RM would be welcome at this stage FFS. Taking off Stones and putting on Coleman with 10 mins to go in the semi-final of a cup to try get a goal doesn't constitute a change in formation or plan for me but maybe I'm just old fashioned.
Chris Gould
39
Posted 16/02/2016 at 16:55:13
Denis, I think that for a manager to really lay foundations and succeed, he needs far longer than 2½ seasons. Trouble is, most owners/fans run out of patience if they don't get success in half that time.
I don't share the belief that he will eventually take us down. I want him to have time because I believe in his vision. Yes, I find him frustrating but, like Barkley, I'm happy for him to learn and develop, and make mistakes in the process. I, like you, wish he would learn quicker, and I would also like him to employ a completely new backroom setup.
Ray Robinson
40
Posted 16/02/2016 at 17:04:29
Chris, a manager who is so stubbornly principled that he believes there is only one course to proceed along and who will not change the way he goes about things, will not learn though, will he?
Michael Kenrick
41
Posted 16/02/2016 at 17:11:00
Chris, you say you are "happy for him to learn and develop".
Let's grant you for a moment that he is learning and developing this season, as we continue to descend the table... Happy? I find that unfathomable as a feeling when watching us perform this season.
But is he learning anything? Are we developing in any way at all? Sadly, the record shows we're learning nothing, he's learning nothing – just doing what he's always done, in his seven seasons in the Premier League.
I was hugely critical of Moyes but always hoped he would change, that the side would develop into something better. He never changed; it never happened. If anything, people like Moyes and Martinez become more and more intransigent as time ticks away and opportunities are left by the wayside.
Ged Simpson
42
Posted 16/02/2016 at 17:15:30
Critics if manager? Told-you-so wise men. Supporters? Acolytes. Reality... as always... frustratingly in-between somewhere.

Chris Gould
43
Posted 16/02/2016 at 17:23:38
Michael, do you not accept that in dropping Howard, Stones, and Baines, and replacing them with players in better form, that he has shown signs of change/development? (He got there in the end!)
I think he felt that he was doing things the right way at Wigan, but that the players weren't good enough. He came to us and thought that he could make it work with better personnel. He hasn't been able to and it's embarrassing that he's continued to try.
However, I appreciate other aspects of his management and his long term vision. I think he, during this arduous process, will learn and make the necessary changes. He'll have to if he wants to be around to see his vision become reality.

Clive Mitchell
44
Posted 16/02/2016 at 17:28:01
Martinez's talks too much and the players have taken their cue from him, talking up themselves and their prospects before they've achieved a thing.
This is not about 'modern media, they've no choice.' Compare Pochettino. They're on fire, but before last weekend's match he said when invited to big up that it was a time for acton not words. He's been the same all season and his players' attitude is exactly what he wanted.
Fran Mitchell
45
Posted 16/02/2016 at 17:29:14
It isn't the same to compare a young player making mistakes (like Barkley) and a manager.
With a player (90% 0f the time) you can clearly see whether they have talent or not.
A manager however is different, and Martinez has proven to be stubborn more than anything else. Personally, he talks like someone who thinks he knows a lot but actually knows nothing.
He gets praise for his 'attacking football philosphy', yet I would say that having talented players and telling them to attack is easy. The difficult part is getting them to a) perform consistently, b) control games for 90 minutes, c) develop balance (not have one aspect of play negate another), and d) points.
Martinez has failed in all 4 aspects of that. Compare with the younger Pochettino. He has, without spending huge sums, built a young team that plays attacking football, combined it with one of the league's best defences and sits 2nd in the table. (At the start of the season, Everton and Spurs were credited of being at a similar level).
When Pochettino talks, he seems genuinely intelligent and not someone trying to sound intelligent. He has a vision for the future, trusts youth, invests in the academy. He is a top class young manager. Martinez isn't in the same league as him, yet in his head i'm sure he beleives he's superior. He has a philosophy afterall.
Michael Kenrick
46
Posted 16/02/2016 at 17:36:53
Maybe I'm gullible but I believe Howard and Stones were injured. It may be the case for Baines as well. The consensus being that most if not all beneficial changes to the matchday lineups under Martinez have been forced by injuries, so not really a learning process.
Yes, Howard and Baines were on the bench last weekend, but he has a record of putting injured/unfit players there...
Oveido is getting a good run of games in place of Baines... but Galloway, despite doing really well, has all but disappeared since Coleman came back... and his general play (apart from a wonderful run and header for a great goal from a corner!) continues to be hugely frustrating, presumably as he implements Martinez's moribund 'instructions'.
Still, a certain degree of optimism in the face of overwhelming evidence to the contrary seems important to the make-up of many fans. I understand that but unfortunately cannot convince myself to participate.
Fran Mitchell
47
Posted 16/02/2016 at 17:37:08
"Michael, do you not accept that in dropping Howard, Stones, and Baines, and replacing them with players in better form, that he has shown signs of change/development? (He got there in the end!)"
He dropped them due to injury, and in the former 2, dared not put them back in.
His persistence with Kone, his refusal to change the formation against West Brom, his marginalization of Mirallas (one of the crimes of the century at this club), and, at the end of it all, the fact that it is 16 February and we have 35 points.
Chris Gould
48
Posted 16/02/2016 at 18:00:57
One thing that is very clear on here is this: If you don't like Martinez then he doesn't get credit for anything. A bit of a generalisation but often correct.
Personally, I don't believe said players were injured. A little too much of a coincidence, given that the players had been under pressure and now continue to find themselves on the bench.
Fran, so the fact that we have played decent attacking football has nothing to do with Martinez, yet all of the negatives are completely down to him?
There are many on here that have said Barkley isn't going to be any good, has no footballing brain and is overrated. Maybe talent isn't as easy to spot as you say.
The faults are obvious, but to say that he isn't young in management and that he can't learn or improve is nonsense. I can't be bothered to list the well documented examples of managers being on the brink of getting the bullet, but instead being given time, turning it around and becoming legends.
You'll say, "Martinez isn't capable. He isn't good enough." That is exactly what their fans would have said to.
Chris Gould
49
Posted 16/02/2016 at 18:11:37
Michael, I have moments of despair and negativity, but then I get over it and become optimistic again. I prefer that to doom and gloom and perpetual negativity. After all, it isn't as important as we believe it to be.
Jay Harris
51
Posted 16/02/2016 at 18:30:05
Chris it is not a question of liking or disliking Martinez in fact he is a very likeable guy apart from his ridiculous press statements.
It is just that his record as a premiership manager is abysmal and there is no sign of that improving even with top class players at his disposal.
Joe Foster
52
Posted 16/02/2016 at 18:33:31
It sounds to me that Seamus is having a pop at RM. We just have to put up with RM until the summer then he will be gone.
Joe Foster
53
Posted 16/02/2016 at 18:40:12
The new owners will not invest in new infrastructure and players with a manager who not only flirts with relegation but has relegated a team. In essence any money they put in may be wasted by the end of their first season.
Oliver Molloy
54
Posted 16/02/2016 at 19:19:25
I am changing to "The Incredible Incapable One" (have I said that before?)
In all honesty, I desperately wanted Martinez to succeed after his spectacular first season with us, but nearly three seasons on I do think it is a fact that he just does not have the necessary qualities for us to be successful in the long term. People good at their jobs recognise when things are going wrong and will fix any problems sooner rather than later.
We are at were we were with our last manager – only this guy is the polar opposite from negative but does not understand how important the "negative" side of the game is, just like Moyes didn't understand how important the "positive " side if the game is. We need a manager who can do both.
Martinez has done some good things, signed players that would never have looked at us only for him being the coach – that I believe. But the buck stops with the manager and his coaching style and everyone including the dogs on the street know he has been found out. His failure to address our defensive liabilities tells me he is incapable of doing so.
New owners may well let him get to the end of the season, but his time at Everton is coming to an end. If this new guy Niasse does the business it may be his salvation, but if he turns out to be shite!!!
Harold Matthews
55
Posted 16/02/2016 at 20:03:02
The manager, the coaches, the captain, the senior players were all to blame for the West Brom goal. Olsson is not exactly the invisible man. .Our defensive set-up was an amateurish disgrace. Where was the giant Lukaku? Were Jags and Barry in dreamland?
Martinez and the club analysts failed to study the West Brom corner strategy. Even without study they should have known that Olsson is targetted at set-pieces because it happens so many times during the season.
I've always been interested in the way Martinez is gradually building a very decent squad but his win stats suggest that he is very lucky to still be in regular employment.
Chris Gould
56
Posted 16/02/2016 at 20:07:24
Jay, I agree that his record is awful, but I do see signs that it will improve. I still believe we can finish 6th-7th, which will feel like a missed opportunity, but won't be total failure. We will have to see how the next 6 games go.
I do believe that there is a fair amount of frustration fuelled apathy towards Roberto, and as understandable as it may be, It does seem to skewer people's ability to be rational when assessing his performances.
Roberto is frustrating and stubborn, but he isn't the fool that some believe. When he finally accepts that his philosophy is flawed, he will become a very good manager. He has so many of the necessary attributes and is getting it right in other areas of the game.
Denis Richardson
57
Posted 16/02/2016 at 20:13:35
Okay, Chris, I'll bite...
I agree with you that 2.5 years is not a huge amount of time and that a manger should deserve more really. However, when RM came to GP it wasn't like he had to start from scratch and rebuild Rome. I was over the moon to see Moyes finally go but he did leave RM one of the best defences in the league as a very solid platform to build on and initially RM did exactly what most fans wanted – ie, get rid of deadwood (eg, big Vic/Jonny H) and bring in a decent striker (fair play for bringing in Lukaku) and mids to compliment Pienaar and Mirallas.
We then saw an initial improvement in play and results as the extra quality upfront and in midfield (Barry/McCarthy) paid dividends as this was added to the solid defensive platform he inherited.
However, since around April 2014 we have gone backwards as his 'philosophy' kicked in. Admittedly a period of adjustment/reality was always going to come about but the fact is we just don't seem to have moved forward in almost 2 years. If at least there were signs he really was/is 'learning' and that different things were being tried when other tactics were not working, then I think most fans would accept that. However, we just seem to be doing the same thing over and over again. Always 4-2-3-1 with same tactics, regardless of opposition, home or away. Sometimes it works, sometimes not – but guaranteed no consistency. In the mean time our once great defence is now a bit of a joke and a clean sheet is hailed as a minor miracle. The likes of Baines and Coleman are a shadow of their former selves.
Fact is, to be near the top of the league, a tight defence is more important than a rampant attack. Take a look at the table - we have the 3rd best attack and the 13th best defence. Of the 10 teams above us only one has let in more goals. Of these same 10 teams, 7 have scored less goals – a tight consistent defence is critical to getting a place nearer the top of the pile, which was why Moyes managed to consistently get top 6-8. (Sunderland in 19th have scored more goals than Stoke in 10th and only one less than Man Utd in 5th........but have let in 50 goals.)
RM also believes in possession almost at all costs (how many interviews has he gone on about how high our possession % was, even though we lost or drew the game?). The less said about our set pieces (attacking and defending) the better. The constant bigging up of players as 'best ball playing center half in Europe', 'will be one of England's best ever players', 'best striker in Europe', 'X,Y,Z will 'explode' in the second half', etc - when we're not even performing on the pitch, is frankly slightly insane. And my favourite 'the performance is more important than the result'...... to justify not having won.
The guy simply cannot or will not recognise when things are not going well and most importantly does not recognise that HE is capable of making mistakes and hence may need to make a change (and possibly admit it from time to time). It's this fact that is the most worrying as it implies there will never be a change and what we have now is basically it. That is why for me his time was up a while ago – whether he's here another month or year will make no difference to how we play or our up and (mostly) down results, (things may even get worse as the likes of Lukaku leave).
Looking at the games we have won this season – 6 of the 8 wins came where we either played a team that was woeful (Aston Villa, Sunderland, both Newcastle games – all bottom 3), or a team that played really poorly on the day – (Stoke, Chelsea). The West Brom and Southampton games are the only games were we came through a tough test on the day to get a result. Doesn't fill me with much hope for games coming tbh.
At least we have to play Aston Villa again, although Sunderland will be a different game to last time. I can almost write off all remaining home games as well.
In saying that, everyone has a right to their own opinion and I respect the right of those who still have faith in RM (no matter how ridiculous I find it. :-).
Essay over...
Martin Mason
59
Posted 16/02/2016 at 20:16:46
Leicester and Spurs first and foremost have good defenses.
Tony Abrahams
60
Posted 16/02/2016 at 21:07:22
Harold 47, got to agree with that post.
Mick Quirke
61
Posted 16/02/2016 at 21:18:21
Was thinking about all the comments about our set pieces being crap all season. In fact we can see now with Funes Mori now up for corners that the problem was that we had no forwards or centre backs who know how to attack the ball.
With Geri or Lennon we naturally win lots of corners so it's something we need to exploit without compromising Roberto's ball-playing principles!
Mark Riding
64
Posted 17/02/2016 at 00:52:45
That's for you Seamus. Before you start gobbing off about points dropped, have a look in the mirror lad. Utter sitter you missed and cost us points yourself.
Richard Lyons
65
Posted 17/02/2016 at 06:34:20
Hmm.... our squad: the best we've had in a long time... really?
Is Lukaku as good as Lineker? I don't think so.
Is Mirallas as good as Trevor Steven? Ditto
Is Barry as good as Reid? Nope
Is Pienaar as good as Sheedy? No way
Is Jagielka as good as Ratcliffe? Not quite
Are Howard/Robles as good as Southall? Don't make me laugh
Is Baines as good as Stevens? Debatable, but probably not
Is Barkley as good as Bracewell or Heath? Possibly on balance
Is Martinez as good as Kendall? No more questions, your honour!

Christopher Timmins
66
Posted 17/02/2016 at 07:02:56
Richard
Thirty three years is a long time! Just to add Coleman is not as good as Steven, Rats was a mile better than Jags until he got his injury at Sheffield, Rom is not as good as Sharpy and Lineker/Gray/Heath as good as Kone????
Baines would get probably get in the team but Pat van den Hauwe was probably a better defender but did not contribute as much going forward. Thank God I was around to enjoy those days in the mid 1980s.
Richard Lyons
67
Posted 17/02/2016 at 10:28:41
Bloody hell - you're right of course, Christopher... but I wish you hadn't reminded me that it's been 33 years!
Denis Richardson
68
Posted 17/02/2016 at 15:29:38
Bit sooner than the 80s and they weren't with us very long admittedly but Anders and Andrei were both miles better than any wide attacking mids we have today.

I guess we're talking about the whole squad and not cherry picking......but I'd certainly take those two for any of our mids today.

Also a fully fit Yak would be a close run thing with Lukaku.
Roman Sidey
69
Posted 18/02/2016 at 18:22:03
To be fair, Denis, and not to add to the "give the young guys time" bollocks, but Yak was around 25 when he joined us and had plenty of Premiership experience. He may not be with us when he's 25, but I would hazard a guess that Rom will be an absolute beast by that age.
Add Your Comments
In order to post a comment, you need to be logged in as a registered user of the site.
Or Sign up as a ToffeeWeb Member — it's free, takes just a few minutes and will allow you to post your comments on articles and Talking Points submissions across the site.
© ToffeeWeb