Jags helps launch Veterans Hub
17/02/2016

0 Comments [Jump to last]
Blues captain Phil Jagielka met with a group of veterans from Knowsley on Tuesday afternoon to officially launch a new Everton in the Community programme which will support approximately 150 ex-service personnel from the local area.
Funded by a Ł39,000 grant from The Royal British Legion, Knowsley Veterans Hub (KVH) is a football and exercise based programme that will work to engage former military personnel who are at risk of isolation with sport, training and social activity.
England international Jagielka was in attendance at the official launch of the programme at King George V Playing Fields in Huyton to meet with local veterans to find out more about their time in the armed forces and the support that the Club's official charity can offer them.
During his time at the programme, the 33-year-old centre half was introduced to KVH Project Coordinator and veteran Dave Curtis who provided Jagielka with an insight into his own background and how he is now using his own experiences to help others. After joining the army at 21, Dave served his country for six years before an injury sustained in Afghanistan saw him medically discharged in 2013 having earlier being diagnosed with Post Traumatic Stress Disorder. Once at home, the feelings of anger and paranoia set in with the need to once again feel part of a team finally being satisfied by an Everton in the Community coffee morning where he had the chance to mix with like-minded people and in his own words, turn his life around.
Dave now heads up the KVH programme and will use his natural attributes and interests, as well as life experiences, to provide support to those who may not necessarily have the confidence to speak up and seek the help they require.
After his time with the veterans drew to a close, Jagielka said: "I have the upmost respect for the guys I've met here today and the job they have done for their country; I really enjoyed spending some time sitting talking to them and finding out a bit more about their backgrounds and their hopes for the future. It is fantastic that Everton in the Community is delivering a programme that can help to recreate that comradery they enjoyed in the forces with their colleagues whilst providing them with the support and tools that they need to move forwards in their lives.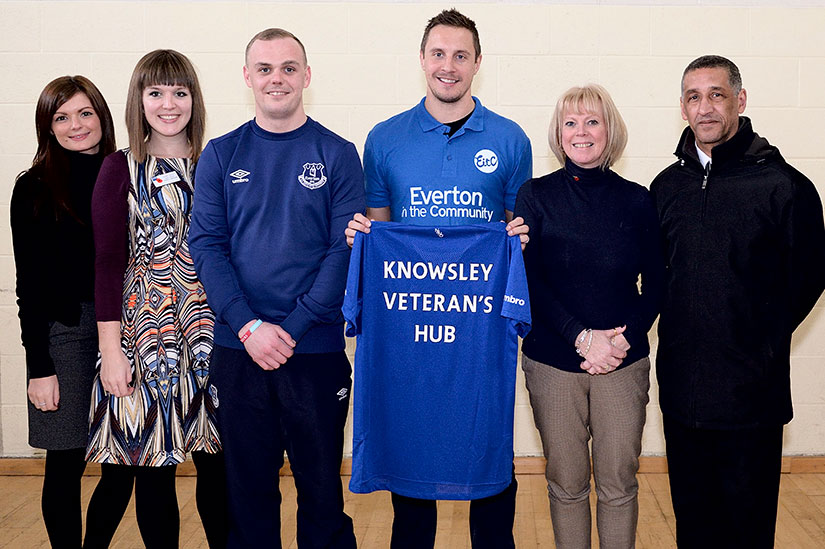 "Dave himself is an inspiration and a natural fit to lead this new programme. He is using his own experiences and channelling them into something positive to encourage and support his fellow veterans and I'm sure Knowsley Veterans Hub will be a big success in supporting ex service personnel from across Merseyside."
Dave Curtis, KVH Project Coordinator, added: "With the support of Jags, our official launch was the perfect end to the planning stage of the project; we have worked very hard to get this project off the ground but with the assistance of Royal British Legion and Knowsley Council we are finally here. I am just a small piece of the overall jigsaw for the veterans on our programme – if I can help shape just one person's future then I have done my job but I am passionate and determined to support as many as I can."
---
---
© ToffeeWeb