Martinez has his sights on Europe
by

170 Comments [Jump to last]
| 18/02/2016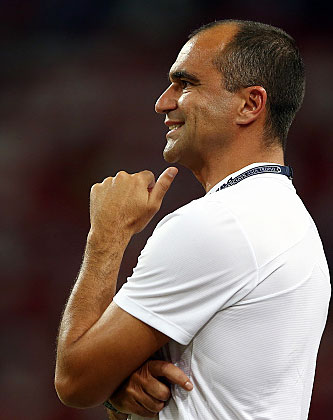 Roberto Martinez says he feels that his squad is now mentally ready to make a push for the European qualification places with 12 games left and 36 points to fight for.
The Blues' stuttering home form and propensity to throw away key advantages in away games has left them languishing in the bottom half of the table in the 11th place berth in which they ended up last season.
However, in what remains one of the most open Premier League campaigns in years, at least at the top end, Everton sit just six points off the top six and with Manchester City favourites in next weekend's Capital One Cup final, it could well be that a top-six finish guarantees a spot in the Europa League.
Martinez's side will need to do something they have yet to achieve this term, however, and that is to put together a sequence of victories to propel them up the table.
Supporters have become disillusioned at their club's prospects over the remainder of the campaign but the manager is as upbeat as always, reiterating his belief that the team is "very, very close" to being able to achieve it's "aim".
"We are not far away from the European places," Martinez said. "That is what we're going to fight for and we're in a position to do it.
"The margins in the league have been so small that I just feel we're very, very close to being able to achieve our aim.
"I see the team is mentally ready and I think we've showed so far this season what we can achieve. It's now important that in the final 12 league games we get as many points as we can and enough points to reach that aim."
The FA Cup is another route into Europe for the winners and the Blues will be looking to take a step in the last eight this weekend when they travel to Bournemouth in the Fifth Round.
Everton's away form stands them in good stead for the trip to Dean Court – they've still only lost once on their travels in the Premier League this season – but it's the team's home form that Martinez has highlighted as the key area for improvement. He also isn't putting all of his eggs into an FA Cup-sized basket.
"We don't need to win the FA Cup to save our season," the Catalan continued. "We respect the FA Cup, but there is still a long way to go before we can think about winning it. It is only the fifth round now.
"Our disappointment has been at home [in the League]. To have six home defeats is not good enough and the challenge is to correct that.
"The small margins have been against us in every single aspect and you could go through many good performances that didn't end up getting the right result.
"The final third of the season is where we're going to be making sure that we turn that situation around and, if we do that, we'll be in a very different position to where we are now."
---
Reader Comments (170)
Note: the following content is not moderated or vetted by the site owners at the time of submission. Comments are the responsibility of the poster. Disclaimer
Brin Williams
1
Posted 18/02/2016 at 16:31:05
Oh yea?
Paul Columb
2
Posted 18/02/2016 at 16:31:27
Jesus Christ.....

Oscar Huglin
3
Posted 18/02/2016 at 16:31:34
Quite right too.
Julian Wait
4
Posted 18/02/2016 at 16:35:27
"Talk is cheap"
Ron Sear
5
Posted 18/02/2016 at 16:39:51
Squadron of pigs flying over Goodison sighted by observer corps.
Christopher Dover
6
Posted 18/02/2016 at 16:40:25
"I see the team is mentally ready and I think we've showed so far this season what we can achieve
Yes 11th. Place
Trevor Peers
7
Posted 18/02/2016 at 16:43:03
Must've dreamt it all, taking the piss!
Scott Hall
8
Posted 18/02/2016 at 16:43:41
Phew. I am so relieved to hear that we are going to try and get as many points as possible from the next 12 games.
I pity the fans of all of the other teams that aren't going to try and get as many points as possible from the next 12 games. They really need to rethink their strategies.
Thank god for Roberto and his wise ways.

John Audsley
9
Posted 18/02/2016 at 16:43:58
Less talk and more do!!!
How we can play so well at Stoke and then lose to WBA at Goodison is beyond me.
The bloke next door and his stepson are season ticket holders like I used to be... when they get back from the ground the whole street hear the car door slams.
He really needs to man up and sort all this shite out as he has the best squad at GP since 86/87.....and it's getting pissed away.
Ian Ravello
10
Posted 18/02/2016 at 16:54:00
Martinez has his sights on Europe? Yes I'd heard that Roma were interested in him – good riddance!
Winston Williamson
11
Posted 18/02/2016 at 16:54:02
"We are not far away from the European places,"
– and quite close to the bottom places too!
"The margins in the league have been so small that I just feel we're very, very close to being able to achieve our aim. -– such as, being able to defend as a team, which is a big margin, Roberto!
"Our disappointment has been at home [in the League]. To have six home defeats is not good enough and the challenge is to correct that. – like the last home game, which was very similar to the previous two home games against West Brom, only we lost this time... still cannot score against the mighty West Brom at Goodison Park though, Roberto.
"The small margins have been against us in every single aspect and you could go through many good performances that didn't end up getting the right result. – again... defence Roberto. That is the same margin you are going on about! It's actually a massive margin!
"The final third of the season is where we're going to be making sure that we turn that situation around and, if we do that, we'll be in a very different position to where we are now." Anyone else heard Roberto say this before???
More utter shite spilling from his deluded mouth!!!!
Kevin Elliott
12
Posted 18/02/2016 at 16:54:27
Delusional?
Demented?
Or just plain daft?

James Marshall
13
Posted 18/02/2016 at 17:00:16
When I read the headline, I just assumed he was on the lookout for a cheap deal on a weekend break in Brugge.
John Atkins
14
Posted 18/02/2016 at 17:01:38
Daft
Ray Robinson
15
Posted 18/02/2016 at 17:01:54
Or standing on the White Cliffs of Dover on a sunny day!
Joe O'Brien
16
Posted 18/02/2016 at 17:05:18
Stop talking please, I can't take anymore. Any word of this takeover? All gone quite again. Just hoping that the new owners have a good manager to take the rains of this team with unreal potential. It's really starting to annoy me that this clown is in charge.
Mike Powell
17
Posted 18/02/2016 at 17:05:43
So he is ready for Europe?
In that case, I will drive him to the airport and buy him a one-way ticket...
John Hughes
19
Posted 18/02/2016 at 17:06:07
The only way Martinez will get into Europe is to get a Drivers job with Norbert Dettresangle!
Paul Conway
20
Posted 18/02/2016 at 17:06:17
36 points in the bag already! I'm off to the pub to celebrate!
Wait a minute! This is another case of RM selling the bearskin before he shoots the bear!
Tony Cheek
21
Posted 18/02/2016 at 17:08:39
Good tactics really, lose a lot of games,then when everyone is not looking, we win the last twelve games. What a genius! Christ, I bet Ranieri wishes he had thought of that one!
Dan Parker
22
Posted 18/02/2016 at 17:10:19
Phenomenal!!!
Russell Smith
23
Posted 18/02/2016 at 17:11:36
"We have had a tough 10 games to start the season, but over the next 12 games we will be able to push on to achieve our aims" – Roberto Martinez in October...
"The last 12 games have been very disappointing and we have not achieved our aims, but with the lessons we have learned we will be much stronger until the end of the season" – Roberto Martinez in January...
Roberto Martinez in February: "The final third of the season is where we're going to be making sure that we turn that situation around and, if we do that, we'll be in a very different position to where we are now."
And finally Roberto Martinez at End of May: "The final 12 games did not result in the change to our overall performances, although we were very close and only small margins stopped us from qualifying for Europe, but the phenomenal performance in the final game of the season, when the players showed what a tremendous moment they were in, ensured we finished a very satisfying 15th in the table. As I said in February, and my prediction was correct, we finished in a very different position to where we were then. We are now looking forward to the first 12 games of next year when we can continue this one game unbeaten run and fulfill the potential of this phenomenal set of players and climb into the higher reaches of the bottom half of the table."
Lewis Barclay
25
Posted 18/02/2016 at 17:15:46
The squad must be entering a real "moment" where they can capitalise on the "phenomenal" ...
Oh just piss off.
Mike Barrett
26
Posted 18/02/2016 at 17:16:56
Utter, utter tripe. Please Roberto change the bloody record!
Craig Fletcher
27
Posted 18/02/2016 at 17:17:28
Oh, I get it. We weren't mentally ready last week vs WBA, that was the problem.
Brian Porter
28
Posted 18/02/2016 at 17:17:51
Now we know he really has lost the plot. Totally delusional and out of his tiny little mind. Cue men in white coats and a nice comfy padded cell for Mr Martinez. Is it possible to have him sectioned?

His mouth is a danger to himself and everyone who has to listen to his inane and increasingly insane ramblings. He must think we all live in the same cloud cuckoo land as he does. Absolutely UNBELIEVABLE!!
Matthew Bauer
29
Posted 18/02/2016 at 17:22:08
I've rolled my eyes so much this season at the deluded comments from Martinez that I wonder if I'll still be able to see by the end of the month.

Harold Matthews
31
Posted 18/02/2016 at 17:24:46
Russell # 20. Class post mate.
John Francis
32
Posted 18/02/2016 at 17:25:21
The last 12 games and we are ready? Gentlemen, I give you Roberto Martinez in a nutshell.
Wigan's fightbacks started with 12 games to go every season. The beginning and the middle season are irrelevant to this blathering fool. At least our team may turn up fit now, hey.
Resign, you charlatan. BK act now before you're gone for good. Do something constructive, sack this clown immediately.
Paul Conway
33
Posted 18/02/2016 at 17:27:38
He said, as quoted by The Telegraph:
"I wouldn't say I need to win it [the FA Cup]. What we want to do is qualify for a European position."
That's a nice way of saying "Well, I didn't want to win it anyway" after you exit the only hope of winning anything this season!
This is already defeatest talk!!! I normally say to myself every Monday, "Roll on, next weekend." ... Now it's "Roll on, next season."
Eugene Ruane
34
Posted 18/02/2016 at 17:34:54
Sounds horribly authentic, Russell (20).
Peter Larkin
35
Posted 18/02/2016 at 17:35:10
Well said, Roberto. I can see a lot of humble pie coming to a lot of people very soon.
Steve Hogan
36
Posted 18/02/2016 at 17:37:09
Please, could somebody just gag him... I can't take any more... Nurse!!!
Eric Holland
37
Posted 18/02/2016 at 17:37:35
We need 30 out of 36 points to have a realistic chance of Europe.
Bob Hope and No Hope....
Max Levy
38
Posted 18/02/2016 at 17:37:45
If this if that if the other....
If I'd been born in France I'd be French.
If I'd bought a ticket I would have won the lottery.
The margins are so small.......
Did you hear the one about a little green man who landed in Liverpool 4 before climbing into...... Nurse..... where are you taking me?
Dean Edwards
39
Posted 18/02/2016 at 17:43:22
I wish the doctor out of 'The Human Centipede' would stitch this idiot's mouth shut to stop the shite spilling out of it! Maybe stitch him to Kenwright! What a film that would be...
John Daley
40
Posted 18/02/2016 at 17:46:11
Mentioning Europe? At this moment in time? Talk about setting yourself up as an easy target. However, I'm not going to bite.
What I will say though, is it astounds me how much msplaced faith he continues to put in the 'mentality' of his men:
"I see the team is mentally ready"
How often has he talked about them having the right mentality, a winning mentality, being mentally strong, having learned lessons, being 'ready' in both body and mind to move onto another level? Almost every time he does, they immediately let him down and he falls flat on his face. Yet, this pattern seemingly never registers enough to even raise a nagging doubt in Roberto's noggin.
It's like he sat his squad down at the start of the season and gave them all a Rorshcach test, cried at the beauty of the results and hasn't been able to see beyond the pretty pictures they placed in his mind ever since, even though to everyone else they just look like a blurry bag of shite.
If there's one thing this Everton team have proved throughout this season, it's that they don't possess the mental strength to get to grips with their shortcomings and mount a continued surge up the table and they resolutely refuse to fucking learn.
Frank Kearns
41
Posted 18/02/2016 at 17:46:55
More Verbal Diarrhoea!!
Brian Cleveland
42
Posted 18/02/2016 at 17:55:15
Looks like we might not see Niasse this weekend either according to the interview. First he was unfit, then (it seems) he wasn't left out because he was unfit because of some pending birth (is he a dad now or was it something else?), and now he seems to have an injury... no it's not a hammy, something far more serious... his hand!
Is he the new keeper to replace Howard? Can someone check the videos of him to make sure he really is here with an Everton shirt on and it's not just photoshop?
Good grief, can't make it up can you?
Keith Conchie
44
Posted 18/02/2016 at 17:59:01
It's really doing my head in all this talk about the final third of the season. What about the first and second third of the season?
What happened there?
What is going to be different?
He said if we won we would have been 3 points off 5th place. Well we never won, simple as that, and we never were going to win by bringing on Kone and Osman. We need less talk and more action.
Drop Kone and Osman and put Rodriguez and Niasse on the bench as attacking back up.
Start Lennon and if he's playing well then don't take him off. Put Delefou on the left, and keep Cleverley as sub to replace him 2nd half. Keep Robles in goal, and tell him he's our number 1 keeper now and that it's his to lose, and that he won't be dropped just because Howard is fit.
Just my opinion, the way I see it.
So frustrated with all this talk talk talk talk about how close we are. We'll I think we could be close with just a few tweaks.
AAAAARRRRRGGGGHHHH
Mike Hayes
45
Posted 18/02/2016 at 18:00:31
More delusions – he needs a slap back into reality.
Anthony Hanlon
46
Posted 18/02/2016 at 18:06:49
Martinez spouting usual drivel. I watched the entire 20-minute press conference and he said fuck-all relevant.
Any ToffeeWebbers know why club have delayed season ticket announcements for next season?
Alan Bodell
47
Posted 18/02/2016 at 18:07:05
Sights set on Europe? Is he talking about his next family beach holiday? And if not, I demand he be drug tested.
Johan Elmgren
48
Posted 18/02/2016 at 18:18:06
He needs to stop setting up aims for the season and start focusing on taking THREE points in each coming game. This blabber about reaching a points-haul at the end of the season takes focus away from the match that is at hand. It's almost as if it's okay to lose, because "we have so many more matches to take three points in..."
And please Roberto sort up the damn defence. We are never gonna reach the points haul we deserve unless we stop conceding those silly goals....
Phil Walling
49
Posted 18/02/2016 at 18:20:49
I must tell my six-year-old grandson that when he thought eleven was 'a half dozen', he was very, very, very, near to getting it right after all!
Kev Smith
50
Posted 18/02/2016 at 18:20:59
What about the previous 26 games???
If the players weren't ready to compete for a European place at the start of the season, he needs to take a look at himself.
He's right, the final 12 games are important... but they all are. It was 3 points for a win in September as it will be in May.
I think we need a change come the end of this season cos this can't continue.
John Keating
51
Posted 18/02/2016 at 18:32:00
A hat and red nose and this guy is the new Charlie Cairoli.
Jamie Crowley
52
Posted 18/02/2016 at 18:35:44
I just read the title and my immediate reaction?
Fire in the hole!!!
Aidy Dews
53
Posted 18/02/2016 at 18:36:41
Just repeating himself all the time, was the same after the Leicester, Stoke & Swansea home defeats and it's the same now.
It's no point just forgetting about the first part of the season and saying the last 12 games are going to be important for where we can end up, you end up finishing were you deserve based on your achievements throughout a whole season, I don't remember many teams in our situation that have been hit and miss all season and under achieved so far, just all of a sudden put a winning run together that propels us up the league and into the European spots?!
Our season as followed a pattern of one step forward, two steps back, we've gathered no momentum through out what so ever and I can see the rest of the season panning out that way and once again we'll be languished in mid table or just about in the top 10 imo!
I've referred to Spurs a lot a lately and I honestly think we're very similar to them in a lot of ways. We're at a very similar level to them experience, youth & ability wise imo (apart from the No 1 spot!) yet their better than us at the basic fundamentals like hard work, closing down, organisation, their fitter and more importantly, their consistent! For me, we have the right blend of experience and youth and have a lot of ability but we lack hard work.
Too many of our players for me, don't put enough of a shift in. We pick and choose games when we want to close down and win the ball back high up the pitch. We're not defensively organised off of the ball and when our attacks break down we can be all over the place and get caught out and concede a lot of goals.
I don't think we're that fit either, I've said before in other posts that were not fit and seem to go flat after about 70 mins in a game, some of the players are blowing after an hour! Fitness was also an issue for me last season and we've not been has fit has we were when Steve Tashijan was at the club!
And we're very inconsistent! One thing Spurs have been this season is consistent and that's why their right up there in the mix for the title. And that's with still being in Europe and the FA Cup! Our manager & players eventually blamed Europe for last season, well Spurs are proving that's bollocks that it can be a hindrance, in fact, it can help you gain momentum, IF you utilise all the competitions you're in.
But another big difference between them and us, is the managers! Pochettino is a class act and what he's done their in 2 years, getting in the players he wants and getting his ideas across so soon and getting Spurs playing in the way he wants, working has hard has they are in such a short space of time just shows the standing of the man who the players are right on board and doing well!
Under Martinez for me right now, we're going nowhere. We don't seem to be improving on Moyes's stats or Martinez's first season, we seem to be going backwards, even though he's had more money and got a better group of players at his disposal.
I just can't see us going on a winning run from now until the end of the season that will see us propel into the European reckoning and all I can see is us winning odd games here and there, losing the odd game that we should win and stay in and around mid-table and for me that should be enough for Martinez to be sacked cos another season of mid table mediocrity isn't progression for us!
Anthony Hanlon
54
Posted 18/02/2016 at 18:41:21
Biggest league winning run last 12 months???

2.

Yes, 2
Eddie Dunn
55
Posted 18/02/2016 at 18:42:45
Love it, Russell Smith!
Our leader is an annoying spin doctor worthy of a Government Secretary of State for Bullshit. I know these guys are contracted to talk to the media before each game, but why doesn't he learn to just keep it to who is fit and who isn't etc...?
He sets us up for a fall so often, it is like Groundhog Day. Only in the film, the hero eventually sorts things out, whereas Bobby continues the fuck-ups !
Tony Graham
56
Posted 18/02/2016 at 18:45:54
He really is embarrassing. Stop making silly statements, keep your mouth shut and concentrate on doing your job properly.
Terry Aylward
57
Posted 18/02/2016 at 18:46:15
Martinez says he's aiming for Europe... Even if he has to write the song himself!!!
David Hallwood
58
Posted 18/02/2016 at 18:47:41
Gets his copy of 'Learn Yerself Scouse' book, reads it intently, then re-reads, after some deliberation responds to Matinez's latest blockbuster
"AHHHH FUCK OFF NOB'EAD!"
Michael Winstanley
59
Posted 18/02/2016 at 18:48:41
I wonder how Martinez would get the team to play if he knew without home wins he'd be out on his ear?
Antony Matthews
60
Posted 18/02/2016 at 18:49:02
The men in white coats are a'comin', Roberto!
Martin Mason
61
Posted 18/02/2016 at 18:50:26
Andy@47, I dream of getting a manager like Pochettino. He's cleared out the masses of overpaid dead wood and kept young hard working players who do what he wants.
He even talks sense. Couldn't be more different to our manager who is becoming an embarrassment. Somewhere a Spanish village is missing its idiot.
Brin Williams
62
Posted 18/02/2016 at 18:50:56
Looking to the future is all well and good - but you have to make sure you've got your pants pulled up otherwise they're sure going to trip you up mate.
Oliver Molloy
63
Posted 18/02/2016 at 18:56:28
Chihuahua !!
Jay Harris
64
Posted 18/02/2016 at 18:56:39
Seem to remember before Xmas we were going to"have a phenomenal second half of the season" in which "Kevin Mirallas was going to be so important for us".
Still waiting.... zzzzzz .
Ian Brandes
65
Posted 18/02/2016 at 18:56:51
Have I just slipped into a parallel universe FFS?
Joe Foster
66
Posted 18/02/2016 at 18:59:56
Flip's sake, RM! [shakes head]
Jamie McNally
67
Posted 18/02/2016 at 19:11:27
Should be mentally ready in August!!!
Phenomenally unbelievable Roberto!
Kunal Desai
68
Posted 18/02/2016 at 19:13:08
Probably would only require somewhere between 56-58 points total to finish 5th and 6th which is feasible for us. Will we get those points? No.
Andy Ellis
69
Posted 18/02/2016 at 19:16:51
"We don't need to win the FA Cup to save our season."
That is precisely the only thing that can save our season and your job, Bobby.
Max Levy
70
Posted 18/02/2016 at 19:20:45
Cognitive dissonance: The mental conflict that occurs when beliefs or assumptions are contradicted by new information.
Brent Stephens
71
Posted 18/02/2016 at 19:23:47
5 points off 6th. Achievable?
With the players we've got – yes.
With the manager – let's wait and see but I'm not putting dosh on it.
Paul Conway
72
Posted 18/02/2016 at 19:27:26
From the outset, the underlying factor was, how can you possibly take the Premier League seriously with so many ex-Wigan players???
He sold it to us in the first season and we are now bearing the fruits!
Bill Gall
73
Posted 18/02/2016 at 19:33:57
Hope we are practicing on sticky grass to achieve our moment. The teams above us will be really worried with this statement.
Nick Entwistle
74
Posted 18/02/2016 at 19:40:59
Are we not just as close to relegation as we are to top 4? Frankly, I don't care where we finish in the league this season (we wont get Europe) just get the defensive transition sorted.
Matinez WILL be here next season and as he didn't learn it at Wigan and he hasn't done so at Everton, could someone just slap this into him? As was his first season, Moyes team let off the leash. And there was ore of this attacking style he loves that season than this or last.
Phil Roberts
75
Posted 18/02/2016 at 19:43:17
Do you remember the days when we got frustrated with the first priority is 40 points and then we can see where we go from there.
Then, we all got frustrated that we showed no ambition because clearly we had stopped being a team who were one of the favourites to be in the battle to stave off relegation and we now a team that could push on into those European places but still the first target was 40 points and not being relegated.
Now we get frustrated because the manger is in dreamland and his ambition is far greater than his ability to deliver added to which his constant attempts to spout the said dreams and make himself look like he is totally deluded. I wonder if any journalist will remind him when he makes 8th or thereabouts and 6 points adrift of these boasts and then challenge him as to the reasons were luck, bad referees or his inability to make it happen - or was it the players?
Jim Bennings
76
Posted 18/02/2016 at 19:46:02
Look Roberto, we get knocked out by Bournemouth on Saturday teatime then the season, as far as interest to the fans is dead!!
This is plain fact.
There is only really one more game left in the league that will get the fan's slightly pumped up and that's the Anfield derby, even that these day's struggles to generate much interest from many Evertonians due to our predictably dire record at that place.
Martinez is completely fooling himself but nobody else with this latest batch of utter jargon.
There's little we can do to salvage this league season and make it anything other than half respectable.

Oliver Molloy
78
Posted 18/02/2016 at 19:47:11
Predictions for remaining a games - I reckon 17 pts from a potential 36.
Liverpool ( match day tbc ).... L
Aston Villa v Everton......W
Everton v West Ham.....L
Sunderland v Everton.....W
Everton v Arsenal.....L
Man Utd v Everton.....D
Watford v Everton....W
Everton v Southampton.....D
Crystal Palace v Everton.....L
Everton v Bournemouth.....W
Leicester v Everton.....L
Everton v Norwich.....W

Denis Richardson
79
Posted 18/02/2016 at 19:47:19
Well winter's almost done so at least no risk of sticky grass.....or is that spring thing?
Phil Walling
80
Posted 18/02/2016 at 19:55:59
I never felt the old 'wait till we get to 40 points' mantra ever showed a lack of ambition rather sensible pragmatism. Why, even Ranieri was trotting it out when Leicester were on 37 points.
Far better that realism than 'the season starts here' every single month of the season. As we approach March, this time we can only hope RM's telling the truth!
Russell Smith
81
Posted 18/02/2016 at 19:57:01
Roberto Martinez, 7pm Saturday: "Kevin is going to be very important to the team for the rest of the season after that phenomenal hat trick , and that loss of concentration that allowed Bournemouth to snatch the victory in the 95th minute has taught us a new lesson which we must take into the rest of the season so that we can now concentrate on qualifying for the Champions League by all being in a positive moment allowing us to finish strongly as we have done all year."
James Stewart
82
Posted 18/02/2016 at 19:58:33
To be fair, he is bound to say stuff like this – it's the only way he can save his skin and try to put a positive spin on another train wreck of a season.
Martinez hyperbole, in one ear and out the other for most Blues I know.
Colin Glassar
84
Posted 18/02/2016 at 20:07:12
Are we in the 2nd half of the season yet?
Phil Walling
86
Posted 18/02/2016 at 20:16:25
Oliver, I'm expecting 4 wins (against the bottom end teams) and three draws from wherever to get us to 50 points and 8/9th place. Must shop around for best odds.
Matt Williams
87
Posted 18/02/2016 at 20:17:01
Meanwhile, back on planet earth...
Andy Meighan
88
Posted 18/02/2016 at 20:18:29
Of course we are going to finish the season in the European places we might even win the cup.
Er... a shot of what Roberto's on, please, darlin'. Ere, I'll tell yer what, love – make it a double, will yer.
Total and utter moron
Russell Smith
89
Posted 18/02/2016 at 20:34:03
Roberto Martinez June 2016:
"I know Bill finally grew a pair and has sacked me, but I still think that the team under my guidance will reach its full potential in the first 12 games, and then we will get stronger, with even more phenomenal moments to take us into the CL by Christmas, after which Niasse will make his debut and along with Kevin and Mo will be very important to the group for the final third when all the lessons we have learn't will mean we will get 100 pts and................."
"Come on Mr Martinez back to the bed you know you shouldn't be out of your ward"
"Yes matron."
Clive Lewis
90
Posted 18/02/2016 at 20:42:47
Roberto is only 2 seasons into the Wiganisation period.
I think he is going to Europe as a commentator for the coming Euros in France. Technically this is what he is talking about. He is looking forward to spouting more nonsense at the Euros.
Phil Walling
91
Posted 18/02/2016 at 20:43:30
ps: Roberto is still 8th in 'sack race' – at 25-1. In other words... no chance of it happening!
Mark Daley
92
Posted 18/02/2016 at 20:46:18
I saw the headline and went straight down to read the comments! Thanks, fellow sufferers, for giving me a few laughs.
If RM has his sights on Europe I want Brexit.
Don Alexander
93
Posted 18/02/2016 at 20:47:37
I've got me sights set on Cameron Diaz.
Sadly, I think I've got more chance than the Incredible One has re Europe.
Barry Lambert
94
Posted 18/02/2016 at 20:54:55
Nobody can deny that, had we taken a fraction of the piss easy chances we have squandered and avoided all the suicidal howlers we have conceded, we would be in the top four .The fact is we didn't and we aren't.
We know that, when the boys cross that white line, it's up to them. We have been the victims of some outrageous bad luck and some diabolical refereeing decisions. However, the table doesn't lie. The home record is an absolute disgrace.
Battles are won and lost by the quality of the leadership. No sooner do we emerge from the trenches, advance a few yards, fire off a salvo of blanks, and get driven back into the trenches. The buck stops with the man in charge.
I am sorry to say it but as much of a decent man Roberto certainly is, I can't bring myself to read or listen to anymore bullshit. This Blue Army needs a new leader before it is too late.


Barry McNally
95
Posted 18/02/2016 at 20:56:10
Fair Play Roberto?
Dave Abrahams
96
Posted 18/02/2016 at 21:00:21
Mark (78) yes I'v been chuckling away at a lot of the comments in this thread, you've got to laugh or you'd go crazy taking notice of most things Martinez says.
I wonder what the players say to each other after each team meeting, or listening to the verbal garbage the manager comes out with at every press conference. Or the reporters themselves – how do they stop themselves from laughing out loud at the nonsense this man speaks?
I've just switched off from watching the Liverpool game; very, very boring. ToffeeWeb is much more entertaining.
Steve Guy
97
Posted 18/02/2016 at 21:02:12
I can't believe that he still believes this stuff. If I was in the press conference, I would have trouble keeping a straight face.
Michael Winstanley
98
Posted 18/02/2016 at 21:03:51
He's actually got a point. Only Southampton, Spurs and Leicester are showing any type of form with Chelsea in fourth with 10 pts from the last 6 games. Everyone else is crap.
Knowing the mentally is right, that's a huge relief for me. Now I'm expecting a phenomenal run of form, the team will finally beat anything in front of them. The points target is still on, we finally know what we're playing for.
Europe could be on.
I don't believe that but Martinez is selling it, what's the next excuse going to be? Sticky grass season or some other agricultural phenomena?
Mark Daley
99
Posted 18/02/2016 at 21:10:20
*QUIZ TIME*
Which name does not belong in this list?
A Jimmy Tarbuck
B Tom O'Connor
C Rob Wilton
D Ken Dodd
E Roberto Martinez
No, it's no good, I can't figure it out...
John Roberts
100
Posted 18/02/2016 at 21:13:50
Just go, Martinez.
I liked you when you arrived. You seem a nice bloke but you're not good enough to manage our great football club.
You know it deep down: three seasons – no improvement with a very competitive squad. Be honest with yourself.
Max Levy
101
Posted 18/02/2016 at 21:16:08
It's Jimmy Tarbuck. He's the only one that's not funny.
Ian Riley
102
Posted 18/02/2016 at 21:19:46
Please please call for a doctor for Reberto!!!

Steavey Buckley
103
Posted 18/02/2016 at 21:33:14
I agree with all the comments made so far. Push for Europe? Has the train broke down in the Channel Tunnel?
Trevor Peers
104
Posted 18/02/2016 at 21:37:09
Dying embers of a beaten man, has the look of a dictator rallying his troops for the final defeat. Why not just resign?
Guy Hastings
105
Posted 18/02/2016 at 21:40:58
If he sat next to me on the bus muttering this crap, I'd get off and walk the rest of the journey home.
Mike Hughes
106
Posted 18/02/2016 at 22:07:35
Chris Scully
107
Posted 18/02/2016 at 22:08:56
#2 had me chuckling, after working down the thread I am now almost pissing myself
Ian Hollingworth
108
Posted 18/02/2016 at 22:13:12
FFS – is there no end to the mans gibberish???
He is an absolute embarrassment... but, then again, so are Everton FC for firstly employing him and then not getting rid when it is clearly not going well and he has no idea how to change things.
If he is still the manager for the 2016-17 season, then I fear we really will be in trouble.
Alan Ross
110
Posted 18/02/2016 at 22:17:27
There does seem to be something lost in the translation from Spanish to English in Roberto's head. Longest case of concussion I've come across. Can't understand the OS pushing this illogical garbage either. Those responsible must have done it for a bet. Or they believe it, which is more worrying.
Jon Cox
111
Posted 18/02/2016 at 22:27:17
I believe Roberto was Elmer Fudd in a different life.
Barry Jones
112
Posted 18/02/2016 at 22:30:45
Russell (22)...Hilarious...but sadly....quite accurate.
Si Turner
113
Posted 18/02/2016 at 22:43:26
Kevin #12 definitely delusional
Colin Glassar
114
Posted 18/02/2016 at 22:45:57
I think Roberto needs a hair implant, he's getting a bit sparse up there.
Ray Robinson
115
Posted 18/02/2016 at 22:48:08
Roberto Martinez's continuing failure to deal with obvious issues and problems reminds me of the Carry On Up the Khyber film where the Governor's Residency is bombarded by the Khasi but everyone carries on eating tiffin while the shells continue rain down and demolish the building.
Okay, only people of a certain age will remember that film!
John Davies
116
Posted 18/02/2016 at 22:56:51
Deluded. Demented. Straight jacket for Martinez!
Frank Thomas
117
Posted 18/02/2016 at 23:13:18
I think what is tragic is that almost every fan on here are in agreement on the same things, so why has nothing been done by the EFC board?
Those things are:-
1. We have the best Everton squad in the last 25+ years (even the lads coming through such as Ledson and Dowell are being watch and admired by lots of Premier League clubs);
2. We could beat any team if set up correctly and tactically;
3. Roberto cannot defend properly even though the three richest Premier League clubs would buy two or three of our defenders for their teams;
4. Roberto cannot use subs to our advantage, to either win or defend correctly;
5. Roberto talks too much and most times it is rubbish that is embarrassing to the fans, players and to himself;
6. He constantly contradicts himself, eg, either we are performing well and are only good enough for 12th position or we are under performing and should be in the top 5;
7. Fans are totally puzzled why Kone and Howard (who wants to stay fit to go to the USA in the summer) have been constantly picked this season based on their performances.
What we cannot agree on is when Roberto should go and who should replace him. Finally... is the manager close to losing the dressing room?
Bill Gall
119
Posted 18/02/2016 at 23:28:42
Maybe he is sitting on the cliffs of Dover with an expensive telescope and that is what he can see after the mist lifts.
Jim Burns
120
Posted 18/02/2016 at 23:29:26
Some very funny posts, folks – but I 'm struggling to see the funny side of this. In fact I'm fucking angry. To be patronised and have our football intelligence pissed on to this extent is infuriating.
After the miles travelled, time wasted and pounds many of us have spent to suffer repeated disappointment, . this inept excuse of a manager has the chin to actually believe we might believe this shite.
How dare he insult us and our intelligence. How dare he toy with our faint hopes and desperate longing for success.
How dare he ignore our collective awareness of his obvious failings and obvious but ignored solutions that any observer of Everton this season sees clearly.
This is our club; our heritage; our hope; our bitter disappointment ;our heartache; our anger.
Funny? Laugh? I'll pass this time – it's a crying game.
Les Martin
122
Posted 19/02/2016 at 00:28:40
I assume he has booked his summer holidays then? Or he is talking about a pre-season tour?

Potentially we could win all our remaining games, if we get the luck and the performances that this squad should be producing.

But this is Everton and your dare not count on anything.

Peter Carpenter
123
Posted 19/02/2016 at 00:33:19
Quite right Jim, it's no laughing matter. It's a mental issue.
By the way, has anyone noticed the resemblance between our Bobby and Randle P McMurphy, central character of One Flew Over the Cuckoo's Nest?
You know, the one who rebelled against the established order, convinced of his cause, opposed by Nurse Ratched (Louis van Gaal in a nurses uniform) and ultimately defeated.
Dennis Stevens
124
Posted 19/02/2016 at 01:11:58
He just sounds silly now.
Don Alexander
125
Posted 19/02/2016 at 01:31:55
I like the One Flew Over The Cuckoo's Nest analogy but at least in the film it was obvious when Randle had had his frontal lobotomy!
David Booth
127
Posted 19/02/2016 at 01:47:37
Stop picking Kone and Osman then you pillock and live up to your promises by putting Mirallas in the team.
Your stubborn refusal to do so will cost you your job and makes these hollow promises sound ridiculous.
Derek Thomas
128
Posted 19/02/2016 at 02:47:42
26 games in and he's saying 'The Squad is now ready'...
They should be ready on the 26th August – not the middle of February!!!
Alan Thompson
129
Posted 19/02/2016 at 03:21:48
Correct me if I'm wrong but weren't Wigan in the situation of needing 4 points from their last 3 games (or 3 from 4) to avoid relegation and only ended up with 1 point after a 0-0 draw in their last game after they'd already been relegated.
Déjà vu?
Paul Ferry
130
Posted 19/02/2016 at 03:56:38
Jim Bennings – #66
"Look Roberto, we get knocked out by Bournemouth on Saturday teatime then the season, as far as interest to the fans is dead!! This is plain fact."
Jim nice that you speak for the 'fans'. You do not. I don't know who appointed you to speak for 'the fans' but you do not.
At least one fan – me – does not agree with your self-made decision to speak for 'the fans'. Therefore you are wrong to do so.
Pedantic? Yes. But, quite frankly, I'm a tad sick and tired of people – people who don't like Martinez for the most part – claiming that they speak for 'the fans'. When, palpably, they do not.

Eric Myles
131
Posted 19/02/2016 at 04:48:57
Alan, in previous seasons he also had Wigan rescuing themselves from relegation by putting a string of wins together, maybe he's hoping that will work again with us.
Ron Marr
132
Posted 19/02/2016 at 05:14:49
I liked Mad magazine's version "One cuckoo flew over the rest" ... seems more appropriate
Brian Porter
133
Posted 19/02/2016 at 06:16:04
Ray Robinson @102, a perfect analogy. I loved that film and yes, Martinez does resemble the folks in the governor's residency as the tribesmen attacked. Maybe if the fans revolted and all turned up at the next match in kilts, and simultaneously turned their backs and did as the troops in the film did, it might scare Martinez out of Goodison for good. I'm sure we have quite a few decent 'Devils in skirts' among our troops!!! Great post, Ray.

P.S. In true Carry On form it shouldn't be long before RM, believing he is being unfairly victimised by the fans, comes out with the great line from Carry on Cleo, "Infamy, infamy, they've all got it in for me!"
Marcus Reynolds
134
Posted 19/02/2016 at 06:32:58
I heard Europe is a great place for a family holiday. Maybe that's what he meant...
Gary Hopwood
135
Posted 19/02/2016 at 07:20:03
I can't believe all of this negativity. I remember when supporters got behind their team and encouraged them. I suppose this relates to the modern world of everyone wants things today and no one is prepared to work hard, be patient and accept set backs when they happen, get up and try harder.
Martinez is a very smart guy, he loves Everton and has created an exciting young squad with huge potential. You can see his determination and passion when he refused to sell Stones. So why don't all of us blue noses get behind our team and support them?
Brian Porter
136
Posted 19/02/2016 at 08:20:37
All joking aside for a minute, having read and re-read so many of Martinez's utterly illogical and truth-denying outpourings, it makes me wonder if anyone on the board, BK or simply ANYONE in authority at the club, realises that this man is rapidly turning Everton FC into a joke as far as the rest of football is concerned? We are fast becoming a figure of fun and just how much longer can they or us for that matter just sit back and allow us to be one a source of ridicule.
Other managers of course will continue to say what an entertaining team we are, of course they will as they don't want us to change, having sussed us out and knowing how to beat us. Perhaps only more media pressure, such as Joey Barton's words the other day, will make someone sit up and take notice of his continued farcical and totally unrealistic verbal meanderings.
Next thing I fear is cartoon caricatures of him appearing in the tabloids. Do we want or need that kind of publicity?
John Jones
137
Posted 19/02/2016 at 09:02:56
Have they brought back the inter Toto cup?
Dominic Tonge
138
Posted 19/02/2016 at 09:20:41
I think we could finish with European qualification. I don't think we will. The squad has been ready since pre season, just the gaffer getting up to speed has taken its time.
Paul Conway
139
Posted 19/02/2016 at 10:06:20
The rumblings have started, the cracks have appeared! Now, it's just a matter of time... but how long more? I do agree, it's a serious issue. but you have to make light and have a laugh, as otherwise you will surely cry.
I do believe Martinez's comments are somewhat far-fetched at this stage, given that a few of these games are to be played at Goodison Park, and thus far, that's no relief. It also puts further pressure on the players to perform at their highest, although that's what most of them have been doing thus far. The only ones under-performing are the ones he stubbornly sticks with.
This is his choice and not the fault of the performing players! They know this and that's when the rumblings start in the dressing room.
No performing players should be held accountable for our Premier League position, or have to carry deadwood. And I am sure they are as frustrated as the fans. The most worrying thing for me is every club with their sights set on achieving top four, top six or staying in the Premier League do change the manager if the goal is not achieved.
We fans are the lifeblood of the club and, as has been said before, no player is bigger than the club! Likewise, no manager is bigger than the club! I know Martinez is here until the end of the season, but if nothing happens it's time to change. I fear for a mass exodus at the end of the season.

Terry Aylward
140
Posted 19/02/2016 at 10:13:26
Jim @ 111 – If we didn't laugh, mate, we'd cry, it's like a black comedy.
Tony Abrahams
141
Posted 19/02/2016 at 10:29:23
Paul , Jims post wasn't 66, so I can't even take it as an omen, but I would go along with him though,
To keep the season alive, and enough people interested we need to stay in the cup.
I see where you're coming from Paul, but I can see crowds of under 30,000 coming our way, because too many people no longer enjoy going the match.
Maybe he's his own worst enemy, because he's giving us a much better squad. But that's no good to nobody, when he just doesn't get enough out of them for whatever reason. Let's hope we just win tomorrow XX!
Stephen Brown
142
Posted 19/02/2016 at 11:55:42
Please make it stop! He is becoming a laughing stock! That idiot Adrian Durham (TalkSport) is even taking the piss now! He said something like RM says all his players are world class, Tim Howard is best goalkeeper we've ever had, Gareth Barry is best English player ever! Where are they in the league – 12th and then he sniggered!! And Darren Gough laughed!
Maybe all these stupid accolades he's handing out willy nilly are making the players complacent, over confident and as deluded as he is?! In my experience you need to earn this sort of praise! It's a vicious circle - RM says they are all brilliant, players believe it and play crap! He says they are brilliant and so on!
Sad to say as wanted RM to do well but now really he is making me cringe with every interview! I used to look forward to every Everton manager interview on TV but I just cannot watch RM at the moment it's embarrassing! Please just say it as it is!
Alan Thompson
143
Posted 19/02/2016 at 12:04:22
Eric (120); I think I know what you mean but is that just avoiding relegation, eventually getting it or putting a series of wins together?
Whichever, it could be said he has achieved(?) 2 out of 3 but does not seem to be aspiring to anything better. He did however, get Wigan into European competition which, it is reported, is what got him the Everton job.
I'm just going out onto the window ledge for 5 minutes to think about it......
Jim Burns
144
Posted 19/02/2016 at 12:11:12
That's it - there is nowhere further to fall if that pair of dicks are taking the piss.
Matt Butlin
145
Posted 19/02/2016 at 12:18:24
He could become the next Iraqi Information minister, Jim.
http://news.sky.com/story/181082/the-best-of-comical-ali
Daniel A Johnson
146
Posted 19/02/2016 at 12:25:49
The only thing Martinez is winning is fucking Eurovision
Paul Conway
147
Posted 19/02/2016 at 12:31:47
Why doesn't he just stick to the old English football jargon? Like, sick as a parrot, over the moon, 12 x 3 = 36 and that's the icing on the cake!!
Nick Bateman
148
Posted 19/02/2016 at 12:40:22
Martinez has his sights set on Europe? I have my sights set on a new Manager...
Unfortunately I feel we are both in for a long wait!
Dave Lynch
149
Posted 19/02/2016 at 12:50:08
Wasn't it last season he said around December that.
"We should be firing on all cylinders around February"?
The man's a fucking idiot.
Gary Carter
150
Posted 19/02/2016 at 13:10:53
Yet again, this idiot has managed to astound me with his utter stupidity. The players should be ready to do this before the season starts!!!
I'm sorry but his words actions and results just scream "loser"!!!
Roger Helm
152
Posted 19/02/2016 at 13:14:31
So the team is mentally ready is it? Well, I'll believe it when I see it. This the mentally most fragile group of Everton players I can remember.
And if they are, how come it's taken six months to get them ready?
Matt Williams
153
Posted 19/02/2016 at 13:55:38
Shouldn't the team be mentally ready at the start of a season – not half-way through?
Ian Burns
154
Posted 19/02/2016 at 14:53:14
I see Pulis has this morning called RM's comments "sour grapes" after he commented on Berahino's stamp on McCarthy should have been a sending off. "I thought we won fair and square" – said Pulis.
Eddie Howe out-thought him in our last visit to Bournemouth - no doubt if he does so again tomorrow it will be down to bad luck, despite us –being in the moment for the rest of the season.
His utterances are for the sake of the new owners – as even he can't believe we are still falling for the same b/s excuses for mid-table mediocrity. I know he has to do these interviews as part of his contractual obligations but I wish he would talk about revamping his defensive coaching set up instead of his inane gibberish about mentality; bad luck and the moment is coming for this team to strike home for Europe. Utter Tosh.
Steve Davies
155
Posted 19/02/2016 at 14:58:40
Just completed a telephone survey with a lovely girl from the club asking me about my match day experience and she asked how EFC could improve it? I just had to say "Sack the Manager". She said "A lot people are saying that"
She also asked whether I would renew my three season tickets. I found it difficult to answer while this phenomenal idiot is in charge.
Will somebody from the club please do something and shut him up. I heard the TalkSport interview and heard them sniggering!
The guy is a joke but I am not laughing anymore. We will not be relegated this year but give him another year and he would complete the job. He could not organise a piss-up in a brewery.....
Mark Gardiner
157
Posted 19/02/2016 at 15:27:15
Every time this Catalan clown opens his mouth he makes the club more and more of a laughing-stock. He always talks about how the team is mentally ready but clearly, as we have all seen for the past two seasons, the players mentality is so weak.
And why are the players ready now, at this part of the season. Shouldn't they be ready from the very first minute of the very first game of the season and not when there's only a dozen games or so left to play?
Please please let this be the final season that this idiot is our manager we simply can't afford to start next season with him in charge because if we do I guarantee that this time next year we'll be in the same position and hearing the same old rubbish being spoken. In fact, we'll probably be worse off because I think that we might see two or three of our best players leave the club in the summer.
I wonder what the players think when they hear this guy talk like this. I be they are all at home shaking their heads like we all are.
David Connor
159
Posted 19/02/2016 at 15:29:12
I wish the players and the manager would just keep their mouths shut and get on with trying to win the remaining games we have left. At least to try and salvage some pride from what has turned out to be one absolute shite season so far. You'd think these dickheads would have learned that by now...
Just go out and give it all we have got for the rest of the season please. I think they owe the fans that much at the very least and if (a big 'if") we win the cup, that would be brilliant. Restore some pride and give us something positive to hang onto.
Up to now, we are all pissed of with the way it's gone so far. You can and must do better because you are starting to lose the crowd that turn up game after game. Enough is enough. That especially goes for Martinez and his shite staff.
Richard Lyons
160
Posted 19/02/2016 at 16:07:19
My perspective on our squad:
Howard – no comment
Robles – could be good if he were to be given a chance long term
Baines – way past his best
Galloway - not quite good enough (yet)
Oviedo – might be good if he could stay uninjured
Jagielka – still very good, but past his best
Funes Mori – potentially quite good, time will tell
Stones – potentially very good, a few hiccups of late
Coleman – not as good as many think, past his best already
Barry – still has it, but I doubt he'll last another season
Besic – I have high hopes, but he already seems injury prone
McCarthy – quite good
Cleverley – quite good
Deulofeu – has lots of potential, but I have a horrible feeling it's a bit of a flash in the pan
Barkley – can be brilliant but lacks consistency
Kone – oh dear, dear me
Lukaku – can be brilliant but lacks consistency
Mirallas – quite good but moody
Pienaar – past it
Osman – past it
Lennon – very good
Niasse – who knows?
My conclusion – 11th place is probably about right for this supposedly phenomenal squad, but only if they are mentally ready...

Darryl Ritchie
161
Posted 19/02/2016 at 16:51:06
I think RM believes that he has to be seen to be optimistic at all times, hence the continuing drone of shaky predictions. When the cameras are off, and the microphones go away, do I think that he actually believes in what has he has just spouted? I strongly doubt it.
He doesn't see, or just refuses to consider the possibility that by continuing to talk unrealistic goals, based on potential, instead of fact, he is alienating a large part of the fan base.
Roberto. Win a few games in a row, and leave the predictions to Nostradamus.
Dave Abrahams
163
Posted 19/02/2016 at 18:31:31
Steve (#143), I had that survey today. The girl began by saying the survey wasn't about what happened on the pitch but how you rated the match-going experience, regards to the facilities and how you enjoyed them?
I replied I just go to Goodison to watch the match, I don't buy anything to eat or drink as I live about five minutes away by bus.
I went on... "Nothing has changed for me really in the long time I have been going to the game, except the ground is now dilapidated and we need it updating or a new ground."
She finally asked if I would be renewing my season ticket? I answered, "That depends if Martinez and Kenwright are still there as I have no faith in either of them to improve my enjoyment of the match."
Clive Lewis
164
Posted 19/02/2016 at 19:23:37
I think Roberto is starting to resemble Pinocchio: he is living in a fairytale world. He looks like he is made of wood and keeps spouting lies.
https://en.m.wikipedia.org/wiki/Mister_Geppetto

Mark Riding
165
Posted 19/02/2016 at 21:08:17
Richard (#146). This is real football, mate. Not a season on Football Manager. I know, it's half term, like...
Jamie Crowley
166
Posted 19/02/2016 at 21:36:17
Howard – excellent keeper in his day, his time is past.
Robles – very good
Baines – best LB in England
Galloway - best young "up and coming" defender in England
Oviedo – amazing player and attitude
Jagielka – best CB Everton has seen in a decade. Needs to be less friendly in the tunnel
Funes Mori – excellent
Stones – future England captain
Coleman – most underrated, most under-appreciated player in Everton's history aside from Lee Carsley
Barry – the engine everything goes through - stupendous but needs a capable back up at his age - see Besic
Besic – fucking gold. Rough gold that needs polishing, but gold
McCarthy – only people who actually understand football and sport in general realize how fantastic this kid is
Cleverley – quite good
Deulofeu – the beast who terrorizes opposition
Barkley –we've got a diamond...
Kone – shite
Lukaku – best striker for Everton in... forever
Mirallas – phenominal - but somehow has phenomenally pissed off the gaffer
Pienaar – sell
Osman – best of luck - true Blue
Lennon – the Energizer Bunny
Niasse – who knows?
My conclusion – 1st place is probably about right for this supposedly phenomenal squad, but only if they are mentally ready.. and they are young, give them time. It's a process... The sky is the limit.
Positively yours -
Sir James C Crowley IV
Rob Halligan
167
Posted 19/02/2016 at 22:02:32
Well said Jamie. Far more thought out post than Richard Lyons, #146 who thinks every player we've got is shite, finished, or never got started.
Steve Davies
168
Posted 19/02/2016 at 22:05:27
Richard Lyons..., any relation to Micky Lyons my favourite EFC player of all time......
Victor Jones
169
Posted 19/02/2016 at 22:17:51
Really Jamie Crowley. And there was me thinking that you knew your football. You are a bigger spin doctor than our wee manager. The league position (last season) and this season does not lie. But keep the faith. We might someday reach the promised land , that you seem to think this "young" team is capable off. I wish that they would get a bloody move on. I really do.
And is Lukaku the best centre forward that Everton have ever had? Come on Jamie . Give it a rest. Me thinks that you are a piss taker. Of the highest order.Our players are good. But IMO nowhere near good enough. Hope that that makes sense. Good night...
Joe Clitherow
170
Posted 19/02/2016 at 22:38:31
Sorry Jamie. Way too much hyperbole for me I'm afraid.
Give me Cleverley over McCarthy every day and Deulofeu the beast who terrorises...??? Puh-lease as you may say...
McCarthy fills a role in Martinez' flawed system, Tom Cleverley is a proper footballer. McCarthy fantastic? Hardly. He does a similar role to Peter Reid but Reidy could create as well. Now there was fantastic. Sorry but I may judge these guys on different benchmarks.
Deulofeu is a talented kid who could possibly do something if he got fit and stopped throwing tantrums. Any opposition that contains him until he a) gets knackered or b) gets frustrated has basically contained and neutralised him. When he throws himself to the floor you know he doesn't threaten anyone again.
Galloway best young defender?? Long way to go. You should see players in other more successful teams and compare them before going so over the top.
And I am really sorry (I'm not really) but Lukaku best striker forever? Words actually fail me now. This is Everton lad, Evertonians. You seriously need a dose of 'istory injecting when it comes to strikers.
PS I know it is your way and I won't knock your enthusiasm intentionally
Paul Conway
171
Posted 19/02/2016 at 23:11:57
Chris Lewis @ 149,
It's like the ventriloquist's dummy saying, "I could talk so much more sense, if it weren't for this hand up me ass."
ps: I have started to collect some rare videos. Do any of you fellow sufferers possess a video of Aroune Kone in training? I want to see what I got for my money...
Clive Lewis
172
Posted 19/02/2016 at 23:13:51
Forget the team scrutiny, our manager talks a load of brown stuff to them, so they are all shite.
Jamie Crowley
173
Posted 19/02/2016 at 23:19:52
Joe -
Lukaku is the best striker "in... forever". Not "forever".
Galloway is an awesome talent.
I agree with Delo's tantrums they drive me absolutely mad. Doesn't diminish the fact he terrorizes – quite literally – defenses.
Cleverley is good. No question I like him quite a bit.
But you're wide of the mark on McCarthy. Without him, we were losing at an alarming rate. His work rate and industry – especially his ability to win a ball – allows Everton to get the ball on the feet of our more talented players. McCarthy is the man in midfield. Without him, we can never get into a game because the catalyst to retrieve possession for us is James McCarthy. He is a beast.
One thing you definitely do indeed do is judge these players on a different scale. You're much, much longer in the tooth than I involving all things Everton and have the luxury and good fortune of having seen some of the greatest players to don the royal blue jersey.
Alas, I came a bit late to the party. So when it comes to the analysis of Peter Reid, I bow to your judgement.
But the gist of the post – we have some excellent players undoubtedly – was really to combat the analysis that all our players are either over the hill, shite, or fucking shite...
But I actually think you were quite aware of that already...

Joe Clitherow
174
Posted 19/02/2016 at 23:47:14
Jamie, I agree with you, McCarthy is pivotal to the Martinez team.
But that's the problem I have. He is pretty limited as a footballer and a team that is so reliant on a single individual isn't a team by my definition. If we take that mid-80s team for example, individuals could have off days and others could fill in. That's a team. You may not recognise them but utility players like Alan Harper (much underrated) and Kevin Richardson (ditto) could come in and the team carried on winning almost seamlessly.
If your main man is injured or has a bad game doing what he does then we don't work according to your point – one I agree with to a point. How does that work in terms of winning consistently? It's a major problem I have with Martinez's Everton, we are a collection of individuals trying to play a TEAM game.
One-dimensional and limited – the main criticisms of Roberto Martinez in a nutshell.
Neil Farrell
175
Posted 19/02/2016 at 23:49:33
As a team personally we are one or two players short. We need Besic playing and a TRUE Captain. Someone who will drag the team up and won't let Del dive, Stones Cryuff turn, Rom be half-hearted when he does not get the pass... and a Manager who will practice corners and free kicks, offensive and defensive.
No team ever won with attacking alone. Not even Brazil. If he wishes to keep the same players then rain in Baines and Coleman to defend. With Rom, Del, Barkley, Lennon/ Mirallas we have enough attack and pace. It's a small tweak... One unfortunately RM won't make.
Don Alexander
177
Posted 20/02/2016 at 00:14:27
Fully agree Joe Clitherow @ 157, and I include Paul Power in that category too. Thorough, fit, accomplished professional footballers every one of them.
Mark Riding
178
Posted 20/02/2016 at 00:23:43
Joe Clitherow
179
Posted 20/02/2016 at 00:30:53
Don
Paul Power was a bit of a joke to all of us in a joke team prior to Howard signing him. We thought he'd lost his marbles. How wrong we were. How right he was.
What a player he was as an ever-present in that title-winning team. I think he had a law degree as well.
Totally committed to the team, totally professional. He added goal scoring free kicks to his tireless running in that 87 team. You knew if you cut him he had Man City running through him and he made no bones about it but totally committed to Everton whilst he played for us. I remember him slotting one away when Sheedy was out injured and a big guy with a Wigan-ish accent who used to stand near me in the Paddock say "Sheedy? I've shit him!" to much hilarity. Didn't he score against City too?
The only honour in his long career as I recall was a League Championship medal with us – not a bad one.
An absolute model professional who puts the modern day mercenary to shame.
Don Alexander
180
Posted 20/02/2016 at 00:54:47
And Gareth Barry is the love-child who inherited everything good about PP but his "engine". Model professionals indeed.
Darren Hind
181
Posted 20/02/2016 at 05:58:57
Richard @146 & Jamie @151
Congratulations guys. I didn't think it was possible for two people to use so few words to describe our players and be so incredibly far apart... on almost all of them.
Poor old Kone, repeatedly played out of position, he seems to be everyone's punch bag.
Richard's wonderfully miserable "Coleman is past his best already" countered by some Fantastic OTT stuff from Jamie – "Only people who actually understand football and sport in general realize how fantastic this kid is" .
Vintage ToffeeWeb
Get off the fence, guys!!!!
Pete Clark
182
Posted 20/02/2016 at 06:10:19
Many a year since I've been on here... However, although I am 12,000 miles away from my team right now, I am still a few million miles closer than Bob the builder Martinez. He should be sacked on the crap he spouts alone before we get on to the subject of his piss-poor football strategies.
I have thrown cushions at Lee and Bingham, screamed and bawled at Kendall, Smith and Walker... and detested Moyes in his last years at Everton for his total lack of respect for our club. Royle is the only manager I have not had a bad thing to say about. (Kendall proved me wrong, of course.)
This clown needs a good slap for his lack of respect for us fans and mainly his unprofessional attitude towards the fundamentals of hard work and defender responsibilities.
Having said all of that about him, I could easily direct my anger at the phoney in charge of the club. I'm not sure on his health at the moment but he is making a lot of us unhealthy by typically doing fuck all. Allowing Moyes to continue in charge after him committing to the Mancs should have seen enough protest to see him ousted.
For what it's worth I think our team is overrated a little. You can see that:

Robles is a bit unsteady but needs a chance to prove himself (Howard's finished);
Coleman has to be appreciated as you don't get two class marauding full backs cheap.
Baines, Oviedo... our left-back spot is in a very healthy situation as I like all options.
Jagielka is still decent but was never and will be dominant in the air.
Funes Mori has it all and should be given a good run in the team.
Lennon's work rate and recent form should see him hold his place.
Mirallas should be given a chance but Deleofeu can play there or change with Lennon.
McCarthy is a workhorse but I blame the coach for not forcing him to move the ball forward a bit more and also getting on the end of a few things in the box.
Barry is going great right now.
Besic will hopefully take over the Barry role next season.
Barkley is a gem but once again he is being badly coached. He let a high ball bounce twice last week early in the game and lost the ball. He should be trapping that first time and he badly needs to learn how to challenge for a ball and tackle.
Lukaku is also a gem but, for all of our crosses coming into the opponent's area, he has to be putting more effort to get on the end of them and also track back with intent.
Plenty of others to mention but I would not trust this clown to teach anything to them. Where is Basil Faulty? He will sort him out!!
Great to be Blue but getting a bit sick on this roller coaster ride..
Anto Byrne
183
Posted 20/02/2016 at 06:35:24
We should batter Bournemouth if we get the breaks, and get some favourable cup draws we could be going to Wembley. They are capable of destroying teams – they just have to believe it.
12 games left and we should be thinking 36 points no exceptions. We can beat Arsenal at home and Man Utd away and I reckon we can do Leicester one as well.
I would like to see us teeing up shots from outside the box against teams that park the bus. Gerry Rom and Ross can all strike a ball but we need others to step up and hit the target.
Jamie Crowley
184
Posted 20/02/2016 at 06:57:02
I went for a lovely dinner with my bride this evening.
She's asleep, it's 1:55 am here, and I'm off to bed to arise and watch us, I pray, beat Bournemouth. You "lot" are just waking for a new day... most of you anyhow I'd venture...
Before I go into dreamland, I'm going to have a slice of the Oviedo cake Riding left for me and say to Darren Hind -
That is exactly why I read this fabulous website called ToffeeWeb, posts 146 and 151.
Goodnight! Hoping for a win because a loss will mean a ridiculous amount of Bobby out posts!
I think, after the posts today, I know how Richard Dodd felt backing Moyes...
Tony Hill
185
Posted 20/02/2016 at 07:57:27
Joe Clitherow (163), Power was excellent in that strangely assembled but effective 86-87 side. We had big injuries that season but held it together brilliantly – I think that title was a better tribute to HK's management actually, than 84-85.
Power did score against Man City and at Maine Road. I was at that game which we won 3-1.
Anthony Flack
187
Posted 22/02/2016 at 15:41:13
Maybe Roberto is looked at this
http://www.transfermarkt.co.uk/premier-league/fairnesstabelle/wettbewerb/GB1
Add Your Comments
In order to post a comment, you need to be logged in as a registered user of the site.
Or Sign up as a ToffeeWeb Member — it's free, takes just a few minutes and will allow you to post your comments on articles and Talking Points submissions across the site.
© ToffeeWeb