Williams keen to make the step up
by

18 Comments [Jump to last]
| 26/02/2016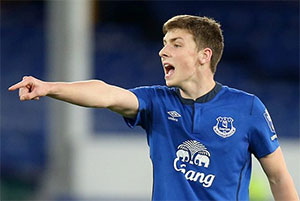 Everton's U21s midfielder Joe Williams says he has become a lot more patient as he has grown through the club's Academy but says he will be ready when the call to the first team comes.
Still only 18, Williams's stock has risen significantly in recent months and he has reportedly attracted interest from rival clubs like Manchester United.
Now captain of the Blues' second string, the Liverpool-born midfielder is clearly being groomed for Everton's senior side, however, and he has described how cutting his teeth in training sessions against the first team players has helped his development.
"It was a good little battle because I'm competitive and they'd come off and say 'he's just been kicking me there'," Williams says in the Liverpool Echo reflecting on practice game he experienced at Finch Farm when he was still a raw 16-year-old.
"It was a good test for me. Because they were dead quick and it was hard to get used to the pace, there were times when I would 'leave one in' by accident.
"Training with the first-team is normal now. I treat it as if I'm training with the under-21s. They're all sound with me."
Williams also describes the high standards expected of him and his team-mates from U21s manager David Unsworth, again with progression to Roberto Martinez's first team in mind.
"Players like Barry, McCarthy, Gibson, Besic, everyone, they've all got high 80s and 90% for pass completion rates," he continues. "So Unsy has been telling me that he wants me to get 90s every single week, he even told me once that he wanted me to get 100!
"I've never really come close to 100 but he expects high standards ."
Williams has only been named in the senior squad once, that for the Europa League dead rubber against FK Krasnodar in December 2014 where he was an unused substitute but he admits he is looking forward to the day when he can play for Everton at first-team level.
"When I was younger, I wasn't as patient as I am now," he explains. "I would be a bit gutted if I wasn't moving up but I am maturing now and when I am ready to play, I will play.
"Being captain has matured me. It has brought me on a lot this year, having to lead the lads and lead on the pitch.
"There is a bit more on it for me, I want the lads to win as much. I like having pressure on me and I love playing in big games. It is something I think I can handle.
"I just want to make that step up now."
---
Reader Comments (18)
Note: the following content is not moderated or vetted by the site owners at the time of submission. Comments are the responsibility of the poster. Disclaimer
Anthony Dwyer
1
Posted 27/02/2016 at 01:43:30
I can't help but feel all this talk of pass completion is something that slightly hinders the first team. It's a good thing to try to get players to do at the lower levels, but it's not something we should be too interested in for the first team. There is no way any players who are trying to break defences down can keep a 90% pass completion.
As a fan, you can almost see that Martinez takes a lot of interest in this particular stat; players like Barkley and Stones almost look obsessed with pass completion at times. Yes, Barry or McCarthy should be high in this department, but pushing Stones to do it stops him looking down the channel for runs from Lukaku.
Similarly with Barkley, at times he is accused of holding onto the ball a little to long, possibly over thinking a tight pass, wondering if his pass completion will suffer at the end of the game, instead of taking chances and causing defences to be on the back foot. I think that is why Mo Besic is not played over Barry or McCarthy; he himself likes to search for probing forward passes, rather than side to side or backwards, almost taking the short-cut through, rather than the longest way around a defence.
All-in-all, I am all for seeing good players keeping the football and frustrating teams, but we can overdo it at times. We are not Barcelona; we do not have Iniesta and Xavi, we have Barry and McCarthy, we do not have Messi, Neymar and Suarez; we have Lennon, Lukaku and Deulofeu; we can not imitate greatness, we have to find our own version of it – passing forward a little more often and lumping a ball out of defence from time to time will suit us and the Premier League better.
Anyways, I hope Williams gets a chance before the end of the season as I'm dying to see a couple of scousers break through, it will help push the talented foreign players on and bring some scouse mentality to the team.
Harold Matthews
2
Posted 27/02/2016 at 04:09:51
Spot on Anthony. Kids being ordered to up their pass completion stats. This is a horror story. Now we know why Mirallas and Deulofeu sit on the bench while McCarthy, Kone and Osman are sent out to strut their stuff.
As for Joe Williams and his ambitions. I've always liked his ability and aggression but there are lads out on loan who are way ahead of him.
Darren Hind
3
Posted 27/02/2016 at 06:26:55
Anthony Dwyer
Spoken like a man who knows what he is talking about.
Good post
Peter Larkin
4
Posted 27/02/2016 at 06:45:58
Hold on a second here, where does it say that the ball cannot be passed forward? I get what you say, Anthony, but, for me, keeping the football is huge.
I agree that we should move forward quicker at times and slow the game down when it suits us; however, most Premier League center-midfielders have a 90% pass rate, pretty standard really.
Darren Hind
5
Posted 27/02/2016 at 06:49:48
BTW Harold.
I pretty much shared your opinion of Williams, but a mate of mine, who watches for potential like a hawk, is made up with him. He reckons he has come on leaps and bounds in the past few months.
Phil Sammon
6
Posted 27/02/2016 at 06:52:15
It's absolutely terrifying that stats are even used like that within the club. Good stats should simply be a result of good play. They should never even cross a player's mind on the pitch. No bloody wonder we shit ourselves as soon as someone has to play that killer pass.
We occasionally get these little nuggets from players talking about what goes on at Finch Farm, under Martinez, and they invariably have me dumbstruck. He's like a soon-to-be parent who has read every book on bringing up kids. Only to realise none of it works in the real world.
Phil Sammon
7
Posted 27/02/2016 at 07:21:51
Actually, he still hasn't realised it, has he.
Paul Andrews
8
Posted 27/02/2016 at 07:38:34
I've only seen the lad play a couple of times; he looked a good prospect.
Dave Abrahams is the opinion we should be looking for when it comes to progress. Dave, what are your thoughts mate?
Danny Broderick
9
Posted 27/02/2016 at 08:18:19
Phil,
Football is full of stats now. Even lower league footballers look at distances run, amount of sprints in a game, pass completion, interceptions etc.
I think it's a good thing, if used right – there are no hiding places any more, even in training. It needs to be used sensibly though. A guy who runs 13 km in midfield hasn't necessarily played better than a guy who only runs 11 km.
Mike Allison
10
Posted 27/02/2016 at 09:29:49
This stats thing is like a pendulum. When professionals were completely ignorant of it, they could make poor decisions based on misconceptions about the game that a proper look at the stats might correct. Now though, the pendulum is at the opposite end, and stats are overused and considered more important than they really are. Like any tool, statistics are useful if you understand how to use them.
Williams's comments are worrying in that it does seem like our players are encouraged not to take risks with the ball. Martinez's 'sin miedo' concept is in fact the opposite in reality. Our players play with constant fear of losing the ball, and so don't make the right decision. John Stones is the most guilty of this, he'd rather dribble into his own six-yard box under pressure than get rid. The worst part of this is that we have one of the best strikers in the world for turning a 'get rid' ball into something dangerous or at least a huge territorial gain.
The frustration with Martinez, as always, is that he gives the impression that he is unwilling to learn any of this. On a general stats point, this links back to his ludicrous comments about set pieces, which demonstrate a complete misunderstanding of what statistics are and how they work.
Jon Withey
11
Posted 27/02/2016 at 09:41:43
It's pretty easy to see in recent England teams that we struggle to hold onto the ball when compared with other sides in the world.
Risks have to be taken to create chances but criticising high standards on ball retention is too much.
Dave Abrahams
12
Posted 27/02/2016 at 09:48:13
Not sure about Joe, he always looked promising and a good worker who doesn't shirk work or responsibility; I haven't seen him for a while and maybe training with the first team players is bringing him on, like Harold, the master, says I've got Walsh, Kenny and possibly Ledson ahead of him.
As for these pass completions, I just don't take any notice of them; don't mean anything at all to me. Dave Unsworth is well regarded at Everton, so maybe that's the right way.
In today's teaching, I'd be teaching off-the-cuff football where the game just comes natural to any good player. Stats... they give me a fuckin' headache.
Phill Thompson
14
Posted 27/02/2016 at 11:19:04
At the start of the season, I had Joe outside of Roberto's "Golden generation"; Davies and Ledson have more promise as defensive midfielders; Evans, Dowell, Walsh further forward. But fair play he's stepped up his game in the past few months and his partnership with Tom Davies has brought a stability to the U21s.
His commitment has always been there but he's added goals and organisation to his game. Along with Walsh, he's probably made the most progress this season . Not sure if he'll make it all the way but a good captain of the U21s... good luck to him.
Paul Andrews
15
Posted 27/02/2016 at 11:36:57
Thanks Dave,
Harold and yourself have a good take on our youth system. I always look forward to your progress reports. Obvious you think Liam is the pick of the bunch.
David Hallwood
17
Posted 27/02/2016 at 12:04:27
Btw, before I finish the comment that's a great feature that the editors have added that you can edit the post – especially in the days of smart phones. I'll just have to work out how to use it!
To finish my point, I only hope that some of our homegrown get their chances because out midfield is relatively young.
Peter Gorman
18
Posted 27/02/2016 at 14:53:12
Have only seen Joe in the 3-3 derby last year (can't remember if it was the U21s or U18s).
He was one of the standout players alongside Walsh. Certainly had a better game than the far older Grant, McAleny and Gethin Jones.
Seems to be a dedicated young lad, hope he makes it somewhere if not here.
Frank Wade
19
Posted 02/03/2016 at 15:33:20
The key stat we should be looking for is 'key ' passes completed and attempted. As Mike in 10 above says the 'sin miedo' was seen as a plus, in that the team tries to retain possession without fear. It can turn into a negative, when potential openings are available, but chance of pass completion is 50% or less, and a simpler less risky pass is chosen and the chance spurned. Happens a lot in the 'park the bus' games.
Dave Abrahams
21
Posted 07/03/2016 at 12:16:43
You can watch Joe Williams and Keiron Dowell tonight, they are on BT sport versus Sunderland around 7:30 pm.
Add Your Comments
In order to post a comment, you need to be logged in as a registered user of the site.
Or Sign up as a ToffeeWeb Member — it's free, takes just a few minutes and will allow you to post your comments on articles and Talking Points submissions across the site.
© ToffeeWeb