Aston Villa vs Everton
by

76 Comments [Jump to last]
| 29/02/2016
Match Preview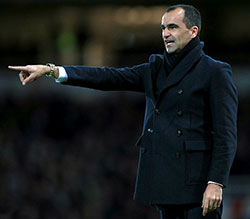 Roberto Martinez has no new injury concerns for the trip to Villa Park
What promised to be a quiet weekend for Evertonians, with most preparing to hunker down in case of the wrong result in the Capital One Cup Final at Wembley, exploded with news on the investment front as Iranian-born billionaire Farhad Moshiri was announced as the owner of a 49.9% stake in Everton FC.
While the full details have yet to be revealed and no one has heard directly from the former Arsenal shareholder himself, the general feeling is one of cautious positivity that Chairman Bill Kenwright has opened a new chapter in the club's history, one that might finally see Everton given the financial backing that a club of its stature deserves.
As exciting a development as that may prove to be, the return to action on the field with a trip to Villa Park on Tuesday evening brings back into focus just how disappointing 2015-16 has been thus far. Indeed, with Everton idle, Chelsea continued their revival under Guus Hiddink with a 2-1 win over Southampton that moves them into 11th and pushes the Toffees into 12th.
Results elsewhere ensured that Roberto Martinez's men will kick off against Aston Villa a full nine points adrift of Manchester United in 5th and eight behind West Ham in 6th. That they have a game in hand over all bar one of the clubs above them would be more reassuring if that missing fixture wasn't the Anfield derby... 
Still, when contrasted with their results at home, Everton's away record has been remarkable this season and there are worse places to go when you need three points than the home of the Premier League's bottom club. The Blues' last three away games in all competitions have yielded three consecutive wins,  as many clean sheets and have ushered them into the Quarter Finals of the FA Cup.
Indeed, their last game was the unspectacular but professional 2-0 win at Bournemouth in the cup and a repeat of that display or the one that demolished Stoke City two weeks prior would be just the ticket to keep the team's hopes of qualifying for Europe this season alive.
In addition to a rare 10-day break  and the opportunity to take his players on a warm-weather training trip to Dubai, Martinez has a virtually full-strength first-team squad from which to choose. Muhamed Besic, Tyias Browning, Darron Gibson and, presumably, Tony Hibbert are not in contention because of injury but no other injury concerns have cropped up since the win over Bournemouth.
That will likely ensure minimal — if any — changes to the starting XI that began the game against the Cherries. If so, it would mean all three of Tim Howard, John Stones and Leighton Baines on the bench alongside Oumar Niasse who will be hoping to get more minutes under his belt as a substitute if he isn't included in the starting XI.
While Evertonians are looking forward with some optimism to how things could change for the better at Goodison Park, Aston Villa are in the throes of genuine crisis and are almost certainly heading out of the top flight for the first time in the Premier League era.
Their plight is part of the cyclical nature of football that is still at play to varying degrees in the Premier League depending on the amount of immunity to such things massive wealth can provide but, given Villa's rich traditions and historical kinship in that regard with the Toffees, it's hard not to feel sympathy for a great old club clinging by its fingernails to the trapdoor to the Championship below.
With owner Randy Lerner looking for an exit after a decade at the helm and Remi Garde unable to bring about any renaissance in form since being appointed in November — the Midlanders have won just twice under the Frenchman — Villa are anchored to the bottom of the table, their players accused by their manager of not giving everything to the cause.
Garde's Herculean task of pulling off a rescue act have been complicated by injuries and suspension to some important players recently and he will be without young midfielder Jack Grealish, Carlos Sanchez, Libor Kozak, Adama Traore and Jordan Amavi. Jordan Ayew is available for selection again, however, following suspension for a straight red card at West Ham earlier this month.
Given the mess Villa find themselves in, particularly from a psychological point of view, this game represents an excellent opportunity for Everton to go to Villa Park and compound their misery with another clinical performance. Garde will be hoping to inspire his men to show some fight and pride in their claret-and-blue jerseys but this is a game that the Blues are more than equipped to win if they approach it and execute in the right way.
Kick-off: 7:45pm
Referee: Roger East
Predicted line-up: Robles, Coleman, Jagielka, Funes Mori, Oviedo, Barry, McCarthy, Cleverley, Lennon, Barkley, Lukaku.
Full details: ToffeeWeb match page
---
Reader Comments (76)
Note: the following content is not moderated or vetted by the site owners at the time of submission. Comments are the responsibility of the poster. Disclaimer
Gareth Clark
1
Posted 29/02/2016 at 19:28:49
I think it's time to give Deulofeu another chance! Lennon hasn't done much lately, and I'd like to see Niasse have a chance up front with Lukaku in the second half.
Ian Burns
2
Posted 29/02/2016 at 19:43:20
Can you imagine the comments on TW if we don't win this one! There is never a guaranteed 3 points in the Premier League but surely this is as close as it comes?
Mike Green
3
Posted 29/02/2016 at 19:48:23
Banker Ian, surely?
I was talking to someone last week who said Villa played Villa U-21's last week behind closed doors and lost 3-0......not sure how much truth is in it but wouldn't surprise me at all.
Colin Glassar
4
Posted 29/02/2016 at 19:54:20
I think it's time to bring Stones back. If he's going to stay with us he needs to start playing again otherwise tell him he's leaving in the summer. It's a big call for Roberto but one he will have to make sooner or later
Paul Andrews
5
Posted 29/02/2016 at 19:58:25
Who would you drop for Stones, Colin?
Jay Harris
6
Posted 29/02/2016 at 19:58:49
Gareth,
"Lennon hasn't done much lately".
He almost single handedly won us 2 of the 3 games where we had respectable results and the only game he was not at his best was when the whole team capitulated to the mighty West Brom.
Ask Seamus Coleman who he would like in front of him and I am sure he will tell you Lennon.
IMO Deulofeu is OK as a late sub to inspire a "moment" in the game but is not a 90-minute man, like Lennon.
I would also like Mirallas to occupy the other wide slot and really go at Villa.
Martin Mason
7
Posted 29/02/2016 at 20:13:13
Why do I see a banana skin when none should be possible?
Mark Gardiner
8
Posted 29/02/2016 at 20:17:05
If we don't win this one then Martinez ought to quit. Some say that there is no such thing as a guaranteed three points but this has to be one of them.
I'd like to see some balance. Lennon, right, Mirallas, left or give the new man a start to give Romelu some support.
Let's hope that the team hasn't left it's talents back on the beach after their break.
Three points and nothing else will be acceptable. What would Martinez have as an excuse if we don't win?
Jim Bennings
9
Posted 29/02/2016 at 20:31:20
Care to elaborate on how Lennon hasn't done much lately?
He's worked his socks off for the team, is it any coincidence also that Lennon tracking back helping Coleman out has resulted in us looking more solid as a unit defensively?
Don't get me wrong I'm a Deulofeu fan but at times his stropping and sulking when things aren't going his way can be off-putting for the team, he's mercurial and skillful but maddeningly frustrating at times.
On to the match itself, it looks increasingly likely to be our last trip to Villa Park for a while, a shame in many ways as it's always been one of my favourite fixtures on the calendar but a good example of what can happen when club's regardless of their size are poorly run.
If we can't win that game tomorrow night then do we really deserve to finish in the top half of the table?
Aston Villa are awful, truly apologetic as a Premier League football team, almost as bad as the Derby County side of 2007/08.
We have tough fixtures on the horizon in March and early April, so it's imperative that nothing less than 3 points is registered at Villa tomorrow.
We have spoken quite often about the fact we have only lost the 1 away game this season but we have only won 4.
Nothing less than a win tomorrow night will suffice.
Jim Bennings
10
Posted 29/02/2016 at 20:51:19
I'd suggest our away record rather than being remarkable, has been solid.
Yes it's good going to have lost once by March but just 4 wins let's it down from being classed as remarkable.
If we had won 7 or 8 then that would have been remarkable.
Andy Meighan
11
Posted 29/02/2016 at 20:57:05
I'd be disappointed if we don't win this. I mean even the very average Liverpool put 6 past them. Nothing less than 3pts and there's going to be some very irate Toffeemen.

As Jim says, we've only lost 1 but only won 4 away so here's a great chance to make it 5 against a side who I regard as one of the worst Premier League sides for many years.
Rob Dolby
12
Posted 29/02/2016 at 21:24:11
Robles;
Coleman, Funes Mori, Jagielka, Oviedo;
Deulofeu, Barry, McCarthy, Lennon;
Barkley;
Lukaku.
That should do the trick!
Mark Andersson
13
Posted 29/02/2016 at 21:31:14
I concur with Jim. Lennon for me every time.
Another 3-0 win is what I expect.
Lyndon Lloyd
14
Posted 29/02/2016 at 22:15:59
Jim (10), the key phrase was "when contrasted with their results at home..."
Our away form isn't remarkable on its own but when you look at the fact that we've lost six times as many home matches as away by this stage of the season, I'd say that is worth remarking on.
The key is in the comparison.
Les Netherwood
15
Posted 29/02/2016 at 22:17:29
Do not bring Stones back... we are doing well without his showboating on our goal line. Lennon should stay also. Deulofeu is a 20-minute player and a useful substitute.
We should win this one... but when could we be sure of anything with Roberto on the touchline???

Harold Matthews
16
Posted 29/02/2016 at 22:55:31
McCarthy reckons he's fit and raring to go after his warm weather break. We'll see. He's done absolutely nothing in recent games and knows Besic is almost ready to return. If Macca doesn't shape up, he's out.
He joined us for £13mil, age 23 but has not improved one jot. Once my favourite player, various injuries have hampered his progress and I'm hoping to see the old, quick, aggressive McCarthy against Villa.
After frantically licking the boots of Bill and Mr Moshiri, our manager will desperately want to demonstrate his competence and a resounding victory is confidently expected.
Andy Crooks
17
Posted 01/03/2016 at 00:14:38
Martin Mason, I see your point. Villa have nothing to hurt us with, absolutely nothing... yet, like you,I fear a banana skin.
Garde looks like a man who cannot believe where he has landed, they have nothing to offer, their spirit has gone but... they have supporters who, having accepted the inevitable, now want and are driving their players to some sort of dignity. They will win soon and it must not be against us.
Ian Smitham
18
Posted 01/03/2016 at 00:48:34
Mr Crooks, you have let the Genie out of the bag. How many times have you, me and everyone else heard of a team who have not done this that or the other only to be faced by Everton next and .....well you can guess the rest??
Someone needs to make sure your last line is right.
Colin Glassar
19
Posted 01/03/2016 at 00:58:51
If Stonesy is to stay then it would have to be Jags, Paul. Stones and Funes Mori are the future so they are going to have to start working together.
Peter Barry
21
Posted 01/03/2016 at 02:24:57
Why is it we always fear the worst when we face what should be a formality of a game. Well, because we are Evertonians... and we have been disappointed far too many times – that's why.
Dick Fearon
22
Posted 01/03/2016 at 02:37:54
Andy @16, Ian @17, Exactly my feelings, specially when commentators mention that such a player hasn't scored for X years or such a team does not know where its next win will come from. I wish they would keep their gobs shut!
Having said that and hoping to pull a double bluff, I reckon anything less than a resounding win would be unthinkable.
Abhishek Saha
23
Posted 01/03/2016 at 02:41:19
Irrespective of whoever starts, we just need to make sure that we use all our 3 subs and give 14 players decent game time. Given the depth in our squad, and many players being consistently in and out of form (Deulofeu, Lennon, Stones, Cleverley, McCarthy, Baines), it is important that we use this game as an opportunity to identify our bext XI and field them against Chelski at home for the Quarterfinal!
COYB!!
Eugene Ruane
24
Posted 01/03/2016 at 03:05:08
Hmm...let me think.

Villa haven't won a game, scored a goal or conceded less than 14 goals in a game since 1949.

Their first team and under 21s all have beriberi, trench-foot, nob-rot and lassa-fever, so they will be forced to play their under 18s for the rest of the season.

Top American therapist, Hiram J. Peppershaker III, describes the mood of the midland's club as 'lower than a grass-snake's ball-bag' and suggests that some players there have become so fragile, even a throw-in going against them could require months of therapy to get over.

Result?

Villa 2 Everton 1.

(this is Everton, it's a nap, 4/1 Ladbrokes - soften the blow).
Gareth Clark
25
Posted 01/03/2016 at 05:38:35
Fair enough, Lennon has been doing well! But following the West Brom game and it being Villa, I'd like to see Deulofeu get some game time!
Robles;
Coleman, Stones, Funes Mori, Baines;
McCarthy, Cleverley;
Deulofeu, Barkley, Mirallas;
Lukaku.
Or:
Robles;
Coleman, Stones, Funes Mori, Baines;
McCarthy, Barry, Cleverley;
Barkley;
Lukaku, Niasse.
Harold Matthews
26
Posted 01/03/2016 at 05:46:16
Great stuff, Eugene. Have you had early news about our line-up?
Michael Coffey
27
Posted 01/03/2016 at 06:17:02
If Villa do go down, Everton will become the only club to have been both founder members of the Football League and never relegated from the Premier League.
If that counts for anything...
Darren Hind
28
Posted 01/03/2016 at 06:22:18
Ccleverly worded, Michael, but you will still be picked up.
Mike Green
29
Posted 01/03/2016 at 06:57:38
Looking at it a bit closer, despite a 6-0 drubbing from Liverpool and a 2-0 defeat to Arsenal, their recent home form isn't that disastrous to be honest (beat Norwich and Palace, drew against West Ham and Leicester), so a real mixed bag.
We are third in the away form league though, and this week's shot in the arm should have the players running around like mad things. Villa ought not know what's hit them.
Rob Hooton
30
Posted 01/03/2016 at 07:20:01
It's very sad to see a club like Villa in the predicament they are in but we need to be right on our game and try and stuff 'em.
I'm still having a fiver on Eugene's shoreline of 2-1 to the home team because, well, we are Everton! Hope I'm wrong and we do a proper job, COYB!
Dave Lynch
31
Posted 01/03/2016 at 09:09:18
They are woeful. By far the worst team I've seen in the Premier League since its conception.
Lose this and all hope of RM keeping his job goes out of the window... surely we cannot lose this one???
Jim Bennings
32
Posted 01/03/2016 at 09:23:38
Dave
I think even not beating them would be a disgraceful result.
Losing is unthinkable but if we keep talking about this greatest squad in 30 years, you need to back up the hype, we should be beating these with minimum effort really if all the big players turn up.
Denis Richardson
33
Posted 01/03/2016 at 09:34:18
Martinez must know that all his 'performance is more important than the result' nonsense will not wash with the new owner.
I fully expect us to win as he will put his 'philosophy' aside to make sure we get points on the board. If he wants to keep his job that will be the case. If we don't get 3 points tonight, I'm not going to have much hope for the weekend.
Zahir Jaffer
34
Posted 01/03/2016 at 09:48:57
I'm extremely excited about our game tonight. Playing one of the worst teams in the Premier League and away from home. Can't get any better than this.
I'm pretty sure our servants would like to make a solid impression on our wealthy investor and the lengthy layoff should only benefit our chances of demolishing them. Expecting a neat and tidy 4-0 win. COYB!!
Christopher Dover
35
Posted 01/03/2016 at 09:49:07
Will RM stick to his tip-tap football with new owner who after investing the amount he has will not put up with "the next twelve games" mantra.
If he is sticking to his style of play then good on him for doing what he says he believes in, but it does not work: look at Arsenal against Man Utd – lots of tip-tap in their own half and Man Utd on breaks put it all to the sword by scoring more and surprise they win the game.
If RM does change, it will come as a great shock to him as his whole philosophy will also change and all because he will want to keep his job. If he does and it works, then great – lets get behind him and the team. But if he reverts, then I cannot see new owner putting up with it as he has waited long enough for Arsenal to move forward and WIN things.
Gary Heywood
36
Posted 01/03/2016 at 10:22:25
Don't like to see a truly great football club like Villa getting relegated. I hope they can bounce back soon.
Shane Corcoran
37
Posted 01/03/2016 at 10:24:07
Ayew is back for them. I can see us outplaying them 30 yards from goal for half an hour. After that... who knows. I have to go play five-a-side at 9 o'clock. Imagine the anticipation later on.
Tony Abrahams
38
Posted 01/03/2016 at 10:42:14
Shane, five-aside, brilliant. Stop making it sound like a chore!
Jay 6, have to agree with you 100% mate.
Jim Bennings
39
Posted 01/03/2016 at 11:01:20
Gary Heywood
Agreed 100%.
So sad to see a famous club like Villa relegated, great stadium, easy away trip to reach and like ourselves very much spent the last 20-30 year's underachieving.
When you look at the old clubs in the Championship nowadays, Leeds United, Nottingham Forest, Sheffield Wednesday, even clubs like Blackburn Rovers and Bolton Wanderers or Charlton Athletic who established themselves as top flight clubs over the last 20 years, it just shows relegation can happen to anyone.
Christian Gawne
40
Posted 01/03/2016 at 12:38:41
Its got 0-0 written all over it.
Everton that
Jason Thomas
41
Posted 01/03/2016 at 13:26:43
I have the feeling that the Dubai trip will contribute to one or two changes. I think Baines & Stones will start and maybe Mirallas. Lennon surely will keep his place on the right.
Please don't be another WBA. This has to be the worst season ever for feeling sick after games. There's just been so many!
Paul Smith
42
Posted 01/03/2016 at 13:27:34
My team for tonight would be:
Robles;
Coleman, Jagielka, Funes Mori, Baines;
Lennon, Barry, Cleverly, Barkley;
Mirallas, Lukaku.
We've got to show no mercy tonight – start fast, get ahead, and take them to the cleaners. Let's keep the feelgood factor going for as long as possible.
Tom Bowers
44
Posted 01/03/2016 at 13:30:30
Games like this always worry me. The RS caught them really ice cold in the last home game so I am sure they will better prepared for the Blues. On paper, everyone knows what the result should be but Everton have a bad knack of letting their fans down although this is an away game, thank God!
Villa have no chance of staying up so can be relaxed and play just for pride but Everton need to stay focused on the job in hand, especially if they score early. There is a cause for real optimism now that the investment has finally arrived and although the top Euro places may be beyond them they might be able to sneak into Europa League if the improvement continues and they beat the RS along the way.
I don't see any reason yet to change the starting eleven unless Martinez wants to start rotating but they have all had a good rest since the last game.
Tony Hill
45
Posted 01/03/2016 at 13:31:26
Yes the most played top division fixture will be no more next season. We simply must win, there is no excuse for less.
David Pearl
46
Posted 01/03/2016 at 13:36:37
I'm thinking a repeat of the 4-0 home score. We can't be anything other than well rested and the squad should be raring to go after the news this week of player investment! I'm expecting Lukaku and Rock Lobster to enhance my fantasy football score. I cant believe earlier in this thread I read that "Lennon hasn't done much lately"....
Other than that...? I think a little side bet on Naismith first scorer!!
Peter Cummings
47
Posted 01/03/2016 at 13:39:51
I don't think Villa will be the walkover many posters seem to think; while it's almost certain they will be relegated, win or lose tonight, Evertonians have learned nothing is guaranteed, especially in this upside down season of shocks in the Premier League, and we lead the field in that respect although I still think we will get the points tonight.
Shane Corcoran
48
Posted 01/03/2016 at 14:20:38
Tony (#37), not a chore at all. Just pointing out that I'll have to desert the blues half-way through.
Ray Robinson
49
Posted 01/03/2016 at 14:24:49
Dave (#44), you reckon Naismith will score against Chelsea then do you?
Dave Abrahams
50
Posted 01/03/2016 at 14:26:50
Tom (#42) you are spot on there, Liverpool battering them 6-0 in their last home game hasn't helped Everton at all.
Their crowd will wanting much more effort against us. I'm still hoping for a victory but not expecting a big score; maybe I'll be pleasantly surprised.
Stephen Scofield
51
Posted 01/03/2016 at 14:36:52
Really confused about everyone's comments regarding Deulofeu. I'd much prefer to see him start ahead of Lennon. He and Lukaku early season were immense. I didn't see any drop-off from Deulofeu so am unsure why he's lost his place.
Phil Walling
52
Posted 01/03/2016 at 14:38:45
Martinez can order tippy-tappy all night against this lot and we'll still win 2-0 or 3-0!
The four-goal thrashing in November was the only game I've seen at Goodison all season and I thought that was the worst Villa team I've seen in all of 50 years.
Nothing to worry about at all. Fill your boots @ 9/1 for us to win 2-0 and 17/1 to win 3-0.
Happy days.... I hope!
Bill Gall
54
Posted 01/03/2016 at 14:47:18
Let's see how well the trip to Dubai has helped some of the players with niggling injuries.
Paul Andrews
55
Posted 01/03/2016 at 15:09:28
Should be 3 points for us. Get the first goal early, then counter-attack football. They have no choice but to come at us.
Ray Robinson
56
Posted 01/03/2016 at 15:09:48
Stephen (#49),
I've watched many recent Everton games and I can confirm that Deulofeu has dropped off the pace big style. It doesn't help that he is totally knackered after the 60 minute mark whereas Lennon has seemingly limitless energy and tracks back too. With Everton's defence frailty, it makes sense, in my opinion, to start with Lennon and bring Deulofeu on later, if need be.
Jay Harris
57
Posted 01/03/2016 at 16:02:42
I think a lot depends on Lukaku who hopefully after Dubai will be fully recharged and not thinking about his summer move.
James Stewart
58
Posted 01/03/2016 at 16:25:25
I don't like the look of that team at all.
Robles;
Coleman, Stones, Jagielka, Baines;
McCarthy, Barry, Barkley;
Deulofeu, Lukaku, Mirallas.
Harsh on Lennon but I just feel we can afford to be attacking for this one.
Jamie Barlow
59
Posted 01/03/2016 at 16:28:42
I agree Ray, although I think you're being generous with 60 minutes. He was blowing out of his arse 5 minutes before half-time when he last started.
Same team to start as last time except maybe Mirallas coming in for Cleverley.
David Pearl
61
Posted 01/03/2016 at 16:50:56
Ray, Yeah Naismith must be a good bet to nick the first goal v Chelsea tonight... Maybe not the hat-trick though hey!
I can't see RM changing the team that's started the last few. I'd like to see Mirallas given a go but I doubt it... I think he has to come on as sub and force the managers hand (although when he comes on and does well it still doesn't matter). Plus now Niasse is there too. Is Pienaar fit again? I'd also like to see a refreshed Baines back but again... doubt it. What a squad we have.
And finally my new song wasn't a misprint. Rock Lobster.... (Ross Barkley... catchy tune) :)
Tony Twist
62
Posted 01/03/2016 at 17:05:34
Should be 3 points to the Blues tonight. Hopefully with the new major shareholder on board, the manager will not have an easy ride when results go against us.
My team would be:-
Robles;
Coleman, Jagielka, Funes Mori, Baines;
Deulofeu, Barry, McCarthy, Oviedo;
Lukaku, Niasse.
A traditional 4-4-2 formation will hopefully put them under pressure from the start and with a few quick goals we can then start playing the tippy-tappy stuff and bring on the likes of Barkley and Mirallas in the second half with the game won.
David King
63
Posted 01/03/2016 at 17:17:43
My team:
Robles;
Coleman, Jagielka, Funes Mori, Baines;
Lennon, Barry, Cleverley, Mirallas;
Barkley, Lukaku.
Victor Jones
64
Posted 01/03/2016 at 17:20:14
This has to be an Everton win tonight. And yes, I thought the same when we played a poor Swansea team a few months back. And I thought the same when we played a poor WBA... we all did. Martinez got everything wrong in those matches. (Not changing things sooner; not playing Mirallas.) The players got everything wrong. (High balls, when playing on the ground was called for.) Not much point of pounding a team, only to end up losing. Happens to Everton every bloody time. But tonight has to be different (famous last words). This Villa team is not only the worst team in the Premier League this season – they are one of the worst teams ever seen since the Premier League was formed. Liverpool beat them 6-0 only a few weeks ago, FFS. We cannot contemplate anything more than a win tonight. A draw also would be a poor result. But as usual with Everton, I advise caution. We need to score first. Then hopefully a second, without reply. Then I start to settle. Maybe then I can enjoy this game. Then I can come on here , and congratulate everybody. Say that Martinez has done well. Say that the team, actually played like the team that we all know they can (at times) be. See us look a little better in the league placings. Look forward to the West Ham game. Cap off a very good week for Everton Football Club. Please, Mr Martinez, don't balls all that up. Thank you.
Every Everton game means something. This one tonight would be a real kick in the teeth, should we drop points. So here's hoping that just for once that we turn up, that we act and play like favourites.... that Martinez has the team going for goals, and not aimlessly passing the ball from Villa's half , back to Joel. Tip-tap fucking tippity-tappity nonsense... I don't want to see any of that tonight – be more direct. This Aston Villa team will fold. Lukaku (should he decide to turn up) can fill his boots tonight. So can Barkley. Lennon starts in my opinion. Mirallas also gets a start. Maybe Cleverley gives way. Stones (for me) is still on the bench. Why split Jags and Funes Mori?
We cannot lose this game tonight... can we? Up the Toffees.
Michael Kenrick
65
Posted 01/03/2016 at 17:21:21
Question: When has Martinez ever played 4-4-2?
Paul Andrews
66
Posted 01/03/2016 at 17:33:50
Answer: he doesn't.
Unless you can remember an occasion, Michael?
Paul Andrews
67
Posted 01/03/2016 at 17:37:28
I read an interesting post earlier on TW.
A poster suggesting 4-3-1-2
The solidity of a central 3 would allow both full backs to get forward, let Ross play in the hole and get two forwards on the pitch.
Paul Conway
68
Posted 01/03/2016 at 17:38:45
After the West Brom game, I said I would never bet again... nothing is nailed on anymore. The days when you could find a few bankers in yer football bet, be it home or away, are all gone.
I think I will stick to Russian roulette, it's safer!!
Gerard Carey
69
Posted 01/03/2016 at 17:50:31
Just get three points, please. We have won just three of our last 13 league games...
Just win!!!
Kevin Elliott
70
Posted 01/03/2016 at 17:54:44
Tony Twist @58.
Like the look of your team mate and the four-four-two. The only thing I would change is Oviedo as left back and Bainsey further forward. I'm sure that those two working together on the left can cause a lot of damage.
The manager and players know that they need to perform tonight because of the new owner and personally I think they will and we will hammer them.
James Stewart
71
Posted 01/03/2016 at 17:59:29
@61 he played it on occasion at Wigan. Works a treat for Leicester and City at times and against the likes of villa and wba, when we have 70% possession, you have to question the logic of only one up top
Colin Hughes
72
Posted 01/03/2016 at 18:11:19
I know they are dross these days but it hasn't been a good hunting ground for us in the Premier League era with us registering only 3 wins since 1987. It's a bit like Elland Road for us where we only managed one win in half a century and drew 1-1 the season they got relegated with a terrible side in 2004.
We always make hard work if poor sides, see also West Brom last home game for that .
James Marshall
73
Posted 01/03/2016 at 18:13:15
This has a draw written all over it.
(I'm very rarely correct with my shitty predictions)
Charles Barrow
74
Posted 01/03/2016 at 18:13:52
Stones has to play - a real classy centre-half with bags of skill. Too many people are too quick to criticise him; just like they are with Barkley.
He's cool and collected in possession and an excellent distributor of the ball. Yes, he can learn when to launch it into Row Z and when to dribble – but too many people are on his case.
I'd drop Funes Mori – average passer of the ball and a bit slow when caught out of position.
Colin Glassar
75
Posted 01/03/2016 at 18:15:47
I've written this season off but I still expect us to win tonight
James Marshall
76
Posted 01/03/2016 at 18:16:23
Are you looking forward to next season, Colin?
Colin Glassar
77
Posted 01/03/2016 at 18:20:14
I always look to next season James. It's what keeps me going. Charles, totally agree. We can't keep Stonesy on the bench forever.
James Marshall
78
Posted 01/03/2016 at 18:24:32
Hasn't Stones had a jippy hammy? I thought that was the reason he's been missing games.
I just read that Villa fans are planning a walkout during the game tonight - those rarely end well for home teams.
Colin Glassar
79
Posted 01/03/2016 at 18:30:18
I don't accept the "injury" excuse James. I think both have been "rested".
Jamie Barlow
80
Posted 01/03/2016 at 19:17:52
If we're winning games and keeping clean sheets (or conceding less goals) he can stay on the bench. Doesn't matter how good or young he is.
Also, if he's still making noises about fucking off next season, what's the point in playing him?
Add Your Comments
In order to post a comment, you need to be logged in as a registered user of the site.
Or Sign up as a ToffeeWeb Member — it's free, takes just a few minutes and will allow you to post your comments on articles and Talking Points submissions across the site.
© ToffeeWeb