Martinez can fish in a bigger pond with Moshiri on board
by

56 Comments [Jump to last]
| 04/03/2016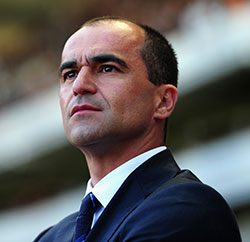 Roberto Martinez admits that the new investment from Farhad Moshiri will widen the scope of his transfer dealings this summer.
The Everton boss is expected to be granted a bigger budget for personnel acquisition and retention during the close season and while it won't change the type of player he is looking it, it will likely impact the calibre.
"I wouldn't say my transfer plans have changed, in the way we work," Martinez said in the Liverpool Echo, who report that Andriy Yarmolenko remains on the Catalan's wanted list.
"The way we work is to identify the footballers who would fit in with the way we want to play and the way we want to be but, clearly, the new era means we will have to extend the amount of players we can fit in our project.
"It hasn't changed but what it has done is expanded the area we can look into."
---
Reader Comments (56)
Note: the following content is not moderated or vetted by the site owners at the time of submission. Comments are the responsibility of the poster. Disclaimer
Ray Smith
1
Posted 04/03/2016 at 20:10:05
Other than money what is Martinez going to use for bait?
If you can't offer European football the big fish won't bite?
FA cup seems our only hope at present?
I think qualifying through the league went out of the window when West Ham beat Spurs on Wednesday.
I'm trying to be positive, but can't see it quite happening this year!
Jim Hardin
2
Posted 04/03/2016 at 20:24:10
Maybe not with this manager but it does sound encouraging if it means we can afford to revamp the wages structure so we can afford the type players the club needs.
Jim Lloyd
3
Posted 04/03/2016 at 20:24:34
Well, I think money is a pretty good incentive. It's not the best, thats probably a combination of money AND living in London. Most of the competitors who we are trying to get on terms with are offering players much higher salaries than us.
Manchester City found that money attracted players and they could offer nothing but money to begin with. They found it difficult at first. I remember some of the journalists almost laughing in their beer when City started going for top quality players. They got them.
We are not going to leap in one bound right into the select shower of so called big clubs who got their by waving money about. Except perhaps Arsenal as they seem to have picked up over the years, stupendously good players not through waving their cheque book.
Ian Bennett
4
Posted 04/03/2016 at 20:27:57
He can offer attractive football. I am disappointed with the campaign as much as everyone else, but the opportunity of joining a young team that plays a good brand of football has to outweigh the hoofball on offer elsewhere.
Wages should be freed up from 5 or so departures from old guard. Key is keeping the jewels. Here's hoping.
James Marshall
5
Posted 04/03/2016 at 20:29:58
I'm not convinced the promised land of European football is the be-all & end-all for now – there's so much money to be had at Premier League clubs and only so many players to go around. Look at West Ham and some of their signings – no European football to speak of lured them in did it?
Payet et all all went there to play football in the top league, and earn the big bucks so there's no reason we can't attract big names – especially as we should have some more money to spend on wages (one would assume).
Ray Smith
6
Posted 04/03/2016 at 20:35:41
James #5
Good point James.
I wonder if Moshiri's partner Osminov has any influence at Dynamo Kiev to attract Yarmolenko to Goodison Park?
Pete North
8
Posted 04/03/2016 at 20:50:30
Can't see that the new shareholder will be interested in giving the club cash to spend on players and it's really unhelpful when the media talk as if he will. It makes no sense unless the price of the Kenwright/Woods shares was discounted accordingly, in which case it's their investment, not Moshiri's.
More likely, a combination of the new TV deals plus loan guarantees which Moshiri might provide would enable the club to be fully active in the market before August. In that context, bearing in mind that players contracts are amortised over a number of years, maybe there will be relatively huge investments made this summer in a 'widened scope of targets', similar to West Ham, Southampton, Stoke et alia, who will all be able to do the same.
Let's hope the Everton recruits are tough as well as talented and want to defend set pieces.
Raymond Fox
10
Posted 04/03/2016 at 21:03:20
I do agree James about European competitions, you need a very big quality squad to compete in both the Prem. and Europe.
The very best players are keen to showcase themselves in Europe though, which is a problem if we want to attract one or two to Goodison.
Even with the promise of extra money to spend we are still going to find it difficult to match your City, Chelsea, United with their mega spending.
That's not to say that Moshiri being involved is not great news, of course it is and will certainly help us to be more competitive.
Rob Dolby
11
Posted 04/03/2016 at 21:06:26
Let's hope Roberto puts some steel into the squad. We have a soft core that needs a few characters who can drive and motivate on the pitch.
We aren't a million miles away. I just hope we don't start buying players for the sake of it. I don't want us to become a Man City or Chelsea.
Jim Bennings
12
Posted 04/03/2016 at 21:09:43
Winning the FA Cup would surprise people in how big a pull that is for some player's even in this day.
Back in 1995, we had just survived in the Premier League by the skin of our teeth but we were able to attract a player of the calibre of Andrei Kanchelskis, mainly due to winning the Cup, we appealed as a club that looked like it was going places.
I doubt money will really be much of an issue for Everton this summer, what with the mega TV deal coupled with Moshiri being here now.
As I said a week ago, I'd be very surprised and disappointed to not see Everton being one of the top 6 spenders in the league.
James Marshall
13
Posted 04/03/2016 at 21:16:43
Colin, this from t'internet:
After selling his shares in Arsenal just one week ago, the Premier League are expected to pass Moshiri under its fit-and-proper-person owners and directors test next week, paving the way for his takeover at Everton.
Gavin Johnson
14
Posted 04/03/2016 at 21:48:36
We've had 4 wins in 5 games and we're not moving up the league.
This season reminds me of the Football League Championship in how tight things are between the clubs, and it doesn't look as though we're going to finish high enough to qualify for the Europa League unless we win the FA Cup.
If we sign Yarmolenko, I think that will still be a significant coup even with new-found money. He'll have his pick of clubs in the summer and we're unlikely to be playing in Europe. But It looks as though our links with his agent and our sheer diligence that we have a good chance of pulling that one off.
I guess the resigning Wayne Rooney would be the one that would show a statement of intent and that we've transcended the likes of West Ham, Saints and Stoke, and are making a serious play for Champions League football. This kind of marquee signing, I believe, would also attract other high profile players.
Could it happen?!? Would Moshiri turn our wage structure on it's head for one player?! Personally I can't see us paying the wages Rooney would want. Even if he took a decrease in pay. Isn't he on around £250-300k at Man Utd?
If we sign Yarmolenko and a top GK, I'll be happy. As Jags said earlier this week. The team needs tweaks with a couple of special players coming in.
Colin,
The deal will go through next week. Stop panicking mate.
Tom Bowers
16
Posted 04/03/2016 at 21:52:11
For this season it would appear it has come too late but I read that someone thinks RS can still finish in the top 4 so why not the Blues who are only 3 points behind with a better goal difference and still to play them?
Getting a winning run going is tough for most teams this season and that's what it would take to move up the table significantly with some other clubs like West Ham and Soton in the frame too.
Tomorrow could be pivotal but if they don't win then we have to concede they don't deserve a European place which will just leave the Cup and a Derby match win to hope for.
Everton do have some players to move on but not much that will bring much money. We all hope that things will happen to mould this squad into contenders next season with the addition of new blood but we all have doubts about RM being the man to lead them.
John Malone
17
Posted 04/03/2016 at 22:00:47
After watching Yarmelenko against Chelsea and Arsenal and us at home, I'm not fully convinced he would be the great signing we all crave!
Jim Lloyd
18
Posted 04/03/2016 at 22:01:49
Should Wayne Rooney want to come back to Everton, then I don't think wages will be a major issue. He is a very rich man already. If he wants to come back and the club want him back, then it will happen.
Tony Hill
19
Posted 04/03/2016 at 22:16:03
An area where I broadly trust Martinez is recruitment of new talent. Yes, we have had a couple of duds but I think he's got a good eye and I expect him to get the right players in.
That said, we must not make the mistake of rushing out and spending for the sake of it – we have emerging young talent and existing talent and there is no need to go wild. Nice to know, though, that we can be more ambitious.
For my part, I'd spend a heap, if we have to, on a really top class Number 10 and a high quality goalkeeper as priorities.
Gavin Johnson
20
Posted 04/03/2016 at 22:31:52
Tony,
Yes, I think we should move heaven and earth to bring a quality GK in.
There's a story doing the rounds that City will buy Neuer. If so, I don't see why we can't be one of the clubs who could buy Joe Hart.
Peter Lee
21
Posted 04/03/2016 at 22:54:33
Jim, there was a night with Andrei Kanchelskis and Joe Royle at the club earlier in the season. They both told the same story about the signing.
Kanchelskis was not getting time in the Man Utd first team and was looking for out. His translator/PA type person was a mate of Joe's. Mate tells Joe, Joe makes enquiries, job done.
Separately, on a different occasion, a retired linesman was asked how he managed to keep up with Kanchelskis for offside decisions. He confessed that he couldn't and roughly gave one decision in two as offside.
Colin Glassar
22
Posted 04/03/2016 at 23:27:32
James & Gavin,
Until I see Mr Moshiri donning his Everton shirt and holding aloft his blue and white scarf, next to a beaming Boys Pen Billy, I will remain wary. This IS Everton FC after all.
If we are going to be fishing in a bigger pond, does this mean Hibbo will be more involved?
Les Martin
23
Posted 04/03/2016 at 23:45:39
Fully confident in El Bob bringing in great talent, he has before and will continue to do so. Overall I think his transfer dealings have been excellent, with some yet to show their real potential.
Foreign players want to play in the Premier League due to it being the best and offering high salary, added to that we have an excellent reputation, players "feel at home" at Everton, I have read that so many times.
Gary Carter
26
Posted 05/03/2016 at 01:28:16
We'll never win anything under Martinez, his record shows it, we'll never get into Europe either, a 30% win ratio will se you struggle for top ten or even fight relegation. Because of this clueless clown we'll struggle to hold on to the good players we have never mind attract better ones. We do not play a good brand of football under him, it's a losing brand and a few wins against poor opposition lately doesn't cover up his huge underachieving for the last two seasons even if it does others !
Colin Glassar
27
Posted 05/03/2016 at 07:51:45
I'd prefer to maintain our present policy of finding young gems for a pittance rather than buy a £40m marquee player who might disrupt the squad with his attitude.
I do, however, want us to splash the cash on a GK (Butland or Forster) and I suppose we will be buying yarmolenko for around £15m but the likes of Tarashai and this Iranian kid excite me far more.
Aidy Dews
28
Posted 05/03/2016 at 08:46:50
Colin, I think Martinez will still do that and tbh, he needs to but I still think IF we're serious about our ambitions and looking to reach the next level, then he needs to sprinkle the team with a few stars.
But I'm with you on another post Colin, until this deal is ratified by the premier league and I've seen Mr Moshiri alongside Bill in a press conference stating his intentions then I won't get carried away too much.
First and foremost, we need to keep the likes of Stones & Lukaku and make sure they buy into what we're now going to try to do with this new investment. Even offer them new, and improved deals if needs be and take it from there.
But IF we are going to spend a fair bit this summer coming, I think we need 4 players of top quality to pretty much go straight in the team. Still think we need a top GK regardless of Joel's form. 2 good GK's in the ranks would be a start. We need a deep lying playmaker for CM, someone whose good on the ball, can pick his passes and turn defence into attack quickly. I think we definitely need to address our left hand side of midfield. Pienaar will be gone, Martinez doesn't seem to fancy Mirallas there full time and Kone isn't the answer and I'm not so sure Niasse would be either?! And me personally I'd still like to see us try and bring Yarmolenko in for RW. I'd have him as our main right winger with Deulofeu & Lennon giving competition but also, I'd like to see Deulofeu being given chances at No.10 has of next season as his passing and creativity could be useful there.
Then I'd get in cover/competition at RB, CB (a bit of experience more than anything) & another striker, unless Leandro is ready come next season?!
Also I'd like to see the deadwood be rid of, the likes of McGeady, Howard & Gibson. The likes of Pienaar and you'd think Osman, will be allowed to just leave with them being at the end of their contracts, does the same go for Hibbert? Is he in his final year this season? Then again it wouldn't surprise me if he retired due to consistent injuries. Personally I'd get shut of Kone aswell but I think we all know Martinez wouldn't give him another years extension then fuck him off.
But that's just my personal opinion of what I think we need to kick this talented team/squad on, and if we now have the finances, then let's think big and get the required quality in and make inroads in the league straight away.
Colin Glassar
29
Posted 05/03/2016 at 09:14:36
Spot on Aidy. A right back to compete with Seamus is a must. A tricky MF player is also a necessity as all our lads are very similar in style. Doesn't yarmolenko usually play on the left side? If so, he could be the answer.
We do need to get rid of a lot of those ageing squad players who rarely play e.g. Hibbo, Ossie, Gibbo, Pienaar etc....and replace them with younger, hungrier players (my utmost respect to all 4 btw, great servants to the club) to freshen things up.
I've heard that Mr Moshiri is ready to pay big bucks to keep the likes of Rom, Ross and Stonesy so I think we can count on them for another season at least. He needs to sit down with the players and spell out his ambitions for the club otherwise they might (not Ross) decide to leave.
P.S. I'd like us to release Kone but I think he's now contracted for another season (games played?) and we wouldn't get too much for him anyway.
Tony Hill
31
Posted 05/03/2016 at 11:07:27
Remember that we have Browning and Kenny (doing very nicely at Oxford) who play at right back. I have high hopes of both.
Chris James
32
Posted 05/03/2016 at 11:19:31
Personally I think a new manager would be a priority for the summer transfer list.
Assuming we don't win the next 10 and somehow fluke into the Champions League, Martinez will have had 2 successive failed seasons significantly underperforming his predecessor despite inheriting a talented playing side including young talent and having more resources to spend.
Core tactics, player selection, substitutions, defensive training, set-pieces and general fitness have all been found wanting and aren't thing that will be easily fixed. Time to move on.

Harold Matthews
33
Posted 05/03/2016 at 11:54:12
Colin #27. My thoughts exactly. I get great pleasure out of our scouts unearthing reasonably priced players who suit our style of play plus bargain basement signings like Lennon and Cleverley.
There again, I would have loved the 23 year old £18.3mil Porto DM Imbula who went to Stoke. Barry has been terrific but has no pace and can't go on forever.
Of course, Mark Hughes, who played at the highest level and mixed with great stars, is able to manage all types of football oddballs, Imbula not included, whereas Martinez insists on players of a certain character who are guaranteed to toe the line. Unfortunately, talented people are often very eccentric which would rule them out. This leaves us with a squad of very nice lads without a strong no-nonsense leader likr John Terry or Williams of Swansea and without this leader we will struggle to compete at the top.
Ste Traverse
34
Posted 05/03/2016 at 12:37:28
Why are people still wasting time in talking about Rooney coming back?
He's past his nest, we couldn't afford his £300,000 a week wages even though we have a few bob thesedays and he even said himself he's looking at going to America after his Man Utd days have ended.
Colin Glassar
35
Posted 05/03/2016 at 12:41:44
Ste, I didn't know Rooney lived in a tree. Harold, I'd forgotten the leader on the pitch. A man with character is also a big piece of our jigsaw puzzle.
Steavey Buckley
36
Posted 05/03/2016 at 13:46:21
Everton, as reported, have got best squad in years. Yet, they have underperformed. So having more money won't solve that problem.
Raymond Fox
37
Posted 05/03/2016 at 14:04:41
Steavey, we have the so called best squad in years.
Its not fact, its some peoples opinion, of course we like to think we have.
The results don't bear out that opinion though, do they.
Martinez gets all the criticism, but could it be that our players are not quite as good as we would like to think!
So you don't think buying better players would help, fancy having Aquero up front for a few matches.
Aidy Dews
38
Posted 05/03/2016 at 14:54:42
Naa, Yarmolenko plays from the right, Colin. Pretty much always has for Kiev & Ukraine. He is left footed like but he likes to play from the right and cut in and get involved in the game, create and score.
Chris James you could have a point there. No doubting Martinez has got a thing or two to prove from now until the end of the season and if we keep up this run and push towards the top 6, 7 then he may get to start the season next, but if we slip up here and there and follow the same pattern we've have done all season and stay around mid table, then the new investor might have plans to bring his own man in, or atleast he'll suggest so and the board would all vote has even though Mr Moshiri has got a 49.9% majority stake in the club, he doesn't have the power to make the decisions just yet, or have I got that wrong?
Anto Byrne
39
Posted 05/03/2016 at 16:26:25
Rooney is off to China £1 million a game. Even Tim Cahill is racking it in over there £150 grand a week.
Frank Crewe
40
Posted 05/03/2016 at 17:46:00
After todays latest fiasco I wouldn't give RM money I found down the back of the sofa and I seriously doubt that Moshiri would either.
Tony Twist
41
Posted 05/03/2016 at 17:53:48
I wouldn't give this bloke a bean. The best bit of business Everton could do is get rid of Martinez. We need a quality coach who continues to push for high standards in all aspects of the game and we need players that except nothing less than a win every game.
Paul Newton
42
Posted 05/03/2016 at 17:58:03
No matter who he buys, there is still a problem: Being able to manage them!
After today's shambles, on top of several similar capitulations this season, I can't see it making any difference who he buys.
Ian Brandes
43
Posted 05/03/2016 at 18:40:32
After today, and the result, throw him in the pond, and forget the life belt.
I would not give this incompetent a brass farthing.
Ian Hollingworth
44
Posted 05/03/2016 at 18:50:10
Hope Martinez isn't holding the fishing rod when we fish in the bigger pond...
Jack Cross
45
Posted 05/03/2016 at 00:07:40
Surely organising the team and buying player's are two different issues?
What player's as RM, brought in that have been shite?
I think his signings have been superb. Maybe we could keep RM, in this capacity and just replace him with a more suitable coach, if possible.
Jack Cross
46
Posted 06/03/2016 at 00:35:49
Aidy Dews (#28).
I maybe wrong but I don't think Hibbert, is on the playing staff now. I think he is in some coaching capacity at the club.
Dennis Ng
47
Posted 06/03/2016 at 01:55:10
Jack, NO...Since when has separating responsibilities of player transfers and team management worked?
I don't deny he has an eye for talent, but unless he is willing to be our chief scout (which is a HUGE demotion), letting him anywhere player transfers and perhaps team management will be a disaster even if we manage to get names like Hiidink and Rudi Garcia (or the control freak Wenger).
Kevin Johnson
49
Posted 06/03/2016 at 10:24:48
Don't give this muppet of a manager any more transfer money this summer. The fraud couldn't run a bath! Get shut now. I have had enough of this shite.
Aidy Dews
50
Posted 06/03/2016 at 10:46:50
Martinez has a great eye for players more often than not, but he is badly mismanaging them! This team/squad should be doing much better and up there challenging West Ham at least for a Europa league and possibly a CL spot! I honestly think we've got as good a squad, barring one or 2, as Spurs but we've massively under performed and yes, some of the blame goes to the players but the majority of the blame goes on the manager in not getting the best out of this talented bunch!
Our next 3 games are Chelsea (H) in the FA Cup, Arsenal (H) and Man Utd (A) in the league and if we lose to Chelsea we will have nothing more to play for this season and if we lose to both Arsenal and United and say Bournemouth win or win a couple, then they would take over us and we will be left languishing in mid table of the bottom half and that is just unacceptable!
We can have all the talent in the world and play some great stuff from time to time but if your incapable of defending, and let's have it right, incapable of basic defending (we were done by 3 balls into the box yesterday, we fail to stop crosses coming in to our box and our frail defence struggles with balls into the box), then you haven't got much of a chance!
How many times have we given away leads this season? I've lost count already, or just can't be arsed counting. But even with 10 men, at 2 nil up there comes a point where you think of defending that lead and sort of shut up shop, make yourselves compact so you can possibly withstand a bit of a fight back but no, not our manager, he instead brings on an attacker for again, one of our best players on the day that was a threat going forward, but also worked his arse off getting back! Our shape went to pot, we were open and got punished. It seems Martinez will never learn, won't ever work tactically on team shape, structure and discipline when we haven't got the ball, and for the life in him, he's not interested in changing things on a defensive point of view during games to close them out and defend good leads that we have had to see us through to the 3 points!
I'm not sure if I said it in a thread on TW or somewhere else like social media, but before we got new investment I said I'd lost faith in Martinez and didn't believe he was the man to take us forward. Now with new investment and new ideas and bigger aspirations no doubt, he definitely isn't the right man to take us in to possibly a new era, not for me anyway!
Don't get me wrong, he seems a nice bloke, got a good image amongst the press and he seems to get what Everton is about, but the results and stats on the pitch don't lie and we've been dreadful (results wise) for far too long now. Yeah, we can be great on our day, play some really good stuff, but that counts for nothing if you don't back it up with wins.
I think if we do lose our next 3 games, we're gonna have to bite the bullet and get rid. Put Big Dunc & Unsworth in temporary charge with Joe Royle in an advisory role till the end of the season and then the board can have that time to extensively search and look up possible new managerial candidates, study them, get character references, weigh up who will be the right man and then make our move as soon has were cock sure we know who the right man is to lead us forward!
Geoff Williams
51
Posted 06/03/2016 at 13:08:39
We are only a good manager away from having a great team.
Jack Cross
52
Posted 06/03/2016 at 13:10:49
Dennis Ng 47.
First you say RM, as a eye for talent. Then you say if RM, was anywhere near transfers it would be a disaster. Contradicting yourself there are you not?
If you have seen any of my earlier post on the arrival of RM, as coach. You would have seen that I felt his appointment was utter madness. So I, am not a fan of his team management.
Earlier I simply stated that he had brought good player's in to the club. Which is true.
Paul English
53
Posted 06/03/2016 at 13:21:27
Phil Walling.... Where are you!
Colin Glassar
54
Posted 06/03/2016 at 13:32:34
Before I go to watch the Palace - Liverpool game, can anyone tell me is Niasse really as bad as some people are saying? I didn't see the game and refuse to watch the highlights but it sounds like Niasse might be another Krøldrup or even worse.
Martinez has been very good in the transfer market so it would surprise me he'd spend so much money on a potential dud. To be honest, I did see Niasse on YouTube and I wasn't overly impressed.
Brent Stephens
55
Posted 06/03/2016 at 13:38:09
Colin, re Niasse, it's too early to tell but yesterday he gave zilch. No effort, no ability were shown.
Jack Cross
56
Posted 06/03/2016 at 14:07:56
Colin Glassar (#54).
I went to the game and agree with Brent (#55). Niasse, didn't show anything to give any indication what he his capable of producing in future games. He looked way off the mark, to me.
I thought he was brought on to keep hold of the ball higher up the pitch, with his pace. But all I witnessed was a clumsy uninterested looking player. Well off the Premier League pace.
I also wasn't impressed by the YouTube clip.
David Connor
57
Posted 06/03/2016 at 15:56:36
For god's sake, please do not keep this man in charge. He us ruining our club. It's plain for everyone to see, he hasn't a clue how to manage.
Two shocking seasons on the bounce are well enough. He needs to go at the end of the season. Appoint another manager and give him the transfer kitty. Martinez will waste the lot.
He cannot instill the winning mentality needed to succeed in the Premier League. He is a loser. And the team a playing like losers. Please please get rid of this deluded man. His decision-making is bad beyond belief.
Barry Jones
58
Posted 06/03/2016 at 21:44:49
Colin, I agree with Brent and Jack that Niasse offered nothing yesterday. Obviously it is too early to tell in regards to his quality and we must give the lad a chance to adapt. However, this says an awful lot about RM's choice of subs.
It seems that he had "pre-decided' that Niasse would get a run out, regardless of the game situation. This mentality is absolutely crazy and possibly a reason why no-one on TW (including me) can fathom out RM's subbing decisions.
Neil Roberts
59
Posted 06/03/2016 at 21:44:53
Fuck me... just put news on and seen some Iranian billionaire sentenced to death... thought "Just our fuckin luck!"
Anthony Dwyer
60
Posted 06/03/2016 at 22:42:42
Couple of comments on Niasse above, and I for one would love to defend him.
Unfortunately I can't.
The minimum requirement for a new signing who comes onto the pitch at 2-0 up at home with his team down to 10 men, is to put a shift in.
That for me was the bigger disappointment.
I can take the poor control and dreadful passing, I can put it down to simply being unfit, a little bit on edge in the new surroundings but the biggest worry is the apparent lack of interest.
Niasse though is the least of our worries, Martinez is the biggest problem at Everton, and he simply has to go.
Peter Larkin
61
Posted 07/03/2016 at 15:17:13
I dont want to slate the guy as he has just joined our club but is anyone else worried about this kid?

He has only managed about 25 minutes so far and to be honest he has looked proper rubbish. He looks super awkward, touch looks... ummm, not very good. Whats your thoughts so far? I'm worried this is a panic buy.

I know it's early and I like to give everyone a fair crack, but for nearly £14 million, surely there is better?
Gavin Johnson
62
Posted 07/03/2016 at 15:51:08
In the case of Niasse, It's too early to judge but on the little we've seen, he doesn't look like the 3rd most expensive signing in our history.
What worries me the most is that people who have a bit more knowledge about the Russian league were saying he stunk the place out in his first season, when he was used sparingly.
They also said he thrives on confidence and looked a different player when he had a proper run in the side. No disrespect to the standard of football in Russia but he's not going to get a long run in our first team based on the little we've seen.
Frank Crewe
64
Posted 09/03/2016 at 19:37:33
Best to see Niasse as another nail, albeit a £13,000,000 nail, in Roberto's coffin.
Add Your Comments
In order to post a comment, you need to be logged in as a registered user of the site.
Or Sign up as a ToffeeWeb Member — it's free, takes just a few minutes and will allow you to post your comments on articles and Talking Points submissions across the site.
© ToffeeWeb