Niasse ready to show fight
by

48 Comments [Jump to last]
| 12/03/2016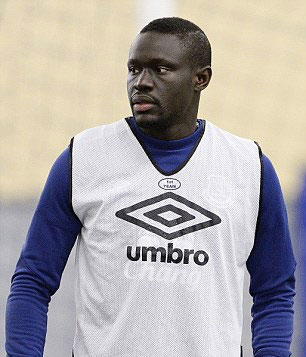 Oumar Niasse has been an Everton player for almost seven weeks now but it's fair to say Blues fans still know almost nothing about him.
The 25-year-old striker has played less than half an hour of football since he arrived from Lokomotiv Moscow for the not-insignificant sum of £13.5m on transfer deadline day but it's been hard to glean much about what he could bring to the team from those brief cameos.
A few minutes at Bournemouth and Aston Villa didn't offer much because Everton were coasting to victory in the closing stages, while his fifteen minutes on the field against West Ham last Saturday coincided with that game turning emphatically against the Toffees.
Niasse was at the centre of the post-mortem that followed that crushing 3-2 defeat, as much for what he didn't do as what he did. Roberto Martinez's decision to introduce him rather than a more defensively-minded player has been heavily criticised and it was a difficult situation for the Premier League rookie to be thrown into.
The Senegal striker wants to be involved, though, something he has made abundantly clear ever since he arrived. A lack of match fitness compounded by a wrist injury that required surgery delayed his debut but he is now fully fit and raring to show Evertonians what he is made of.
His move to Goodison and England's top flight represents a dream come true but had his father had his way, he would never have turned professional in the first place. Believing that there was no future in football, Niasse Sr. wanted his son to concentrate on his education so he could help the family financially.
"I don't want to say I was a bad boy but I was not good," Niasse says in The Guardian. "My dad never slapped me but my big brothers always slapped me and told me not to play football.
"Whenever I had five minutes I would go out and you would not see me for three or four hours because I was 12 years old playing football with guys who were 20. I had a lot of leg injuries, I broke my leg twice and still have a lot of scars, and my dad had to spend a lot of money he couldn't afford at the hospital.
"He had a lot of problems with me. After one time in hospital he said: 'After this, if you start to play football again I will kill you.' But I never thought I would do anything else in my life than play football."
That determination, bolstered by his brother Baye Ibrahima's move to Nancy Lorraine in 2007 which convinced his father that there could be route out of poverty in football, has led him through three clubs in Europe on his way to Everton in that big-money move last month.
And it's also the quality that he is sure will overcome the early doubts from supporters in his ability to make it in the Premier League over the remainder of the season.
"I am a fighter. Football is not easy and just getting a professional contract means people must respect you because you have something," he continues. "Even if it's one quality, you have it.
"When I feel very good, when I feel ready to play, the fans will see someone who always wants to have the ball, someone who always wants to win, someone who always wants to run.
"This kind of player is someone who is focused on fighting every time he has the shirt and is on the pitch. I am going to fight."
» Read the full interview with Andy Hunter
---
Reader Comments (48)
Note: the following content is not moderated or vetted by the site owners at the time of submission. Comments are the responsibility of the poster. Disclaimer
Laurie Hartley
1
Posted 12/03/2016 at 06:19:15
Peter Larkin
2
Posted 12/03/2016 at 06:26:00
For £13.5 million, I want more than a fighter!! Naismith was a fighter and a goalscorer and we sold him for less.
I've a feeling he will be off after one year with us, he looks so far behind Premier League football, it's actually scary.
John Malone
3
Posted 12/03/2016 at 07:15:35
Just hope what he's showed up to now is new club nerves and a lack of fitness because he looks way off Premier League standard!
Ste Wallace
4
Posted 12/03/2016 at 07:27:58
Judging by last weekend, this kid needs to step his game up, even 2-0 up, he wouldn't close down, has a poor touch, and shit out of challenges. As John mentioned, I hope it's nerves... but I don't think he's up to Premier League standard.
Colin Glassar
5
Posted 12/03/2016 at 07:43:00
I was surprised to see so many people writing him off after seeing him play for what? 15 minutes? I'm not saying he's going to be good or bad but honestly, let's give him at least 20 minutes before we decide his future.
Ernie Baywood
6
Posted 12/03/2016 at 07:53:39
In reality we'll only see what he's capable of when he's selected either alongside or instead of Rom. Even then will he ever get a run of games to find form?
Difficult business having strength in depth.
Steve Pugh
7
Posted 12/03/2016 at 08:29:04
Weird how people wrote off Funes Mori after a couple of games and now people are talking about him being the best centre-back at the club. Now they're writing off Niasse after less than 45 minutes of football; what's the betting he turns out to be the best striker at the club?
These foreign lads take time to adjust to the English game, not to mention the lifestyle and the weather. I'd like to see any of the doubters go over to South America or Africa and be able to play competitive football at your best after a few weeks,
Eivind Nyhus
8
Posted 12/03/2016 at 08:44:01
I wonder if Niasse will be playing on the left wing against Chelsea tonight?
Roger Sunde
9
Posted 12/03/2016 at 08:52:42
He couldn't even get into one of the worst Norwegian team at Brann only 3 years ago, I am a bit worried about this one...
Mike Keating
10
Posted 12/03/2016 at 08:56:48
Agree with Steve and Colin; after a few minutes in action he's been dubbed 'the new Bakayoko'.
If he comes on without the manager's blessing and scores 2 today, he might just be the new Amokachi.
Aidy Dews
11
Posted 12/03/2016 at 08:58:52
Ridiculous to be writing him off after less than 20 mins football for the club. I saw loads on Twitter knee jerking after last Saturday but that wasn't a game to bring him on for me, he was nowhere near fit enough and looked like a rabbit caught in the headlights.
This lad hadn't played football for over 2 months before signing for us and in his first month or so at the club he's had to use that as a mini pre season and it will be hard to get up to full fitness playing sparingly like he is right now but I do think he was signed this month with a view to next season and to get him in before there was a bit of a bidding war for him in the summer.
Hopefully he can show some of his qualities in the remaining games of this season but I'm gonna wait till next season to judge him when he's got a full pre season behind and he's ready to hit the ground running.
Zahir Jaffer
12
Posted 12/03/2016 at 09:08:00
Obviously I don't want any of our signings to be a failure, but so far players from the Russian League never really set the world alight.
Kone is 33 and can't play a full game; if Lukaku gets injured, I'm glad we have someone. However, I don't expect him to do any better than Naismith, or definitely not what's remaining of the season. I hope I'm wrong but I'll be more than happy if he's just an effective super sub.
Tony Abrahams
13
Posted 12/03/2016 at 09:09:00
Aidy, I don't go on Twitter, but I was thinking about the film Mean Machine, after Niasse's first little cameo.
Honestly couldn't get my head around the managers decision more if I'm honest though. He sees him every day, and it's obvious it's going to take some time to adapt, so why not give him some game time at Villa, once the match had become a stroll?
He's saying the right things though, and if he's going to fight like he says he his, then surely he's got a chance. Good luck and Let's hope it rubs off on a few others, when it happens.
Jason Barker
14
Posted 12/03/2016 at 09:23:00
I hope I'm made to eat my words but, so far, he's looked like another of 'George Weah's' cousins who Souness threw into the Southampton side.
John Crawley
16
Posted 12/03/2016 at 09:53:11
Talk is cheap, let's see it on the field because he showed precious little fight against West Ham. Mind you, Martinez isn't exactly helping him with his decisions on when and where to bring him on.
Steve I'll give you a 100-1 that he becomes a better striker than Lukaku!
Mark Andersson
17
Posted 12/03/2016 at 10:41:23
John Crawly, do you have access at Finch Farm? You sound confident about this lads ability.
I know nothing about football but he looked like an amateur against West Ham.
Phil Walling
18
Posted 12/03/2016 at 10:42:40
I have a natural distrust of any player bought on the so-called evidence of what he did in the Russian Leagues. Some right lemons have come into the Premier League from there.
But you can only wish the lad well. I have a feeling that after the next window, goal scorers may be in short supply around Goodison Park!
Brian Porter
19
Posted 12/03/2016 at 10:43:48
Oumar, forget fighting, just play good football. As others have said, time will tell and Martinez hasn't done him any favours so far, giving him a couple of minutes here and there, not the way for him to get to grips with the Premier League or his teammates' way of playing.
With the Premier League virtually a write off for us now, why not give him a couple of starts so he can show us what he can do? After all, he can always be substituted if things don't work out for him – if Martinez can actually remember he is allowed to make substitutions before the 75th minute.
Also, why are we now learning he broke his leg twice as a youth? Hope that doesn't mean he has an inherent weakness that could lead to lots of time on the treatment table.
Jim Bennings
20
Posted 12/03/2016 at 10:45:12
You don't have to be world class lad, just make sure every time you set foot on that pitch you give 110% for the team and always let the opposition know who they have faced.
Watch a few DVD 's of Marcus Bent, a lad limited ability wise but left every ounce of his passion on that pitch every time he wore a blue shirt.
Fan's can tolerate a player that isn't always great, but we can't tolerate having passenger's in our team that don't do that bare minimum of working , and crucially pressing the opposition.

Tony Abrahams
21
Posted 12/03/2016 at 11:02:17
Phil, I also have a feeling..... THAT TONIGHT'S GONNA BE A GOOD NIGHT, let's fuckin' hope so, anyway!!
Phil Walling
22
Posted 12/03/2016 at 11:27:56
My gut says a draw, Tony. Strange odds 53-21, but worth risking 'the key to the door'!
Joe Clitherow
23
Posted 12/03/2016 at 12:09:40
Err Jim, where do you get these videos of Marcus Bent then?
Mark Gardiner
25
Posted 12/03/2016 at 13:26:54
I can't believe how many people had a go at him after the West Ham Debacle.
People saying he looked useless, hopeless, a waste of money, out of his depth etc.
It wasn't his fault that he was thrown on as a second forward when we were down to ten men. The guy is not fit and needs time. Why throw him in against West Ham to get some minutes when we were three nil up against Villa with half an hour to go. He could have had thirty minutes against Villa and put those minutes in the bank.
I don't think that we'll see much from him until next season because stepping up from the Russian league and not playing since December means that it will be hard for him to contribute.
Those Everton fans who have already started attacking the guy are just ridiculous. Having said all of that I'm going to look really stupid if this guy turns out to be another Aiden McGeady....Surely not :)
Jim Bennings
26
Posted 12/03/2016 at 13:31:58
Joe
Try the 2004-05 Season Review, when Bent played out of his skin as the lone striker, helping us to a 4th place finish.
Jim Bennings
27
Posted 12/03/2016 at 13:35:54
Mark
Your right, Niasse definitely needs time and I'm in agreement that Martinez has been foolish in throwing him on in difficult circumstances.
What I will say though is he shouldn't need to be having six months of Premier League football just to run and put himself about a bit, nor should you need to be 100% fit just to run and press the opposition defence for a brief 20 minute spell, any man could do that.
It's too early to judge the lad but at £13 million and the age of 25, people these days won't show a great deal of patience.
Joe Clitherow
28
Posted 12/03/2016 at 13:45:30
I remember all that stuff, Jim – I was there Home and Away.
But Marcus Bent DVDs? Plural? He did nothing either before or since, but I agree he was great for us in the season of his life. Not sure he is the greatest example you could have given as someone who made up a talent gap through effort. Kevin Keegan? I wouldn't recommend it!
If you want an exemplar of never say die from an Everton striker, I'd go for Andy Gray. A few more videos of him than Marcus Bent, I'd say too.
John Daley
29
Posted 12/03/2016 at 13:47:00
I've taken to avoiding post-match inquests after crushing dissapointments (as I've gone almost a full year without a drink and saying 'useless twat' too much seems to bring 'the thirst' on) but was Niasse really getting it both barrels after the West Ham collapse?
Sure, he looked a little lost but it wasn't exactly the ideal scenario for a rusty striker fresh to the Premier League to be thrown into, was it? Being written off as 'fucking shite' before he's started a single game takes some doing.
John Moore
30
Posted 12/03/2016 at 13:51:56
So let me get this straight.... Fans pearls of wisdom:
*Put him on for the last 30 minutes against Villa when we're cruising 3-0 so he can get match fitness."
*Don't put him on for the last 15 minutes against West Ham when we're cruising 2-0 so he can get match fitness."
Who'd be a manager?
Colin Metcalfe
31
Posted 12/03/2016 at 13:58:08
I thought some of the comments last week were a bit harsh, he is still adjusting to our game and he obviously needs more games under his belt.
I seem to remember looking at Lukaku in his first couple of games and thinking the same thing and eventually the lad came good!
Jim Bennings
32
Posted 12/03/2016 at 14:02:32
I know, Joe.
I was simply making a straightforward reference to the minimum requirements that Niasse must reach are working hard and putting in a shift for the team every time he sets foot on the pitch.
If he works hard and it isn't happening for him, the fans will appreciate him.
If he is NOT working hard and it isn't happening for him, the fans will be less forgiving.
Joe Clitherow
33
Posted 12/03/2016 at 14:11:57
Fair enough Jim and I'd agree. It's a shame our current manager doesn't seem to share the same views on hard work.
Incidentally I said when he signed that I would reserve judgement on Niasse until I'd seen six games from him - which could be a very very long time given RMs track record. He certainly looked very "rabbit in the headlights" Vs WHU and understandably so. What was the nobhead thinking with that substitution?
Anyway, hope springs eternal and I'm off to the game, hoping I don't bump into Jamie Crowley.
John Daley
34
Posted 12/03/2016 at 14:15:54
"....run and press the opposition defence for a brief 20 minute spell, any man could do that."
Johnny Vegas nods in agreement and get's up to put the kettle on, only pausing inbetween to get his fucking breath back.
Never mind the Marcus Bent DVD Jim, I want to borrow Series 1 of 'Challenge Bennings' (Catchphrase: "Anybody can do that!").
Jim B bombing around a full size footy pitch in his joggers for 20 minutes. Jim B doing that Atlas Stones bit in 'Worlds Strongest Man' after saying "anyone who can't do three is a big soft puff". Jim B stuffed in a padlocked suitcase with no airholes and vowing to prove that the pervy sex game gone wrong spy who snuffed it in similar circumstances was "crap at letting himself out of luggage".
James Marshall
35
Posted 12/03/2016 at 14:22:09
Regardless of whether it's fair, or what we actually know about him, he did look rubbish when he came on against West Ham.
Only time will tell – he certainly likes to talk the talk.
Tony Abrahams
36
Posted 12/03/2016 at 14:49:08
Haven't had a drink since Boxing Day John, but I'm just going now. Think you might be right Phil, because I expect a conservative display off Chelsea.

I'm actually more scared of my hangover than Chelsea though, I just hope it's worth it!

Jim Bennings
37
Posted 12/03/2016 at 15:10:51
Bring it on John!
Paul Kossoff
38
Posted 12/03/2016 at 15:24:37
Always the same with us isn't it? We pay over £13 m for a striker who hasn't played since December, gets a wrist injury and has surgery, is supposed to be a player who gives 100% but looks clueless and disinterested, and now says he has broken his leg twice and has had lots of injuries!!!

Who said Martinez is great at scouting out players? Another Kone? Hope to God not.
Paul Kossoff
39
Posted 12/03/2016 at 15:40:06
Jim (#27), 100% correct. Any average player should be capable of running and closing down the opposition for a whole game never mind 20 minutes.
As you said, if a player works hard at that side of his game then he will not be criticised, as you have been for suggesting it.
Anto Byrne
40
Posted 12/03/2016 at 15:44:18
At 25, he looks a lightweight. I remember Lukaku coming on at West Ham and scoring and being a monster. Now we have Bily and McGeady and if, as usual, things come in threes, then we have Niasse.
It's the hardest, fastest and most unforgiving league on the planet, yet we sell Naismith who is a striker and played in his correct position. As Chris Sutton says the guy is beyond a joke.
Conor Skelly
41
Posted 12/03/2016 at 15:48:50
Do your talking on the pitch mate. We have enough tales of woe and hard luck stories being peddled on a weekly basis already.
Brent Stephens
42
Posted 12/03/2016 at 15:52:38
Nice story, Niasse.
Ray Said
43
Posted 12/03/2016 at 16:15:02
He is one of us now and he has not had a chance to show what he can do so let's give him the benefit of the doubt for at least 10 games.
One other thing let's judge him when he is played in the right position?
Joe Edwards
45
Posted 12/03/2016 at 16:34:30
I am going to stick my neck out here and predict this guy to be one of Martinez biggest duffs.
His track record so far did not warrant anywhere near justifying the £13.5 million squandered on him. Naismith, for his faults, was a good squad player and you knew what you were getting when putting him on.
An unknown quantity like Niasse to take over from Naismith is nothing short of incompetence.
David Hallwood
46
Posted 12/03/2016 at 16:44:08
John Moore (30#) the difference is we were down to 10 men for a long time so a lot of those players were running on empty. Plus Billic had put on Sako alongside Caroll, so it was perfectly obvious WHU was going to launch balls into the box. I can honestly say that was the most bizarre substitution I've witnessed given the circumstances.
Onto Niasse; You should give players at least a season to settle in-remember he's got to settle in to the club, the type of football the country, so cut the lad some slack.

John Hammond
47
Posted 12/03/2016 at 16:47:52
Give the guy a break. New country, new league, hadn't played since December...
Andy Walker
48
Posted 12/03/2016 at 17:10:58
First impressions are really important and usually a pretty reliable pointer for the future so I disagree that we should ignore what we've seen so far because it's only 15 mins. What we've seen of Naisee hasn't been good which is concerning. It's not to say he won't work out but the risk he may turn out to be a pup has increased in my mind.
Most new signing over-impress when they first come onto the scene; I can't say that's case so far – he doesn't look physically big or strong enough to me.
The book's still open on him though.
Minik Hansen
49
Posted 13/03/2016 at 04:12:16
90 mins of football and we will get to know him. COYB.
David Ellis
50
Posted 13/03/2016 at 07:48:03
Andy Walker (#48) – first impressions a reliable pointer for the future....? Well maybe sometimes, and maybe not.
I remember league debuts for Fellaini, Arteta, Jagielka, David Weir and Peter Reid were all distinctly below average – with Arteta and Jagielka both playing the "rabbit in headlights" card. It took them half a season to get going.
Conversely, I remember Tony Cottee scoring a hat-trick on his debut and I felt he never really did the business for us (although he did score 99 goals apparently)!
Anyway point is... we just have to suspend judgement for now. It does take time to adjust.
Si Cooper
51
Posted 13/03/2016 at 16:41:03
I'm not sure what people think they did or didn't see last week. Personally, having seen the post match comments I scrutinised the full game shown on Sky that night and didn't see the shambolic cameo that others seem to be convinced of.
After about 30 seconds on the pitch he made a very intelligent angled run but Rom over hit his chip over the top and a decent chance was wasted. Later another decent run would have given him one back-pedalling defender to beat but for a clumsy foul from another defender scrambling to get back into position.
Okay, he didn't terrorise the opposition defenders but at that stage nobody was trying to do that. When in possession we were attempting to break into their half quickly, when they had it we tried to get 8 or 9 behind the ball in ranks for them to play through and he took up a position to do that. He might have been in the vicinity of the player who crossed for their second but he was not the nearest and so not to be blamed for not getting close enough to prevent the cross from being played.
Otherwise he tried to get involved in the attacks we mounted but it wasn't his fault Ross and Rom both had their worst period of the game for ball retention.
Spotting the dead duck first has been a popular game on ToffeeWeb for as long as I remember. This bout of it seems based on particularly flimsy first-hand evidence.
Add Your Comments
In order to post a comment, you need to be logged in as a registered user of the site.
Or Sign up as a ToffeeWeb Member — it's free, takes just a few minutes and will allow you to post your comments on articles and Talking Points submissions across the site.
© ToffeeWeb