Deulofeu: We're good enough to be top six
17/03/2016

56 Comments [Jump to last]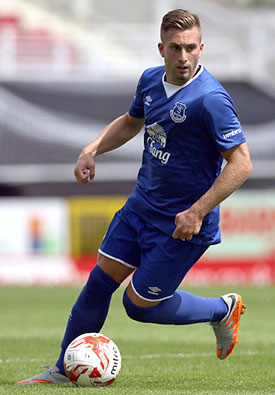 Gerard Deulofeu winger says Everton have the players to be among the European places this season but the Blues have under-achieved this season.
The Spanish U21 star is featured in the latest issue of SoccerBible magazine where he talks about his views on Everton's disappointing season in the Premier League, his hopes of soon breaking back into his country's senior side and playing supplier to Romelu Lukaku.
"Spain have the best players in the world but I think if I keep playing well and working hard I have a chance to get in the national team," said the 22-year-old who is currently trying to get back into Roberto Martinez's starting line-up in the face of excellent form from Aaron Lennon since late January.
"I'm focused on getting Everton into the top six because I believe our team is good enough to be there.
"I think we've underachieved in the first half of the season but we're still playing good football – we just need to win more games.
Of the Toffees' top scorer, Lukaku, Deulofeu said that the Belgian makes it easy sometimes for him to find him with crosses from the right flank.
"When I receive the ball I always look for Lukaku. He always knows where I will put the ball and he's been on the end of the majority of my assists.
"He's an amazing striker – he's an animal – he always wants the ball and he makes it easy to pick him out," concluded Deulofeu who also reiterated that he hopes to stay at Everton "for a lot more years".
Quotes sourced from SoccerBible via Daily Star
---
Reader Comments (56)
Note: the following content is not moderated or vetted by the site owners at the time of submission. Comments are the responsibility of the poster. Disclaimer
Anthony Dwyer
1
Posted 17/03/2016 at 07:48:47
Love Del Boy, love his enthusiasm too, but he's only fooling himself.
We are not good enough for top 6 or we would be in and around that position.
Yes we have good players, but we lack good players in important positions.
Keeper isn't good enough, plus we have square pegs in round holes every week over on the left.
If we go off the whole of last season (38 games) plus the this seasons games (28), we haven't been around the top 6 for 66 games, and we won't get to too 6 with the remaining 10 games. That will total 76 games were we have proven we are not a top 6 side.
We have to get it sorted out now.
Just as a side thought, does anyone else wonder why Martinez has never tried Lennon and Del on the same pitch, allowing them to switch sides as and when they want to.
Colin Glassar
2
Posted 17/03/2016 at 07:51:21
I'm very surprised that Gerri and John Stones seem to have been sent to Coventry in recent weeks. They are two of our most gifted players and yet seem to have been frozen out of the team.
Ged Simpson
3
Posted 17/03/2016 at 08:02:43
I think Stones needs to win his place back and Del needs to get fit.
Phil Walling
5
Posted 17/03/2016 at 08:03:11
It's Roberto being pragmatic, Colin, and to some extent it has paid off.
John Malone
6
Posted 17/03/2016 at 08:18:03
To be a top team, you have to attack as a team and defend as a team; we don't simple as that!
Jim Bailey
7
Posted 17/03/2016 at 08:33:13
"Just need to win more games."
Ah Geri, that old chestnut. For the answer, see John (6) above.
Simples.
Darren Hind
8
Posted 17/03/2016 at 08:46:42
Hasn't gone unnoticed Colin.
Contrary to what the myth peddlers would have you believe, Martinez only ever gives youth a chance when injury or one of his petty squabble forces him to.
He will then play them here there and everywhere. Galloway, Stones, Barkley have all suffered after being asked to play out of position while more experienced pros stay in their favoured role. Deulofeu is now experiencing the big freeze just as Besic did last season. (What does that boy have to do to oust the ordinary McCarthy or Cleverley?)
Ossie will be played again this season, Kone has already played more than he should, as has Howard, Gibbo will play when he's fit, Barry is being worked to death.
I'm not saying it's wrong to go for experience, but we need to dispel this myth that Martinez is all for giving youth a chance. Our Cavalier is quite possibly the biggest Roundhead in football...
Gordon Roberts
9
Posted 17/03/2016 at 08:51:44
Colin. Sent to Coventry? Frozen out? Their replacements, Jagielka and Lennon have performed better than Stones and Deulofeu.
It seems that Martinez can't do right for doing wrong. On this occasion Roberto made the correct decisions; it's a shame you feel the need to throw veiled criticism at our manager.
Paul Mackie
10
Posted 17/03/2016 at 08:56:25
Colin (2) - I imagine that with Martinez's new found discovery of something called 'defence', that Geri is benched until he learns how to track back as well as Lennon does. By his own admission, he never had to win the ball back when he played at Barca and it shows!
Martin Nicholls
11
Posted 17/03/2016 at 08:57:43
Wasn't RM claiming a few weeks back that we haven't under-achieved? Not sure where I stand on this but Anthony shows that based on stats, RM is right. Ged (and Jags before him) clearly disagrees with RM. Some dissension in the ranks, methinks?
Regardless of whether we have or have not under-achieved, a club (as opposed to the current squad of players) of our stature should be higher in league. Management to blame?
Martin Nicholls
12
Posted 17/03/2016 at 09:06:32
Colin – I'm not sure why you think Stones and Deulofeu have been ostracized.
Deulofeu is out of team because a player in direct competition for his position is performing better. Stones was dropped (quite rightly) because his form was poor and (similarly to Deulofeu) others were performing better in his role.
Far from Stones being ostracized, RM seems desperate to get him back in the team, even if he has to use a shoehorn to do so!
Dave Abrahams
13
Posted 17/03/2016 at 09:08:39
Nobody can argue, at the moment, that Lennon is playing too well to be replaced, but Deulofeu is not getting enough game time. He has never been utilised in any other position but winger by Martinez.
He can play inside and as an auxiliary striker, and in the last few weeks he could have been used in these positions as a substitute. Maybe he was going to be used this way last Saturday before the manager changed his mind on bringing him on.
He is too good to be left on the bench all the time. I think John Stones is a different case; he is going at the end of the season, so his case will take care of itself.
Oliver Molloy
14
Posted 17/03/2016 at 09:12:16
When we were rumoured to be signing Lennon, I was calling him "a headless chicken" – please no, I think I said many times.
I still believe he is not a great footballer and his main weapon is speed, but I cannot argue that he does put a shift in and has contributed with goals and assists since getting his chance.
As Paul and Ged above have said, Deulofeu must work harder at his game and if it is true that Stones is making noises about leaving at the end of this season, that probably isn't helping him get back in the starting line-up.

Phil Walling
15
Posted 17/03/2016 at 09:13:30
So many mixed messages. It would probably be advisable for RM and his players to have some effective media training and, generally, be less willing to utter their banalities to be pored over by the likes of us.
But, at least, perhaps they could express a semblance of being 'on message'.
Steve Pugh
17
Posted 17/03/2016 at 09:37:59
I'm sorry but the stats do not say that we haven't underachieved. They just say that we have been useless for the past two seasons. With the players available to our manager, we should have done better than we have; therefore, we have underachieved.
We have probably the best two full backs in the league still. Our centre-backs are two current England internationals and a current Argentinian international. In midfield we have two players that are pushing for an England recall, another who would be if it wasn't for his age, but some pundits have said that he is the best holding midfielder in the league based on current performance. Then there is James McCarthy who many Evertonians class as ordinary yet the uninformed experts seem to think is key to the improvement in our defensive record since his return to the team.
That just leaves Ross and Rom, both in the running for Young Player of the Season.
Does that sound like a squad that should be in 12th or a squad that should be top six?
Brian Williams
18
Posted 17/03/2016 at 10:19:56
I'm sure you've all heard the phrase about the "sum of the parts being greater than the whole".....
Well, we're the opposite.
Don Alexander
19
Posted 17/03/2016 at 10:22:52
Steve Pugh, well said. Nail hit firmly on head. The elephant in the room in your comment though is Martinez. Inept, selfish and just plain wrong for two seasons with us and four with Wigan.
And if anyone wants to point out that the Pie Eaters won the FA Cup with him, being relegated at the same has to be majorly taken into account.
Chris Gould
20
Posted 17/03/2016 at 10:48:38
We performed terribly with Stones in defence. Many pointed at Howard being the problem, but Stones was at the very least equally culpable. Geri has put in some great crosses and a few quality through balls, but he goes missing for large chunks of the game and provides zero protection for Coleman. Lennon has been motm or very close for the last 8 matches. Geri doesn't deserve a place in the starting lineup, but it was clear against Chelsea that Roberto was going to put him on before Lukaku scored.
He isn't being frozen out by Roberto. He's being kept out by Lennon, and deservedly so. Lennon has scored 5 in the last 8 games and works tirelessly. Removing Howard, Stones and Deulofeu from the starting lineup, and playing players in better form (rather than sticking with favourites) is exactly what everyone has been crying out for. Roberto really can't please some.
Darren, nobody plays kids just for the sake of it. They have to be good enough to keep an experienced player out of the team. Roberto has shown that he will give them a chance and he does what he can to allow them to develop. Stones had to be pulled from the team as he was becoming a liability. Galloway was never going to keep out Baines or Oviedo in the long term. Deulofeu was given plenty of chances, but his fitness is simply not good enough, and Lennon is playing better. Lukaku and Barkley have been allowed to flourish even when playing poorly. Besic has been held back by injuries. Every time he looks like forcing his way in, he gets an injury. That's not Roberto holding him back.
I don't think it's a myth to say Roberto gives youth a chance. He does, but if other players bring more to the team, then you can't expect him to continue with the youngster. That doesn't mean he won't get other opportunities in the near future.
Jim Bennings
21
Posted 17/03/2016 at 11:05:09
Deulofeu still is at his best when used as a late impact substitute in my opinion, when Lennon has mentally worn down the fullback of the opposition.
He tires too quickly and doesn't help himself by histrionics with referee's when decisions go against him.
That said he's sublimely talented and there are possibly other positions in the team he could be used other than the right side occupied by Aaron Lennon.
I've said before when Barkley has looked below par why not give Deulofeu a trial in the centre behind Lukaku?
Then there's the left, but again, Tom Cleverley offers harder work and protection for the left back.
I still think Deulofeu will have a big say in something this season, maybe a contribution to winning the Cup with a game changing cameo or can he make a name for himself in the Anfield derby?

Alan Bodell
22
Posted 17/03/2016 at 11:08:53
With Aaron playing so well he's a shoe in right now but Mirallas shit in his mess kit against West Ham for the final time for me, so Deulofeu should certainly get a lot of game time now before the end of the season, which would certainly boost Lukaku's goal stats.
Tom Bowers
23
Posted 17/03/2016 at 11:14:31
He's stating the obvious but it's always a game of ands, buts, ifs and maybes that can be applied to all clubs. On the other side of the coin, they could be battling relegation if not for the offence, right?
It's not been the back four alone that's at fault but the whole team as a solid unit. Whilst we have been applauding the likes of Barry, McCarthy and Cleverley etc as individuals, they have not been on the same page very often this season when it mattered most.
Leicester are the epitome of a hardworking defensive unit who springboard to attack with Vardy, Mahrez and Okazaki but those same players are very quick to defend and better at it than the front three Everton play with along with Deulofeu and Mirallas when they are playing. Of course different teams have different styles and Leicester don't use a big target man who stays upfield for the most part.

Richard Lyons
24
Posted 17/03/2016 at 11:17:32
Brian (#18) – you've put it in a nutshell.
Gary Edwards
25
Posted 17/03/2016 at 11:18:34
I'm with Scholes on this .. shut up and do your talking on the field. Once they've won five or six games on the bounce and look to be achieving something (trophy, top 4 etc.) should any of the players begin to think they've got anything to spout about. Otherwise they simply come across as gobshites.
Darren Hind
27
Posted 17/03/2016 at 11:34:39
"We performed terribly with Stones in defence"
Despite the torrid time Funes Mori was suffering against West Ham, we still hadn't conceded when Stones was on the pitch.
Second half, Martinez takes off the lesser talented of the two and we conceded 3... going on 6.
Funes Mori and Jagielka are okay when we get 9-10 men behind the ball, working like fuck to protect them, as we did against Chelsea, but open the game up and Funes Mori in particular has his limitations exposed. I feel sickened when Stones is held scapegoat for Martinez's tactical stupidity.
Chris Gould
Your post inadvertently blows apart the myth that Bobby is some kind of visionary with a plan for giving youngsters a chance at ever turn. As you quite rightly point out, he only plays them when he has to... a bit like any other manager really. Oh and these injuries that kept Besic out in the cold for long periods last season? Remind me?
Martinez could balance the team up by playing both Deulofeu and Lennon? One one each side? Why do we have to shoehorn workhorses like Cleverley into the left side when we could have all that flair ? Answer = possession obsession.
Poor Manager.
Roger Helm
28
Posted 17/03/2016 at 12:14:49
Leicester and Spurs remind us that football is in fact a team sport, and the best team does not always have the best players. If our players did play as a team, then we would be top six.
Mark Daley
29
Posted 17/03/2016 at 12:32:55
Brian (18), Is RM the hole in the sum of our parts?
Andy Crooks
30
Posted 17/03/2016 at 12:38:50
Darren (#27), I agree. I cannot see that Martinez gives young players a chance unless he has no choice. Our season has been sacrificed to the cult of possession football. It is a dead religion and seriously limits our attacking options.
Imagine Lukaku with Lennon and Deulofeu in the same side. We need an energetic, tough midfielder who offers something positive. Besic, perhaps.
Brian Wilkinson
32
Posted 17/03/2016 at 12:49:17
Lennon is keeping the guy out of the team. I am not one of Bobby's biggest fans but Jesus, the bloke can do no right.
People slated him for not picking Mirallas; we do not see what Bobby sees. People were screaming at Bobby's love child, Barry... he has been one of our most consistent players this season.
Jags and Funes Mori have been doing a job in defence, do you split that up and bring Stones in?
Reminds me of the Earl Barrett song we had with amended lyrics:
Don't blame it on Mirallas,
Don't blame it on John Stones,
Don't blame it on refs,
Blame it on the Bobby.
Time Bobby was cut some slack and hope he learned, as proved in the Chelsea game.
Chris Gould
35
Posted 17/03/2016 at 13:28:58
Darren, your anti-Martinez rhetoric is boring. Fair enough to not rate him. He has certainly underperformed in some areas. But I've noticed on many threads your ability to twist 'facts'.
You are using the last 12-15 mins of the West Ham game as an example of Stones being better than Funes Mori? Ignoring all of the positional mistakes and general poor performances that Stones has made. Also, we have conceded less with Jags and Funes Mori, on a game-to-game basis, than games with Stones at the back.
No manager plays youth simply because they are young and have potential. If you have better and more experienced players already in the squad, then that doesn't make sense. What Martinez is doing – is buying and bringing through young players who will be ready when the experienced players are ready to be moved on. How can you criticise that? I'm sure you'll find a way.
Chris Gould
36
Posted 17/03/2016 at 13:31:45
Well said, Brian.
Everyone can see his faults, but some refuse to accept anything positive he does.
Colin Metcalfe
38
Posted 17/03/2016 at 13:52:38
Dave (#13),
If, as you say, Stones is on his way at the end of the season, that leaves us without any experienced cover at centre-back and – with Jagielka turning 34 in the summer – we will need to buy a centre-back as I think Holgate is still way off a first team appearance. Who would you like to see come in and replace Stones? (And if anyone say Shawcross, I swear...)
Dave Abrahams
39
Posted 17/03/2016 at 14:01:03
Colin (#38),
Yes, I don't think many will be surprised if John Stones goes at the end of the season, although I would prefer him to stay. So, like you say, we will need an experienced player to come in, while we wait for Galloway and Holgate to become ready to start regularly for the first eleven.
To be honest, I haven't got a clue who that experienced player is, except to say they will not come cheap, unless you get someone like Cleverley who came out of contract, and of course Barnsley will be due a few million from the money we get for Stones.
Michael Williams
40
Posted 17/03/2016 at 14:18:07
Brian #32. Thank you for providing some sanity among the screeching. The comments sometime remind me of a cage full of screaming monkeys throwing feces. Everything you say about Deulofeu and Stones is spot on. And of course, they will be back in the side again.
I would like to add that RM made a very young Barkley the team's #10 and stuck with him through injury, mistakes and constant ripping on this website. Barkley is now in discussion for the #10 role for England, yet there are folks here who want Deulofeu to play the #10 when he didn't even play there in Spain...
[Brain explodes.]
Phil Walling
41
Posted 17/03/2016 at 14:29:41
Time to 'cut Bobby some slack', Brian @ 32? Just what have we been doing for much of the last two seasons, then?
Evertonians may not be without fault but patience is not by any means their least quality. We've been making allowances and 'waiting for next season' ever since 1995. Perhaps you've forgotten.
Mark Pendleton
42
Posted 17/03/2016 at 15:09:17
Of course we're good enough for top 6. Look at the league and the goal difference alone tells you that we are. It's a stupid number of individual errors and games where we have literally thrown the points away that means we are in a false position in the league. I would say almost all, if not actually all, other teams in the league are generally where there overall performances have put them. This is a discussion I have with many non-Blues who cannot believe we are where we are.
If Bobby learns from his mistakes and we as a team get over this silly mental problem with a hit and hope leading to a goal and us losing the plot for the last 15 mins of a game we will show our qualities. Say what you like about RM but players want to join and play for him.
Darren Hind
43
Posted 17/03/2016 at 15:16:46
Chris Gould,
Trying to "Twist facts" would be as pointless as what you are attempting to do – Deny them.
It's best to just accept them.
David Harrison
44
Posted 17/03/2016 at 15:51:50
Whatever happened to the saying that the league table does not lie. We all know we should be higher but we aren't. What would be more enlightening is an explanation of why that is. My own feelings are it is down to the manager (no shit, Sherlock!)
Dave Abrahams
45
Posted 17/03/2016 at 15:57:26
Michael (40) I think you will find that Deulofeu did play as a No 10 in Spain for Barcelona B quite a few times and in that role for the Spanish U21s.
Brian Williams
46
Posted 17/03/2016 at 16:12:51
Sorry Gerry but we're not!
If we were then we'd be in the top six.
That's the thing with a full season (or about three quarters in this case) you end up where you deserve to end up because you can't (unlike in a one off Cup game) blame a bad refereeing decision, bad luck, injuries, or anything else.
We're not in the top six because we have lost or drawn too many games instead of winning them. The reason/s for this is that we weren't good enough to beat the teams against who we drew or lost.
It ain't effing rocket science.
Mike Allison
47
Posted 17/03/2016 at 17:07:50
It depends what you mean Brian. We should be in the title race this season never mind top six. You and Geri are using different definitions of 'good enough'.
We have the ability/talent etc. But not the gamecraft and tactical nous. Martinez won't play 'result' football, so we don't get results on a consistent basis.
Jim Bailey
48
Posted 17/03/2016 at 17:36:18
Mike (47). That's the problem in a nutshell. Bobby has been quoted as saying he has no interest in clean sheets. As ridiculous a thing as I've ever heard.
Unless he's prepared to change his "philosophy" which is highly debatable, I can't see anything much changing which would be an absolute travesty. I genuinely think we need another manager whether we win the cup or not.
Steve Sweeney
49
Posted 17/03/2016 at 17:55:54
Show him this:
http://www.blueheartbluesoul.com/video-the-new-Everton-trailer-will-bring-tears-to-your-eyes.html
Phil Walling
50
Posted 17/03/2016 at 18:02:07
I rather think you are over-egging the pudding there, Mike. Notwithstanding Roberto's limitations, you seem to ignore the fact that our entire defence has taken the best part of the season off. The goalkeeping (both of them!) has been way below the standard of any team aspiring to be champions and the other defenders have taken it in turns to let us down.
Midfield is lop-sided (nothing effective happens on the left) although the world and his wife has been given the opportunity to shine there.
No, even top six quality might be stretching it a bit and it will need more than Bobby changing his shoes to get us any higher!

John Crawley
51
Posted 17/03/2016 at 18:31:19
Phil I think Mike's got a valid point: if we were playing to the same level as Roberto's first season, we would be in the title race.
Oliver Molloy
52
Posted 17/03/2016 at 18:33:02
I see our manager has sprung to the defence of Wenger saying it doesn't matter what you have done a club – these days this means nothing.
Yeah well, I think any forward thinking football fan might disagree.
I wonder why you are saying this Roberto? Certainly if I was an Arsenal fan, I would have been shouting for Wenger to be sacked years ago.

Dave Lynch
53
Posted 17/03/2016 at 18:46:55
When the Spanish spin doctor has the same trophies won record as Wenger, I'll start to listen to what he has to say.
Until then... Shut the fuck up.
Tony McNulty
55
Posted 17/03/2016 at 19:12:50
If we were to combine Phil Walling's idea (media training to prevent players and others uttering banalities #15) with Dave Lynch's proposition (you cannot proffer a view until you have won as many trophies as the Professor #45) TW would have very little to say and no-one to say it.
And I have just said very little at considerable length. When does the media training start?
Tony Abrahams
59
Posted 17/03/2016 at 19:48:13
Have to agree with you regarding Gerry playing as a number ten Dave. It's not rocket science, to give him a go in that position, even if it's for a 30-minute cameo role as a sub.
Barkley, will hopefully become a great Number 10, but he was played out wide often enough, without much success last season.
You can't have enough good footballers in your squad, and good players should be able to play in more than one position, when required. I for one would love to see Gerry have ago through the middle, especially once a game has become stretched.
Ged Simpson
60
Posted 17/03/2016 at 19:51:29
Football management is way harder than rocket science. Failed managers v failed rocked scientists. You know the totals!
Colin Glassar
62
Posted 17/03/2016 at 20:08:54
Regarding my earlier post (#2), I wasn't suggesting for a minute that we drop anyone who's in form. I'm just worried that we haven't used these two lads (Stones and Deulofeu) in recent games. Del hasn't even been used as a sub!
Tony Abrahams
64
Posted 17/03/2016 at 22:26:50
It doesn't really matter if you fail or not at football management, Ged, because, if you swap the totals for the bank balances, they must be amongst the best paid failures in the world.
Gary Carter
65
Posted 17/03/2016 at 22:59:53
Clearly we have a top six squad, even most pundits say that ! Given how this season has gone with the "bigger" teams I would say we should be top 4.
Last season we were utter garbage, Martinez got away with it because of his first season and because of an OK run in the Uefa cup although the moment we came up against a slightly above average but very beatable side, we got hammered!
An ambitious side would have got rid of Martinez at the end of that season but we are "nice" old Everton. This season we have been shit too, Martinez should have been sacked at Xmas, maybe the takeover stopped that or maybe no one at the club has the balls to be successful or ambitious. Martinez should go at the end of this season, even if we win the cup. He quite openly admits to choosing to ignore some very basic principles of the Premier League. The importance of set pieces, closing down, pressing, fitness, setting up not to concede, discipline, gamesmanship and a more direct style of play. He is either very stupid or totally arrogant, neither are useful traits for a manager, especially one that has the record of a loser.
We have a top six team and squad, unfortunately we have a bottom six manager, I personally don't think he's fit to manage any side in the Premier League and would like him gone the second the season finishes as he is taking us backwards and this will become even more apparent if we lose Lukaku whose goals are keeping Martinez's head just above water at the moment.
Kieran Kinsella
66
Posted 17/03/2016 at 23:09:13
Colin,
Wasn't the last player we sent to Coventry Stephen Hughes? Or was it Kenny Sansom?
Colin Glassar
67
Posted 18/03/2016 at 08:03:48
I thought it was the late, great Ernie Hunt, Kieran.
Will Jones
68
Posted 18/03/2016 at 22:26:15
Cutting to the chase, we are nowhere near top 6, but this kid is being top beat!
I think Mirallas might be deciding to sod it. As for us, we need to spend good money (aka nothing, a weeks/months wages max) on a psychologist to get him 'onside'. Sometimes it is all about being a team member and taking responsibility. Otherwise we will spend circa ٟ mill on wages for nothing.. err to repeat "not much".
Mike Powell
69
Posted 19/03/2016 at 16:02:26
Stop talking shite. "Top six"??!!?! – I just hope we stay up!!!!
Add Your Comments
In order to post a comment, you need to be logged in as a registered user of the site.
Or Sign up as a ToffeeWeb Member — it's free, takes just a few minutes and will allow you to post your comments on articles and Talking Points submissions across the site.
© ToffeeWeb